Yay! It's time for a new free giveaway and we are happy to present a wonderfully creative collection of Futurico – Free User Interface Components (PSD). We think that these are so far the greatest user interface components we have shared with you guys and we hope you will agree with us on this.
Better see it for yourself and wait for updates because this giveaway will be totally special. We will update it every month with new cool elements so that our beloved readers will have tons of possibilities to use them. As we have always stated, this wouldn't be possible without the help of our designer friends and this time we would like to thank Vladimir Kudinov (Behance Portfolio) for his great help.
This truly creative designer is from a small town near the Ural Mountains – Ozersk and he's had an interest for computers since his early years of childhood. Although his first passion was coding, he has developed a strong interest towards design and he decided to move to Moscow in order to follow his dream. He now creates what he calls "golden" works and we trust him completely because we totally love his designs. Don't you guys?
Release Date: 21.11.2011
Last Update: 07.05.2012
Version: 1.1
== Changelog ==
= 1.1 =
Fix a few bugs.
New elements added. – Preview
Futurico – Free User Interface Elements Pack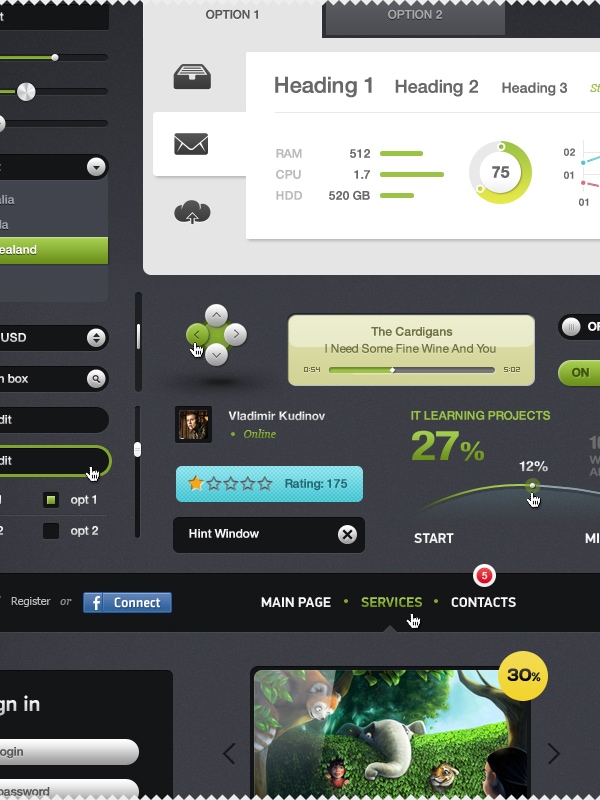 Download Futurico UI