20+ Free Geometric Sans-Serif Fonts
Any graphic or web designers usually uses typography to convey messages to customers or visitors. The fonts and the typefaces are described as a style of the lettering which is used for communication. One of the most common font types used in the field of digital publishing is the Sans-Serif which is easily read and understood on a computer. Designers usually use this font in the headings or the headlines since it does not have the embellishment at the end of every letter in a word. This font type is further classified into geometric, humanist, grotesque and neo-grotesque.
The Geometric Sans-Serif fonts include the Spartan or the Futura, Century Gothic and ITC Avant Garde fonts. As the name indicates, the shapes of the Sans-Serif typefaces are in geometric and it also gives an elegant and a modern look to the letters. Because of this reason, these fonts are widely used for headings of contemporary design projects and are least used in body texts. There are several collections of Sans-Serif Fonts available online, out of which you could choose the best one needed for your project. Since these types of fonts are quite legible even on low-resolution computers, it is widely used in web designing projects.
In case, your content needs just a casual look and not very formal or if there are any short pieces of text, you could use the geometric Sans-Serif font. They are widely used by people using the computer because of their distinct visual appeal and the typical black color. Any web designer needs to first understand the role and the use of typography in the web designing. Even a normal piece of art would look great and attractive when there is the right usage of proper typography. Depending on the customer or the client requirements, you could choose the font types.
Always remember, the right font or the typeface given to the brand name or the logo of a company, depends largely on the visual appearance and the corporate identity. These fonts are more professional and clean and it attracts visitors with its elegant and modern look. Make sure the fonts you choose makes the website more user-friendly and is also safe for viewing the content appropriately.
Free Sans-Serif Fonts
Habana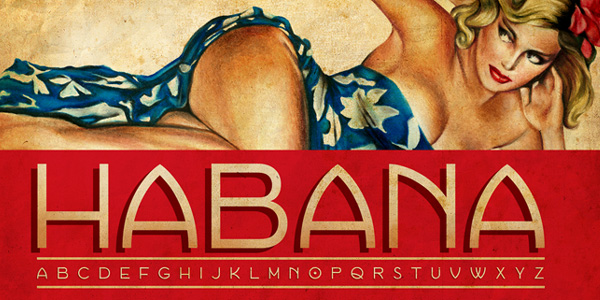 Habana is an exquisite typeface with a Cuban soul and a Pin-Up-inspired appearance. It is marked by a subtle shadow that equips each letterform with a 3D dimension feel. It works great for titles and headlines. Use it for Latin group of languages such as English or German.
No-Code Email Template Builder
With Postcards you can create and edit email templates online without any coding skills! Includes more than 100 components to help you create custom emails templates faster than ever before.
Try Free
Other Products
Orbitron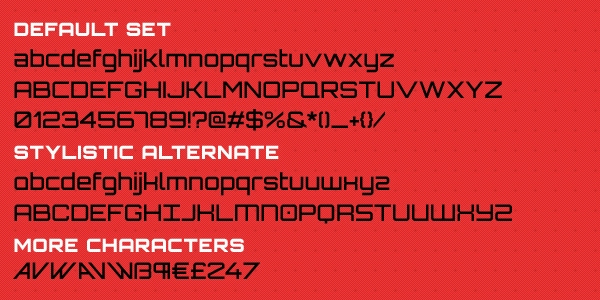 Orbitron is created on the basis of oval shapes that provide each symbol with a smooth, classy look and geometric vibe. It comes with
characters inherent to English alphabet presented both in uppercase and lowercase;
numerals;
basic punctuation marks;
stylistic alternates;
and extra decorative glyphs to add spice to titles.
Walkway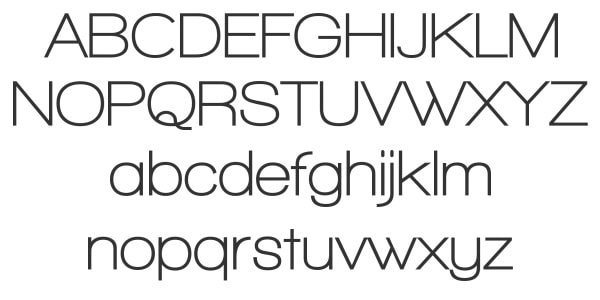 Walkway is constructed of delicate and sleek lines that result in an elegant and subtle look. It is a contemporary font that ships with
almost ten various styles, (ranging from Semi-Bold Regular to Bold Italic);
more than two hundred glyphs;
and an extensive language support including French, Swedish, Dutch, Spanish and others.
Waukegan LDO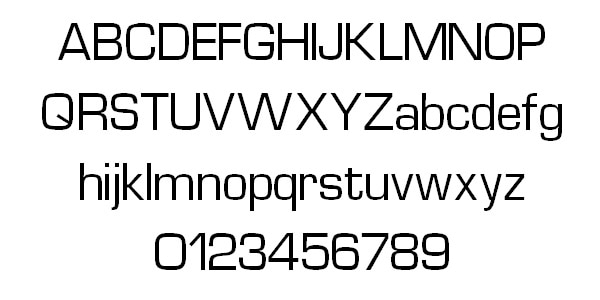 Created by Luke Owens ten years ago, this casual yet elegant sans-serif typeface is suitable for various purposes from decorating titles to highlighting small portions of text. It is presented in a dozen of styles starting from a tighter metrics of the regular version and ending with a looser metrics of extended bold version. There are 227 glyphs to suit your needs, including English alphabet in uppercase and lowercase, digits and basic punctuation marks
Arcus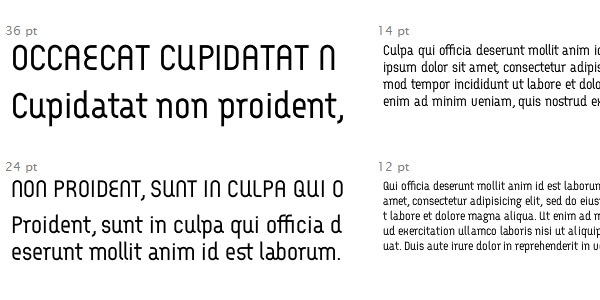 Arcus has a subtle sense of Greek written system that unobtrusively adds to any title or piece of text a lovely note of Mediterranean. Fancy finishing strokes that prettify almost each glyph ooze charisma. Despite a bit lavish appearance, the font looks clear in any size, even in the smallest one. Grab the regular version and enjoy its divine nature.
edelsans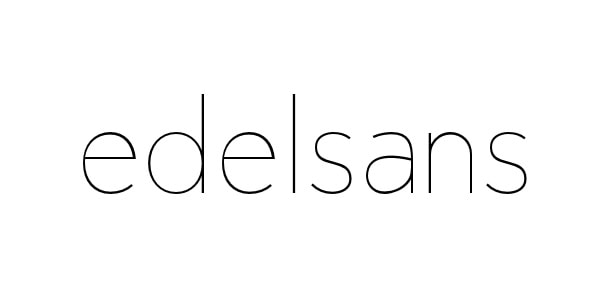 Edelsans is personified by ultra-narrow lines and circles that skillfully shape letterforms. It looks chic and dignified. There are only 68 basic glyphs and a small set of extended set of characters so that it is destined to speak English and some other Latin languages. You can also find numerals and a couple of symbols to improve syntax.
Giro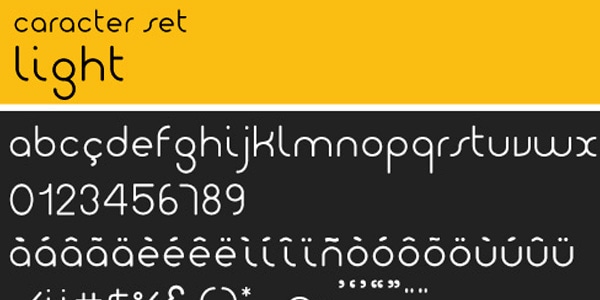 Giro is a top-notch geometric typeface that turns absence of serifs to its advantage as well as derives benefits from the round shapes. It has a music nature and a powerful energetic vibe. It is available in two options: Light that looks simply refined, and Normal that thanks to outlined style adds an artistic flavor to any lettering.
Acid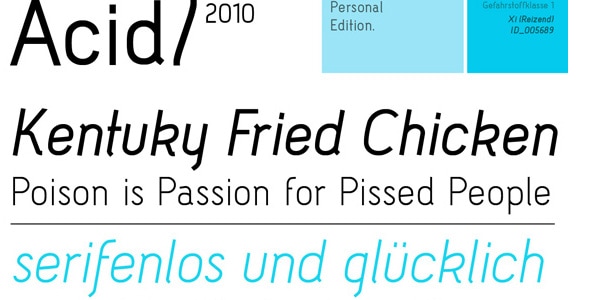 Acid is delivered in six options (Regular, Regular Italic, Medium, Medium Italic, and Bold Italic). There are only 103 glyphs (Latin characters, and a small extended set), so it is quite limited in its sphere of utilization. The author leverages smooth and a bit crooked lines to make each symbol look visually interesting.
Metrophobic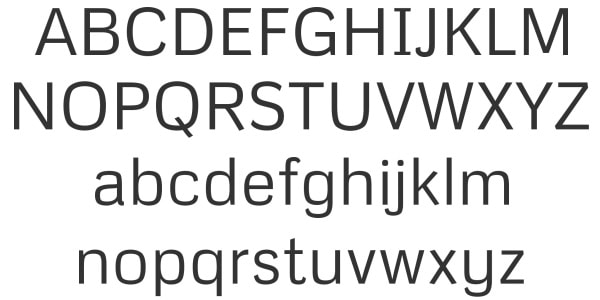 Metrophobic comes only in one, Normal, style that can be adapted to display both paragraphs and titles. However, the glyph coverage is quite vast. Containing almost three hundred symbols including punctuation marks and alternate letters, it manages to support various Western and Central European languages.
Code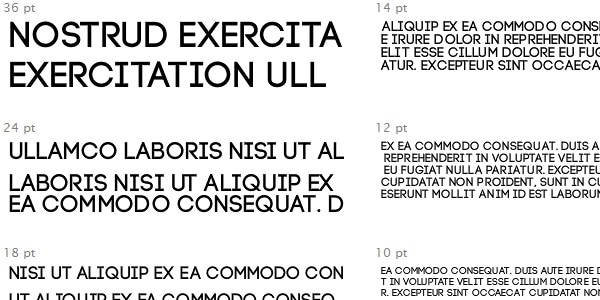 The code was created with legibility in mind so that with this typeface you will certainly take readability of a project or an art to the next level. Whether you choose a big size or vice versa a small one, it will display text in a way that readers can easily scan and perceive. It charms with clean and sharp letterforms with a casual high-tech appeal.
Singula Compressed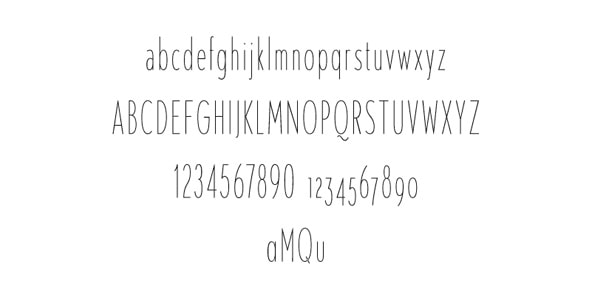 Singula Compressed is another ultra-narrow typeface in our collection that is bursting with elegance and subtlety. This unique display font enables you to use a ton of alternate symbols, Open-Type features and a bunch of basic glyphs. It is available only for non-commercial projects, for the other purposes you should contact the author.
Champagne & Limousines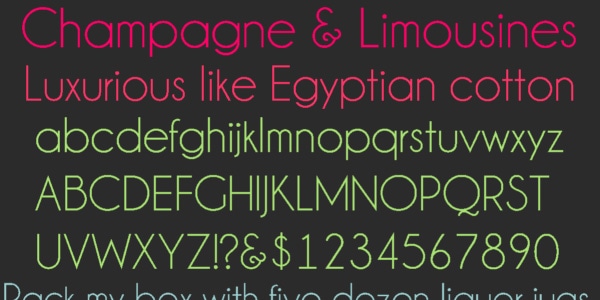 Champagne & Limousines by Lauren Thompson has a note of luxury and chic. The typeface neatly blends into any elegant and sleek UI. It is available in common TTF format and has
four styles, including Normal, Italic, Bold and Bold Italic;
numerous glyphs, including an alternate and extended set of symbols.
Faucet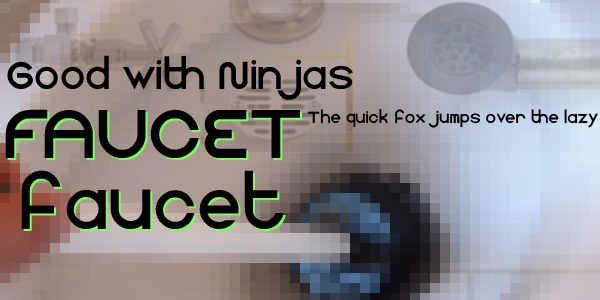 Faucet is defined by a subtle tech vibe and digital atmosphere. It demonstrates a proper use of basic geometric shapes and spacing between characters. Unfortunately, the font works only with Romance languages. Nevertheless, it comprises digits and a broad range of symbols for syntax. Use it to bring titles into focus.
LT Oksana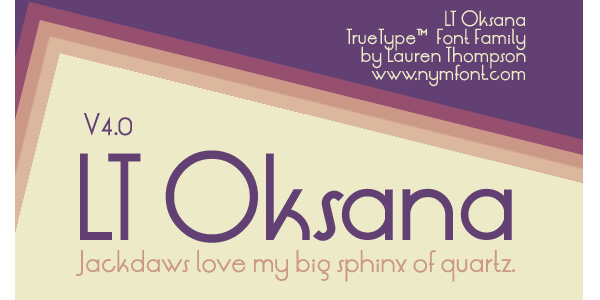 LT Oksana has a strong feminine touch and a lovely hand-written appeal that go perfectly well with classy and delicate designs. Based on circles, ovals, and smooth edges this beautiful script is equipped with
four styles (Normal, Italic, Bold, and Bold Italic);
a ton of glyphs to deliver messages to various nations;
and a standard TTF format.
Geometry Soft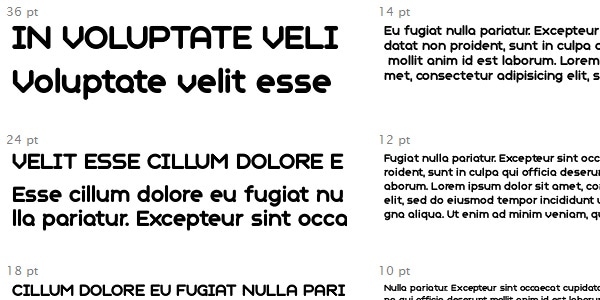 Geometry Soft skillfully avoids a sharp angular look inherent to majority geometric typefaces by opting in favor of smooth and sleek forms. It works great in bold option and has all the glyphs to write in different European languages. Comes with OpenType variants such as ligatures and small caps, stylistic alternates and an extended set, it can be used for displaying headings and copy with ease.
Digital Serial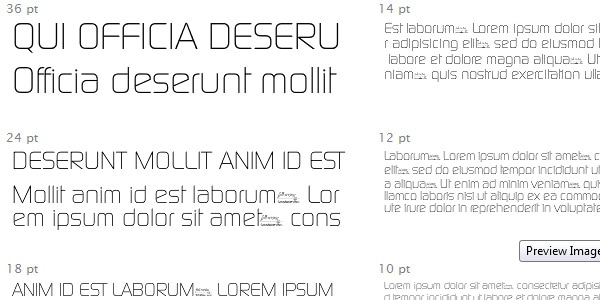 Digital Serial demonstrates a high level of subtlety and refinement. It features tidy and elegant letterforms that are presented in seven styles. Since only the demo version is available free of charge, here you won't find lots of glyphs. There are just essential ones that let you reveal a potential of the family.
Michroma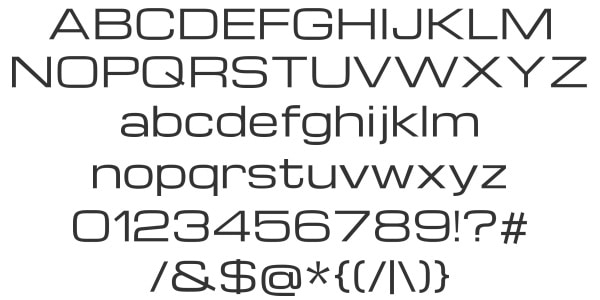 Michroma by Vernon Adams falls into the category of display fonts with a distinctive high-tech vibe and serene businesslike image. Although it is delivered only in one style, Regular, yet, it comprises 460 glyphs and an alternate set of characters in uppercase and lowercase- and that is quite impressive for the freemium product. The typeface can be used for languages based on the Latin alphabet.
Ribbon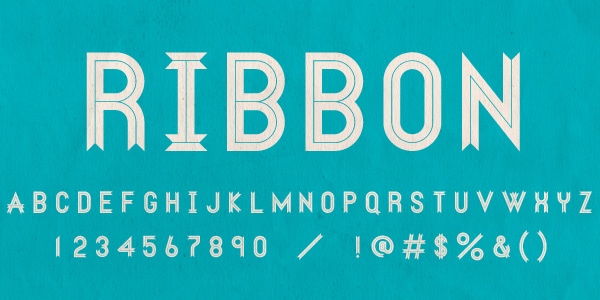 Ribbon provides headings with a wonderful artistic vibe. This full display font is bold, eye-catching and charismatic. With such an intricate type, your message will always stay in focus. It includes
essential characters;
numerals;
OpenType features to support various languages;
and a handful of punctuation marks such as curly brackets or exclamation mark.
Raleway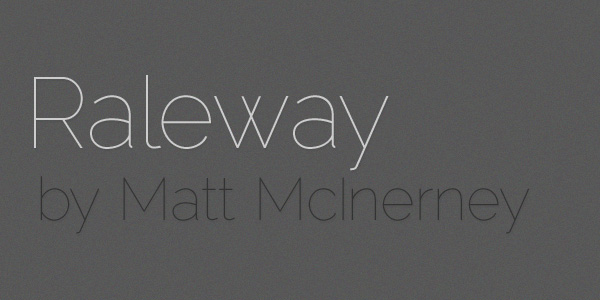 Raleway is a super-thin, light, beautiful new-grotesque typeface by Matt McInerney. It has broad glyph coverage so that you can find here
old style and lining numerals;
standard and discretionary ligatures;
diacritics;
stylistic alternates.
Although it comes in one thin weight, yet this is quite sufficient to turn it to your advantage.
Conclusion
Although geometric sans-serif typefaces are constructed from regular shapes, however, they do not look sharp or angular or plain at all. On the contrary, they boast of an elegant, soft, chic and in some cases even fancy intricate appearance. This category is quite universal and rich. There are fonts with the high-tech vibe, feminine nature or artistic feel that always stay clean and tidy. Numerous projects are able to reap benefits from it.
Like what you're reading? Subscribe to our top stories.