Getsitecontrol – Ultimate Website Popup Builder for Non-Techies
Growing a website today is ten times more difficult than it was just a few years ago. With the abundance of information online and thousands of blogs on every topic, capturing visitors' attention has become hard.
And if you're a website owner, you also know that another big challenge is to get people to join your email list.
This is why every website needs popups. They help you nudge visitors into taking action and optimize your conversion rates.
At Designmodo, we use email subscription popups and call-to-action popups powered by Getsitecontrol. You actually may have noticed them when you landed on this page.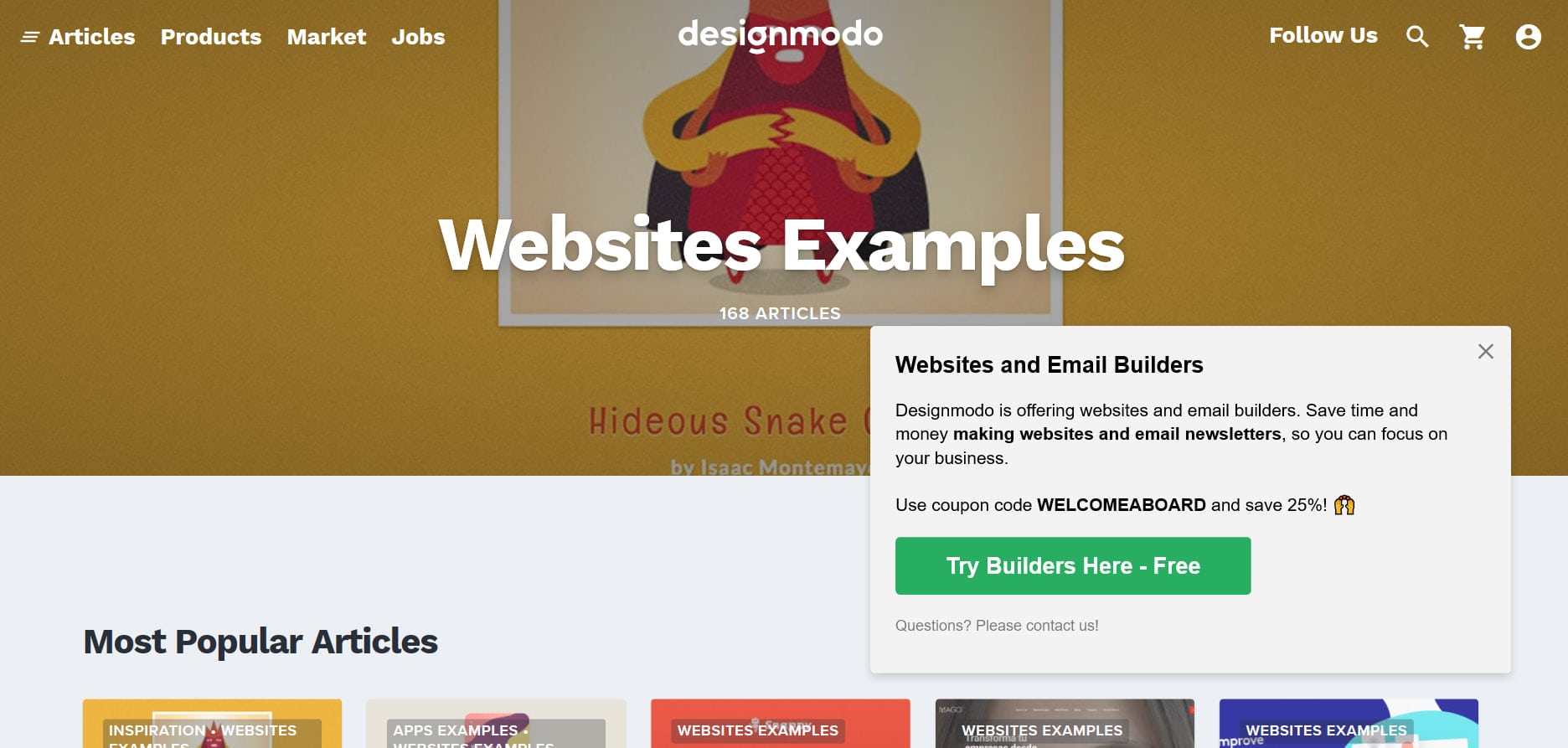 Getsitecontrol is a cohesive, feature-rich tool that helps you quickly build email signup forms, contact and survey forms, floating bars, buttons, and all kinds of popups.
If you've been following Designmodo for a while, you may remember the review of this app we published a couple of years ago. Since then, Getsitecontrol has released a major upgrade, and in this article, we'll show you what it looks like now.
No-Code Email Template Builder
With Postcards you can create and edit email templates online without any coding skills! Includes more than 100 components to help you create custom emails templates faster than ever before.
Try Free
Other Products
What is Getsitecontrol and how to use it?
Before we start reviewing the new features and how you can benefit from them as a website owner, let's briefly talk about what this tool is all about.
Getsitecontrol is a no-code popup builder. The popups it allows you to create, can help you achieve numerous marketing goals. For example, you'll be able to:
Grow your email list
Collect feedback
Conduct surveys
Display notifications
Upsell and cross-sell
Drive traffic to selected pages
Prevent website abandonment
Find out why people leave without converting
And more!
If you're on WordPress, all you need to start using the app is to install the dedicated Getsitecontrol plugin.
If you're using any other website platform, the installation process is quite simple, too. You can either use Google Tag Manager, or copy a small piece of code from the Getsitecontrol dashboard and paste it to the code of your website right before the closing </body> tag.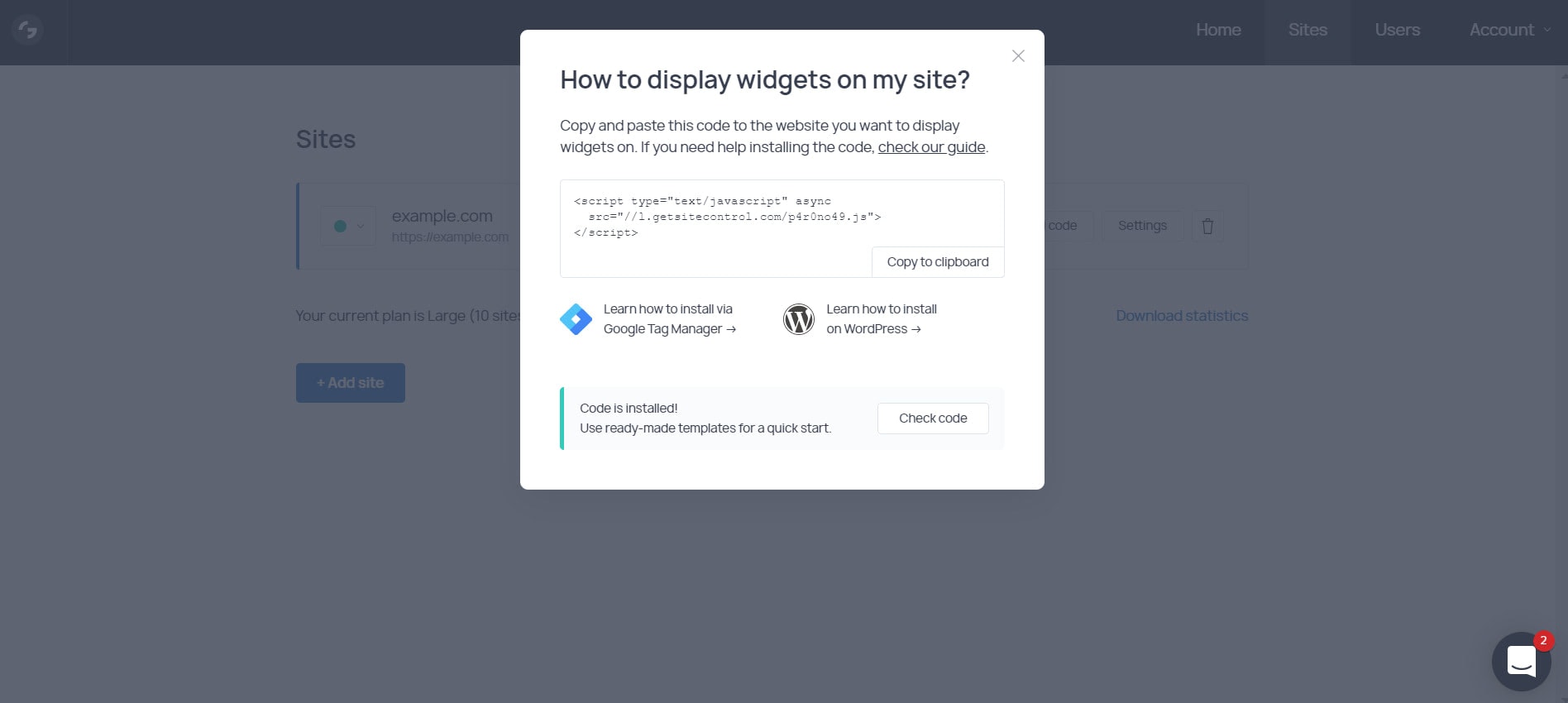 Once you're done with the setup, you'll never need to deal with the code again. You'll be creating and editing the popups right in your dashboard.
Speaking of the dashboard…
Get started with an intuitive dashboard
Compared to the previous version (you can actually see the old interface in our review from 2018), the new dashboard is cleaner, more intuitive, and brings presets at every step to make the decision-making process easier.
When you start creating a new popup (also called "widgets" in Getsitecontrol), you first need to decide what you're going to use this popup for.
Your options are:
Collect emails
Contact visitors
Notify visitors
Conduct surveys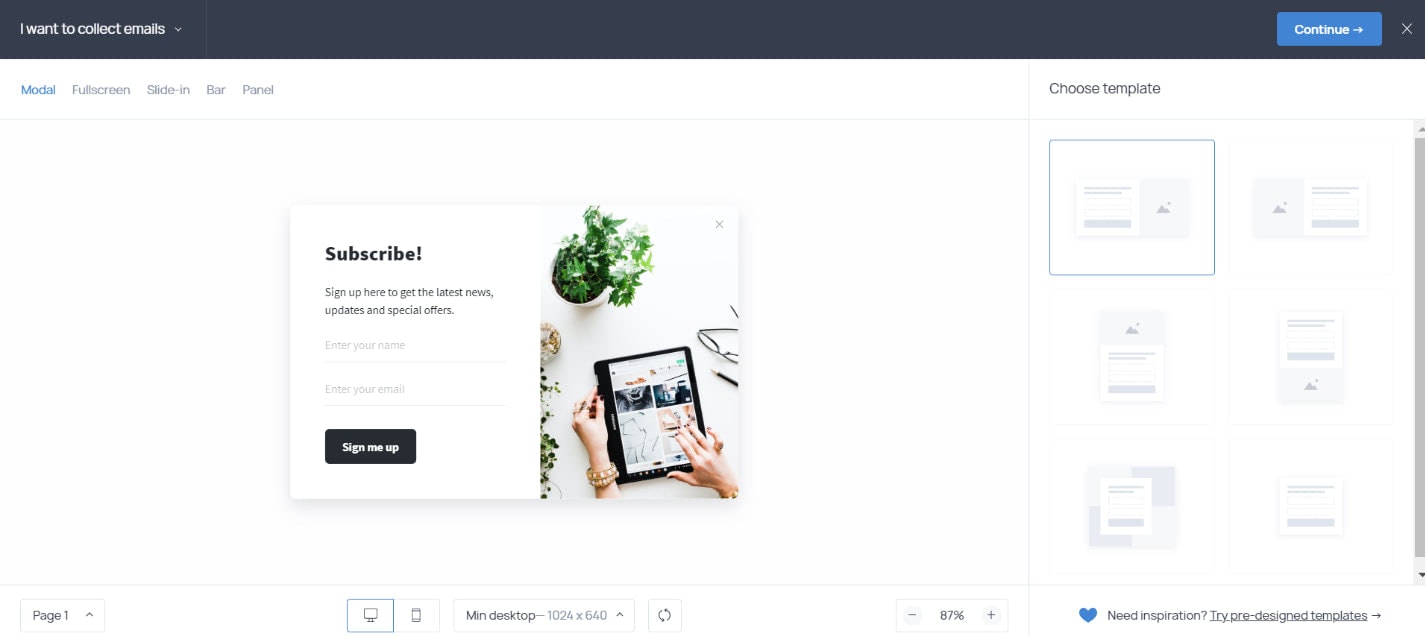 Depending on the type of popup you've selected, there are various webpage positions available: modal popups, slide-ins, fullscreens, sticky bars, and panels. Plus, on the right-hand side, you get a set of layout templates designed for each task.
Once you choose the layout, you get to work on the content and appearance at the next screen.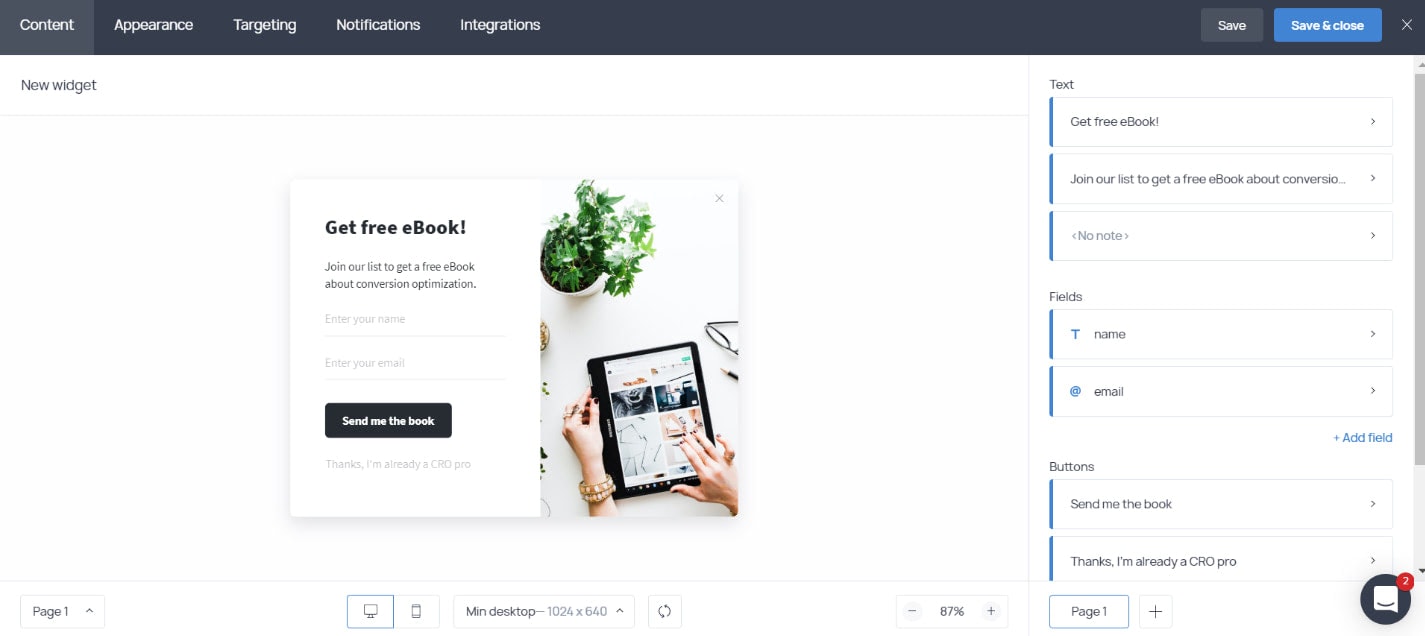 On the Content tab, you can modify the fields and copy. In addition to text placeholders, you can add checkboxes, dropdown menus, radio buttons, and email capture fields.
You can also have additional buttons and decide what happens when a visitor makes a click. For example, the popup may close upon click, display the following page, launch another popup, or direct the visitor to the URL of your choice.
On the Appearance tab, you set the look of your popups. Apart from the color, font, and style customization, you get a full-featured CSS editor to achieve that design that would perfectly match your website.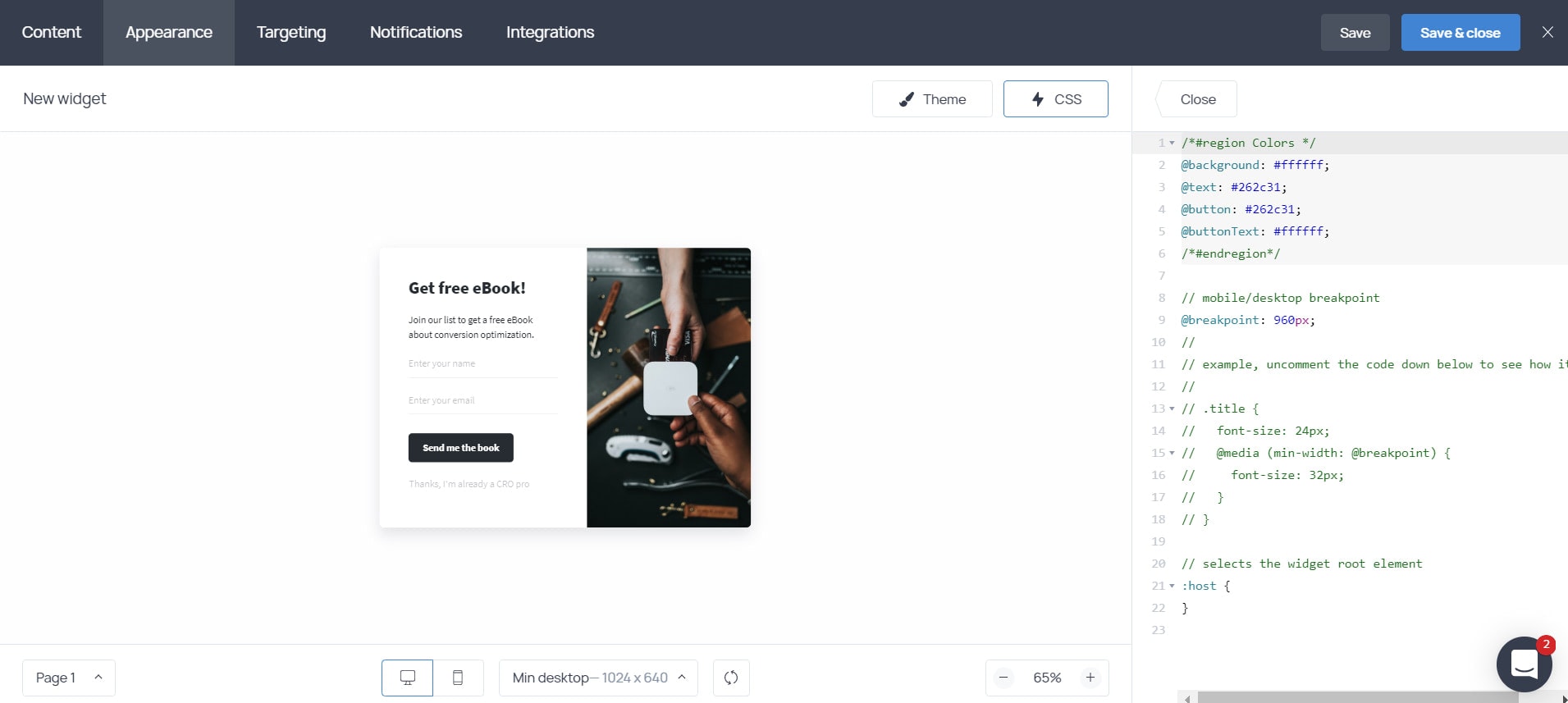 Finally, there are multiple ways to add an image to your popup. First, there is a large built-in gallery of Unsplash pictures neatly categorized by the most popular topics.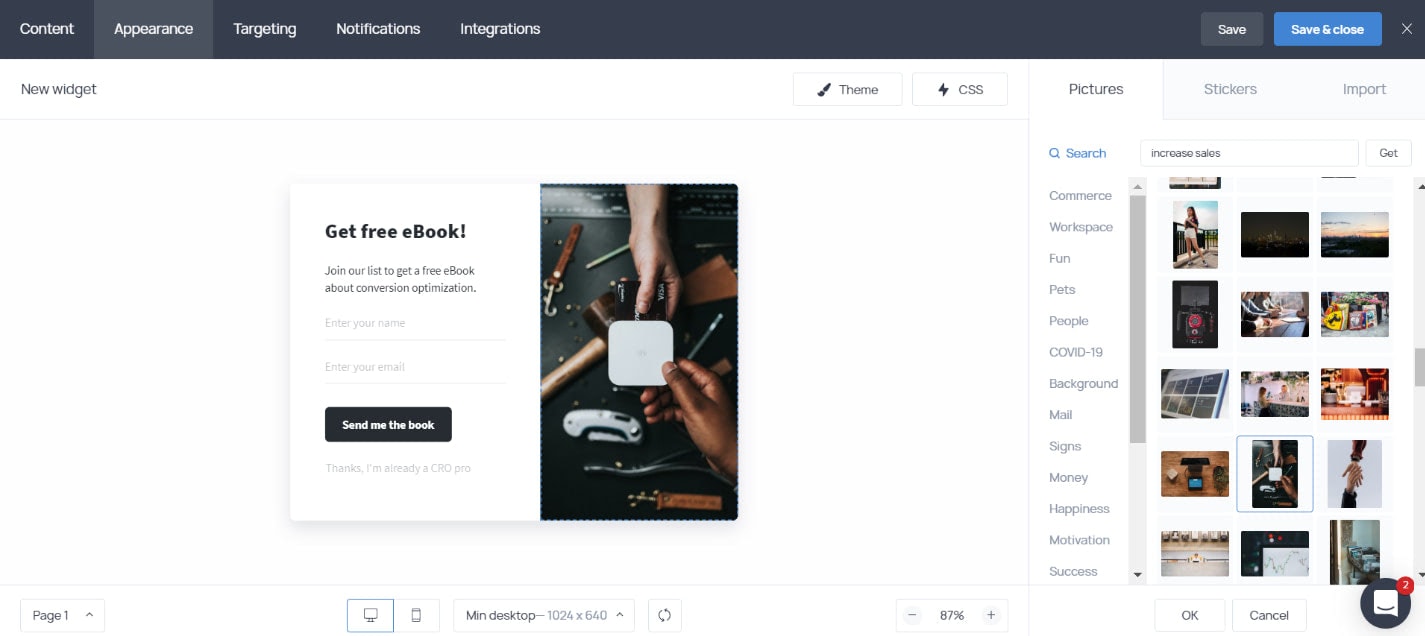 The second option is a selection of stylish stickers available on the same tab. And, of course, you can upload creatives from your computer, too. Plus, there is no limit to how many images you can add to a popup. For instance, if you want to place your company logo at the top or bottom of the form, you can do it with the new version.
But that's not all!
Import images from the web
While we're on the topic of images, here is another awesome new tool available in Getsitecontrol. You can import images and GIFs from anywhere on the web.
For instance, to fetch images from Instagram, you just need to type a hashtag or the name of the account you want to grab a picture from. If you type a website address, the app will pull the illustrations from that website, and you can add any of them directly to your popup.
The cherry on top? Built-in GIPHY search.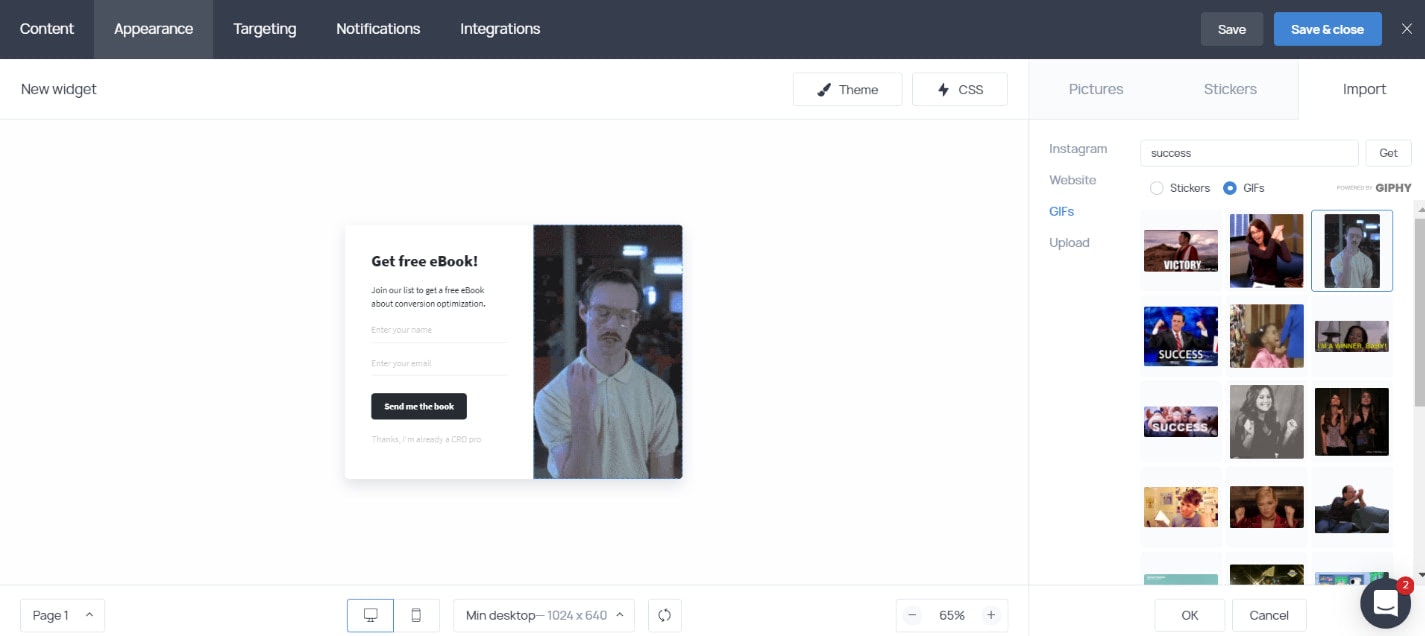 Adjust popup appearance on mobile
One really exciting addition to the new version of Getsitecontrol is the mobile appearance tab. It allows you to preview the popup on different screen resolutions and the best part – you'll be able to adjust the way it will look on mobile.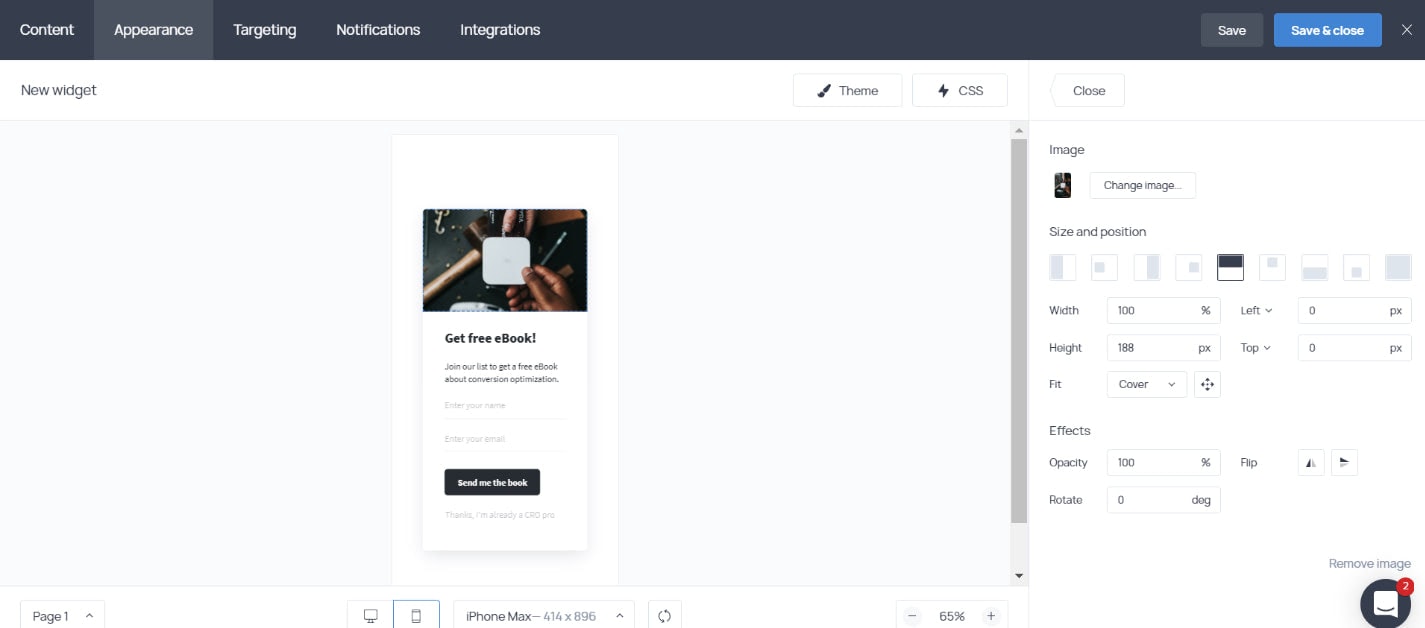 Specifically, you can change the position and the size of the image, paste a completely different image, or remove it entirely. You can also customize the size and spacing of the popup to ensure a great mobile experience.
Make use of popup templates
If you, like many, prefer using ready-made popup templates, you'll be content with the popup template gallery prepared by the team of Getsitecontrol designers.
The templates are categorized based on the popup purpose, design style, and webpage position. So, if you want, for example, to see modal popups designed to notify website visitors about a special offer, you'll be able to quickly locate them using filters.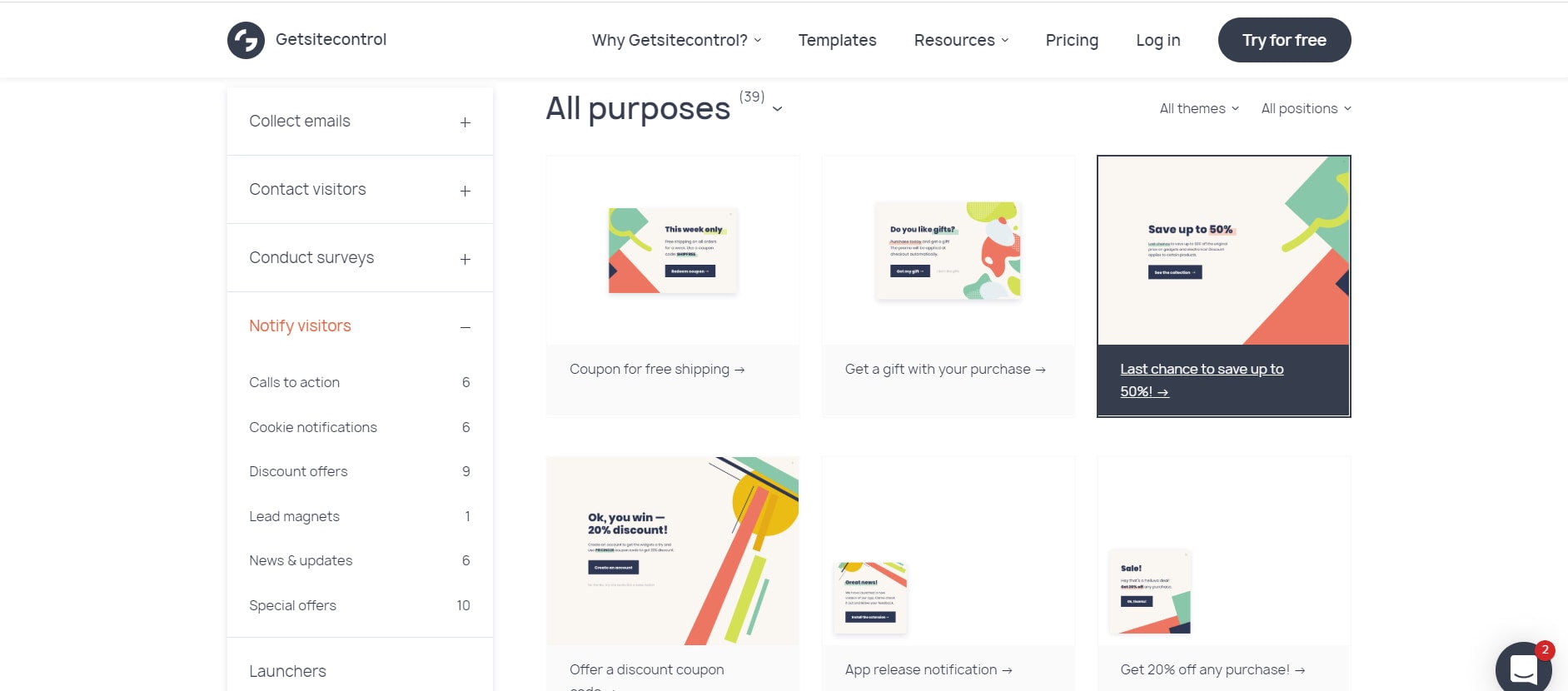 Once you find the popup design you like, all you need is to make a click and add it to your dashboard. Then, you'll be able to adjust the copy and even the appearance if you'd like to.
Apart from displaying popups on your website, you can now share them directly via short links. This new feature, aptly named "Get link" comes in handy when you need to invite your audience – say, email subscribers or social media followers – to participate in a survey without asking them to go to your website.
This way, you can share forms via email, social media, messengers, helpdesk, link to them from your Instagram bio or any other platform. Links are automatically generated for each popup, and once the recipient clicks it, the form will open in a new window.
Create multi-page forms
The previous version of Getsitecontrol only allowed for creating so-called "Thank you pages" – brief messages that appeared after form submission. Now, you can create as many custom pages for a single popup as you want.

Having additional pages is convenient when you want to break a long questionnaire into parts to make it easier for the participants. Extra pages can also be used for delivering a form submission success message, displaying a discount coupon code, providing helpful links, or encouraging visitors to take further actions.
Apply precise audience targeting
Finally, Getsitecontrol got a more sophisticated set of targeting controls that allow you to segment your website audience and display personalized calls to action.
Previously, you could select:
Pages of your website where you want to display a popup
User behavior that triggers a popup: scroll depth, time spent on page, exit-intent
Session parameters that would trigger a popup: location, browser language, UTM, etc
The new dashboard includes much more detailed settings. Plus, you can apply the AND and OR operators to target your website audience with laser precision. For instance, you can display a special popup to returning website visitors located the United States, except for New Yorkers. Then, you can select multiple conditions for when to start and when to stop displaying the widget.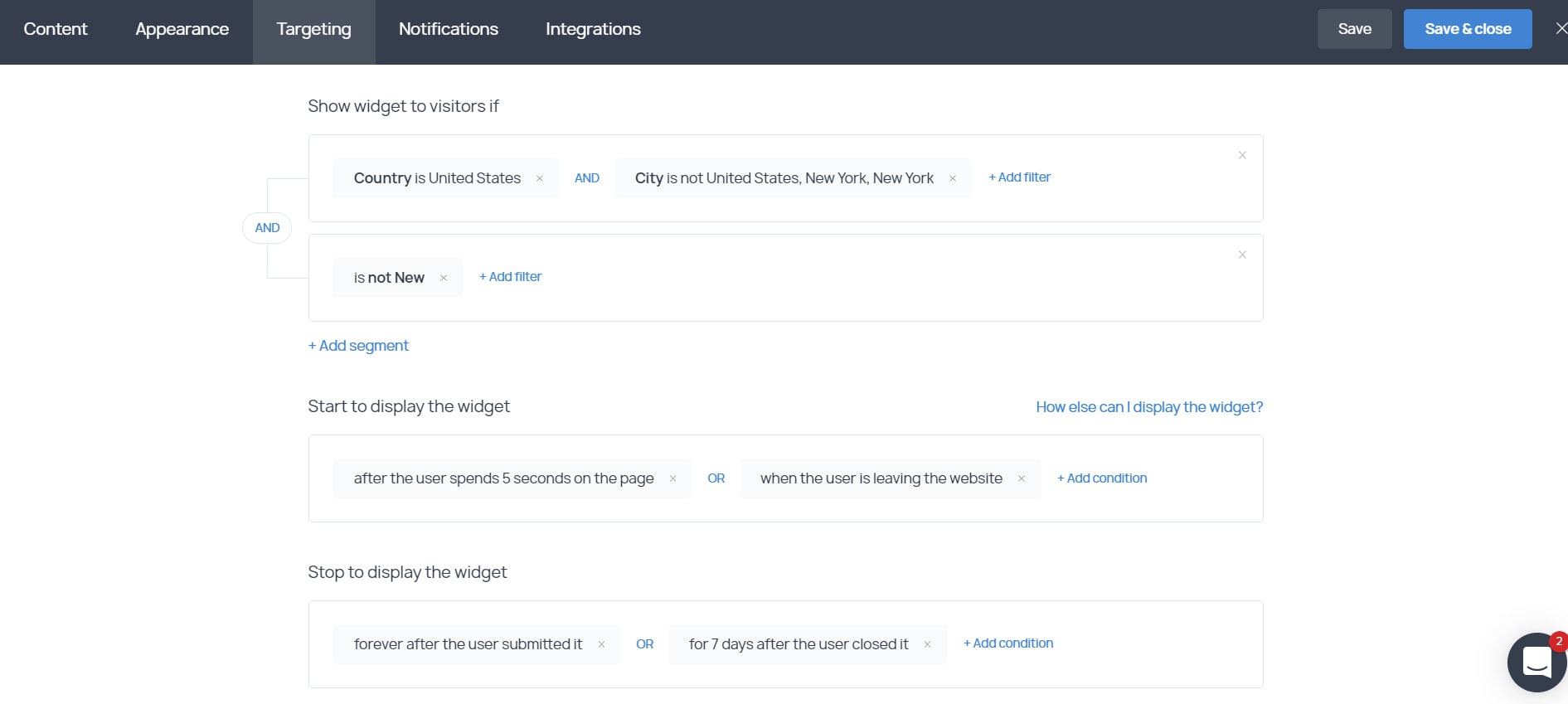 On top of that, there is an option to set a schedule and display selected popups on specific dates, weekdays, and even hours. If you're using the scarcity principle in your strategy, that is quite convenient!
Once you finish, you can save and activate the popup – it will go live on your website instantly according to the rules you've set up. Later, you can see all your popups organized in a dashboard.
For each widget, there are options to quickly view statistics, download all the data submitted via form, copy and split-test any popup, and get shareable links.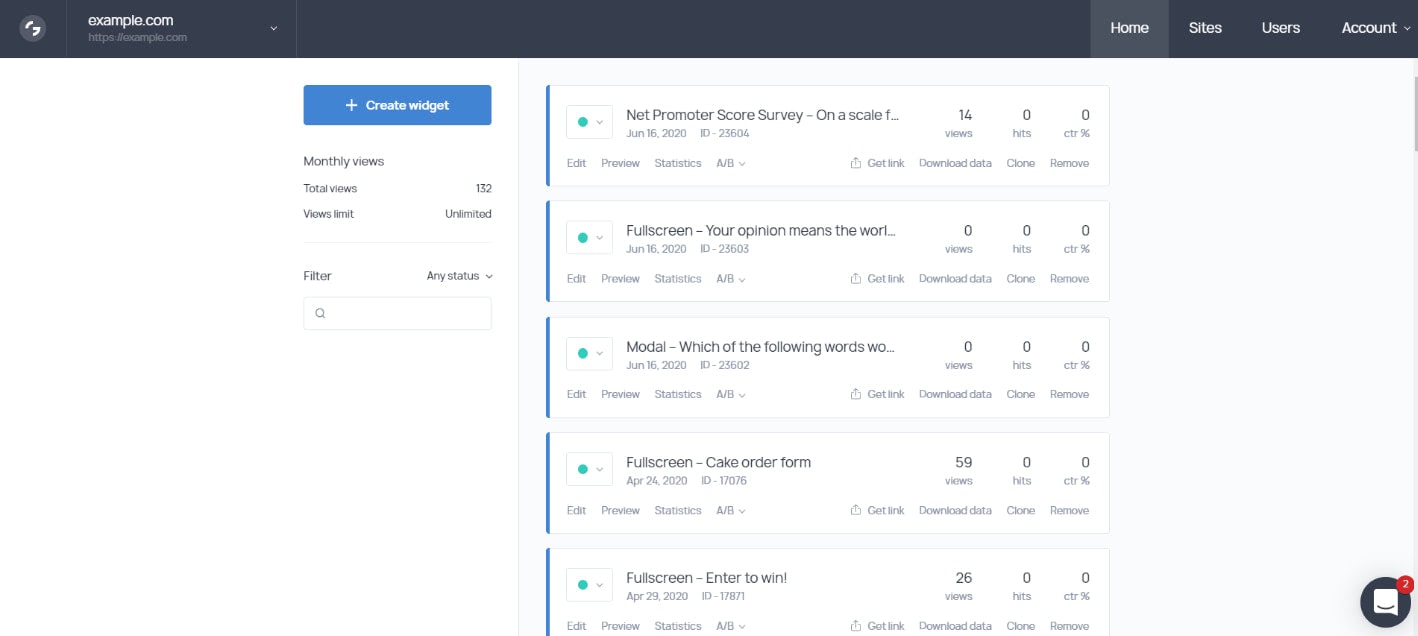 This way, you get a detailed overview of which popups are active on your website and how each of them is performing.
Priced with small business owners in mind
If you're tempted to create an account after reading this review, the timing is perfect because Getsitecontrol is offering a sweet deal.
All three of their subscription plans – Small, Medium, and Large – are full-featured and the pricing only depends on your website traffic volume. For instance, if you expect up to 10K popup views per month, the Small plan will be sufficient for you, and it's usually available at $19 per month. With the Medium plan you get up to 100K views for $39/month, and with the Large plan you get up to 1M popup views for $79 per month.
Currently, you can subscribe for $7, $14, or $28 per month, accordingly.
There is a 7-day free trial period, and given that you'll be able to see the results from day one, that should be more than enough for you to decide if the service is worth it.
Wrapping up
It's not a secret that some people consider popups annoying. And modal popups indeed may have had a bad rap because some website owners would set them to appear in a so-called "in your face" style.
But the truth is, it's not about the tool – it's about the way you use it. And that's what the audience targeting settings are there for. You have the power to display a popup exactly the way you need in order to maintain great user experience on the website.
On top of that, statistically, popups just work. Want to ensure the best results? Then look at how brands like Nike, Tiffany & Co, Nespresso, New York Times, and other companies with the best minds in their marketing teams use website popups to attract email subscribers, boost sales, and collect feedback.
Perhaps, it's time you tried them, too!
Like what you're reading? Subscribe to our top stories.