Iconshock: Two Million Free Icons Later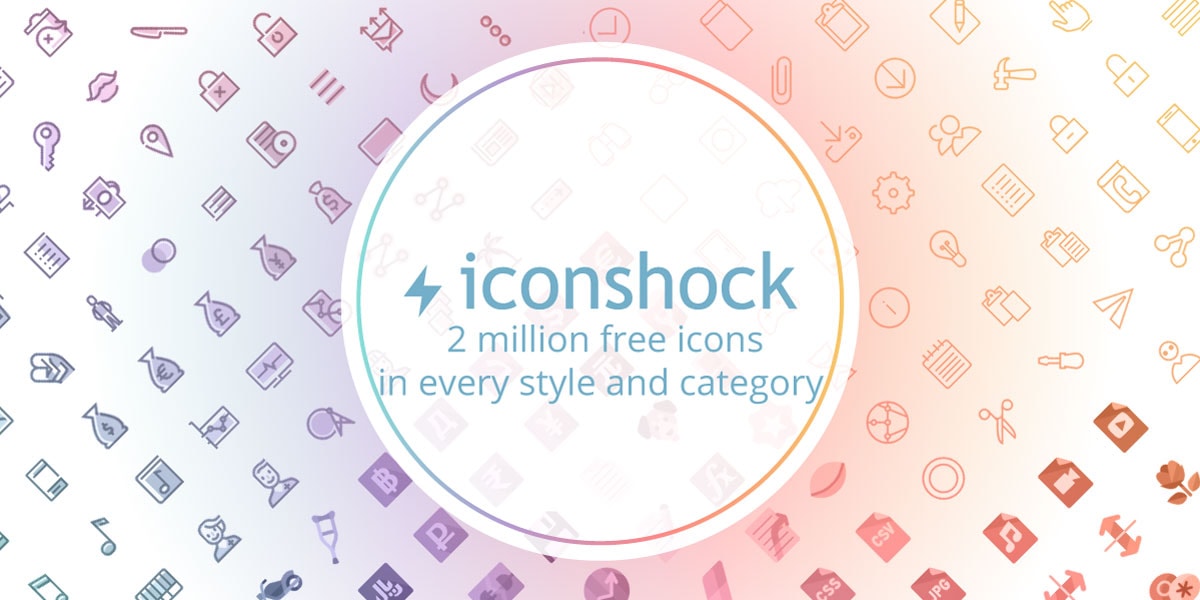 Icons. We just can't do without them, can we? They are awesome little design elements that you need to choose carefully if you want your projects to have a unique feel while staying in line with current design trends. Visually expressing an action or idea correctly is critical in today's world, and having the right set of icons plays a big role in providing the right experience to achieve the results you're looking for: to take the users where they want to go within your interface. But you already knew all that, you're here for an in-depth review of the largest icons library on the internet, so without further ado, I give you Iconshock 2.0, and everything you need to know about them.
To some of you, no doubt, Iconshock is already old news. After all, they've been around for a while, and they've always had a reputation for their clean and professional work, a large variety of styles and characteristic designs. A million icons later, they still operate under a single premise: if you're looking for it, we have it. If we don't, we'll make it for you.
New Face, Same Quality.
Iconshock's new platform is quite a sight. They've done a great job at keeping the interface nice and clean, a minimal layout with soft pastel coloring and fun designs in a single page scroller home page that will catch your eye immediately and direct your attention in an organic way towards previews of their work and the tools you can use to customize them to your heart's delight. A small grid features some of their best collections in the most popular styles such as Flat, Material Design and Line Icons, and the attention to detail put into creating each of their icons borders on crazy. The second grid features some of their most witty and clever icon sets and individual pieces, in a variety of styles and sometimes so specific I couldn't help but wonder "what the f*** was the designer of this Icon thinking when he made this?" (Parasaurolophus Icon, anyone?).
Peek under the hood
The customizing tools I mentioned up there, which you can find at their home page feature a slider for icons size, add-on picker, color palette and most importantly icon style. These are fully usable once you navigate to any of their styles galleries, where I had the opportunity to apply an Icon Addon, pick my icons' Size from 20px all the way to 512px, a wide range of coloring choices that work even for multicolored icons and the format I wanted the file on, which can be either PNG, SVG or Ai. This alone sets these guys apart from the rest of the websites with similar products, as you have amazing control over what you want your sets to look like -without having to manually edit every single item- before you even download them. Best part? You can have access to this gargantuan collection for free. Wait what? Yeah, their icons library can be accessed, with some restrictions, for no cost at all. They also release 100 brand new icons every week, which is quite nice and contributes a lot to their already big collection.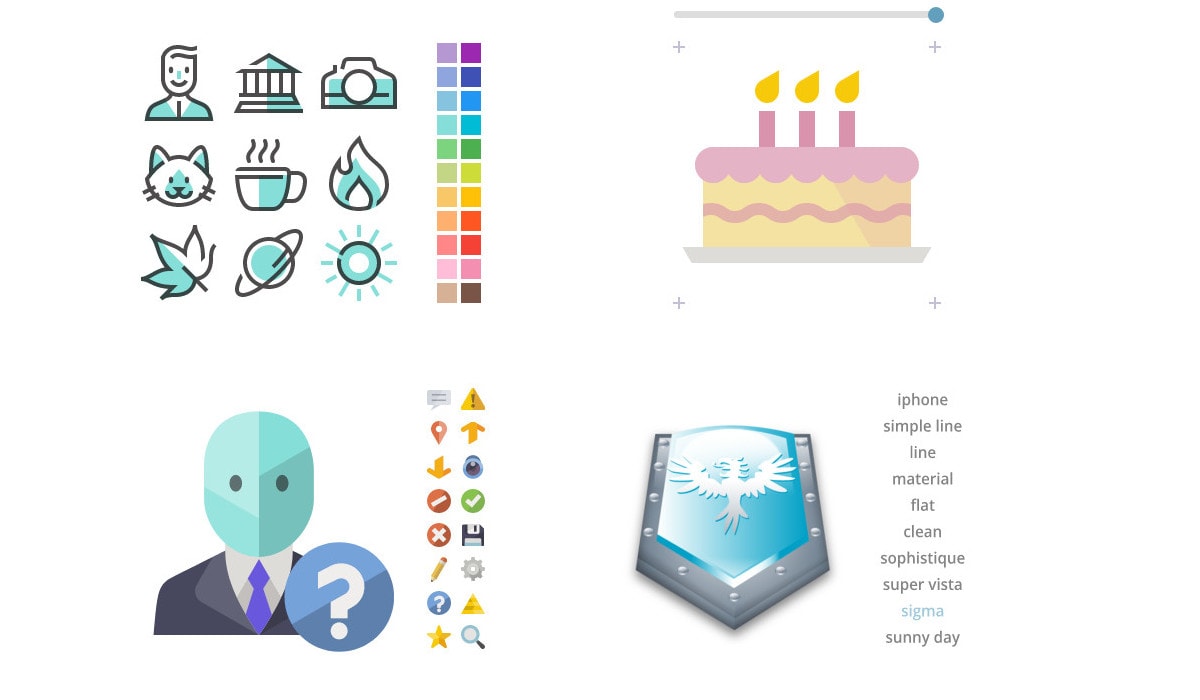 No-Code Email Template Builder
With Postcards you can create and edit email templates online without any coding skills! Includes more than 100 components to help you create custom emails templates faster than ever before.
Try Free
Other Products
About their product styles
Iconshock's library is something you won't want to miss on. And with good reason: it's a huge collection of around 2 Million Icons, every one of them designed through an absurdly meticulous process that goes on to show one thing: these guys mean business. Among their featured collections I noticed great and well known design trends like the ones I mentioned previously, as well as their own styles such as their Sunny Day collection, which has a fun, cartoony vibe reminiscent of video games (hnnnnnngg) or their Stroke collection, which features colored perspective icons with an outlining that creates a great looking effect. Check out some previews of the most popular styles: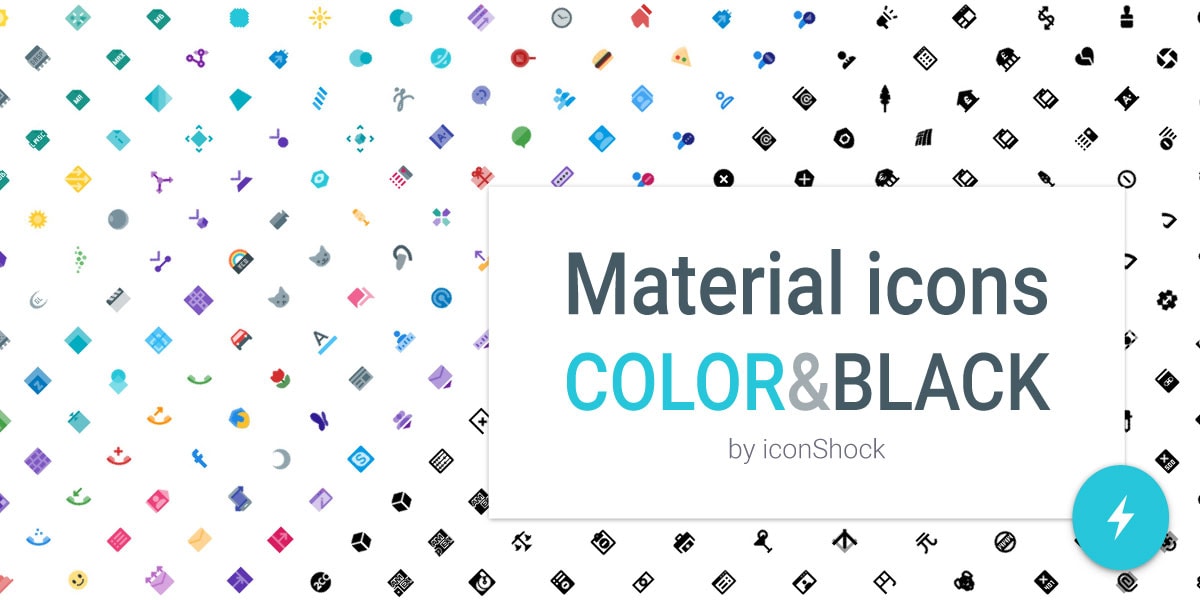 Material Design Icons: Google's Material Design Language. Nuff said. No doubt already familiar with this one. Used on Google Products and many Android Interfaces, it's a colorful style and great choice for any project. Also, there is a monochromatic variation for Material Black Icons.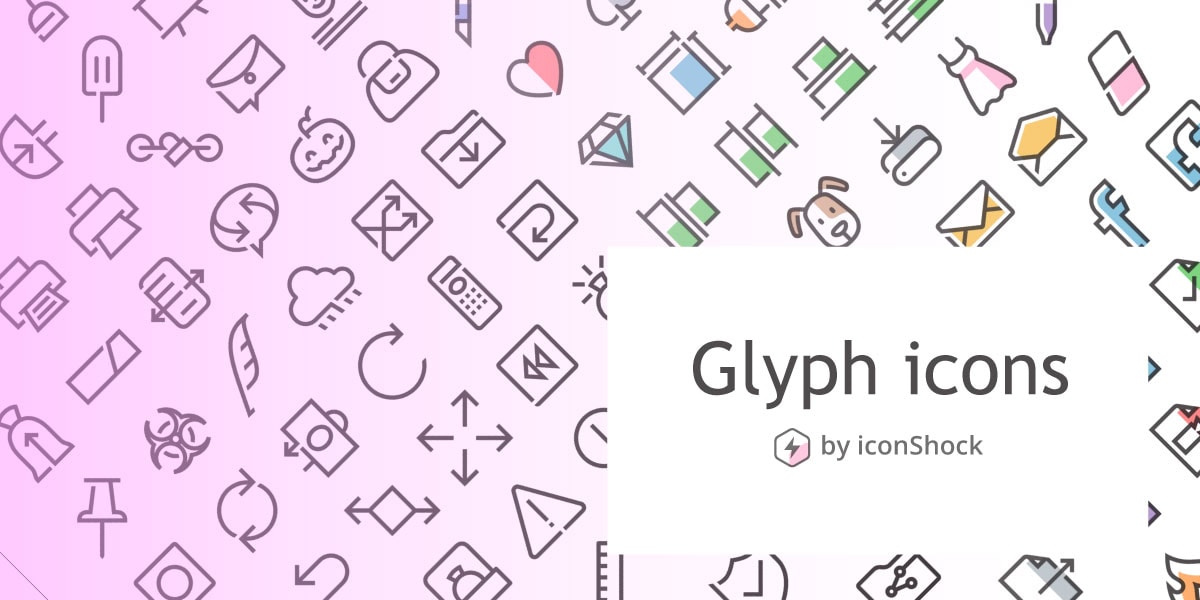 Glyph Icons: Minimalistic Line Icons with simple and geometric designs, these are built in a slightly different size for better web and app display compatibility. There is also a companion Color Glyph Icons variation.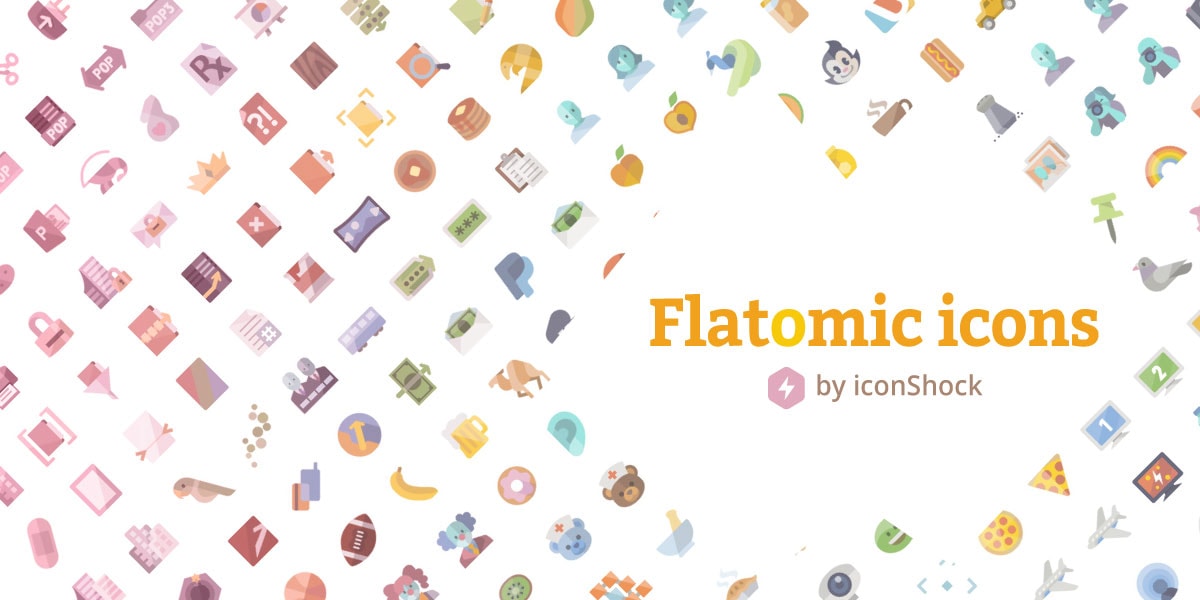 Flat Icons: A style that's still going strong, their flat icons combine a soft color palette with geometric shapes and some clever design choices. They also have their own variation of Flat design merged with 3D perspective, which creates a great looking style known as Isometric Icons.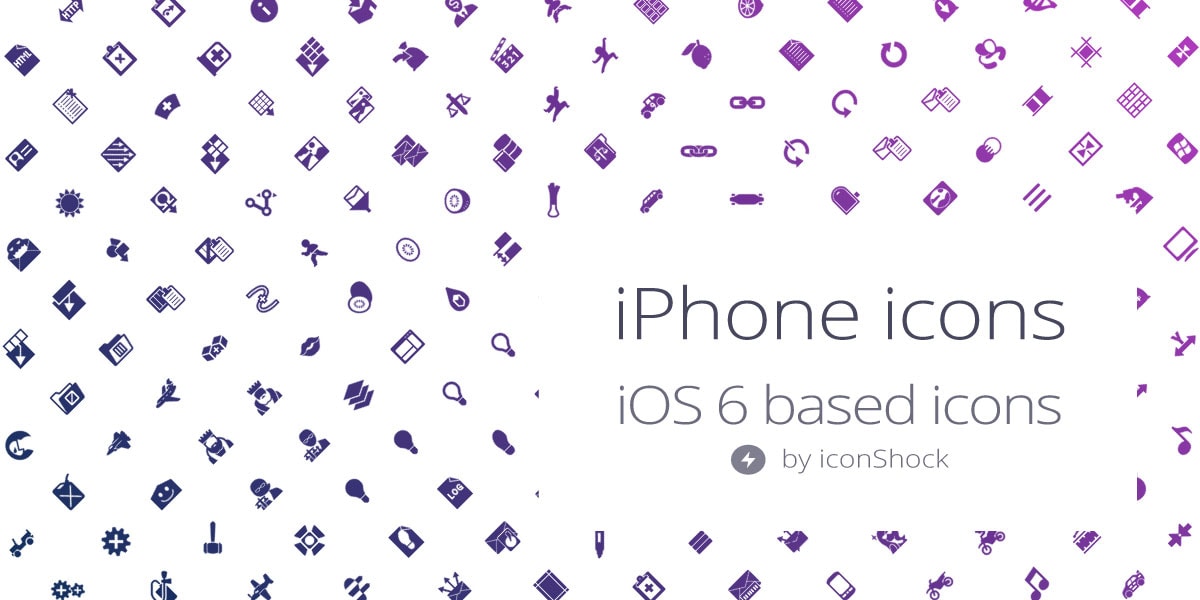 iPhone Icons: Monochromatic icons with a solid design, based on iOS 6 Tab icon assets, this is a great looking style. These were built considering the dimensions of the original iPhone icons for greater app and OS compatibility.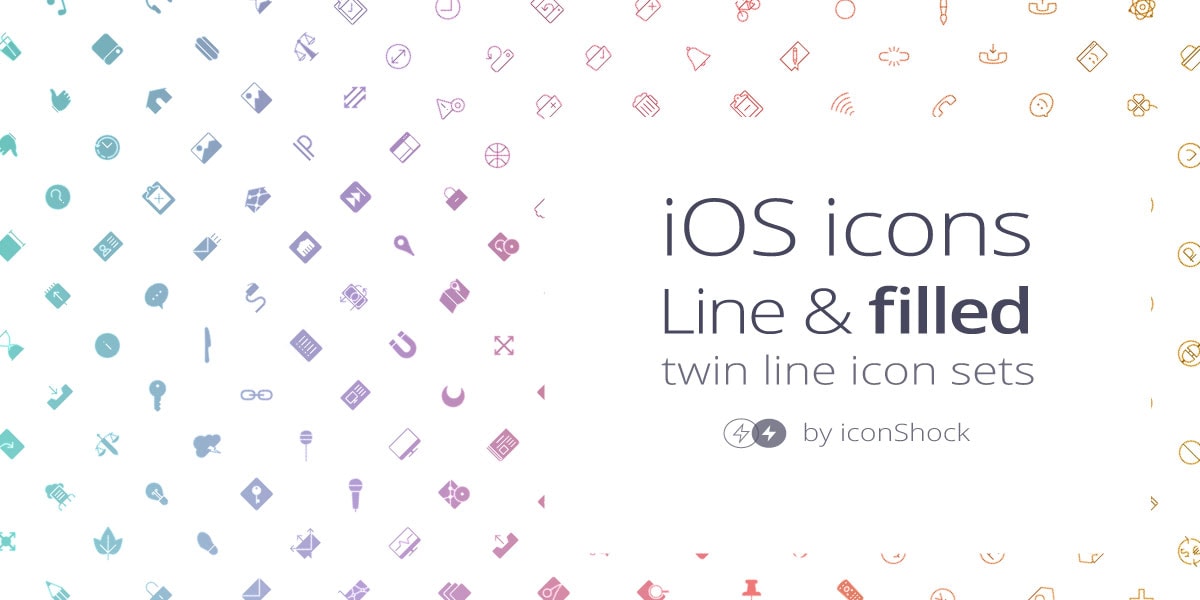 Line Icons: A very popular style choice, these Line Icons based on the iOS 7 and higher designs were built with a non-standard 38px for better app and web display performance. Has many variations like Color Line Icons and iOS Filled Icons which work great as an active state for the original Line Icons set.
What else is there
It's not all about style though. To truly grasp the size of the shadow this humongous library casts, you need to take a look at their industries, a long list featuring over 20 categories containing a wide range of Icon Sets designed to fit your project, no matter which professional field it's meant for. Unless you're specialized in something crazy like, oh I don't know, dragon slaying or professional turtle racing, you'll be hard-pressed not to find what you need: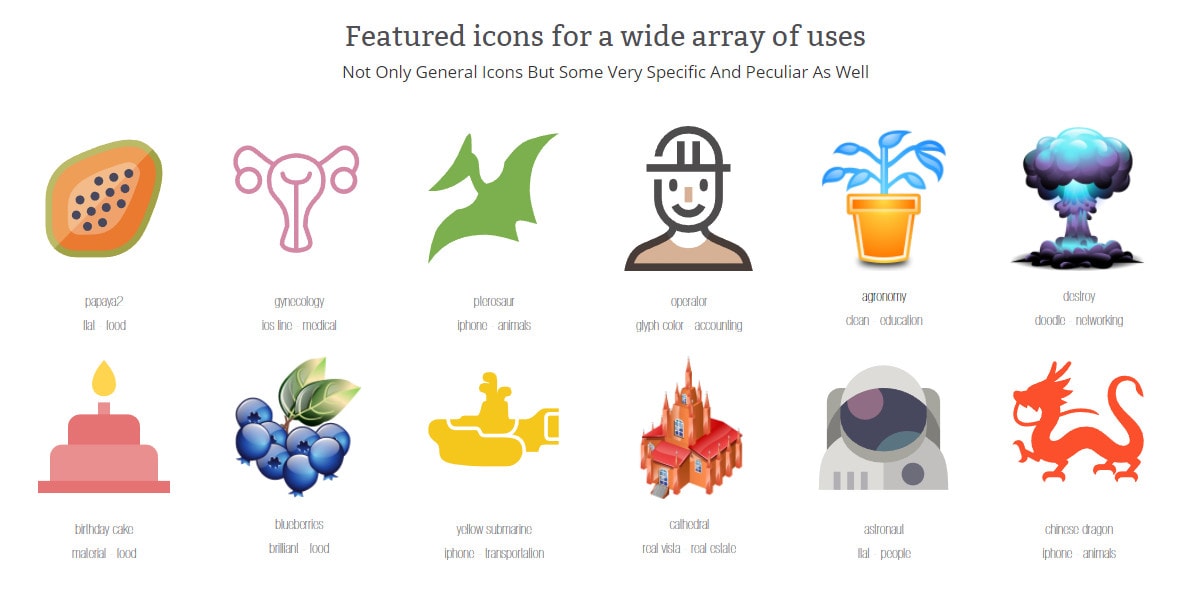 Real Estate Icons: Offers a rich spectrum of building categories, from casinos to bunkers and everything in between.
Sports Icons: Stock designed with perfectly finished details. Contains a variety of disciplines and team sports, as well as metaphors to represent actions related to them.
Design and Development Icons: Icons in several different styles and perspectives related to the design and development of software and interfaces, concepts for anything from programming languages to data structures and protocols.
Shopping Icons: Concepts in every style depicting all kinds of stores and the activities related the industry, like gift wrappings, products, dressing rooms, clothing and miscellaneous articles.
Communications Icons: Several styles and concepts for modern communications, like devices, social networking, interactions, as well as basic concepts like calling, texting, browsing, etc.
Social Media Icons: Packs in every style depicting logos and actions related to social networks and digital communications.
I believe I mentioned their team is also creating custom designs in case you're looking for a somewhat different and unique style exclusive for your brand. They'll tailor a set exclusively for you or your company, offering support and taking feedback until you're happy with the result.
These guys also offer a wide variety of services for your online business through some of their other platforms like Web Design and Graphic, Digital Marketing, Branding & SEO.
That's all good and well, how much will this cost me?
Because that's ultimately what you're thinking. Well, fear not, for you can access their designs for no cost as I said before. The catch is: as a free user, you'll have access to their Full Library, every style and industry, and every new set, but you'll only be able to download in PNG and up to 72px, for personal use. However, their subscription model, which is available in two forms (Yearly or Lifetime). Gives you all of the above, plus the source files in SVG and Ai formats to their current and future products, every Size available and Unlimited Commercial Users.
Thoughts
I was pleasantly surprised by their new platform, and while the platform is still getting some minor details tweaked which sometimes makes it slower, that never took away from the experience of going through their content and finding new gems hidden within their vast wealth of icon designs. Also, their subscription models are well within the realm of reason, considering the length of time you'll have access to the library for full commercial use and a number of products it comes with. It's definitely worth taking a look.
Like what you're reading? Subscribe to our top stories.