Best Practices for Thanksgiving Email Newsletters with Examples
The greatest mistake of retailers is to think that Thanksgiving email newsletters are not worth their attention, betting everything on Black Friday and Cyber Monday. Without a doubt, the holiday season is crucially important. And Turkey Day is one of the biggest sales opportunities and significant milestones in every professional marketer's calendar.
It is perfect to:
Show gratitude to loyal clients
Create anticipation for one of the busiest events in the marketing world – BFCM weekend
Get more subscribers
Re-engage inactive customers
Welcome newcomers in a particular way
Hook the audience to email
Even though your customers will be house-bound during this day, no one can't stop them to do their shopping online.
Thanksgiving is a chance to not only fill contacts' inboxes with holiday vibes but also avoid the BFCM rush, and deliver your message to a relaxed and open audience. Missing it would be an unfortunate slip. If you are ready to make the most out of the holiday season and seize every opportunity, then skyrocket your Thanksgiving email marketing campaign with these tips and best practices.
Ideas for Thanksgiving Email Campaigns
Thanksgiving is all about family gatherings and saying "Thank you" to each and every person who has made a positive contribution in your life. Since subscribers are your family, at least in the digital world, express gratitude and send best wishes to everyone in your address book.
You do not have to reinvent the wheel and spend lots of time searching for a theme. Use culture and traditions to your advantage and build a strategy that will melt subscribers' hearts. There are several viable ideas that will help to engage subscribers and increase open rates and click-through rates.
No-Code Email Template Builder
With Postcards you can create and edit email templates online without any coding skills! Includes more than 100 components to help you create custom emails templates faster than ever before.
Try Free
Other Products
Say Thank You
That is right, just like that. Although we are capturing the obvious here, this tactic never fails. Using traditions works like a charm. Thanksgiving is a day to say "Thank you" and it is exactly what you should do.
Your audience will expect it; therefore, do not let them down. Being grateful helps to establish healthy relationships with the audience, showing them that you care and serves as a reminder to engage with your marketing.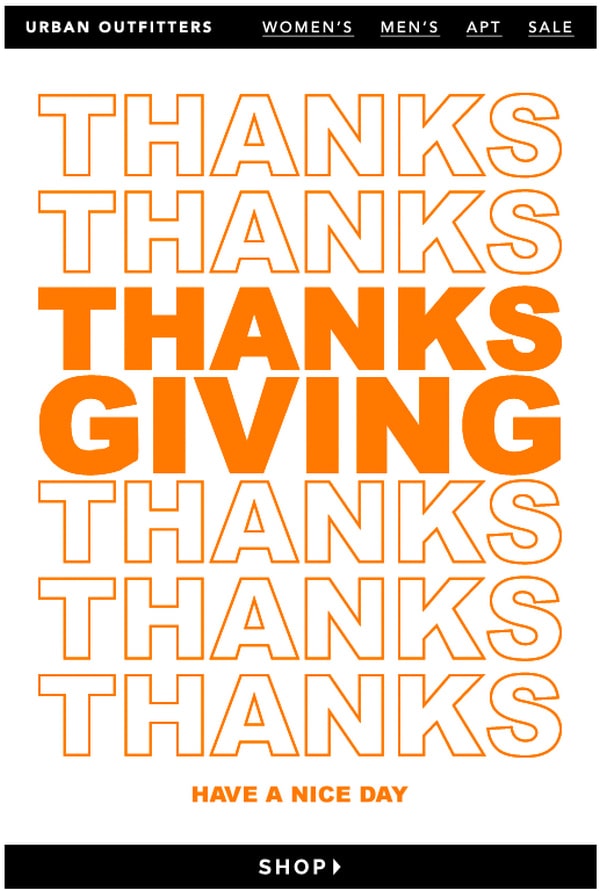 Email newsletter from Urban Outfitters
Show Generosity
What can get your subscribers into the giving mood? Generosity, of course.
Thanksgiving is not only about eating turkey and watching the Macy's parade and football; it is all about expressing thankfulness through generosity. Bring "sharing is caring" to life by giving away something special. Of course, everything depends on your budget and capabilities. Even the smallest gift can do the trick.
For instance, share a coupon for something special, give away a small present, share helpful stuff like printable schedules or checkable holiday to-do lists, or just offer free shipping.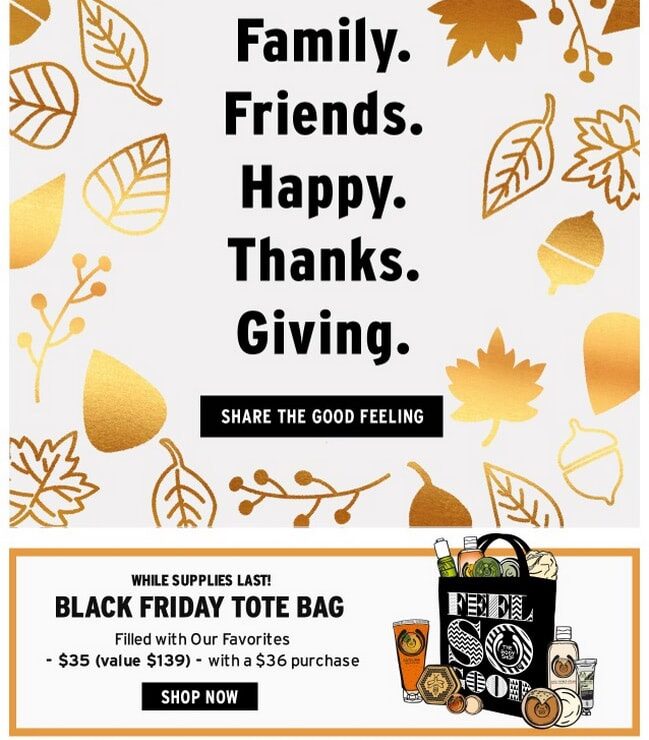 Email Newsletter by Bodyshop
Staying Non-Promotional
Thanksgiving is one of those rare occasions when you can benefit from non-promotional email newsletters. The deal is that everybody expects the upcoming BFCM weekend. Use this holiday to express your gratitude.
Show some of the good stuff done by your company during the year in this email campaign. This will help to strengthen your relationships with the audience, build trust, and improve the overall brand picture.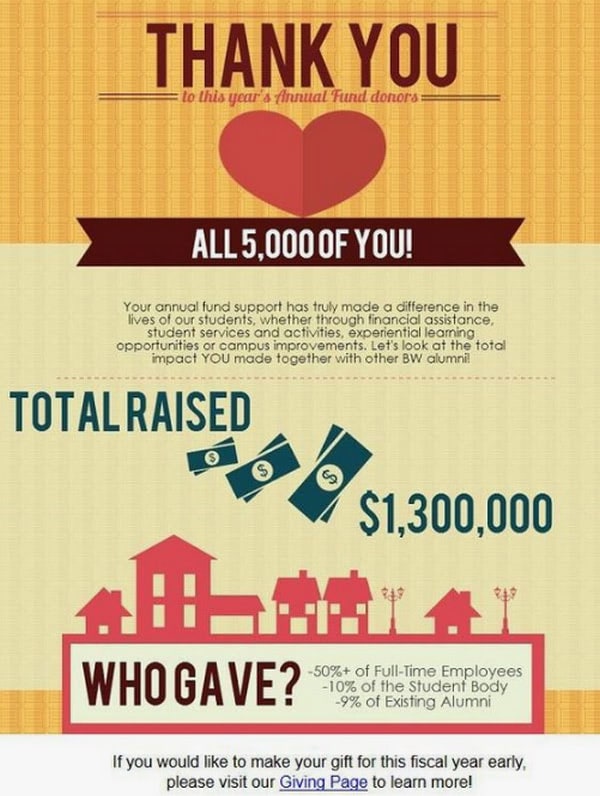 Thank you
On top of that, you can prolong a Thanksgiving campaign. Even though the holiday is over on Friday, people are still in a celebratory mood and longing for some holiday spirit. Use it to your advantage by sending out another festive email to trigger emotions and make a higher impact on BFCM weekend.
Sneak Peeks of BFCM Weekend
Ramping up for the biggest retail weekend of the year is another obvious thing to do. Use a Thanksgiving email newsletter to offer sneak peeks into BFCM weekend. A skillfully crafted preview email will create the proper anticipation, ignite interest, keep users hooked, and excited.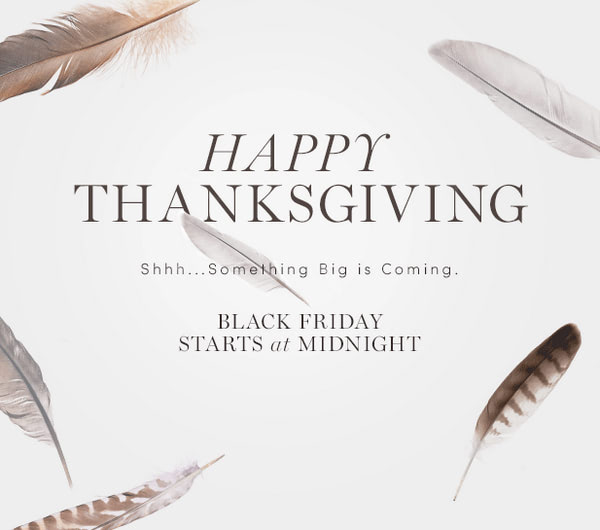 Happy Thanksgiving. Shhh…something big is coming
All those ideas are good on their own; however, no one stops you from combining them. For example, create a Thank You digital card with a sneak peek of upcoming Black Friday deals, and you will kill two birds with one stone.

Thanksgiving email newsletter from Tradesy
Design
When it comes to vibrant and radiant holidays like Thanksgiving, there is no place for insipid and washy designs. If you are still swaying between the plain text and rich-media versions, do it no more. It is time for picturesque e-blasts.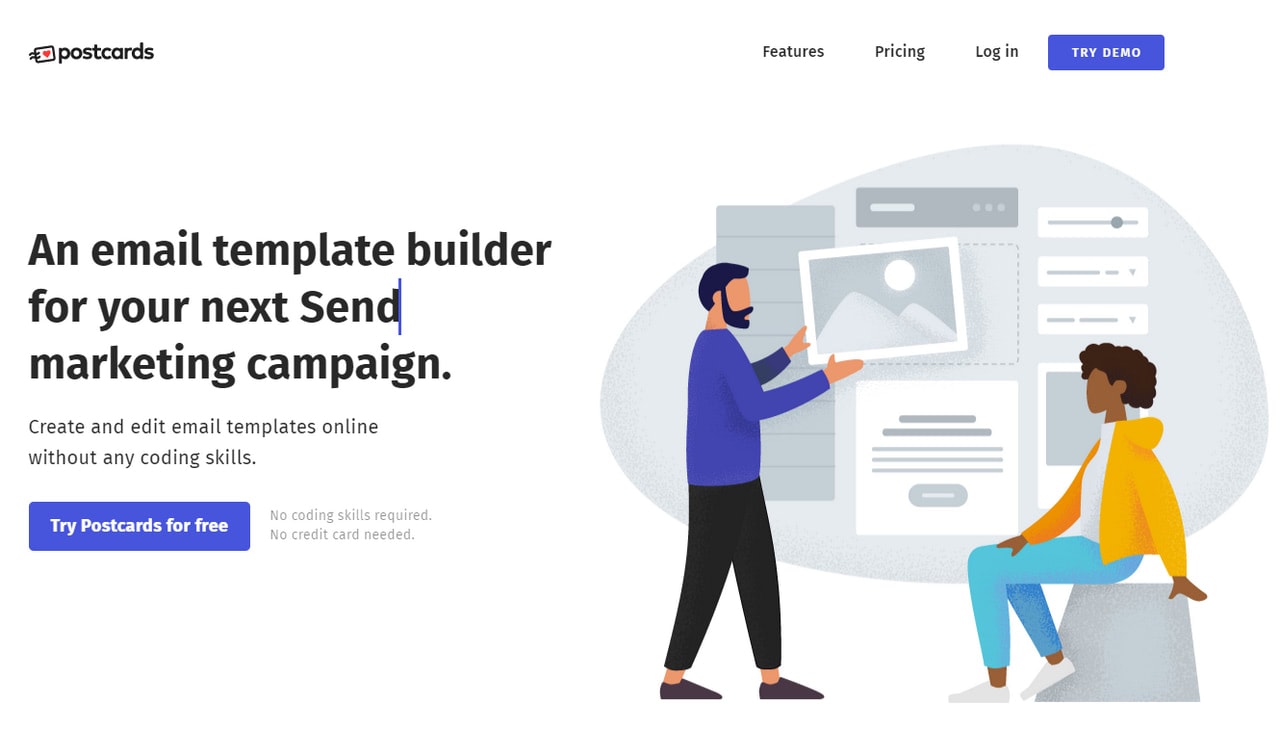 Postcards – Email Newsletter Builder
For those who value their time and need a solution right here right now, we recommend using a free HTML email template builder with a drag-and-drop interface, such as Postcards.
Postcards will help to create the newsletter with a beautiful mobile-friendly design and festive mood in seconds. All you need to do is to choose the right blocks from more than 100 available components and mix and match them to bring your vision of a holiday template to life. The resulting newsletter will be compatible with popular email providers, readers, and browsers.
If you still need some advice on design and filling, then keep on reading. We have covered essential tips that will help to create a Thanksgiving email newsletter. 
Colors
Everything begins with a color scheme; therefore, make sure it meets the mood of the feast. Although Thanksgiving closes the harvest season, nevertheless, it is still considered an autumn holiday.
That is why you should go for warm earthy tones: brown, orange, yellow, soft red. On top of that, you can use white, green, and even black to create neutral backgrounds and highlight the beauty of fall-inspired palettes.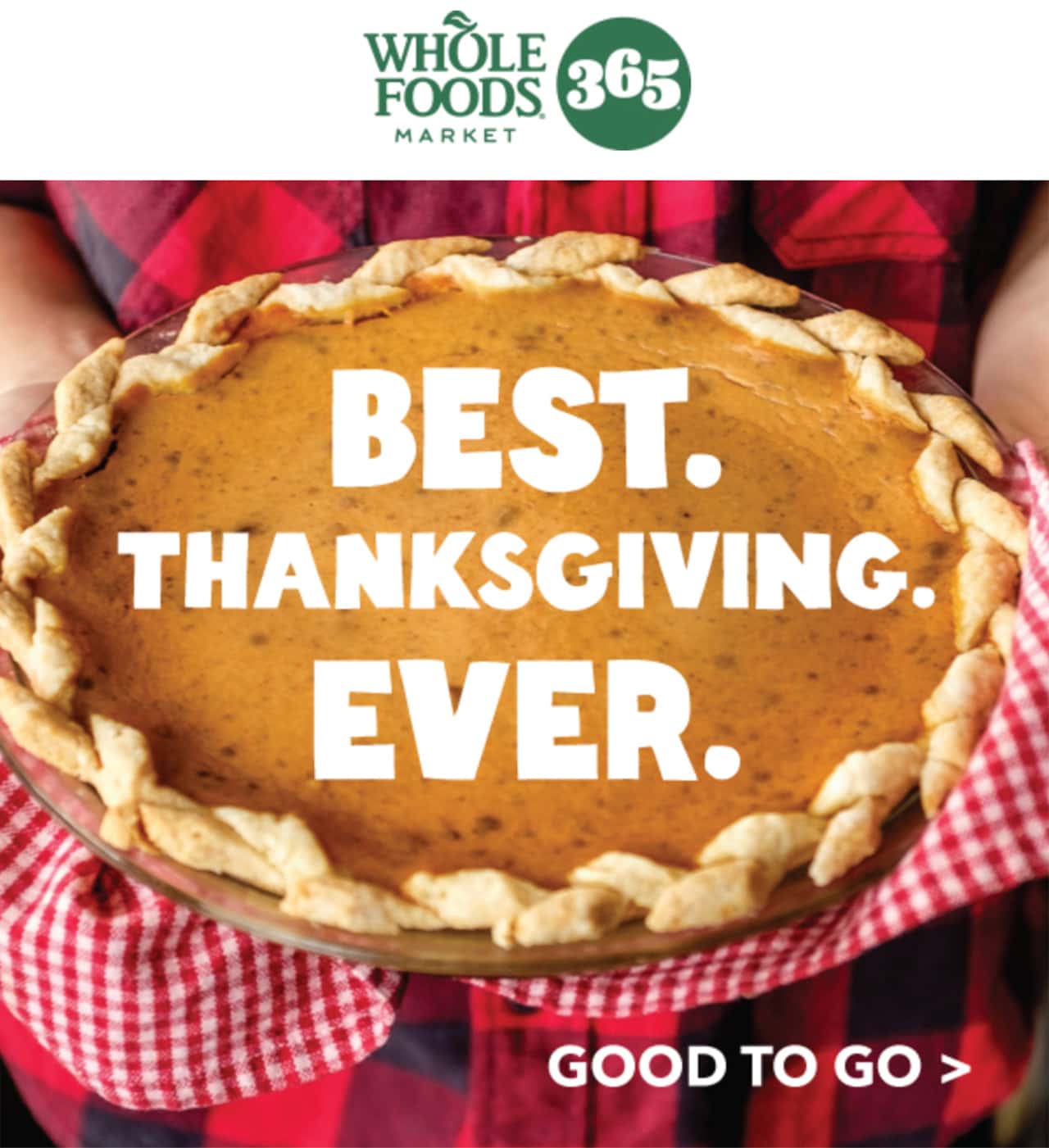 Whole Foods Market Email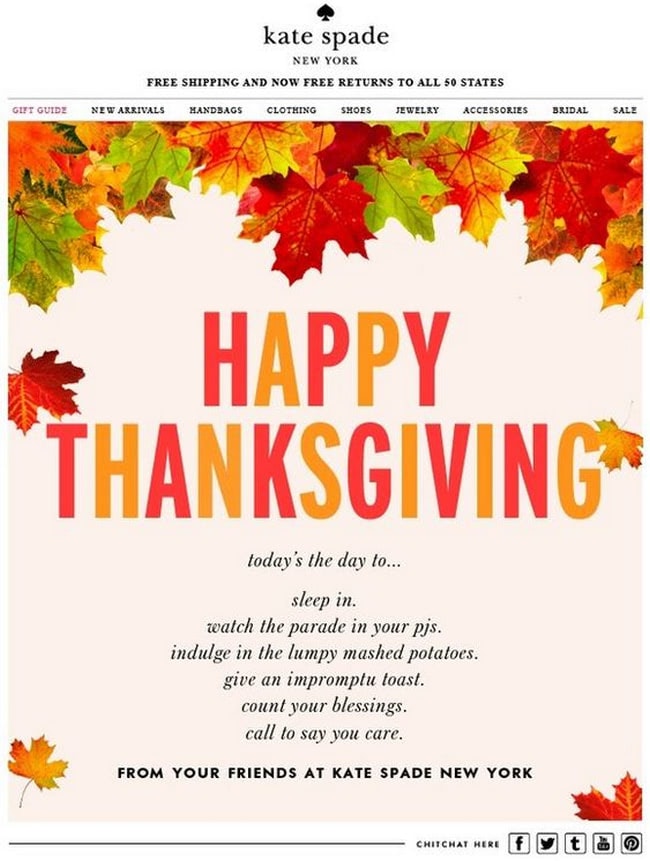 Happy Thanksgiving by Kate Spade
Images
Using images of roasted turkey, fully served dinner table, or even pumpkins are the easiest way to evoke a positive mood, lighten the atmosphere, and bring everyone into the festive spirit.
As a rule, pictures are used as backgrounds; however, you can cut the desired elements and leverage them as décor in various sections or use as accompanying visual material to support the statement.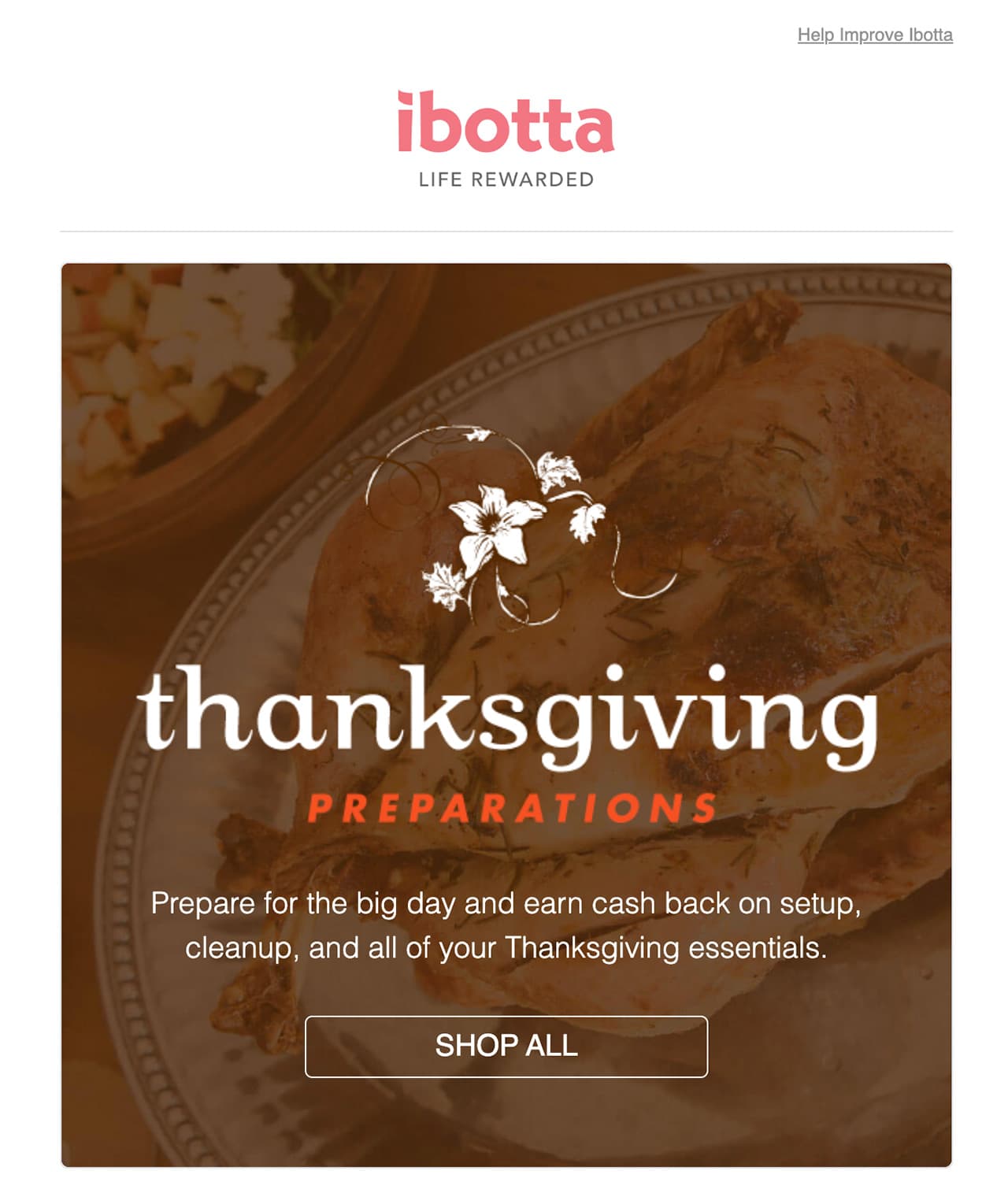 Thanksgiving email by Ibotta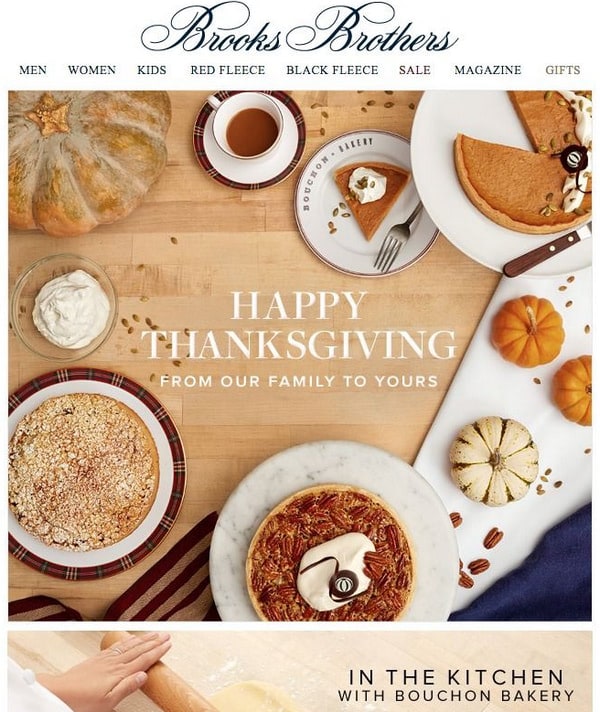 Happy Thanksgiving from Brooks Brothers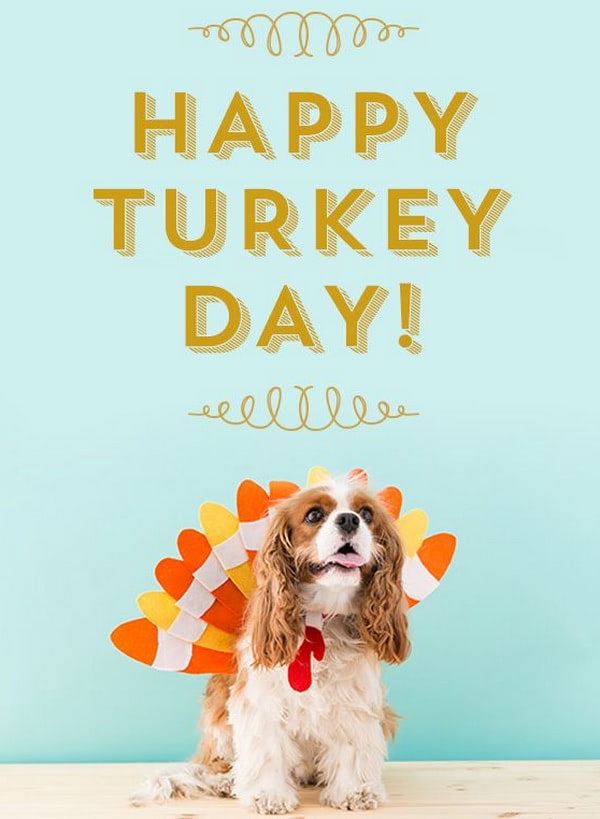 Happy Turkey Day
Illustrations
If images are not your thing, then you can always go for illustrations that give the design an artistic touch. Let your imagination run wild and benefit from one of many styles and themes. It is a great way to encapsulate the content inside artwork and impress contacts with a true masterpiece. Use such things that scream Thanksgiving in your design such as:
Autumn leaves
Pilgrims
Turkey
Pumpkin
Pie
Acorns
Pinecones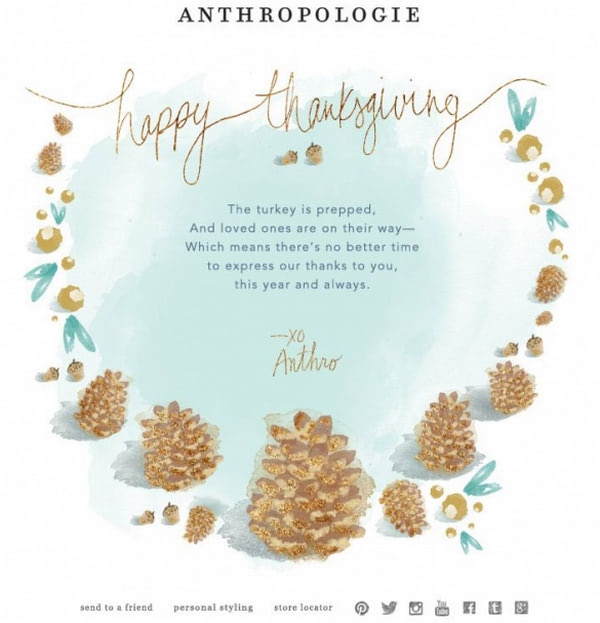 Email newsletter from Anthropologie
Animated Gifs
Everyone loves animated gifs. It is that kind of language that is perceived by everyone without exception. It can speak volumes.
Use looped dynamic images to create the proper atmosphere, command attention, create a playful mood, and leave a lasting impression. In addition, you can highlight the value of the offer and stress urgency in an unobtrusive way.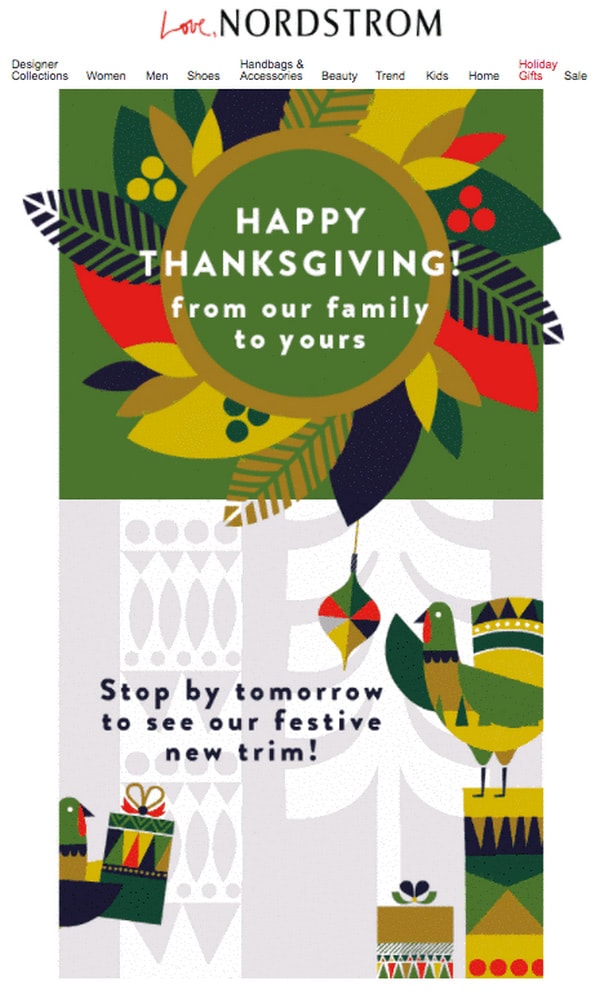 Email Newsletter from Nordstrom
Tone
Thanksgiving is a family holiday; therefore, treat your audience like one. It means that an email newsletter should have a friendly, cordial, and amiable tone. Of course, you should not ditch your corporate voice; show subscribers your attitude toward them using festive language, funny phrases, and puns.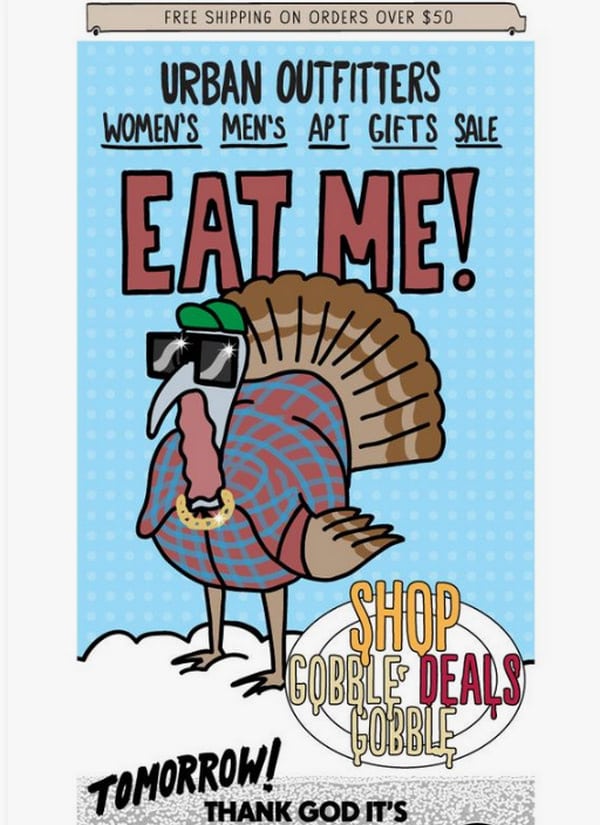 Email Newsletter from Urban Outfitters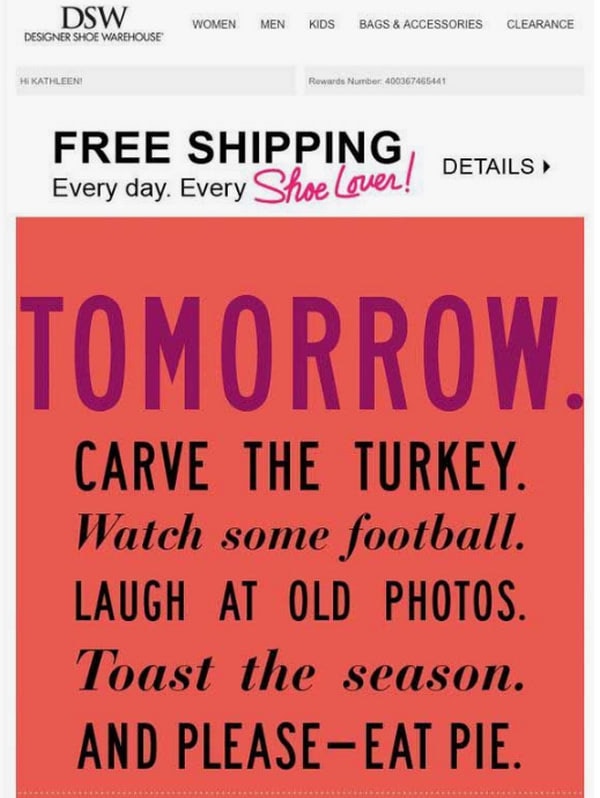 Email Newsletter from DSW
When your design is ready, and the strategy is agreed and approved, it is time for necessary preparations and polishing.
Segment the Audience
We must mention segmentation since it is the basis of everything. Along with cleaning up the subscription list, it lays a concrete foundation for your strategy. Make sure you send out email newsletters to people who are waiting for you. It will help decrease bounce rates and increase open rates.
Subject Line
Your audience will judge your email newsletter by the subject line. It is the first challenge that you should sort out in your path to getting to subscribers. It should catch an eye, speak volumes, and compel users to open your email newsletter. To do this you can:
Use seasonal and festive emojis such as turkey glyph, fallen leaf glyph, glyph of clinking glasses, family glyph, etc.
Use festive words such as gobble-gobble, Happy Thanksgiving, etc.
Stress urgency using such short phrases as "Time is Ticking," "Today Only," "Ends Soon"
Use sale words such as Sweet Deals, SALE or % sign
Email subject lines to try:
Happy Thanksgiving!
Happy Turkey Day!
Thank You!
Happy Thanksgiving! 25% Off!
Save room for some sweet deals!
We're Thankful for You! Enjoy 50% Off!
Thanksgiving Specials: Save $50 Off $125
Give Thanks! 25% Off
Gift for You!
Early Bird Shopping!
The sale starts now!
Special Discount!
Special Savings Inside!
Sneak Peek Deals!
Your Early Access Starts Now!
Happy Thanksgiving + Black Friday Preview!
Enjoy 40% Off: A Happy Thanksgiving!
Pre-Black Friday Deals!
40% off ALL!
FREE Thanksgiving Delivery!
Dish up 50% off!
Your Thanksgiving begins here!
Oh, my gourd! Don't miss this SALE!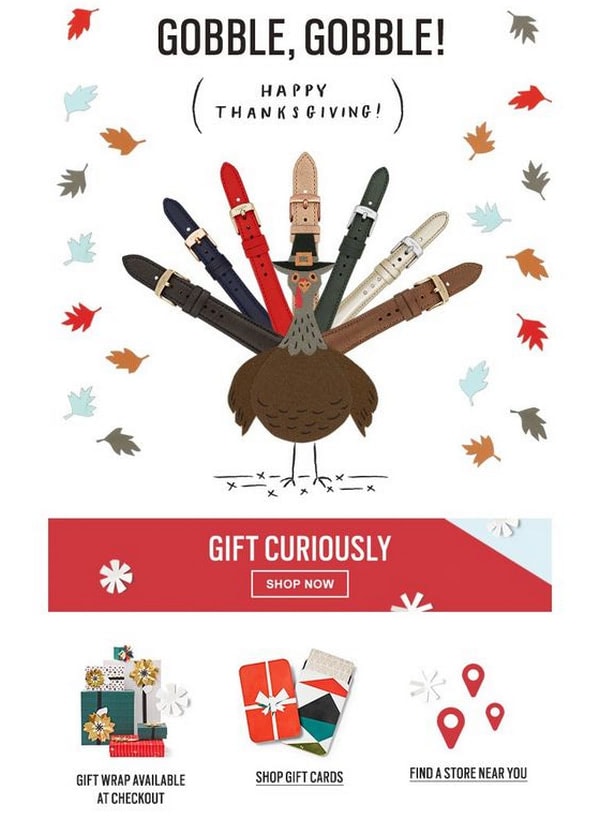 Timing
Perfect timing is crucial, especially when it comes to busy holidays. Choose the time that works best for your clients. As a rule, the best time to send email newsletters is between 10 a.m. and 4 p.m. This is based on regular weekdays.
When it comes to holidays, everything may change; therefore, it is your task to figure that out. Analyze previous campaigns to choose the best time to knock on your subscribers' doors.
Also, consider resending your email newsletter if the first one fails. Even though retailers will bombard subscribers with deals, some popular strategies start early. Therefore, chances are Thanksgiving may see an upsurge in email blasts. Take this into account; and if something goes wrong, then use an alternative email newsletter or resend the previous one.
Meet Expectations by Overcoming Limitations
Although the use of interactive details or gamification in email newsletters is a win-win solution, do not fall for this trick. The bitter truth is that everything is not as rosy as it seems at first. Email newsletters are subject to various limitations. Even the use of innocent animated gifs can cause problems since not all email readers support them.
On top of that, some subscribers turn off images by default, leaving you with nothing more than just Alts. Therefore before using something incredible in your email newsletter, check its survivability, viability, resistance, and of course, compatibility.
To avoid poor tactical decisions, do A/B tests. If you think this is not your story, then think again. Tests are everything when it comes to creating successful marketing campaigns. Also, it's very important to test for spam your Thanksgiving email newsletter.
Ideally, you should analyze previous Thanksgiving campaigns to refine the current one. You can always polish it with the on-spot A/B tests. Moreover, use data from other passed-by holidays that provide insights about changes in subscriber behavior and shopping habits.
Conclusion
Thanksgiving is not only a chance to show your care and appreciation to loyal subscribers but also an excellent opportunity to cultivate and cement relationships with your audience and maximize incentive. Use it smartly.
First and foremost, Thanksgiving is a national family holiday, and your marketing tricks may bounce. Be honest, friendly, and benevolent. Show subscribers that you are grateful for them being in your life. And this will bring benefits in the future.
Like what you're reading? Subscribe to our top stories.