Free Virtual Business Card (vCard) HTML Website Templates and Layouts
Business card is a very common but effective way to show your professional talent to others. And when it comes into a virtual business card, the scope of showing talent becomes even more immense! This is perfect for freelance web designers, content writers, photographers and other professionals.
Through eye-catching virtual business cards you can make your potential clients aware about your talent and your recent works. Moreover, these virtual business cards are highly professional in design, so you can make your professional identity stronger and smarter with this kind of approach.
In order to get stylish virtual business cards one can take the help of templates and layouts that are easily available in the net. Using vCard HTML templates and layouts is a great idea for those who want to save time and money both. Since these virtual business cards can be downloaded from the internet for completely free, so you don't need to invest money to avail your business card.
Virtual Business Card (vCard)
There are premium cards as well in the web for those who don't want to have the free version. Apart from saving money these templates can be very useful in saving time as well. In order to get stylish and smart virtual business card you have to wait for few hours. Search the vCard HTML template and layout that suits your profession and can represent you best.
Then download the free version or purchase the premium version of these templates, do the necessary changes in that template, includes your contact details and use it for your professional purpose. The whole job will take less than a whole day. Through these templates, you can get the chance to showcase your talent and work skill.
There are pages for testimonials and portfolios through which your potential clients will be aware of your talent and past endeavors. There are pages for showing your contact details and social profile details as well. In some vCards there is also space for short resume. So your virtual business card can be a complete platform for showcasing you as a skilled professional to your prospective clients.
No-Code Email Template Builder
With Postcards you can create and edit email templates online without any coding skills! Includes more than 100 components to help you create custom emails templates faster than ever before.
Try Free
Other Products
These HTML templates and layouts are editable and can be availed in great designs. You can add your own image and your professional portfolio to make your card more attractive to others.
Next vCard – Responsive Personal Theme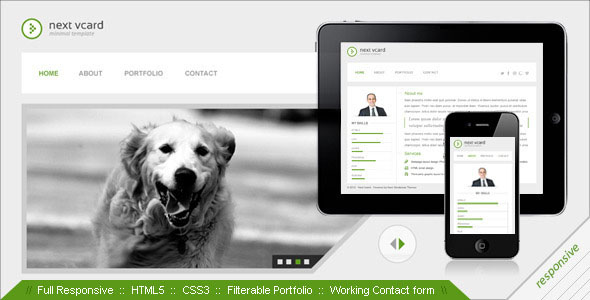 Next vCard can be easily attributed to a minimalistic personal portfolio that complies with one of the vital requirements of the modern world – responsiveness and mobile-friendliness. It is delivered with such features as
jQuery slider on the homepage;
portfolio with filtering option;
clean resume section;
menu hover effect;
Skills graph effect on load;
social icons;
Google map;
page load effects.
Dark UI – Responsive Virtual Business Card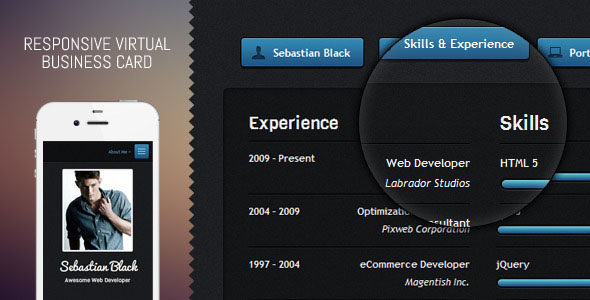 Dark UI is a fully responsive theme that provides online visitors with an excellent experience regardless of a screen dimension. The HTML/CSS template ships with
four different color schemes plus the default one that reflects a proper businesslike feeling;
Twitter integration to show your latest tweets;
simple contact form with a vital validation and extra feedback to the user;
multiple tabs;
HTML5 boilerplate used as a foundation;
Google Analytics and Google fonts.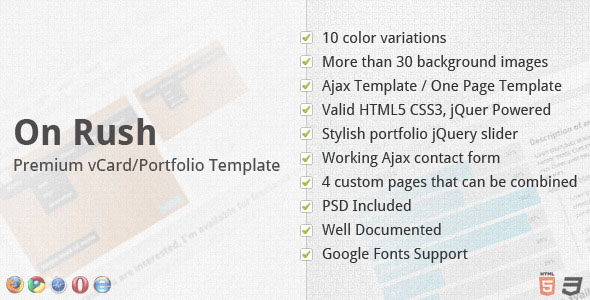 On Rush is a premium high-quality vCard theme that comes with such features as
ten color skins from clean light to refined dark;
30 backgrounds that you can mix and match to catch the proper mood;
jQuery-driven slider for clearly displaying portfolio pieces;
working contact form pulled by Ajax;
four custom pages and seven standard pages that can be quickly edited;
native integration with Google fonts directory;
vertical or horizontal scroll effect for pages;
PSD files.
It is an optimal solution for any person to establish yourself online.
Zwin – Responsive Vcard Template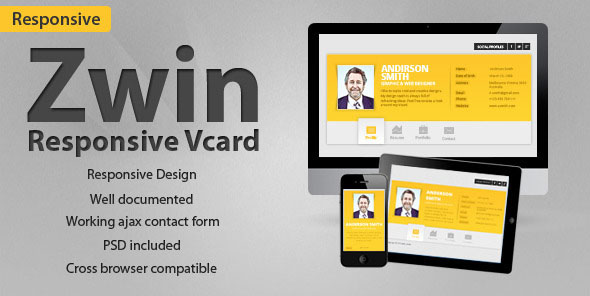 Zwin is a fully adaptive vCard template that is appropriate for various specialists who want to introduce themselves briefly. It is lightweight and fast due to a structure built with the help of HTML5 and CSS3. It is mobile friendly and looks great when displayed on retina screens. It comes with
two types of preview portfolio widget;
basic contact form;
isotope jQuery plugin;
Google maps;
unlimited tabs;
unlimited color schemes;
social media integration.
Hello VCard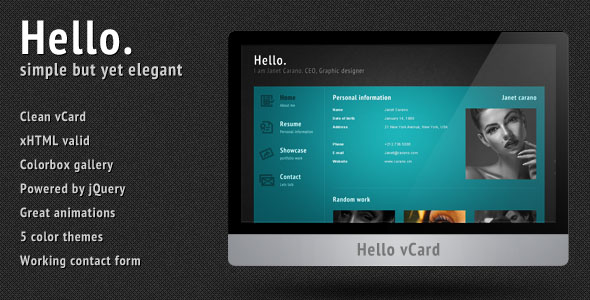 Hello vCard provides you with a clean and simple way to make yourself known. It is very easy to customize and tune-up. There are such key elements as
working PHP-powered contact form;
flash-like jQuery animations;
font face;
five predefined color schemes.
The information is laid out in neatly organized and structured tabs that are spruced with a smooth sliding effect.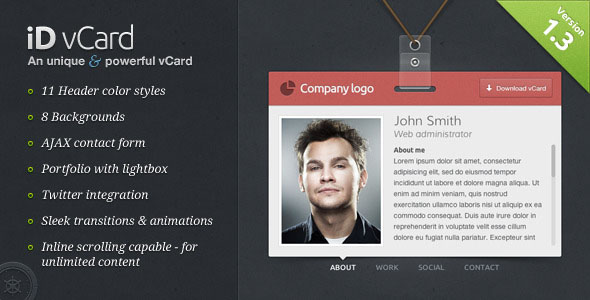 ID vCard looks original and fresh. It has an intuitive interface, balanced structure and pleasant sliding effect to move through the subpages. With four custom-made pages (about, work, social and contact) you will be able to jump into work right away. Although it has a rather minimal design and narrow structure, yet it co-works with tablet and cell phone screens without any additional manipulations.
Minimal VCard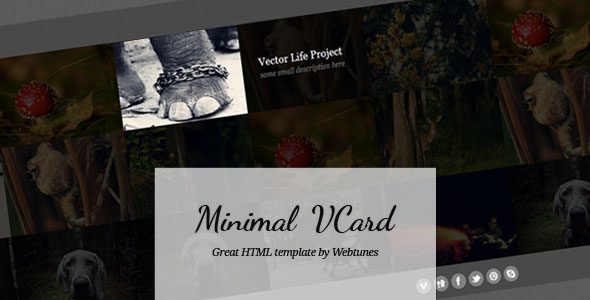 Minimal vCard covers information that is required to present yourself. It is very conservative concerning resources and open space, so that the content is densely packed together. However, the copy is broken into digestible portions that are easy to perceive. It starts with a 'work' section to win over clients with a gallery of portfolio pieces right away.
Circlus – Personal Portfolio&vCard HTML5 & CSS3 Theme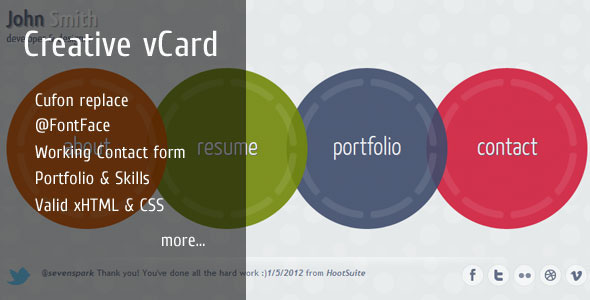 Circlus is a neatly developed HTML/CSS theme for making your presence felt in the web. It is responsive and original with a divine circular vibe. As for characteristics, the template comprises
jQuery Nivo slider;
PrettyPhoto gallery plugin also driven by jQuery;
video support;
Google analytics;
font face replacement;
Modernizr for making the vcard friendlier to IE;
contact form with validation powered by Ajax and PHP;
PSD files.
Notebook – Virtual Business Card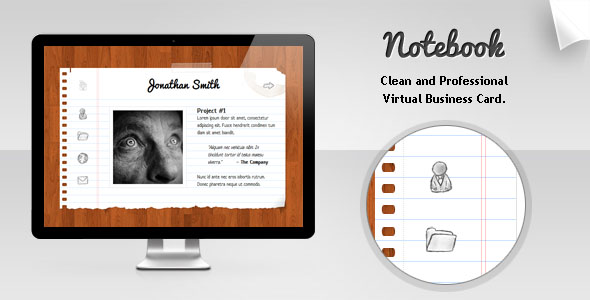 The notebook has a modest, casual and corporate atmosphere taken from stationery-inspired designs. Thanks to a combination of natural textures such as paper and wood, the theme looks harmonious, fresh and sophisticated. Being based on HTML 5 boilerplate, it works fast and reliably. What's more, it will delight you with such features as
24 various backgrounds;
multiple tabs that can be inserted into any page;
progress bar available in five skins;
contact form;
75 icons for enriching social media widgets and links to your profiles.
Digital vCard/Portfolio Template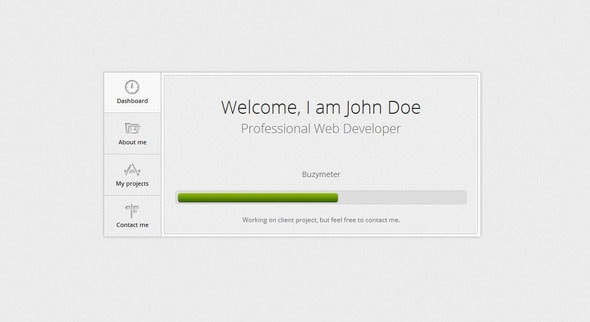 Digital vCard/Portfolio Template was inspired by popular Swiss designs that rely on minimalist principles. It is a clean, tiny theme that focuses on the content. It has only necessary details such as
two basic skins ( light and dark), though you can always set your coloring by altering the main CSS file;
original ' Buzymeter' to indicate your status of employment;
simple portfolio section;
Ajax contact form.
Squares – HTML5 vCard/Portfolio Template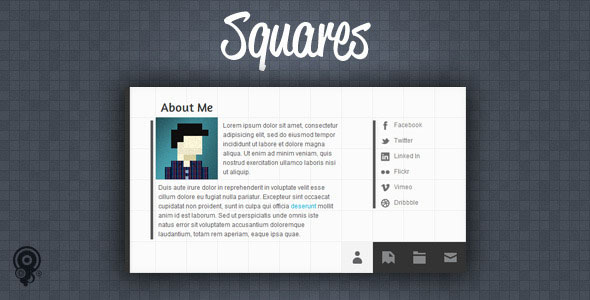 Squares get its beauty from a well-known game 'Minecraft'. The pixelated environment that supplies the theme with a strong boxy vibe nicely combines businesslike feeling and a note of playfulness. It is SEO-friendly, has a semantic and valid code and uses Google Web fonts. As for functionality, there are
visually-appealing page transitions;
beautiful CSS3 animations;
portfolio slideshow;
self-validating contact form;
animated bar graph;
and decorative tools (six color schemes and a handful of background patterns).
Grey & Black – Stylish Online vCard Html Template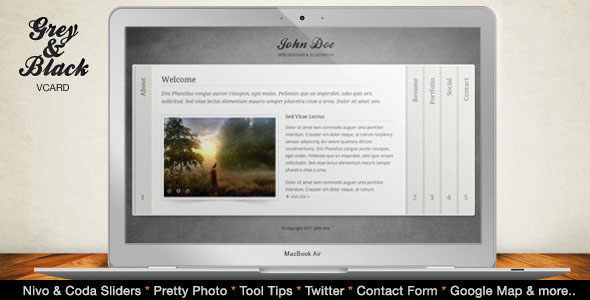 Grey and Black is aimed to convey businesslike atmosphere to let a vCard exude an image of seriousness and reliability. It is HTML5 compliant and collaborates with IE. As the majority of such projects, it has a clean and robust layout that not only displays copy but also gives an opportunity to show off your works. There are several sliders (Nivo and Coda), TipTip tooltips, PrettyPhoto gallery, GPS jQuery, font face replacement, and Twitter integration.
Lucido Professiona Vcard Template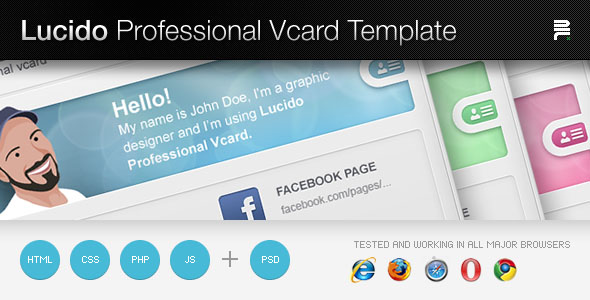 Lucido has an elegant appearance with an open feeling. It is modern, stylish and properly organized. The features list covers
three pastel and soft skins ( blue, green and purple) plus two options of a backdrop (light and dark);
Lightbox for images;
widget for displaying Twitter feed;
PHP contact form with JavaScript validation;
9 PSD files;
jQuery effects and animations;
style changer and much more.
Strokes! Personal Website Template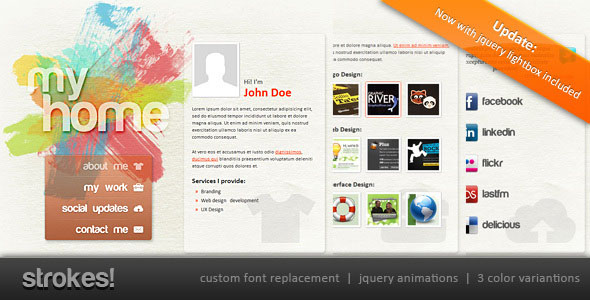 Strokes is a charismatic personal business virtual card that is bursting with a radiant personality. It is suitable for various sorts of creatives, designers, illustrators, artists and others. It has only one yet complex and multifunctional page that allows demonstrating all the information in a straightforward manner. It is divided into four common sections (about, work, social updates and contacts) and was tested in all standard browsers. It includes
Cufon text replacement;
jQuery-driven rollovers and transparency effects;
sliding animation to make movement through sections smooth;
functioning PHP contact form that needs just several modifications.
Conclusion
Virtual business card templates are simple yet effective and quick way to introduce yourself concisely, draw attention to your beloved works, keep visitors up-to-date and establish connections with potential customers. Thanks to jQuery these minimal HTML/CSS layouts get a dynamic feel that contributes to user experience and makes presentation alive and visually interesting. Despite the relatively small size, they carry out their role properly.
Like what you're reading? Subscribe to our top stories.