Dunning Emails – Everything You Need to Know
Churn is something you will deal with regularly, like it or not. Businesses in all niches lose over 50% of subscribers within a year, with involuntary churn making up 20-40% of your overall churn.
While for small subscription lists, this number looks harmless, for mid-sized databases (at least 50,000 members), for example, this number seems menacing. In practice, it might add up to $20,000 in lost revenue every year, damaging business considerably over time and turning involuntary churn into an expensive problem.
To make matters worse, churn is inevitable. An unintentionally interrupted subscription may happen because of many scenarios. The most popular are:
The credit card expires.
The credit card is lost.
The customer got a new credit card.
The customer exceeded their credit limit.
Network error in the bank system.
Charges not flagged as recurring.
Subscribers forgot to update their billing information.
It is impossible to address most of these issues by a retailer, except for the last one. And this later, when controlled and mitigated, can make a massive difference for the company. It may reduce voluntary and involuntary churn, save precious leads, and bring numerous benefits to the brand. The best part is that there is a time-proven strategy to minimize this scenario based on introducing dunning email campaigns.
What is that, how it can help, and how to bring it to life to achieve your prime goal are what we are going to uncover in this guide. Let us start with the essentials – what is dunning email?
Dunning Emails: Essentials
The dunning email is transactional. However, unlike others that are usually sent to a user following a specific action performed by a person on a company's commercial website, this one is triggered by customers' inactivity. More precisely, it reaches people when the due date has passed to remind them about their payments so that they can renew their subscriptions.
No-Code Email Template Builder
With Postcards you can create and edit email templates online without any coding skills! Includes more than 100 components to help you create custom emails templates faster than ever before.
Try Free
Other Products
A dunning email serves several general purposes:
It reminds of a due date
It guides customers through the correct steps to complete the payment process
It maintains a positive customer experience
It keeps customers in the loop
It retains customers
It keeps monthly revenue stable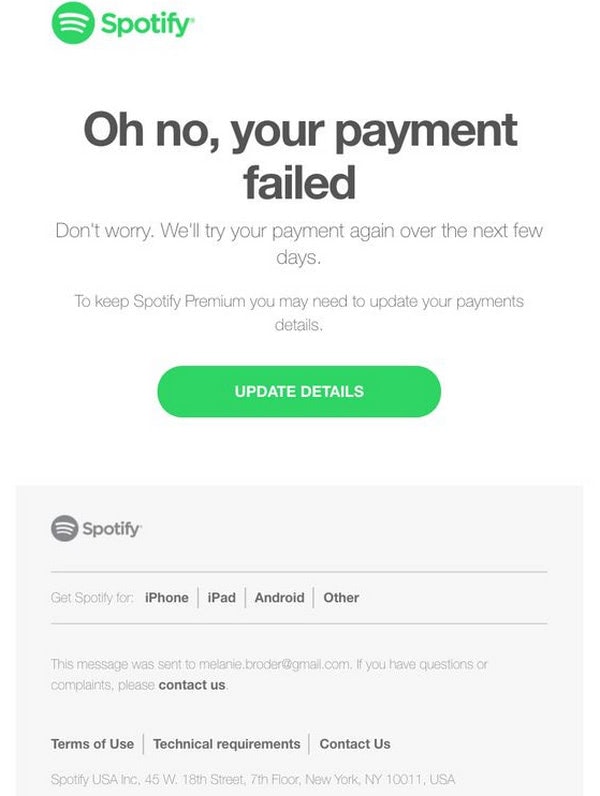 Essential Elements of Dunning Emails
The essential parts of dunning email are:
Clearly stated purpose of the newsletter. The purpose of the email is the first thing to state and clarify. Ensure that your customers understand why they receive this email. People are increasingly skeptical about emails because the web is teeming with frauds and hackers who want to steal sensitive personal information. Therefore, the more evident and transparent your digital email will be, the more chances your customers will follow your lead and convert.
Well-mentioned past due amount. According to stats, customers easily forget about their payment obligation to you, to say nothing about the amount of money to pay. Therefore, it is crucial to remind them about the sum of money, even if it is just a one-dollar bill.
Carefully stressed due date. Users should know the deadline along with the amount of money to pay. Not only does it clear things up, but it also instills a sense of urgency that can nudge your users into action.
Suitable payment methods. The "Pay anytime, anywhere" experience is vital for your customers to proceed with subscription renewal. Depending on the user's preferences and history, add a suitable link to direct payment to eliminate all unnecessary steps.
Customer service contact details or link to an active chat with a personal assistant. Whatever reason may cause involuntary churn, it is obligatory to ensure customers have an opportunity to reach out to your company and address their issues and concerns with the support team.
Brand name and logotype. Brand elements are critical to connecting the dots for your customers. This duet will increase the trustworthiness and credibility of the email as well as eliminate possible confusion.
Company's contact information, including physical address and telephone number.
Unsubscription link. No strings attached – this is a practice for companies that play fair and square.
Importance of Introducing Dunning Emails in Marketing Strategy
In email marketing, dunning email is not that common. It is used chiefly by businesses built around paid subscriptions. However, in its niche, it plays a crucial role in the brand's development and financial success. Let us consider several good reasons why dunning emails are essential and what tangible benefits they bring to the company.
Reasons Why Dunning Emails Are Important
The main reason dunning emails exist and are highly advisable to include in a company's marketing strategies is that they are integral elements of dunning management. Well-done dunning emails minimize involuntary churn without much staff involvement and secure the monthly revenue to help the business move forward. A collector's job is fraught with difficulties; however, with an automated decline management tool, it becomes much easier.
Another good reason is that dunning emails erase the negative experience a subscriber has to put up with every time they fail to enjoy your services because of terminated subscription. An automated approach to dunning management takes a more proactive stance in preventing payment failures before they manifest. Therefore, you can be sure your customer experience will be excellent without your intervention.
Finally, dunning emails improve customer retention. Sorting out failed payments in a staggering 90% of cases, they avoid the immediate cancellation of a subscription. This kind of care about customers evokes empathy and triggers a happy and positive gamut of emotions, improving long-term customer retention.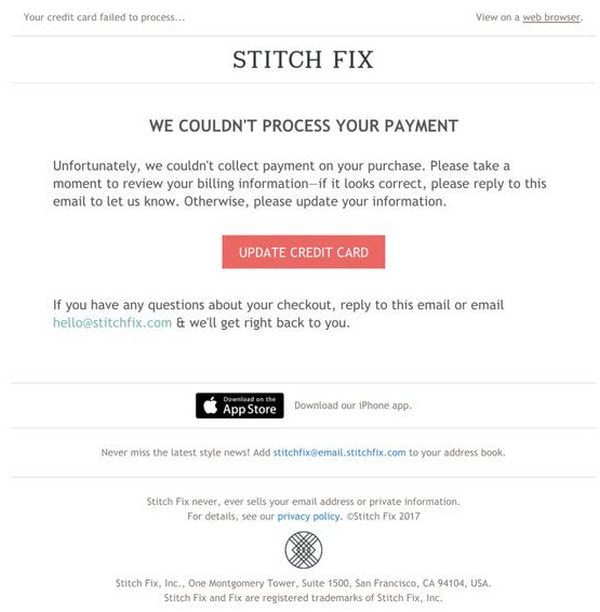 Benefits of Implementing Dunning Emails
Apart from the importance of introducing dunning emails, there is a long list of benefits that companies may derive from this approach. Consider what a successful dunning email can do:
It retains customers. This means you are more likely to get back your soft-bounced leads.
It saves money by avoiding additional investments in acquiring new customers.
It triggers positive word-of-mouth.
It creates an excellent user experience and avoids frustration caused by unexpected service inaccessibility.
It improves communication.
It cements relationships with customers.
It turns your customers into loyal fans and brand ambassadors.
It provides valuable data for creating more granular segmentation.
It creates trust and cultivates loyalty.
It avoids operational complexity.
It maintains a high brand value that builds a strong reputation.
These benefits contribute to the company's position in the market, translate into financial success and directly influence the longevity of the product and company.
Risks of Using Dunning Emails
Like any email strategy, dunning campaigns come with certain risks that the company needs to be aware of to avoid escalating the situation.
The main risk of introducing dunning emails is being too pushy and sounding too needy. This leads to:
Damaging your reputation
Ruining relationships with customers
Loosing your precious leads
Starting negative word-of-mouth that is uncontrollable and impossible to stop
Stick to these simple rules to avoid these drastic outcomes:
Do not bombard your customers with too many notifications: two to four emails in the sequence is enough.
Do not use aggressive language.
Do not use more than one communication channel simultaneously.
Do not sound pushy and needy.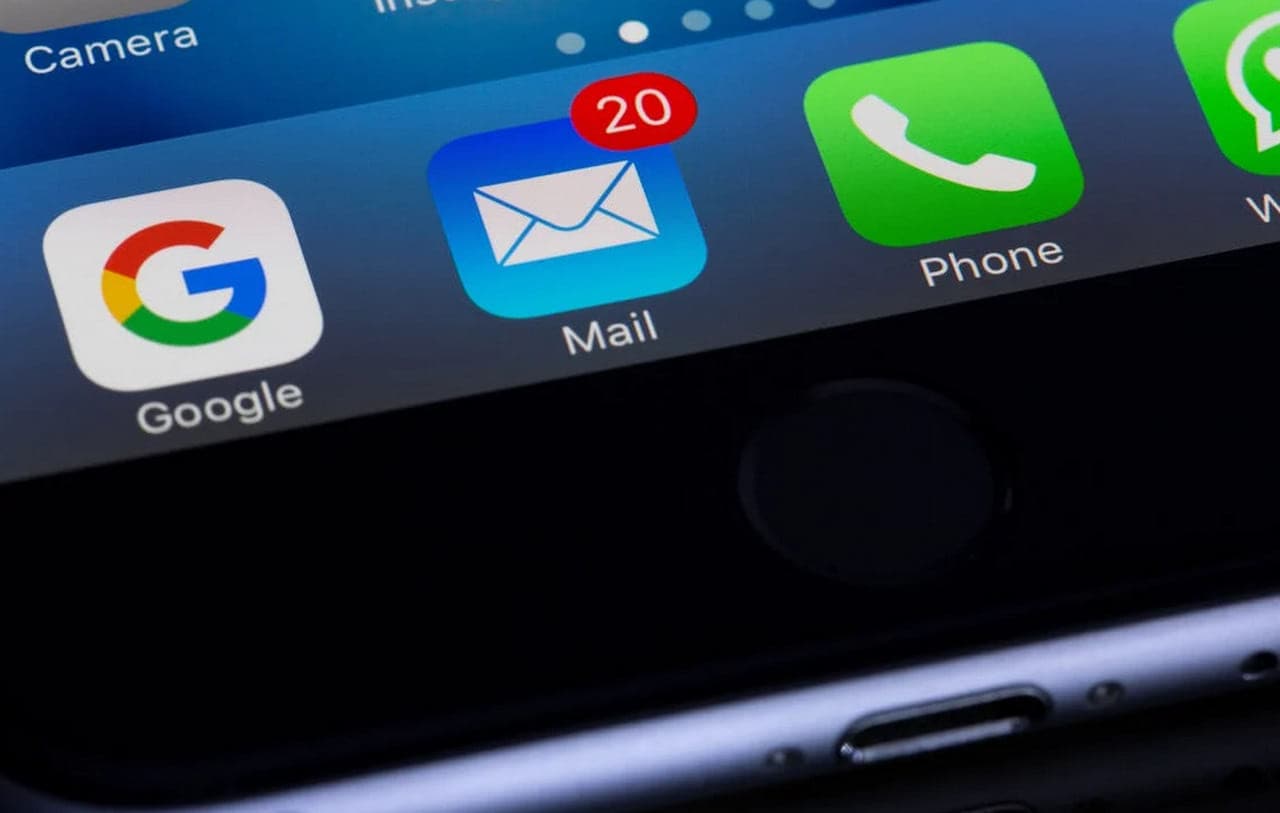 Image source by Torsten Dettlaff
How to Introduce Dunning Emails in Your Marketing Strategy
The best part of dunning emails is that you do not have to reinvent the wheel to introduce them to your business strategy. They are easy to bring to life and implement, especially if you have an email template builder like Postcards. Follow this 11-step routine.
Step 1 – Decide on the strategy
Set goals that you want to achieve and build a campaign around them.
Step 2 – Segment the audience according to their preferences, behavior patterns, and history
Analyze why customers are churning and tailor your campaigns and messaging to their needs.
Step 3 – Focus on essentials of good emails
Follow these basics: use the brand's name as a sending address, protect your email with encryption and digital signature, monitor email sender reputation, and regularly clean up the subscription list.
Step 4 – Create an appropriate subject line and preview text
This is a crucial factor for people to decide whether to open your email or not. After all, your users deal with a dozen of newsletters every single day. They need the motivation to choose you in an overcrowded inbox. The email subject line provides this motivation.
Experts suggest making the subject line and preview text straight to the point, catchy and compelling, so they bring value to customers immediately. Tell users what you want them to do right from the doorstep: being honest in your request always grabs attention and drums up interest.
Step 5 – Create a mobile-friendly design
Where the mobile web dominates, ensuring your layout is responsive and consistent across multiple devices is crucial. As for style options, while you are free to implement any design features you want, it is still vital to follow the general brand's visual identity guidelines by using the established font, color scheme, logo, etc.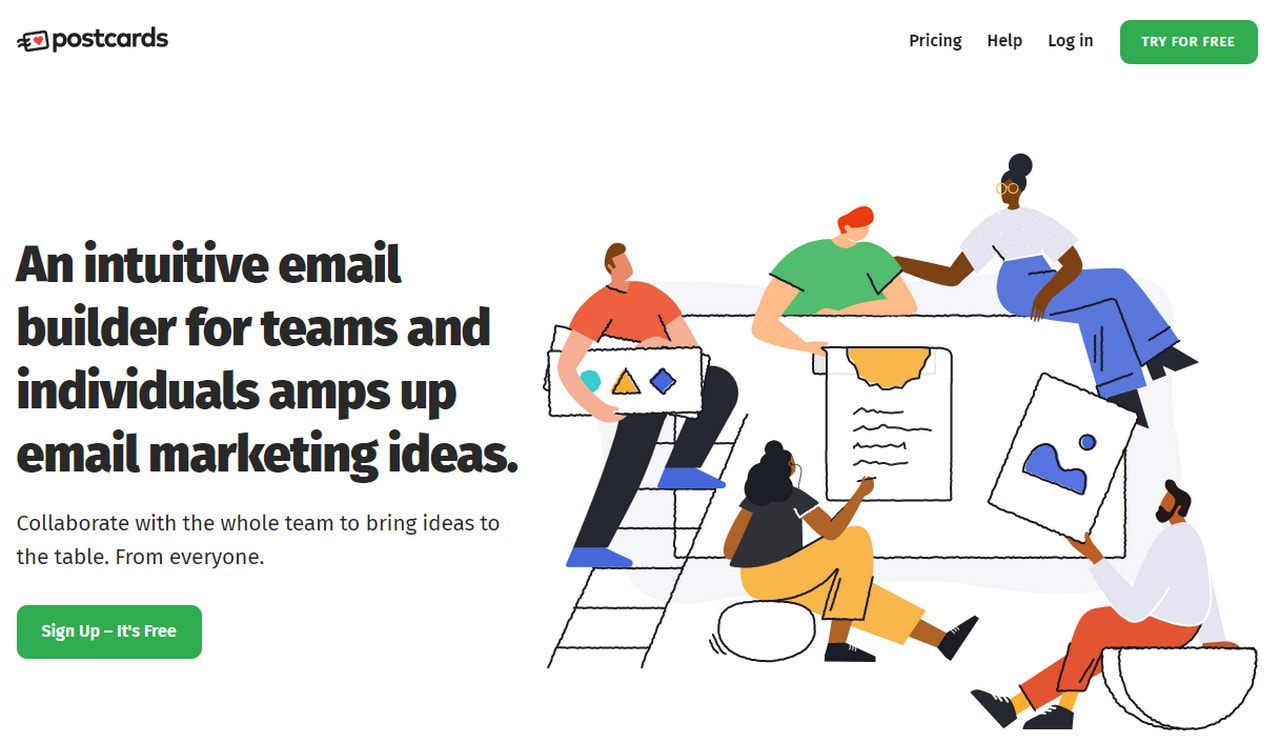 Postcards – Professional email builder
Step 6 –Create informative body copy that provokes further action
Practice shows that lengthy messages have no good effect on customers. What works the best is a short, concise, straight-to-the-point yet alluring copy. Follow these steps to nail it:
Explain what happened. Do not use any fluff in the message. Just clear things up. Give some additional information letting them know that the email is genuine.
Explain to customers what they need to do. Include a substantial prominent call-to-action that instructs further actions.
Stress the deadline. Set up timelines for your customers depending on their risk categories.
Give motivation. Sometimes your customers need a little push to continue making payments. For this, you may remind them about the features or advantages of using your product. You can also share a customer success story. Alternatively, show them what they are losing. Loss aversion has a more significant impact on users than the joy of gaining the same thing.
Add a customer care link to give users tools to eliminate any concerns.
Adopt these practices:

Avoid a robotic tone.
Set a sense of urgency without nagging.
Give customers a few ways to get more help to address the issue with billing details.
Adjust the copy to meet the current situation.
Step 7 – Make the copy personalized
Hyper personalization plays a crucial role in email marketing; dunning campaigns are no exception. If you want to compel the user to do something, the best thing you can do is to provide a personalized experience where the user feels properly addressed and appreciated. At a minimum, use the customer's name, set a real person for your "From" name, and add a link to direct payment that leads to the customer's account or page prefilled with the customer's information.
Step 8 – Create a sequence
The harsh reality of email marketing is that a single email can be potentially lost within a sea of dozens or hundreds of emails in a customer's inbox. Although there are numerous tricks to minimize this outcome, this probability remains. Therefore, it is highly recommended to create a series of dunning emails in case of customers do not take action right away.
Experts suggest introducing two to four reminders, in this order:
The first is the pre-dunning email that states the due time or billing issue. It is important for the campaign's success because it acts while users actively receive value from your product. This motivates them to pay to continue that service. However, it is important to note that many certified payment platforms will automatically update cards with an upcoming expiration date. Some studies suggest that over 70% of upcoming expiration dates get updated on their own. So, make sure your users need a pre-dunning newsletter.
The second email is a reminder about the renewal of the subscription. Usually, it reaches users after the missed deadline.
The third email is a final notice to update payment information.
The fourth email is the "Last Chance" email which notifies subscribers that their subscription will be canceled in several days.
Developing a sequence that successfully recovers most delinquent customers is tricky but possible. Analyze each campaign from top to bottom to understand the series' effectiveness. Depending on your relationships with customers and their current preferences and needs, you may need to throw more notifications into this sequence, like adding "The Last Chance Offer" or, vice versa, reduce it to a minimum.
Last but not least. It goes without saying that if the customer takes action immediately, there's no need to set up a series. Avoid redundant correspondence at all costs.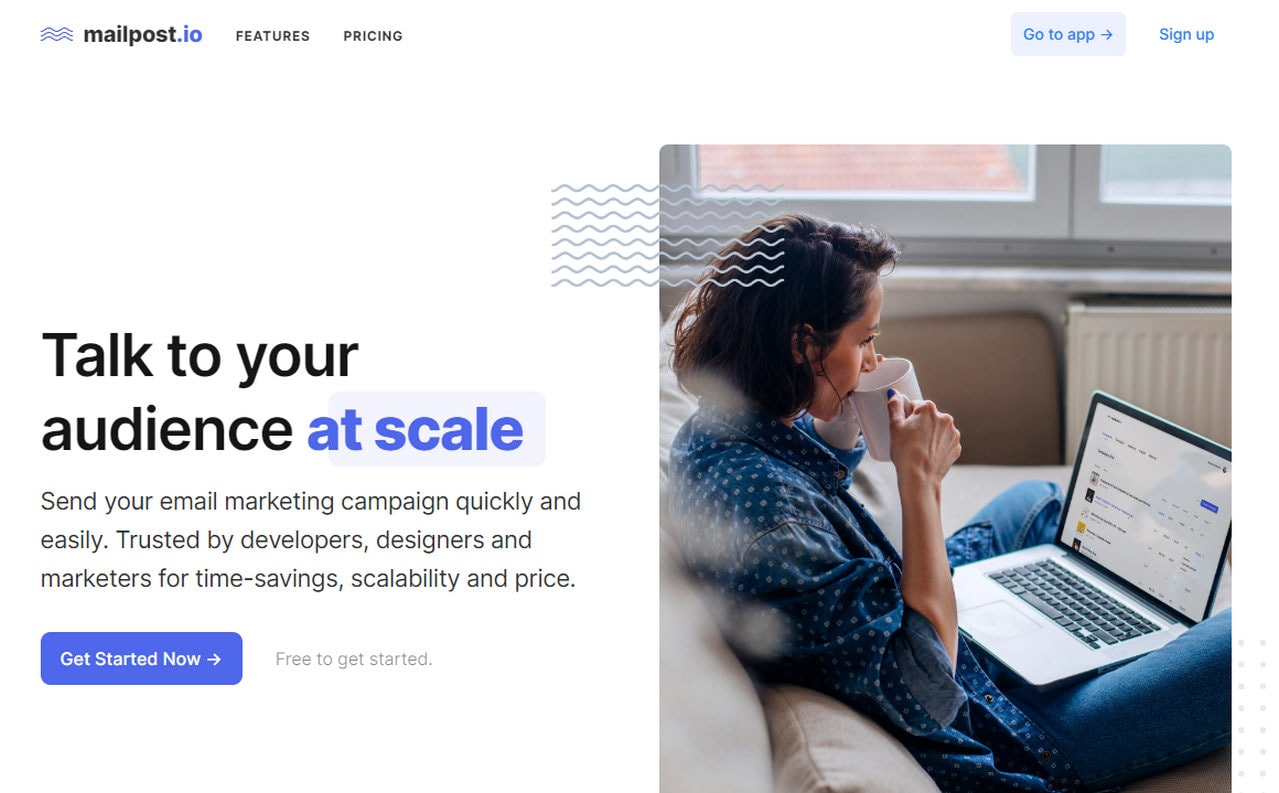 Mailpost – Email marketing software
Step 9 – Set a schedule for sending emails
Before setting a schedule, it is crucial to understand the dunning cycle to determine the best time to send dunning emails. Dunning cycle is a period that includes three primary stages:
A user's payment has failed
Communication attempts and automated retries occur to keep the user as an active subscriber
Subscription termination
The B2C sector has a relatively short dunning cycle to minimize the time customers can access the payment. The rule of thumb, it should never be longer than the shortest subscription plan.
Based on the concept premise, the dunning email should be sent once the payment has been declined. It is convenient for the marketing team since it could be set as a triggered or behavior-based email.
However, the current practices see those emails generated before this time, so users are reminded to renew their subscriptions in advance. This extra period gives companies an opportunity to create not one but a whole series of dunning emails to maximize the effect.
If you introduce a series of dunning emails with the pre-dunning stage, ensure it is not too tight. Send notifications once in four to five days. As for the time of the day, depending on your customer's preferences and behavior, you may send those emails in the morning, at teatime, and in the evening. Avoid busy working hours – people do not have time for that.
Step 10 – Act on feedback and optimize the overall process and strategy
This stage involves taking multiple actions, such as building emails with communication in mind or showing your appreciation to them by sending nurturing blasts before and after the dunning stage.
Step 11 – Track involuntary churn
Getting a sense of your monthly churn allows you to be more strategic in your approach to reducing the problem. You can do it independently or address this issue with a professional tool.
Best Practices for Dunning Emails
Creating a dunning email strategy is half of the battle. To ensure every campaign emerges victorious, tracking its performance across the boards and introducing constant enhancements that help it meet customer needs and expectations is crucial. Consider these best practices that aim to amplify marketing efforts.
General Advice:
Ensure the payment process on your website is straightforward, transparent, and quick.
Use decline code and timing to retry payments automatically and intelligently.
Meet all the regulations and current standards.
Exercise caution in the wording and frequency of alerts not to sound like traditional collection agencies.
Automatize dunning email campaigns to create a seamless and accurate process of collecting payments.
Enable replies or provide a link to a direct chat with the support team.
Allow the customer a grace period to click a link and provide updated credit card information.
Benefit from email generators with a pre-defined collection of easily customized, vigilantly-crafted templates to make emails look credible, professional, and up-to-date.
Offer customers an alternative to canceling their accounts due to a failed payment.
Send your dunning emails to all users with billing permissions under the account, in case your service allows for that.
Adapt a dunning campaign to relevant demands and expectations of the target market.
Set up timelines for your customers depending on their risk categories.
Use segmentation. Analyze payment history, time zones, and payment gateways to create a granular segmentation that helps to reach customers more efficiently.
Do A/B tests. As banal as it may sound, split tests may give you great insights into customer behavior patterns and preferences. You may find the correct tone and language and use appropriate images to strike the right chord in communication and prompt customers to renew their subscription without triggering the sequence.
Tips for Copy and Design:
Create a sense of urgency about the matter. Compel a customer to update their billing information as soon as they open the email.
Include a call to action with the payment link.
Use strong action words.
Remain polite and professional in a copy.
Keep your tone friendly and helpful.
Use positive and supportive messages and offer assistance in addressing the billing issue.
Show appreciation for the customer at the end with simple 'thanks' or send a "Thank You" note and reminder about the next due date.
Make the email accessible and layout mobile-friendly.
Use high-quality illustrations that catch an eye and leave a long-lasting impression reminding your customers about the billing issue.
Inform users about the next payment retry date.
Last but not least, do not make dunning emails your only line of defense. The best way to fight churn is by introducing a data-driven retry strategy where dunning emails play a corresponding role in reaching customers through digital newsletter channels, prompting them to act, and creating a smooth customer experience.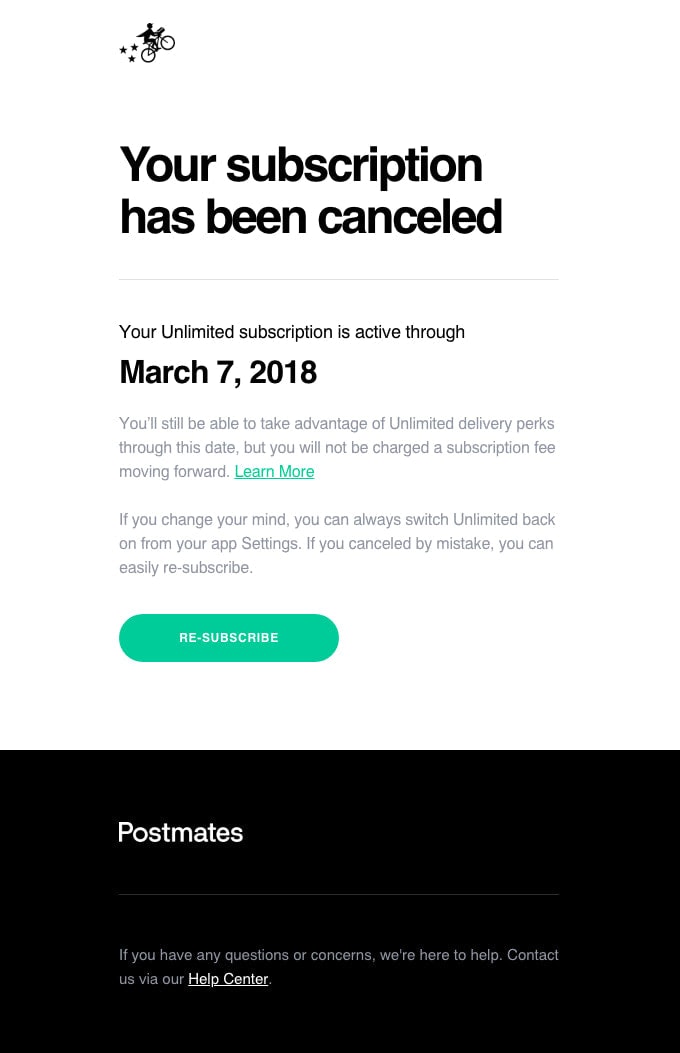 Representative Examples of Dunning Emails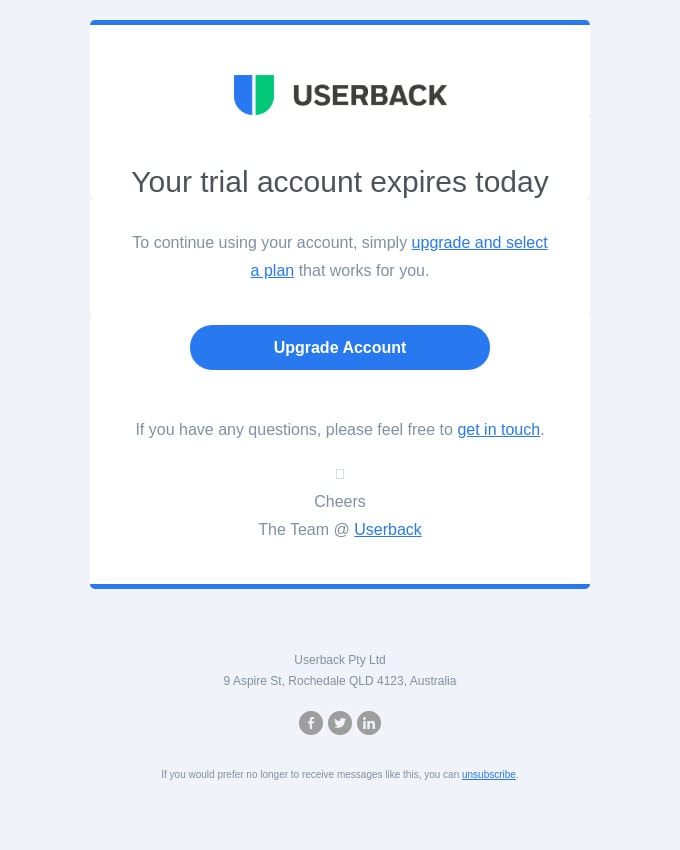 Userback instantly strikes as a platform that appreciates customers' time and prefers talking business. The team has adopted the minimal style in their dunning campaigns, hitting all the essentials and reaching the point immediately.
Their email campaign to get customers back on track starts with a powerful subject line that features the words "Action required" and "Your account expires today" right from the get-go clarifying the email's reason and establishing a gentle sense of fear of missing out.
The same theme is in the body copy. You can see the same message that is well-stressed. On top of that, the team explains what needs to be done in just one sentence. Plus, they have added a direct link to the support team to resolve any issue and a vast eye-catching call-to-action button to give directions on how to move forward.
Finally, note the design. The layout is a capsule. The team capitalizes on minimalism: no illustrations or extra graphical material. However, they have given the logotype a top priority and made the content a king, thereby bringing value to the target customers, advocating their brand, and pursuing the prime goal effectively.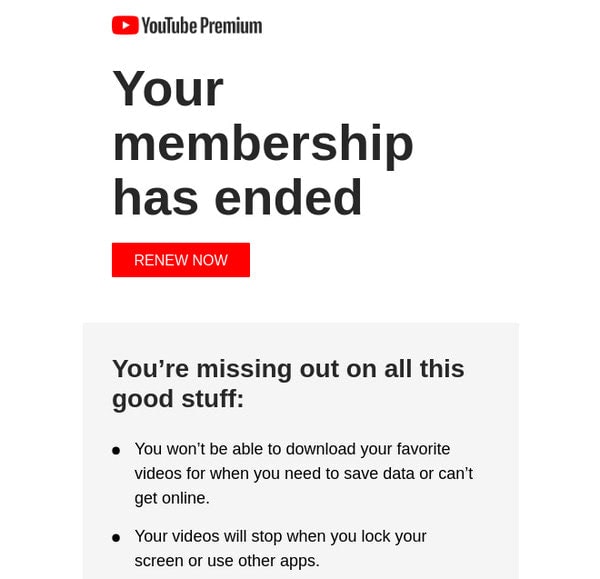 YouTube deals with many churned accounts daily. After all, it is the biggest video sharing and social media platform in the World, with over 2.6 billion active users. Nevertheless, despite this staggering amount of members to control, the team manages to be on top of things. And their dunning emails assist them in this matter.
The team takes a relaxed approach avoiding pressure, which perfectly fits the narrative and tone of the YouTube brand. They do not play any urgency cards. However, they have stressed the situation right off the bat. In the hero section of the email, you can see the message that your membership has ended and a vast iconic red button with a link to renew it. This is the first information users read and perceive; therefore, the impact is significant.
That is not all. To make their statement even stronger, the team has added a section with the advantages of using the platform and an area with a special offer reminding users that they can secure a good deal if they continue with the plan.
No stress, no pressure – just carefully cleared up the situation with some motivators unobtrusively introduced in the copy. Smart.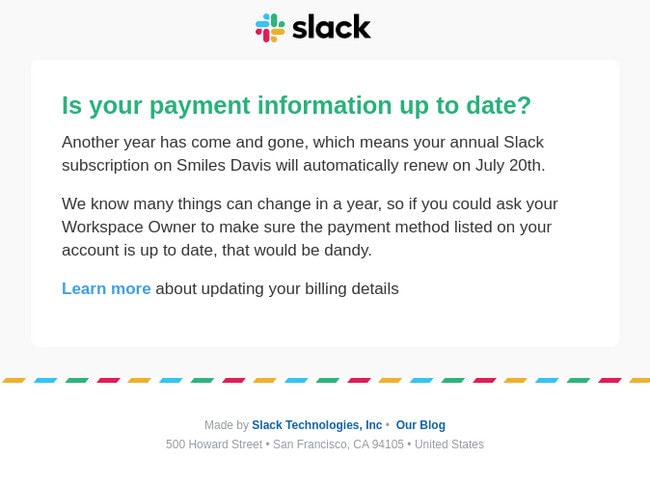 Slack offers a well-created pre-dunning email as well. Not only does it have great design, but it also nails the content. Pay attention to the wording throughout.
The copy has a relaxed tone that is perfect for informing users about the upcoming due date. It does not create tension or pressure. It just reminds users about the payment that needs to be made to enjoy the platform's benefits. The team also shows empathy with their copy and provides helpful resources to assist users in this matter.
The dunning email from Slack does not look extraordinary nor push customers to act quickly. However, that is the point of the pre-dunning stage. It is just a reminder that leaves a positive impression, promotes excellent customer experience, and prepares the ground for the dunning stage.

A dunning email that hits all the essentials lies at the core of the dunning strategy conducted by Venmo. You may note that every inch of email is made with the best practices in mind. From creating a compelling subject line to introducing two call-to-action buttons to providing explicit instructions on how to act, there are plenty of tricks to notice.
Let us list all key features of their dunning email:
It has a powerful hero area with the illustration echoing the brand identity.
It stresses out the due date from the first seconds.
It points out the main benefit of the service.
It has two call-to-action buttons because the layout is relatively long.
It features small yet constructive instructions explaining what users need to do.
It creates a sense of urgency.
It has a link to the support team.
With all these tricks on board, this newsletter just could not pass unnoticed. No doubt, it does what it should.
We will finish our collection of dunning email examples with the newsletter from Fullscript.
Fullscript has nothing to do with paid subscriptions; however, its team finds this campaign helpful in growing business and securing revenue.
As the team puts it, their email is just a friendly reminder to refill a prescription from the doctor. As a part of the pre-dunning stage, it features valuable information about the order, the telephone number of the support team, a call-to-action button to preview the prescription, the benefits of choosing the platform, and a tiny cross-selling block.
As your eyes make your way to the bottom of the email, you can see that Fullscript also hits the essential: the team has added links to additional information, the relevant email address, and the unsubscribe option.
This is an excellent example of how dunning email campaigns can also be used in other niches.
Conclusion
Avoid forgotten subscription renewals or unforeseen problems with payment with an email drop that helps retain leads. Involuntary churn may reach 40% in some cases. However, it can be combatted and drastically minimized and mitigated.
If you run businesses based on a recurring billing model, adopt a dunning management strategy with dunning emails lying at the core. These are easy to manage, automated transactional newsletters, and pretty straightforward to introduce. Not only will they help to decrease churn rate by reminding users about their subscription renewal, but they will also bring extra benefits like improving overall user experience, cementing great relationships with customers, and reinforcing brand reputation.
Like what you're reading? Subscribe to our top stories.