12 Email Marketing Tips and Tools for Shopify
With roughly 320 billion emails sent and received every day in 2021, we understand that email marketing is still very much alive and relevant.
In fact, all kinds of businesses, from small Shopify businesses to enterprises, can use the power of email marketing to raise awareness of their products and services.
Given that email marketing is one of the best marketing channels out there, we've created a list of the most prominent email marketing tools to help Shopify business owners make the most of it.
Additionally, in this guide you're also going to learn some useful email marketing tips, including the following:
Building an email list
Establishing a loyalty program
Plus, some more.
Without further ado, let's get started.
No-Code Email Template Builder
With Postcards you can create and edit email templates online without any coding skills! Includes more than 100 components to help you create custom emails templates faster than ever before.
Try Free
Other Products
Six Email Marketing Tips for Shopify
In this section, we're going to present you with some useful and easy-to-follow tips that can help you enhance your email marketing strategy and help your Shopify store grow.
Let's get into our first tip.
Tip #1: Define Your Audience
The first tip we have for you in terms of email marketing for your Shopify online store is to define your audience.
You've built your Shopify store and you can't wait to launch your email marketing campaign and share your love and passion for your store and products with your audience.
First things first, you need to define who your audience is.
In other words, before you even get to writing your emails, a rather important step in the process of building your email marketing strategy is to actually define your audience and make sure it's clear who your future email marketing campaigns are for.
This will allow you to build an email marketing strategy that resonates with your audience, thus increasing your chances of actually monetizing your email marketing efforts, and growing your business.
Author's Note: We understand that email marketing for your Shopify store includes a variety of tasks that might make you feel overwhelmed. However, using a tool for prioritizing your tasks can help you keep track of your tasks and projects and focus on the most creative parts of your Shopify business.
Let's get to the next one.
Tip #2: Build an Email Marketing List
Following up from the tip we've just discussed, it's extremely important that you build an email marketing list.
Put another way, you have to make sure you collect email addresses from the most engaged members of your audience as well as from the people who are already trusting and using your products.
An updated and detailed email marketing list as a vessel of communication with your audience.
Let's have a look at what some online stores are doing in terms of building their email lists.
First of all, there are many online stores out there that invite users to become part of their email list by leaving their email address in an email box at the bottom of the  page.
Have a look: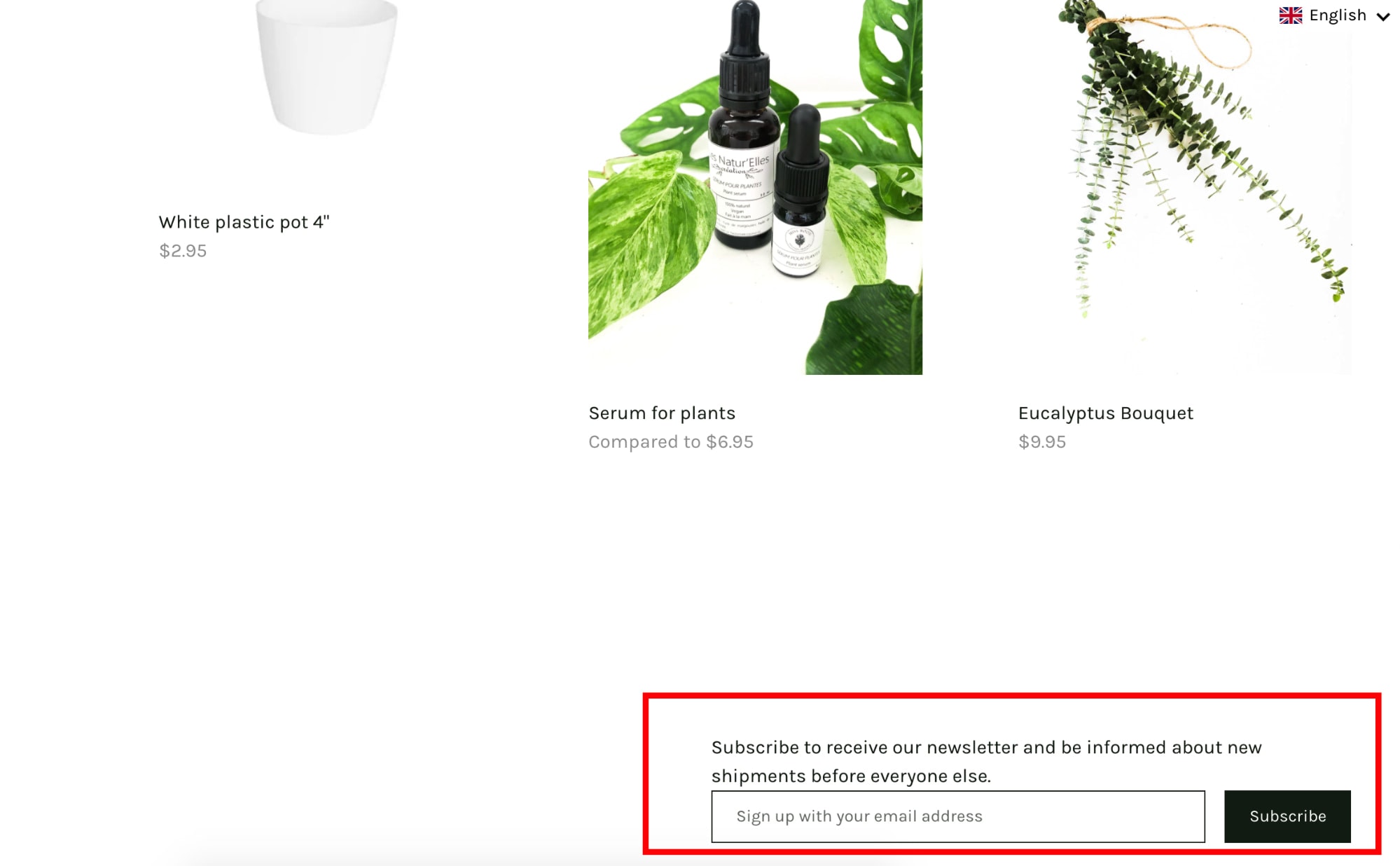 Image Source: Miss Boon
Here's another example of a store using a similar email subscription CTA:
Image Source: Negative Underwear
An alternative to this, or in addition to this method, you can also consider adding a pop-up window that will prompt your visitors to opt in to your email list.
Here's how Adored Vintage does it: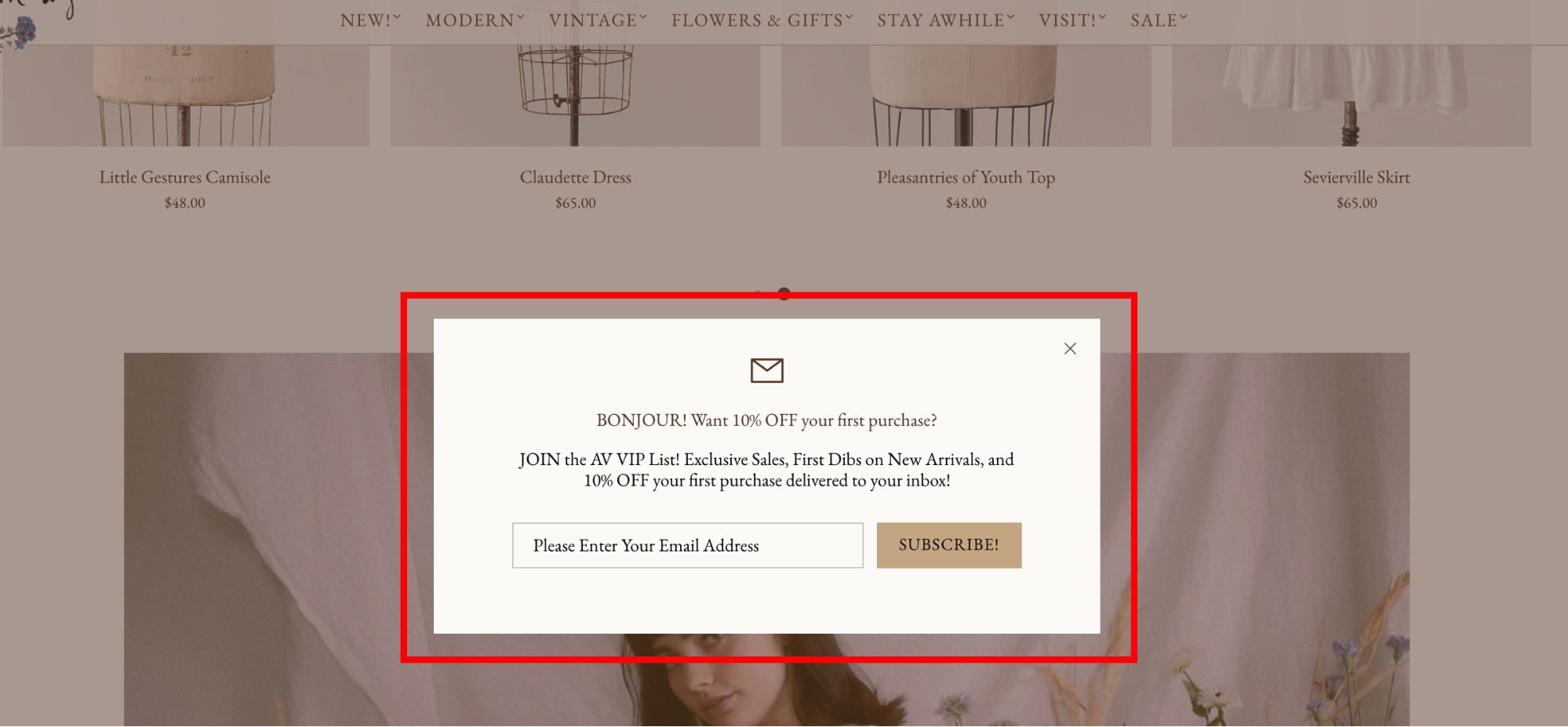 Image Source: Adored Vintage
Another thing you could do, in cases where you have a blog, is to prompt users to join your newsletter using your blog posts.
Here's how OTT platform, Uscreen, asks readers for their email in a blog post about the top live streaming apps.

Image Source: Uscreen
In addition to this, a blog post by digital PR tool, Respona, does much of the same thing: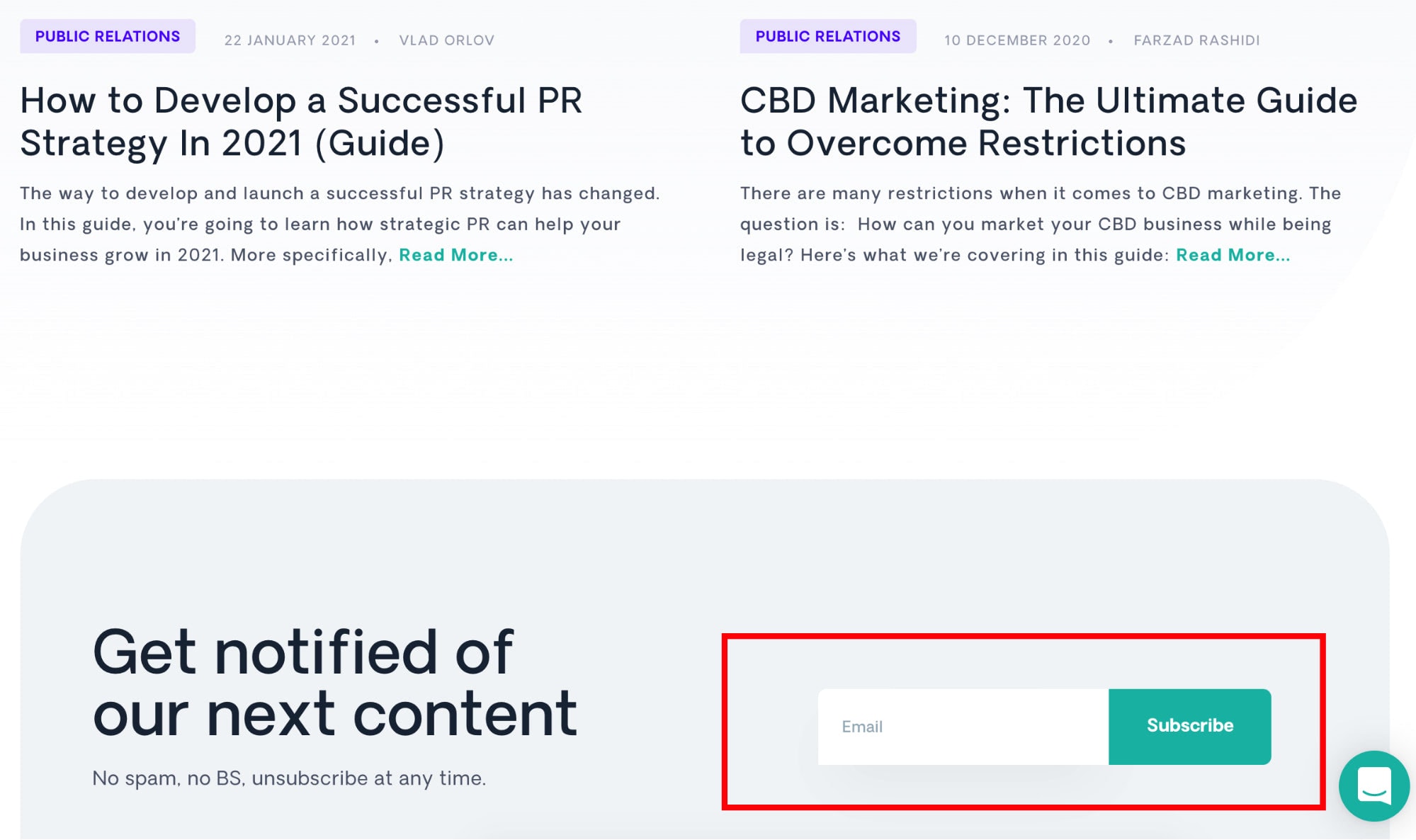 Image Source: Respona
As you can see, the email subscription button is at the bottom of the page.
We understand that there are many different ways you could use to ask for someone's email address, both by using your website or blog.
After having looked at a few examples of how you could ask visitors to subscribe to your email list, we're moving on to our next tip.
The third tip we have for you is firmly linked to the two tips we went through a little further up in this post.
This tip is to create and share a killer newsletter.
Modern email marketing strategies require companies to approach their audience in compelling and interesting ways.
For that reason, you should try to always be up to date in terms of the popular email design trends that emerge each year.
This will allow you to speak to your audience in a visual language they easily understand and are familiar with.
Here's a great example of an eye-catching email newsletter for Valentine's Day: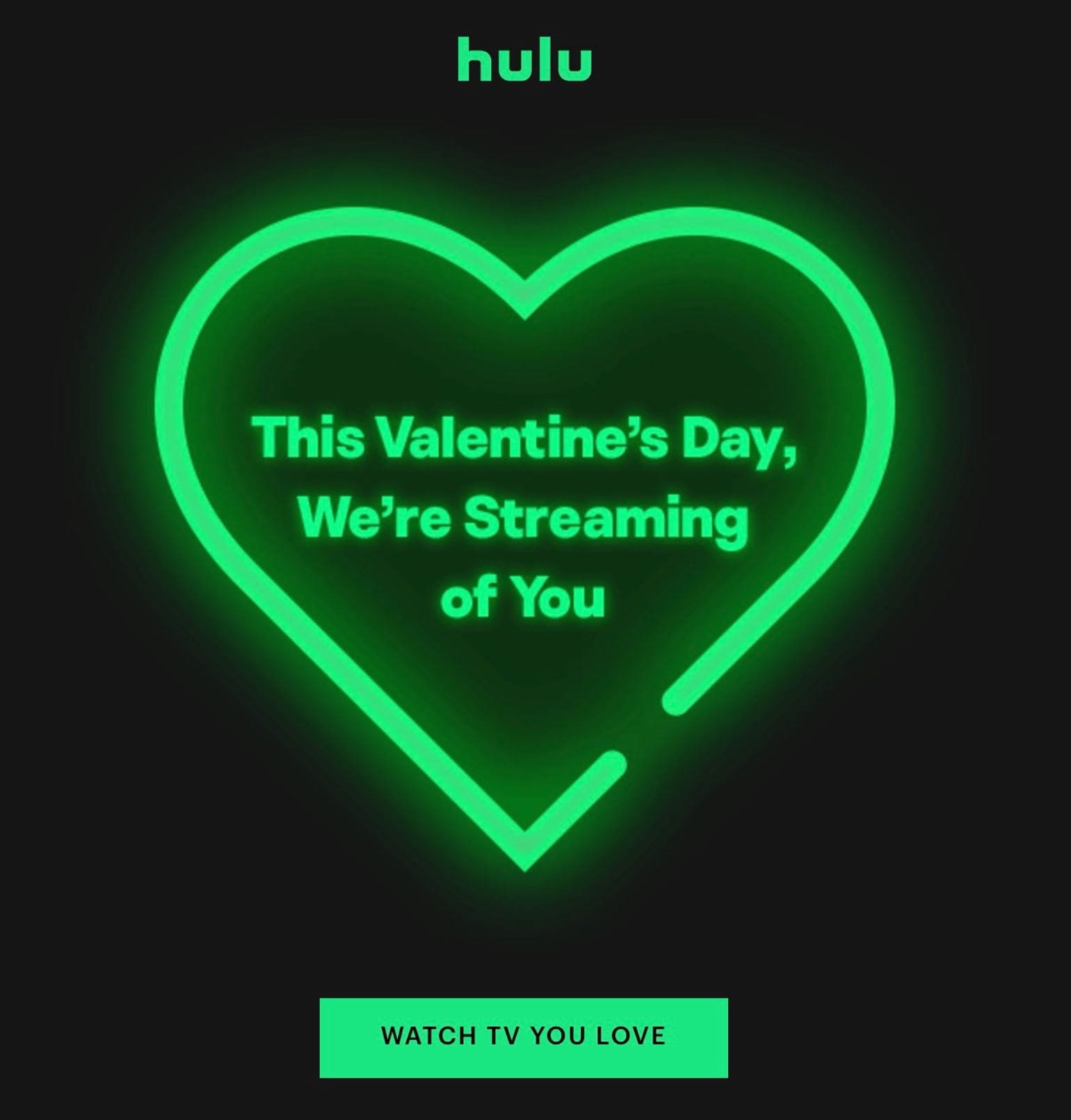 This might not be a Shopify store email newsletter, but there's one thing all email newsletters, including your Shopify one, needs to have.
They need to be fun and engaging.
Put another way, when creating your newsletter, you should try to make it as compelling and visually appealing as you can.
You can do that by using interesting visuals, like animated graphics for example, while also trying to provide your newsletter subscribers with valuable information and content.
Trust us, no one likes fluff.
That's particularly true when they're getting dozens of emails from different sources every day.
Let's now move forward with our list of email marketing tips for Shopify store owners.
Tip #4: Include CTAs
Including calls-to-action (CTA) buttons into your email correspondence with your email subscribers is a way to increase engagement and invite users to your online store.
Additionally, it's a way of helping users remain focused while shopping online by highlighting some action points they can easily take.
Here's an example: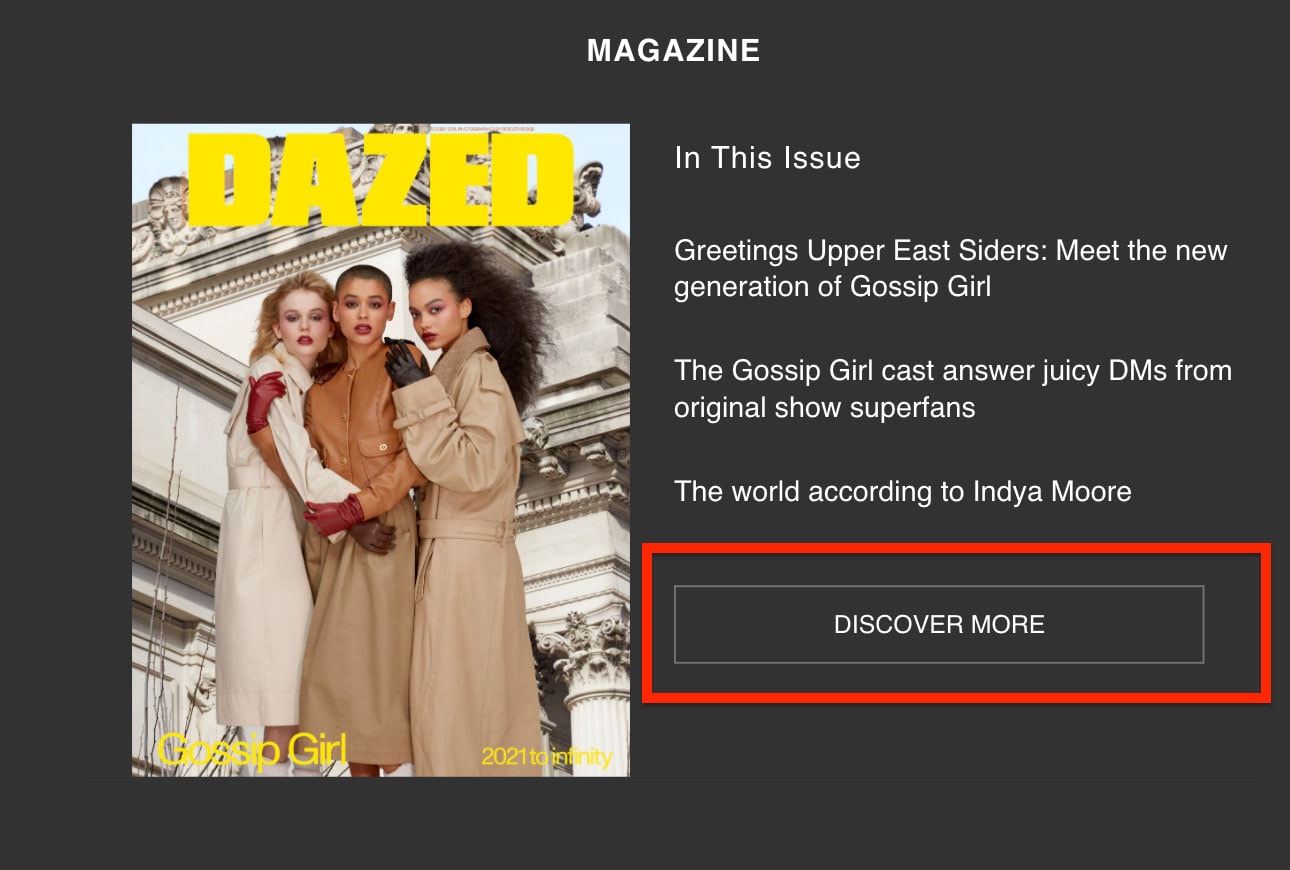 A Discover More button is a great way to get people to explore your new collection and products.
Here's another type of an efficient CTA that prompts email subscribes to take advantage of a special offer: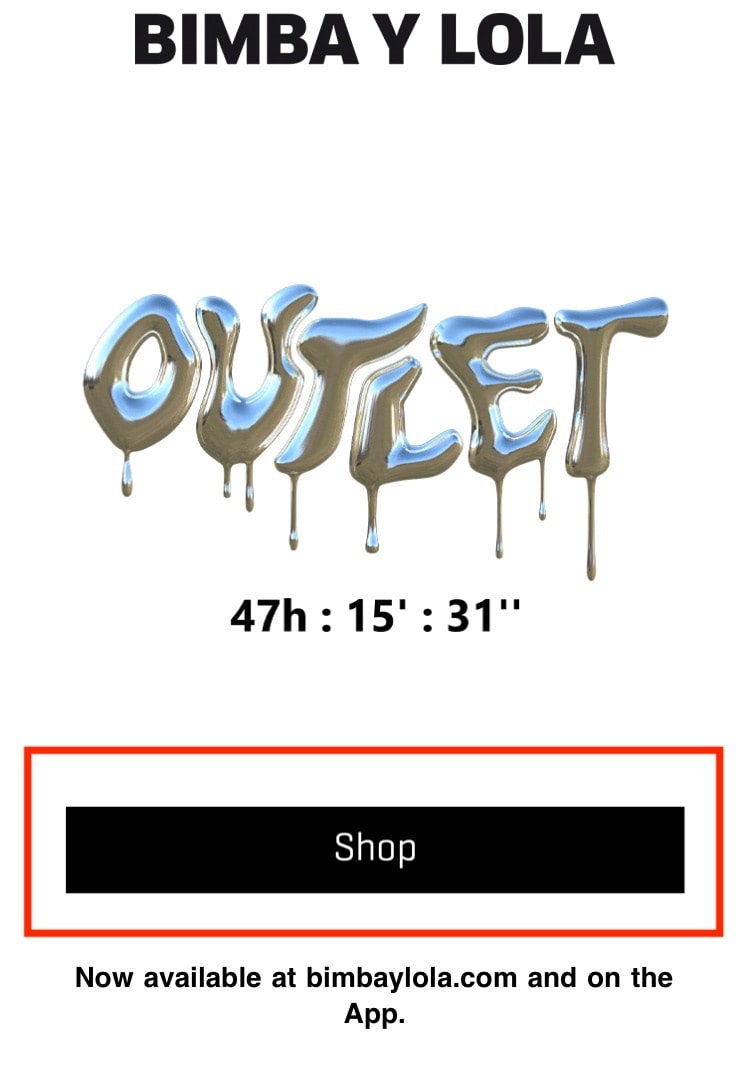 You get my point about CTAs, right?
These buttons make you want to know more about something or want to actually start browsing through an online store's products.
Moving on.
Tip #5: Establish a Customer Reward Program
As we've already noted, email marketing is a truly powerful marketing channel and a great way to communicate with your audience.
For that reason, you could totally use it to say thanks and show appreciation to your most loyal customers.
Sending out thoughtful gift card emails, establishing a customer rewards program for every purchase your clients make, or sending exclusive offers can help you increase awareness of your products and online business and, at the same time, improve customer loyalty and appreciation.
Let's have a look at a few examples of companies sending offers, gift cards, and rewards via email.
Here's the first one that gives new email newsletter subscribers a reason to make their first order with the brand: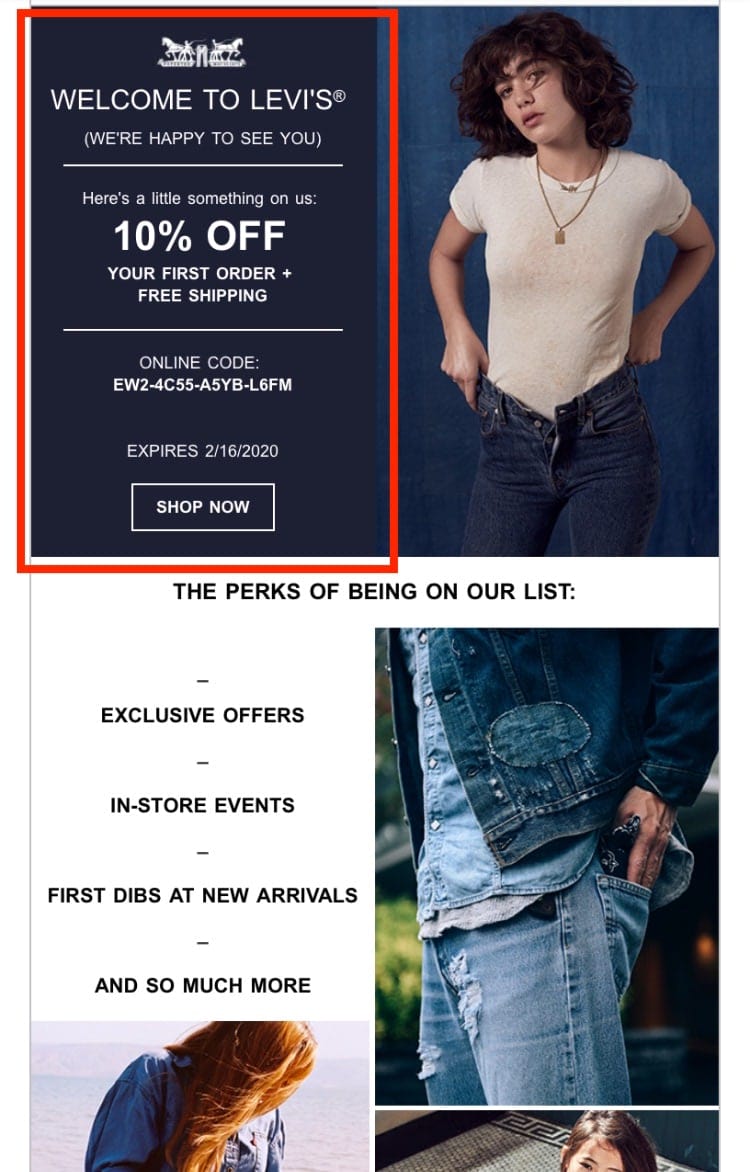 Have a look at another example of an email special offer for students: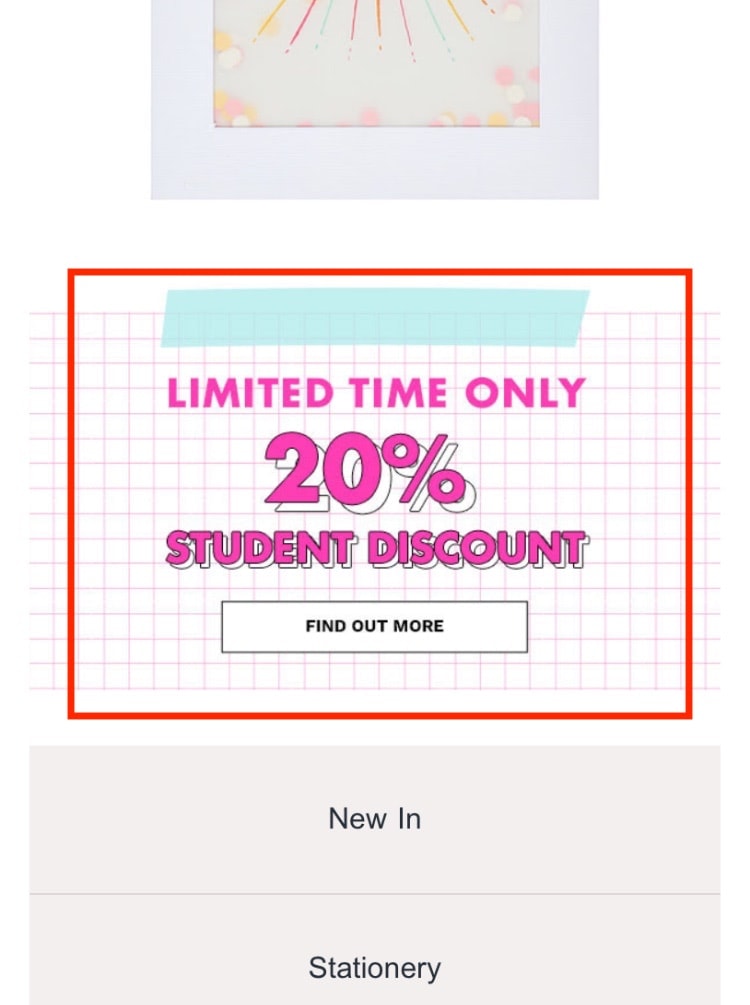 Last but not least, this is an e-coupon that rewards users for using a service the Amazon marketplace offers: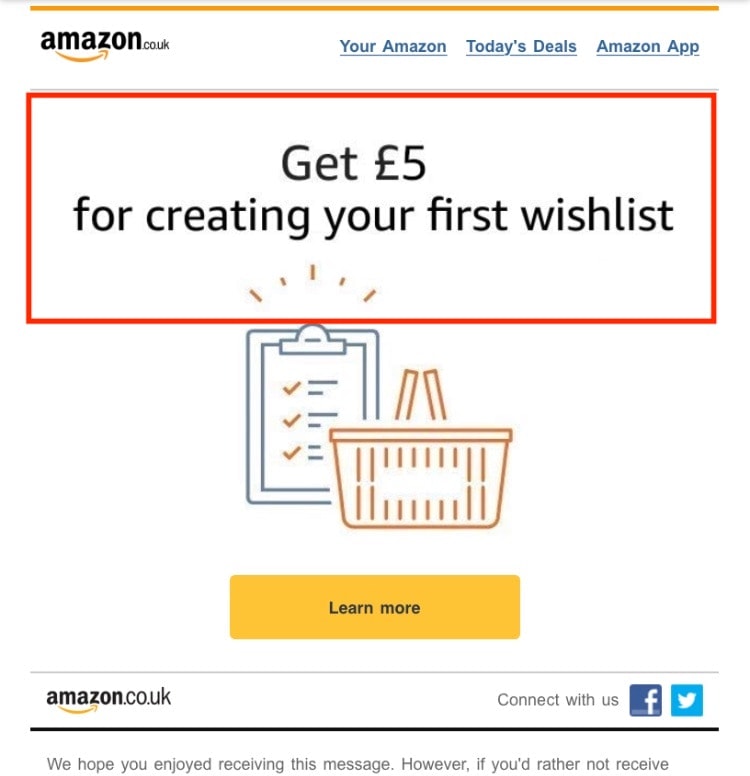 We've now seen different ways of using email marketing to keep your audience engaged and show your appreciation.
Let's get to our final tip.
Tip #6: Check Your Email Deliverability
The last tip we want to share with you is one that's more technical than the more creative tips we've shared with you already.
However, it's extremely important that you make sure you check your email deliverability. Also, you can use a free spam checker to verify your reputation and deliverability.
Put another way, make sure to keep track of the ratio of emails sent to your online store's email subscribers and the emails that are actually getting delivered to your subscribers' inbox.
Making your email design responsive and mobile-friendly, whilst also allowing users to unsubscribe easily, are only a few simple things you can do to improve your email deliverability rate.
Keep reading to find some of the most prominent modern online tools that you can use to make your email marketing strategy for Shopify a success.
Six Email Marketing Tools for Shopify
We've already seen several tips you could follow to improve your email marketing efforts for your Shopify store.
This section is about giving you an overview of six email marketing tools you can use alongside our previously discussed tips to save yourself some time and money in the process of working with your email marketing channels.
Let's get started with the first tool.
Tool #1: Designmodo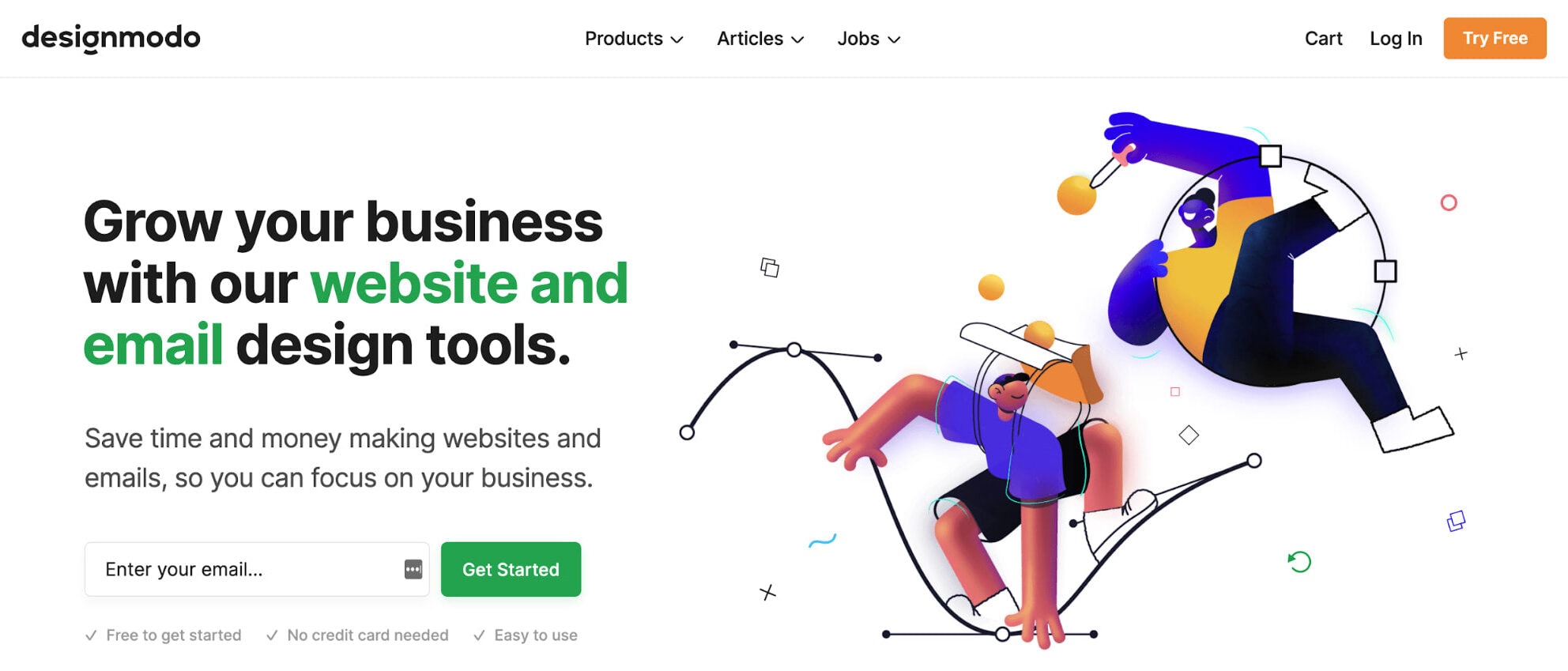 The very first email marketing tool we have for you is Designmodo.
Designmodo offers a wide range of website and email design solutions that business owners can use to create their website.
Additionally, the tool can be used to design beautiful and efficient newsletters that'll make readers actually want to read your newsletter.
In other words, having a well-made and compelling newsletter can increase your chances of keeping your audience engaged.
You probably know already, that your newsletter is a rather important part of your email marketing efforts and you should be doing your best to create one that looks great and makes people want to engage with your content and product.
To put it simply, using an email builder like Postcards by Designmodo to build your email newsletters allows you to create responsive email content that boosts awareness and engagement.
It's as simple as that!
Moving on to the second tool we want to share with you.
Tool #2: Visme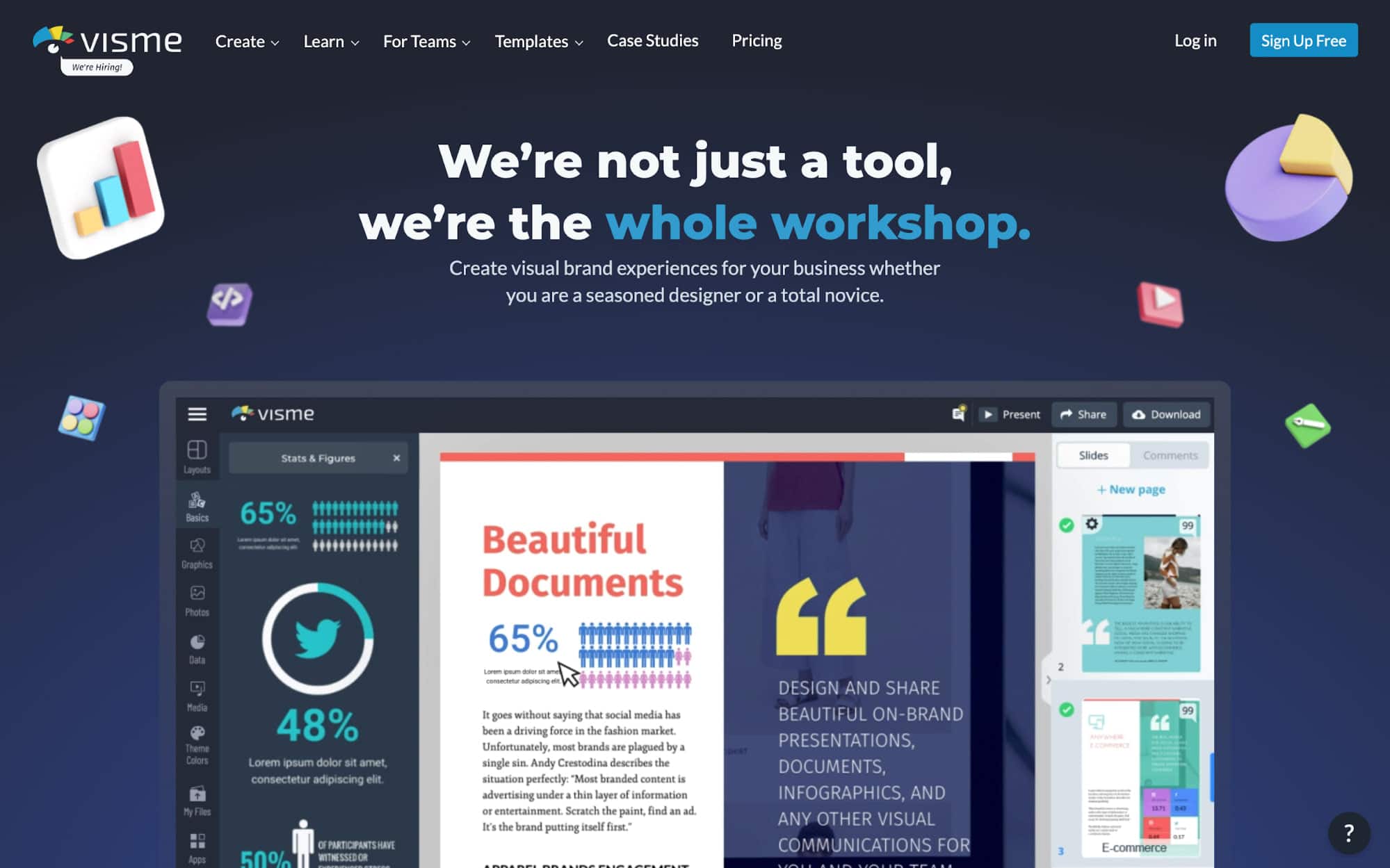 The second tool we have for you is Visme.
Visme is a design software that can be used for creating all sorts of graphics, including infographics and videos.
Making your emails as visually compelling as possible should be one of your top priorities.
In fact, people are generally better able to process visual information far better than text.
Why?
Have a look: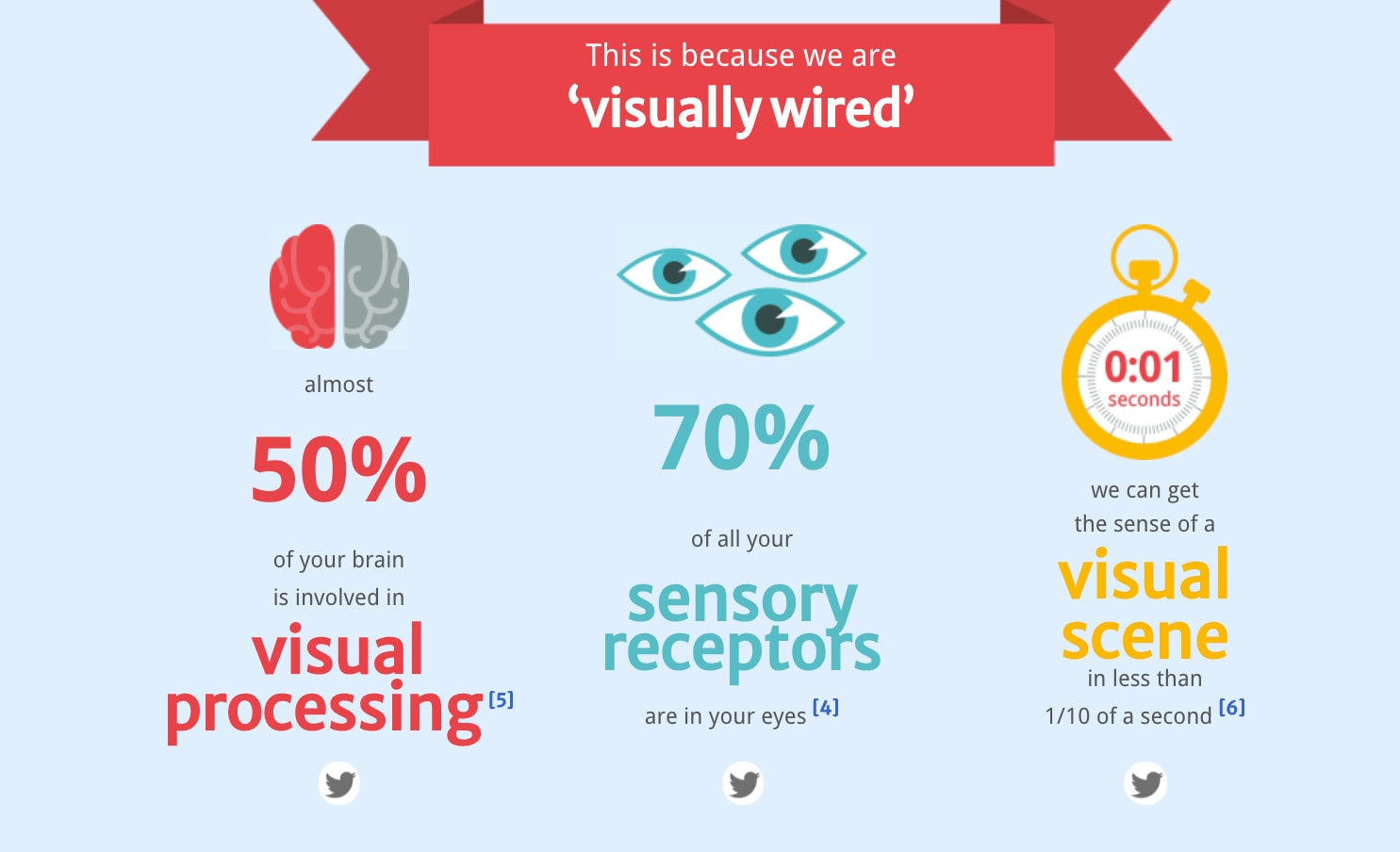 Image Source: Neomam
Given that almost half of our brain is involved in visual processing, in addition to the fact that the vast majority of our sensory receptors are in the eyes, we understand that a big part of the way we perceive the world and engage with it is to do with the visual aspect of things.
Successful companies all over the world are doing all they can to keep their audience engaged by providing them with interesting visual content.
The same applies to email marketing.
When crafting your email marketing strategy and campaigns, you should definitely try to keep in mind the importance of having a killer graphics creator to increase engagement.
Let's get to the next tool.
Tool #3: SparkToro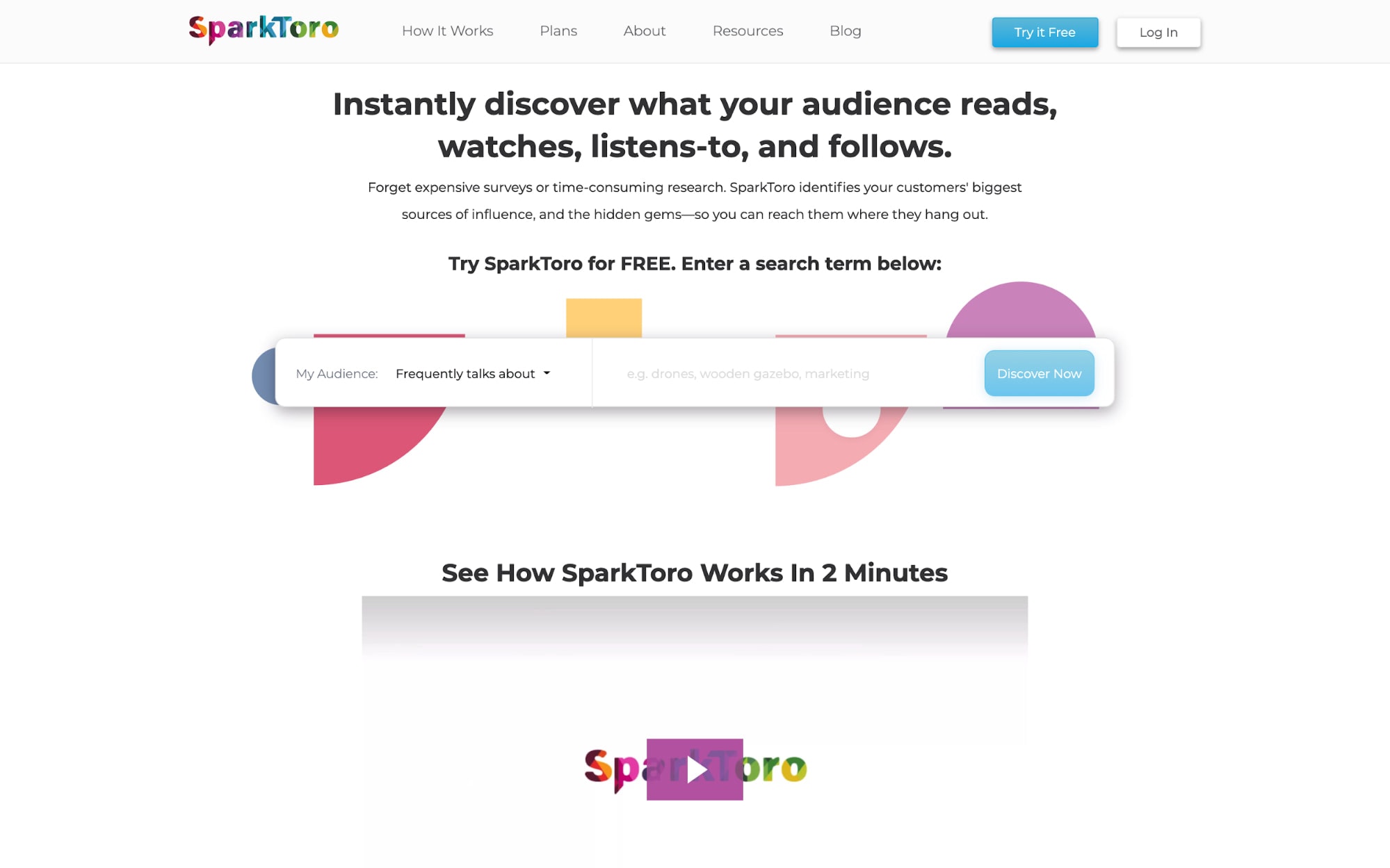 Image Source: SparkToro
The third tool we think it'd be useful for you to use when creating your email marketing campaign for Shopify is SparkToro.
What SparkToro does is provide you with a platform that can help you find and identify all sources of influences your audience might be interested in.
SparkToro's Audience Intelligence capabilities allows you to access hard-to-get data about your audience's preferences in terms of what they read, listen to, watch, and are generally interested in.
Having access to such a database is, as you can imagine, an invaluable source of knowledge that helps you come closer to your store's audience and understand what they want or might need from you.
Doing efficient audience research basically allows you to find what your audience likes and so increases your chances of creating engaging and compelling email content, thus saving time, money, and effort.
We're moving down our list of six email marketing tools for Shopify.
Keep reading to find the next tool on our list.
Tool #4: Mailtrap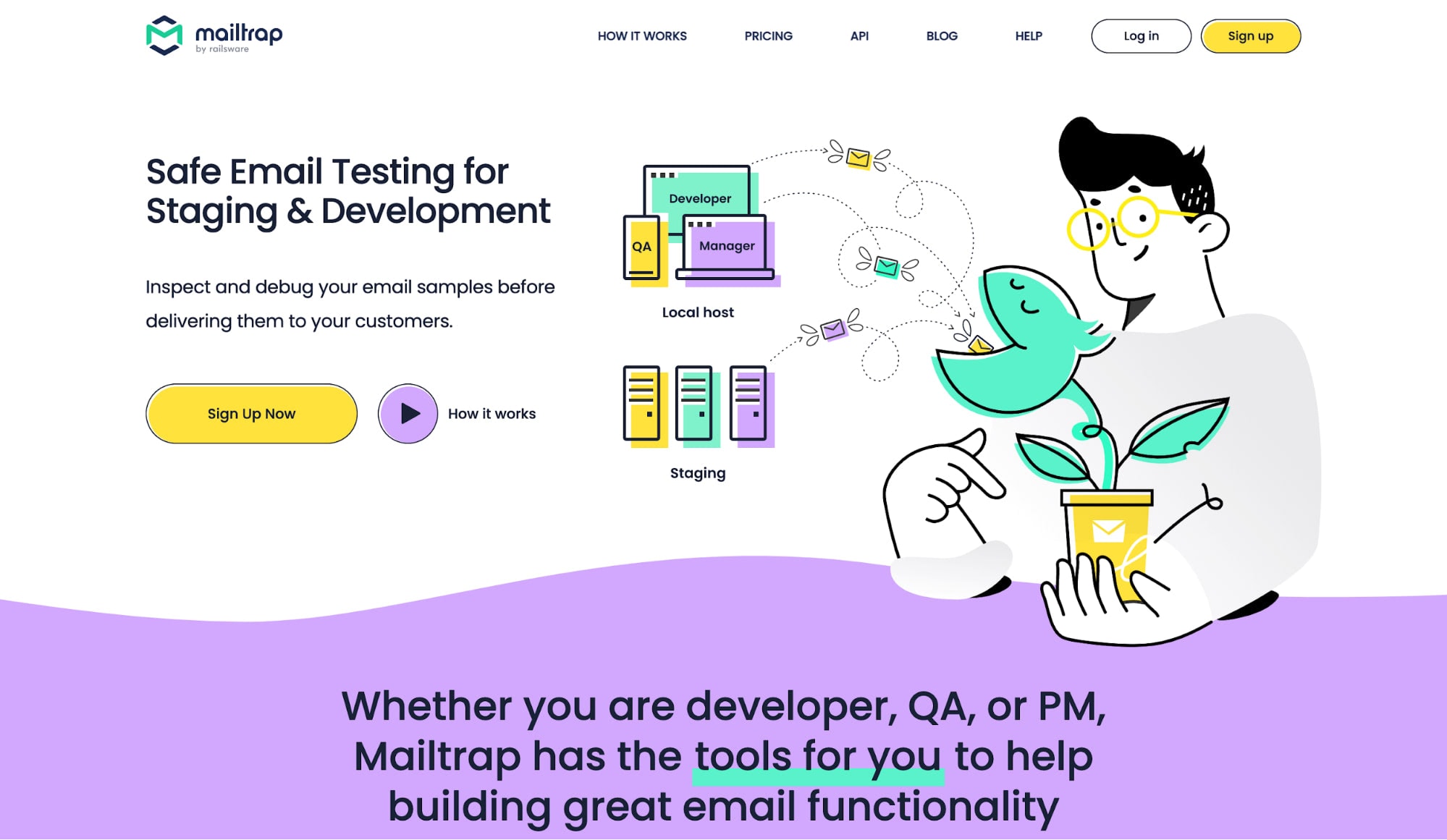 Image Source: Mailtrap
Mailtrap is a powerful tool for email testing.
Why is an email testing tool useful?
Because you can basically use it to run your email tests and improve your emails before you actually get to reach any real inboxes.
As you can imagine, this is extremely important when it comes to email marketing.
Making sure that the final email – the one that will reach your audience – is perfect and has all the necessary elements, like a great subject line, the right text: graphics ratio, and so on and so forth, can make a huge difference in terms of email marketing conversions.
As we saw at the beginning of this post, there over 300 billion emails sent and received daily.
Low-quality and spammy emails are very likely to end up in the spam folder.
Having a 'playground'  where you can test ideas and basically check how your emails look can help bring more people to your store and convince your audience to actively engage with your products and services.
Keep reading to find our fifth tool.
Tool #5: Grammarly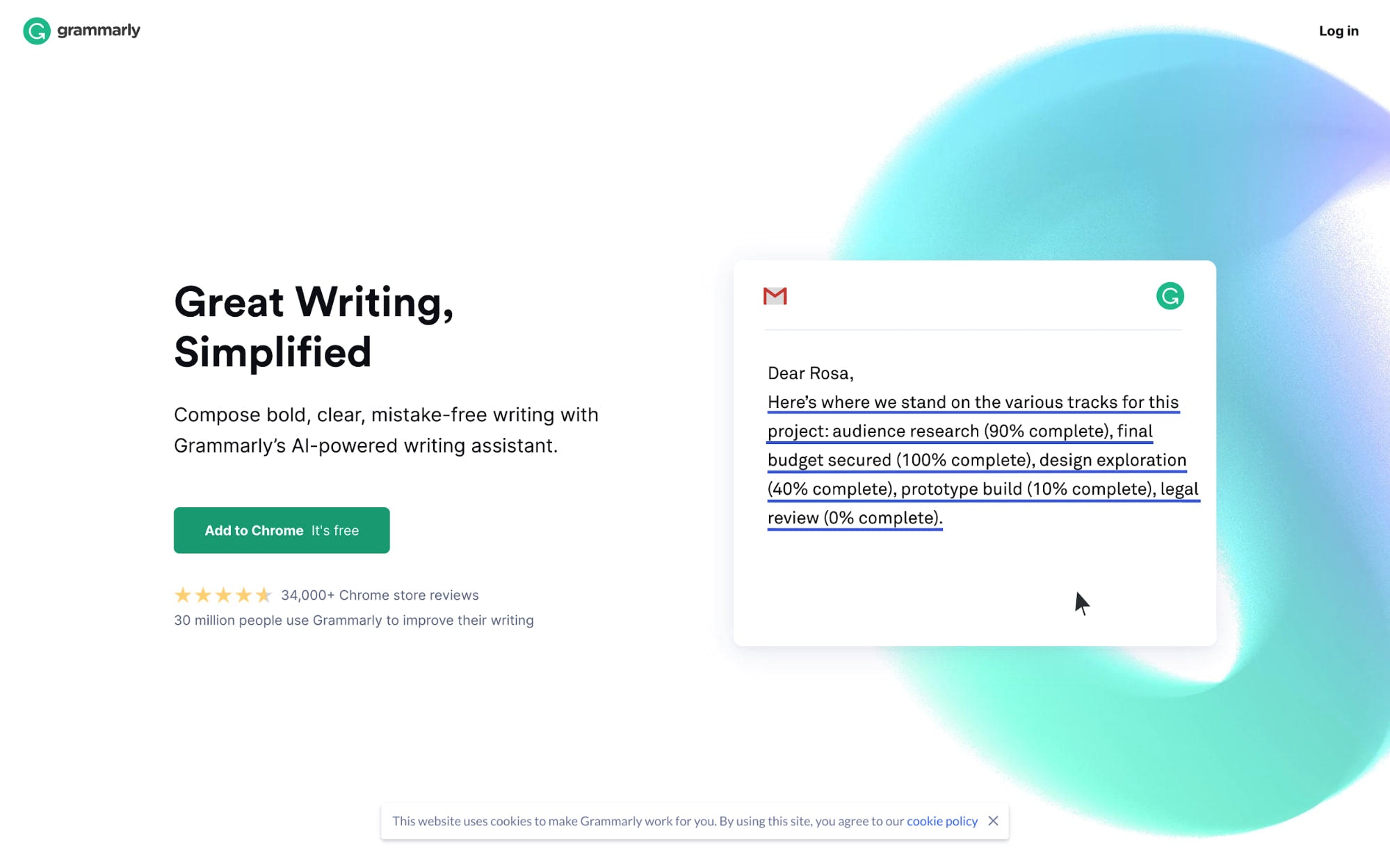 Image Source: Grammarly
We've already talked about the importance of creating compelling, non-spammy emails for your email marketing campaigns for Shopify.
No matter what you do in terms of the visual aspect of your emails, sending clean content with no typos to your audience remains one of the most important things you can do.
For that reason, we think a tool like Grammarly, which provides users with AI-powered writing assistance, can help you make sure that your email content is of high quality and will resonate with your audience.
Additionally, well structured and mistake-free writing helps people focus on the content and meaning behind it, and also makes it more likely that readers will understand what you're saying.
What's also great about using such a digital writing assistance tool is that it provides you with vocabulary recommendations, thus helping you find the right words to express your brand's identity and capture the attention of the reader.
Moving on.
Tool #6: WebFX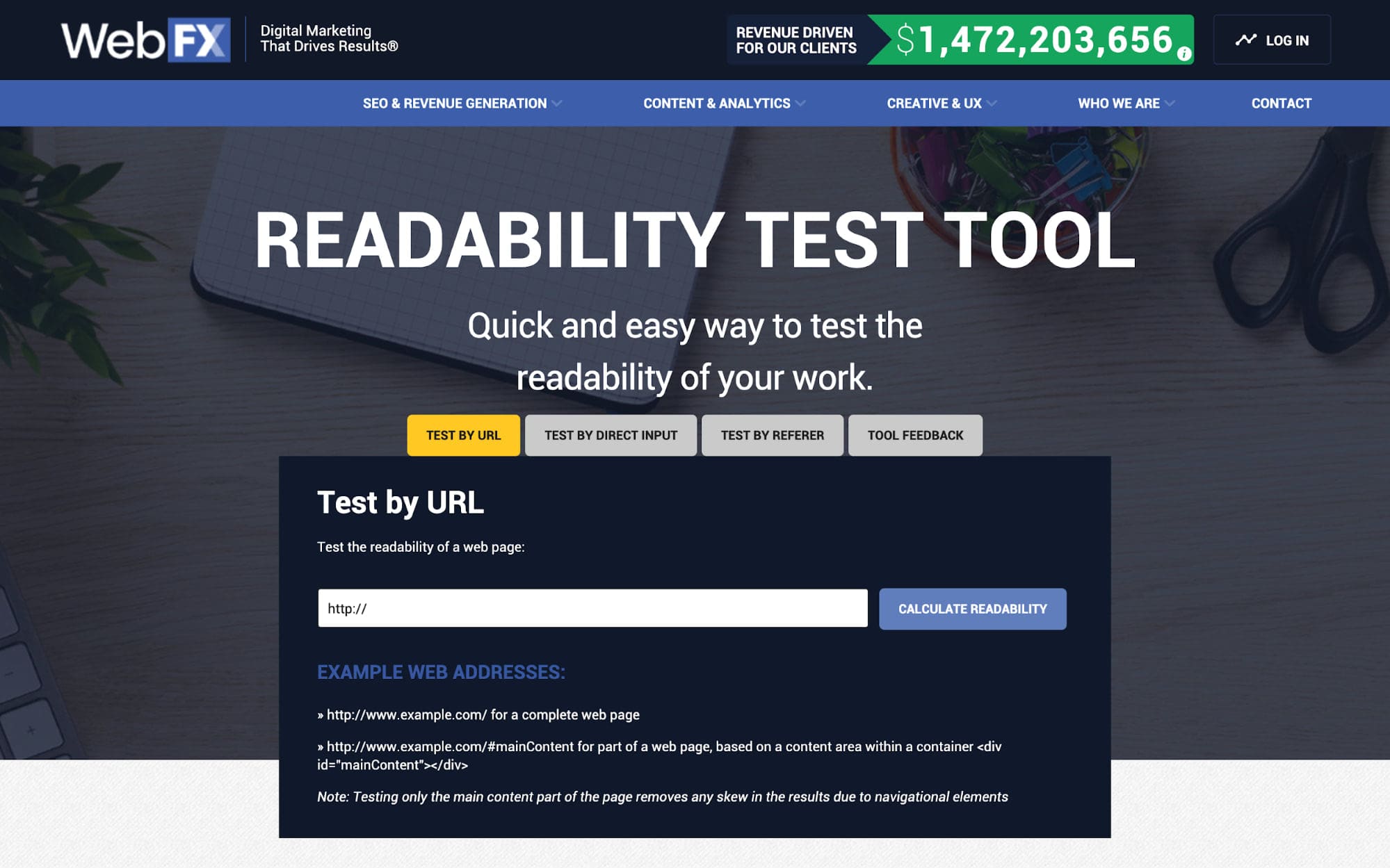 Image Source: WebFX
The final tool in our list of email marketing tools for Shopify is WebFX's Readability Test Tool.
Similar to what we mentioned a little further up about using a digital writing assistance tool, a readability test tool, like WebFX, can also be your ally in enhancing the content of your emails.
Such a tool gives you the opportunity to input content and tests its readability.
Doing so allows you to create content that's easy to read and comprehend.
Creating readable and easy-to-get email content can significantly increase your chances of having your email subscribers engage with your emails and take actions like visiting your store more often, taking advantage of offers you might be sharing, and so on and so forth.
Overall, different tools have different capabilities.
Our advice would be that you use the right combination of tools in order to hit the mark with your email marketing strategy.
Let's wrap this post up.
Wrapping Up
There you have it.
We're now done presenting our twelve email marketing tools and tips for Shopify.
In this post, we've discussed some simple but important tips you can use to improve your email marketing strategy.
Among other things, we talked about the importance of creating an amazing email newsletter and having created a useful list of email subscribers.
Additionally, we gave you a short presentation of some of the most prominent tools out there like Designmodo, Visme, and Mailtrap.
Hopefully, our tips and tools will help you elevate your email marketing strategy and get the most out of such a powerful channel that email marketing is.
Good luck with your email marketing efforts!
Like what you're reading? Subscribe to our top stories.