Examples of Valentine's Day Email Newsletters and Subject Lines
Valentine's Day is one of the biggest holidays for couples and people who want to express gratitude to those who they love. Although it is the national day of chocolate, flowers, and restaurants, it does not mean that other businesses can't benefit from it. Much like Halloween or Thanksgiving, it is your chance to reach potential customers. In order to understand how major brands effectively market during Valentine's Day, let's analyze successful email newsletters from this holiday. Before delving into the examples, it's important to consider key strategies for creating a successful Valentine's Day campaign. Ultimately, by studying these successful newsletters, we can gain insights on how to effectively market during this holiday.
Create Email Templates with Postcards Email Builder
Postcards: Email Template Builder
Christmas and New Year expenses drain budgets, but there's a rebound in February. Valentine's Day is the first valid sales opportunity after the economic stagnation of January. Whether you celebrate or not, it should be a red day on your marketing calendar.
Let's explore highly converting Valentine's Day email newsletters to see how the big brands nail this holiday. Before jumping into the collection, we are going to get acquainted with some ideas that can make this love-filled campaign successful.
No-Code Email Template Builder
With Postcards Email Builder you can create and edit email templates online without any coding skills! Includes more than 100 components to help you create custom emails templates faster than ever before.
Start Free
The basics come down to a few essential things:
Work with your subscription list. Even though Valentine's Day does not look like a grandiose holiday, it has fans and followers. Therefore, clean up your subscription list and segment it properly. Do not forget about people who rarely visit your website as well as newcomers. Also, treat loyal customers with a special discount – after all, you are in a relationship with them.
Personalize the newsletter. On Valentine's Day, people expect you to be more personal. Show your gratitude and admiration using their names. If you have a small list, you can even create personal discounts and offers.
Hit the timing right. Valentine's Day is not an official day off work. That means chances are there will not be changes in behavior patterns, except for the evening. Therefore, if it is a working day, try to send out some eblasts during morning hours (10-12 am) or day hours (4-6 pm). If it is a weekend, then shift these time slots a bit.
Analyze previous campaigns. Although it seems that no two holidays are the same, still you can get some helpful information from other big days. For instance, you can figure out the best time, the best subject line, or see for yourself whether personalization work or not.
Do A/B tests.
Check your email newsletter.
Read and re-read it to correct grammar and punctuation.
Make sure your images have alts.
Exclude videos and audio since they won't work or email readers may consider it spam.
For more information on this matter check out our helpful checklists and guides:
Finally, be responsive. Test it across numerous browsers and email readers. Your e-blast should be sufficiently adaptable to various monitor sizes. To save you from the nightmare of creating a one-size-fits-all template, check out our free HTML email template builder, Postcards.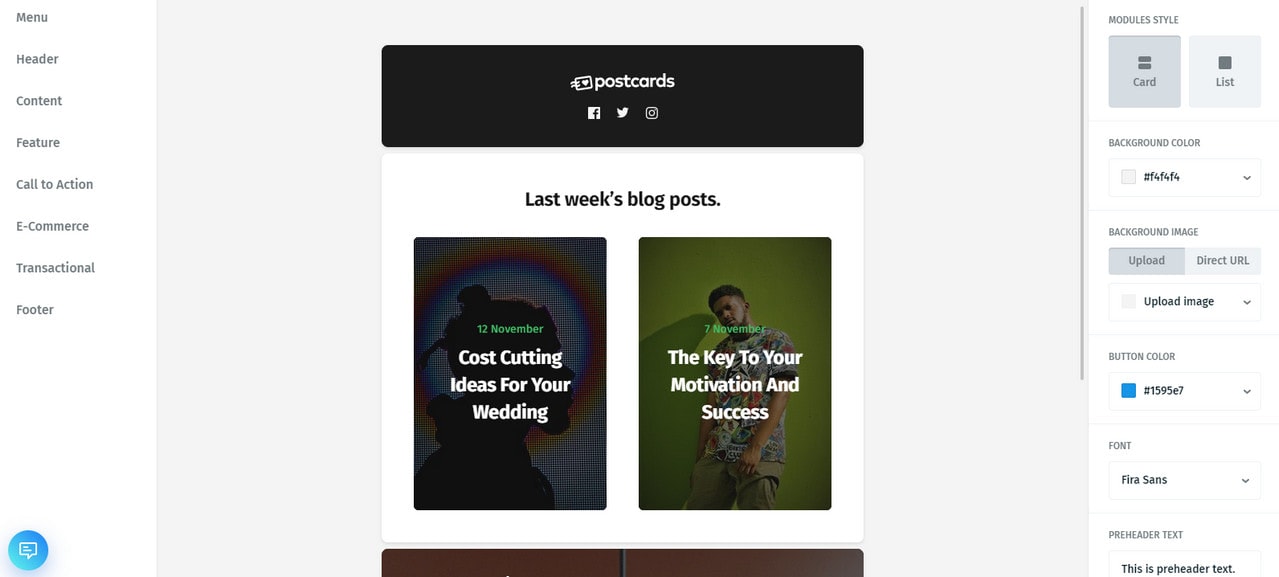 By default, it creates a fully responsive email newsletter that works and looks great on any device. Thanks to more than 100 predefined blocks with modern design and stylish features, you will be able to bring any idea to life without any design or coding skills, saving your time, money, and nerves.
The choice of email subject lines always comes after the basics. Without an attention-grabbing subject line, you will not survive.
Valentine's Day is a tricky holiday. First, not everyone considers it a big day; some may even hate it. Second, not everyone is in a relationship. Therefore, you should exercise caution. The safe way is to be neutral. Try these subject lines:
Ready for sweet deals?
You'll fall head over heels for these …!
Need some help this Valentine's? 5 perfect gifts for anyone
Up To 65% Off Valentine's Gifts!
An Early Treat For V-Day…$50 Off!
Unbeatable Valentine's Deals
A Valentine's Treat… 20% off!
Happy Valentine's Day!
Love at first bite…
If you want to show everyone that you are in a festive mood, then you can go for these subject lines:
Ready to play cupid?
5 perfect Valentine's gifts for her/him
One for You, One for Your Valentine
♥ is… 25% OFF
Your Valentine's Day GIFT inside…
It's Cupid's Last Call – Don't Forget Your Valentine!
Something special for your Valentine
Don't. Forget. Valentine's Day!
Will You Be Our Valentine?
Cupid made us do it – 50% OFF EVERYTHING!
5 gifts that will make her/him fall in love
Looking for the perfect Valentine's Day gift for him/her?
It's love ?
Unique gifts for a unique Valentine
Sweets for your sweet
Finally, you can be daring and playful as well. Step away from neutrality and clichés this holiday:
You Forgot It Was Valentine's Day. Now What?
Sleeping This Valentine's Day! You've Earned It!
Better Than Roses: 30% off!
The Anti-Valentine's Day list is here…
Ditch the chocolates and check out these gift ideas for yourself
We think 30% off is a hot little number

Notorious Nooch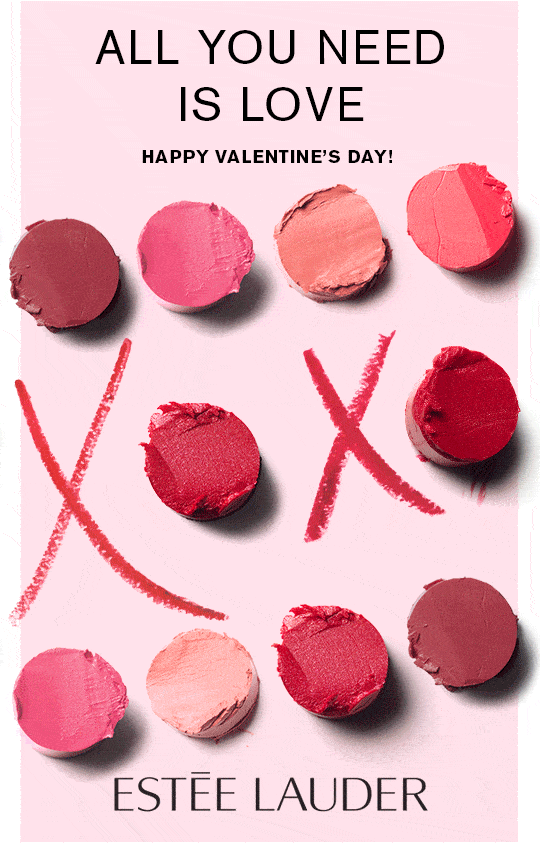 Email Newsletter from Estee Lauder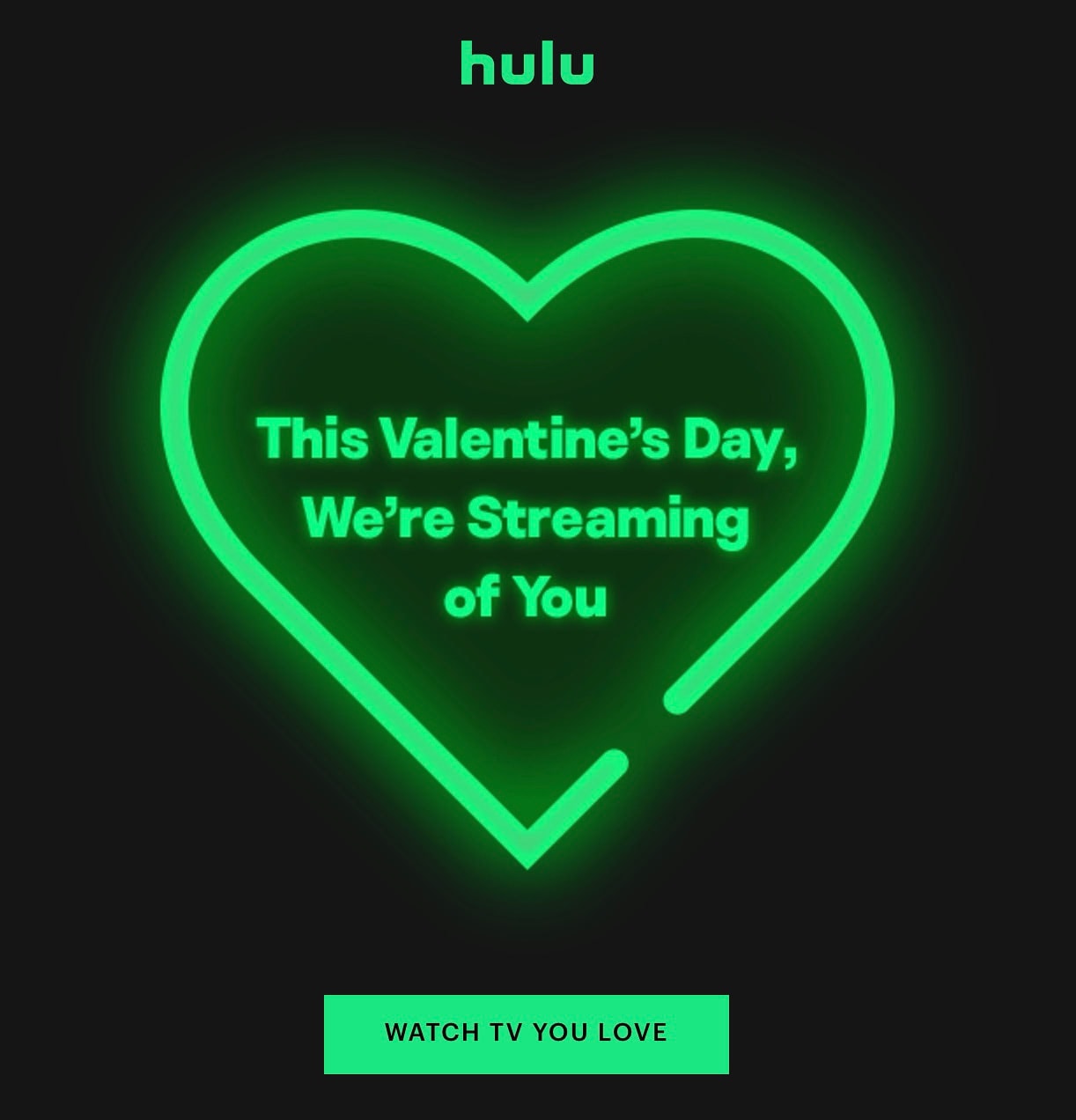 Hulu
Last but not least, some helpful tips to make the subject line effective:
Use emojis. There are plenty of options. Do not fixate on hearts.
Try to be concise – 40-60 characters is an optimum number. Note 41 characters is a maximum length for the iPhone and the majority of cellphones that can be seen without scrolling.
Use the preview text.
Email Marketing Ideas for Valentine's Day
Start Early
An early start is a recommendation for every holiday. If you want to be successful with your campaign, send out the first email newsletter beforehand. Follow the rule of "Reminder, Resource, Reassurance." Prepare three emails with different content, and start at the beginning of February.
Hint: If you want to adopt this approach, try the free HTML email template builder, Postcards. With its intuitive drag and drop interface, you will be able to create as many email newsletters as you want and it won't take a lot of your time.
Be Flirty
Make the holiday work for you. It is that time of the year when you should show customers appreciation and love. Be frisky, be coquettish – put everyone in a festive mood.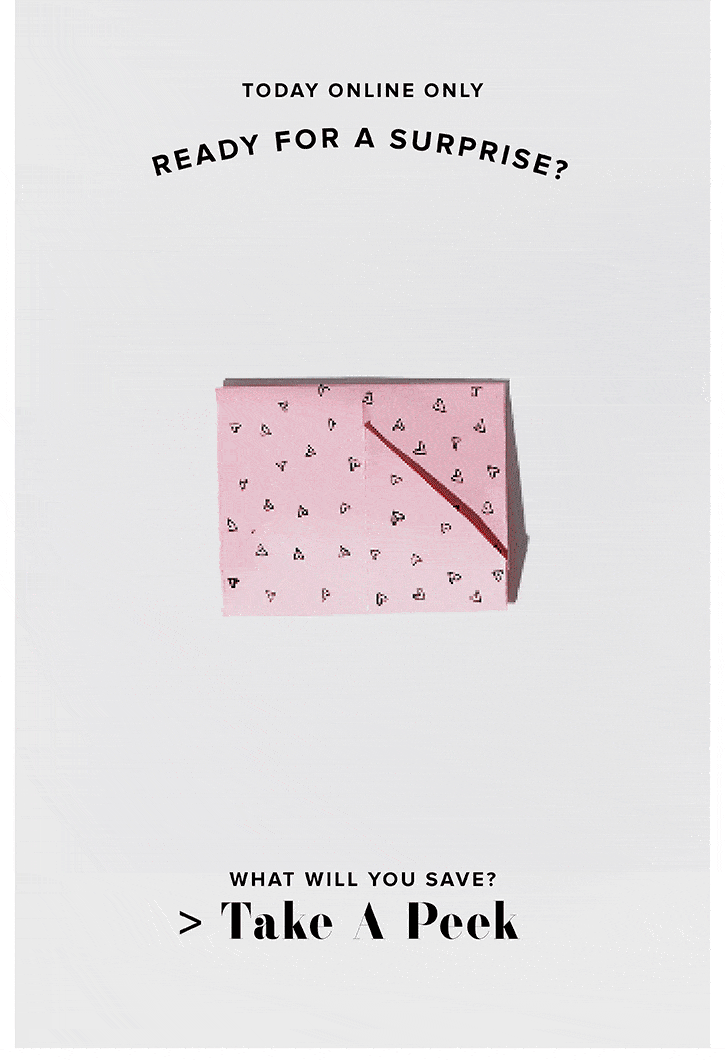 Email Newsletter from Torrid
Send Love
Valentine's Day is all about love, so why not send it to your subscribers. Create a congratulations card or an informative pamphlet with helpful tips.
Set the holiday mood and put your subscribers in it. This will help to strengthen your relationship, bring positive emotions to inboxes, and generate leads.
Create a Gift Guide
Bring value to your subscribers, and they will follow your lead.
A gift guide is a perfect email newsletter for every holiday, and Valentine's Day is no exception. However, there is one catch – do not provide too many options. And remember to segment your list by gender and offer gifts for her and him correspondingly.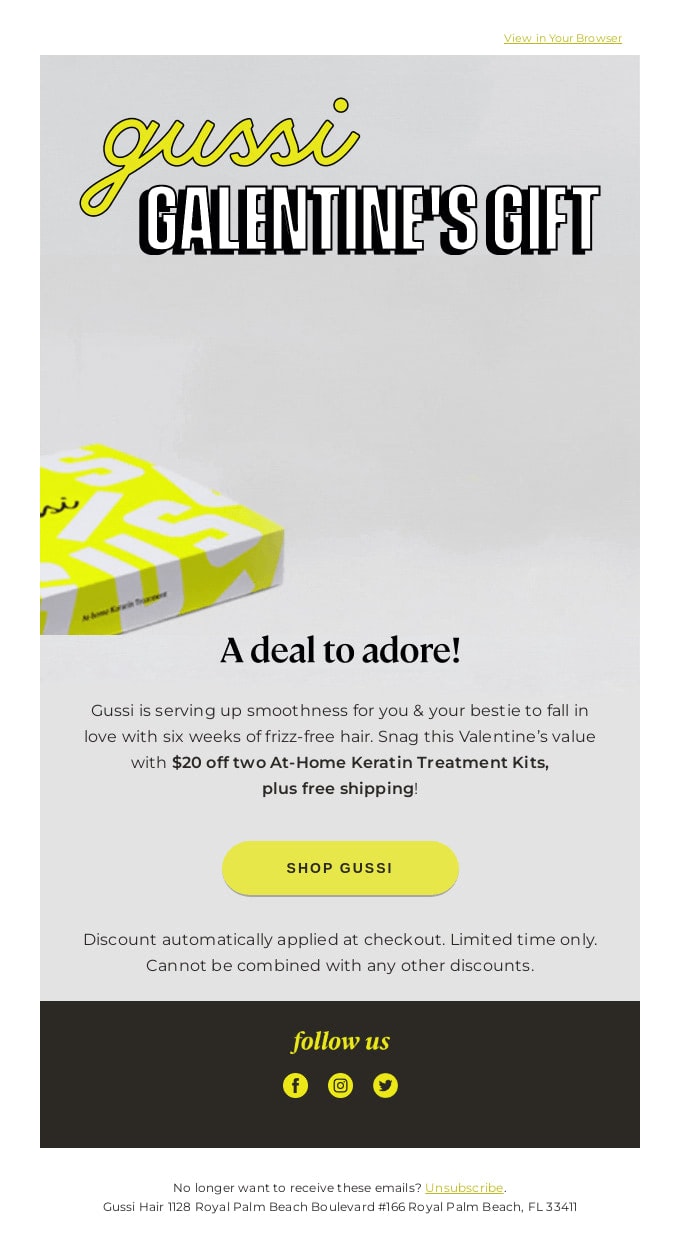 Gussi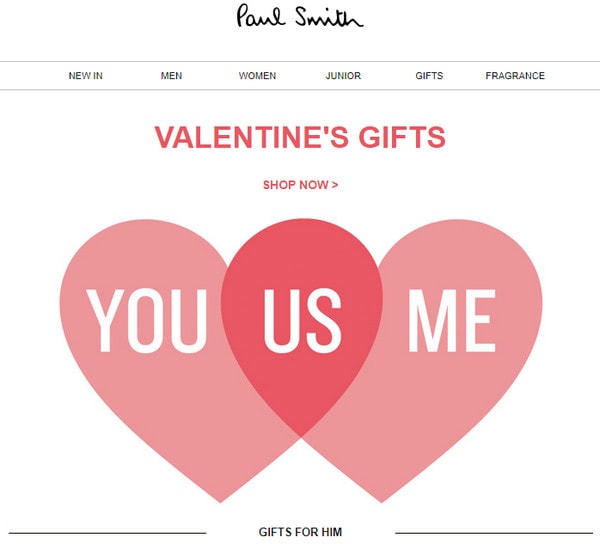 Email Newsletter from Paul Smith
Check out our helpful guides for some other tips and tricks: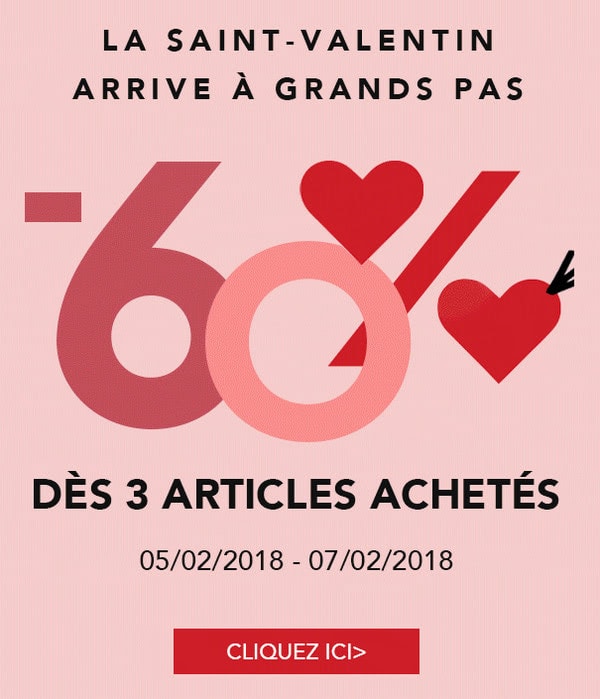 We are going to start our collection with a simple yet highly converting example that can be adopted by anyone. A "less is more" ideology does all the heavy lifting. The first thing that you stumble on is a considerable discount "-60%" fills the hero area. No one can miss that.
The thing is that Valentine's Day campaigns cannot boast of huge discounts, as a rule, they range from 20% to 30%. Therefore, this generous gesture is a natural magnet that compels subscribers to click on the button and check out the deal. It is an old trick, but it works like a charm.

Postable announces their Valentine's Day Email Newsletter Giveaway. Subscribers of the newsletter will have the opportunity to win a special prize package that includes a variety of romantic items to help make the most of Valentine's Day celebrations.
To enter, individuals must sign up for the email newsletter. A winner will be selected at random and announced through the newsletter.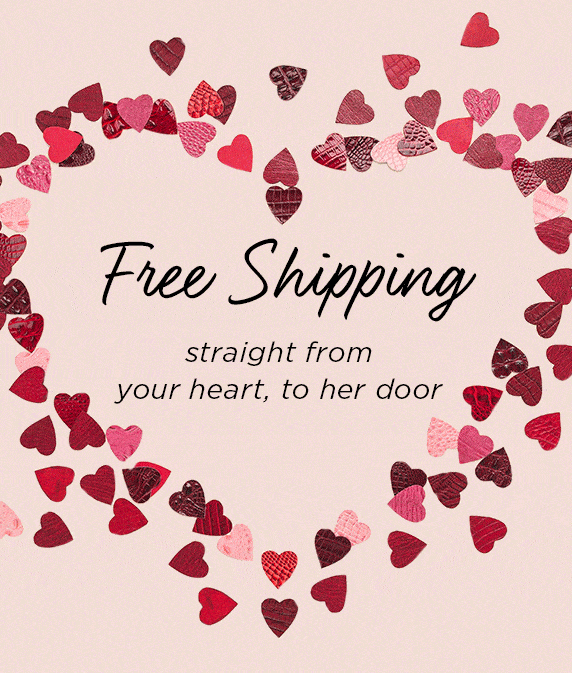 If you cannot afford such a big discount, you can always offer something else that will bring value. It can be anything. Follow Kimlud's example with free shipping. (Free shipping, especially for small purchases, always sounds like a sweet deal.)
Note several things — first, a truly creative presentation. Although the team follows the "less is more" philosophy, they made things bright and appealing.
Second, smart play with words. They have skillfully hinted about the holiday and instilled positive emotions.
Finally, the entourage is animated that stimulates customer's creativity.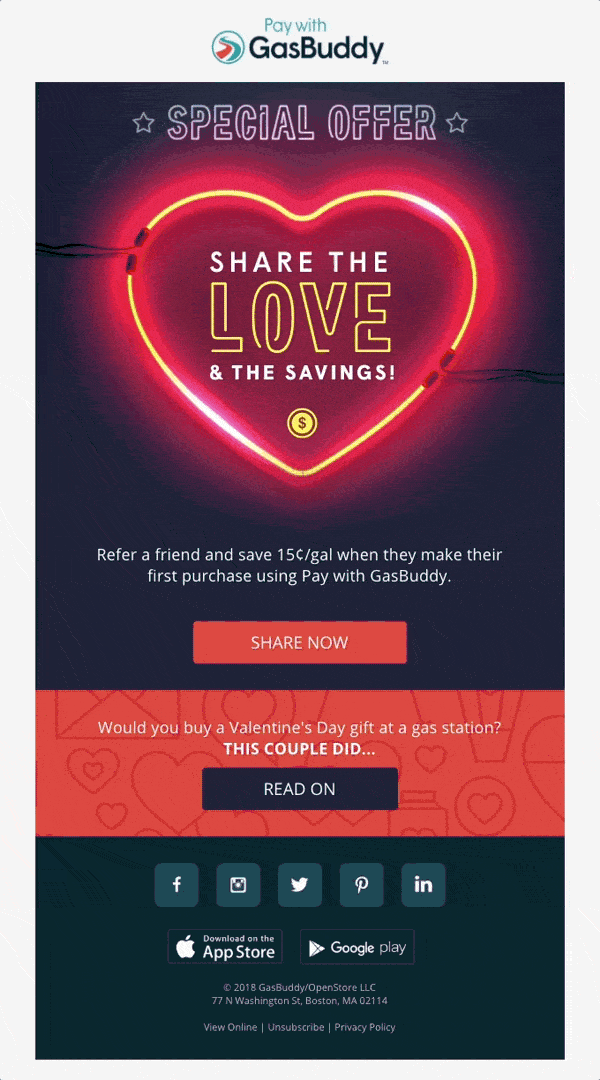 Consider this email newsletter from Gasbuddy.
It becomes evident from the get-go that Gasbuddy has nothing to do with Valentine's Day, nevertheless they derive benefits from it. They used a holiday-themed design. And it certainly works and rocks. Brilliant.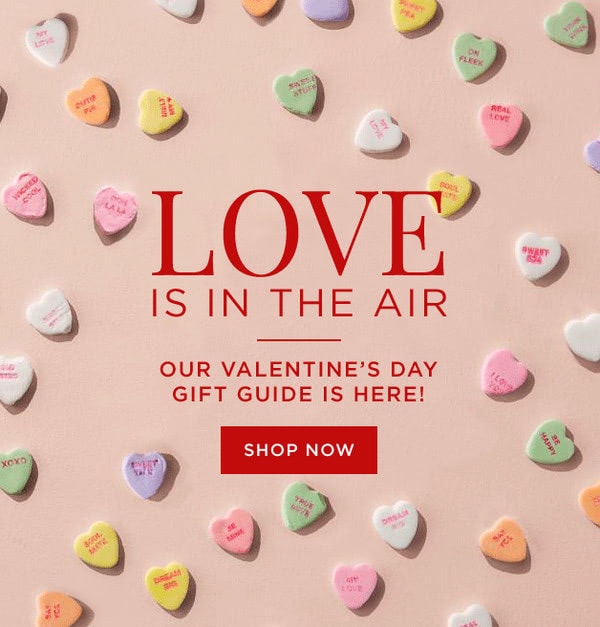 Valentine's Day is all about sweet schmaltzy clichés like a box of chocolates, heart-shaped candies, and lots of pink and red. However, much like Christmas, it is that holiday where old-school tricks never get old.
Email Newsletter from Mark & Graham is a traditional gift guide that includes several sections (for him, for her and for those who are in shoestring budget). Note several things:
The phrase – it reminds us of a beloved romantic movie.
The animated image background – it makes the first impression count.
The perfect balance between the decorative and informative parts that sets everyone in the holiday mood as well as brings value.
What can you say? Primitive but effective.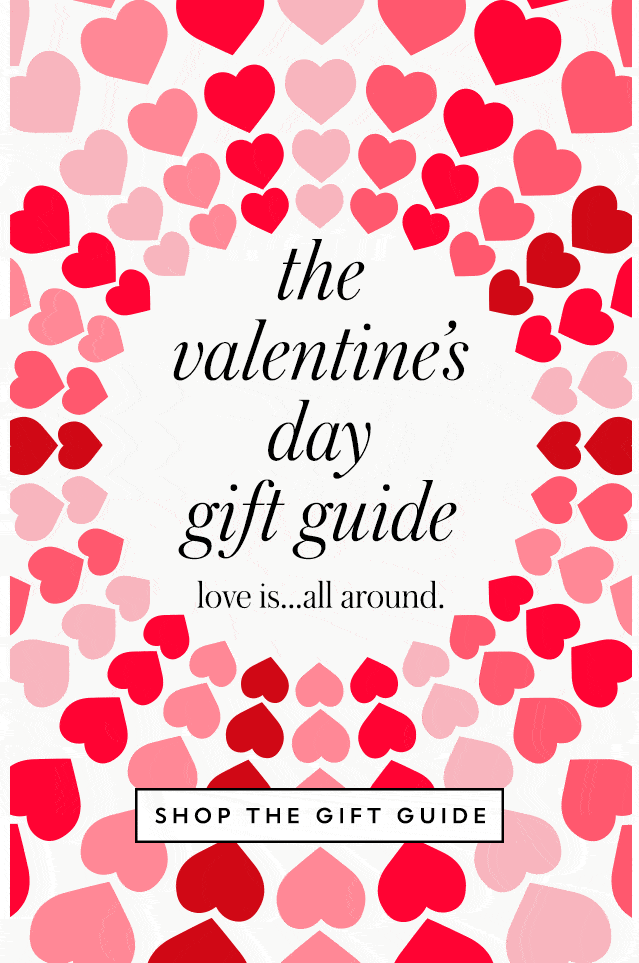 The Valentine's email newsletter from Kate Spade adopts the same approach. It is another gift guide with an impressive animated welcome section. Unlike previous examples, the team has played a small trick of reciprocity by giving away a special present to customers.
What's more, they ditch all the gift options and show just two special offers that, along with a link to the perfect gift guide, look extremely appealing.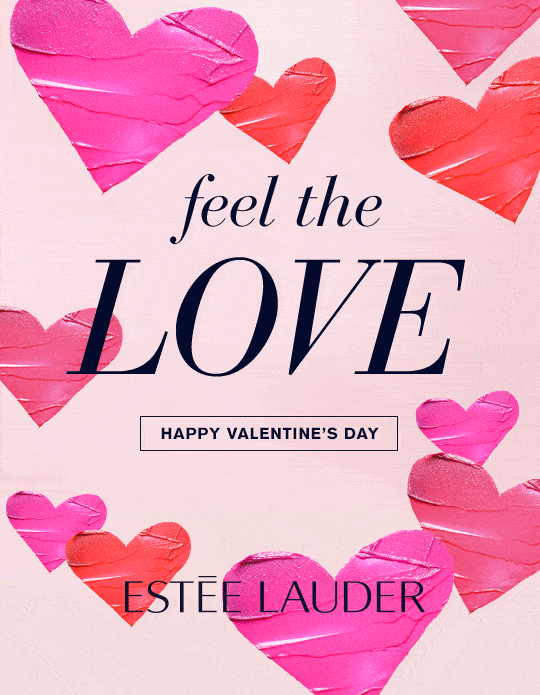 Although the email newsletter from Estee Lauder looks almost like two previous at first glance, that's a whole different story. Unlike others, the team does not pursue a goal of foisting goods; all they want to do is to congratulate contacts. This gesture appeals to the audience.
The design skillfully hints about the products of the brand with bright coloring and highly realistic graphics. Once again, we can see an animated gif.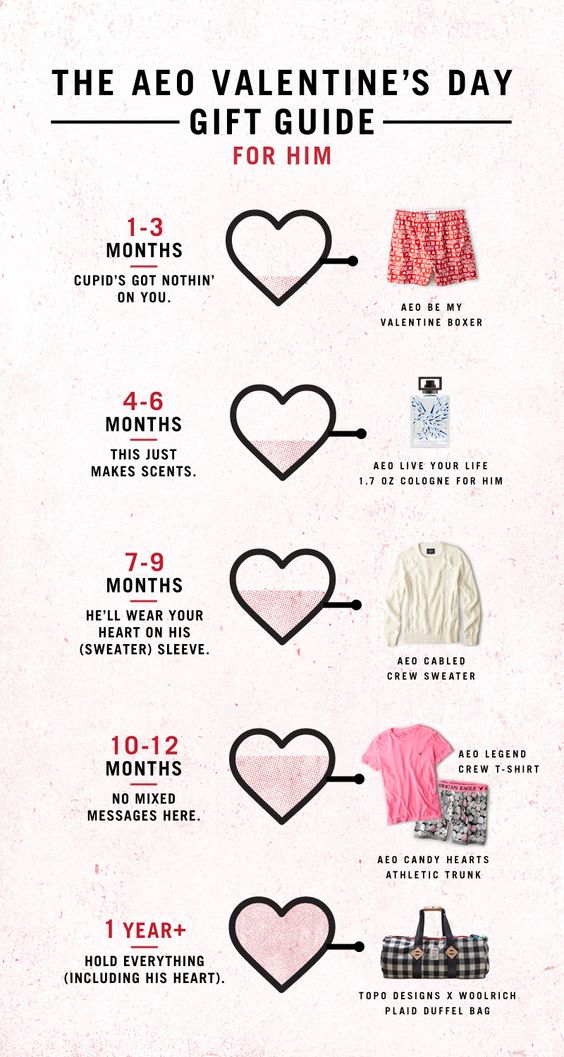 This is another example of a gift guide. The team put heart and soul into this. Nothing can compete with its originality. This creative and playful timeline gets undivided attention. The idea and its smart realization leave a strong impression as well as make subscribers visit the resource.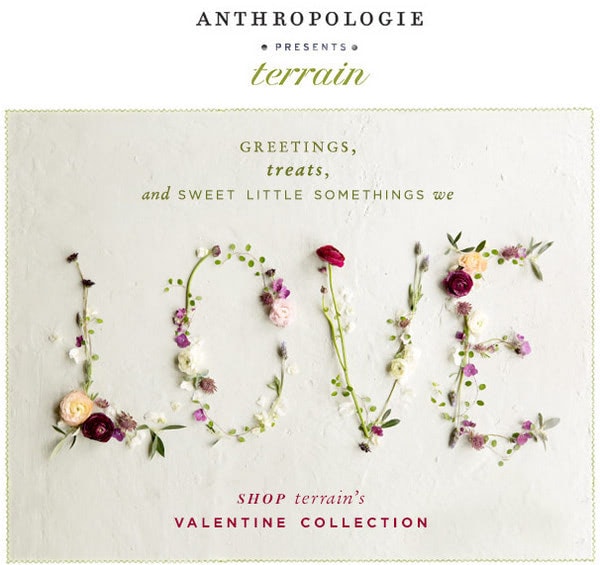 If you are sick and tired of everything pink and hearty, you can always enrich your Valentine's Day template with some springtime vibes. Consider an email newsletter from Anthropologie to see this unique combination in action. 
The newsletter stands in stark contrast to all the items in our collection. It exudes freshness and looks blossoming. Again, you won't see any huge discounts, free shipping, or other shopping incentives. However, the design easily draws attention and makes contacts click on the button to see something new.
The Anthropologie's team shows us that you can easily abstract from traditional motifs and convert a winter holiday into a spring one.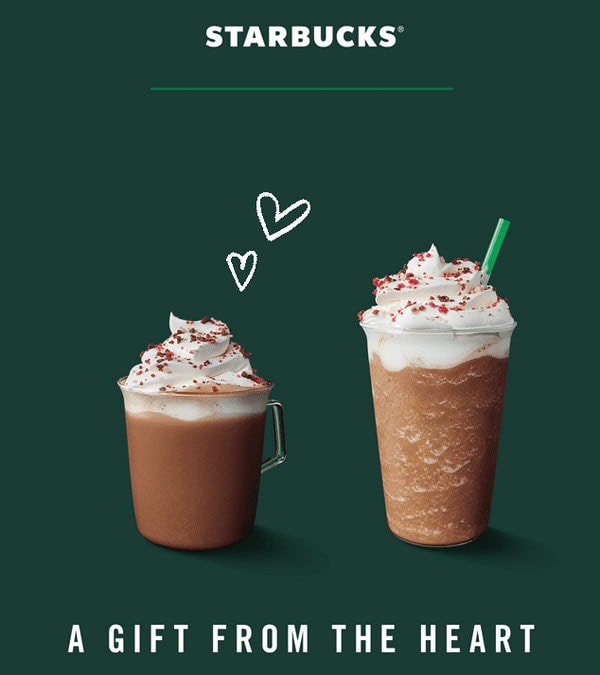 Much like Anthropologie, the marketing team behind Starbucks has ditched sentimental features and made the most out of their brand colors. Appetizing products perfectly fit the bill even without the festive entourage.
The team has gone for a minimal approach using as few graphical details as possible. To ignite interest, they also included a small gift and hint about yummy products. As a result, the newsletter looks more like an informative piece rather than regular promotion, thereby naturally luring potential customers in.
Conclusion
In conclusion, to make the most out of Valentine's Day for your email marketing campaigns, it is important to focus on a few key elements. These include working with your subscription list by properly segmenting it and offering special discounts to loyal customers, personalizing your newsletter to show gratitude and admiration for your subscribers, hitting the timing right by sending eblasts during specific hours, analyzing previous campaigns to gain insight on what works and what doesn't, and conducting A/B tests to optimize your email newsletter. By following these tips, you can increase the effectiveness of your Valentine's Day email marketing campaigns.
Like what you're reading? Subscribe to our top stories.