Improve your Campaign with Gift Card Emails: Best Practices and Examples
Gift card emails are one of the most underused marketing avenues. People like discounts, special offers, and presents. Reciprocity goes a long way; even the smallest bonus can easily win over clients and compel them to visit your website.
This type of email marketing will never die. It was beneficial last year, and it will undoubtedly work again, especially during the pandemic, when people crave positive emotions.
Gift card newsletters can do lots of things: earn loyalty, advocate brand, strengthen relationships, drive traffic to the website, and raise revenue. They work exceptionally well with cart recovery programs and all other types of re-engagement campaigns. They result in returns with a reasonable sacrifice.
Let's consider the basics of gift card email marketing, reflect on ideas of how to make them work for you, and get inspiration from real-life examples.
Reasons to Send Gift Card Emails
There are several good reasons for sending gift card newsletters to your target market.
People like to receive presents. Even the smallest gift can make a big difference for company and contact relationships, to say nothing about generating some real leads and raising money.
No-Code Email Template Builder
With Postcards you can create and edit email templates online without any coding skills! Includes more than 100 components to help you create custom emails templates faster than ever before.
Try Free
Other Products
People like to buy gift cards for others. It can be a person who doubts what to get colleagues, distinct relatives, or even friends. Alternatively, it can be a company's presenter who should ensure that every person is rewarded during the holidays to revitalize the corporate spirit.
A gift card works instantly. You can use them without leaving home, something that's important with the Covid-19 pandemic. It can be a last-minute present that you can get either for yourself or your friends.
With a gift card, you have freedom of choice. You can buy yourself precisely what you want.
There are some excellent pros of undertaking this kind of email marketing venture, such as:
They are focused.
They are specific.
They enhance the personal feeling.
They make the connection between the company and contacts close, friendly, and mutually beneficial.
They increase brand awareness.
They keep your business top-of-mind.
They are easy and straightforward to use for customers.
They fit any budget.
They are instantly redeemable.
They have a relatively long time slot to be redeemed. Therefore, you can create a series of follow-up newsletters under the same topic to maximize the effect.
They can generate sales even after the last shipping date during the holiday season.
They can awake dormant customers.
To sum up, gift card emails have many significant advantages. People warmly welcome them and they create various sales opportunities.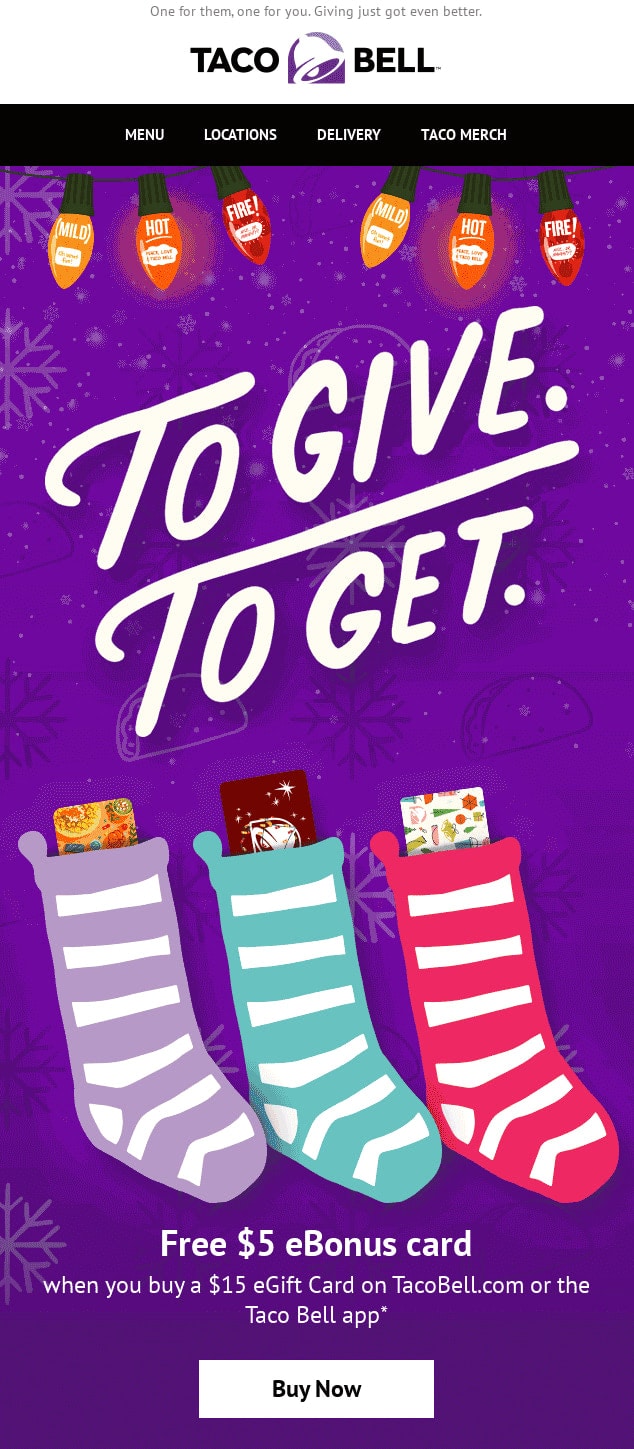 eGift Card from Taco Bell
Subject Lines for Gift Card Emails
Like any other email campaign, the success of gift card newsletters depends on high open rates. Ensure you have a subject line that rocks.
When creating a subject line for gift card emails, always bear in mind that you bring a piece of joy and happiness to people. Therefore, center it on good emotions. You are here to make people happy. The subject line should convey this message right from the door. Emojis, friendly tone, and emphatic language are highly welcome. Let's consider some real-life examples:
Need a last-minute gift card?
Celebrate Mother's Day 🎉 with twice the cards!
[Name] sent you an Amazon.com Gift Card!
Thank you for your Lifestyle Base Purchase…
🎁 Buy a $15 eGift Card and get one $5 eBonus card 😋
Introducing Moment Gift Card
Celebrate Dad with an Airbnb gift card
GIFT CARD 💌 From your secret admirer
Give the gift of choice
Your Gift Card Expires Today! Use Your $30 Toward a Great Live Event!
Every type of email newsletter has a mission. Therefore, they are sent on particular occasions. However, when it comes to gift card emails, there are no rules. You can send them for no reason. Though there are some excellent events when they are absolute must-haves.
Holidays
Predictably, the best time to send out gift card newsletters is around holidays because they capture a little festive cheer for both customers and venues. It is a gift, after all. Festive email campaigns are perfect ground where this type of marketing avenue thrives out.
Along with widely-acknowledged holidays like Christmas, New Year, Thanksgiving Day, or Mother's Day, you can also capitalize on some local feasts and uncommon and weird holidays like National Have Fun At Work Day or National Star Wars Day. For example, if you conduct email marketing campaigns for an Italian restaurant, you can drive some traffic to your website with a gift card email dedicated to National Spaghetti Day.
Birthday
The second event not to miss is the contact's birthday. Along with a congratulation email, you should send a gift card email. It is not just a rule of etiquette; it is an integral part of all successful email marketing strategies.
If one day in a year is not enough, you can also celebrate the day when the contact has subscribed or shifted from a freemium plan to a premium one. People love to be appreciated. So, treat them whenever you can.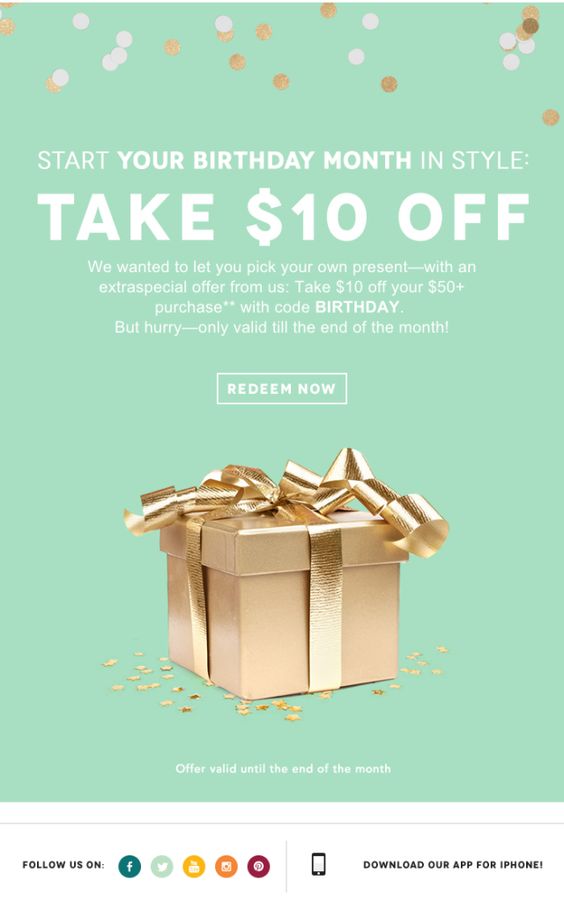 Birthday Gift Card Email
Anniversary
The third occasion is anniversaries and milestones of the company. With a gift card email, you create a reminder about your brand and cultivate relationships with fans and make the user feel a part of something big.
Inconveniences
The fourth reason to send gift card newsletters is to apologize for the specific inconvenience or respond to complaints. Making amends in digital expanses is a regular thing. We all can experience troubles with a server, operating system, technical support, etc. Even if a third party causes the problem, apologize for the inconvenience and give away a gift card. This gesture will undoubtedly leave a good and long-lasting imprint on customers' minds.
Re-engagement
The fifth situation when gift card emails come in handy is when you need to reinforce the re-engagement campaign. Quite often, abandoned cart emails feature gift vouchers to push indecisive customers to finalize the purchase. They can also be used as a part of follow-up newsletters.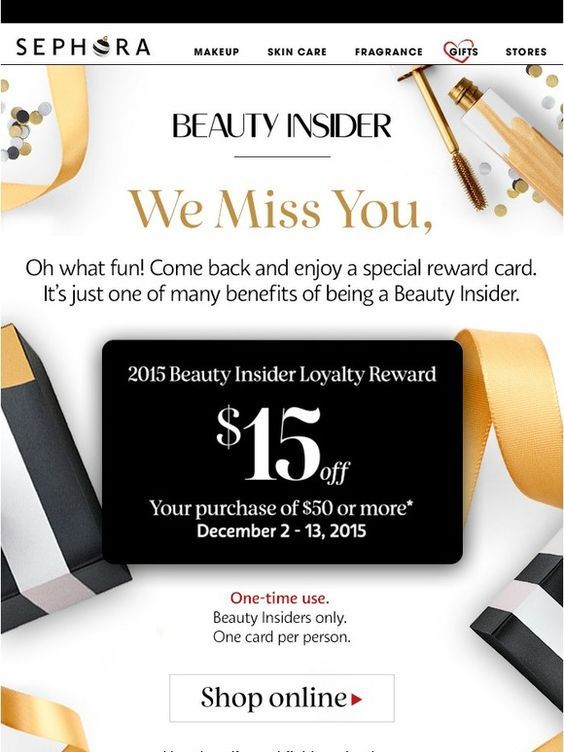 Gift card email from Sephora
Rewarding customers for their loyalty is a win situation. If you feel like your audience requires some appreciation from your side, or you want to say thanks for their support, you should send a gift card email.
Best Time of the Day to Send a Gift Card Email
When you decide on the calendar for a gift card email campaign, you need to define the best time of the day when to reach out to your audience with your unique present. Although you can tap into the power of surprise and reach out to your audience at a random time, however, you should bear in mind one important thing.
The majority of gift card newsletters are sent during the holiday season. As a rule, inboxes are overcrowded at that time. Chances are your gift card email will be lost in the chaos. Besides, some gift card emails are time-sensitive.
Therefore, you need to make sure users receive it on time so that they can grab this opportunity and treat themselves to something special from your store. Do not disappoint your customers: no one likes expired presents.
Analyze previous campaigns and do split tests to find the best time. Also, you can use some popular time slots. For example, it is highly recommended to send an email on Tuesday or Thursday at 8 a.m., 4 p.m., or 10 p.m.
The more positive emotions you can inspire in your recipient, the better. A positive attitude stands behind every decision-making process since it reaches the hearts of the audience. Therefore, make your customers happy. Gift card emails are perfect tools for that. They are just destined to make the user's day.
However, they still need a little bit of nudge to serve their duty well. Let's consider some good practices on how to do this.
Make them Personal
Personalization is a huge trend for a good reason. People are becoming peakier and more demanding. Slowly but surely, they are getting accustomed to a personalized experience and an unmatched level of service. To meet these escalating demands, you need to appeal precisely to customer's needs.
Relying on behavioral and statistical triggers, personal preferences, and purchase history, you can create a personalized gift card email that will tug at the user's emotions and win him or her over.
Remind That Purchase Potential is Waiting
It is in good taste to remind subscribers of the gift card's current balance and expiration date. Even if you do not send a time-sensitive gift card email, an unobtrusive reminder will not hurt anyone.
Users will be aware of the situation and won't miss an opportunity to redeem their present. On the other hand, you will get a chance to play some more marketing tricks. It is here where you can benefit from cross-selling and upselling opportunities. Browse the customer's purchase history to find the best goods that match his or her needs. You can also showcase bestselling items or absolutely new items.
However, do not be pushy and annoying. Do not overdo. Your goal is to maintain a presence in the customer's mind and feed him or her with some fascinating stuff that will pique interest and compel to visit the website.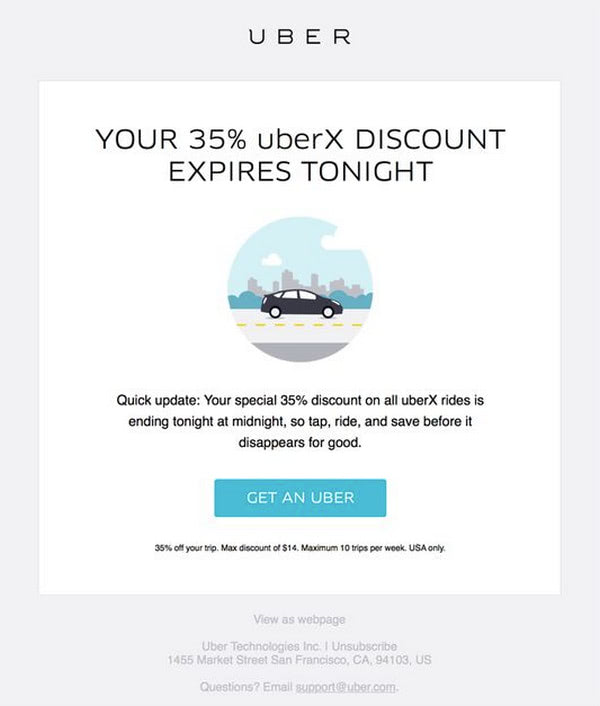 Reminder from Uber
Pair a Gift Card Email with Other Strategies
Gift card newsletters are great team players. They can reinforce any email campaign. For instance, famous brands often use them in tandem with Welcome Emails or Onboarding Emails since giving low-value gift cards to new signups helps to start new relationships on a good note and cement the friendship.
Along with these two series, gift card emails nicely cooperate with sales strategies like BOGOF or Flash sales. You can also encourage customers to come on specific days, like Black Friday, to redeem a gift card with purchase.
Last but not least, you can play various marketing tricks. For instance, you can establish a sense of urgency, advertise rewards upon purchase, and even offer an extra discount to all gift cardholders.
Shared joy leads to more joy – it is in human nature. People love to share good news with others. Every happy experience generates an impulse to involve other people. Therefore, each gift card email should have tools for sharing.
Word-of-mouth recommendation is one of the best ways to get a new client. Therefore, you can go even further. Capitalize on the happy feeling and introduce a referral program to onboard some new clients and subscribers in a non-intrusive way.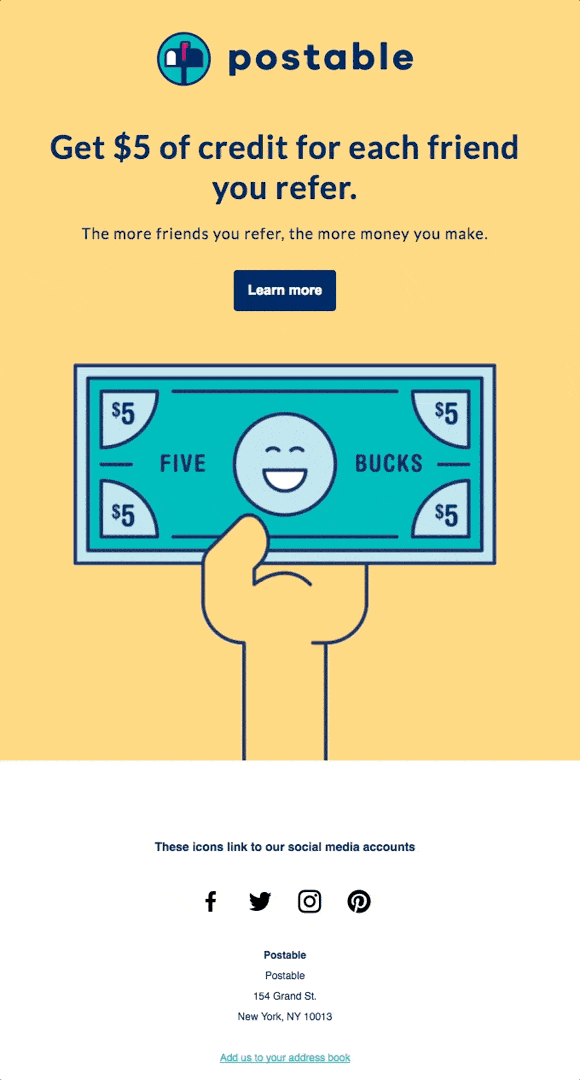 Referral program from Postable
Sending gift card emails to dormant users is a great way to re-engage them with your brand. Remind stagnant customers about your existence in win-back campaigns with special gift cards.
Depending on the level of disengagement, you may send different types of gift card newsletters. For instance, if this level is low, you can give away a small discount, whereas people who lost interest in your company should be treated with a bit of an aggressive technique.
Here your task is not only to inspire positive emotions but also re-kindle interest and bring people around.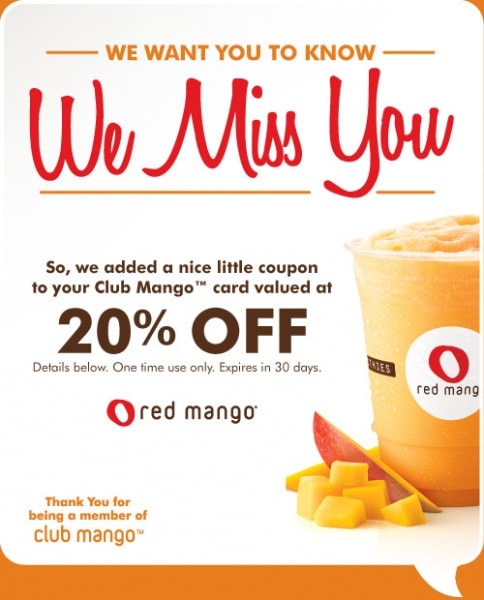 Gift Voucher Email from Red Mango
Provide Good User Experience on the Website
The well-thought-out gift card email ensures positive emotions. However, it is just a beginning. You need to build on that positive attitude to finalize the deal. For this, you need to make sure that the website provides the best user experience and meets the user's interests and demands.
Be Creative with The Design
Although users warmly welcome gift cards, it still does not hurt to make them even more inspiring and alluring. More so, chances are your gift card email won't be the only one in the inbox, so your offer should stand out.
Another good reason to be creative with the design is that gift card emails should bear emotions. To create the right gamut of emotions you need a custom design.
So, what can you do?
First, add festive cheer to the design. For example, if you send a gift card email on Christmas, you should capitalize on the event by choosing the appropriate color scheme, decorations, and even text and language. Always add a festive greeting.
Second, format the email template to match your branding. Use logotype, brand colors, slogan, typeface, icons, images, and graphics.
Third, align gift card email with website design. Create a connection between email and online estate so that the user has a coherent experience. This will help to maximize the effect.
Fourth, make use of animated gifs and interactive features. Both of them are a great source of positive emotions. Even the simplest solution can make a difference.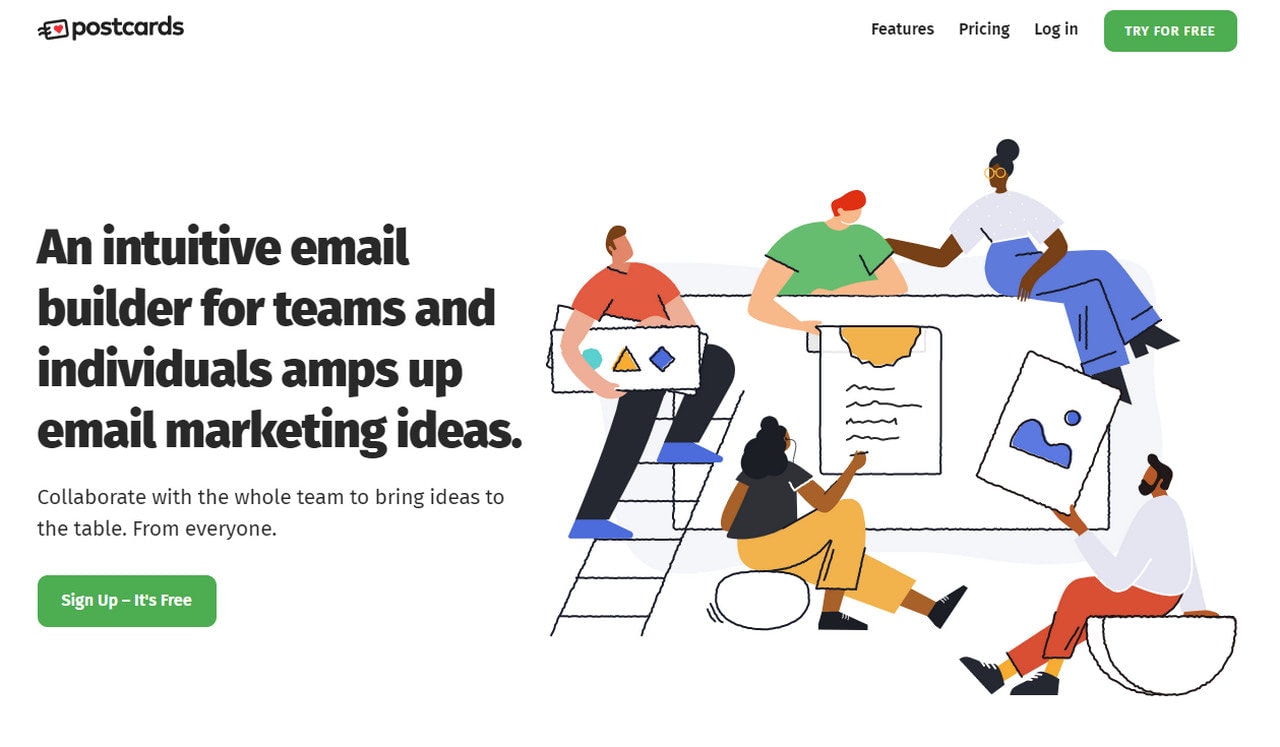 Last but not least, use a professional HTML email template generator, such as Postcards.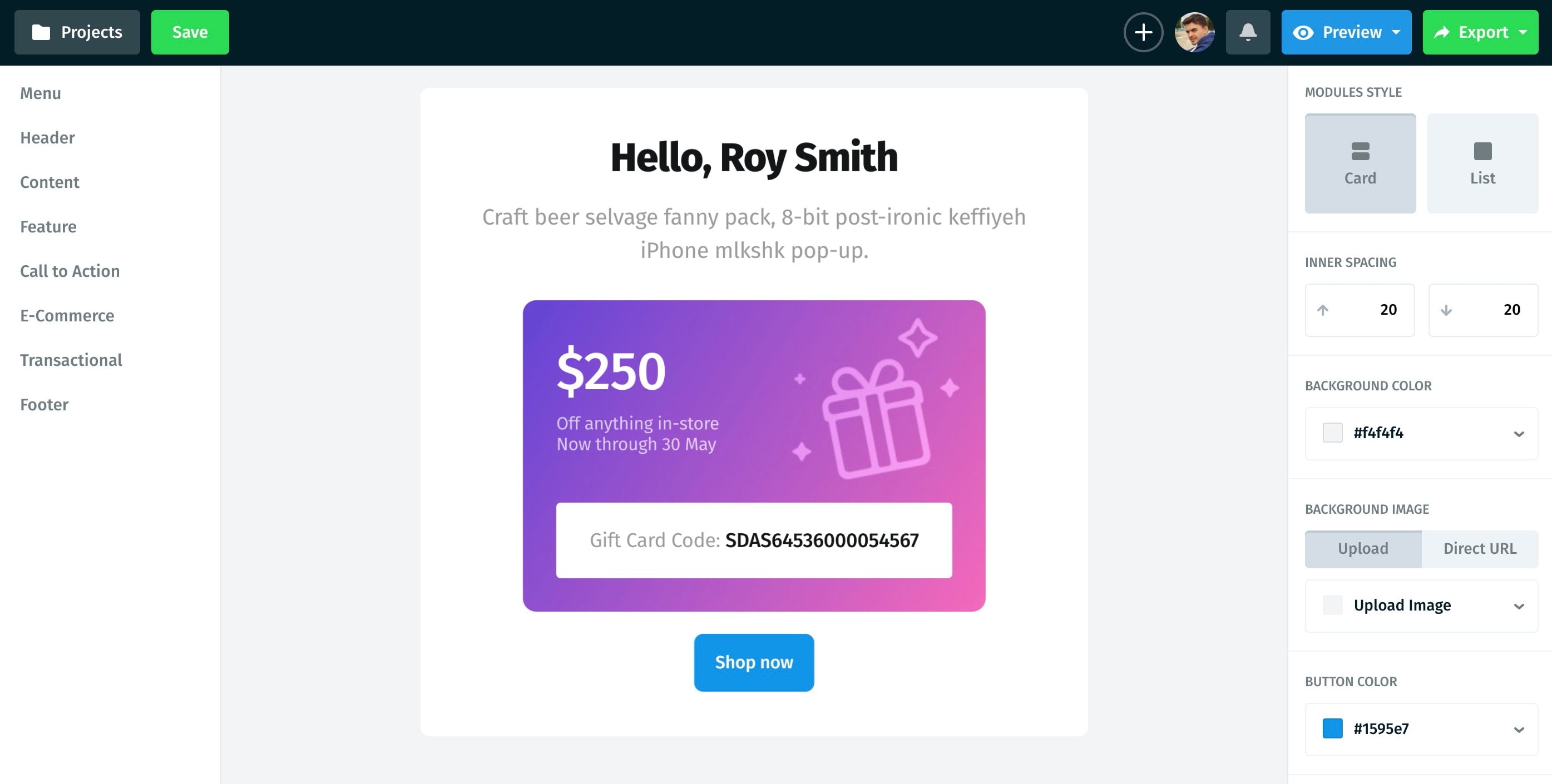 With its intuitive interface and more than 100 field-tested modules, you will be able to create a modern-looking gift card email with the brand touch, powerful charisma, and interactive details without coding or design skills.
Although gift card emails are just compact and minimal one-screen newsletters, they still require your undivided attention. They should be carefully treated. Before sending them to customers, make sure they follow these guidelines:
They are responsive and mobile-friendly. If you can't create a layout that fits all the screen sizes, use Postcards. It provides a fully responsive design by default.
They are accessible. Many email readers disable images. Besides, some users may disable them on purpose. Therefore, make sure all images and pictures that bear important information have alt text. What's more, ensure proper contrast and provide essential details for AT.
The email is error-proof. Double-check everything including grammar and punctuation. Also, make sure your words are understandable by the general crowd.
Targeting is well-thought-out. Segmentation is a path to success. Divide your subscribers into groups to create a tailored offer.
A/B testing is done. Whatever ingenious idea you have, it should be tested. All the main aspects of the campaign (design, subject line, and even offer) should be adjusted to your target audience's specific needs.
Finally, always collect data from gift card newsletters to discover the demographics and product preferences of your target market. This information will help to improve your next campaign.
Collection of Gift Card Email Examples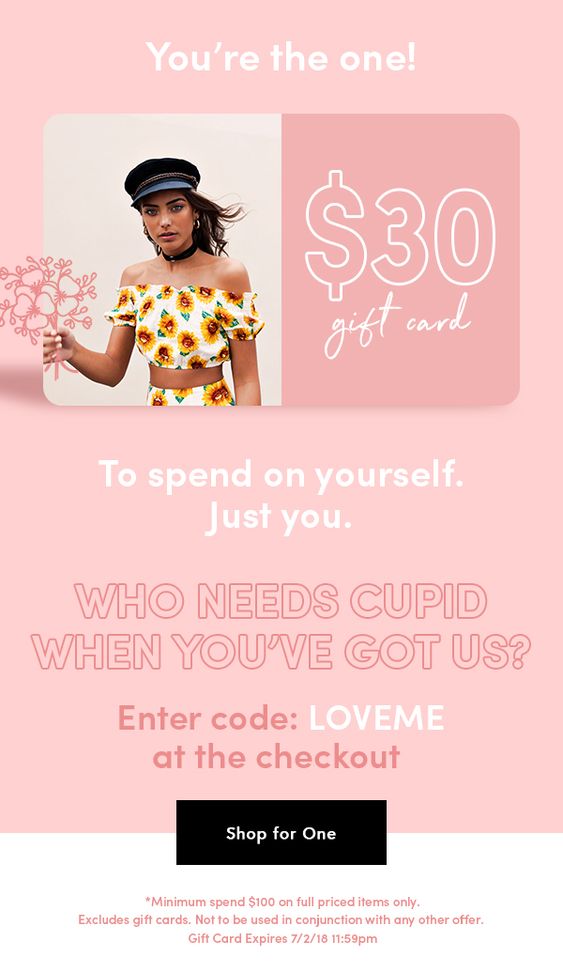 Gift Card Newsletter Example from Peppermayo
The gift card email example from Peppermayo shows us one of the best email marketing tricks. The newsletter is held in conjunction with Valentine's Day. However, unlike the majority alike pitches that target people in love, this one tries to tug the emotional strings of those users who do not celebrate this holiday or simply do not have a second half. Thanks to this trick, the team covers a wide range.
Note the message and ambiance of the email newsletter. The design is made in a lovely pink tone that echoes with the event. The message is focused mainly on the person. Phrases "To Spend on Yourself" and "Just You" are quite powerful. Here everything is about the subscriber. Is not it nice?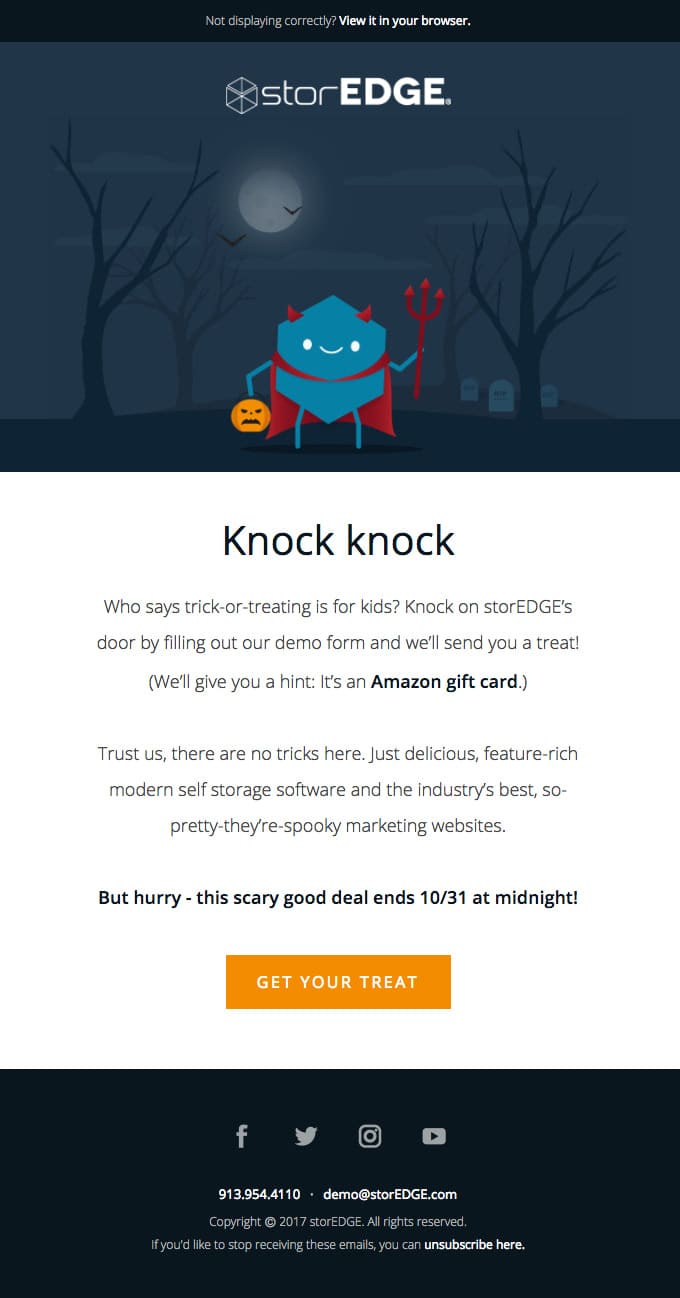 Gift Card Email from StorEDGE
Halloween is a great period to treat your users with some special offers. The gift card newsletter example from StorEDGE shows how to do this properly.
The team does not include a gift card inside the letter; they have just announced how to get one. This move does two important things. First, it ensures that people who get this gift are engaged with the brand and interested in buying something. Second, it ignites dormant subscribers' interest since it is always interesting to be involved in a quest.
The newsletter is also an excellent example of a collaboration between two companies that target the same market and want to capitalize on the sales opportunity during the festive season.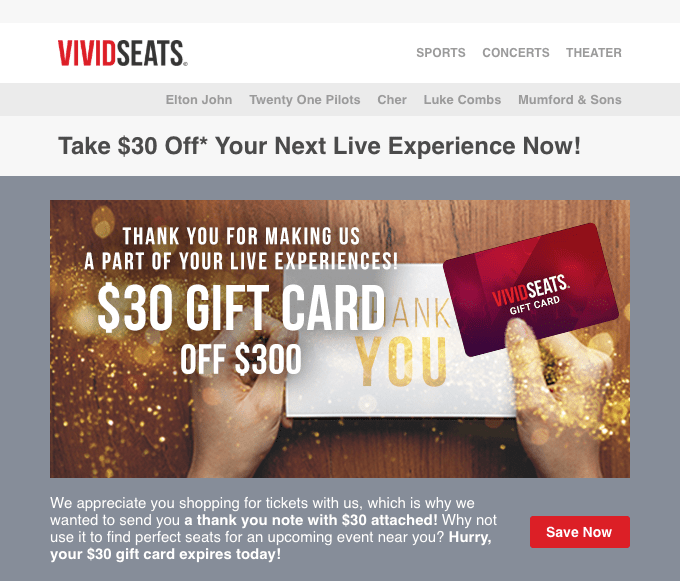 Gift Card Newsletter from Vividseats
The gift card email example from Vividseats is a classic example in this area. The team has taken the regular newsletter to the next level by providing useful information and a real value in a face of a beautifully designed gift voucher.
It is a thank you note. If a person is satisfied with the brand, this gesture will strengthen the connection. If it is a dormant relationship, then it will try to break the ice.
Note one thing. The team has also established a sense of urgency by proclaiming that the gift card is valid only one day. Since the email newsletter is sent on the eve of New Year, it is safe to play this trick.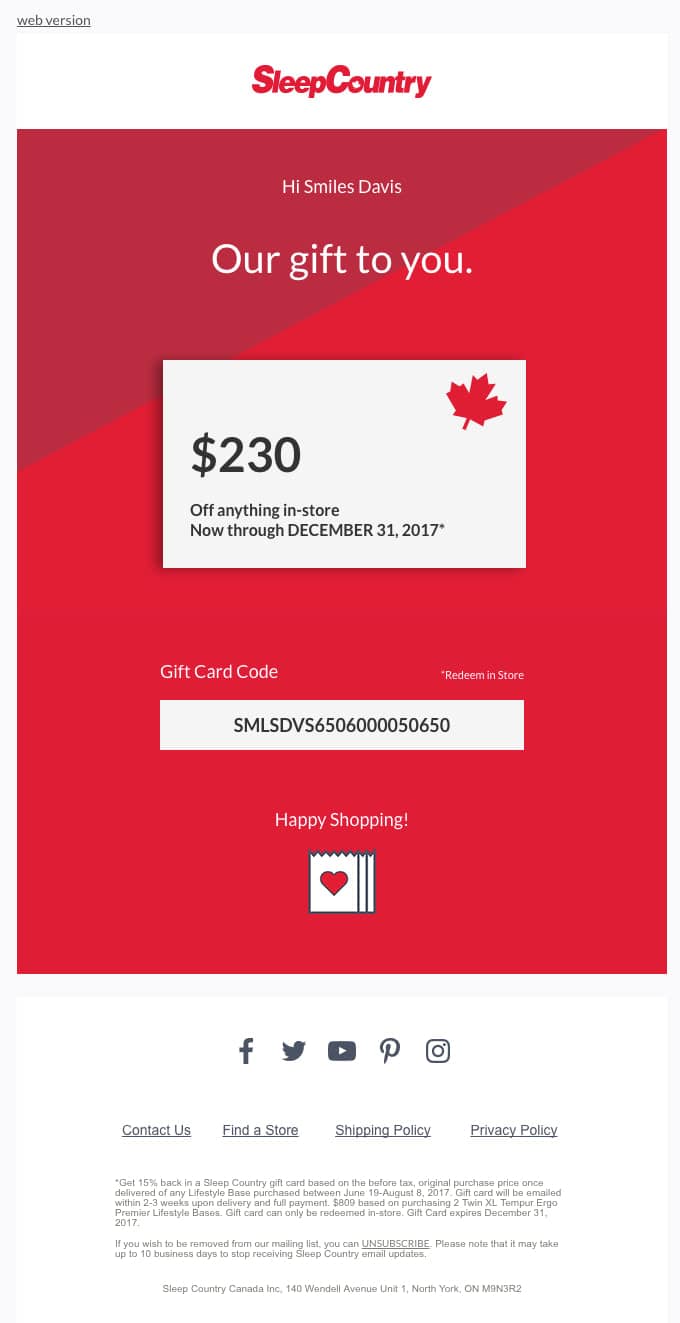 Gift Card Email Example from Sleep Country Canada
Less talk, more work. Gift card newsletter example from Sleep Country Canada gets down to business from the outset. The email is increasingly compact, minimal, laconic, and terse. It has several details: banner, small block with text, and footer with only essential contact information.
The bonus voucher flaunts right in the middle of the design. The expiration date and code for activation are carefully highlighted. Brand coloring and logotype speak on behalf of the company. The solution is simple, yet quite effective.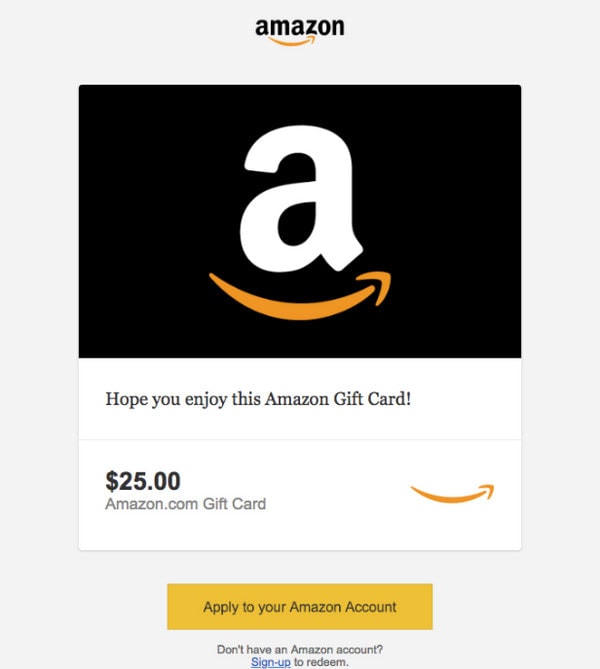 Gift Card Newsletter from Amazon
Simplicity lies in the heart of the gift card email example from Amazon as well. Much like the previous example, the email is self-explanatory. It does not have any extravagant features or marketing tricks. What you see is what you get.
Note one thing, instead of creating custom artwork, the team has used a company's brand identity: logotype and colors. This smart move strengthens the brands' image and makes the user feel a part of something big.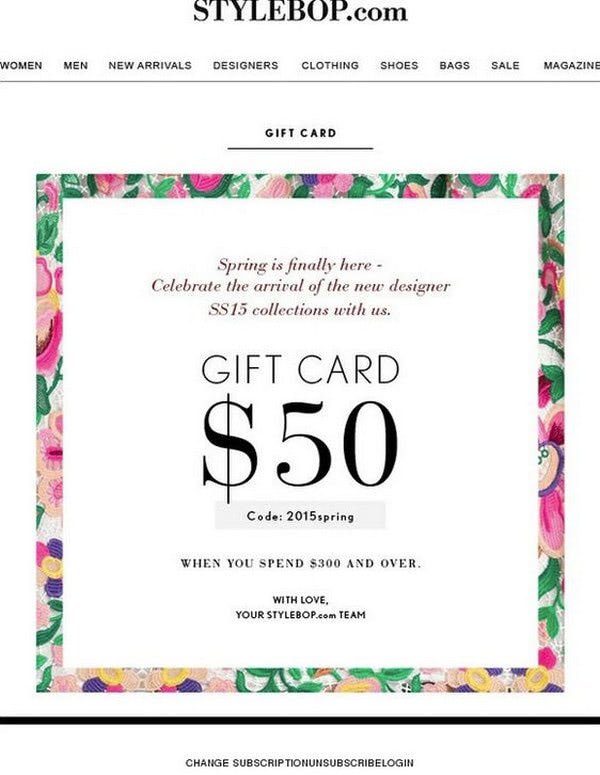 Gift Card Email from StyleBop
The marketing team behind STYLEBOP provides us with a gift card newsletter example that promotes the brand-new collection. To compel users to proceed with the new products, the company introduces a camouflaged shopping incentive.
On top of that, they have established a sense of urgency right in the subject line. Although "Hurry up" sounds a bit banal, yet it still enjoys high open rates and gives the newsletter importance that requires swift actions.
Also, note the design here. The gorgeous floral background sets up a lively atmosphere and gives the newsletter a lovely artistic vibe making it look exclusive. Thanks to this design solution, the offer that occupies the lion share of the design does not look overwhelming. It just naturally nudges the user to visit the website.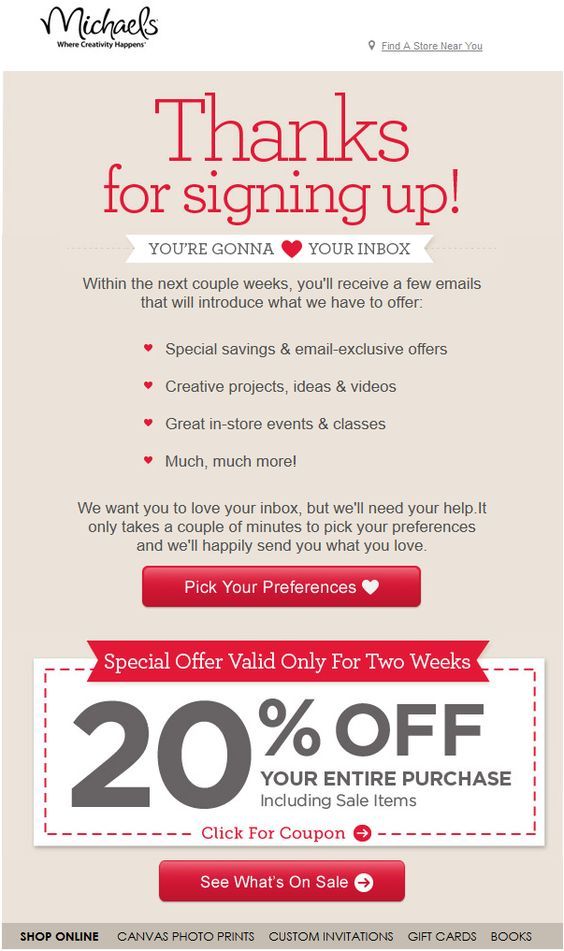 Thank You Email from Michael
This gift card newsletter example combines two types of emails. The first is a Thank you email that expresses gratitude for singing up. The second is the gift voucher email. Together, they create a real symbiosis.
Note the ambiance and vibe of the newsletter. It is filled with love: red color, heart-shaped graphics, ribbons, elegant typeface, lots of pleasant words, friendly language, and an invite to change your preferences. This kind of email appeals to any user without a doubt.
While the "Thank you" part lays a secure foundation for good relationships between company and customer, the gift card part maximizes effect and compels users to visit the website.
Note, this email is a part of a welcome series. It is a great way to onboard new users and drive extra traffic to the website.
Conclusion
Gift card newsletters are great tools in the email marketing arsenal. They can work on their own and in collaboration with others. They are great in tandem with the Welcome series, Thank You emails, and re-engagement campaigns. They can be used without any particular reason since people love good surprises with special offers. Even if they fail to drive the desired traffic to the website, they will still contribute to your customers' relationships. Therefore, whatever business you have, always include them in your marketing strategy.
Like what you're reading? Subscribe to our top stories.