Email Marketing Strategy and Tips for Successful Campaigns to Use in 2023
Are you new to email marketing or wish to improve your current results? It is a huge topic indeed, but to succeed, you need to start small. With this post, you will make it easily: here we are explaining the essentials of email marketing and guiding you through the main steps for crafting effective email campaigns.
You will find practical advice on how to plan your emails, choose email marketing service, and design engaging messages. Let's start from the strategic goals of email marketing and then step-by-step move to the practical implementation and useful resources.
What is email marketing and why is it important to your business?
Notwithstanding the growing popularity of various messengers, email is still the main channel of your communication with clients. With your email messages, you lead your subscribers through the whole sales and marketing funnel, converting them to customers. You assist your users in interacting with your app, engaging them, and increasing their loyalty to your brand.
Email marketing is one of the most efficient channels for customer retention. According to Bain & Company, "a 5% increase in customer retention produces more than a 25% increase in profit" (in financial services). This dependency is equally valid for e-commerce and SaaS businesses, where the role of email marketing is invaluable.
How to plan your email campaigns?
Before you start creating your campaigns, you should define the answers to the following questions:
What are your goals?
Who are your email recipients?
What benefits will they get from your emails? (Or simply, why will they want to read them?)
Depending on the answers, you will be able to pick the types of email campaigns you need. On a high level, all emails can be divided into two big groups:
No-Code Email Template Builder
With Postcards you can create and edit email templates online without any coding skills! Includes more than 100 components to help you create custom emails templates faster than ever before.
Try Free
Other Products
Transactional emails (event-triggered ones, sent to one user at a time, as a result of their interaction with your app or service. Examples: account confirmation, welcome emails, password reset, order confirmations, billing messages, reminders, abandoned shopping cart emails, etc.)
Marketing emails (delivered emails to your database, also called mass or bulk emails. Examples: newsletters, special offers, promotions, product updates, etc.)
However, such a division is mostly technical: many transactional messages have marketing, branding, and even sales purposes. Welcome emails are a part of the user's journey, reminders can be also used to offer upgrades, while abandoned cart emails generate almost 30% of revenue for e-commerce.
What does it mean to you? All emails are a part of marketing and product strategy, with a need for proper branding, well-crafted templates, and carefully worded messages.
How to create your email campaigns
"Creating email campaigns" can include two big areas: crafting email templates and handling your email recipients. While email templates can be built manually relatively easy, it is recommended to delegate the database management and sending logic to the dedicated email marketing service.
Email marketing services
To choose the best email marketing service that perfectly fits your needs, you should first decide which tasks you wish to solve with its help. There are a variety of tools on the market, from bulk email software like Sendblaster, to full-fledged marketing automation, CRM and user management saas like Hubspot.
There are many email marketing services, which can help you with creating and setting email campaigns, managing your subscribers, and tracking your results. Let's review several popular ones.
AWeber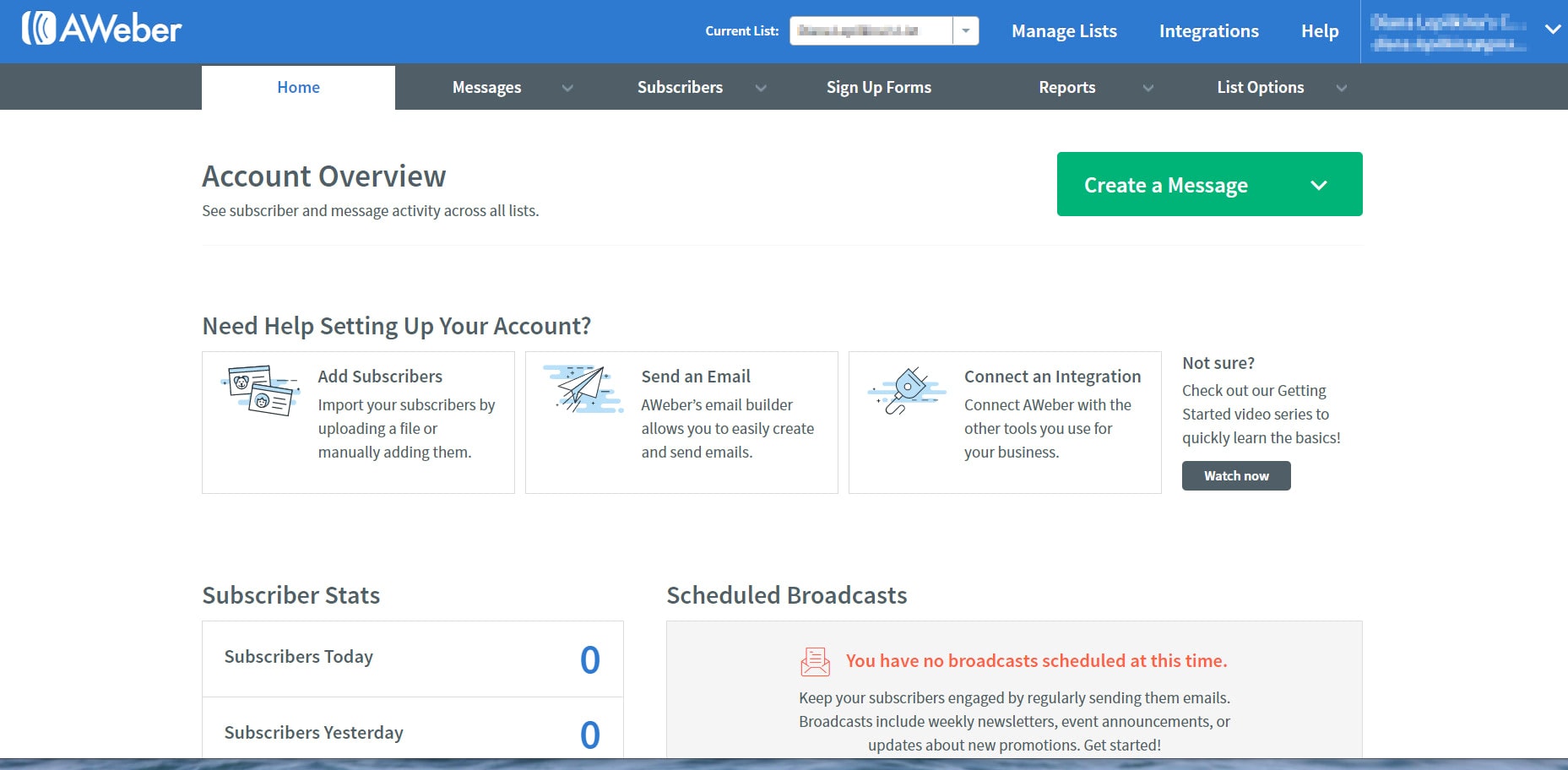 AWeber aims at helping small businesses with simple but powerful email marketing solutions. Its main features include:
drag and drop and HTML template editors
subscribers segmentation
email automation
split testing
sign up forms
email tracking and analytics
The cost starts at $19 per month and depends on the number of your subscribers. To evaluate the service, you have 30 days of free usage.
Sendinblue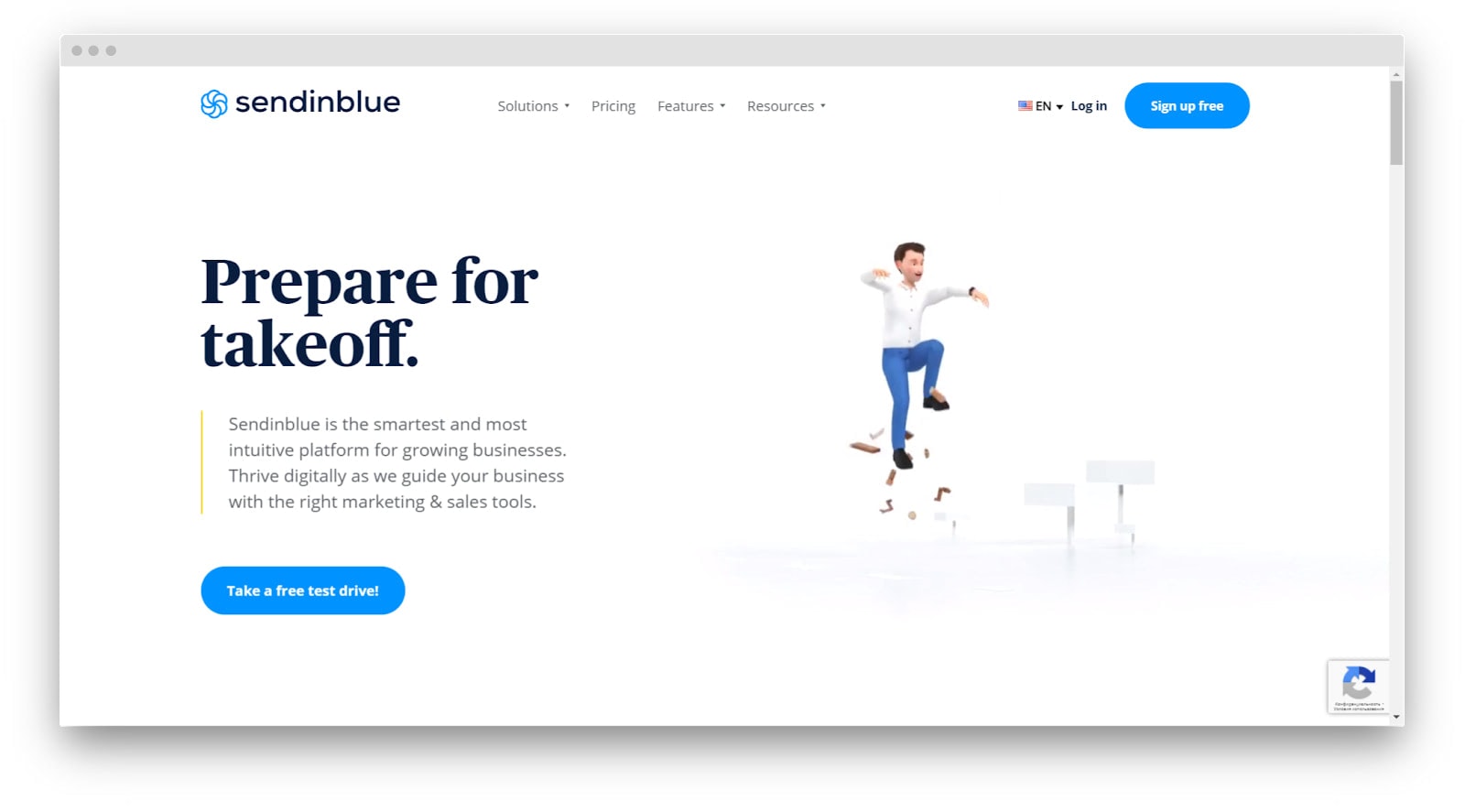 Sendinblue is a bulk email service that takes into account the interests of both marketers and sales managers. It provides the former with an advanced analytics dashboard and a robust range of templates for newsletters, transactional emails, and other types of content.
Some of the features include:
Automates email marketing, SMS campaigns, and live chat with customers.
Built-in CRM for next-level personalization.
Subscriber segmentation
Built-in templates for newsletters, transactional emails, and other types of messages.
Sign-up form designer.
Streamlined oversight of Facebook Ads.
Mailchimp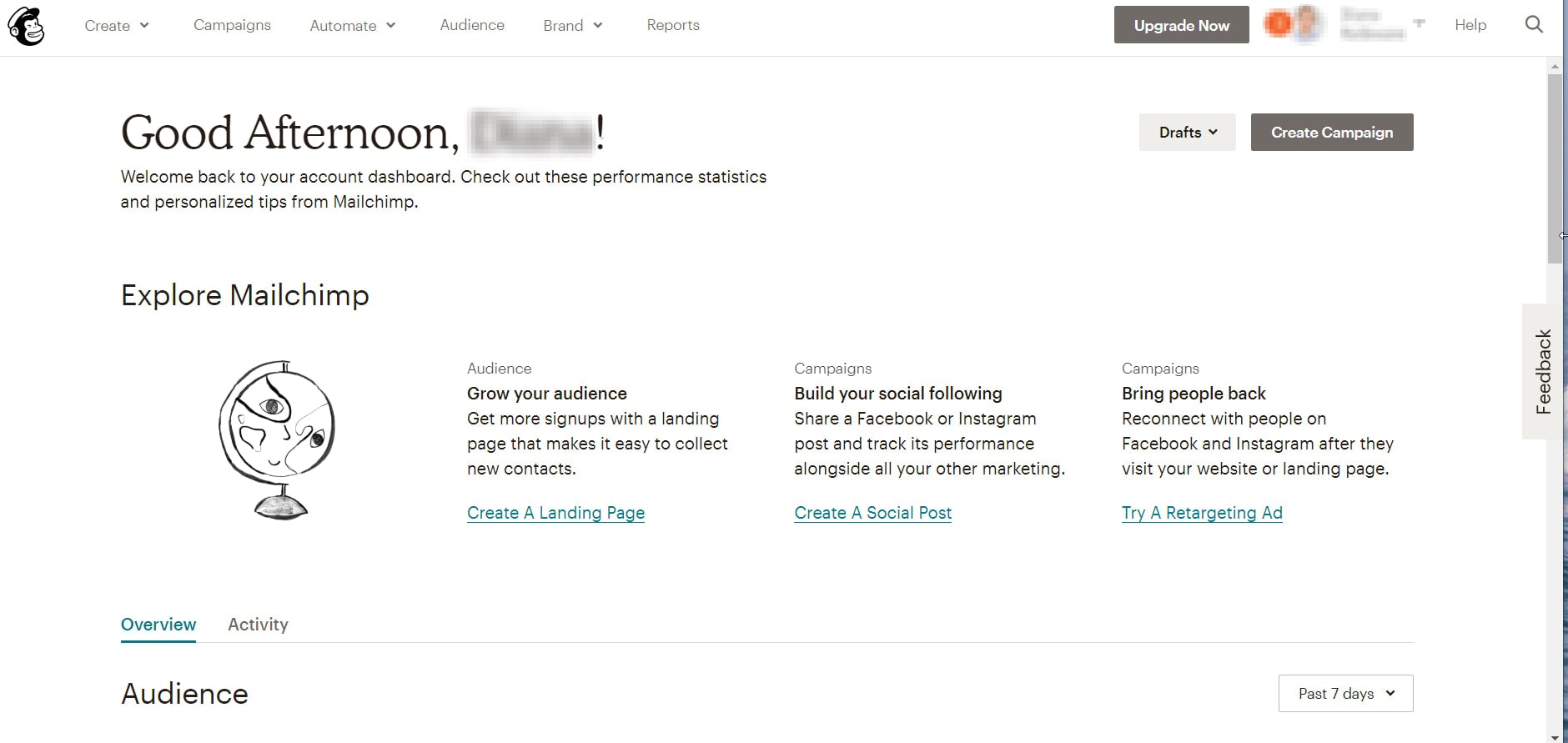 Mailchimp is an all-in-one marketing platform featuring the following tools:
email campaigns builder
email automation
real-time analytics
marketing CRM
website builder and landing pages
digital ads
Mailchimp has four billing plans and the total cost is calculated according to the number of subscribers as well. It features a free plan with a small set of features, paid options start at $14.99 per month.
Constant Contact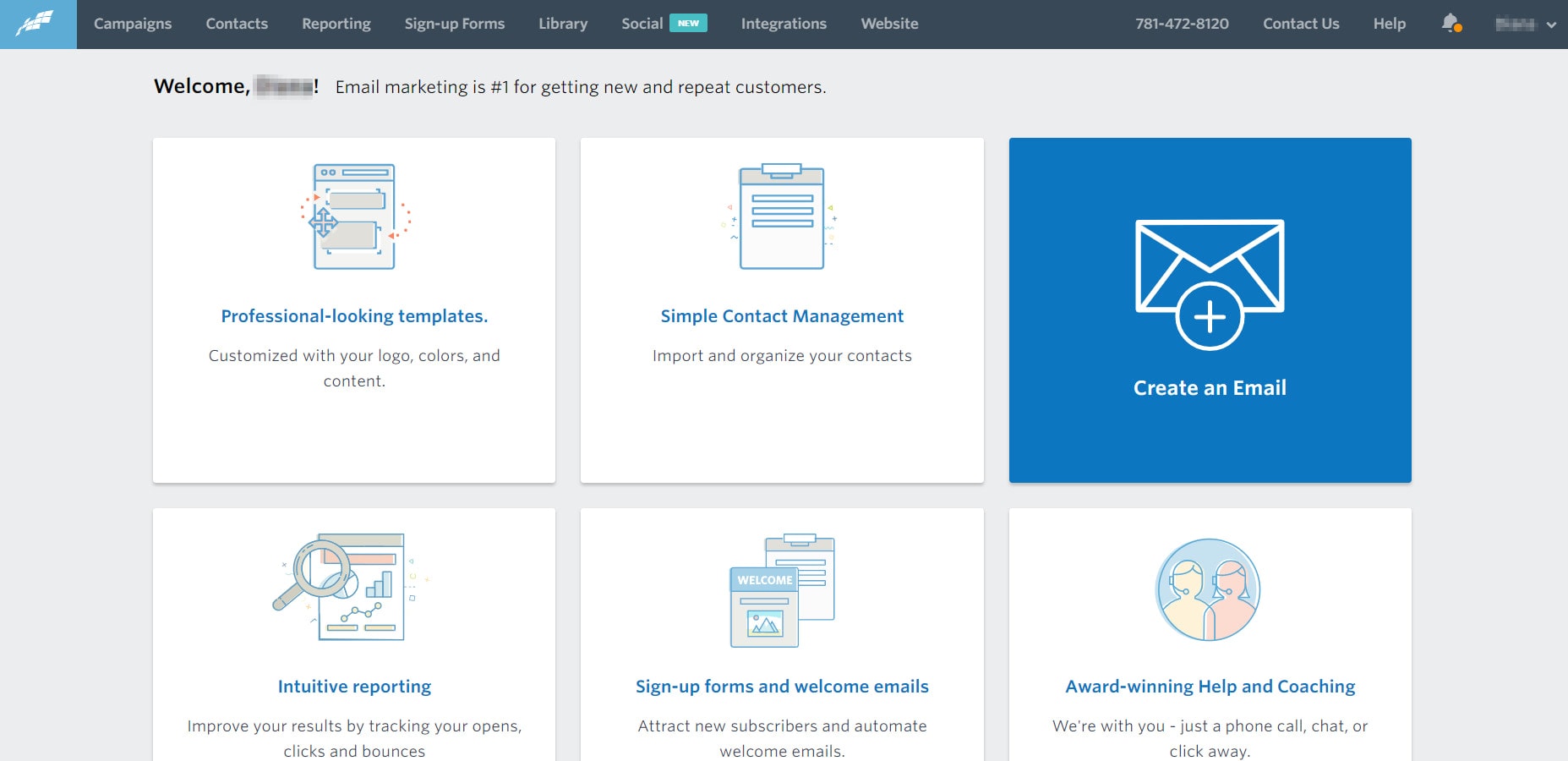 Constant Contact, a great Mailchimp alternative, also provides a set of features for email marketing and mostly focuses on the eCommerce:
drag and drop template editor
contact management
email tracking and analytics
marketing automation
eCommerce integrations and automations
Integration with chatbots
Google, Facebook, and Instagram ads
Constant Contact price is also based on the number of contacts you have but they also offer two billing plans: "email", which starts at $20 per month and "email pro", which provides an extensive list of features at a minimum of $45 per month. The 30-days free trial is available for both plans.
Sendgrid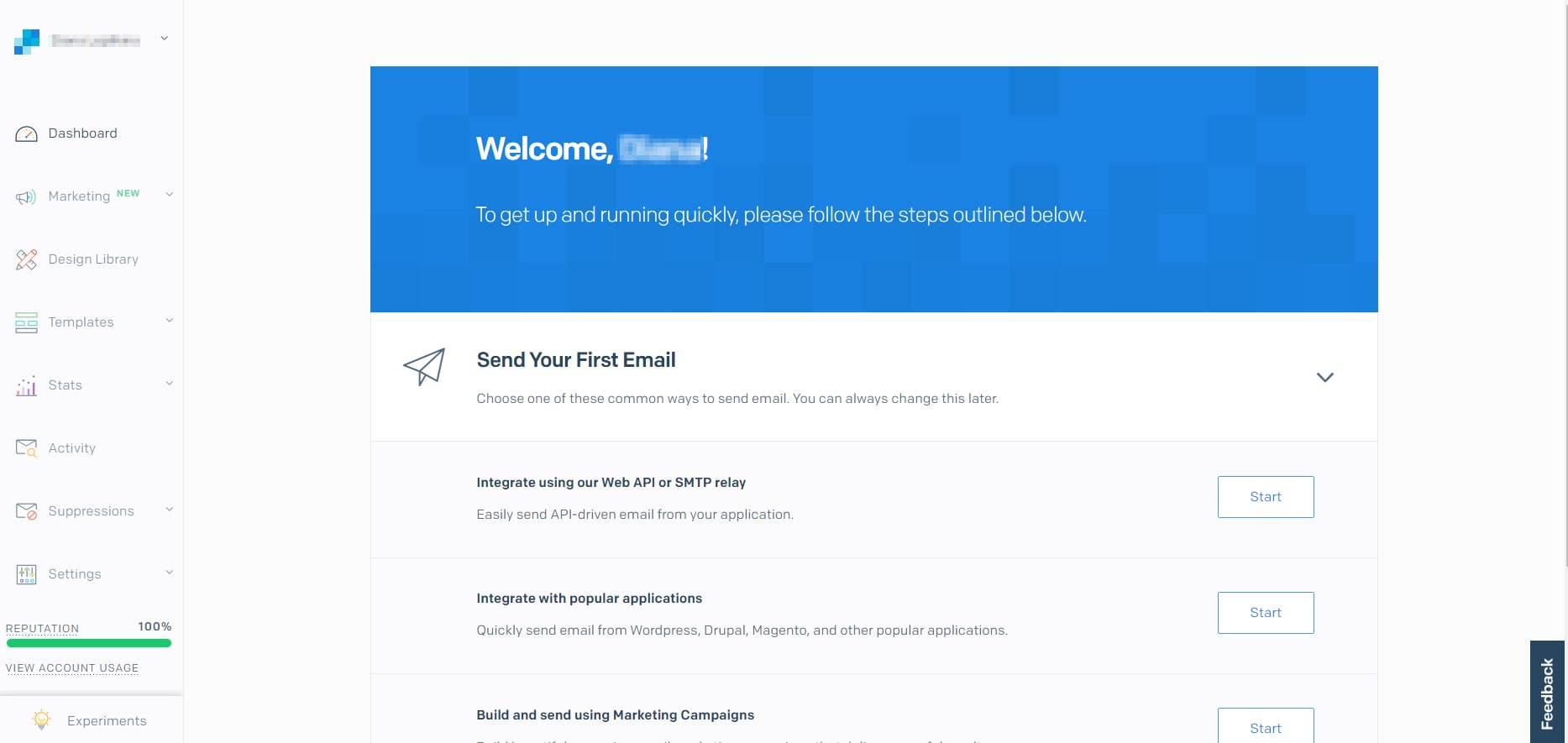 Sendgrid focuses on both email marketers and developers providing email marketing tools and email API:
email automation
email design and templates
email statistics
web API and SMTP service
transactional emails
email validation
Google, Facebook, and Instagram Ads (in Beta)
Sendgrid pricing has a complex pricing, which depends not only on the number of contacts but also on the type of service you use. Marketing campaigns plans start at $15 per month. For small needs, a free plan is available as well.
As you can see, all services provide a similar set of functions for email marketing but each of them has a particular focus. To make your choice, define if you need special features, check websites, compare pricing, and watch product demos.
Email templates
Whichever email marketing tool you choose, most likely it will provide you with a built-in email template builder. At the same time, the majority of tools support custom email templates, which means that you can code your own HTML, use a template engine or a third-party email template. The choice depends on your preferences.
Design trends can change over time but it's crucial to choose the proper email structure and visualize the content in order your recipients can clearly understand your message and associate it with your brand. Especially when you're doing global content marketing and emails are sent in different languages.
Email structure
Your templates may vary from campaign to campaign, depending on their type and purpose. But in general, each email has to contain certain elements put in their proper place.
Email message headers. Headers are not part of the email template itself but it is hard not to mention them describing the email structure. Email headers include the sender's name, message recipients, and a subject line. Pay special attention to email headers and always check them before sending: the decision on whether an email should be opened depends on the headers. For email clients, it is one of the spam triggers as well.

Email headers – inbox preview in Gmail
Email template header. It may sound confusing but the same word is used to describe different parts of the email. This is why we prefer to differentiate the template header. Here we are talking about the email title. Its purpose is to attract readers' attention, set association with your brand, and explain the purpose of the message. Your company logo is the ultimate element of the template header. Depending on the type of email, you can also include a branded design pattern, put a short title, add a simple website navigation (which is most common for e-commerce).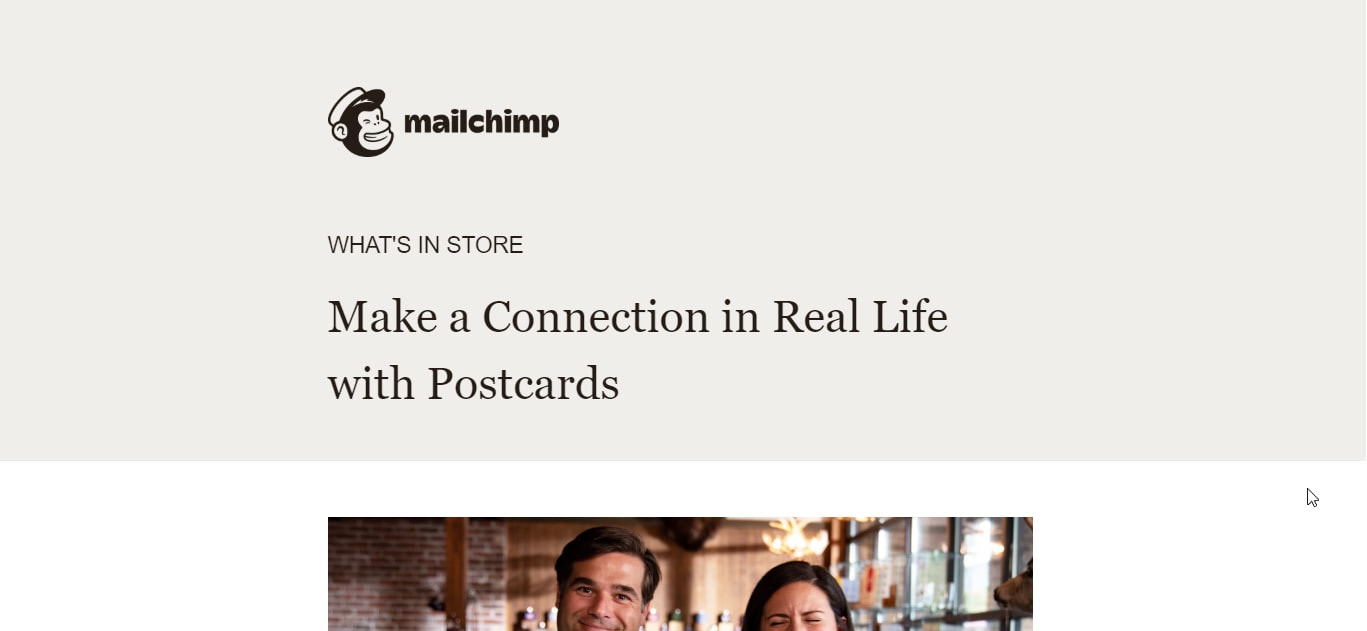 Simple email template header – logo and title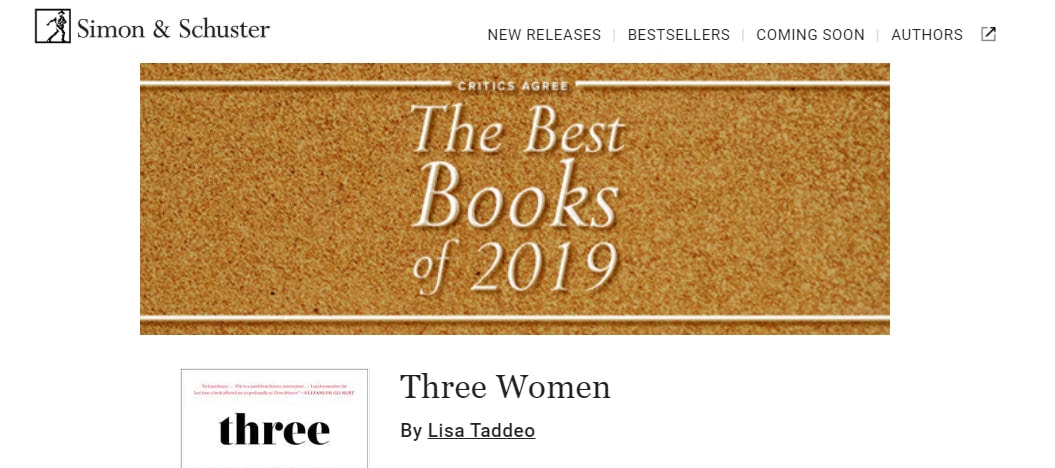 Detailed email template header – logo, website navigation, and title
Email content. This is the main part of your message, which can't be standardized or organized with one universal formula. This is the place for your creativity. Just make sure your message looks clear and not overloaded with design elements. You can use images, GIFs, videos, text formatting, etc. If you expect some actions from the email recipient (like reading a blog post, viewing a proposal on the online shop page, upgrading the subscription plan, etc.), it is recommended to include an action button.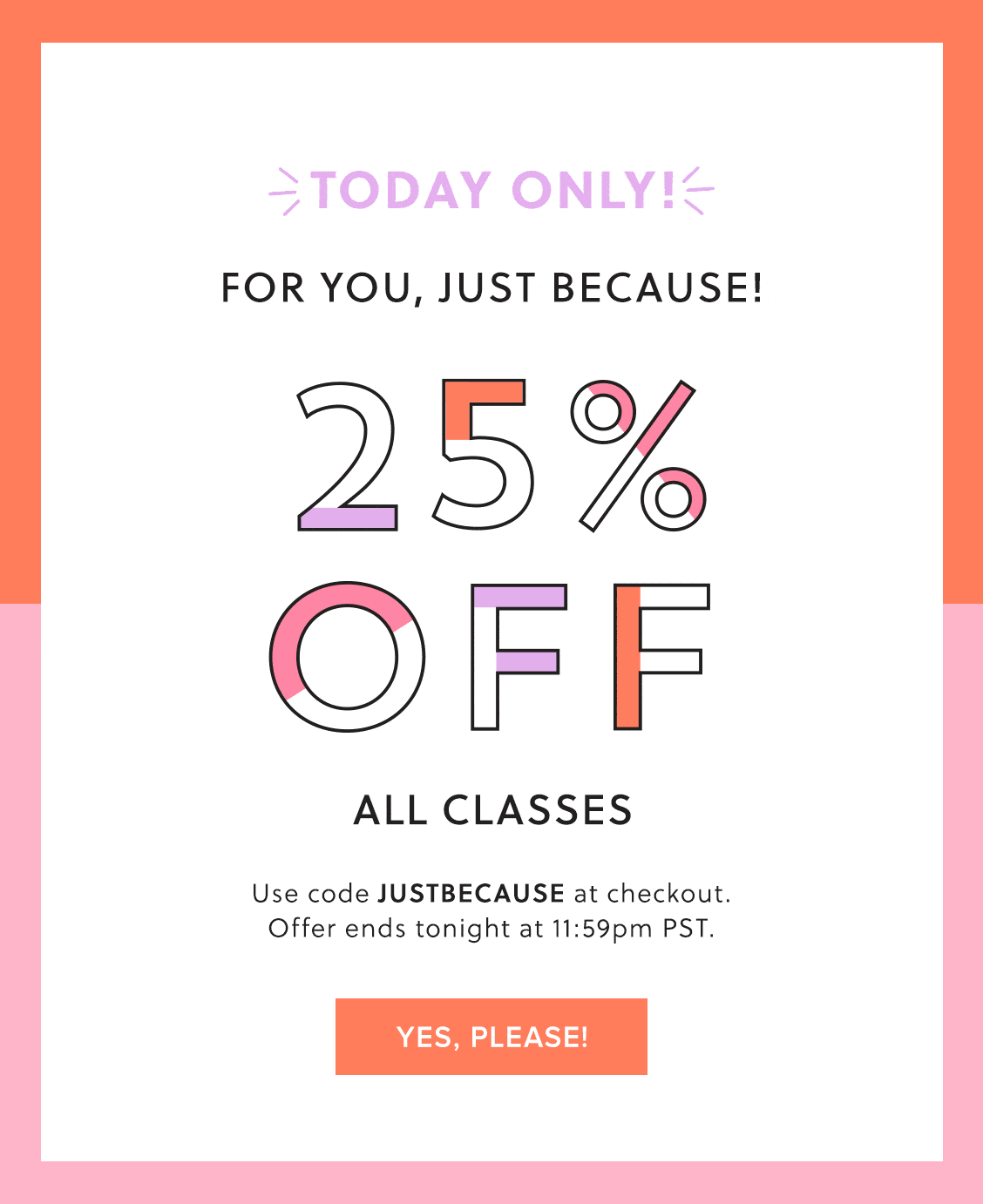 Bright email content with GIF
Email footer. For marketing emails, it is required to include the unsubscribe option to the footer. Also, you have to clearly state the company, which sent this email, and the reason why it was sent (for example "You received this email because you subscribed to our newsletter). These are the requirements of GDPR, mostly. All other elements are optional. Usually, the email signature is also referred to as a footer as well. In addition, footers often contain social media buttons and feedback proposals.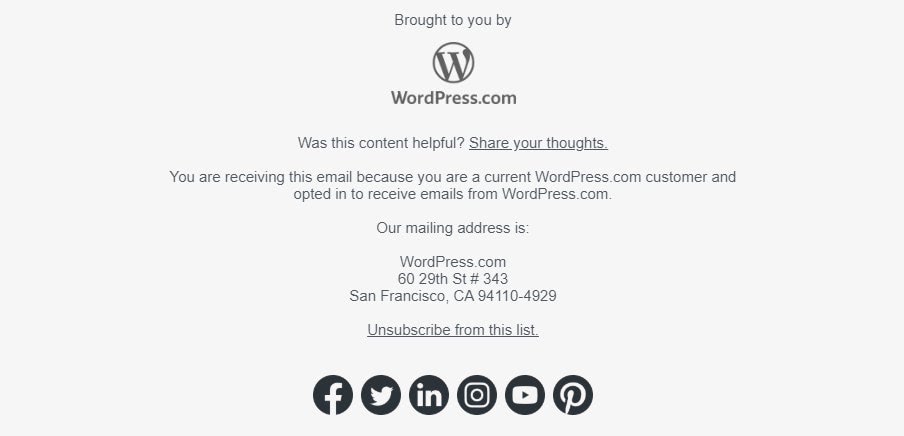 Email footer – feedback proposals, the reason of the message, the sender's physical address, unsubscribe links, and social media buttons
Email design inspiration
For a better understanding and some inspiration, let's review several examples of the beautiful email designs.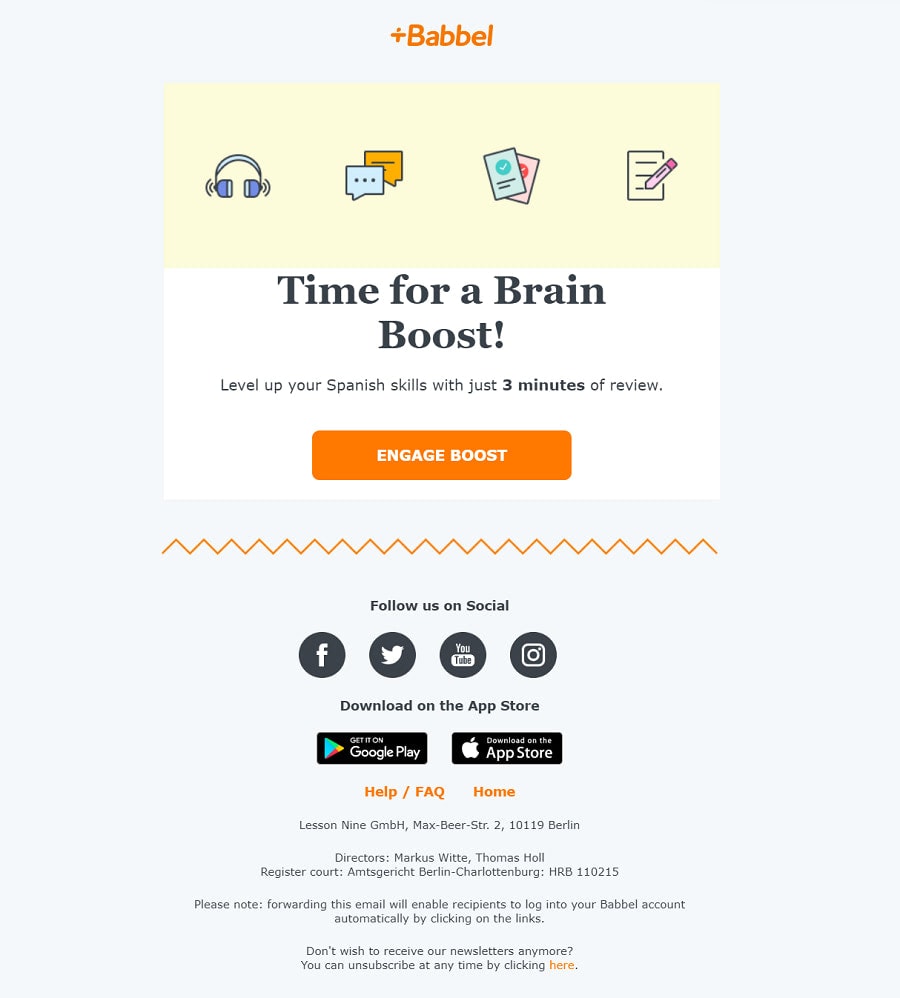 Reminder email (transactional)
A simple but engaging reminder from Babbel encouraging you to get back to the app. It contains the company logo in the email header and the recognizable app design elements . The content features a short formatted text and the action button. The footer contains social media icons, links to mobile apps, the required sender details as well as subscription management options.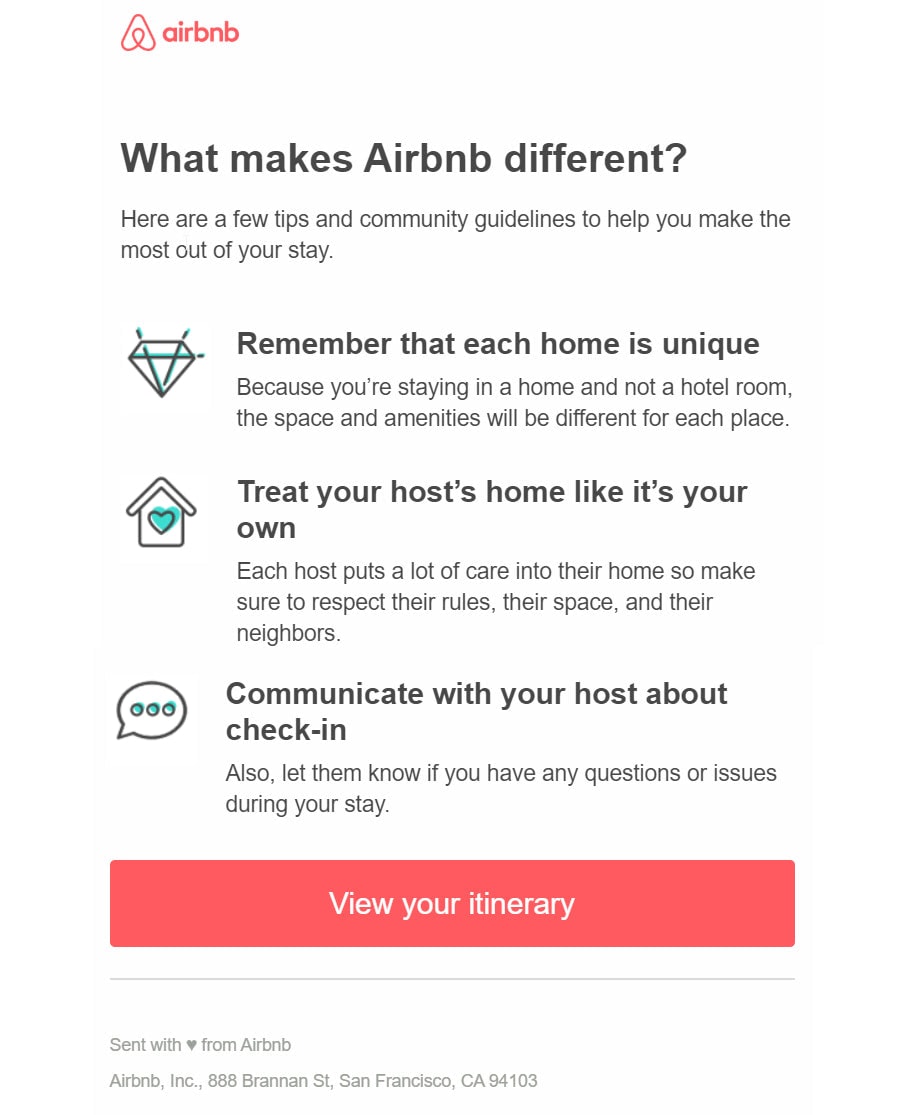 Onboarding email (transactional)
Another great example by Airbnb explains how to get the most from their service. Notwithstanding that this is another type of email (onboarding message), it follows the same structure: company logo in the header, clear title, as well as sender details in the footer.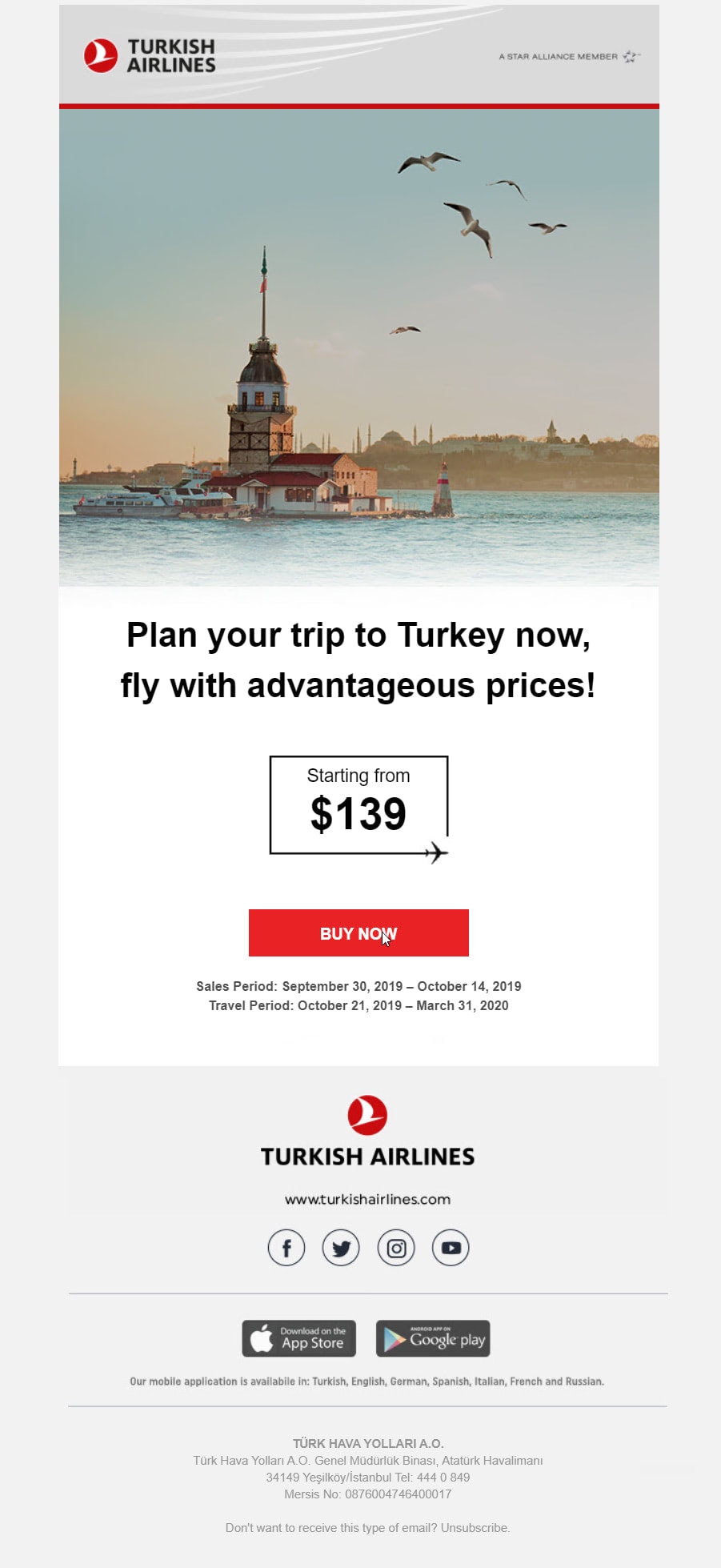 Limited time offer (marketing email)
A beautiful promo from Turkish Airlines is designed according to the same rules and contains three main blocks: email header, content part, and footer.
Whether you are sending marketing or transactional emails, simple and clear template design will increase your brand recognition and users engagement.
It is always important to experiment with templates (like A/B tests) and test which email content and design works better. You will be able to perform this type of testing with your email marketing service. However, you also have to be sure that your messages can be actually delivered and displayed correctly in the inboxes of your recipients. This task can be solved with the help of a tool like Mailtrap. It is integrated as a simple SMTP server in just three clicks, and then collects all your messages in a virtual inbox. There you can view your emails, check possible template errors, and analyze spam scores. This way, you don't need to flood your inbox with test emails and don't risk spamming your customers by mistake. For the full list of email checks, refer to this email testing tools article.
If you need more inspiration and extra templates, don't hesitate to try Postcards by Designmodo.  It's an easy drag-and-drop email builder. You can easily edit text and images, export to your favorite ESP. Postcards includes more than 100 components to help you create custom emails for your subscribers faster than ever before. An easy experience creating a different type of emails: promotional, E-Commerce, news, transactional, and more.
Conclusion
Thank you for choosing our article as your guide in this email marketing journey. We described the first steps in planning and building email campaigns, which are an integral part of any online business. With all the variety of email marketing platforms and resources it is easy to implement your email communication strategy. Define your goals, choose the tool which you are comfortable working with, run experiments, analyze their outcomes, and enjoy your business results!
Like what you're reading? Subscribe to our top stories.