The Future of User Experience Design
Welcome to the last part of our course on wireframing and documenting design. Hope you've enjoyed the course – I'm looking forward to hearing your feedback.
Today, to sum up the course and finish it on a playful note, we'll discuss the future of the User Experience Design field. Feel free to add your own predictions in comments.
And if you missed any of the previous parts of the course, or perhaps you're just starting – here's a list of all the topics we've discussed:
The Decade of User Experience Design
"This is the decade of User Experience Design" – we heard that a lot during meetings with inspirational people such as Dave McClure, Paul Singh (both 500 startups), Hiten Shah (KissMetrics), Brandon Schauer (Adaptive Path), when, together with my team, we visited Silicon Valley to validate our long-term strategy for UXPin. As you may already know, UXPin creates tools for UX Designers, so we couldn't have been happier to hear this. We literally felt like children at Christmas time.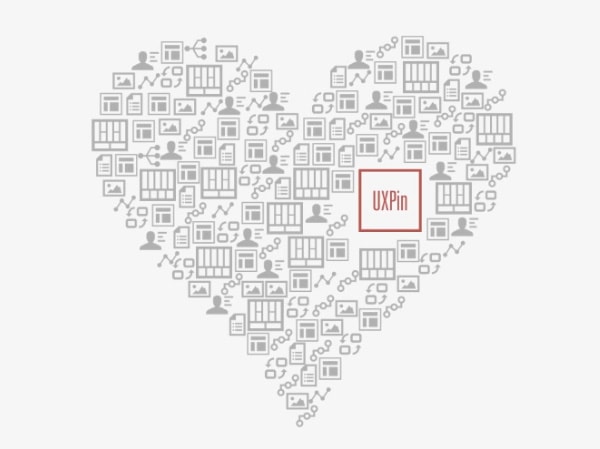 UXPin – UX Design App embraces the whole UX design process
No-Code Email Template Builder
With Postcards you can create and edit email templates online without any coding skills! Includes more than 100 components to help you create custom emails templates faster than ever before.
Try Free
Other Products
This is a new quality though. At the beginning of the Internet era – technology was what mattered the most in almost all successful products. Technology was the toughest problem that companies needed to overcome, technologically skilled employees were the most scarce "resource" and, finally, technology was the most important competitive advantage one could have. Design was mainly putted aside. Neither Google, nor Paypal, nor Yahoo cared much about design until recently. They didn't need to – they had the tech in place and that just gave them amazing success.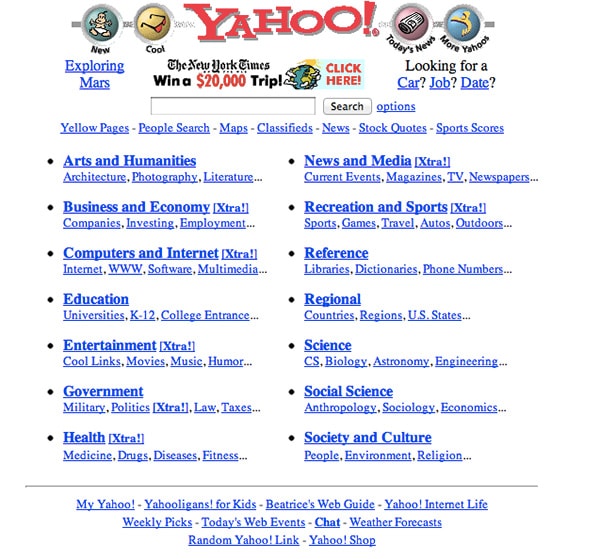 Yahoo.com 1997
Those times are gone. To win customers nowadays you must win their hearts with a stunning, precisely designed, user experience. Luckily for all of us, the great companies of today's world recognized the importance of this shift in the new technology world. Google hired an army of UX Designers and redesigned all of their products (and they continue to do so! From the 13 current [September 10, 2012] vacancies at Google HQ in Mountain View, 9 are at least related to User Experience!). Even Paypal, who, well… was never famous for their solicitous approach to design, started to take care of the user experience with their recent interface changes. And we can argue all night long about whether Samsung harmed the patent rights of Apple or not, but well… even so, they showed that they care about design enough to risk a lawsuit. Isn't that peculiar?
No matter if you're producing amazing gizmos, fancy mobile and web apps, or innovative software – you must take UX seriously. This is the decade of User Experience Design.
New Era, New Challenges
If you still don't believe in the new era – just browse LinkedIn and look for a UX Designer:
There are 874967 people that claim to work in the UX field
Almost 8000 joined LinkedIn in the past three months
What's more, there are more than 9029 vacancies related to User Experience on LinkedIn (as on September 10, 2012). And that's just one source of job ads (not particularly popular in Eastern Europe)!
These numbers are just brilliant.
And of course part of the reason UX gathers so much attention recently, is that UX as a term has become kind of a buzz word, but remember that it also shows that there's a demand on the market. User Experience Designers are needed because companies have been forced to compete with well designed products, not mere technology.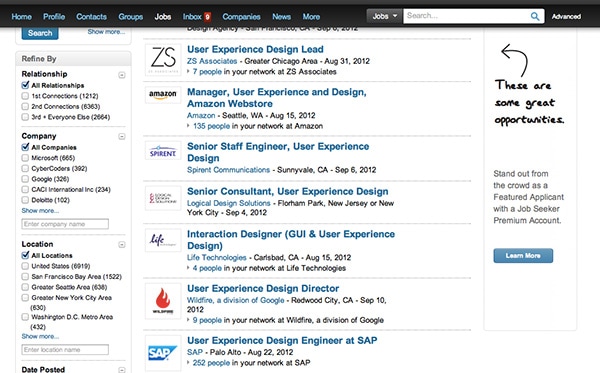 There's more than 9000 UX vacancies worldwide
And the new era has exceeded the English-speaking world. I recently discussed the UX market in China with a friend from the Chinese UXPA (User Experience Professional Association, former – Usability Professional Association). Apparently, there are more than 30000 UX Designers in China and the number continues to grow. Already the biggest Chinese UX Conference is about 30% bigger than the biggest European UX Conference.
UXPin frequently sponsors and co-works with local UX communities around the world and we've met amazingly vivid design groups in Israel, South Africa, Australia, South Korea… UX is important everywhere where new technological products are being created.
Companies all over the world clearly need user experience designers, but even more, they need an excellent User Experience.
That's a challenge for the whole community. We really need to show off and start to feel at home in all the companies that have recently felt an urge to value the design side. And as much as I'm excited about the growth of User Experience as a field, and despite the fast growth that we have, I'm worried if we'll be able to focus enough to face new challenges and respond in a highly efficient way.
The decade of User Experience requires some new approaches and the maximization of  the usefulness of our classic tools. The questions that I consider a lot are:
what will happen to UX in the near future?
what skills and tools will we need to successfully face the challenges of the new era?
Now's time for some fun: Let's pretend we can foresee the future of our field. Not in a 20-year span, but rather 1-5 years – something absolutely reachable for our minds. What will it look like? Where will today's growth in the importance of UX lead us?
Let me guide you through a set of hypothesis which I consider probable.
Time of Products
The new era identifies User Experience Design with the effect of being perceived as a whole product. Whether it's a service, software, an app, or a physical product – what matters is the whole experience.
Such a holistic approach forces us to design every step of interaction between the product and the user-to-be. Starting with the first touchpoint, the first scent of information about the product, through all the intermediate, pre-engaged interactions, to the final usage and beyond.
Forget about designing screens of an interface without having the whole interaction in mind and even more – ideas about user acquisition and growing engagement.
Your job is to make sure the product you're designing will amaze people. Nothing less is acceptable.
You may forget about the waterfall approach to product development. It's not enough anymore just to hand specs to the team. You must be with your team and work with them, since you just can't do everything yourself. The value of the individual and interactions, emphasized by the famous Agile Manifesto, will have significant importance for the User Experience Design world.
Some of my UX friends even consider that in the near future User Experience Design will disappear and be replaced by a new approach to Product Development and UX Designers will be called Product Development Specialists.
Even if… it will be just a change of label and principles, with which I wholeheartedly agree, it will certainly last.
Required skills:
communication (with the team)
understanding of a complex product nature
psychology
Enduring Design
The future of User Experience Design is an enduring design – a design that seduces and engages users in a planned way throughout the interaction and is able to adjust itself to changes in the environment. Design that can endure in time and space.
Sounds complicated and over-philosophical? Let me clear it up for you:
Design that endures in time adjusts itself to changes in users' minds and according to the appropriate phase can reveal new engaging ingredients. Think of an app that recognizes when you're getting bored and serves you new, engaging, content.
Design that endures in space adjusts itself to a changing environment. Think of an eCommerce app that recognizes that you're in a shop and helps you make choices.
The first gizmo that partially addresses this approach is the Amazon Kindle. You can go from your Kindle to your iPad and keep reading from the moment that you stopped. Kindle, though, does literally nothing to endure in time. It doesn't try to engage you while you're bored and keep you from sleeping in a train (damn you Kindle for all these shameful naps).
There's a lot to do in this respect and I'm expecting this thread to become more important in upcoming years.
Required skills:
ability to analyze the context of use
understanding of anthropology
psychology
Multi-platform, cross-channel
Cross-channel design might be considered the present rather than the future. It's already here. We shouldn't design a website anymore – but rather a multi-channel experience that can be enjoyed on different devices.
No matter whether users will reach you through their browsers, iPhones, iPads or TVs – they should enjoy flawless interaction with a product. Interaction that fits their currently used device in a seamless and perfectly adjusted way.
We'll see even more of that in the next couple of years.
Required skills:
ability to analyze the context of use
understanding of the requirements of different devices
Scientific Method
Developing a successful product is surprisingly similar to conducting a scientific experiment. Have you ever noticed that? You state some facts and check if they are true. Welcome to the science world!
We may say that each of your design ideas should be treated as a hypothesis that should be tested (preferably using multivariable testing). If you're basing your design on a theory – great, it may increase the probability that you're right, but anyway it has to be verified.
And here's the thing. Growing popularity of the Lean Startup Movement popularizes the scientific method and frequent tests of conceptions, among entrepreneurs. UX Designers all over the world welcome Lean ideas with open arms as they fit our work well. In my opinion, synergy must be provided to make the scientific method (with all its methodological rigor) a popular approach to design problems.
It would certainly make our field even more professional than today.
Necessary skills:
methodology of science – basic knowledge
statistics – at least an intermediate level of understanding
Design Documentation as Storytelling
A deliverable became probably the most hated word in the UX world. Since the rise of the Agile movement, documentation has been treated suspiciously, to say the least. No wonder. Back in the old, waterfall, days, documentation was frequently overused. I've seen with my own eyes written specs the size of a decent book, that made the whole design (and development!) process unreasonably stiff and inefficient.
We live in way more dynamic times in which even corporations are trying to mimic small startup teams to speed up development and boost creativity. There's no place anymore for bookish, boring documents that confuse everyone in our projects.
Efficient documentation shouldn't describe the preliminary state of things that should be defended no matter what. Efficient Documentation should engage the team in a project, tell the user a story and invite everybody to co-work with designers and managers on the basic assumptions of the project. Documentation should change if there's a need for that to happen and should always invite people to communicate their ideas.
Efficient documentation is a communication tool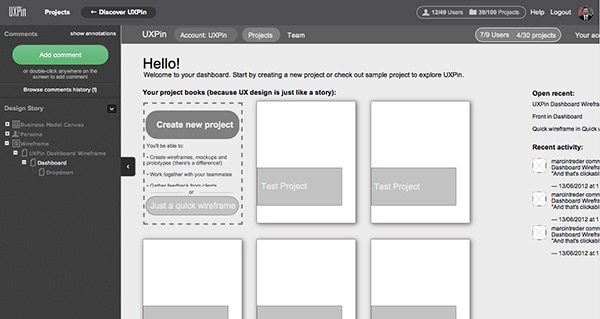 With UXPin you can combine your personas, diagrams, user stories, wireframes and prototypes to engage your teammates in the design story. That's the way to create stunning designs.
Required skills:
understanding of the role of design documentation and deliverables in the modern design process
design storytelling
Wrap Up
The future is bright for User Experience Designers all over the world. We're needed. And there certainly just couldn't be a more optimistic finish to the whole course. Hopefully all the things that you've learnt in the past 7 articles can help you and your company design amazing products.
It was a great pleasure to discuss Design Documentation, Wireframing and User Experience Design itself with all of you. I assure you that UXPin will continue to provide you the tools necessary for upcoming times. Tools that will make your life as a UX designer easier.
P.S. Sign up for a free trial of UXPin – User Experience Design App and join top designers!
Like what you're reading? Subscribe to our top stories.