Best Low-Code and No-Code Platforms
Do you know that 75% of businesses in the USA use low-code or no-code platforms? Worldwide, that number is 23%, with an average estimation for this market value of $18.32 billion.
According to recent studies, this movement is gaining a lot of traction and expects even more growth. By 2025, millennials will make up 75% of the workforce. Growing up with technology, they are eager to adopt tools and solutions that streamline their workflows and let them achieve significant results without much effort or specific skills and background. This enthusiasm for modern low-code and no-code technologies has the potential to reshape the way we work in the future.
So, in a few years, low-code and no-code platforms will hit their stride. However, this does not diminish their active supporting role in current business development. They already solve multiple problems and challenges in numerous industries, coming as tools worth trying.
Let us dive into low-code and no-code movement a little bit deeper to see why 90% of no-code users think their company has been able to grow faster due to this solution. We will consider the benefits and risks of these platforms and list the seven best tools in this niche.
What Are Low-Code and No-Code Platforms?
Low-code and no-code platforms are tools for designing and developing applications, assets, and modules using intuitive graphical tools with rich functionalities. They provide customers with a simplified experience to help them start creating and delivering results quickly. They hide the traditional development process behind the scenes, encapsulate it, and present it as a collection of easy-to-use models and units that can be customized through basic settings.
At a minimum, these platforms have such features:
No-Code Email Template Builder
With Postcards you can create and edit email templates online without any coding skills! Includes more than 100 components to help you create custom emails templates faster than ever before.
Try Free
Other Products
User interface constructor based on drag-and-drop technology.
Collection of pre-made components, models, units, templates, themes, and all sorts of design options.
Set of styles.
Workflow modeling.
Integrations with other platforms, applications, and services.
Export tools.
Declarative tools.
Depending on the sector, they may also include some specific elements. For example, website builders provide browser-compatibility functionality or solutions to add interactive aspects. In contrast, email marketing platforms offer tools to analyze the behavior patterns of subscribers to segment the audience by specific criteria.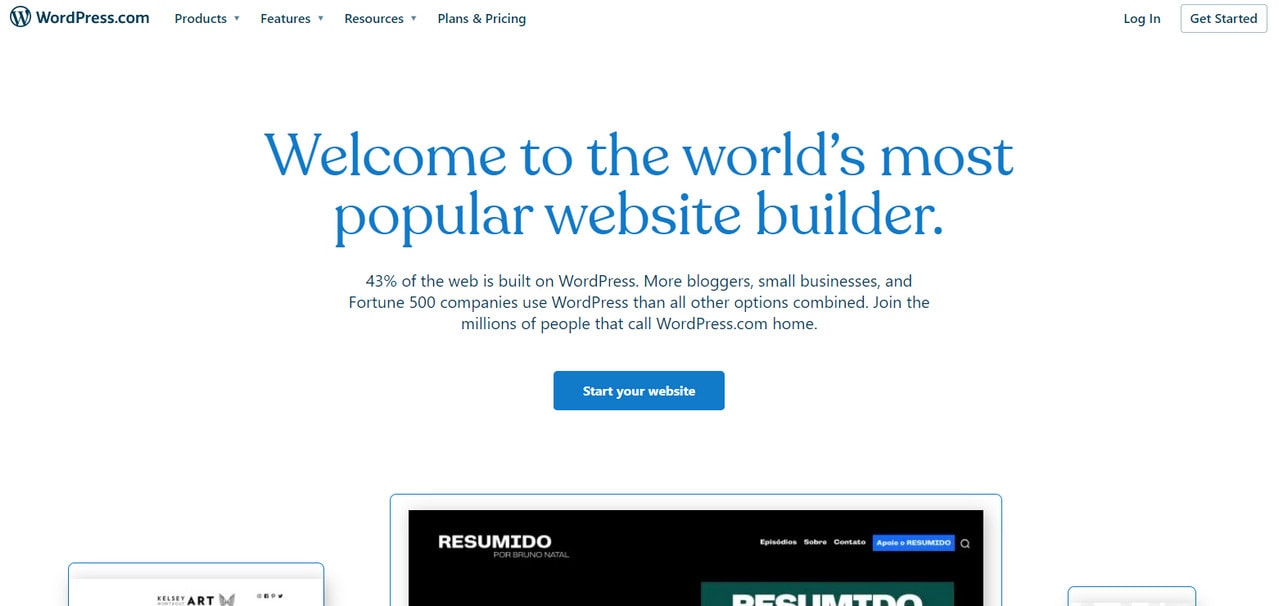 WordPress – One of the Most Popular Low-Code Tools
Difference Between Low-Code and No-Code Platforms
Low-code and no-code development is a term given to a broad range of tools. Some refer to them as platforms to fulfill all sorts of development tasks without any technical background or skills. Others consider them as solutions to speed up workflow and amplify the development process requiring specific tech knowledge.
The broad substitution of these concepts causes this ambiguity in the definition. Low-code and no-code are two separate terms. Each one represents its direction. Although some of their features are similar, they are still different in many ways. Let us consider the main distinctions between these two approaches:
Target audience: No-code platforms serve people who do not have any coding experience at all. At the same time, most low-code platforms focus on customers with essential technical backgrounds like dev teams or tech departments.
Requirements: Everyone can take advantage of no-code platforms regardless of their tech skills, knowledge, and background – just jump in and do whatever you need. As for low-code platforms, everything is not that easy. Some of these solutions have complex and sophisticated features that require either previous coding experience or additional training.
Goals: Low-code and no-code platforms pursue one prime objective: to provide assistance in accomplishing tasks traditionally done by the development team or agency. However, low-code platforms are looking to cut development expenses and time, whereas no-code platforms are looking to cut development efforts at all.
Integrations: Low-code platforms allow for integration with third-party applications and plugins. Zero-code platforms are limited and strict: users may operate only with extensions available on the platform or permitted by the vendor.
Customization possibilities: Although no-code platforms offer freedom in crafting unique styles and designs, they are still limited to pre-built modules and pre-defined customization settings. Regarding low-code platforms, users are also limited to a collection of team-assigned components; however, these components can often be made unique through custom code.
Use cases: No-code is ideal for replacing small monotonous administrative tasks as well as creating front-end apps. Low-code lends itself to applications with heavy-weight business logic scaled to an enterprise level.
The complexity of use cases. No-code platforms are powerful, yet they are limited in what they can do. As a rule, they address small tasks and deliver simple applications and products like landing pages, digital newsletters, website extensions, etc. Low-code platforms can build complex projects due to the system's openness and great integration with third-party applications and services.
Speed: No-code solutions are much faster in delivering products than low-code platforms because the latter requires more training and time to onboard, develop, and deploy.
Extendibility: Low-code platforms are open systems so that users can extend basic functionality through custom code or third-party plugins. While no-code platforms are closed systems whose components can be modified only with templated feature sets.
Backward compatibility: Low-code systems may experience some issues with backward compatibility, whereas zero-code platforms exist in a single version; therefore, they do not supersede the functionality of existing components.
Dependencies: As a rule, many low-code platforms offer partial freedom of moving between platforms, whereas zero-code platforms are locked up in a closed loop.
Cost: The majority of low-code platforms are expensive because they allow for project complexity, whereas no-code platforms are mostly pocket-friendly. Some of them are even free.
Cost-effectiveness: Low-code platforms are cost-effective for dev teams and companies with in-home IT departments. In contrast, no-code platforms are cost-effective for startups, digital entrepreneurs, and small organizations.
To sum up, low-code development allows users to accomplish complex tasks in all fields but requires essential tech background and even a bit of programming knowledge. In comparison, no-code solutions go the extra mile by allowing non-technical business users to develop applications but sacrifice some of their capabilities and focus mainly on simple yet still crucial tasks.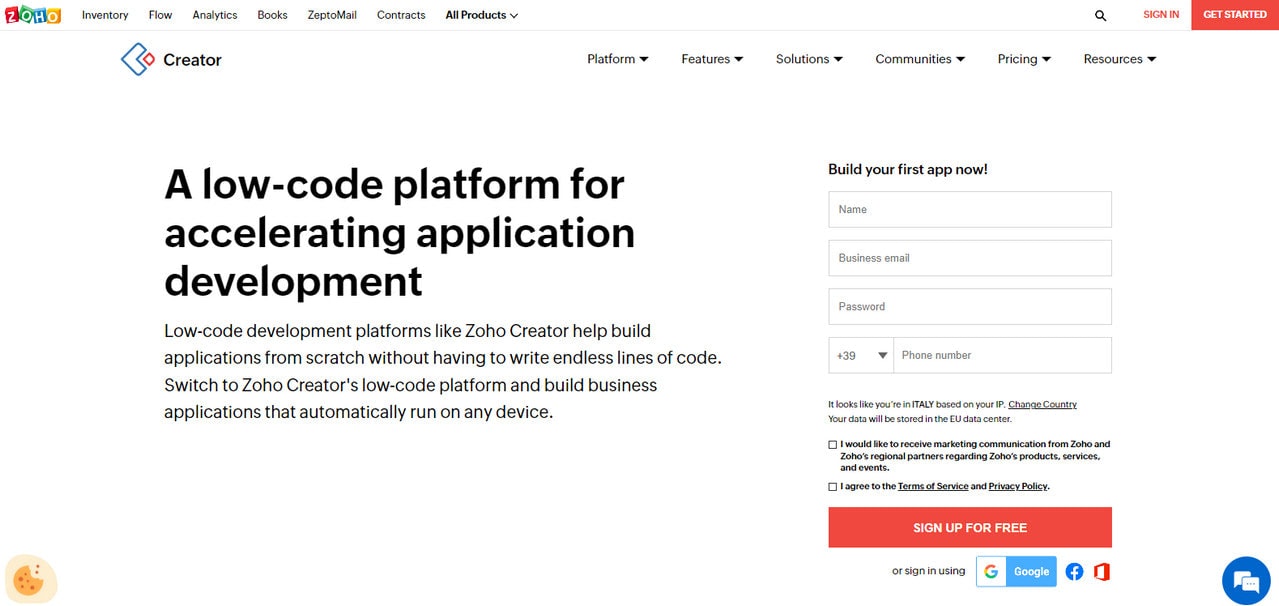 Zoho – Popular Low-Code Platform
Is Low-Code Better than No-Code?
This is one of the biggest questions that excites the minds of citizen developers. There is no exact answer because everything depends on a company's goal, resources, skills, and even time and money.
You may benefit from low-code platforms if you have a dev team or technical background. However, suppose you need a simple task to be accomplished within the shortest time, like creating a digital newsletter. In that case, you can efficiently address this issue with your marketing department by using no-code solutions.
Benefits of Using Low-Code or No-Code Platforms
Whatever choice you make, either of these approaches will benefit you substantially. Let us consider what they can do for your company:
They ensure greater productivity. These platforms are designed to accomplish more in less time: they simplify the process life cycle, streamline workflow and automate tasks, thereby improving operational efficiency across various verticals.
They amplify marketing and branding efforts. Business owners may start their marketing and branding campaigns immediately, test different approaches and improve their current campaigns taking the overall strategy to the next level.
They encourage innovation. Allowing imagination to run wild and encouraging teams to push their limits, these platforms create a productive environment for introducing enhancements and innovations in all spheres, including product development, user experience, communication, etc.
They create high-quality products. Featuring components that meet all current requirements, platforms force users to make products with high-end technologies at the core.
They ensure a consistent user experience. With monitoring and alerting capabilities, some platforms notify personnel when a process is at risk of failure. They give the team time to address the issue before it escalates, keeping business and user experience stable.
They offer fast delivery. Getting down to business and skipping bureaucratic stages, platforms accelerate the development and push companies to deliver results in the shortest time possible.
They bring ideas to life and automate them to make the most out of the concept.
They provide lower maintenance. Components and functionality are standardized and pretested in these platforms. Therefore, business owners face far fewer bugs and integration issues.
They shift focus to business development. The high-speed time of developing digital products offers business owners freedom to concentrate on the business side rather than the technical side.
They have high ROI. Low code has the potential to deliver value quickly, even if a complex project is involved. Whereas no-code can potentially complete the tasks within hours. All these time and effort cuts come at a bargain price.
They escalate revenue and prolong the company's life.
Apart from that, factors to consider in the adoption of low- and no-code platforms are:
They are easy to use. Whether it is a low-code or no-code platform, an intuitive playground will lie at its core. Even if you need some additional skills to handle certain functionality, it will still be straightforward to do.
They are cost-effective. Most low-code and no-code platforms come with a pocket-friendly price that many startups and young digital entrepreneurs can afford.
They have a low barrier to entry. Low-code and no-code platforms apply to numerous fields. Using experts in an area with some coding training, clients from such fields as Medicine or Business could help code and deploy a workflow to address niche-specific issues more effectively.
They reduce the barrier to entrepreneurship. Individuals can do more things without a significant investment in IT agencies and consultants, giving their ideas a solid chance to see the light.
They increase productivity across departments. Team collaboration is a crucial feature of low-code and no-code platforms. It bridges the gap between IT and business teams and increases access to team members from various verticals. As a result, all stakeholders may easily contribute to the same project improving it from various perspectives.
They enable agility and more accessible development cycles. This democratizes and accelerates innovation and boosts efficiency.
How to Derive Benefits of Low-Code or No-Code Platforms
So, low-code and no-code platforms come with a long list of advantages that, with the right approach, can be translated into the financial success of the venture. They are powerful in what they can do for your business. However, there is a catch.
In practice, everything is not that simple. With great power comes great responsibility that is constantly tested by the flaws and risks of these solutions. To unlock the potential of this movement, it is crucial to mitigate deficiencies of these systems and stand on the safe side when introducing them to your business workflows by following the best practices.
Concerns with these solutions include:
Lack of flexibility.
Lack of customization options.
The necessity of a developer's consultancy to reach the maximum potential of low-code platforms.
Security issues.
Rampant shadow IT.
Low visibility into applications.
Business disruption when the platform experiences an outage.
Last but not least, the most significant risk for companies is to become vendor lock-in.
Familiarize yourself with these practices, tips, and recommendations to minimize flaws and possible drastic outcomes:
Consider only trusted vendors.
Consider platforms with built-in governance and security.
Consider platforms that generate clean, standard code that works anywhere.
Check reviews and feedback.
Ask for the platform's SAST/DAST and industry certifications such as ISO, SOC2, and FedRAMP.
Know where the platform is hosted.
Establish service level agreements for business-critical applications.
Best Low-Code or No-Code Platforms
Low-code and no-code platforms come in all shapes and sizes. Based on the criteria described above, we have compiled a list of the best tools in this category.
Siter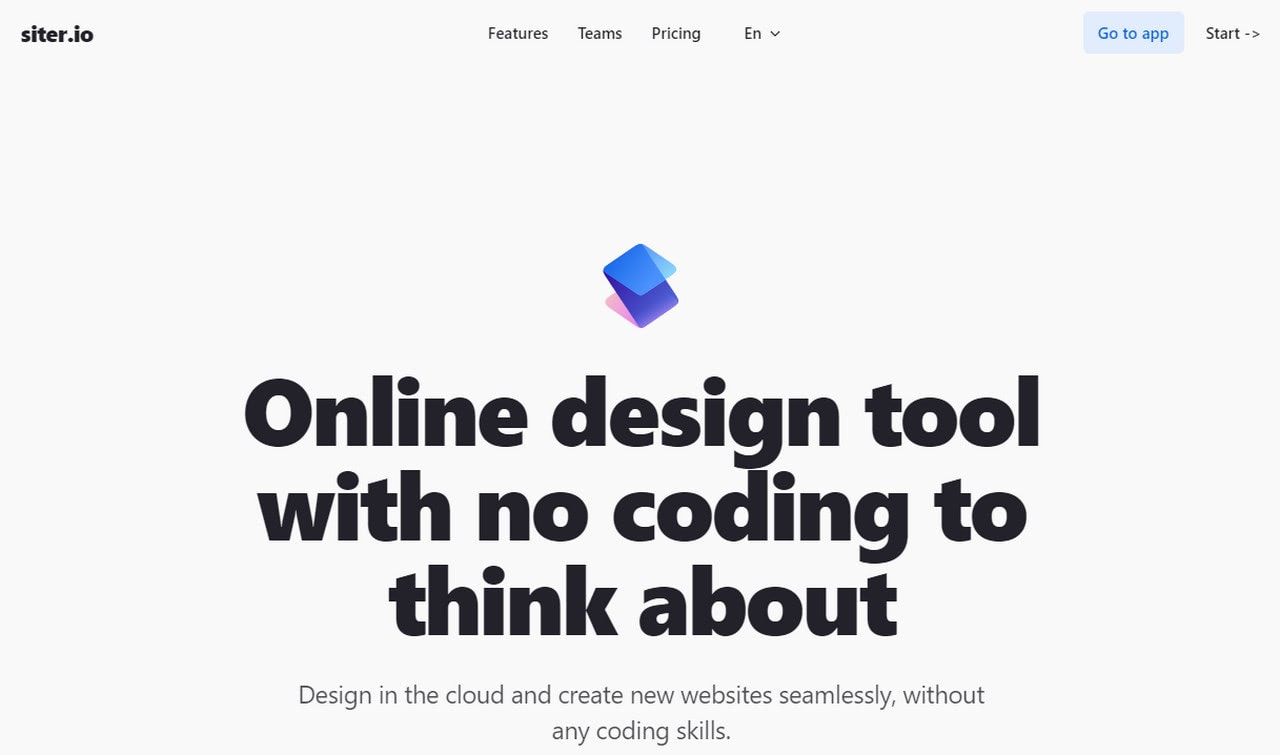 We will start our collection with Siter – an online design tool with no coding. We have seen a dozen of these platforms so far. Actually, this niche is oversaturated with offers. However, Siter stands out from the competition.
You will find a handy, intuitive yet feature-rich editor that not just allows but encourages creative freedom. Made with designers and citizen developers in mind, it is perfectly aware of how to meet the real needs and demands of the latter.
Here, the functionality is presented as a standard graphical editor with a bunch of tools and shortcuts that re-create a familiar environment. For instance, users may create layers like in Photoshop and easily group them, regroup them, reorder and remove them.
On top of that, users may import their Figma designs to launch websites based on previously designed templates, use photos from Unsplash, and build capsule design systems that can be swapped across all project pages.
Another advantage that separates Siter from its competitors is that it focuses on small and mid-sized businesses. This means that it covers all the essentials for startups, including a pre-built collection of icons, forms, and templates coming with a pocket-friendly price and an excellent support team to address any issue right away.
Postcards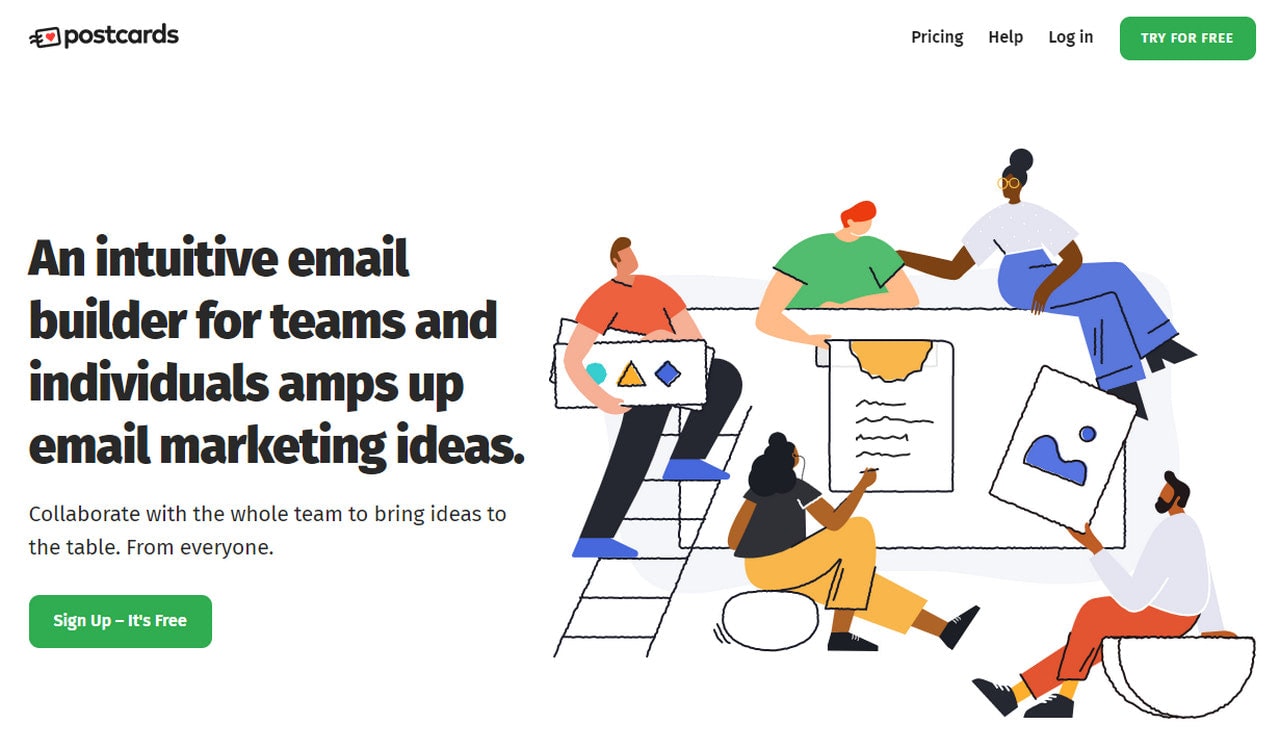 Postcards is another bright representative of the no-code subcategory. It does not require technical background or special skills from its customers to achieve its goals. It provides everything they may need to create digital newsletters from scratch, including:
Pre-built modules and units in all popular categories from header to footer.
Color presets and styles.
Hundreds of Google Fonts.
Options to add images, text, and links.
This platform is convenient because it has a flawless drag-and-drop playground, a simple yet powerful customization panel, a modular system to stack and re-arrange functional blocks, multiple pre-defined stylistic options, and tools to manage the project for a person or a whole team of marketers, designers, and developers.
There is even more. The platform has such fantastic features as:
Version history.
Cloud image hosting.
Direct email preview.
External image support.
Extensive email compatibility.
Export to popular ESP like Hubspot, Mailchimp, or HTML/ZIP file.
Finally, the pricing is reasonable and attractive. So it is an ideal option for startups, mid-sized businesses, and companies that want an excellent value for a small amount of money.
Pulsetic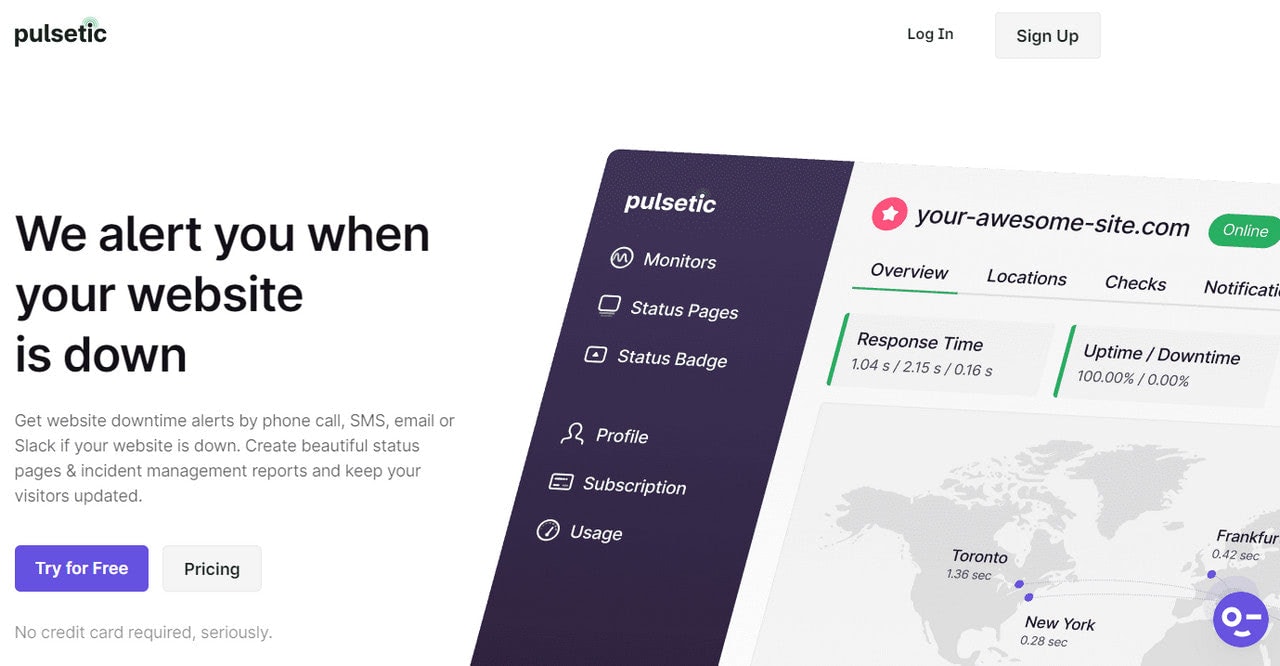 Pulsetic is a no-code platform crucial for the incident management process to succeed. Presented initially as a website uptime monitoring service that tracks websites from multiple data centers across the Globe to localize outages, it comes with one extra feature that citizen developers will undoubtedly appreciate.
Pulsetic has a fantastic Status Page generator that hosts reports about the system's health on their server, making it a somewhat independent piece of information available to your customers even when the incident, such as downtime, strikes. Though, you are free to host it anywhere.
The builder comes with all essential features:
Great stylistic choices.
Pre-built components and units.
Modules to visualize data pleasantly.
Customization panel.
Drag-and-drop surrounding.
Options to use images and icons.
In addition, customers may quickly create a Status badge, another essential feature of the incident management process, simply by customizing ready-made templates.
As for pricing, it is also reasonable.
Salesforce Lightning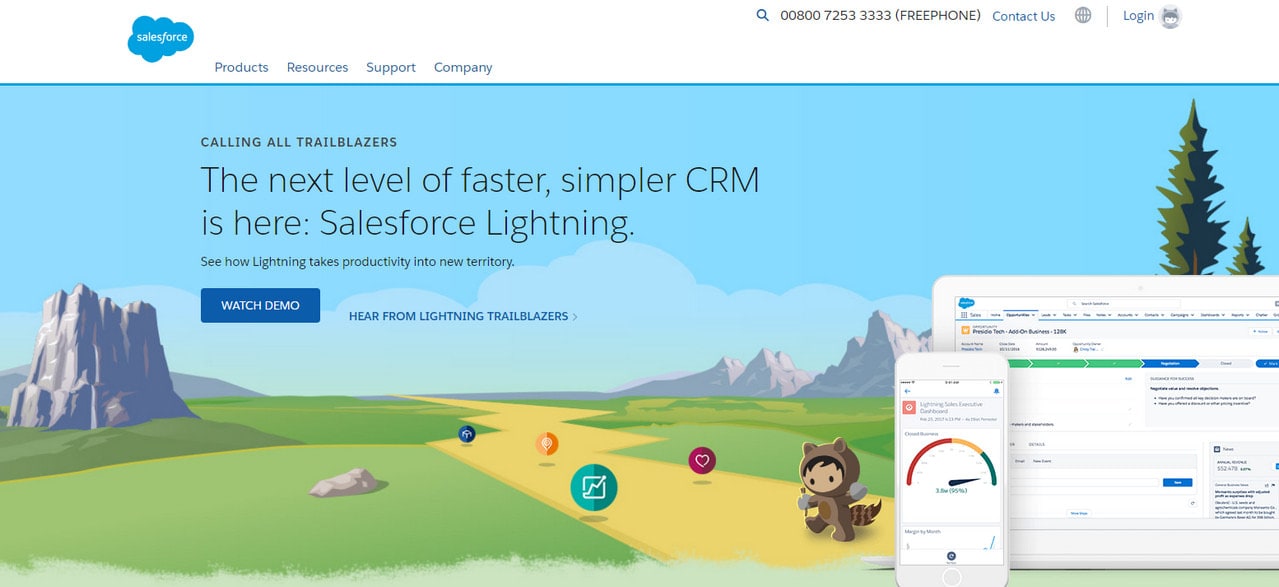 Salesforce lightning is a low-code platform. It has vast potential. Expect to take some extra tutorials and leaf through its guide because it can be challenging to handle the platform and make the most out of it. Though, some features are made with no-coding movement in mind, so you can start with them and build your way up gradually.
Essentially, Salesforce Lightning helps simplify the app development processes for all users, including admins, developers, IT teams, in-home departments, and business owners. Among its key features are:
Experience builder with handy GUI, robust templates, and modules.
App builder with drag-and-drop capabilities and powerful customization options to facilitate app creation.
Design system with numerous style guides and elements built according to the best practices in the niche.
Collection of tools and extensions to develop reusable components.
Integration tools to consume data from external sources.
What's more, designed for businesses of all sizes, Salesforce covers the current needs and demands of companies as well as follows all modern tendencies. For instance, AI integration into the process provides outstanding support for marketing resource assignments. It has forecast features and provides an additional security layer and more robust authentication between the components.
As you may have guessed, this platform does not come cheap. This deeply customizable sales CRM for your business will set you back $150 each month.
Kissflow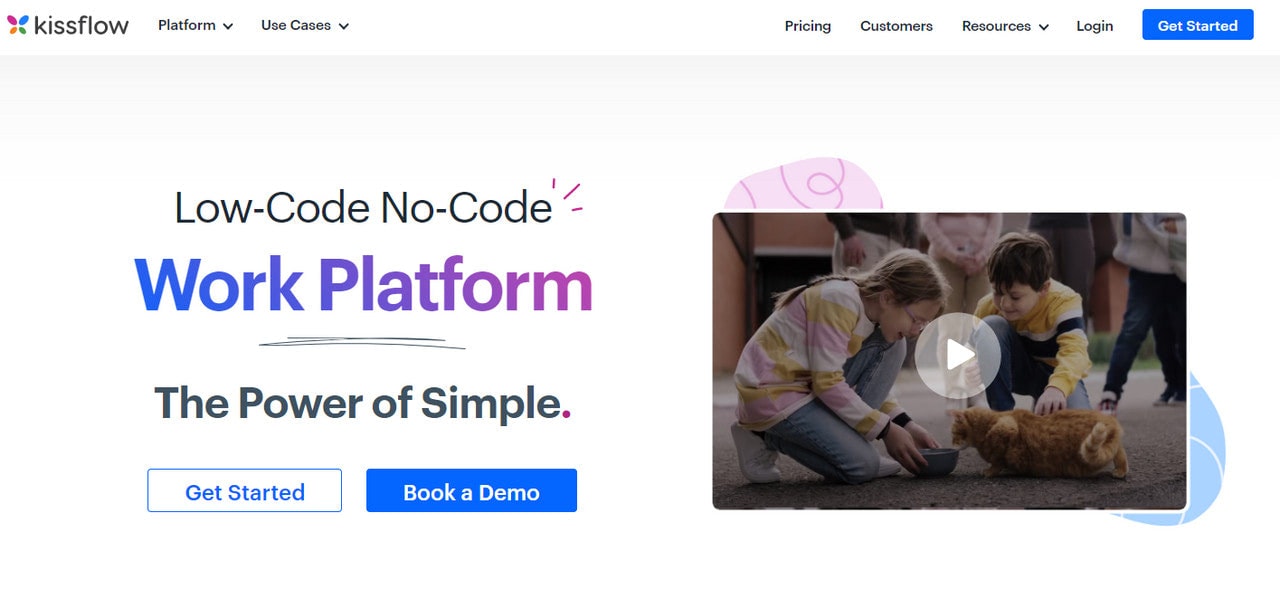 We continue exploring the low-code subcategory of the movement with Kissflow.
Kissflow occupies the top position when you search for low-code platforms on Google. And there is a good reason for that. The deal is that it is a leading platform in its niche that serves thousands of customers and is trusted by the most prominent brands like Pepsi or Dominoes.
So, how can it help your business to forward? Established itself as a 'unified digital workplace,' it offers companies and digital entrepreneurs all sorts of solutions, including those that do not require any technical skills, such as:
Creating applications.
Automating workflows.
Charging development processes.
Managing tasks and duties of your team.
Testing templates and solutions.
Handling ticketing and support requests.
Their use cases are large and diverse. Your company will undoubtedly find a tool to take your operational business processes to the next level.
As for pricing, startups may enjoy a market-wise pricing policy. The simple plan costs just $18 per month.
Popupsmart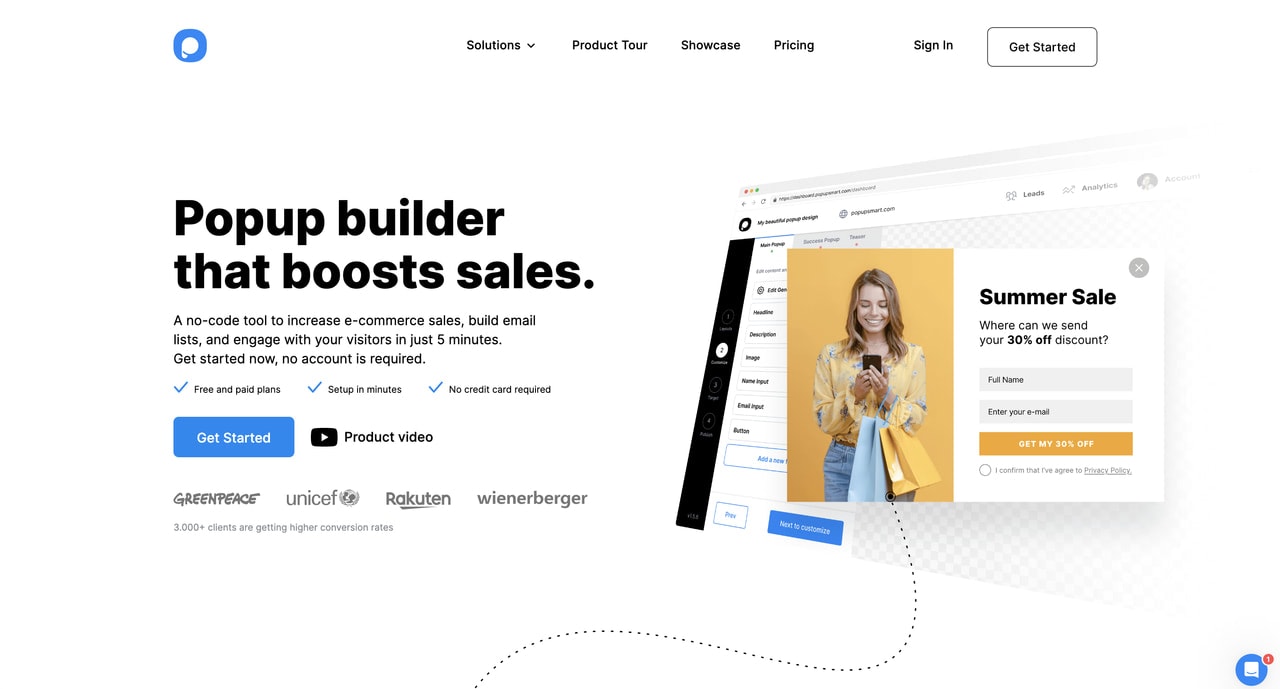 Here is our next pick: Popupsmart, a cutting-edge no-code popup builder designed to help businesses enhance their online presence by effortlessly creating engaging and high-converting popups.
With Popupsmart, even those without coding expertise can craft visually appealing and interactive popups that capture visitors' attention, grow email lists, and increase conversion rates.
This user-friendly tool boasts an array of features, including:
Multiple conversion-ready templates for email popups.
Smart mode targeting to target the right user at the right time.
Advanced targeting solutions such as site data targeting, geo-location, URL browsing, visitor devices, and browser language.
Gamification elements (Spin-to-win wheel, lottery ball, countdown, etc.)
Easy integration with popular services like Hubspot & Mailchimp, and more.
Built-in analytics & autoresponder email notifications.
Offering a free plan and pricing starting at just $32.5 per month, Popupsmart provides a cost-effective option and can serve as a practical choice for businesses seeking to enhance their marketing toolkit.
Nintex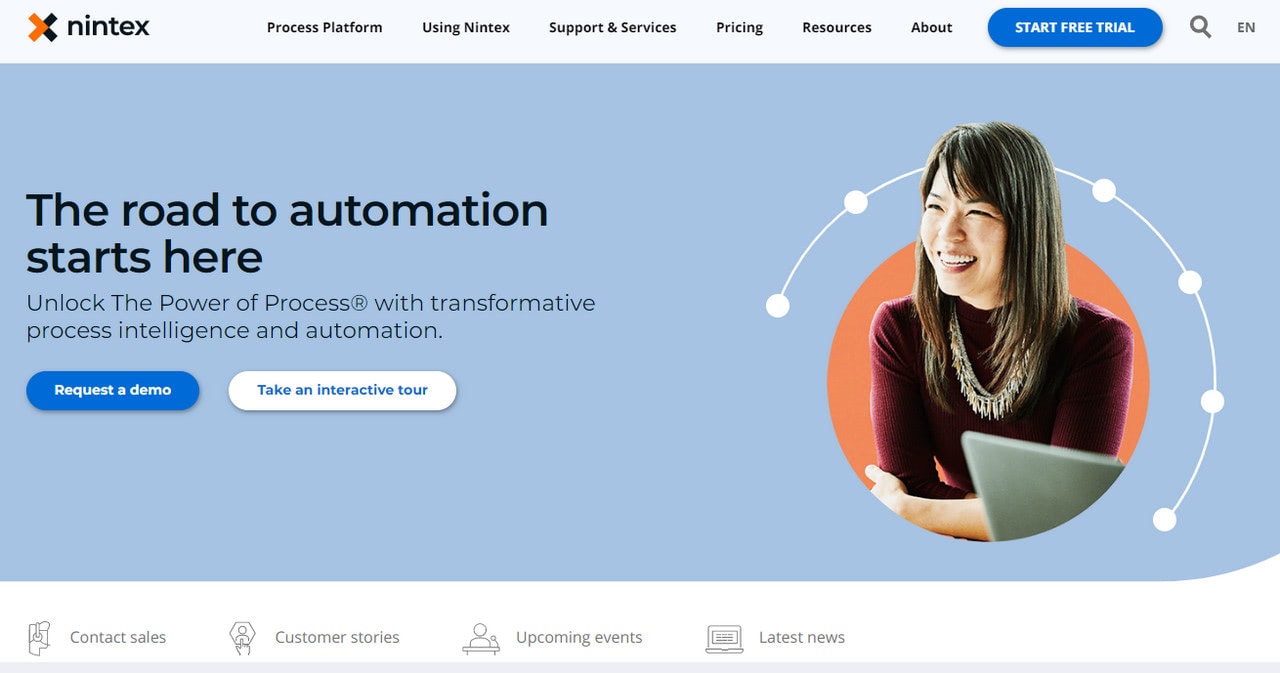 Compared to Kissflow and Salesforce, Nintex is a relatively small low-code platform. However, it already serves thousands of organizations across diverse industries. You can find famous names among their clients like Amazon, LinkedIn, Microsoft, and Chevron. If you are a startup or digital entrepreneur, it will be a perfect tool to streamline process management and simplify workflow using automation.
The platform is up to transformative experiences for businesses that will drive operational excellence and accelerate the growth of the organization. Therefore, it comes with such features as:
Intelligent forms.
Mobile applications.
Tools to automate and manage workflow and documentation.
Tools to map processes.
Intuitive and feature-rich environment.
Connectors to extend the possibilities of applications.
Pre-built process maps and workflow and RPA bot templates.
The platform comes with powerful functionality that may greatly benefit the organization. However, it has one drawback. It is expensive. The pricing starts at a whopping $910 per month.
Google AppSheet

We are going to end our collection of the best low-code or no-code platforms with none other than Google, the most popular internet search engine in the world that has played a crucial part in turning digital business into reality.
As we have already mentioned, the movement of meeting citizen developers' needs is getting more and more popular these days. According to statistics, nearly 60% of all custom apps are built outside the IT department. It is forecasted that by 2025, 70% of new applications developed by organizations will use no-code or low-code tools to some extent.
Google recently introduced AppSheet — a no-code application software development platform. It allows non-tech-savvy users to build and deploy custom mobile, tablet, and web applications. It comes with such features as:
An intuitive environment with a drag-and-drop playground.
Preset modules, components, and templates.
Customization options.
Activity tracking.
Tools to collect rich data.
Offline syncing.
AI and ML objects.
Application management tools.
On top of that, it allows using data sources like Google Drive, Office 365, and other cloud-based spreadsheets.
As a result, AppSheet covers a broad set of business use cases, including project management, field inspections, and personalized reporting.
Conclusion
Some say within five years, everyone will be a developer thanks to the low-code and no-code movement. This is a loud statement since there are projects that can be done only by professional development teams and agencies. Plus, numerous risks and flaws must be mitigated or minimized to unlock the potential of these approaches.
However, it is hard to deny that these platforms are capable of equipping any employee with powerful tools for improving operational efficiency and bringing to life simple projects like building a website, mobile application, digital newsletter, or AI-powered models to analyze campaigns. So, there is a place for them now and in the future.
Like what you're reading? Subscribe to our top stories.