25+ Free and Premium Music Players for Website and Blog
Embedding audio streams into blogs or websites have become immensely popular these days. It is sure that this trend of using music players for a website will stay and in near future will rule the web world as a great and effective marketing tool. These free music players provide a better experience to the visitors and effective in creating more business by sign ups to the products or services. Find out the most appropriate one that suits your mood and then add it to your website or blog. You can add thousands of songs into your music player from tons of music resources available on the web.
But finding out the most appropriate and effective music player for website is not an easy task. It takes lots of your precious time. But here we provide a great selection of both free and premium music players that you can add into your website of the blog to woo your visitors. All our music players for the website listed here are exclusive and unique and just for you. So simply search our gallery and chose your free or premium music player for website or blog and see how your visitors are charmed. All our music players are professionally designed and state of the art product.
Today, website and blogs have become an integral part of our life. These are not only useful and effective medium of expression but at the same time an important business arena. These websites and blogs are becoming more and more customized every day with use of new widgets to attract more and more visitors. The main motive of creating a website or blog is to attract flocks of visitors and charm them with uniqueness in content and design and ultimately create a strong impulse about your product or service. Indeed websites and blogs are truly a magnificent marketing tool in today' business.
Most of the designers prefer to include interesting widgets into their portfolio websites or blogs to charm the visitors and attract them. They want to create a unique website or blog. In order to make their website or blog to be distinguished easily, they often include music players for the website that provide a new look and usefulness jukebox in the webspace.
Free Music Players
Audio Player in jQuery, HTML5 & CSS3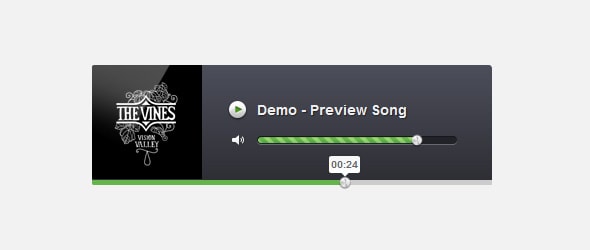 This is a walkthrough that guides you through the standard routine of creating your own audio player with the required functionality. It is based on MediaElement.js that charges the component with energy and mimics features of HTML5 API to work in old browsers. The tutorial is broken into nine vital steps that pay attention to such details as time tooltip, progress bar, volume slider, control buttons and others.
Online Email Template Builder
With Postcards you can create and edit email templates online without any coding skills! Includes more than 100 components to help you create custom emails templates faster than ever before.
Try Free
Other Products
Flash MP3 Player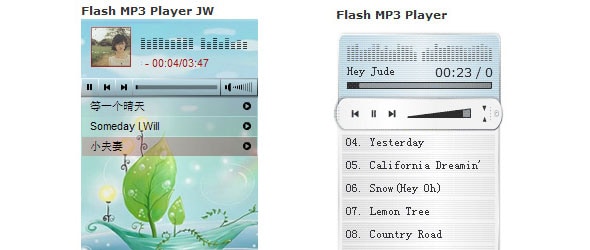 Although Flash is dead, however, there are still a ton of projects that rely on this technique and gazillion of users who do not want to upgrade their PC. Flash MP3 Player is an ideal solution for providing less advanced users with an opportunity to enjoy music in a friendly environment. Moreover, it is a WordPress plugin that has several skins and the basic toolset.
XSPF Web Music Player (Flash)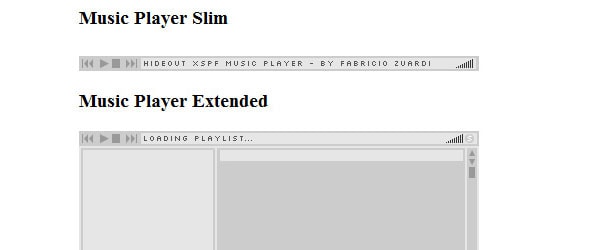 XSPF Web Music Player (Flash) is written in ActionScript 2, so that be ready to some problems with browser compatibility. It is a small web application that leverages XML Shareable Playlist Format to play songs. Another drawback is that it does not have a friendly customization panel, so that you need to dive into the structure and documentation to configure it the way you need to. For the rest, it does its job well.
Audio Player 2.0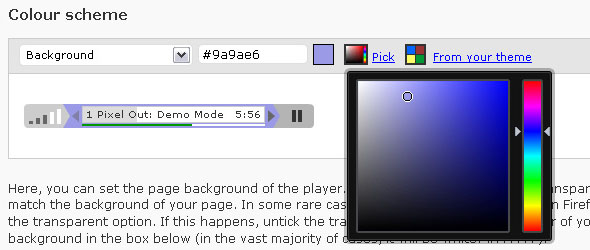 Audio Player 2.0 is a lightweight plugin created to improve WordPress-powered websites with simple yet clean music box. There are an admin panel, French version and even RTL layout for Arabic interfaces. You are allowed to set the color for the background, manipulate with transparency and use some other features.
Flowplayer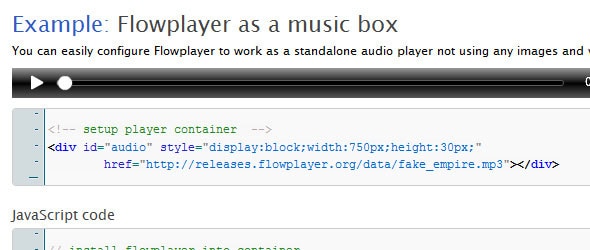 Flowplayer can be used as a standalone music widget or a sterling multifunctional media player that works with various formats. You can show cover images, make playlists and even set it up to meet the theme of your website. What's more, it lets you stream audio files using RTMP protocol.
Free Music Player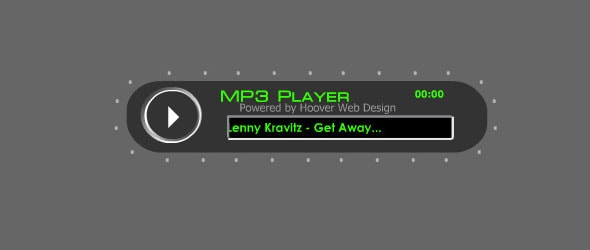 Free Music Player is a standard flash player with an extensive customization panel. The latter enables you to assign
movie background color;
player background color;
button color;
track time elapsed color;
window color for displaying song description;
the number of MP3.
You can also define the auto start and manual start as well as turn on continuous play.
FREE Flash MP3 Player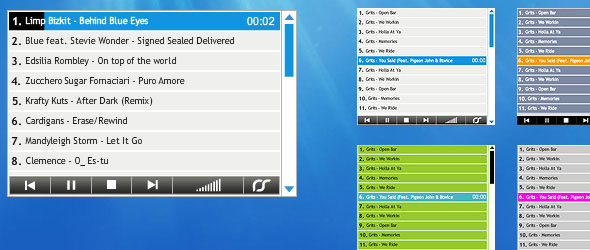 Free Flash MP3 Player is a fast and relatively lightweight application that allows users of your website to listen to the music. Main features comprise
common controls (play, pause, stop, mute);
fully resizable window to meet mobile screens;
autoplay option;
autoresume option;
customizable design.
MP3 Player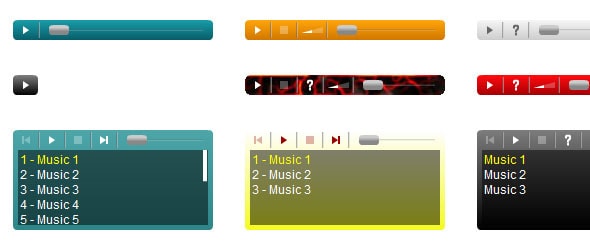 MP3 Player is an open source, fully customizable component that adds a small yet eye-pleasing box with an intuitive interface to play songs on your website. It comes in five types ( mini, normal, maxi, multi and js) to give you a freedom of choice.
MusicBox – HTML5 Music Player
MusicBox is a universal audio player that is driven by HTML5. It works in old browsers thanks to a Flash version that replaces the default one when it is necessary. Key features are:
list view;
title view realized with the help of album covers;
customization available through style sheet file;
It can also use local storage to save the favorite playlist. Created with the help of CSS3 it won't overload a project.
MediaBox – jQuery Plugin for Audio & Video
MediaBox is a powerful and versatile multimedia player that is compatible with different audio formats. It can benefit web projects and simple applications. In the first instance, the plugin shows HTML5 version, and if something goes wrong, it turns to Flash fallback. It also has nine widgets that can be combined to achieve a more impressive result.
Fullscreen Music Player
The full-screen music player was created to obtain a massive impact. It claims to transform an unordered list of MP3 files into well-organized and properly structured playlist. It comes with
three modes for every taste ( full screen, page-list and minimal);
simple yet elegant design;
all the required controls to manipulate tracks;
fallback for IE6.
Mp3 Player Resizeable Paypal Support
Mp3 Player combines the functionality of a basic music player and a small digital store. It is an integral element for any project that wants to sell tracks and albums to online visitors. Delivered with PayPal support it lets you organize transparent and quick payment procedure. It offers various options that assist in customizing the design and functionality of the component, starting from setting dimensions and ending with choosing the currency symbol.
Background Music Button effectively embraces minimalism to provide online visitors wth a tiny yet sterling audio player. It shows a neat and tidy button that serves as a control center. It supports looping audio and uses only flash to play tracks.
ADG3 : Simple Sound Controller
ADG3: Simple Sound Controller like the previous example avoids the messy appearance and ditches everything unnecessary thereby opting for a more modest and clean design. It is a standalone box with a controller that boasts of some eye-pleasing animated levels and effects that smooth transitions between tracks. You can make changes in design and configure it via the main files.
Dark Star Mp3 Player Pro
Dark Star MP3 Player Pro is a streamlined bar-style component that can be seamlessly integrated into any UI. Although it is minimal, yet it includes all the required elements and navigation buttons. It leverages XML file to play MP3 tracks. The key features are
shuffle mode;
easy customization for a main skin;
support of drag and drop;
vector design made with refinement;
helpful tutorials.
Volume Sound Control is an excellent solution for projects that need to enrich the user experience with corresponding background music. The plugin employs time-tested cookie to store volume level. It has several common characteristics as
mute button;
volume tooltip;
draggable selection;
main preloader;
fade in/out option;
sound preloader, and some others.
MP3 Player with Multiple Instances
MP3 Player with Multiple Instances is claimed to add unlimited players to one page, a feature that is hard to find in a standard plugin. The generated music boxes are linked with each other, so that you can organize a constant music flow. Just create instances of the key component and enjoy a stream.
Note, it is aimed to work with HTML files, so that its behavior in Flash-based projects is quite unpredictable.
Dynamic Mp3 Player (xml)
Dynamic MP3 Player is a cross-browser plugin that equally works on various platforms. You can add an unlimited number of genres, unlimited number of tracks within one category, and descriptions via HTML. Customize it through XML and load album covers from an external source to make an interface more convenient for the online listeners.
XML MP3 Player with List
XML MP3 Player is an XML-powered music box with a list. It opens in Flash 8 and higher and produces the music without a hitch. The list of features is not something extraordinary; it has
playlist with auto-scroll;
all sorts of integral buttons( play, pause, previous, next);
track seek slider;
volume bar;
album options.
Conclusion
Whether you go for an open-source audio player or buy a plugin, it won't make much difference, since both of them in majority own almost the same scope of possibilities and options. If you only need to play songs and provide users with a simple interface, then freemium versions are just for you.
However, if you seek some extra features that enhance user experience and in some cases give even more, for example, integration with PayPal or support of unlimited components on one page, then be ready to spend some cash on premium products.
Like what you're reading? Subscribe to our top stories.