November Email Newsletter Guide: Ideas and Examples
November is an official autumn farewell – the golden season ends and winter vibes start to trickle in. The last month of fall is one of the most prosperous periods of the year. That's why this season generates a lot of email newsletter ideas, particularly in November.
November is packed with local and international holidays and events. Not only does it give fall a proper send-off with Thanksgiving and Black Friday, but it also sets the tone and underlies a solid foundation for the most wonderful time of the year, Christmas, the top sales season.
For professional email marketers, November is a prolific month widely used to drive engagement, bring back dormant customers, build anticipation for the top shopping season, increase brand awareness, strengthen relationships, and attract more customers to business.
From trivial yet working digital blasts sent to show your gratitude on Thanksgiving Day to more straightforward yet meaningful ways to connect with your audience through lesser-known observances, this month opens vast opportunities to forward your business and increase revenue.
Consider some fantastic November email newsletter ideas, examine subject lines and headlines that win over subscribers, and check out the best email examples.
Thanksgiving Day, Black Friday, and Cyber Monday are not the only themes of November. Although they are the cornerstones of email marketing during last autumn month, there are many more holidays, awareness causes, events, and topics you can use as appealing focal points for your marketing promotions.
No-Code Email Template Builder
With Postcards you can create and edit email templates online without any coding skills! Includes more than 100 components to help you create custom emails templates faster than ever before.
Try Free
Other Products
We have compiled a list of popular holidays and events celebrated locally and internationally that you can use as an excuse to connect with the target audience and draw their attention to your brand and products. They are perfect for brainstorming creative and original ideas to fill the void in the marketing calendar.
Extra Mile Day (Nov 1)
Housewife's Day (Nov 3)
Candy Day (Nov 4)
Cash Back Day (First Thursday in November)
Small Business Saturday
Daylight Saving Time Ends (First Sunday in November)
STEM/STEAM Day (Nov 8)
Veterans Day (Nov 11)
World Kindness Day (Nov 13)
Transgender Awareness Week (Nov 13-20)
Philanthropy Day (Nov 15)
America Recycles Day (Nov 15)
Mickey Mouse Birthday (Nov 18)
Women's Entrepreneurship Day (Nov 19)
Trans Day of Remembrance (Nov 20)
Child's Day (Nov 20)
Adoption Day (Saturday before Thanksgiving)
Thanksgiving Day (Fourth Thursday)
Black Friday (Friday after Thanksgiving Day)
Cyber Monday (Monday after Thanksgiving Day)
Giving Tuesday (Tuesday after Thanksgiving Day)
Black Owned Friday
Personal Space Day (Nov 30)
Military Family Month
Movember
If you want to bring a smile to your audience's face or target only a male audience, you will undoubtedly benefit from Movember emails.
Movember is a popular movement in the U.S. to raise awareness and donations for men's health issues such as suicide and cancer. It is a not-shave month during which men grow out their mustaches. You can run Movember competitions and fun contests among customers, share tips on treating newly-grown mustaches, and encourage everyone to donate and participate in charity.

High-Converting Email Ideas to Explore in November
The most popular theme in November is generosity and kindness. The Tuesday after Thanksgiving is called Giving Tuesday. It is a perfect opportunity to celebrate generosity by sharing with your subscribers free stuff. Even if you cannot afford giveaways, you may offer a unique discount or provide valuable content addressing popular issues.
Another good idea is final summer clearance sales to encourage your summer-loving customers to get something for next year. This works great not only for fashion retailers but also for those who sell indoor and outdoor products. After all, in November, many consumers are heading into spending more time at home because of cold weather. You may meet this tendency by promoting products or services to make their indoor experience meaningful and enjoyable.
Among other good ideas for email marketing campaigns in November are:
Create a challenge to help the community.
Appreciate your loyal subscribers.
Promote sustainable products or your environmentally-friendly solutions and approaches.
Partner with a local charity.
Share tips for home decorating.
Host a contest.
Encourage subscribers to push their limits on Extra Mile Day.
Top Holidays, Events, and Causes for Email Marketing Campaigns in November
Thanksgiving and Theme of Gratitude
Thanksgiving is rightly seen as the biggest and most significant holiday of autumn. This holiday is celebrated by 90 percent of Americans, making it the second-most popular holiday in the U.S. after Christmas.
It is an excellent opportunity to generate traffic, show gratitude, build strong customer relationships, and increase conversion rates.
Thanksgiving is officially observed on the fourth Thursday. So, businesses have plenty of time for preparation. And they certainly need that because, at a minimum, they must browse customers' purchase histories to segment their subscription lists according to preferences, prepare online sales, decorate their websites and stores, and decide on a primary theme, campaign, and goal.
Regarding email marketing, there are plenty of ideas to explore and campaigns to run, including:
Introduce a Thanksgiving online sale with limited-time offers.
Go for Thanksgiving flash sales.
Promote upcoming sales.
Run a holiday challenge.
Agitate for charity donations.
However, gratitude, Thanksgiving celebrations, and giving back themes are the ones that bring the highest conversions. Let's consider them a bit closely.
Be Grateful
The gratitude theme is the central line. Though there are no surprises here, the concept is hidden inside the holiday's name. It is crucial to remember that whatever campaign you run, this time of the year, your target audience expects you to be grateful. So, do not disappoint them. There are several ways to live up to their expectations:
Send Thanksgiving wishes.
Thank loyal customers for their support.
Create heartwarming emails.
Offer a special discount.
Present a VIP membership.

Thanksgiving Celebrations
Along with gratitude, Thanksgiving celebrations are another top theme. Focus on everything concerning the holiday: decorations, food, indoor and outdoor activities. Ask yourself, what should appeal to your customers and, at the same time, stay in line with your brand?
Even if your company has nothing to do with this event, there is always a way to work your brand into festivities. For example, you may share table decor tips or create a contest for the best hand-made Thanksgiving wreath.
Other good ideas to introduce this theme in your email marketing strategy are:
Send hosting tips and decor ideas.
Create a guide for the perfect Thanksgiving party.
Share a downloadable Thanksgiving cookbook.
Offer a discount for newcomers or a VIP membership for loyal customers.
Give Back
Much like the gratitude theme, giving back is warmly welcomed on Thanksgiving Day and several days before and after the event. You may partner with a charity, pull off a Giving Tuesday campaign, and offer special deals, discounts, and unique gifts.
Another way to exploit this theme is to highlight your company's generosity. You may inform your customers about any charity you contribute to or start fundraising to support the community.
Last but not least
When creating Thanksgiving emails, it is crucial to introduce traditional decorations related to autumn and harvest. This includes a fireplace mantel, leaves for the dining table, pumpkins and other gourds, wreaths, a cornucopia centerpiece, and much more.
To make this process more manageable, marketers, as a rule, use Postcards – a professional email design builder. It has everything they need to create Thanksgiving newsletters with a modern touch and a mobile-friendly and fully responsive foundation within minutes.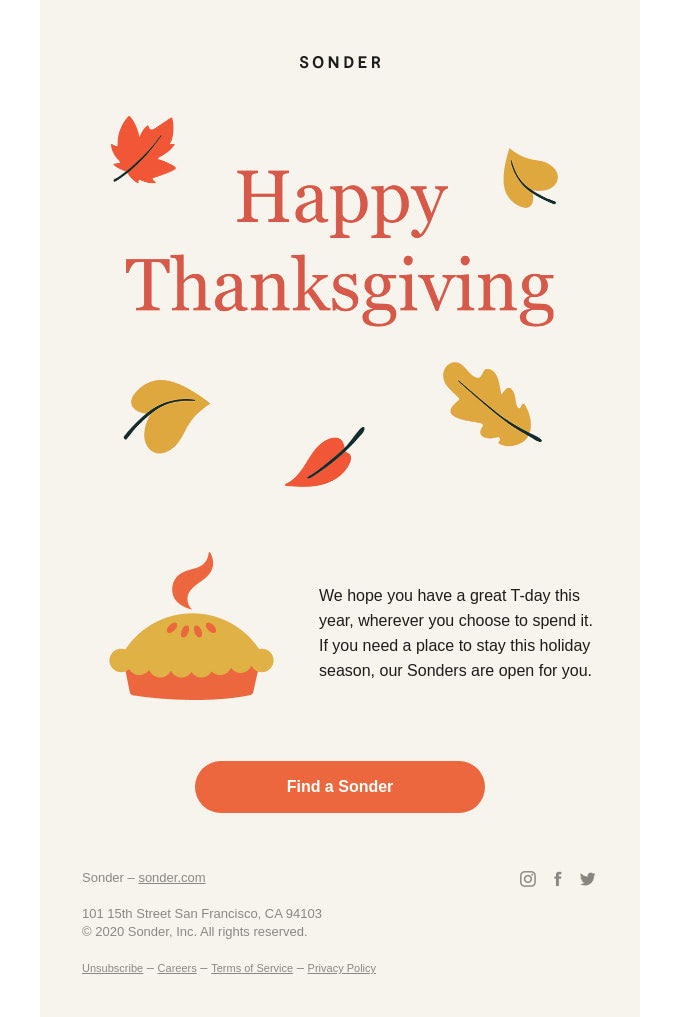 Black Friday and Cyber Monday
Black Friday and Cyber Monday are the most significant shopping events of the year. They are the zenith of bargain shopping for in-store and online shoppers regardless of niche and market audience.
As a rule, this pair generates massive sales, especially in the U.S. Another good news is that customers look forward to them because they want to buy products at reasonable prices or with bonuses like free shipping. This means open rates for emails dedicated to Black Friday and Cyber Monday are high. It is a sin to miss out on this opportunity to reach out to subscribers.
As a rule, companies go for a combination of early-bird specials and flash sales during this period. They extend store hours and adopt aggressive advertising campaigns. However, these traditional marketing activities do not work for email marketing as intended. Although your customers expect offers and sales, it does not mean they will appreciate your pushy attitude. Therefore, play smart and use psychological tricks with caution. Think through your marketing activities.
Consider these good email marketing ideas for Black Friday and Cyber Monday to build anticipation, drive engagement, increase conversions, and generate quality leads.
Launch a countdown to Black Friday and Cyber Monday sales with daily deals.
Offer a pre-Black Friday discount code.
Offer a post-Cyber Monday discount code.
Offer a VIP discount for loyal customers for a whole period.
Give away something truly unique.
Offer something for a limited time.
Add a gift to every purchase.
Push early free shipping.
Gamify experience with random discounts.
Encourage word-of-mouth by offering discounts for friends and colleagues.
Hold a different sale every day.
Upsell campaigns like Buy-One, Get-One 50% off.
Offer bundle deals.
If you cannot afford a big sale, you may also capitalize on a loyalty program. Offer to enhance loyalty points or rewards for purchases made on Black Friday and Cyber Monday.
Whatever idea you want to pull off, always do A/B tests because the audience's preferences differ. For instance, some may expect you to extend an offer for four days, whereas others may want you to treat them with different daily offers. Wholly-grained segmentation with hyper-personalization is crucial to appeal to every person correctly.
It is also essential to frame the email campaign within the Black Friday or Cyber Monday theme and keep it in their respective contexts. Use Postcards to create a proper entourage and add dynamic effects to enhance user experience. Check out our free Black Friday HTML email newsletter templates made in Postcards as a great starting point.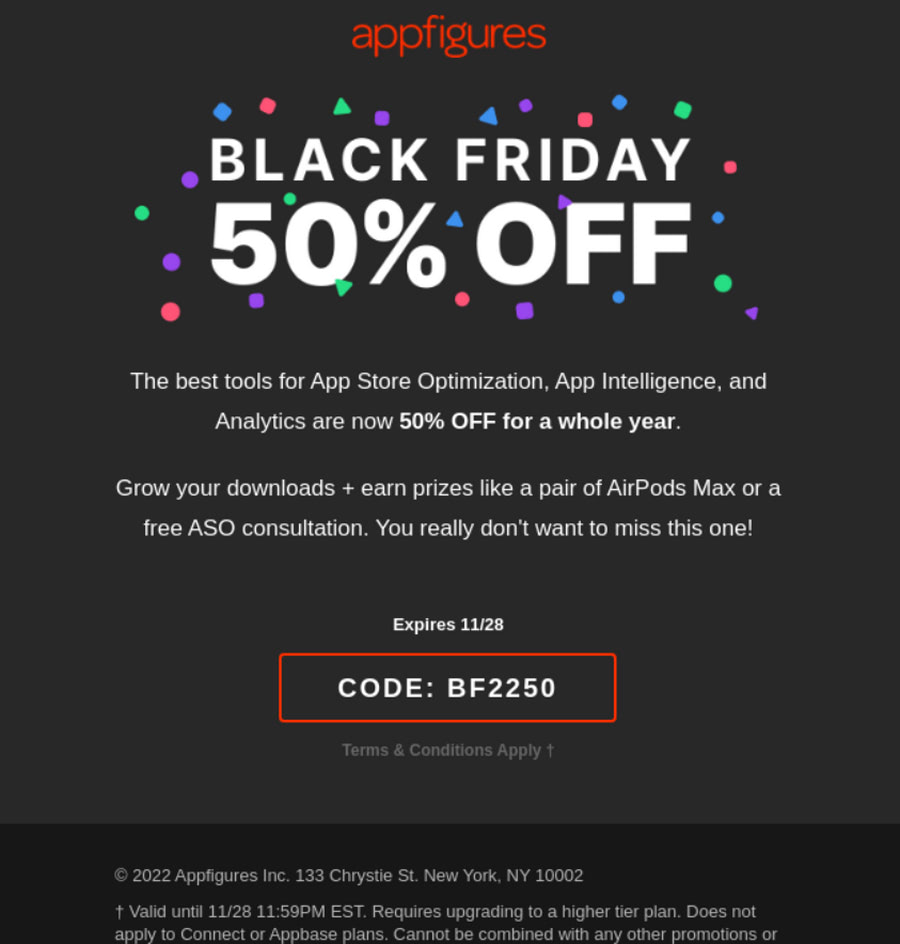 Early-Bird Christmas Season
Black Friday marks the beginning of the Christmas email shopping season that ends in December. You must start early. According to studies by MailerLite, Christmas campaigns sent in October and November generate higher click rates than those sent only in December. Therefore, reserve a place for the pre-Christmas campaign in November in your email marketing calendar.
Some popular ideas are:
Create a wishlist. Browse customers' buying history to show them products they have been interested in. Use hyper-personalization to maximize the effect.
Share tips to rock Christmas party. Since Christmas campaigns run on the quality of your relationship with subscribers, it is vital to nurture them during November. For example, you may show your gratitude to subscribers by providing valuable material.
Create a sneak peek for an upcoming sale. This tactic generates curiosity and sets the tone for the entire Christmas campaign. You may create a short video or an animated gif highlighting the product's core or new features.
Create a gift guide. This campaign is one of the most beloved by customers. However, you must do your homework well to make it work. You need to browse customer's purchasing history and preferences to see what products may resonate with them the best.
Send a pre-Christmas blast. A simple email with Christmas vibes may easily nurture subscribers and motivate them, earning you extra points.
Offer early bird deals. This campaign encourages customers to purchase products or services in advance.
Send abandoned cart reminders and upsells.
Launch a countdown to the Christmas Sale with daily deals. Start early and treat subscribers with special deals and offers at the end of November.

Month of Awareness
November is home to numerous awareness causes:
Small Business Day
National Entrepreneurs Day
Stress Awareness Day
World Kindness Day
Transgender Awareness Week
Lung Cancer Awareness Month
America Recycles Day and much more.
It is an excellent opportunity to show your subscribers that you are a proud community member who always provides a helping hand and considers buyers as people, not money-bringers. The best part is that you can raise awareness for marginalized groups and others because such events as Lung Cancer Awareness or World Kindness Day speak to everyone.
Prioritize one or two causes not to belittle their importance.
Then, adopt one of these ideas:
Show your respect and appreciation to the community.
Compile a list of tips to address burning issues.
Share real stories of role models or startup's success.
Introduce and praise your company's staff.
Encourage donations.
Start a fund.
Run a contest.
Create an email design that fits your idea perfectly. Depending on the theme, you may send joyful vibes or, on the contrary, stay serious. For instance, if you dedicate an email to Stress Awareness Day, you should add some vibrant fall motifs to put smiles on subscribers' faces. In contrast, the campaign for Lung Cancer Awareness needs to stay serious. Use Postcards to ensure your email works, looks, and behaves as intended across all devices and email readers.

Veterans Day and Remembrance Day
Veterans Day and Remembrance Day are observed on November 11. The first event in the U.S. and honors people who have served in the armed forces. The second is native to the U.K. and Commonwealth member states and commemorates those who lost their lives in the military.
Since these events are national holidays, starting your November with a meaningful email marketing campaign is an excellent opportunity to nurture your customers, reinforce brand identity, and prepare the ground for the primary shopping season.
However, these events are not easy to tackle. They are not traditional e-commerce holidays.
The best way to introduce these events in your marketing calendar is to create emails that give something back with a spirit of rememberance. Try these ideas:
Show your gratitude and appreciation to veterans.
Demonstrate your support for the event.
Offer discounts for active and retired military personnel.
Encourage subscribers to donate to charities for people who have served in the military.
Level up your existing offer for veterans and extend discounts to family members.
Celebrate veterans in your community.
Send a patriotic message.
Thank veterans and offer donations on behalf of your customers.
Tell a story and highlight people who have benefited from your efforts.
Offer a freebie.
Create a meaningful Veterans Day or Remembrance Day message.
As for design, consider patriotic themes, red-white-and-blue colorways, or photos of veterans and military friends.

There is nothing like a clever email subject line. It sets the tone for the whole email experience, draws overall attention, and entices subscribers to open the newsletter. However, it is a true challenge to develop the one that works for you, your brand, your campaign, and your audience.
Get ready to let your creative juices flow. It is the season of coziness, staying home, giving back, massive sales, and holiday vibes. Start with developing taglines and headlines for your body copy first.
November Slogans and Headlines
The importance of a compelling headline in the email body is evident, even for non-journalists and non-bloggers. It grabs attention, delivers the key point, and contributes to a memorable reading experience.
The headline must be aligned with the main message. Start with November sayings to welcome the new month.
Hello November! Be one to remember.
Keep calm, and Welcome, November.
New month, new day, new chapter, new wishes, NEW PRODUCTS. Welcome November!
Welcome, November. Let's party!
No way! It's November today!
You can also favor funny, cheerful, optimistic November quotes and headlines to elicit a positive mood.
Now that Halloween is on, it's Christmas all the way.
Love November 1 – It is 50% off Halloween candy!
There's always room for pie.
You snooze, you lose, so buy now!
Beard power!
Finally, you can get straight to the point and adopt these sayings and quotes:
Now is the time to buy.
Be the first to get your hands on it by buying now!
Take advantage of our special offers today.
Buy now and save big this November
We have something for everyone on your list!
Home is where the turkey is.
Pies, turkeys, and lots of love.
Family, friends, and pumpkin pie.
Don't miss out on these great November deals.
Gratitude is the best attitude.
Gourd-geous sale is on
You are the apple of my eye
Sweater weather is here
Fall back with us
Winter is coming
Shorter days, bigger deals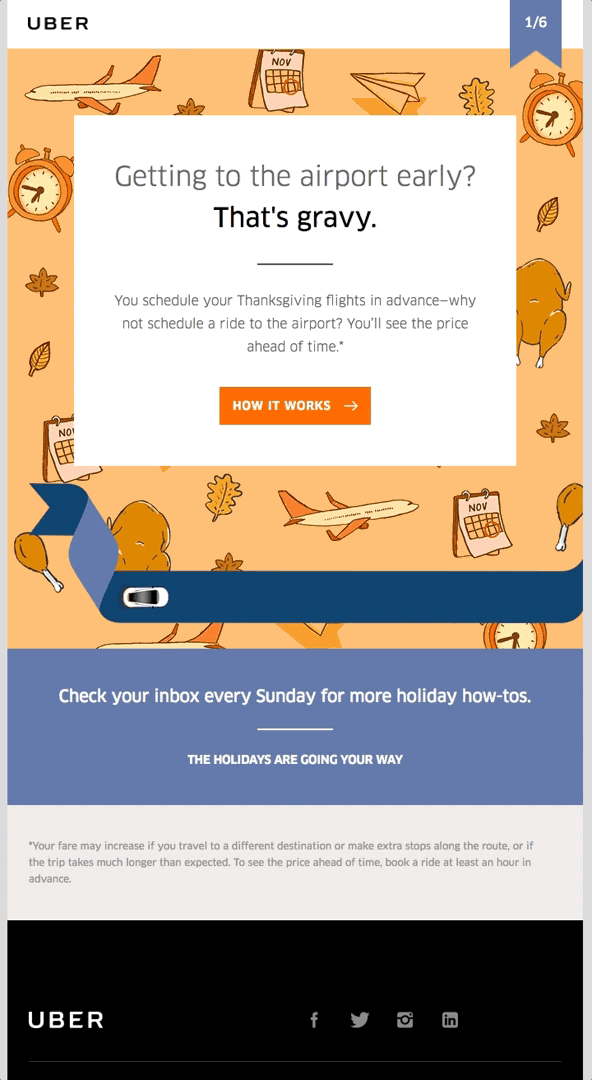 Email marketing, in tandem with social media, produces a powerful impact. Many businesses run cross-channel campaigns. However, suppose you want to focus solely on email campaigns but still enjoy some benefits of social media potential. In that case, you might introduce popular November hashtags in the body copy to allow subscribers to find relevant content across platforms and discover your content to a broader audience.
The good news is that Fall is rich in hashtags. Each month has its range of preferences – consider our list for October as a case in point. As for November email campaigns, you may benefit from these hashtags:
#BlackOwned Friday, #BuyBlackFriday, #movember, #SBS, #autumn, #nature, #fall, #autumnvibes #november, #naturephotography, #herbst, #art, #sunset, #Sunday, #thanksgiving,  #halloween, #naturelovers, #scorpio, #leaves, #noviembre, #mood, #family, #autumncolors, #adoptionday, #americanfootball, #attitudeofgratitude, #bethankful, #blackfriday, #blackfriday2023, #blackfridaydeal, #blackfridaydeals, #blackfridaysale, #blackfridaysales, #blackfridayshopping, #blackfridayspecial, #blackfridayweekend, #cybermonday, #daylightsavings, #football, #givethanks, #givethanksforlife, #givingthanks, #givingtuesday, #globalentrepreneurshipweek, #grateful, #gratefulforlife, #gratefulheart, #gratefulness, #gratitude, #gratitudealways, #gratitudeattitude.
For a complete list, check out Angie Gensler's Hashtags for November.
November Email Subject Lines
The key trait of the November email marketing calendar is that all significant events happen at the end of the month. Therefore, keeping your audience engaged during the entire month is vital. Delivering value with each blast and coming up with original and inspiring subject lines that will support your endeavors is essential.
Three crucial rules that make any subject line successful:
Keep it short so everyone, including the mobile audiences, enjoys it.
Make it personalized.
Add a unique flair with an emoji or a witty twist.
As for emojis, here is a list of the most popular ones so you can quickly copy and paste them into your subject line:
🔥, ❤️, 🦃, 🍗, 🥧, 🌽, 🍂, 🍁, 🧣, 🧤, 🍽️, 🥂, 🎖️, 🌺, 🫡, ✊, 🪖, 🎁, 🛍️, 🏷️, 📦, 👪, 🏬, 🪙, 👜, 🛒, 😱, 📱, 📷, 💻.
Here are some examples to get inspiration:
We're EXTRA thankful today
Freeze the Turkey, Not Your Pipes. Call Jack's Plumbing
No shave, all gain!
We make gift-giving easy!
Deck the halls with our deals!
Avoid the holiday rush – shop with us!
Need a last-minute gift? We can help!
Wishing you a Happy Thanksgiving!
Gobble til you wobble.
A November to remember – shop with us!
Don't be a turkey – shop our November specials.
No tricks – just November deals you'll love.
November steals – ready to impress anyone!
Every day is Black Friday in November.
It's not just November – It's November Specials month!
November – the month for delicious discounts.
November – A Month of Comfort & Joy
November – Wrap It Up!
A cornucopia of deals
Touchdown! Score big deals in-store on Sunday
We're honoring veterans this November
Gobble, gobble! We've got Thanksgiving specials
Black Friday Is Back! | Save 25%
CYBER MONDAY…ALL WEEK LONG
50 Days Until Christmas + Sale Continues!
We're still in Black Friday mode!
Layer Up, Snuggle Up
It's chilly outside, but our sale is heating up! 🔥
It's 👗 mine!
Keep calm and go shopping 🛒😵
What a great discount! ➖2️⃣5️⃣👢😱
3-2-1: Our biggest sale is on❗️
Check out Subject Line Ideas for Black Friday and Cyber Monday Emails to get more valid options.

Key Traits of November Email Design
Choosing a suitable email design that complements the season and supports your message can enhance the game and produce a powerful impact. Capitalize on color palettes, typography, and motifs in visuals and graphics to enjoy the benefits of design powers.
Colors
November sees the ending of bright colors in nature. It is browner and more orange than October. Trees are bare, whereas leaves are almost gone from the ground floor. For some people, it is even white already.
However, when it comes to the general perception of the last month of autumn, people tend to believe that it is all about warm, radiant color schemes that, apart from orange and earthy brown, also include yellow and red.
On top of that, it is a season of weddings, parties, and indoor activities. Therefore, you may undoubtedly benefit from this range of alternative color options: Navy, Copper, Cream, Dusty Rose, Burgundy, Blush, Ivory, Sage, Eggplant, Olive, and Champagne. Check out the wheel of November colors created by Your Color Style.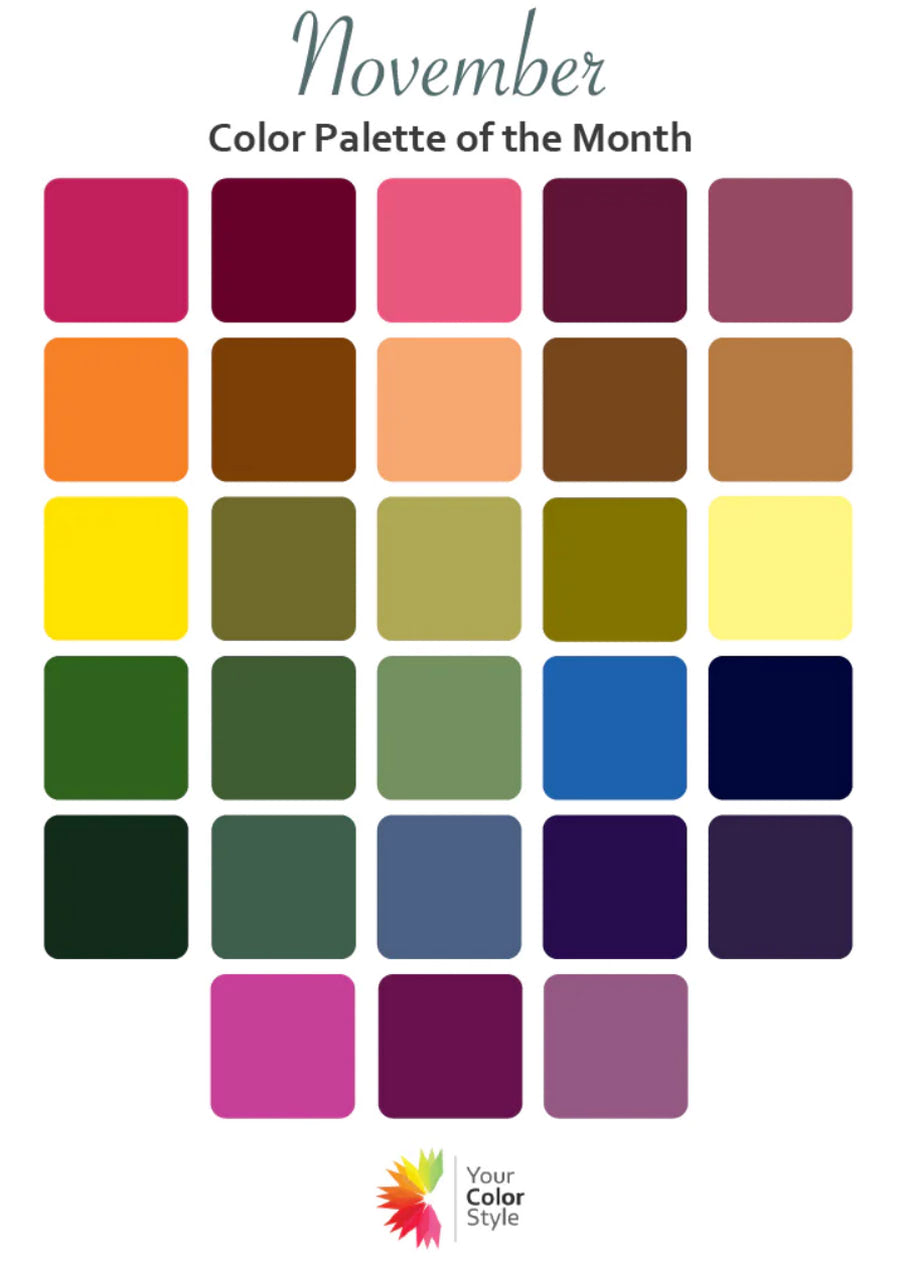 November color palette from Your Color Style
Typography
November typography is inspired by its main events: Veteran Day, Thanksgiving Day, and Black Friday. However, it is also about the autumn and its last breath. Therefore, you may easily benefit from a decorative typeface, rational and utilitarian typeface, natural typeface, or font inspired by a street sign.

Motifs
November marks the end of Daylight saving time. We all get more sunlight in the morning, but unfortunately, darker and colder afternoons and evenings. This means your audience will naturally crave more warmth and light. Therefore, November email designs must be "hot" to meet this need. They should radiate joy and positive emotions on all fronts.
Stick to time-proven solutions: showcase bright, fall-colored products, employ warm patterns and textures, play with coziness in images, capitalize on holiday vibes, and stick to recognizable traits.
Thanksgiving-themed email design may include a mini rosemary wreath, cranberry garland, harvest art, pitcher flower arrangement, pumpkins, butternut squash planter, turkey, and other traditional decorations.
Black Friday email design may greatly benefit from the black theme, giant sale banners, flashy animations and gifs, and gold, neon, and red numbers.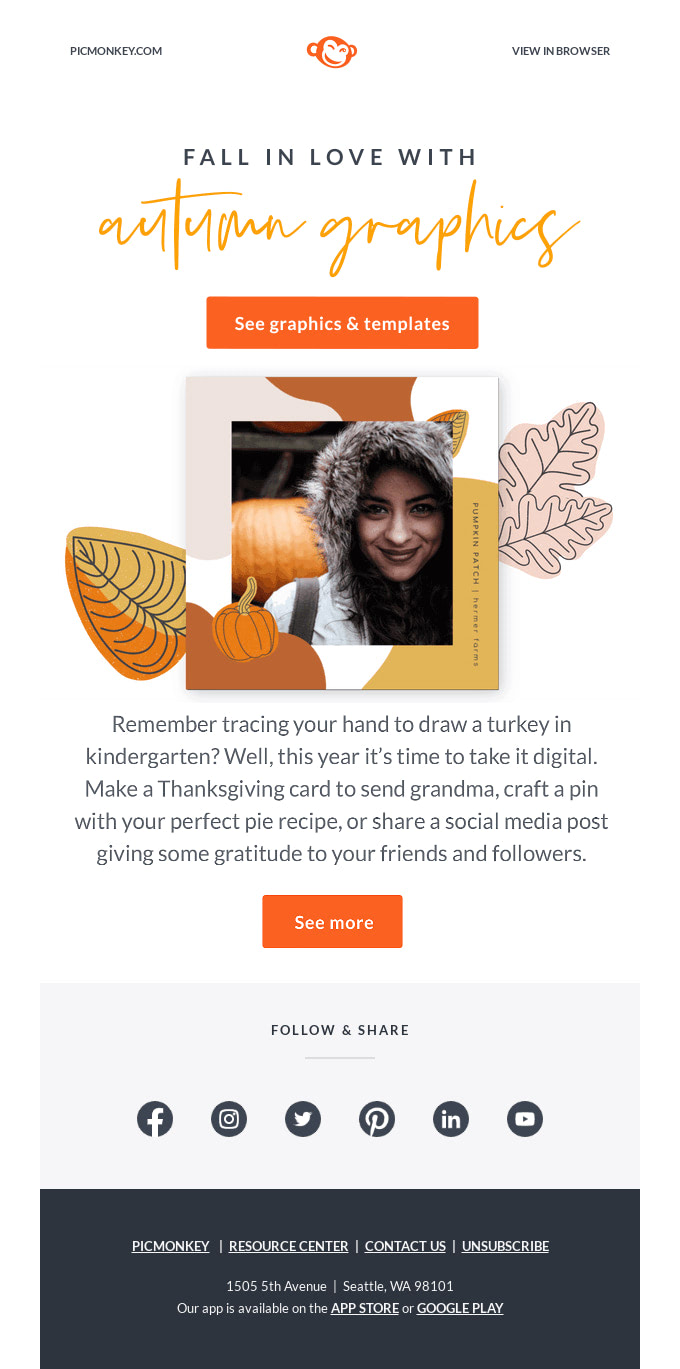 Email from Disruptive Advertising
We will start our collection with a digital blast by Disruptive Advertising. This is an excellent example of a November newsletter that is not dedicated to any event or holiday and can be used to fill in voids in the marketing calendar.
In a nutshell, it is a regular email that keeps subscribers updated about community activities. It features lots of exciting information and the latest news. However, it does not stay in a vacuum but employs November motifs. To be more precise, it has a gratitude theme. This way, the team connects the email with the central theme of the month to make it an integral part of the period.

Apple has chosen to stay true to its iconic and instantly recognizable brand identity yet managed to incorporate November vibes through the message without feeling pushy or overwhelming.
The newsletter is timed to Black Friday. And it is smart. This is a pre-holiday email that puts the company ahead of the competition. It lasts three days, giving customers ample time for a comfortable decision-making process. It includes an exclusive offer. Finally, it looks more like an informative brochure than a promo due to the skillful choice of language and design.
Although the email avoids popular November motifs, the black color that impregnates everything perfectly echoes the Black Friday event.

The email from Xfinity is a traditional pre-Christmas email sent in November. It speaks to customers about excellent entertainment during the holiday season to build anticipation and give them a reason to pay for their subscriptions.
They provide valuable material (check out the first block text) to drive engagement and remind them of the benefits of using their platform.
Note the email design. A Grinch-themed storytelling experience wins you over. This strategy achieves its short-term goals and underlies a solid foundation for long-term goals by strengthening client relationships.

If you need an example of building anticipation for the most exquisite event in November (Thanksgiving Day), this email is for you. It is one of 12 parts of a perfectly-backed Thanksgiving countdown campaign.
Each day and each email are different. The one featured above is all about being grateful for cuddles from your furry friends. You might notice this in their hero area.
This strategy risks overburdening subscribers with such a high frequency that may lead to irritation and a decreased subscription rate. But the team behind Fracture nailed it. They delivered content that brings actual value to subscribers. Each newsletter includes a daily giveaway worth $5,000. Plus, they add a special discount from their partners.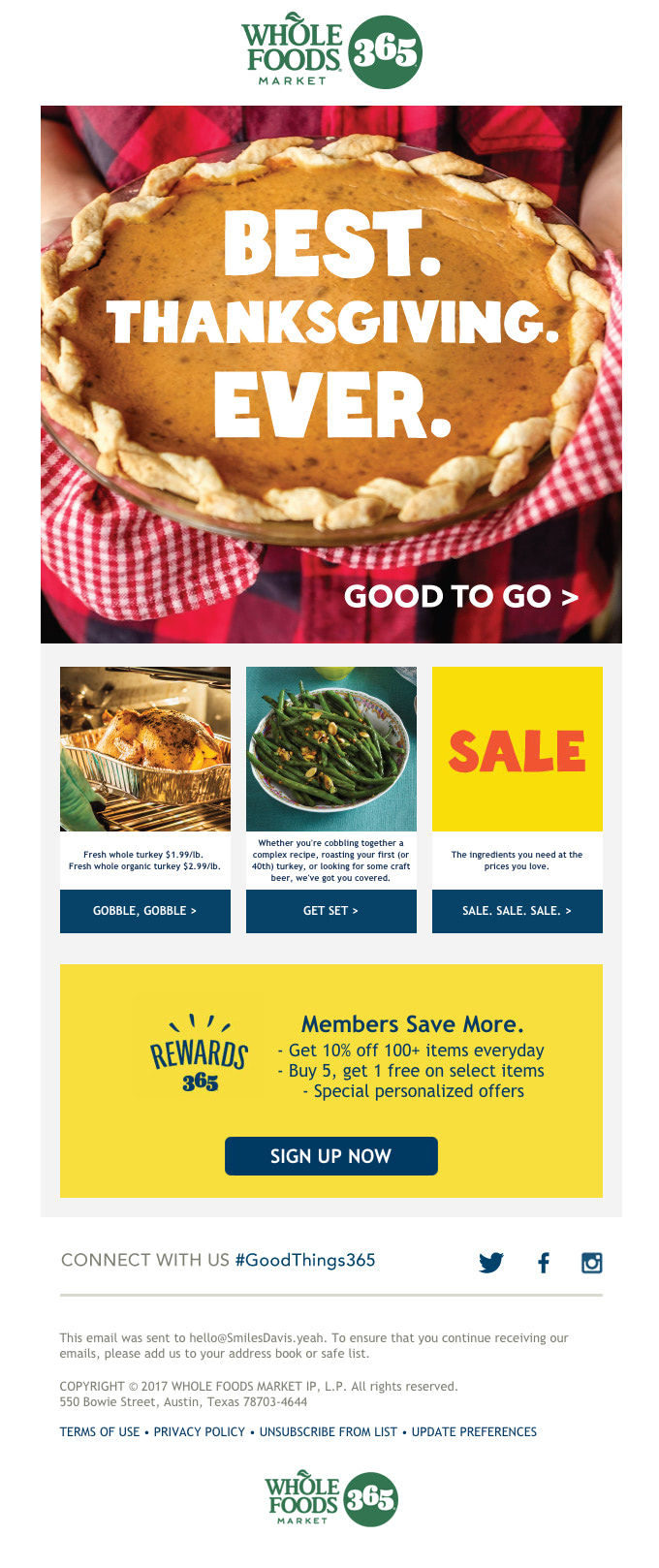 Email from Whole Foods Market 365
Our November email examples collection would not be complete without a Thanksgiving email. This email from Whole Foods Market 365 is a classic representative sent during the holiday season to generate conversions and raise revenue.
The team worked the brand into holiday festivities. They effectively combine the holiday vibe with their products, making the email look "appetizing."
They do not bombard subscribers with lots of information and offers. Instead, they have focused on the most popular dishes that fit the event perfectly. They divided the email design into several sections to make the reading experience enjoyable, added lead magnets, and completed each offer by the call to action. At the end, the team features a special offer for loyal members.

An email from Fitbit is a traditional Black Friday email (for a more diverse collection, check out our guide to Black Friday and Cyber Monday email designs). It is small yet to the point; it brings value immediately, seducing subscribers with several fantastic offers right from the doorstep.
Much like the previous newsletter, it is also packed with offers. There is an announcement of free 2-day shipping on orders valued at just over $50, a notification about huge savings on popular products, and a bonus to accompany each product.
The brand also highlights its collaboration with Klarna, which allows customers to pay in 4 interest-free payments. It seems like everything here was made to please subscribers.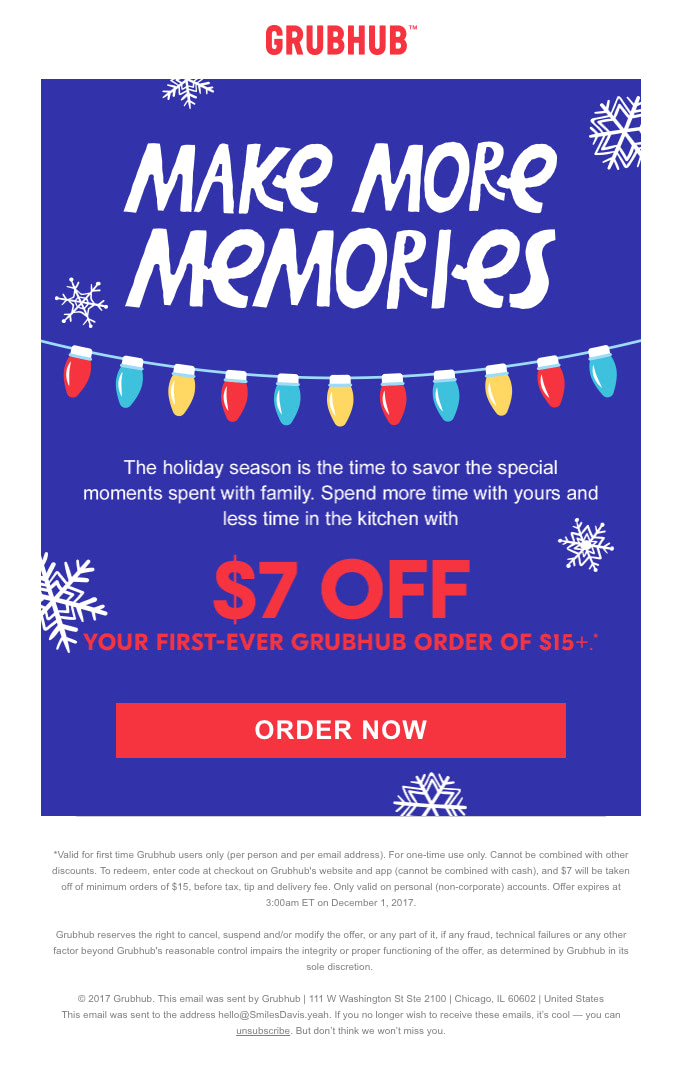 The example email from Grubhub is an excellent representative of good-buy November emails that not only give a farewell to the autumn but set the ground for the upcoming winter shopping season. The team marries both worlds and benefits from that.
The "Hello Holiday" newsletter from Grubhub is upbeat and energetic, rich in Christmas decorations and winter traits like snowflakes and garlands. The team has played smart. They have used this opportunity to offer a discount for the first-ever order in winter and ipso facto to drive engagement and generate some extra conversions and leads.
Note the email is compact, almost tiny. However, it does work great. It puts everyone in a good mood, delivers value, improves customer relationships, and generates conversions.
Conclusion
In this article, we've taken the time to gather the best November email newsletter ideas and examples that stand out. We understand the importance of crafting content that captivates and resonates with subscribers during this time of the year.
When it comes to November, many people are looking forward to the end of the month and the holiday season. As it turns out, every day of the last autumn month has a special event, so you can connect with subscribers on a more personal level, cement your relationships, and prepare a solid foundation for the highly-anticipated holiday season with the two biggest shopping events of the year: Black Friday and Cyber Monday.
November's email newsletter can be more than just a countdown to the holidays; it can be an exploration of all the small but meaningful moments that make the month truly special. With the right approach, your email campaigns can be a beacon of warmth and connection, making every day of November feel like its own special celebration.
The good news is you may adopt different strategies. Cater to current audience needs.
Become a proud community member by raising awareness of various serious causes, starting a fund, or enticing your customers to donate.
Show gratitude and play hard on a central theme of the month. You can thank your customers and staff and appreciate your subscribers to build a strong community inside and outside your company.
Finally, segment your target market and appeal to different audiences with various events, like Veterans Day, Movember, Small Business Day, Role Model Day, etc.
Like what you're reading? Subscribe to our top stories.