17 Best Black Friday Email Marketing Ideas to Leverage in 2023
The biggest retail weekend is fast approaching. Black Friday and Cyber Monday will be here before you know it. And that's why we are sharing the best Black Friday email marketing ideas with you.
The beginning of the Christmas shopping season is the toughest period of the year for retailers. It requires undivided attention. Hundreds of free email templates will be flying around, making it difficult to get to subscribers.
Email marketing is still the most significant driver for sales these days, even more so than social media. You need to be ready to launch and run one of the most massive campaigns of the year.
So, let's dive into the email marketing ideas to leverage for Black Friday.
Best Email Marketing Ideas for Black Friday
The holiday shopping season begins early in November. Thanksgiving, as well as BFCM weekend, is just a milestone on a customer's way to Christmas. Therefore, it is a great idea to promote the campaign before with sales and send email newsletters earlier to get a head start. This way, you'll beat the flood of email newsletters and make yourself heard.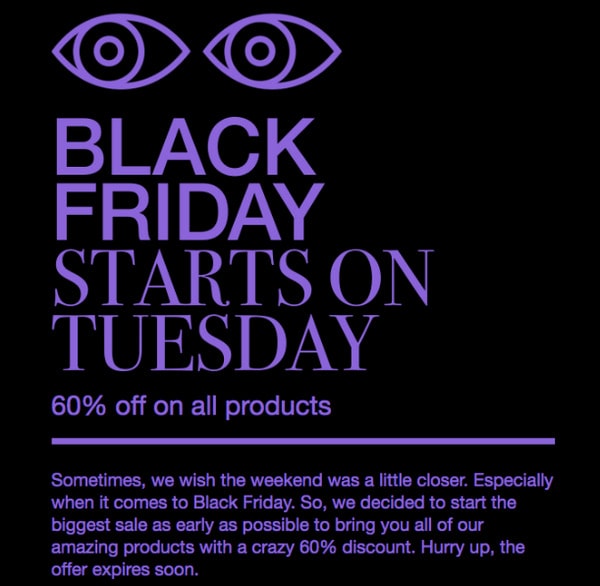 Black Friday Email Newsletter by Great Simple Studio
No-Code Email Template Builder
With Postcards you can create and edit email templates online without any coding skills! Includes more than 100 components to help you create custom emails templates faster than ever before.
Try Free
Other Products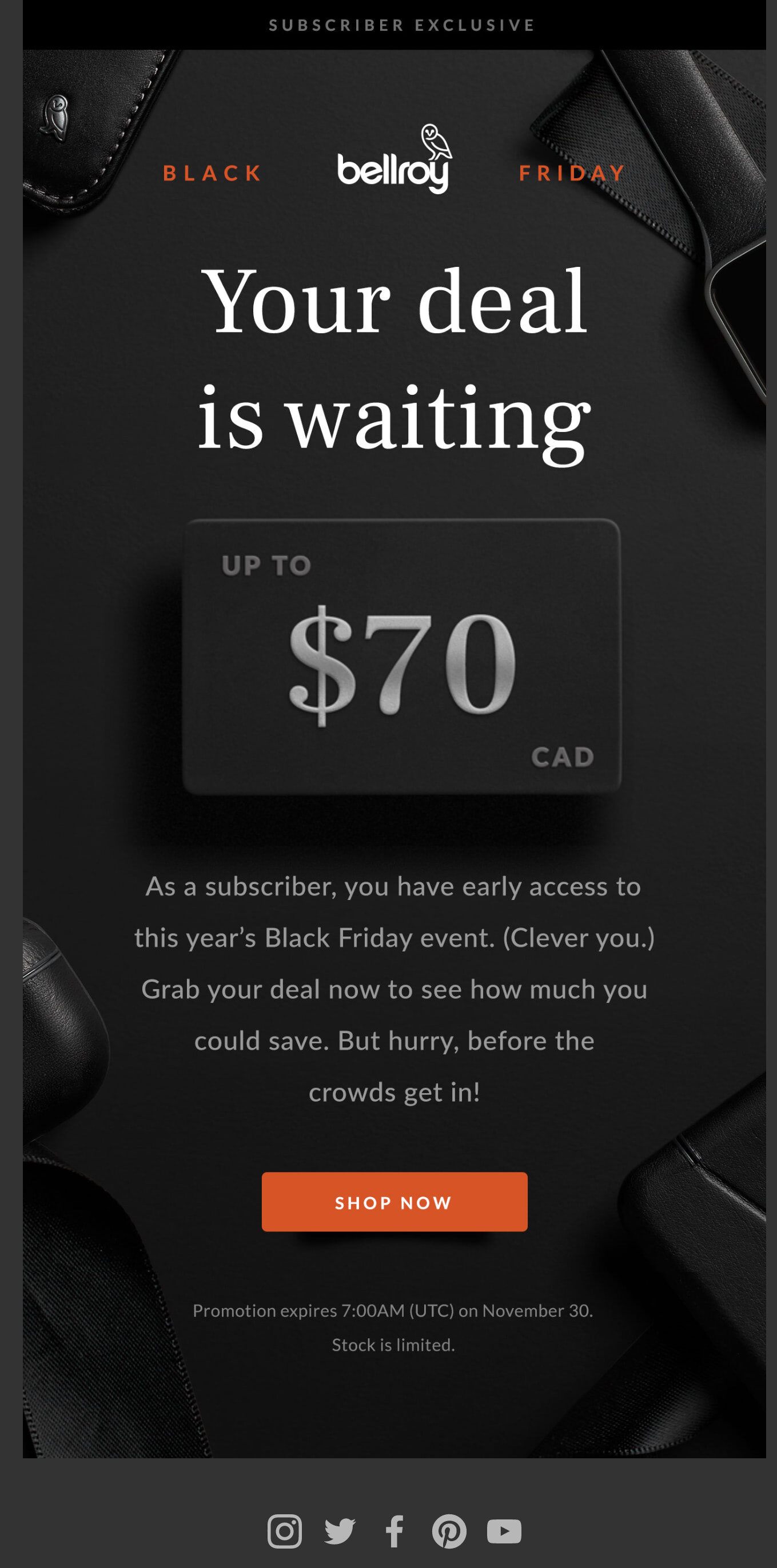 Bellroy
#1. Make the Email Subject Line Strong
The first thing that subscribers are going to read is the Black Friday subject line. Get their attention and encourage them to open an email newsletter. Brevity is the soul of wit. Words to include in catchy subject lines are:
Sale
50% Off
Huge Discount
BOGO
Exciting
Make it short but "seducing."
You can reinforce the impression by using preview text. Use it to extend the catchy phrase and show subscribers extra information. Remember that there should be a smooth transition from the subject line to the content so you don't disappoint subscribers.
#2. Use GIFs and Emojis
GIFs and emojis effectively convey an idea to the audience. They put points across as well as bring emotion to the email newsletter. Considered a universal language, they naturally address various groups of people. Without saying a word, you can make the email newsletter look fun, serious, seasonal, urgent, and so on. Use them to stress messages in the subject lines and unobtrusively draw attention toward offers inside the copy.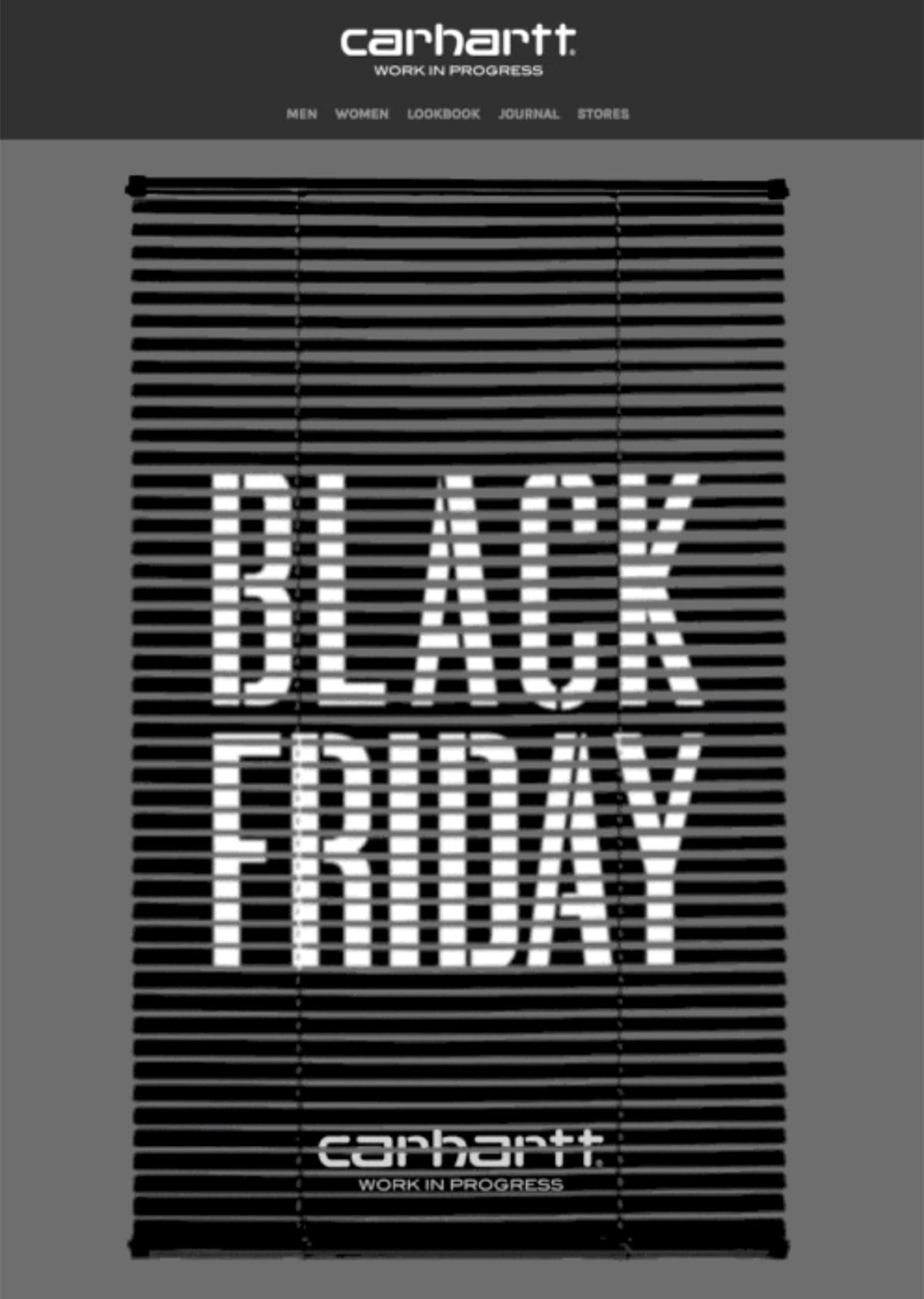 Black Friday Weekend by Carhartt WIP
#3. The Magic Word: "Sale"
Use "Sale" without regrets since everyone expects it. Combine the word with "free shipping" or "free gift" for even greater impact. However, do not overdo it with the word "Free."
The reason is simple: some people, as well as Google, may consider it spam and move your email newsletter to the trash without a glance.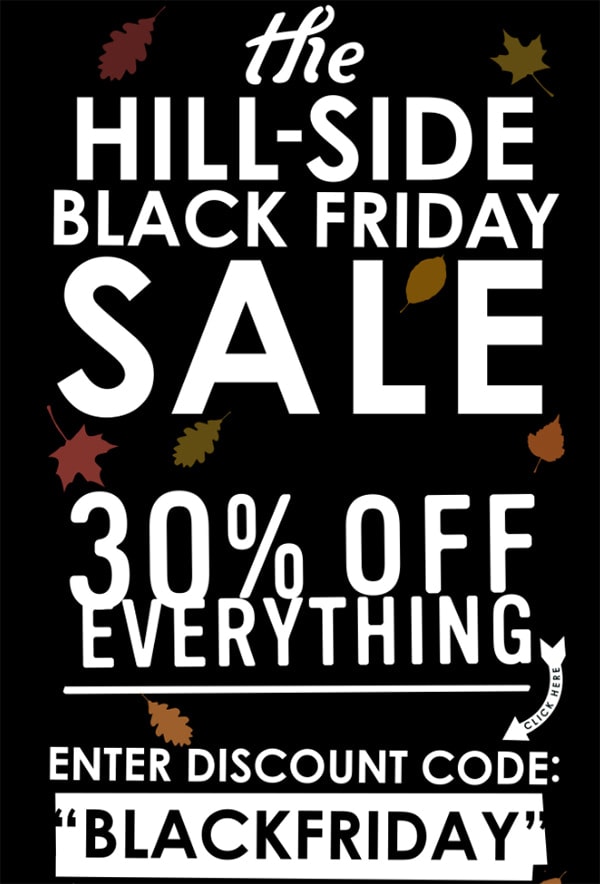 Black Friday Email Newsletter by The Hill-Side
#4. Another Magic Word: "Exclusive"
Everybody wants exclusive products: it is in our nature. Triggering this sensation may bring good results. This can be applied as extra incentives for loyal customers or just as a trick to drive more traffic to your e-store.
👀 Note: You can combine this word with scarcity and get better results.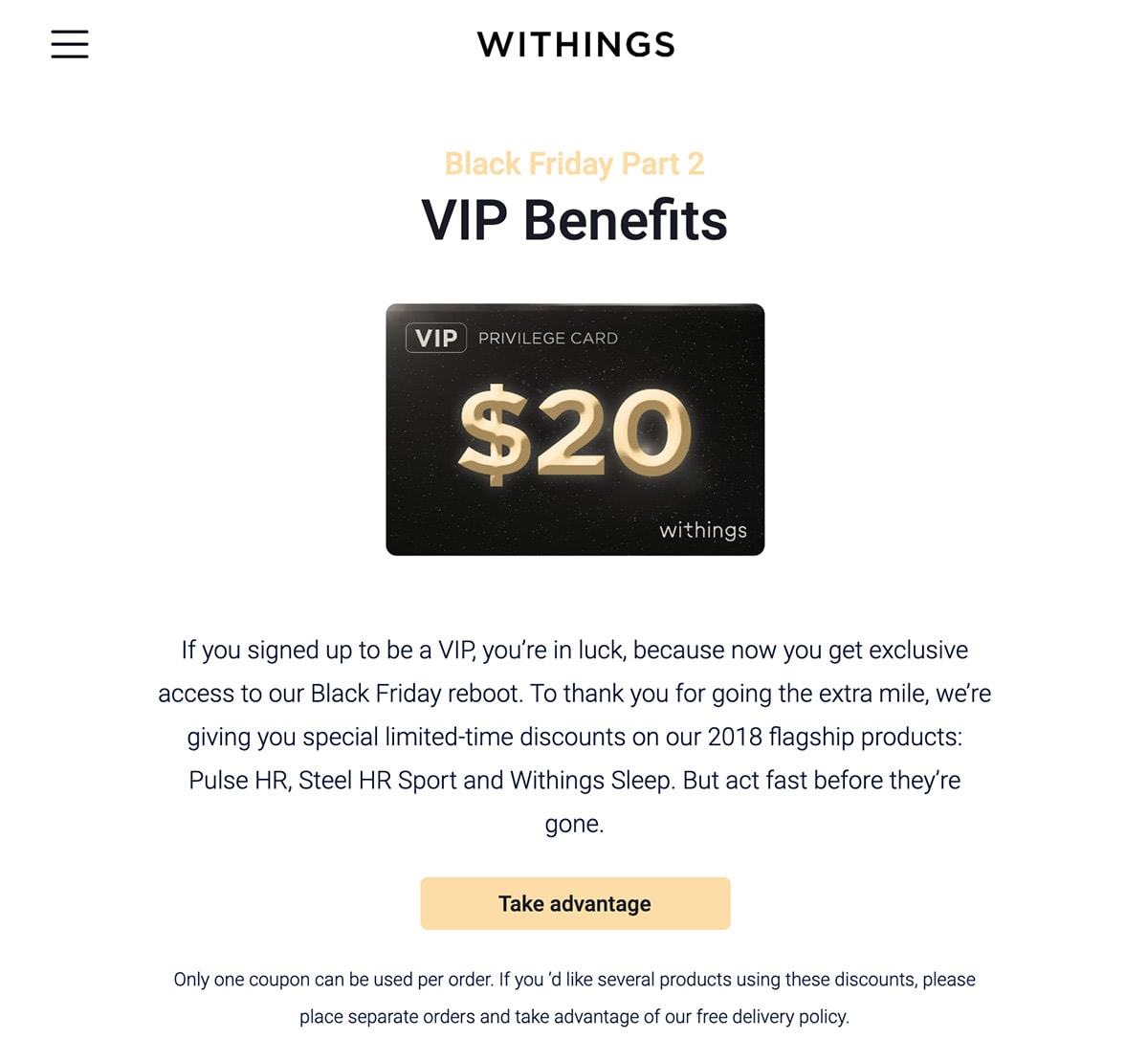 Black Friday Email Newsletter by Withings
#5. Have a Deal Each Day
Delivering true value to customers every day should be the motto of a good email marketing campaign. If you are up to it, a strategy of offering a deal each day is just what the doctor ordered. It may require extra effort but will certainly pay you back. It will help to maintain engagement, drum up interest, and keep potential buyers coming back.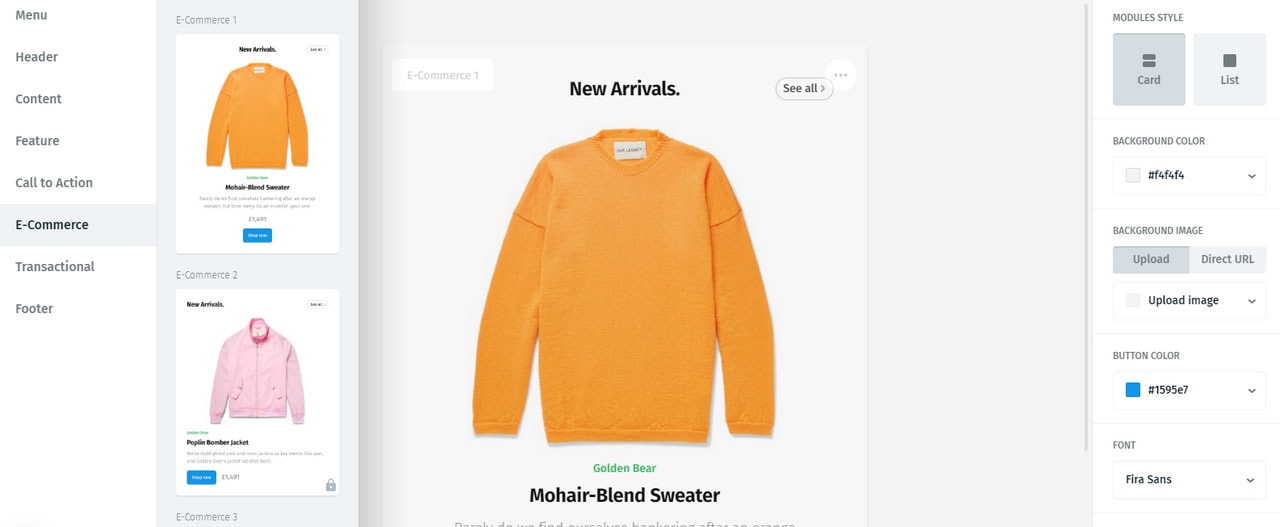 To meet the challenge successfully, you can use an online HTML email template builder like Postcards. It allows you to create and edit email templates within seconds without coding and design skills. You can send a unique email newsletter with an exclusive deal every day without sacrificing quality. I bet your customers will appreciate this diligence.
#6. Cut to the Chase
Get straight to the point. It is a winning tactic when it comes to the busy BFCM weekend. No one wants to read long stories about discounts. There are a bunch of email newsletters with similar offers, so keep it simple.
People are waiting for the best deal, so give it to them. Do not hide it or place after general information – make it a star of the show. Use a headline to announce the discount. Make it bold, big, and, most importantly, brief.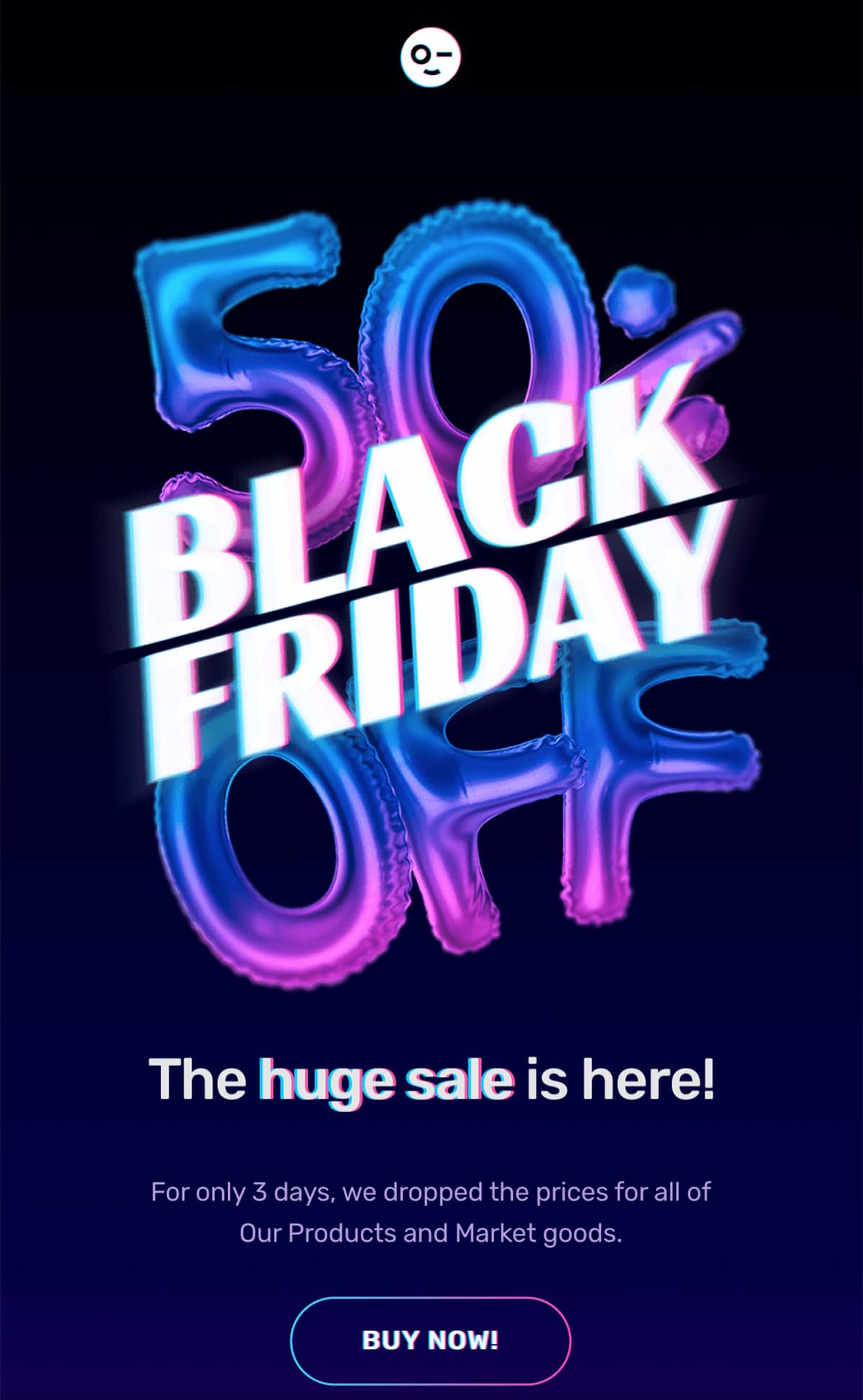 Black Friday Email Newsletter by Designmodo
#7. Let Them Eat with Their Eyes
The approach of "less is more" is highly recommended for BFCM weekend. However, it does not mean that you need to be extremely minimal. Show bestsellers to the audience to remind them what is waiting for them at the store. After all, people eat with their eyes. Use it to your advantage.
Note you need to exercise caution here since not all email readers can display images. Also, users can turn them off by default. Remember to provide alt information every time.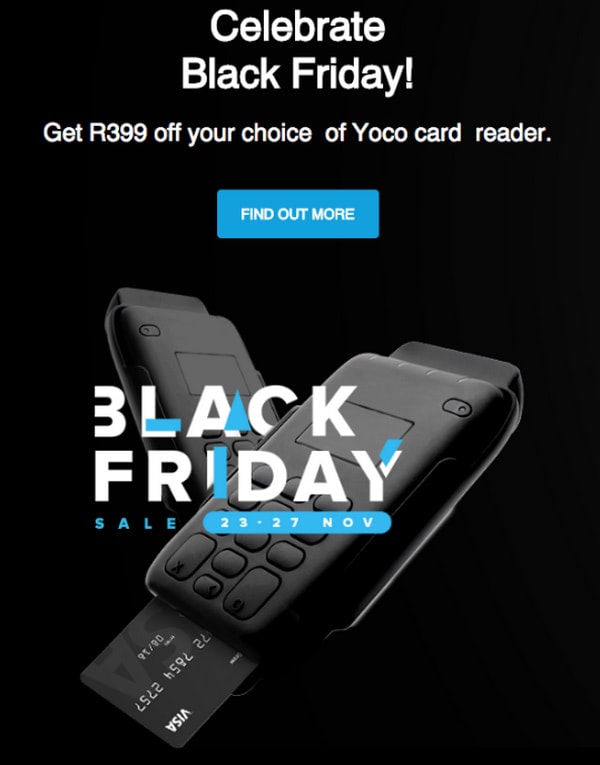 Black Friday Email Newsletter by Yoco
#8. Practice Reciprocity
Reciprocity is a psychological trick to lure potential buyers in. People love presents. Therefore, you can shamelessly exploit this human weakness to increase revenue. Although it requires an act of generosity, like giving away a free gift, it is undoubtedly worth it.
#9. Stress Urgency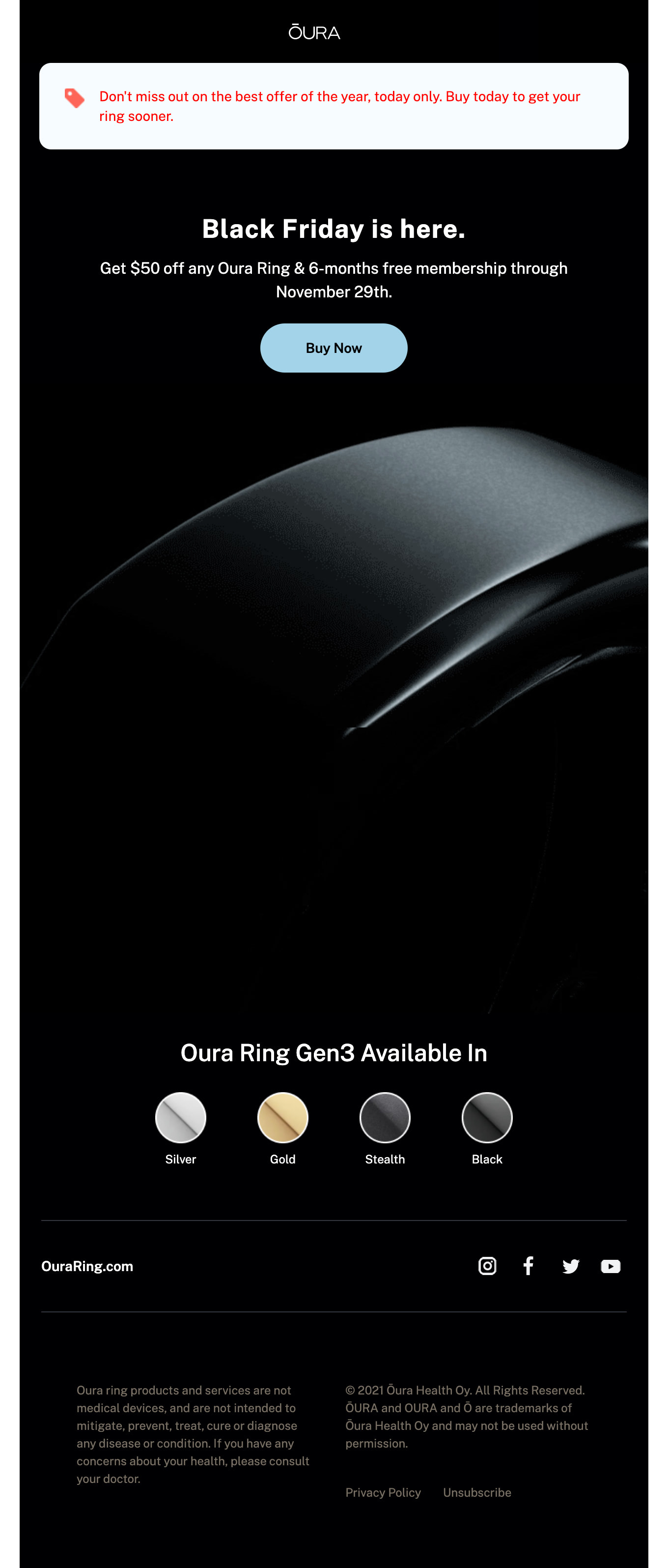 Oura
Old-school tricks never get old, and establishing a sense of urgency is a proven tactic. It is used in subject lines and copy. For example, send your email list short phrases in your subject line and headlines as:
Limited Time Only
Today Only
Sale Ends At Midnight
Last Chance to Shop
Only Hours Left
If you want to encourage subscribers to act immediately, you can also try to add a timer. You can also play FOMO (fear of missing out) tricks and force scarcity to work for you.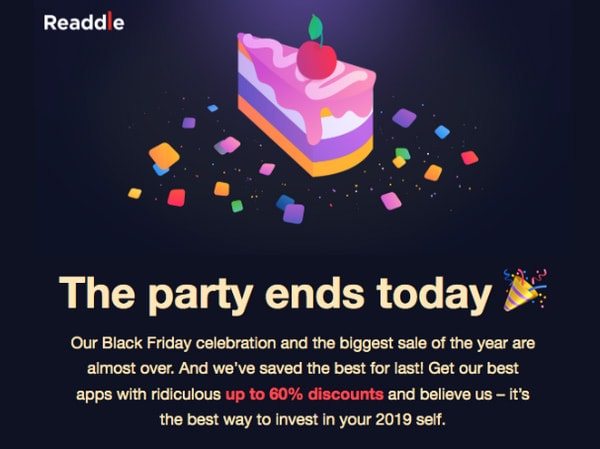 Black Friday by Readdle
#10. Generate Excitement
To create buzz and generate excitement, you can adopt several techniques.
First, send sneak peeks (teaser emails) to build anticipation about promotions and get people excited beforehand.
Second, offer a mystery prize (promotional emails). Either use a digital scratch card or imitate it by segmenting people and providing different discount codes. Use gifs for visualization.

Tinker Watches
Finally, make flash sales. They are popular techniques for email marketing. Remember to be very careful with timing. Everything should be in sync.
#11. Create an Impressive Design

Art of Play
Your best deal will not sell itself. It needs a proper entourage, and a well-thought-out design is the way to go.
The goal is to make the design scream BFCM on all fronts and unobtrusively direct attention toward the discount. Of course, the general practice is to use a black color palette. You can always adopt other color schemes. Use animated gifs, funny images, emojis, etc.
To save your time, use Postcards to quickly build an email newsletter. There are a whole bunch of baseline components, starting from the compact navigation options and ending with e-commerce widgets, with a stylish look and, most importantly, responsive behavior.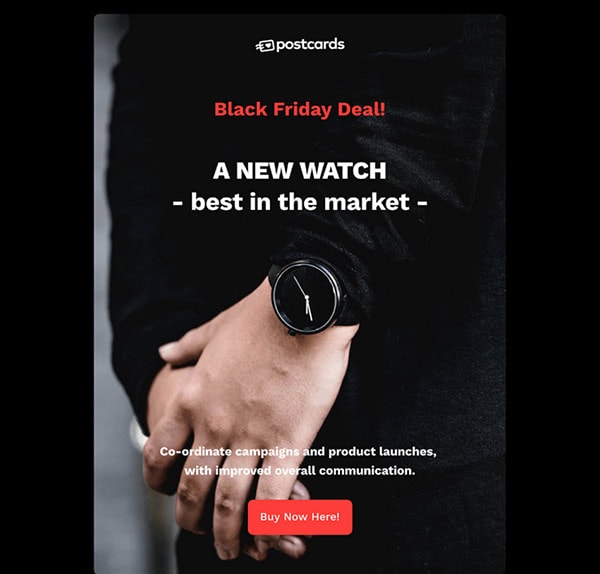 If you need a ready-made solution to build on, there is an excellent Black Friday HTML Email Newsletter Template that is free. The deal instantly grabs attention, with a dark image backdrop establishing the atmosphere.
👀 Note: The design is simple yet straight to the point, with elegant traits and a businesslike appeal.
#12. Extend Sales
This practice has become common. We have already pointed out that you can start sales earlier to get a head start. The same goes for the ending of the campaign. Prolong it and shower buyers with exclusive deals. Extend the sale by a day or two to catch people who got distracted during the initial sale window.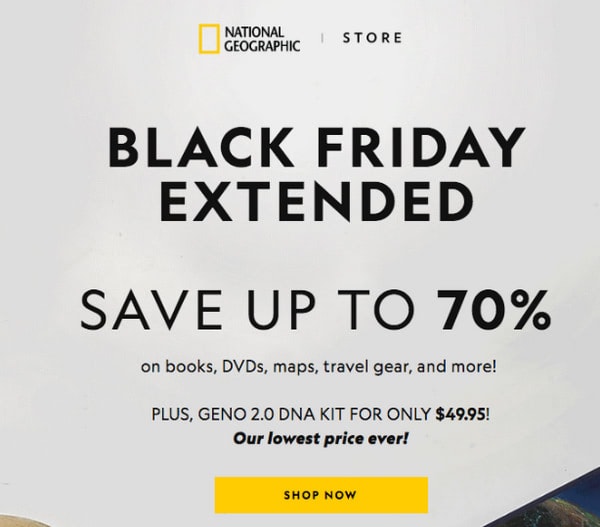 Black Friday Extended Email Newsletter by National Geographic
#13. Use Transactional Emails
Don't forget transactional emails during the key sales season. Send an abandoned cart email with a reminder that buyers are missing out on huge discounts to win them back. Be ready to align transactional emails according to the event.
#14. Accurately Segment the Audience
Although BFCM weekend is all about huge sales, it does not mean that you should go blindly with it. Of course, a big discount in the email newsletter never hurts anybody; however, properly segmenting your audience can be much more beneficial.
Loyal buyers need and want differently, and it is your task to deal with that efficiently. One size fits all is a common practice in email newsletters during BFCM, yet this results in a faceless mass of offers that potential customers throw away. Do not send one deal to everybody: be more personal. Segment audiences based on behavior and preferences.
Clean up lists as well. If a subscriber has not purchased anything in the last year, the chances are he or she will not do it. The same goes for those who have never opened your email newsletter. Eliminate those folks from the subscription list. Sending them email newsletters is not just a waste of time but also risks ending up with bad karma.
#15. Schedule Everything
BFCM is a mad weekend, and without a good plan, you won't survive. Organize the event from top to toe. This tip is most useful for those who do not have a store-wide sale and want to treat subscribers with occasional discounts. Create a simple calendar. Use whatever software you like. Create a table and write down a start date, end date, type of target audience, what offer to show, the desired outcome, etc.
#16. Send and Send Emails
We mentioned in our guide "How to Send Efficient Black Friday and Cyber Monday Email Newsletters" several types of newsletters that you can send during this period. Since BFCM weekend is jam-packed, it is a good practice to send multiple email newsletters to subscribers for a better chance of getting noticed. Emails should not be identical. While they pursue one goal – to drive traffic to your store – they should still be different. Try this plan:
The first email can be a sneak peek the week before the event.
The second email can be a congratulations card sent on Thanksgiving day that will include a coupon or a small gift.
The third can be an announcement of the beginning of the sale weekend. If you decide to start early, this email newsletter can precede the previous one.
The fourth should bring the best offer ever. If you decide to treat your email subscribers with a "Deal a Day" campaign, then there will be even more.
The fifth may inform subscribers about the end of the event.
And the last email can be an announcement of an extended sale.
#17. Last but not least. A/B Test
A/B testing is absolutely necessary. First and foremost, it will help to identify the best strategy for your campaign. And it will save you from bad rates.
What should you test? Check everything: subject line, copy, timing, etc.
The best practice is to do it throughout the year to draw a general picture of subscribers and their preferences. Since BFCM weekend is a special period, some preferences may change, so A/B testing right before the event can also provide useful insights.
Leverage These Black Friday Email Marketing Ideas in 2023
Email marketing is one of the most popular ways to sell your product during Black Friday and Cyber Monday. But it's a cutthroat competition out there. But you need the right email strategies to make it work.
To get an edge over your competitors, use the above-mentioned Black Friday email marketing ideas.
Need help designing emails for your email marketing strategy? Leverage the Postcards app and make stunning email designs in no time.
Like what you're reading? Subscribe to our top stories.