October Email Newsletter Guide: Ideas and Examples
October invites us into the full swing of autumn. The heat is over, and cold, chilly weather comes into play. Mid-fall is more than an excuse to break out your cardigan collection; it is a golden opportunity for email marketing departments to forward companies and generate extra revenue. This guide will assist you in leveraging the month of October for your email marketing campaigns. Discover inspiration for your entire month's email newsletters, along with ideas and October newsletter examples.
In October, businesses across all niches start seeing organic traffic and conversion growth. More people prefer staying home and spending time with digital mediums for correspondence. It is the perfect time to leverage seasonal digital marketing to connect with your audiences, re-engage those who have departed during beach season, and prepare the ground for one of the most anticipated sales seasons that starts with Black Friday and ends with Christmas.
The good news is that October has plenty to offer for email marketing strategists. The marketing calendar is rich and diverse. Not only is it a time to unpack your Halloween artwork bundles and send creepy emails with spooky offers and discounts, but it is also a perfect period to cement your position in the market by supporting diversity, equity, and inclusion in your community.
Today, we will break October into pieces so that you can create an events-focused email marketing calendar to support your company's strategy and goals. From email subject lines to real-life October email newsletter examples, you will get some fantastic ideas and inspiration.
Let's get down to business. October is the perfect period to try these email ideas:
Let your customers know how you celebrate Octoberfest or Halloween.
Share tips to help your customers prepare for November emails (Thanksgiving Day) or winter.
Get customers ready to close out their financial year.
Share a fun autumn contest or giveaway.
Discount fall merchandise.
To level up the game, you must focus on popular holidays and important events your target audience expects to see in their inboxes. Here are some excellent ideas.
No-Code Email Template Builder
With Postcards you can create and edit email templates online without any coding skills! Includes more than 100 components to help you create custom emails templates faster than ever before.
Try Free
Other Products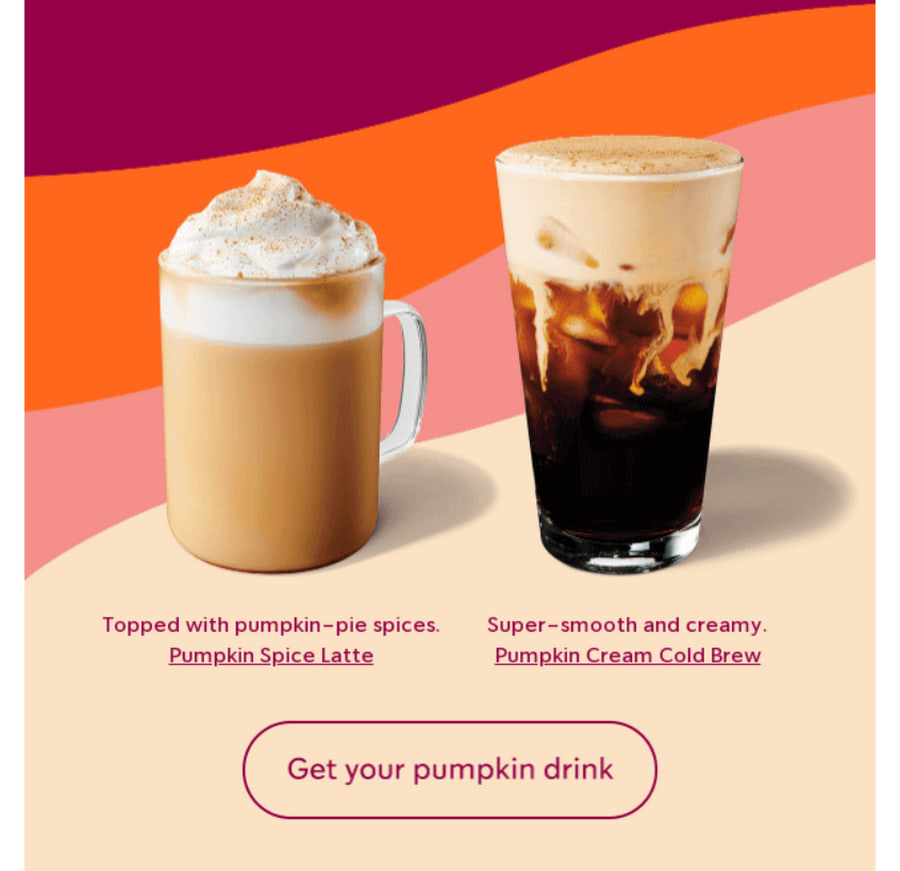 Halloween
Halloween is perhaps one of the most anticipated holidays of October. People look forward to letting their creative juices flow, embracing their inner child, and enjoying quality time with family and friends.
Halloween is a hallmark of October's marketing strategy across niches. Pumpkin spiced lattes in Starbucks, Reese's candies on supermarket shelves, spooky storefronts, trick-or-treat buckets – the ghoulish spirit can be caught everywhere; email marketing is no exception. Even businesses in which countries this holiday is not celebrated have successfully introduced this theme in their strategy.
Halloween emails offers numerous opportunities for email marketers to exploit. Consider these time-proven and well-welcomed approaches.
Use Halloween puns and fun.
Halloween benefits from jokes, humor, puns, snappy email copies, and subject lines. Do not hesitate to explore this side of your brand. Whether you run a restaurant or SaaS company, your brand's personality undoubtedly has some wittiness. Unlock it to get your target audience in the mood, break the ice with prospects, and nurture loyal customers.
Attach trick-and-treat connotation to email.
Nothing expresses the idea of Halloween like trick-or-treating. How to realize it in the newsletter? Simple – give away something, make a special offer, provide a discount, or propose a complimentary gift with a purchase.
You may also exploit the "trick" part of the phrase by using jokes or establishing fear of missing out on the deal with scarcity or time limits.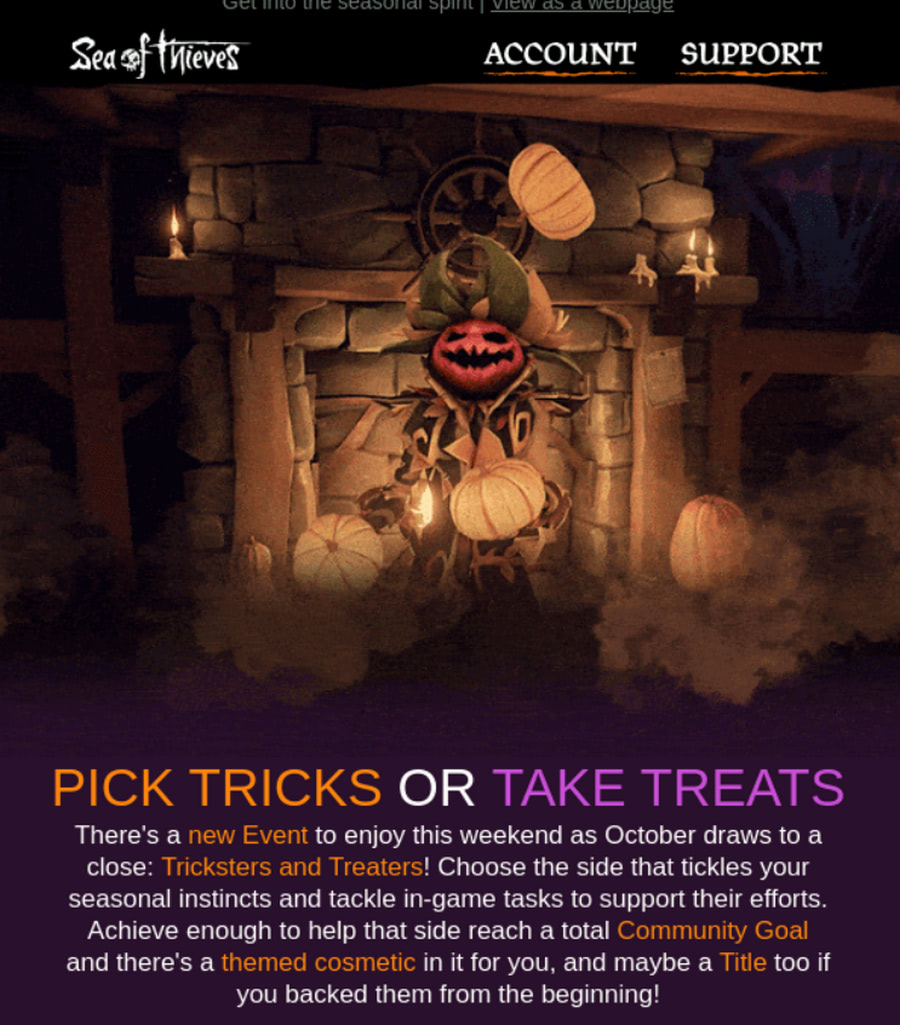 Unlock the "frightful" side of the event.
The "scary" side of Halloween makes people spend a bunch of money on all those creepy decorations and costumes. So, why not introduce this theme in your newsletter? Dress up your email with "spooky" illustrations, scatter some ghosts and spiders over the layout, use "frightening" words, and capitalize on black and orange coloring. Remember to add action and emotions with animated gifs and emojis.
The best way to do this is to use Postcards. This top-notch email builder has everything necessary to create a solid foundation for your Halloween template within minutes. Add some "spooky" stuff, and you are ready to drive sales with a "frightful" theme.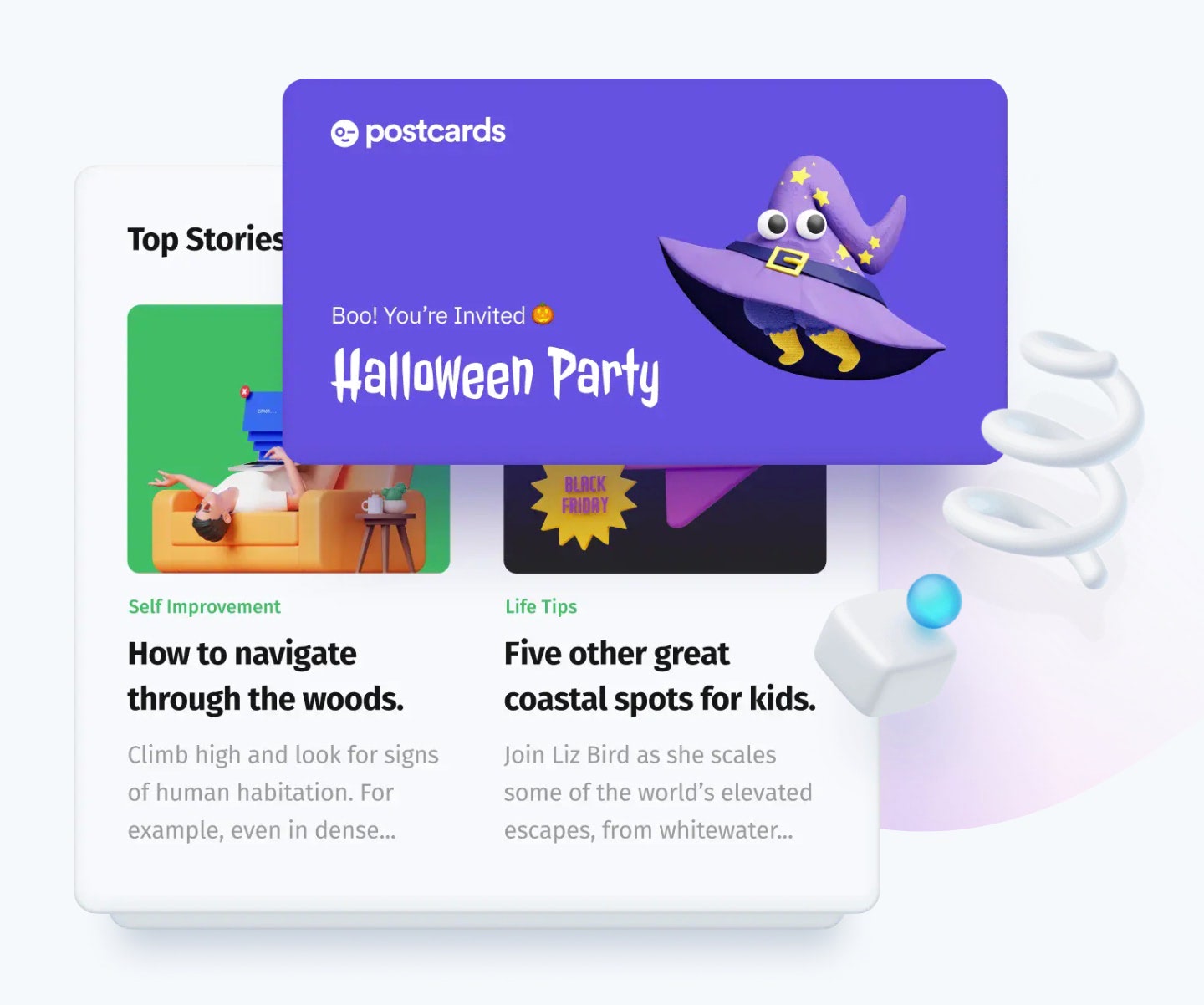 Use gamification.
Halloween is the perfect opportunity to try gamification in your email newsletter. Test your limits and go beyond animated gifs and traditional CSS-based dynamic effects. Be bold and impress your subscribers with some fantastic JavaScript-based games, letting them play and dive into the Halloween vibes headlong. This will be a perfect solution to nurture your customers and show them your appreciation.
Promote holiday deals.
Whatever fun-loving and creepy it can be, Halloween is a holiday, so it is the perfect time to treat your loyal fans to holiday deals. Put the offers at the front and spice them up with Halloween-themed decorations. To continue the topic of "frightful" ways, it will be the perfect opportunity to play FOMO and scarcity cards to compel subscribers to act fast.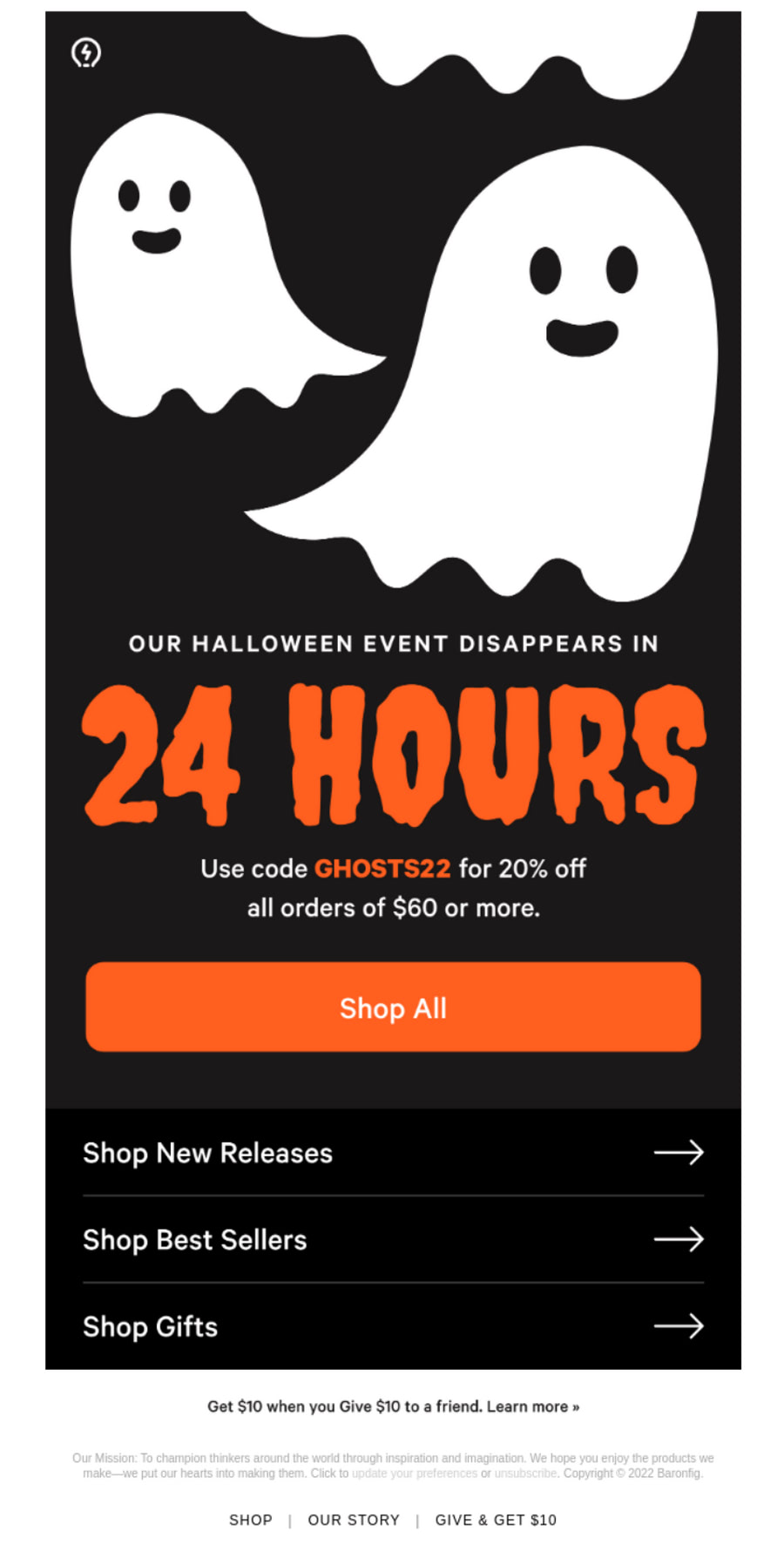 Octoberfest
Octoberfest has millions of fans. Whether in Europe, the US, or Asia, don't skip an opportunity to participate in this tradition. Even though it seems that the holiday is strictly dedicated to beer and sausages, as practice shows, it has outgrown this connotation, becoming synonymous with having a good time with friends. So, how can you use this theme in your email marketing?
Unless you run a pub or sell beer, avoid going overboard with this holiday theme. Strike an optimal balance and capitalize on the time well spent with friends. You may dress your email with small images of pretzels, lebkuchen, traditional costumes (lederhosen and dirndl), and beer. You may also benefit from warm fall themes, festival decorations, or special holiday items like "Prost," which means "cheers" in German.
Octoberfest theme can be used to share tips on spending time with friends, celebrating this holiday at home, or creating your beer-loving party in the breakroom or backyard. It is also a perfect excuse to offer discounts and sales.
It is crucial to note that officially, Octoberfest begins in mid-September and ends early in October. Therefore, do not drag it out.

Octoberfest email
Other Popular Holidays
Halloween and Octoberfest are not the only holidays in October. Here is a list of national and World days that you might easily incorporate into your marketing calendar to revamp your strategy:
International Coffee Day, October 1
Word Smile Day, October 1
National Boyfriends Day, October 3
National Do Something Nice Day, October 5
World Teacher's Day, October 5
Beer and Pizza Day, October 9
Harry Potter Book Day, October 12
World Student's Day, October 15
Bosses Day, October 16
World Food Day, October 16
International Chef Day, October 20
International Caps Lock Day, October 22
United Nations Day, October 24
International Artist Day, October 25
National Pumpkin Day, October 26
Global Champagne Day, October 27
National Chocolate Day, October 28
National Cat Day, October 29
International Internet Day, October 29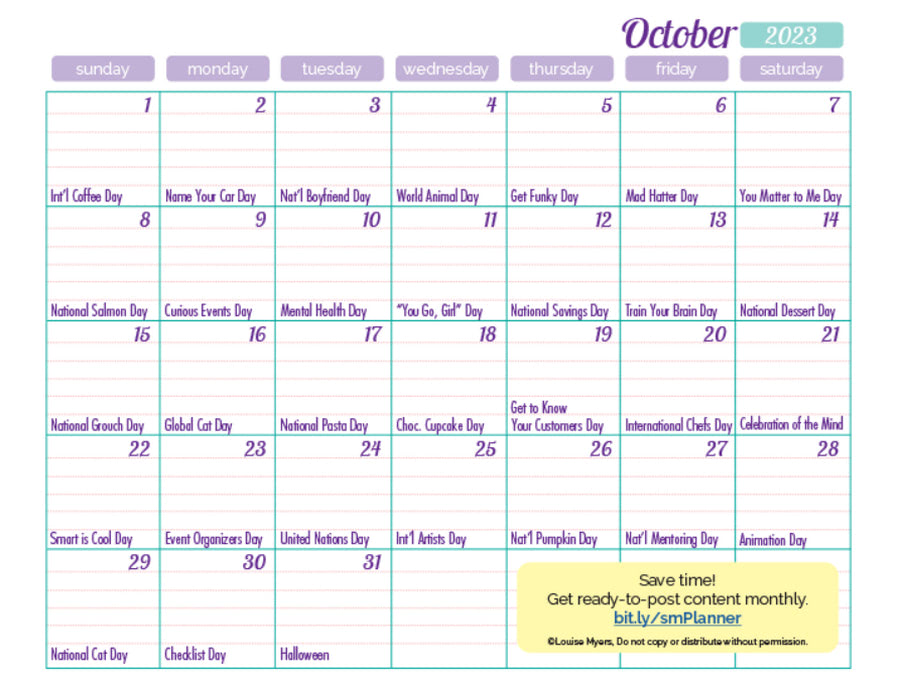 Email marketing calendar by Louise Myers
Diversity, Equity, and Inclusion
October is rightfully considered a national awareness month because it has many events and causes to draw attention to diversity, equity, and inclusion. Here is a short list:
ADD/ADHD
Down syndrome
Dwarfism
Dyslexia
LGBTQ history
Global Diversity
World Mental Health Day (October 10)
National Coming Out Day (October 11)
National Stop Bullying Day (Second Wednesday in October)
It is also Breast Cancer Awareness Month.
By supporting one or several of these causes, you raise your company's credit, cement your position in the market, build trust, and advocate loyalty. After all, social awareness is a critical factor in today's marketing development of the company.
So, how can you adapt your email campaign?
Choose several noble causes. Do not try to embrace them all – you will annoy your subscribers with too many emails.
Understand the event thoroughly and what you should do to become a supporter.
Work with the subscription list to segment it properly.
Choose one goal. It can be bringing awareness, supporting subscribers, advocating inclusivity and equity in society, promoting acceptance and kindness, or raising money.
You may also donate some of your profits this month and ask your customers to become an integral part of a charity.
Then, create a newsletter. Use Postcards; it will help you to stay neutral and hit the right chord with the crowd. Use appropriate language and incorporate design features that hint at the cause. For example, Breast Cancer Awareness Month supporters usually wear pink, so your email may benefit from some pink colors. In contrast, emails dedicated to LGBTQ history may greatly benefit from rainbow flags.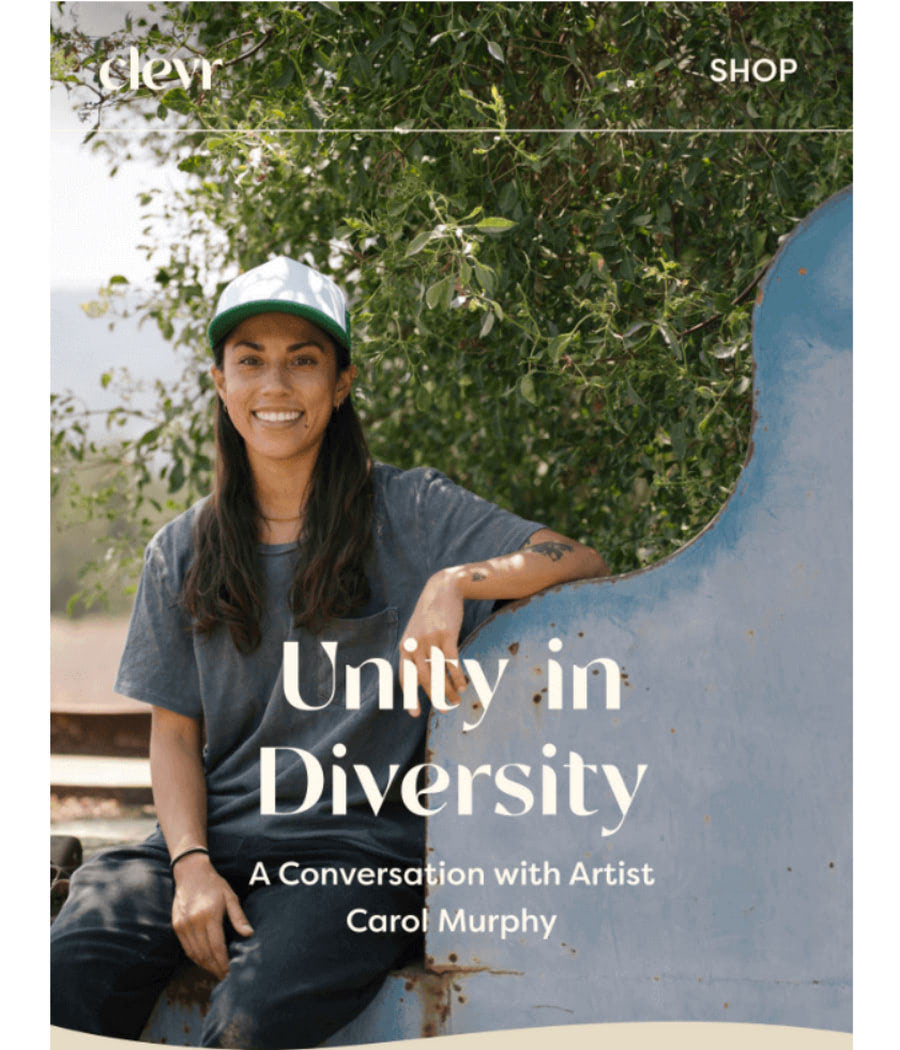 Heritage Month
Along with raising awareness of diversity and inclusivity, October is also a heritage month. It can be the perfect time to honor Filipino-American, German-American, Italian-American, Hispanic, and Polish-American heritage. If your target audience comes from these groups, you should celebrate them. You may offer a discount or share some knowledge or exciting facts as a part of nurturing campaigns.
Seasonal Blues
Like winter, fall is infamous for seasonal blues or seasonal affective disorder. According to studies, more than 14 million people across northern Europe, including the UK, are affected by this type of depression. So, it is the perfect opportunity for your company to support those people and become an integral part of the community, reinforcing customer relationships.
Lend a helping hand to your subscribers who may experience this problem by creating email newsletters that drive away this destroying feeling. Even those who do not have SAD will undoubtedly appreciate your attempt.
So, what can you do? Send emails that generate warm feelings. Use positive language and illustrations that radiate positive vibes. Stick to bright colors, light themes, and nature motifs as much as possible. Something like "10 tips to fight seasonal blues" or "Get this amazing deal to beat autumn blues" may contribute to the cause.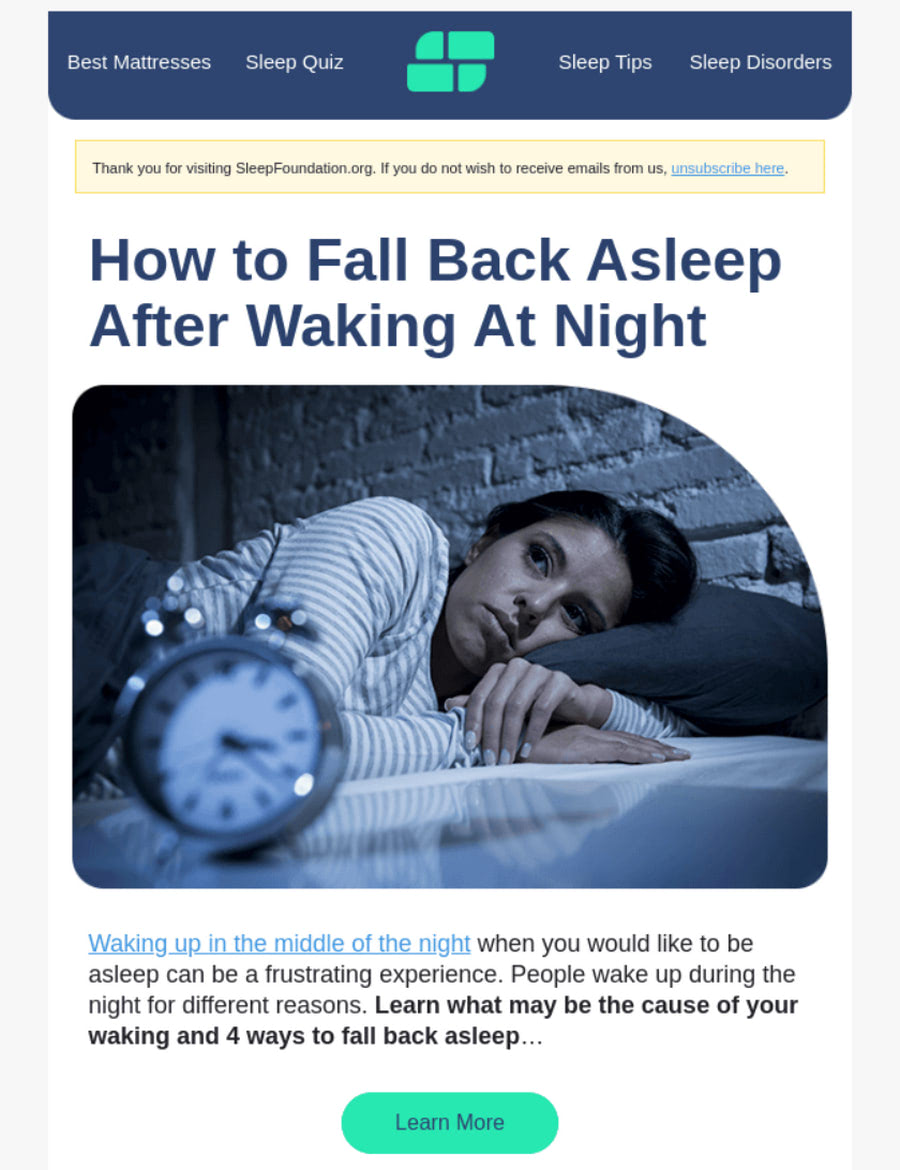 Getting Cozy
If you want to avoid holidays and various awareness-focused events, you may go for the general fall theme of "getting cozy." After all, October is the time to get jackets and hats from your wardrobe and warm yourself up with hot chocolate because chilly weather will not allow us to enjoy the Sun's heat.
Capitalize on a cozy, warm feeling. Promote seasonally relevant products that'll keep your subscribers warm during short days and long cold nights. Suggest tips on how to beat the cold and offer some hot deals, literally and figuratively. Snuggling, cuddling, and warming up – are your anchors for email campaigns.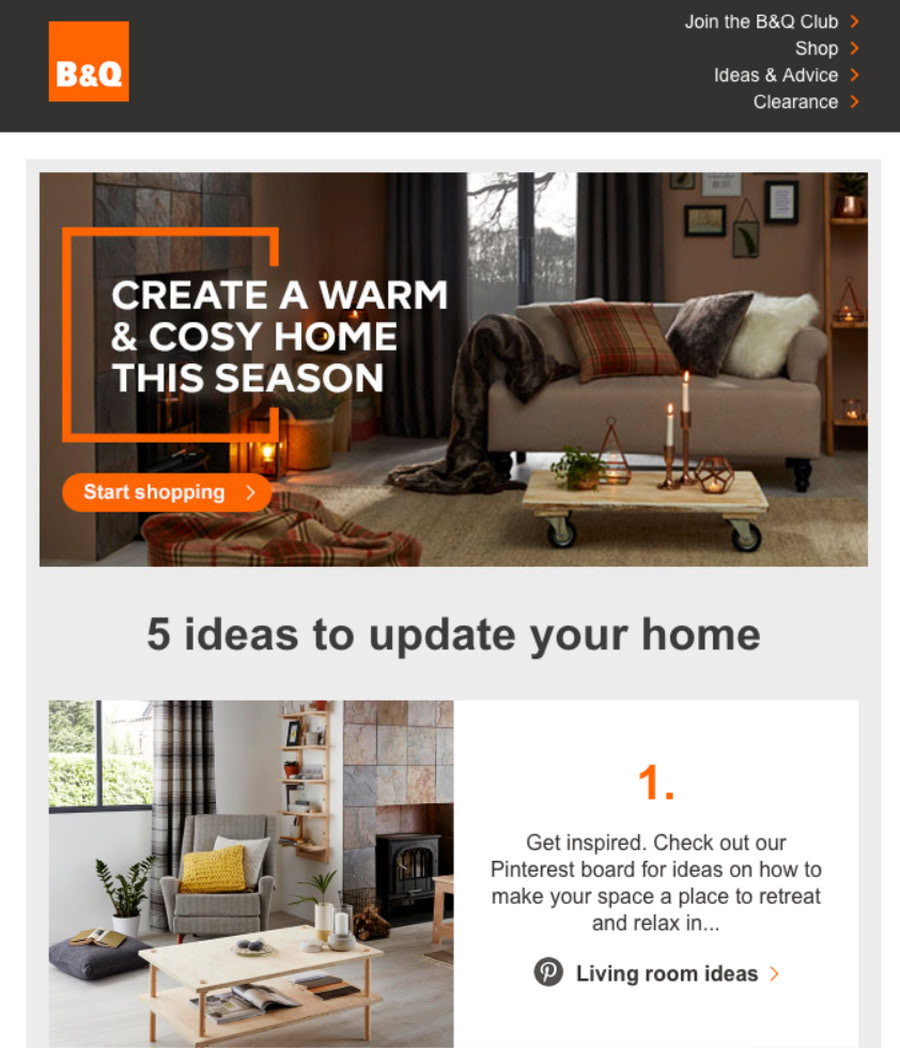 Finding the right words is always hard, especially when every phrase has been taken already. The good news is October benefits from nostalgia. It is a month of beloved holidays: the audience expects you to repeat iconic phrases and banal puns to bring everyone into the mood. Let's consider some ideas for nailing the October language.
Fall Slogans, Taglines, and Headlines
Autumn slogans and headlines are the earworms of October email marketing. They strike a chord with consumers, establish the right atmosphere, and leave a memorable impression. The famous words and phrases are golden, harvest, cozy, leafy, fall in love, falling, reap, snuggle, pumpkin, harvest, spicy, spice up, warm up, blow out, rainy, clouds of, shower of.
Here are some excellent examples:
Don't leaf without grabbing a deal!
Snuggle up with our October discounts!
Falling prices ahead!
A Price to Fall For
A shower of offers
Hello Pumpkin!
Autumn Awaits, Deals at the Gates!
Leaf Your Worries Behind
October harvest of deals awaits you!
Fall in love with these October savings!
A rainbow of October colors!
Spice up your October wardrobe!
Evil Spirits on sale now!
Let's Spice Things Up This October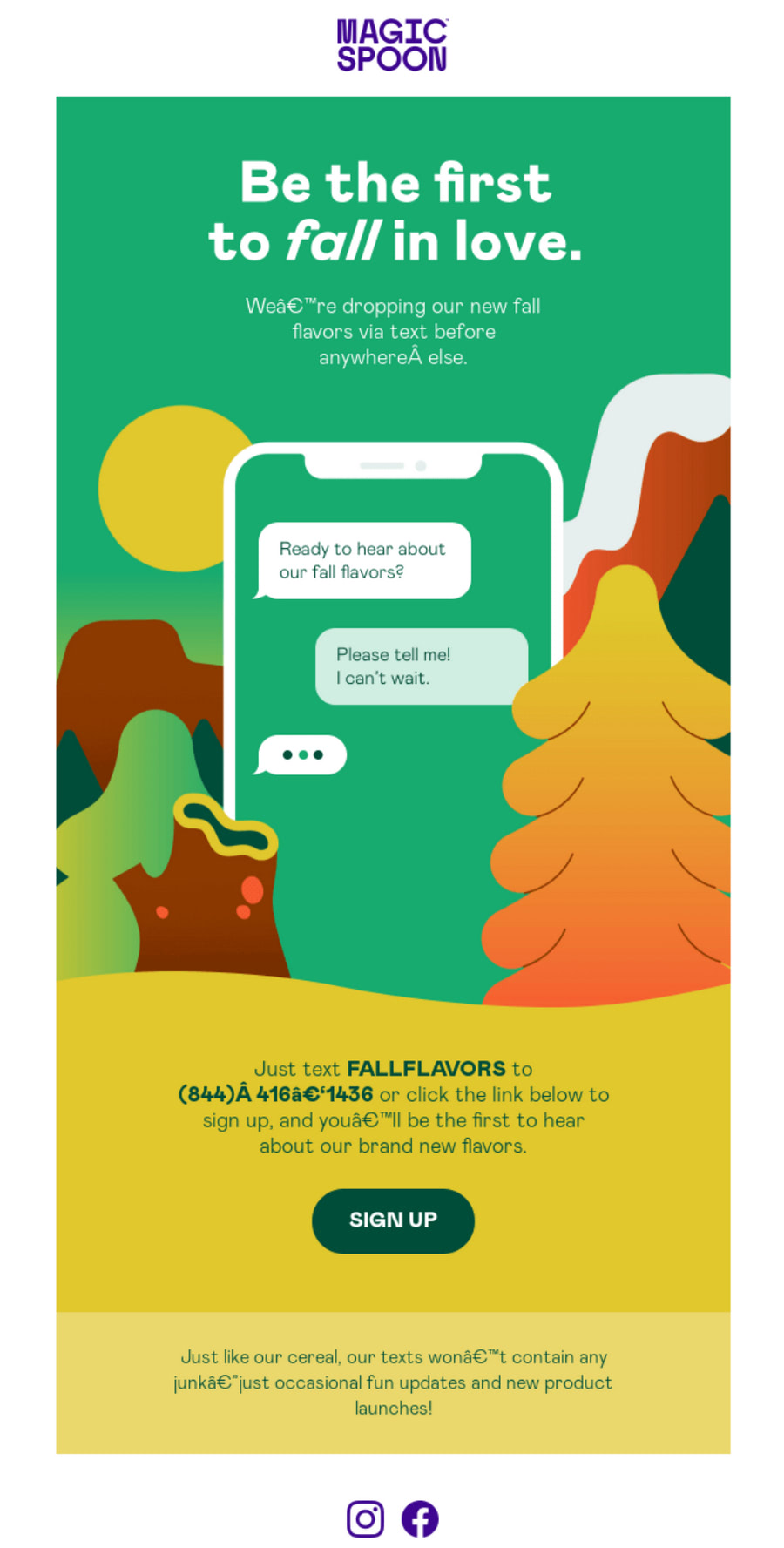 When creating content for the October email, it is crucial to consider omnichannel promotion and advertisement. Inserting hashtags is one of the easiest ways to do this. Check out these popular options: #October, #SpookySeason, #Halloween, #Leaves, #Pumpkin, #PumpkinSpice, #SweaterWeather, #HauntedHouse, #Inktober, #Trickortreat, #Happyhalloween, #Halloweendecor, #Witch, #Creepy, #Pumpkinpatch, #makeadifference, #difference, #charity.
Check social media streams to get the most popular options.
October Subject Lines
October subject lines are the ones that produce the first impression, set the scene and the right expectations, to say nothing about increasing the deliverability rate crucial for high conversions and leads.
Like slogans, subject lines also benefit from well-established fall words and phrases. Therefore, you may certainly use them. On the other end of the spectrum from seasonal words are specific Holiday words that are also worth considering.
For instance, if you plan to go for a Halloween theme, you may exploit this range of words: frighteningly, spooktacular, fantastic, spooky, creepy, scary-good, scream, wickedly good, boo, magic, devilish deals, freakish, terrific, witch.
If you intend to raise awareness of inclusivity and diversity, you may try this range of words: equality, equity, inclusion, belonging, pride, everyone, friends, folks, you, all, they.
On top of that, do not forget to level up the game with thematic October emojis. Here are some possible options:
🍂, 🍁, 🌧️, 🌈, ☂️, 🧥, ☕, 👻, 🎃, 🧛🏻‍♀️, ⚡, 🤡, 🕷,🕸,🍻 ,🥨 ,🍺, 🍫,🌕, 💀, ☠️, 🖤, 😈, 🍪, 🕯️,🦇,🔮, 🍬, 🍭, 👅, 🏳️‍🌈, 🐈‍, 🌰.
These tiny pics will quickly reinforce the key message and add much-needed emotions. Good real-life examples of October subject lines are:
Cozy Up with Our Top October Picks
Autumn Magic: Enchanted Deals Await!
Scary-good prices every day leading up to Halloween!
Deals spooky enough to make you jump!
All treats, no tricks!
Wickedly good deals await inside…
Why our employees are the best!
Did someone say… CHOCOLATE?
Sale, thrill, and chill!
Fall for Fall!
Fall's Pride! 25% OFF For 2 Days!
Spice Up Your October Nights
Get in Scary Good Health Before Winter
Beat seasonal blues with these 5 ideas
6 Frighteningly Good Tips
We're Casting a Spell for Chilling Results
🥨 Come hang with the gnomes at Design Toscano's Oktoberfest 🥨
O' Zapft Is! 🍺 Raise a glass to $26 Oktoberfest tees
Oktoberfest Is Here! 🍻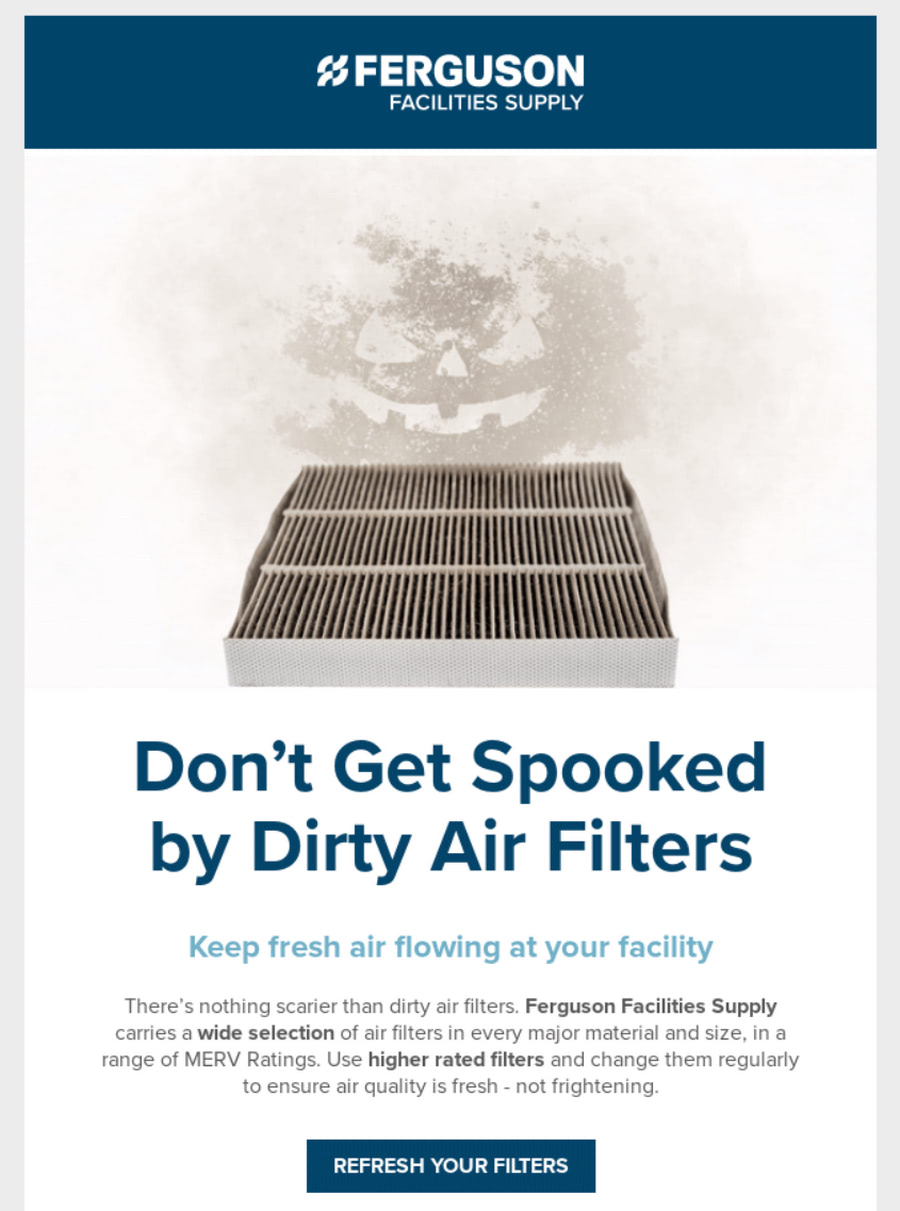 Email from Ferguson Bath, Kitchen & Lighting Gallery
Key Traits of October Email Design
Finishing with a clear understanding of what makes an October-tailored digital newsletter from a design point of view is a great way to provide a coherent user experience for subscribers.
Let's consider the key characteristics of October designs, such as color schemes, typography, and motifs, so that you can make an informed decision about the email's appearance, content display, and atmosphere.
Colors
October's color palette is dominantly warm. It is based on orange and caramel. Brown, yellow, green, and blue are also perfect choices. Depending on the topic of an email campaign, you may also benefit from a range of rainbow colors or tandem of black and bloody red.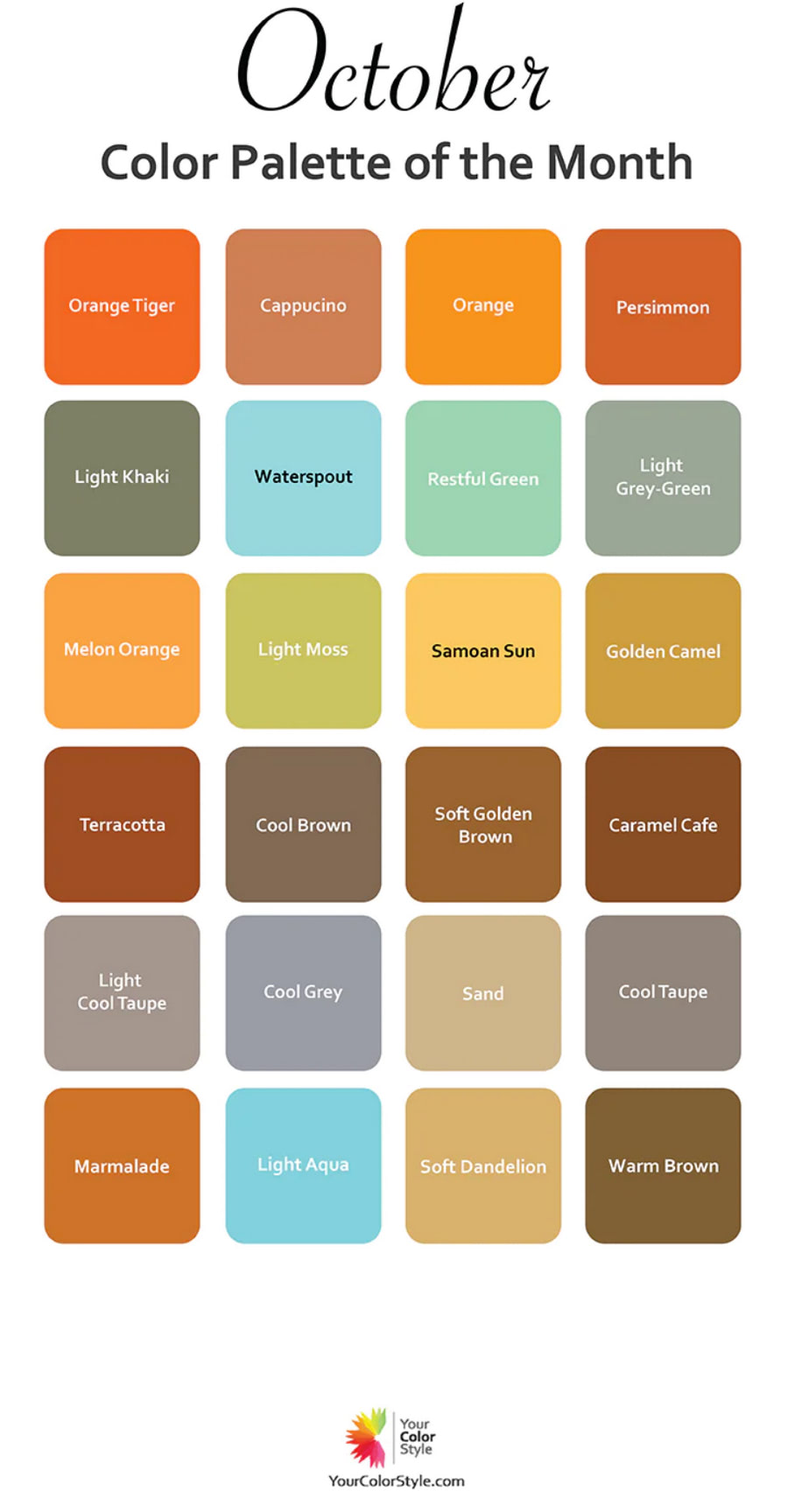 The color scheme from Your Color Style
Typography
October's fonts can be fancy, playful, imaginative, mystic, and scary. You can also go for popular options like geometric typefaces with soft corner terminals, utilitarian font families with friendly characters, or fancy handwritten script fonts.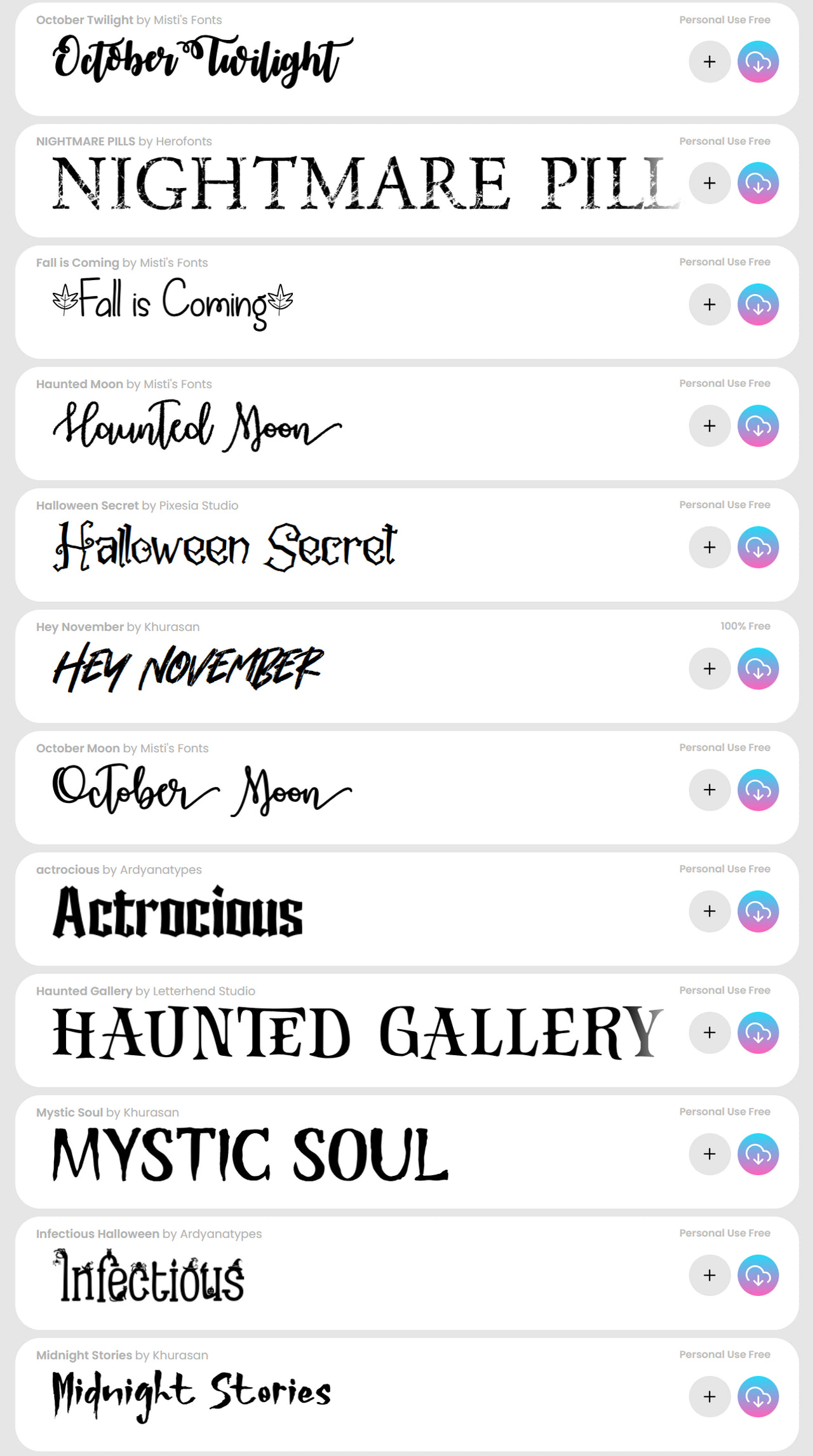 Motifs
Since traditionally, farmers harvest their crops in October, the prominent motifs for the digital newsletter should be centered around nature: leaves, crops, harvest, flowers, pumpkins, seasonal vegetables, trees, and gardens. You may also play with illustrations and images that recreate cozy, warm atmospheres like sweaters, fleece, fire, and hot beverages.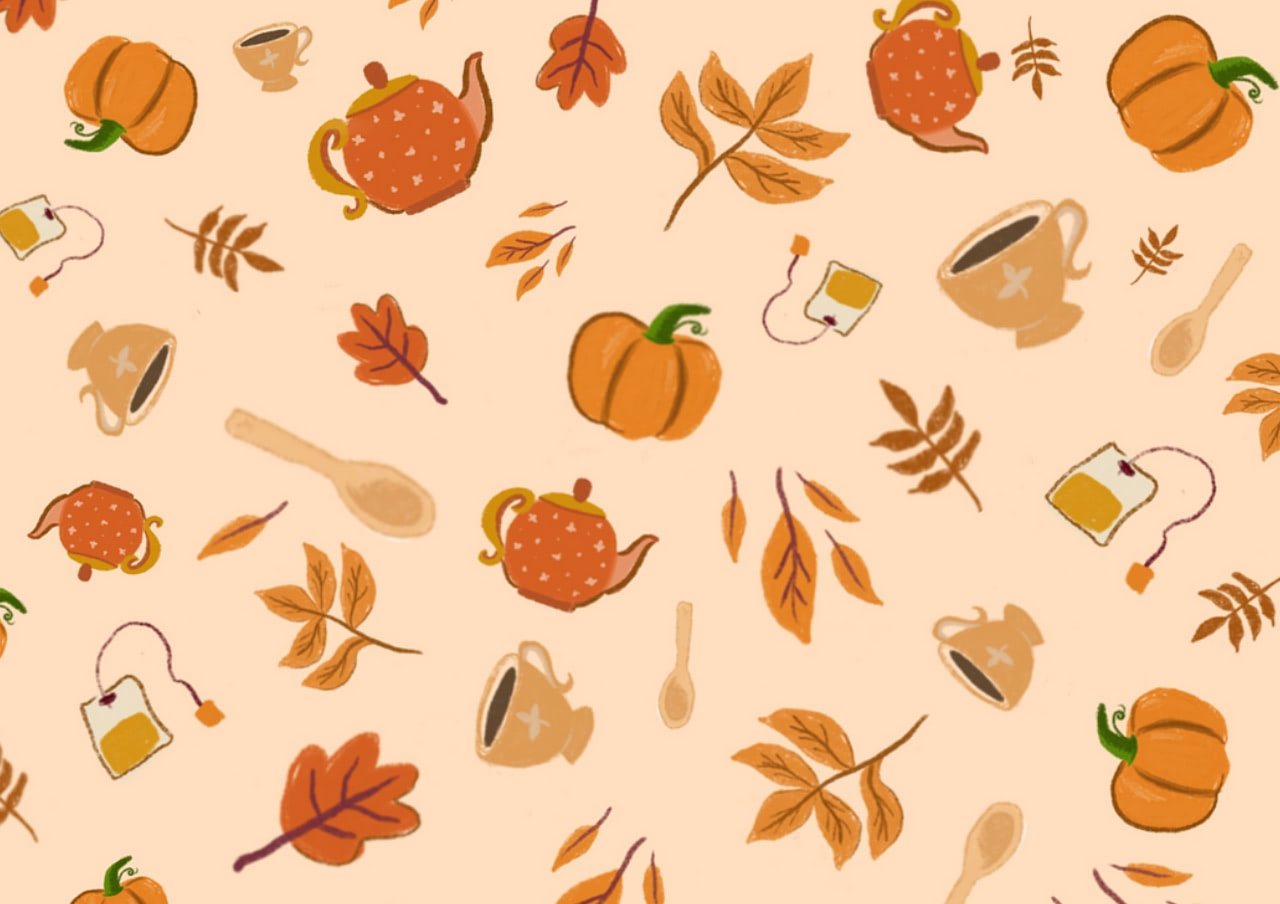 Autumn pattern by Rachel Yeo

While there are a ton of October newsletters out there, what makes the email from Austin Eastciders remarkable is its outstanding fall atmosphere. It greets the subscribers with warm orange leaf motifs from the get-go, skillfully pointing out its range of products. Orange, brown, and beige are the primary colors that support the overall autumn topic and underlie a solid foundation for advertising goods.
The team also uses an informal tone at the intersection of informational and hilarious and some urban graphics and typography. This approach helps to target millennials and a younger generation that is predominant in their audience.
The positive fall tone blended with knowledgeable insights makes it one of the most effective email newsletters in the niche, suitable for many serious sectors.

In continuation of the fancy October theme realized through well-introduced graphics and illustrations perfectly supported by the witty tone and masterful pun, Cracker Barrel's email rightfully occupies its place in our list of the best October newsletter examples.
Everything here screams mid-season: graphics, color scheme, typography, language, and images. The newsletter instantly drags you into the October atmosphere, radiating much-needed warmth and putting a smile on your face.
Note that this is a traditional informative campaign for seasonal products. However, how the team has done it certainly deserves attention since it capitalizes on the fall theme and instantly resonates with the crowd.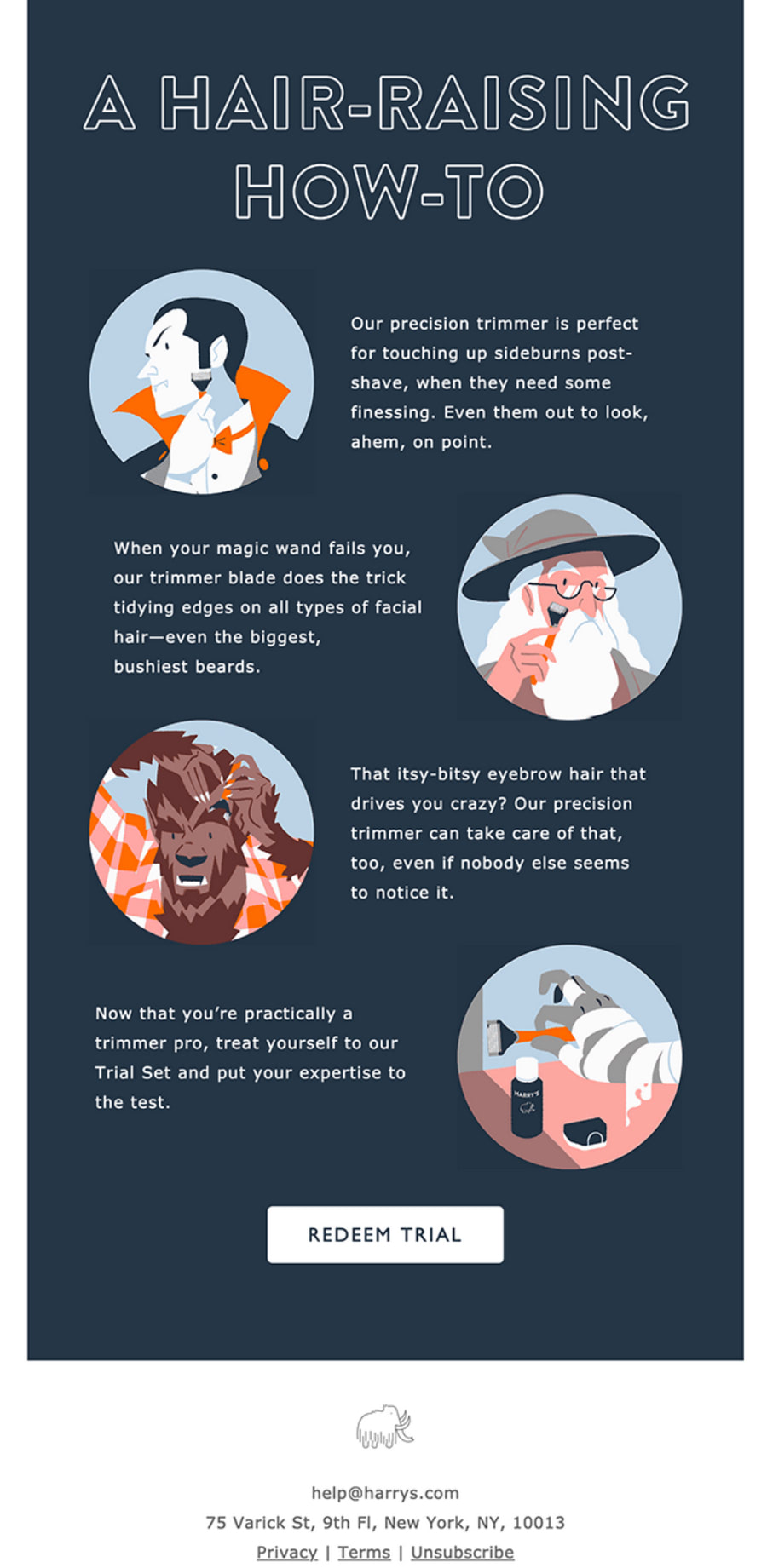 This email from Harry's is another informative email created to nurture subscribers and reinforce loyalty. Using a creative approach inspired by Halloween, the team created a "spooktacular" newsletter design that instantly grabs attention. Here, tips are not just served but, most importantly, delivered to the crowd in a witty way that leaves a memorable impression.
Such a playful approach during the holiday season, as a rule, generates not just traffic but, most importantly, new subscribers because this material is bound to be shared with friends and colleagues.
It is crucial to note that the email is compact and dedicated solely to tips. There is just one call-to-action button on the bottom. This way, the email does not overload subscribers and naturally focuses on essential data.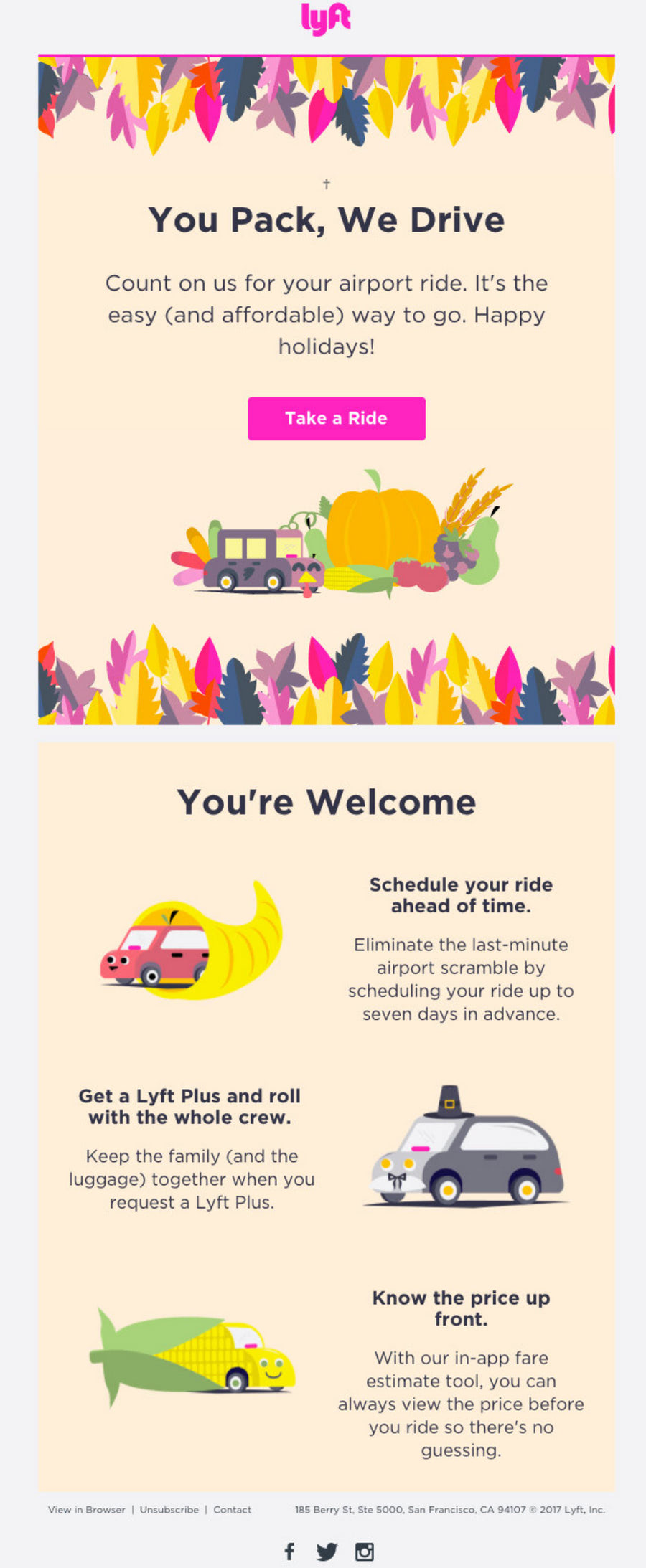 Whatever niche you work in, whatever audience you serve, you may find a way to use October motifs in campaigns. Consider an email from Lyft as a representative example. Despite their busy marketing calendar, they have found a way to create blasts dedicated to October month.
The team has skillfully played with a fall theme to avoid being dull when reminding subscribers about the service's in-demand benefits. Harvest illustrations, leaf graphics, and warm coloring put everyone in a good mood. The newsletter reaches the audience, leaves a long-lasting positive impression, and generates some quality leads.

Even big corporations do not stand aside. October is a prolific period when they can focus on relationships with customers and offer valuable content to cement their position in the market. The email from Disney is one of those examples.
One of the biggest streaming channels exploits October to its full extent. After all, they have something to show for it, especially on Halloween.
Note how the newsletter sets expectations right from the doorstep with its outstanding subject line. "Play a spooky Halloween game!  🎃" – who does not want that? The newsletter promises to bring fun and excitement – this is irresistible during cold autumn days. Disney's email marketing team has hit the right chord with the crowd.
As for content inside, it does not disappoint. Not only is it packed with a Halloween vibe, but most importantly, it offers a gamified experience enriched with interactive features. This is 10 out of 10.

This email from Goody is our collection's first example showing how to support the community during autumn, turning customers into the brand's aficionados.
As we have already mentioned, October is a month of raising awareness. The Goody's email marketing team has decided to draw attention to LGBTQ+ by listing their partners who give back.
They declare their support and demonstrate empathy, reinforcing their position in the market. They also generate traffic and discover new brands for subscribers who may benefit from this collaboration.
Take a closer look at the design. It features an unmistakable pride flag at the top that organically collaborates with the rest of the design. The coloring is bright and warm, perfectly echoing the central theme. The overall atmosphere is cheerful, friendly, and welcoming.

The email from Lending Tree exploits a Halloween theme to provide a unique user experience impregnated with a holiday vibe. This winning approach of presenting regular content goes a long way. It increases engagement, drives traffic, and generates conversion. It also builds loyalty and strengthens the company's reputation.
The newsletter is well structured with the reasons to choose the service among the rest. Note how the team managed to incorporate witty and hilarious Halloween language. The top announcement starts with a captivating title that turns dull stuff into amusement. Afterward, each block has an accompanying Halloween illustration that ties everything together. Is it not wickedly magical?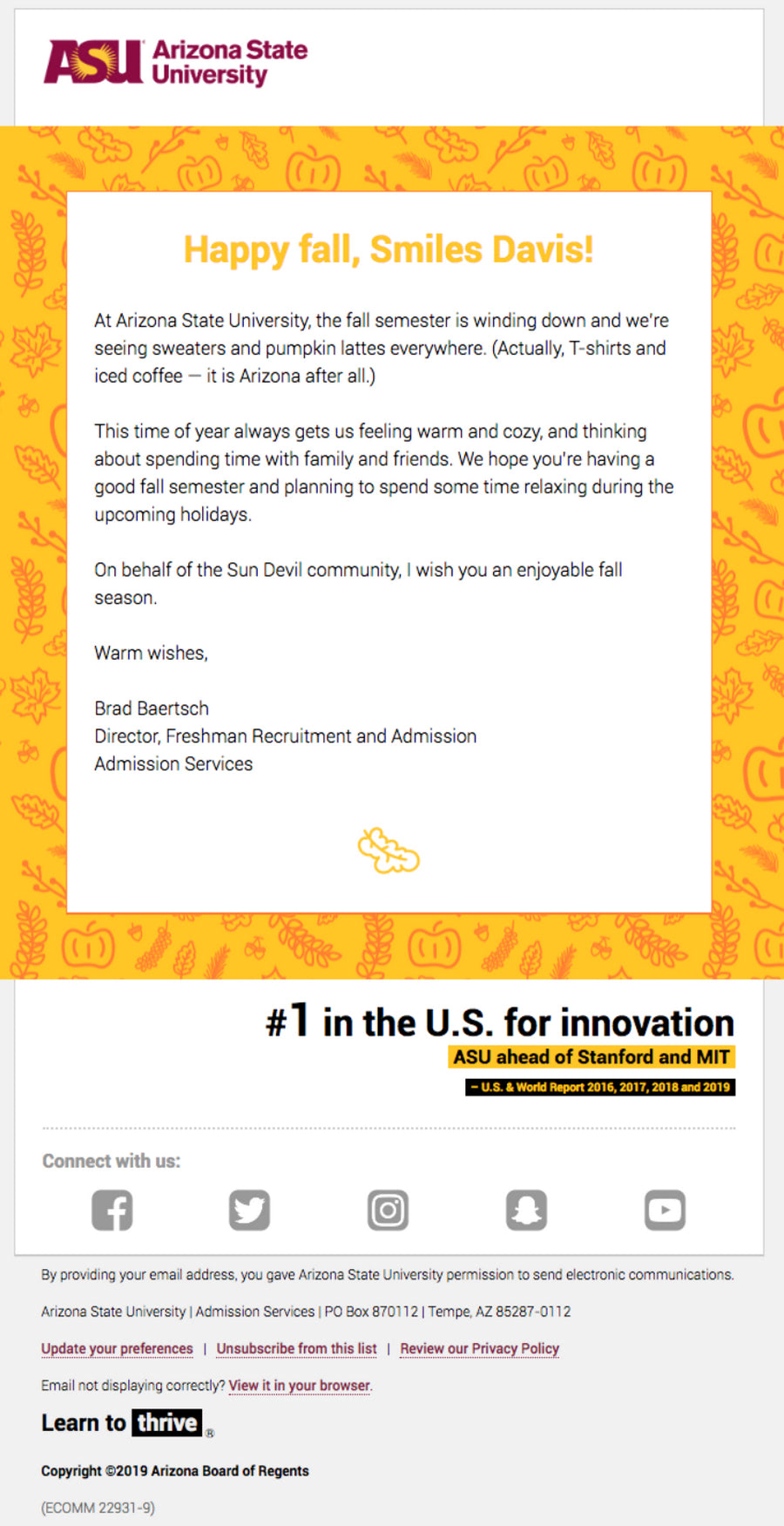 Even non-nonsense niches like academic education can make the most out of the warm autumn feeling in their digital correspondence with the students. Look at the onboarding email from Arizona State University.
There are two key factors to focus on. First – the design. The team uses harvest patterns to adorn the background and set the atmosphere. They have also chosen warm coloring to reinforce the overall impact.
Second – the language. Just take a minute of your precious time (actually, this is all you need because the copy is short, sweet, and to the point) to read the message. It is just ingenious. The team has skillfully incorporated humor into the welcoming speech, breaking the ice and leaving a long-lasting positive impression.
The email from ASU is the perfect example of a welcome email that makes students feel like a part of a vast and diverse university family.

What if your niche has no connections to autumn and its holidays, and your products are not seasonal? We have already shown the way to benefit from October motifs. However, let's extend the landscape and consider businesses dedicated to pets and how they can incorporate the October theme as well. An email from Finn is a good example.
Finn is a company that offers natural dog vitamins and supplements. Even though their niche has nothing to do with Autumn and Halloween, the team efficiently introduced it in their email marketing campaign.
The newsletter bears unmistakable pumpkin-inspired October charm. The team has played smart, staying away from overdoing it. They have introduced autumn motifs through huge orange blocks and an appropriate color scheme. This is an excellent example of how color can make a huge difference. As a result, subscribers enjoy the light fall atmosphere that naturally directs attention to promotions and makes the company look and feel relevant to the period.

"Your scary good deal is here 👻" – it's apparent that this message is all about Halloween.
The email from Clear takes subscribers by storm and compels them to open the email without much effort. Setting high expectations in the subject line, they have managed to live up to them in their newsletter because it is horrifyingly good.
The team has dressed up email right to the occasion. Dark scenes, creepy typography, and spiders are all over the place. The newsletter doesn't contain many texts but is still loud, thanks to the "spooky" design. It naturally drives the attention to the offer and brings value and excitement.
Conclusion
Associating your brand with fall trends and traditions allows companies across niches to benefit from consumers' emotional ties to fall. Thoughtfully created October-inspired digital newsletters naturally relate to the audience's pre-existing values and interests and play on sentiments. Therefore, these campaigns may quickly return almost-lost customers, nurture loyal clients, increase much-needed traffic and conversion, and underlie a solid foundation for the upcoming Christmas season.
October is rich in events and occasions. Not only is it all about Halloween or harvest but also about inclusivity, heritage, coziness, fall blues, and some fantastic local and international holidays. The landscape is vast with numerous opportunities to exploit and benefit from.
Therefore, please give it a thought and create a marketing calendar to fit your niche and target audience's needs and expectations; prepare your designs beforehand, follow the trends, and add some tasty orange pumpkin spice to your digital newsletters to strike the right chord and catch the mood of the crowd.
Like what you're reading? Subscribe to our top stories.