Best StatusCake Alternatives in 2023
StatusCake is a versatile network monitoring software that grants users professional instruments to track and analyze the performance of the most critical aspects of the system's infrastructure. This includes uptime, page speed, domain, server, and SSL. Each category has its benefits. But we have collected best StatusCake alternatives.
Uptime monitoring allows for automatic testing from 30 points scattered across the globe.
Page speed monitoring allows for testing the performance of pages from various locations.
Server monitoring does regular checkups on custom thresholds, RAM, CPU, and disk usage.
SSL and domain monitoring tracks renewal dates.
On top of that, the platform generates reports, has an alerting system to notify about the downtime the support team via several primary channels (SMS, push notifications for both operating systems, or integration with Zapier and PagerDuty), and offers well-designed public-facing dashboards to inform end-users.
Despite being pretty small, Statuscake is an effective uptime monitoring solution with the essentials and some extra features that come in handy for IT and support teams. To enjoy the benefits of Statuscake, companies have to pay from $21 to $67 per month. Plus, they need to be ready to minimize and mitigate its shortcomings, including:
Limited phone call alerts
Fewer test regions
Poor built-in incident management
Outdated status pages, status badges, and email templates
Tricky mobile version
StatusCake provides a solid ground to get started in this direction; however, coming with certain shortcomings and the absence of some vital features, it may push you to consider other options seriously.
If you are one of those who have doubts or are unsatisfied with Statuscake's capabilities, you can check our list of the best StatusCake alternatives in 2023 to find the better option for your web infrastructure monitoring needs and IT team's capabilities.
Read more about other alternatives:
No-Code Email Template Builder
With Postcards you can create and edit email templates online without any coding skills! Includes more than 100 components to help you create custom emails templates faster than ever before.
Try Free
Other Products
Best StatusCake Alternatives 2023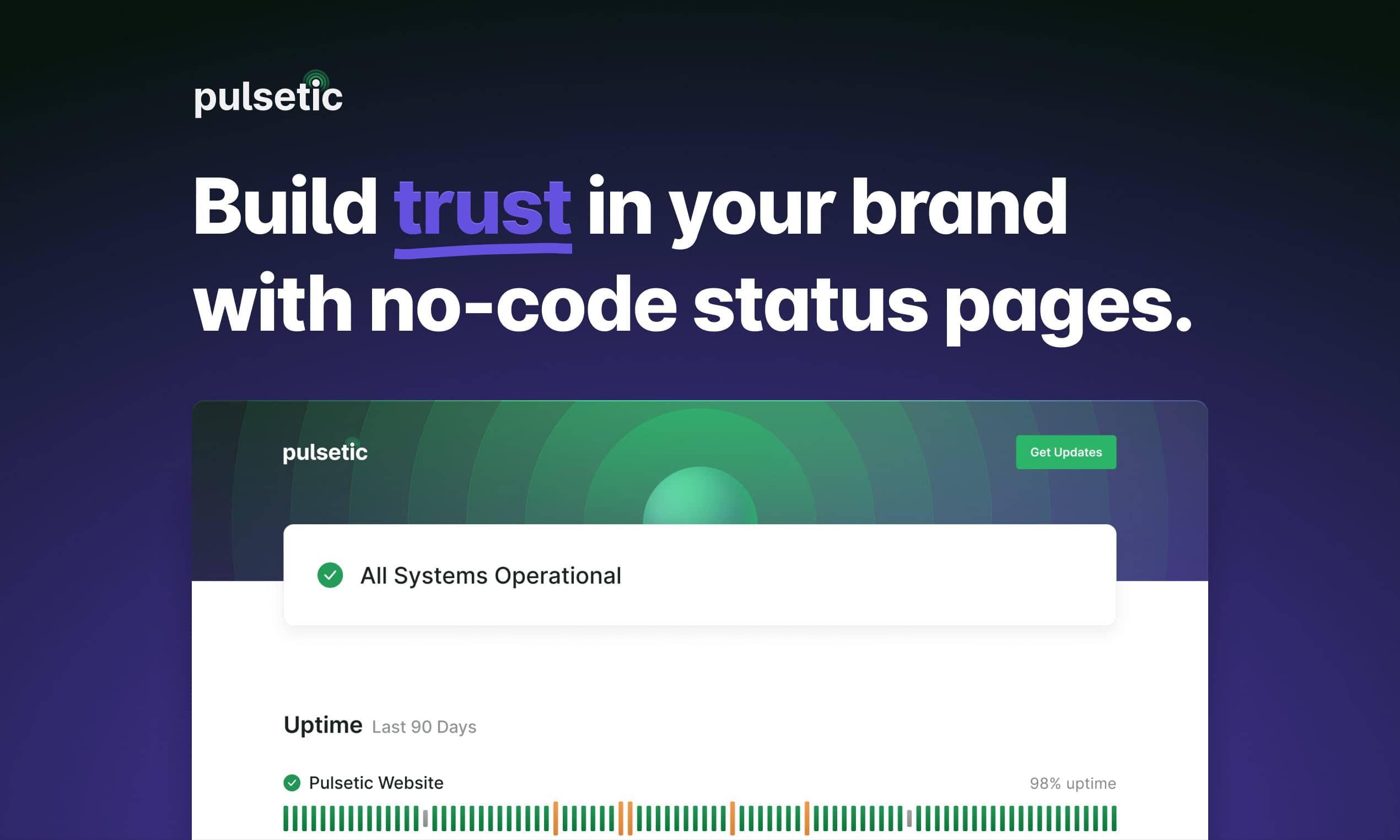 Pulsetic is one of the best StatusCake alternatives in 2023. Not only does it provide the best value for its price, but most importantly, it is regularly updated and improved to meet all the criteria necessary for a successful system health monitoring for the time being.
Its main features include:
Monitoring critical aspects: uptime, page speed, SSL certificate, etc.
Precise downtime alerts by phone call, SMS, email, Slack, and other popular communication channels.
Fully customized requests.
Multiple data centers around the world, including North America, Europe, and Asia.
Detailed regional reports.
Password-protected status pages.
Multi-role collaborative environment.
Pulsetic covers the same range of capabilities but has fewer shortcomings than StatusCake. Plus, it comes with some bonuses. For instance, it has a fully responsive dashboard that works great across multiple devices (including those with small screens), so you can access monitoring data through a phone or tablet. It is intuitive with a minimal learning curve. Anyone can get the hang of the platform within seconds.
Another considerable benefit of Pulsetic is its powerful, regularly revisited, modernized status page builder and badge creator. Both these instruments are critical in the uptime monitoring routines. They take incident management reports to the next level and drastically simplify the work of IT and support teams.
Pulsetic has the best price for its value in its niche. For $19 per month, companies may invite up to 5 team members, monitor up to 50 websites or APIs, use 1-minute check intervals, track websites from five regions, integrate with third-party services, and capitalize on status page incident updates and professional, modern-looking email templates created to notify subscribers.
There is more. The free tier is included as well. It is the perfect option if you want to test the ground or need a reliable monitoring solution for your website.
Data Dog HQ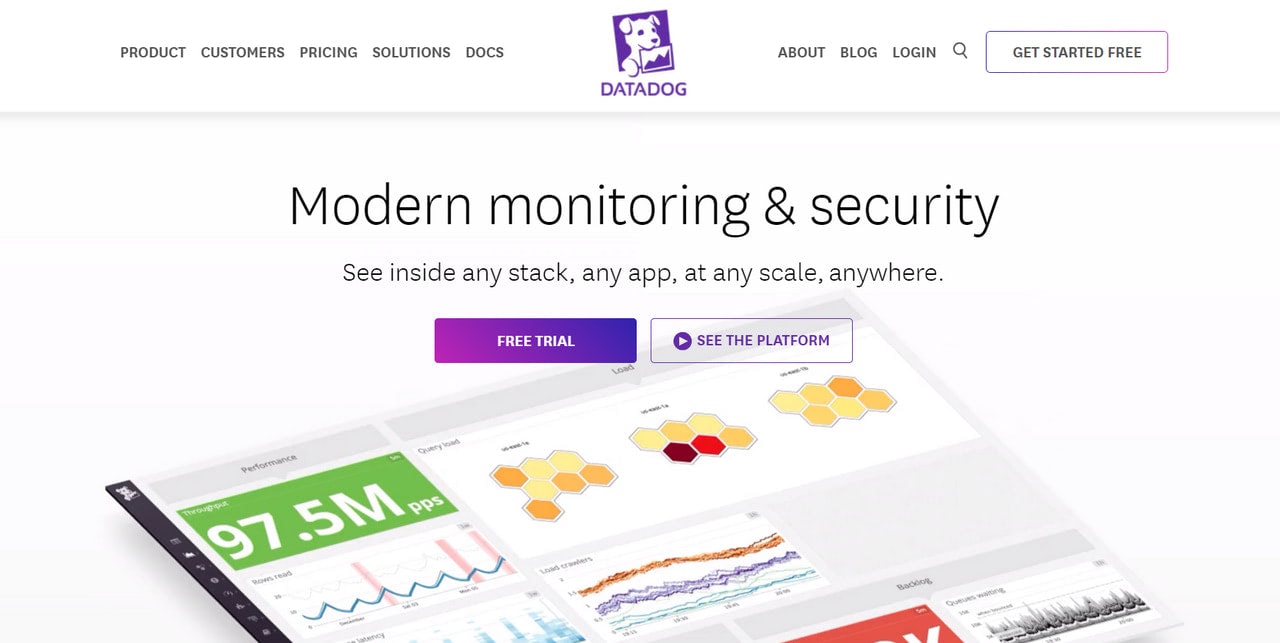 Data Dog HQ is a complex monitoring and security platform for cloud applications that use AI-powered technologies to provide the best result for their clients. It covers numerous use cases, from cloud migration to security analytics to on-premise monitoring.
As for monitoring, it can track various devices and units of the system, including databases, servers, networks, and services. However, when it comes to infrastructure monitoring, it offers the basic suit of products:
Monitor uptime SLAs and SLOs.
Globally managed locations.
Traditional alerting capabilities.
Monitoring of user journeys.
Intelligent, self-maintaining tests.
Latency display of DNS, SSL, TTFB, and more.
Unfortunately, the system does not have several standard features inherent to other popular StatusCake alternatives like status page builder, status badge creator, or generation of regional reports. Nevertheless, it provides a deep insight into the system's health necessary to improve its performance.
Data Dog HQ's proactive end-to-end visibility comes with a price. The basic plan starts at $15. This allows:
Monitoring of specific systems, services, serverless functions
Integrating with popular applications and third-party solutions
Keeping 15-month metric retention
As for a free plan, it offers 1-day metric retention, monitors up to 5 hosts, and gives access to several pro features.
Sematext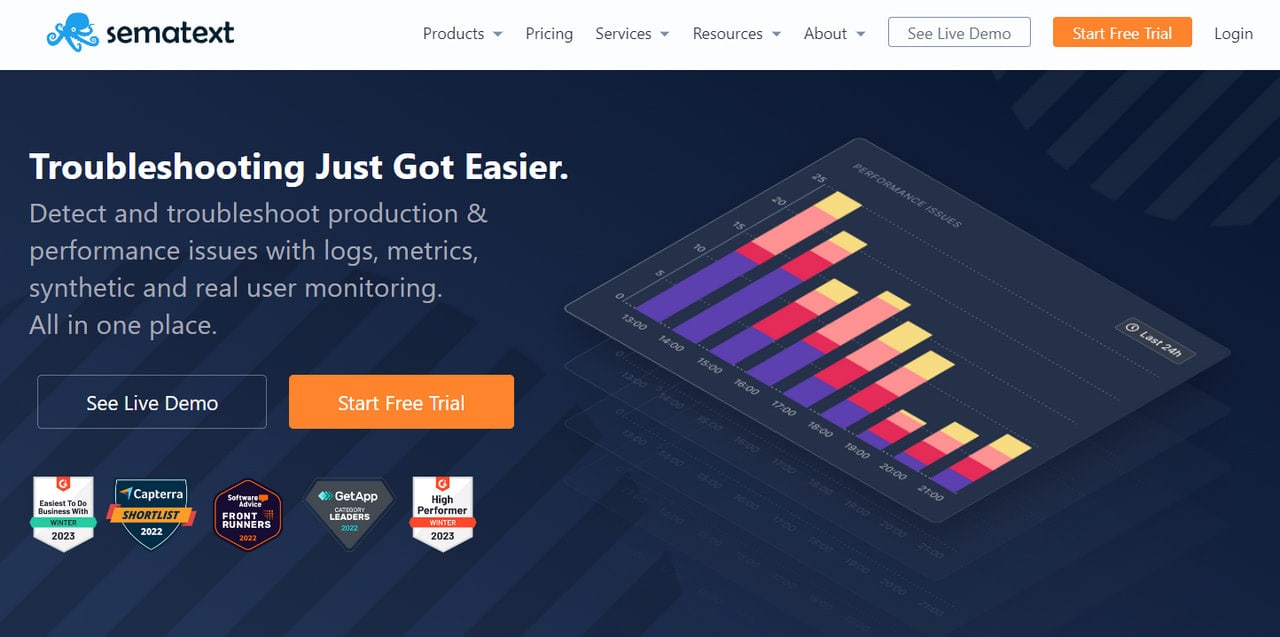 Sematext is an expert in providing monitoring tools for DevOps teams. It is one of those reliable StatusCake alternatives that pulls together all essential related monitoring tools that big organizations need to troubleshoot performance issues faster and more efficiently. Consider its main areas of coverage:
Web application performance monitoring
Real user monitoring
Database monitoring
Network monitoring
JVM monitoring
Tracking and analyzing the efficiency of servers, processes, devices, units, and portals
On top of that, it has basic features, such as
Alert system that notifies the team when the outage is detected through several communication channels, including email and mobile push notifications
Integrations with popular services and applications, including Slack, PagerDuty, ChatOps tools, and Zapier
Status pages
Accessible API for logs, metrics, and events
It is a StatusCake alternative with all the features necessary to track every unit of the system's environment. Note these capabilities add to the complexity of usage of the platform, so do not expect it to be simple to handle.
The pricing for such a range of capabilities is above average. For instance, the basic plan that includes 45 monitored units sets the company back nearly $30. However, this plan includes extra functionalities such as user journey monitoring and authentication for protected pages.
If you doubt the service, you can always try the plan for free for 14 days. No credit card is required so you can leave without strings attached.
Alertra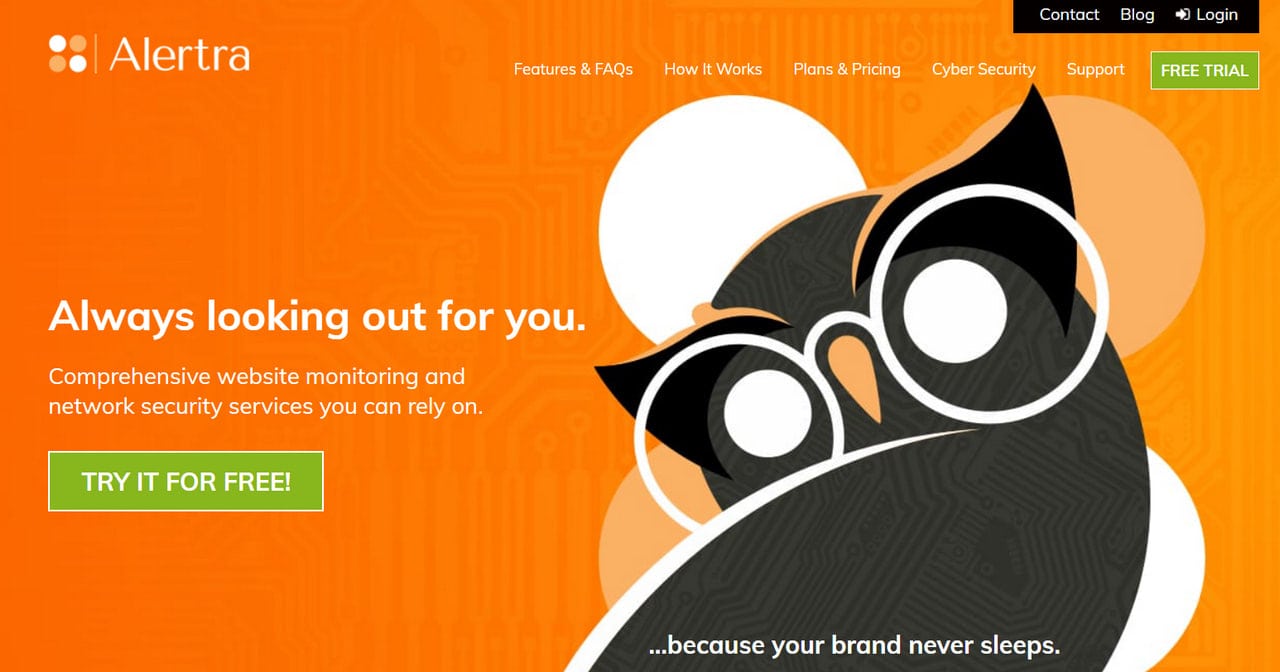 If the previous two StatusCake alternatives are too much for you because you seek an oversimplified, relatively cheap, yet reliable StatusCake alternative, then Alertra is a service to go. It includes only critical features of website performance (uptime, logs, and SSL certificate) from multiple servers across different regions around the globe, including Asia, Europe, and North America. It also notifies the team when an outage or slowdown occurs.
Its main benefit is that it keeps a watch on your site's uptime 24 hours a day and checks your site as often as every few seconds. On top of that, it sends alerts through phone, SMS, and email, pushes notifications to iOS- or Android-powered devices, and integrates with Google Talk and XMPP.
The main disadvantage is that it does not have a status page and badge builder. Therefore, if you want to use this tool to keep your users updated on the system's health, status and incident management current situation, you should use external services to address this shortcoming.
The pricing is a bit tricky because there are no bundles or levels. You pay only for the functions you need. The platform charges 20 cents per URL for 60-minute monitoring. A minimum monthly fee of $9.95 applies to every customer, regardless of the configuration. Clients should pay for notifications made by phone calls and SMS separately, whereas email and push notifications are free. To calculate the possible price for your targets, create a free account.
StatusPage Atlassian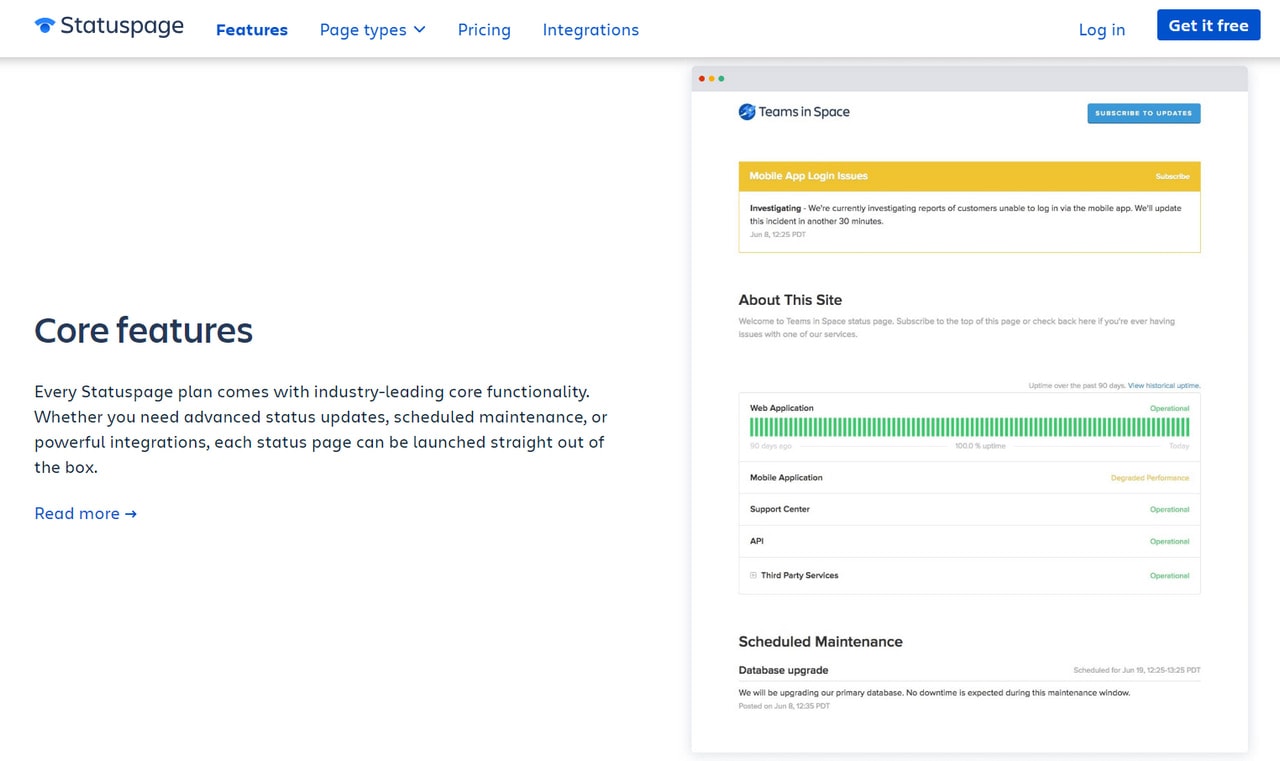 Our list of StatusCake alternatives will not be complete without big names, like Atlassian and their StatusPage. Although this Australian software company is primarily known for developing solutions for software developers and development teams, they also have something special for you if you are up to uptime tracking and incident management reporting.
StatusPage by Atlassian was explicitly designed to stand tall in this niche. Their suite of products includes the following:
Accurate communication of status for each part of your service, including mission-critical tools that your service relies on.
Beautifully designed elements to show data through graphs or schedule maintenance through notifications.
Alerting system that informs customers through SMS, email, Slack, and ChatOps.
Sending notifications to the list of subscribers.
Automated updates for status through a series of popular services: Opsgenie, PagerDuty, VictorOps, and xMatters.
Extensive support for 3d party components.
Access to REST APIs.
On top of that, Atlassian allows companies to create three types of status pages: public, private, and audience-specific.
The price starts at above-average $29 per month. It lets the company add five team members, work with five metrics, use basic customization for the status page, and link a custom domain.
The next tier doubles capabilities and throws into the mix some extra features. Starting at a staggering $99 per month, it allows clients to send notifications to 1000 subscribers, apply custom CSS styles in status pages and employ webhook notifications.
The good news is there is a free plan. Using it, clients get access to 100 subscribers, 25 components, two team members, two metrics, notifications through email and Slack, and REST APIs – a good start for solopreneurs and some startups.
There is a plan for big companies. The enterprise tier handles 25,000 subscribers, 50 team members, and 50 different metrics. If you run a huge company or agency that deals with numerous clients, you may simplify the workflow through this handy automated platform.
Conclusion
Monitoring a website's critical aspects is one thing; finding the best platform for your company and team's capabilities to do that and solve issues is another. StatusCake is a great uptime monitoring tool, yet it does not suit every need. The good news is that there are multiple Statuscake alternatives that may provide the best solution in this category for your business.
Among the best StatusCake alternatives, you should set your eye on Pulsetic, with a range of similar capabilities that offers the best value for the price; Alertra, with an oversimplified approach to the task suitable for solopreneurs, and hobbyists, Data Dog HQ, Sematext, and Atlassian with one-in-all solutions that give companies much more tools to monitor website's performance suitable for creating total control of system health.
Like what you're reading? Subscribe to our top stories.