Top 18 AI Tools for Marketers to Try in 2023
With ChatGPT writing for blogs and MidJourney generating jaw-dropping artworks that have already won prestigious prizes, it is no surprise that AI has become the talk of the town. This new stage of evolution in digital tools promises to become our future that will influence all spheres and sectors, including digital marketing.
As a matter of fact, it has already put down its roots in the digital marketing universe. According to Forbes, over 80% of companies used AI machines or integrate some form of AI technology into their online marketing activities in 2018. At the same time, a 2019 survey by the American Marketing Association revealed that implementation of AI had jumped 27% in the previous year and a half. So, AI is certainly here and is slowly but surely conquering the marketing world.
The best part is that AI's introduction into the digital marketing routine has not gone unnoticed even in such a short time. The study conducted by Capgemini shows that 75% of those who implemented machine learning managed to increase sales by more than 10%.
Read about:
This is an excellent start for technology that only recently has managed to step into the digital universe and still requires lots of polishing and enhancement to unlock its true potential. Let's dive deeper into AI's current possibilities and capabilities to understand why many marketers become AI evangelists and followers.
What Can AI Do for Marketers?
So, what can AI tools and machine learning do for marketers right now? As it turned out, despite being at its early stage of evolution, its current sphere of usage is vast. The technology has already brought numerous benefits for digital marketers, easing the monotonous routine's burden, accelerating the workflow, maximizing productivity, and taking companies to the next stage of their life cycle with less effort, time, and budget.
No-Code Email Template Builder
With Postcards you can create and edit email templates online without any coding skills! Includes more than 100 components to help you create custom emails templates faster than ever before.
Try Free
Other Products
Popular areas where AI tools contribute and even revolutionize how things are done include advertising, content marketing, analytics, communications, customer service, e-commerce, email marketing, social media, and sales.
It does boring, mundane, repetitive chores, encouraging creative flow.
It clarifies the problems through in-depth and accurate analysis of the mass of data.
It defines what drives Marketing Qualified Leads and Sales Qualified Leads.
It optimizes marketing campaigns.
It upgrades customer experiences and support to the next level by predicting ideal customer profiles and orchestrating every aspect of serving customers and selling routines.
It introduces hyper-personalized customer experience through intelligent Chatbots, virtual assistants, and recommendations.
It reduces revenue churn by defining risk models and streamlining risk predictions.
It increases sales efficiency and customer lifetime value through accurate targeting and well-optimized messages.
It predicts outcomes more accurately, helping marketers choose the company's best strategy, including intermediate cross-sell and up-sell campaigns.
It improves the precision and profitability of pricing.
It defines all categories of customers, from the most loyal to almost lost ones, quickly and efficiently using accurate RFM analysis.
It sifts through mountains of data in a much shorter time.
The scope of AI possibilities and capabilities in real-world applications include:
Content generation, moderation, and amplification across social media.
Bot design and development for 24/7 customer support.
Customer, competition, campaign, and strategy analysis.
Brand engagement through various distribution channels.
Pricing and budget building.
Risk elimination.
Predictions and targeting.
Automation of repetitive tasks.
Testing content and campaign.
Suggesting relevant content and ads that work and convert through training models with historical data.
Social media listening and brand awareness to discover trends and potential customers.
Address complaints.
Monitor social media, email, and website performance.
It is crucial to note that AI capabilities are still fairly simplistic for customers. Most often, prospects interact with AI-powered components in such forms and ways as:
Personalized product recommendations and advertising.
Enhanced shopping experiences.
Generated content on the website, social media, and email campaigns.
Voice search.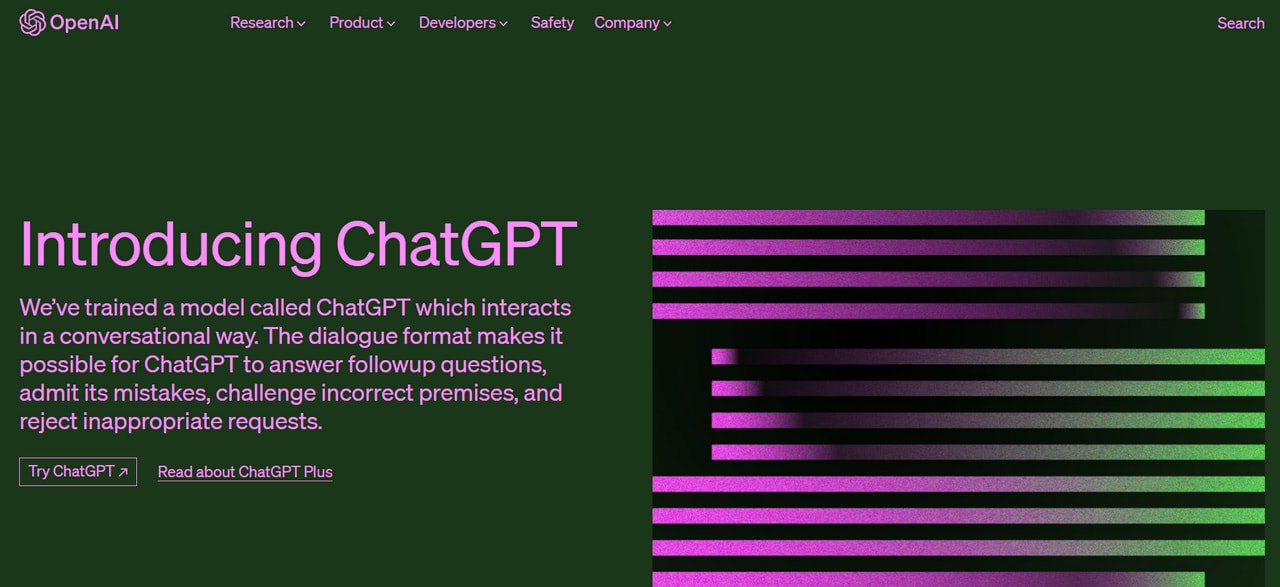 Pros and Cons of Using AI Tools in Marketing
Even though AI possibilities in real-world applications may sound simplistic, they still offer many benefits.
Allow customer service teams to focus on essential tasks and complex queries while keeping clients satisfied.
Make successful changes in strategic processes.
Boost the bottom line and overall campaign ROI.
Streamline marketing efforts.
Understand the market and its tendencies and fluctuations.
Grow and scale traffic leads and revenue.
Improve, personalize, and innovate products.
Create a competitive advantage over others, letting the company stay afloat.
Are cost-effective in the long run.
While touching advantages of implementing AI tools and machine learning, it is also crucial to mention flaws and pitfalls inherent to the technology. After all, AI still has a long way to go to become more efficient and convenient. It has shortcomings; the most critical are:
AI cannot be imaginative or creative or suddenly change its mind to accommodate unexpected situations.
AI requires extra resources and money in the beginning.
AI needs vast sets of data to be accurate.
AI needs human intervention and supervision.
AI prediction and analysis can be wrong.
AI machine learning and tools may fail due to malfunction, blackout, outage, or human error.
AI may demand cyber security measurements.
AI cannot understand and analyze feelings and intentions.
AI does not have the intuition to carry out specific tasks.
AI cannot deal with unstructured and disconnected data, causing a massive problem for many companies that historically used different platforms for their marketing endeavors.
AI cannot provide a warm human touch. Even though chatbots can solve most banal problems, people still prefer personal human contact when addressing their issues. Empathy plays an enormous role in building strong relationships between the company and customers, which AI cannot reproduce.
AI's current possibilities are highly overrated. Although some AI tools can do magic, like MidJourney, that can create outstanding artworks worth real prize, the harsh truth is AI capabilities in marketing are pretty simplistic and requires human intervention to achieve the desired result. Many digital marketers have unrealistic expectations of AI, but it is only good in the right hands.
Therefore, let's get it straight. There is no such thing as an AI assistant that we used to see in Isaac Asimov's novels. It is not a robot that does everything from scratch without your intervention, so you can relax and sit while it does all the work for you. Modern AI tools support and expand the work of services we used to work with by efficiently doing basic chores and tasks that require lots of time and precision. They amplify productivity and streamline workflow but cannot do it without your guidance.
Top 15 AI Tools for Marketers to Try in 2023
Although the list of AI disadvantages certainly gives food for thought yet you risk being left behind with tough competition and everyone jumping into this game. As Elon Musk said: "If your competitor is rushing to build AI and you do not, it will crush you." AI tools widely believe to be our future. Therefore, it is crucial to consider introducing them into the digital marketing routine, at least in several areas.
So, how to start? If you are one of those who doubt this technology or, on the contrary, seriously consider switching from traditional manual work to the automated AI-powered routine, here are the top 15 tools to potentially introduce into your workflow.
Jasper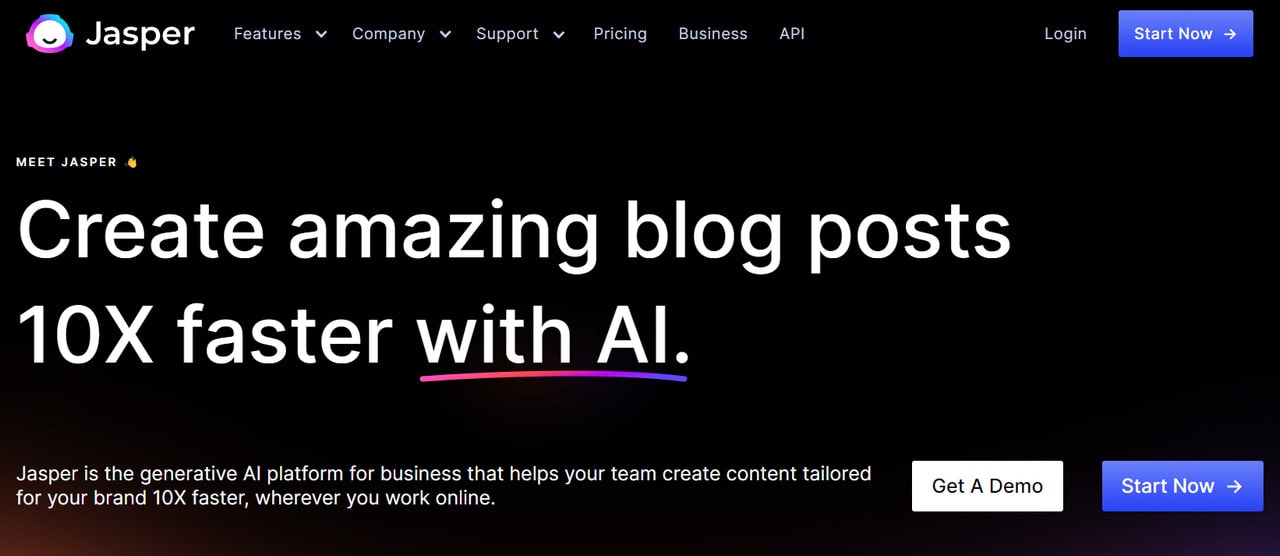 Jasper is the most popular AI-powered tool among marketers. Almost 30% of professionals use it daily. Despite its young age, it has been thoroughly tested: over 50,000 companies trust it with their tasks.
Jasper is an AI content platform. Learning your brand voice, style guide, and knowledge base, it develops copy tailored to your specific needs. It creates unique, personalized, and SEO-optimized text for various marketing channels, including social media, advertising, emails, websites, and even long articles for magazines and digital blogs.
There is more. It perfectly integrates with SurferSEO allowing copywriters to introduce crucial keywords in the text. Plus, it uses Grammarly, one of the most popular writing assistants that check and double-check writing against all sorts of mistakes.
Jasper works much like ChatGPT – tell the chatbot what copy you need. It will scan your request and create a draft based on the prompt. Although your team of writers still needs to edit it, you may save time and money.
Postcards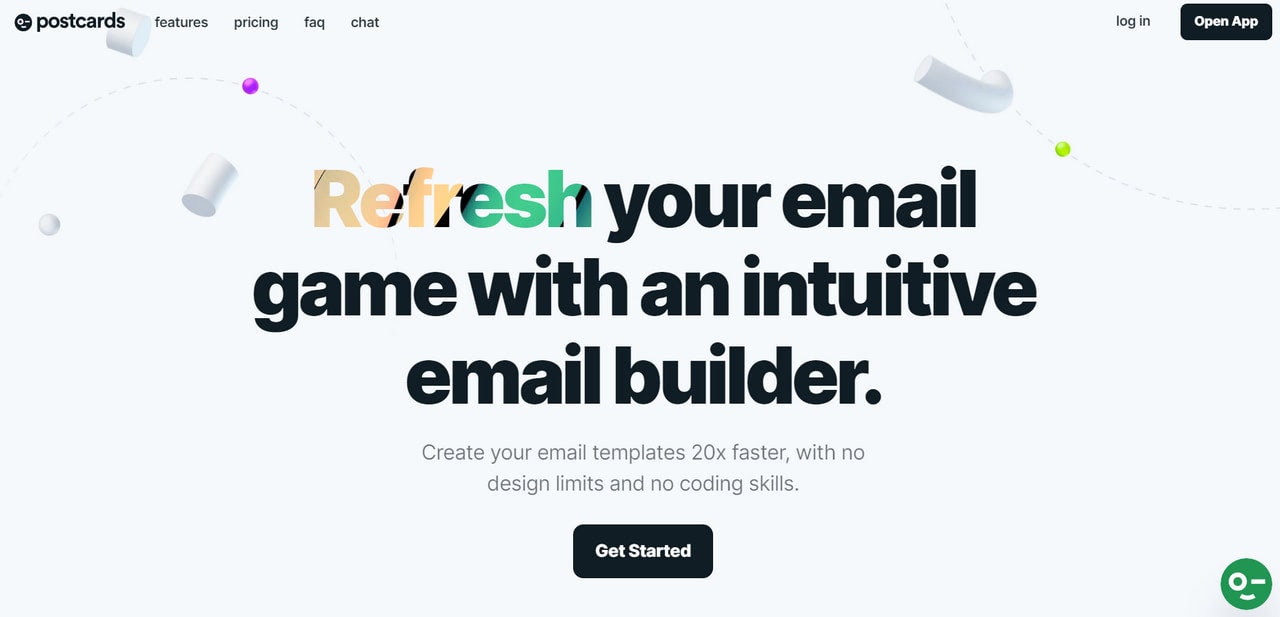 Postcards is another popular AI-powered tool in our collection that knows something about easing the burden of marketers and providing them with high-quality results without much sacrifice and contribution. It has been here for over five years, serving thousand happy customers.
In a nutshell, it is an online HTML email template builder created specifically for non-tech-savvy email marketers. It helps develop beautiful, modern, and feature-rich digital newsletters filled with interactive elements and spiced up with the best practices in the niche. It has the capacity to build all sorts of emails, from simple welcome messages to complex promotional or unique transactional ones, thereby amplifying the workflow significantly.
Initially, email marketers used drag-and-drop generators manually, but today Postcards has an AI assistant inbuilt into the system. It listens to the marketer's needs and requirements and generates a template based on the prompt, which can be easily and quickly edited and filled with brand data.
The best part is that Postcards templates comply with the most popular email management systems. Just create a fully-fledged email with the help of an AI assistant within minutes and use it in your campaign immediately.
SmartWriter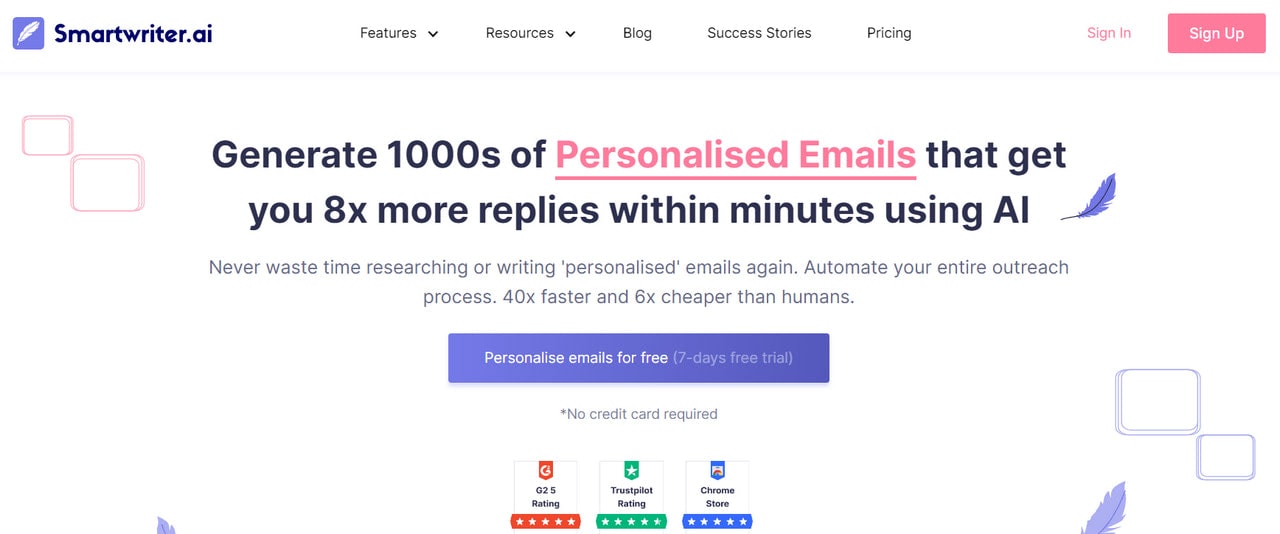 SmartWriter is an outreach platform that automates the big part of this process using AI techniques and machine learning. It does many tasks. For instance:
It conducts extensive research on a topic.
It sifts through podcasts, interviews, articles, blogs, and other typical data sources to develop a unique contextual message.
It finds prospects' online data to make emails speak with the target audience in their language.
It develops the draft for email copy that needs only the essential revision from the editor's team.
It tailors the copy to the brand's identity and voice.
It automates the entire outreach process.
It integrates with LinkedIn to scrape profiles and get verified emails to connect with prospects.
It analyses Google and Facebook reviews to generate personalized emails for better B2B campaigns.
On top of that, it may generate copy for blogs and social media.
Although SmartWriter is not as popular as Jasper, it has its merits. As a tool that combines writing, outreach, and research, it may become a reliable partner for your startup's email marketing endeavors.
Unspam.email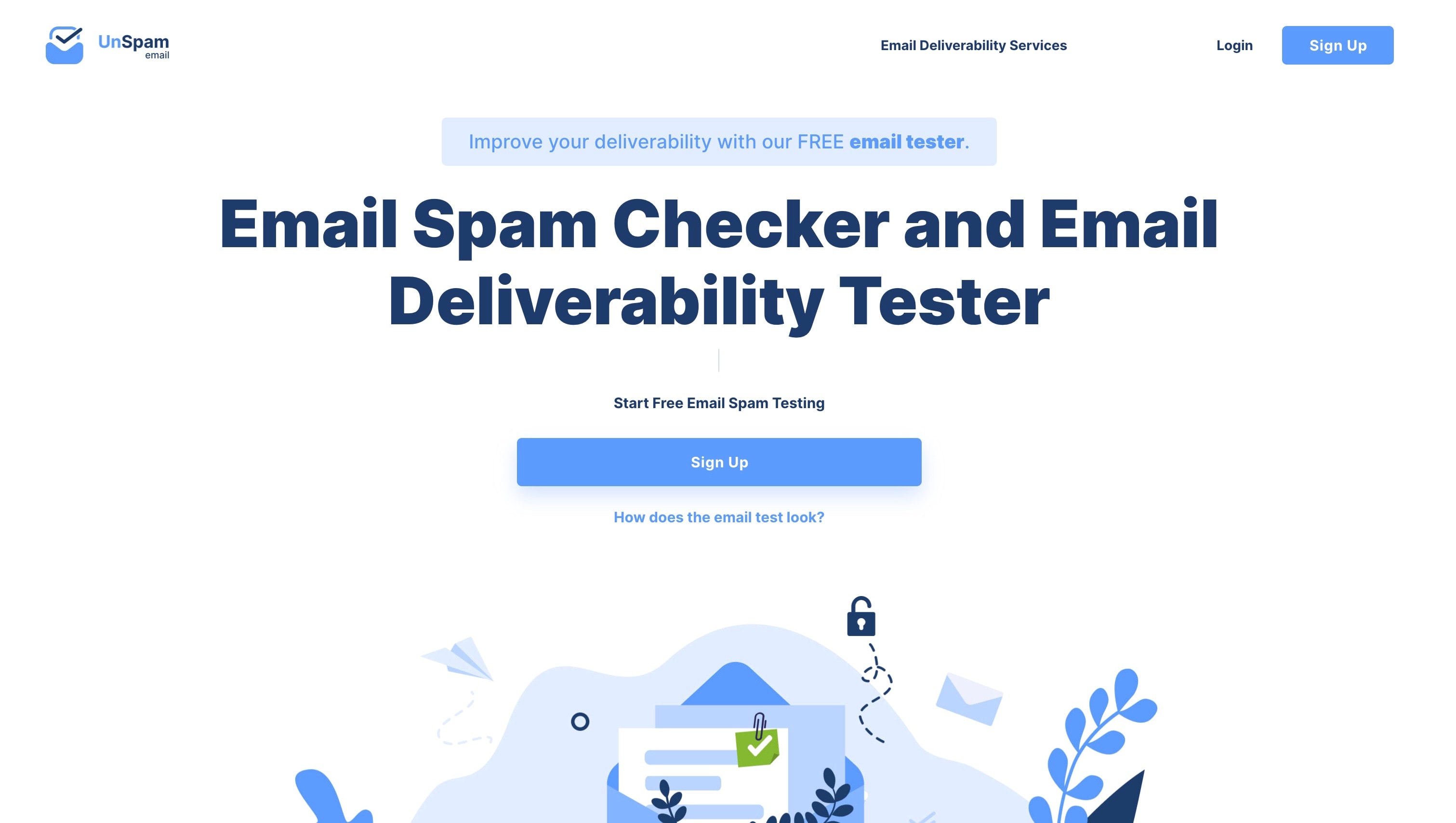 This service is more than just an Email Spam Checker and Email Deliverability Tester. It uses artificial intelligence to show you exactly where your subscribers are focusing when they read your emails. With its unique AI Eye-Tracking Prediction Heatmap, you can see which parts of your emails are grabbing attention. This means you can create better, more effective campaigns that really speak to your audience. With Unspam.email, you're not just sending emails, you're crafting engaging content that gets results.
Sure, here's a list that highlights the key features and benefits of Unspam.email:
AI Eye-Tracking Prediction Heatmap: This feature uses AI to predict where subscribers are likely to focus their attention when reading your emails, helping you optimize your content for maximum engagement.
Email Spam Checker: Unspam.email scans your content for potential spam triggers, ensuring your emails reach the inbox of your subscribers rather than getting caught in spam filters.
Email Deliverability Tester: This tool tests your emails against various spam filters and provides detailed reports on deliverability issues, helping you understand and resolve any problems that could prevent your emails from reaching their intended recipients.
Improved Email Campaigns: By understanding where your subscribers are looking and how they're reading your emails, you can create more impactful and effective email campaigns.
Increased Deliverability: Unspam.email helps ensure your emails reach their intended recipients, improving your overall email deliverability.
Actionable Insights: Unspam.email provides valuable insights and actionable data, helping you get better results from your email marketing efforts.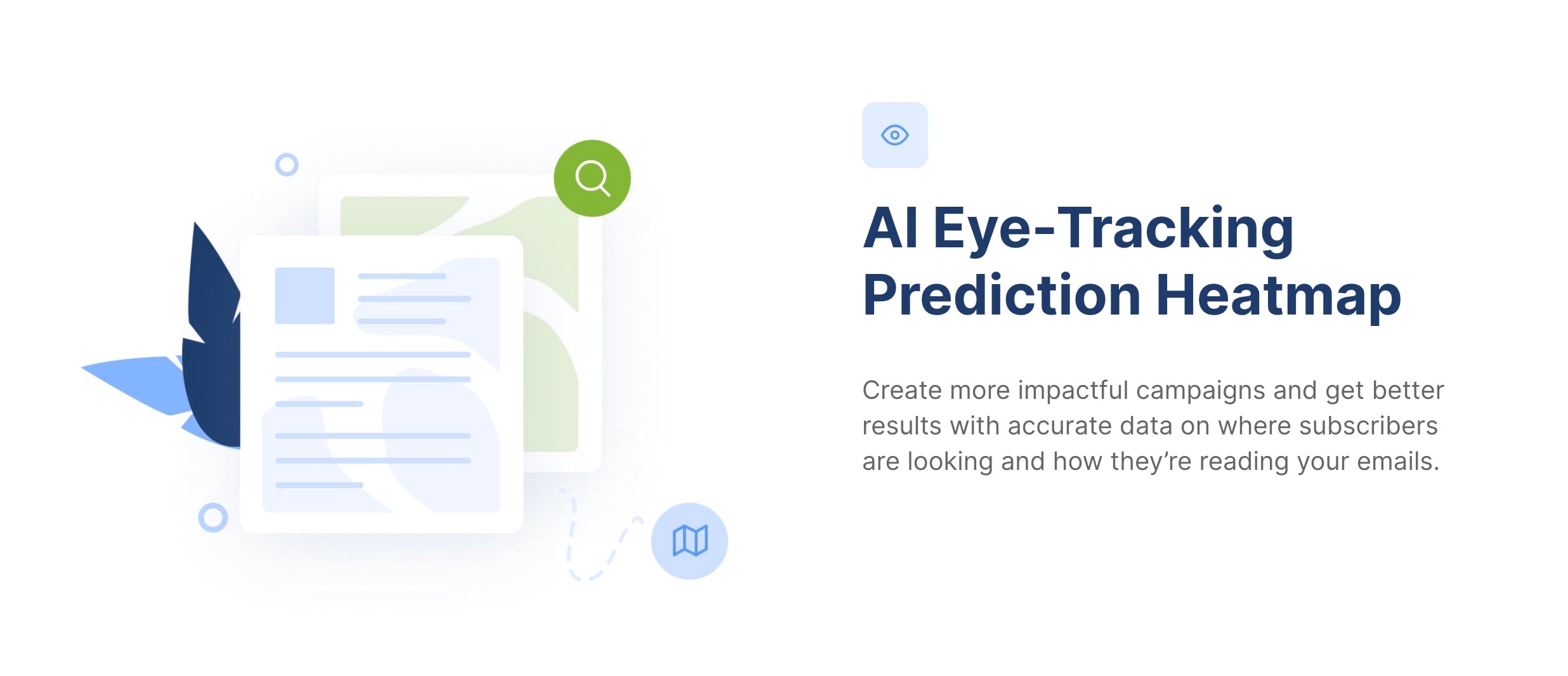 As for statistics, as of my knowledge cutoff in September 2021, I don't have specific data or statistics about Unspam.email. However, here are some general statistics about email marketing that might be useful:
According to a 2021 report by HubSpot, 78% of marketers have seen an increase in email engagement over the last 12 months.
Data from Statista shows that the number of global email users is set to grow to 4.6 billion users by 2025.
A study by DMA found that for every $1 spent on email marketing, the average return on investment (ROI) is $42.
According to a report by Litmus, 39% of marketers say they have no visibility into deliverability issues.
These statistics highlight the importance of email marketing and the potential benefits of using a service like Unspam.email to improve email deliverability and engagement.
Hypotenuse AI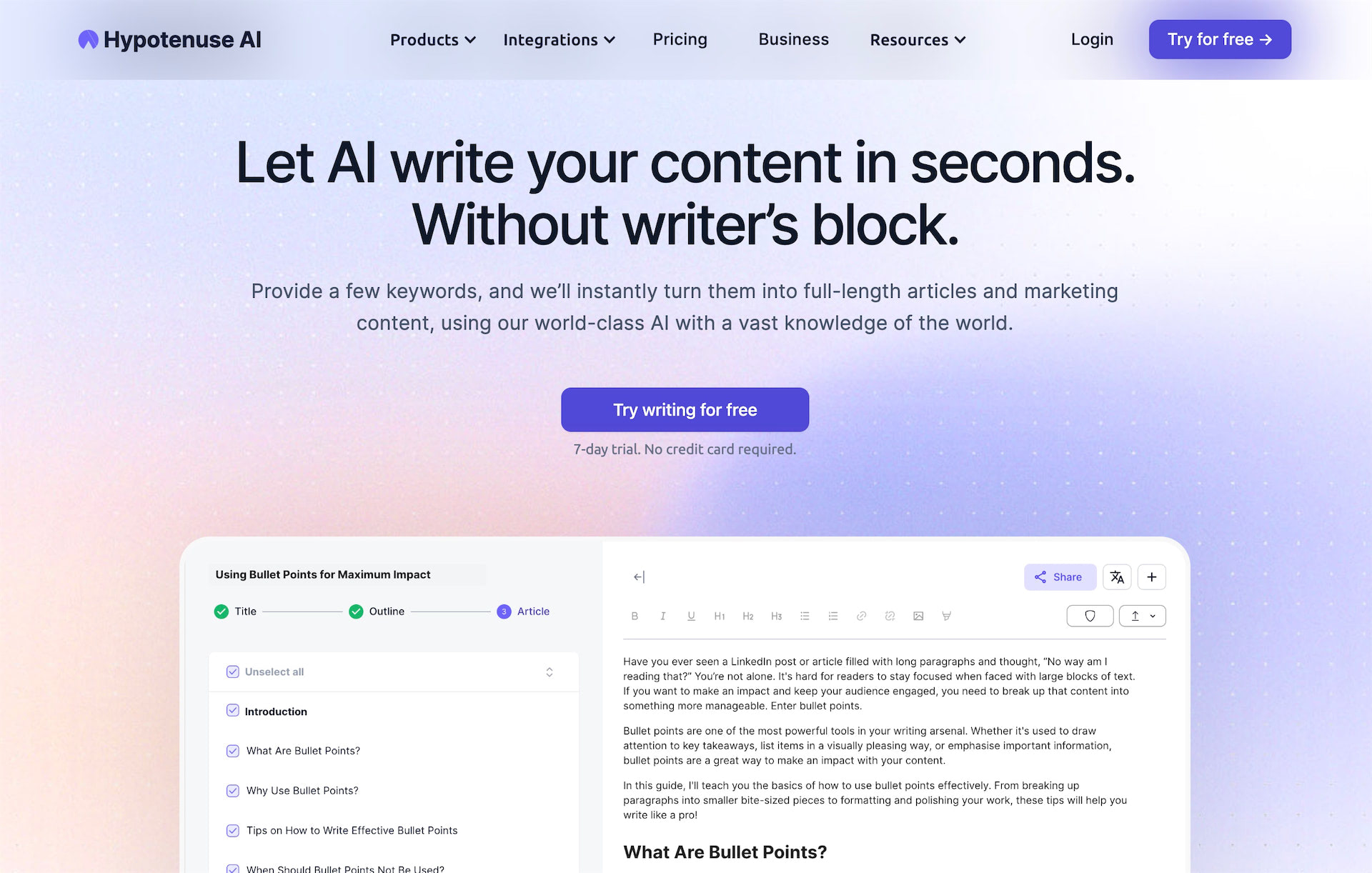 Ever felt overwhelmed by the vast world of content creation? We've all been there. That feeling of staring at a blank screen, not knowing where to start. Well, it's time to breathe easy. Hypotenuse AI is here to share the load. Think of it as having a friendly writer by your side, always ready to turn your thoughts into words, your keywords into full-blown articles, and so much more. Let's dive into what this companion of ours can do for you.
Hypotenuse is the all-in-one solution for streamlining your entire content process. Simply describe a topic or provide keywords and let the advanced AI work its magic to instantly generate engaging, original articles, blog posts, marketing copy, and more.
Brainstorm ideas instantly – Use Hypotenuse as a creative sparring partner to get the ideas flowing
Research and write in one click – Content Detective finds facts so you don't have to
SEO optimization included – Content is automatically optimized with relevant keywords
Match your brand tone – Easily customize the tone and perspective
Instruct AI to write for you – Generate quality content tailored to your needs using Commands and Compose
30+ languages supported – Reach global audiences by generating multilingual content
Create visuals – Bring concepts to life by generating custom images and art
Publish anywhere – Seamlessly export to Shopify, WordPress, email, and more
Hypotenuse frees you from repetitive writing tasks, allowing you to focus on the bigger picture strategy. The AI takes care of the busywork – researching, writing, and optimizing – leaving you to review and refine to perfection.
Don't waste any more time; start crafting content that truly resonates. With Hypotenuse, engaging, high-quality content is just a click away. Unlock your potential and complete your writing in record time!
LiveChatAI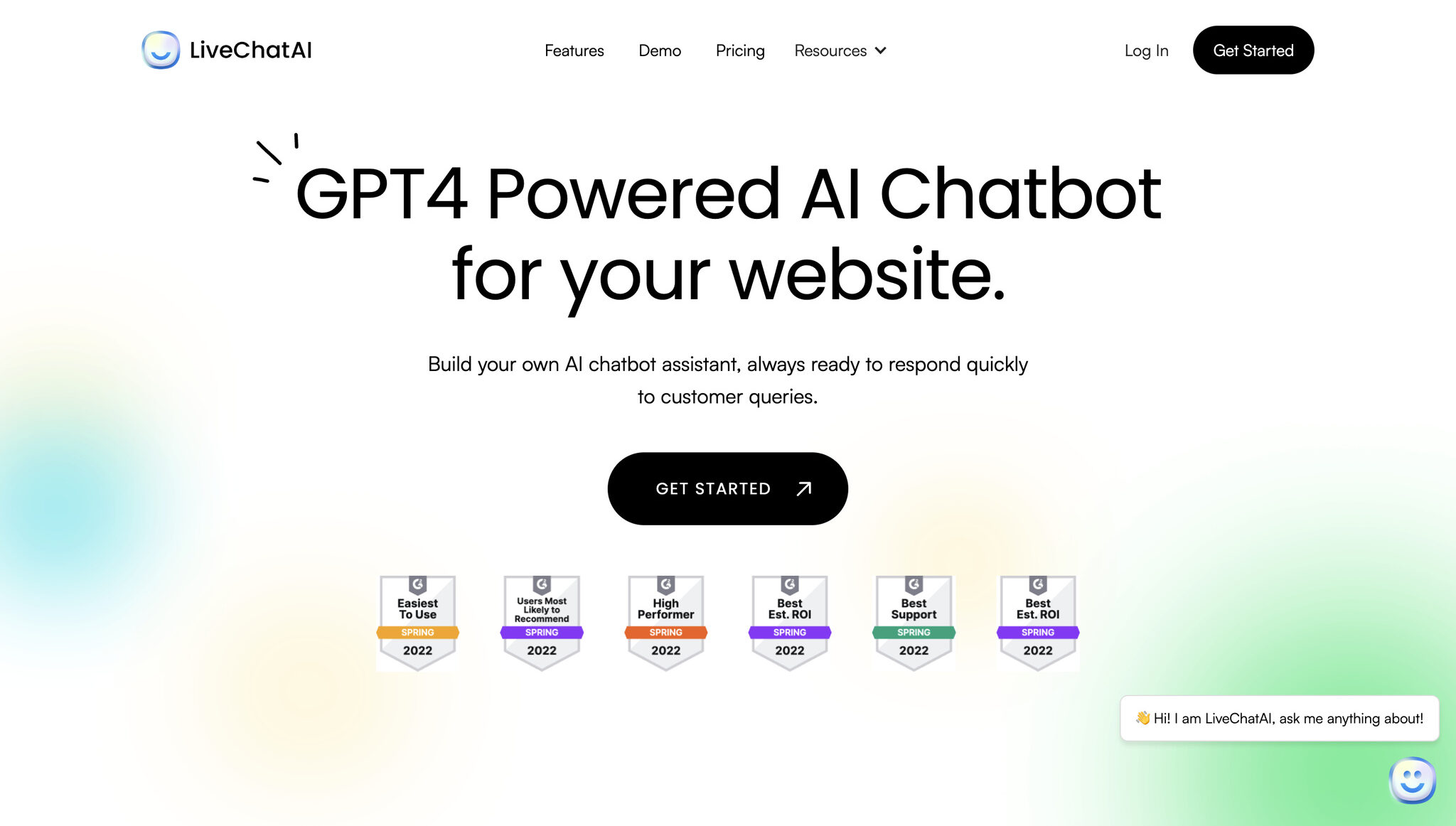 LiveChatAI allows businesses to build their own AI chatbot assistant on their website.
By harnessing the capabilities of ChatGPT, LiveChatAI seamlessly integrates with your website, facilitating interactive conversations that leverage your uploaded documents or linked content.
Moreover, LiveChatAI goes the extra mile by analyzing provided screenshots, comprehending their context, and delivering valuable assistance to the user.
Lastly, LiveChatAI securely stores all your content on GCP/AWS servers, ensuring the privacy and safety of your valuable information.
Other top features of LiveChatAI:
It can be implemented across various channels, such as Intercom, Slack, and Emails, allowing you to reach your customers wherever they are easily.
While the default chatbot relies on ChatGPT 3.5, it also provides compatibility with the more advanced GPT-4, giving you the freedom to select the version that suits your needs.
In instances where customer inquiries exceed its knowledge scope, a seamless transition is made to a human representative to ensure smooth assistance.
It can easily be incorporated into your website using the embed script.
The comprehensive API grants you access to trained data, enabling seamless integration and utilization of the AI's learning within your current systems.
As LiveChatAI solves your customers' problems, it continuously learns from feedback to distinguish between good and bad responses. This learning process enables it to scale effectively alongside your business.
Ultimately, with LiveChatAI, businesses become equipped with a powerful tool that enhances customer engagement, streamlines operations, and drives overall success.
Albert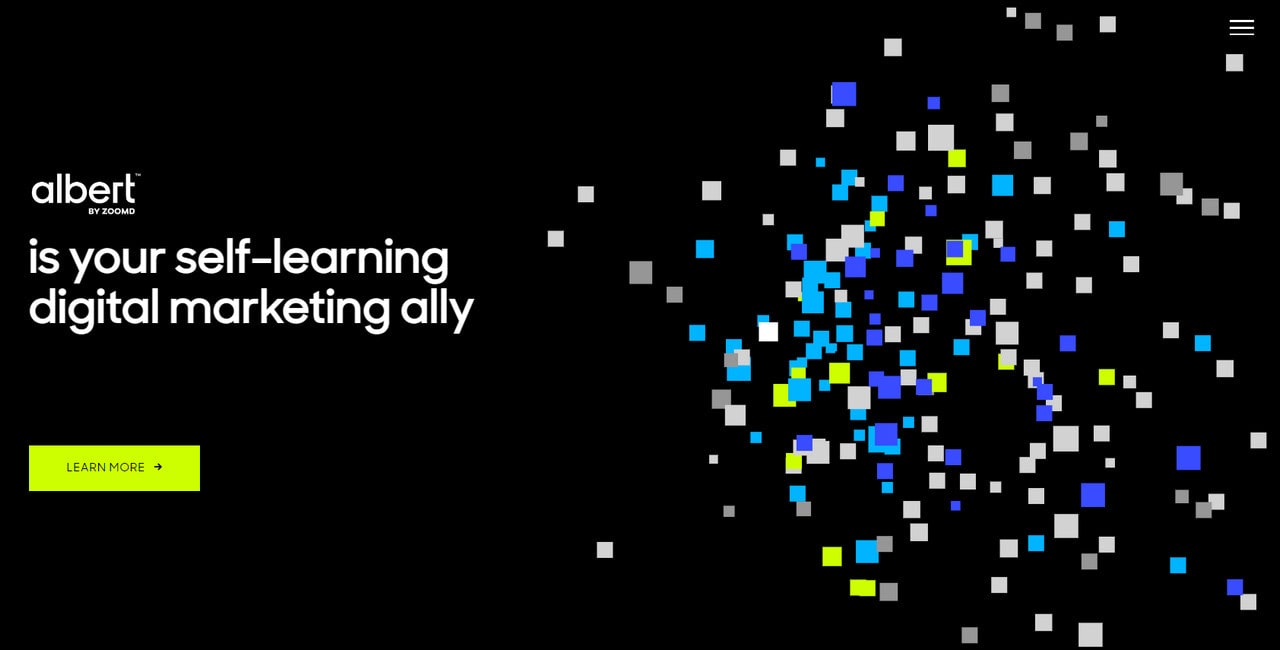 Albert is an advanced AI marketing tool designed specifically for addressing issues and minifying efforts in digital advertising routines. It intends to address all basic obstacles marketers stumble upon in their workflows.
Its key feature is that it efficiently collaborates with all popular platforms where your customers enjoy pastimes, such as Facebook or YouTube, and works across social media and paid search platforms like Google Ads.
Using AI tools and machine learning, the platform allows marketers to create personalized and optimized content at scale. It has instruments to conduct tests and tweak campaigns to meet prospects' and loyal customers' relevant needs and expectations.
It creates structure.
It groups keywords.
It builds campaigns for specific target groups.
It optimizes keywords, schedules, budgets, and audiences.
It provides an in-depth report and insight to identify behavior beyond the scope.
The solution requires human intervention and control; nevertheless, it is managed to push the digital marketing routine forward with less time and money.
Seventh Sense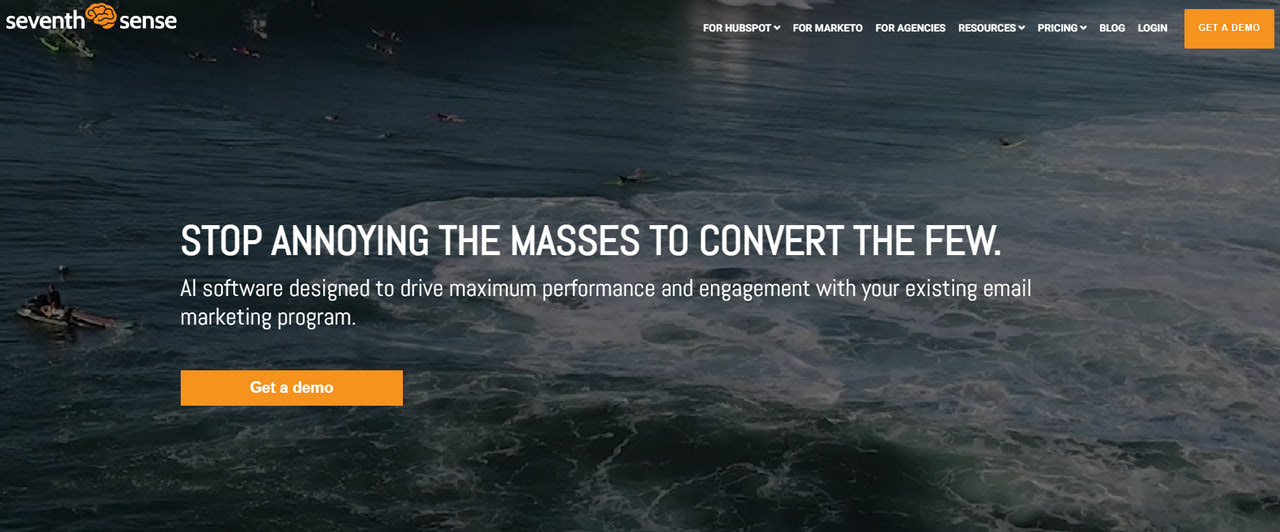 Seventh Sense is a new, yet promising AI tool designed to amplify email marketing efforts. Using artificial intelligence, it leverages the best email marketing practices to break through the clutter and noise inside prospects' inboxes. It optimizes and personalizes email delivery to drive maximum performance and engagement with existing email marketing programs.
So, what does the platform actually do? It fulfills several tasks:
It defines the best frequency and email delivery times for each individual in the database. Using machine learning, it identifies the most optimal time slot to deliver your email.
It throttles the delivery of emails to the same company or ESP.
It conducts A/B tests.
It provides deeper insight into the health of your email program.
These actions help email marketers increase the likelihood of reaching the inbox, connecting with subscribers on their terms, increasing engagement, and escalating conversions.
It is crucial to note that the tool is not for everyone because it works only with two popular platforms, HubSpot and Marketo. However, it is here where it thrives and brings the best outcome. It will be your reliable AI companion that provides flexibility and control of the data, and ipso facto maximizes overall marketing efforts.
SurferSEO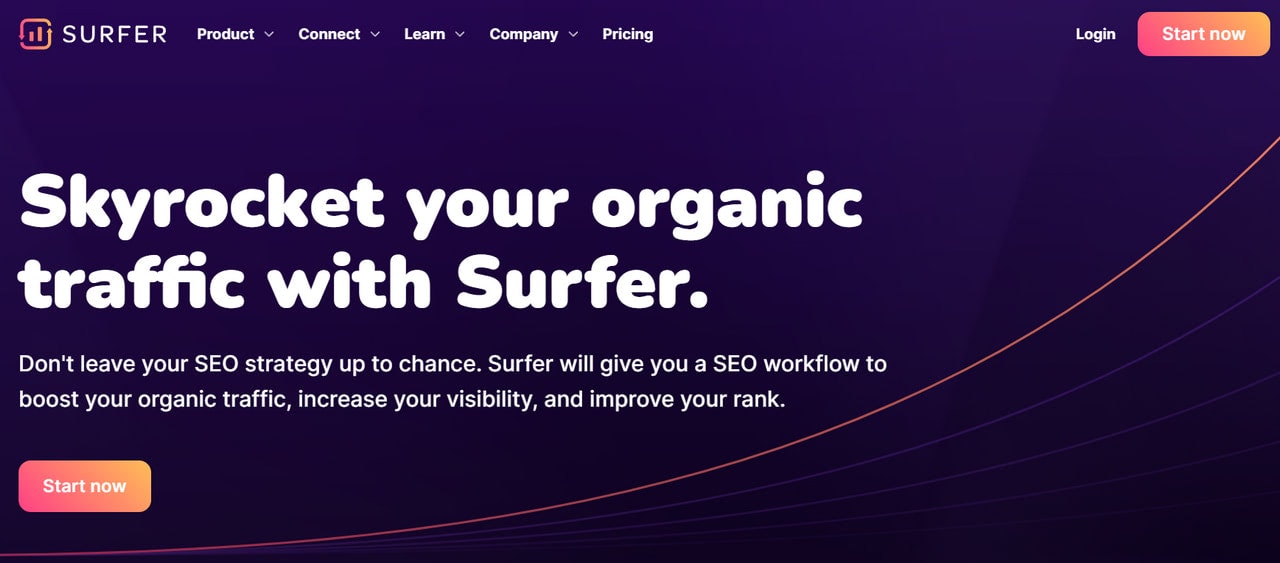 As we have already mentioned, AI enhances workflows across numerous sub-niches of marketing, and search engine optimization is no exception. SurferSEO is vivid proof of that. This small yet efficient online platform makes strategies more productive and life of SEO experts easier. Though, it also comes in handy for hobbyists, freelancers, and companies without in-office staff that wants to introduce SEO practices in their platforms.
So, how can it help?
It offers a professional AI-powered platform for keyword research. It discovers dozens of relevant topic clusters, checks search intent for your target audience, and defines monthly search volume.
It audits campaigns and reveals missing backlinks, page speed, preferred content length, keyword density, and other factors that may cause poor user experience.
It boosts the company's growth by providing weekly data-driven SEO insights and bite-sized tasks to improve performance.
It offers tools to develop relevant content tailored to the needs of your target audience and brand's identity. After in-depth analysis, it offers relevant keywords and a real-time optimization measure and generates briefs with catchy headlines.
As you might have guessed, SurferSEO does not replace an SEO member of your staff, but it certainly amplifies the efforts of this department and opens opportunities to use creative approaches to take the website to the next level.
Optimove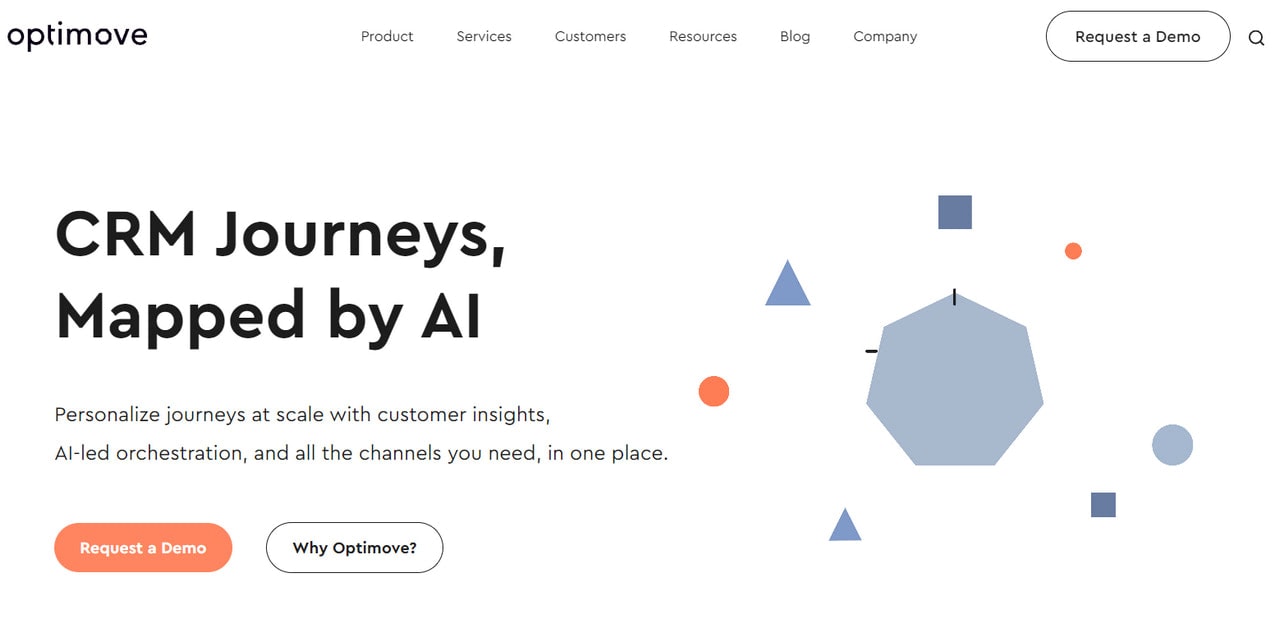 Used by over 500 leading brands, Optimove could not help but catch the eye of digital marketers and data scientists across all niches. Having proved its validity, credibility, and relevance, it has already become a trustworthy companion to scale a company's personalization for multiple countries and regions by implementing well-developed localized strategies.
So, what are its capabilities?
It can discover valuable engagement opportunities by efficiently sifting through tons of unified customer data.
It orchestrates multichannel campaigns to deliver optimal messages to every customer.
It measures the incremental value of each customer interaction and defines the impact of current CRM marketing.
It offers self-optimizing algorithms and one-click recommendations to improve campaigns.
It creates multiple granular segments but eliminates the complexity of managing them manually, thereby surfacing actionable insights and recommendations.
The platform helps marketers personalize journeys based on well-researched customer insights, creating a solid foundation to scale and perform better.
Browse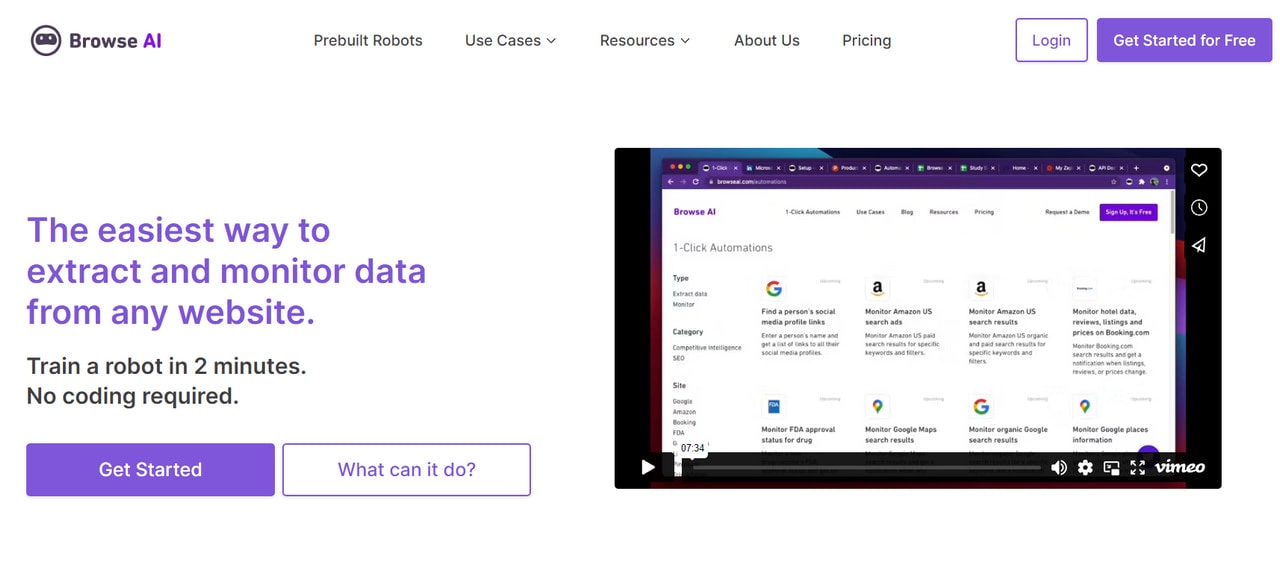 Powered by AI and its deep learning abilities, Browse is a multitasking digital assistant specializing in scraping and monitoring data from any website you need without writing any code.
Its fundamental feature lies in its robot system, which can be trained to achieve the best results based on your criteria and requirements. It may easily automate a set of steps that you would normally do to save time and resources. It also has a range of pre-built robots that can do various tasks immediately. For instance, collect sellers and services from Fiverr or monitor organic Google search results.
There is more. Browse can extract data on a schedule and notify about changes just in time to make critical decisions.
Trusted by over 100,000 customers, including such tech leaders as HubSpot and Amazon, it is certainly worth your attention.
Personalize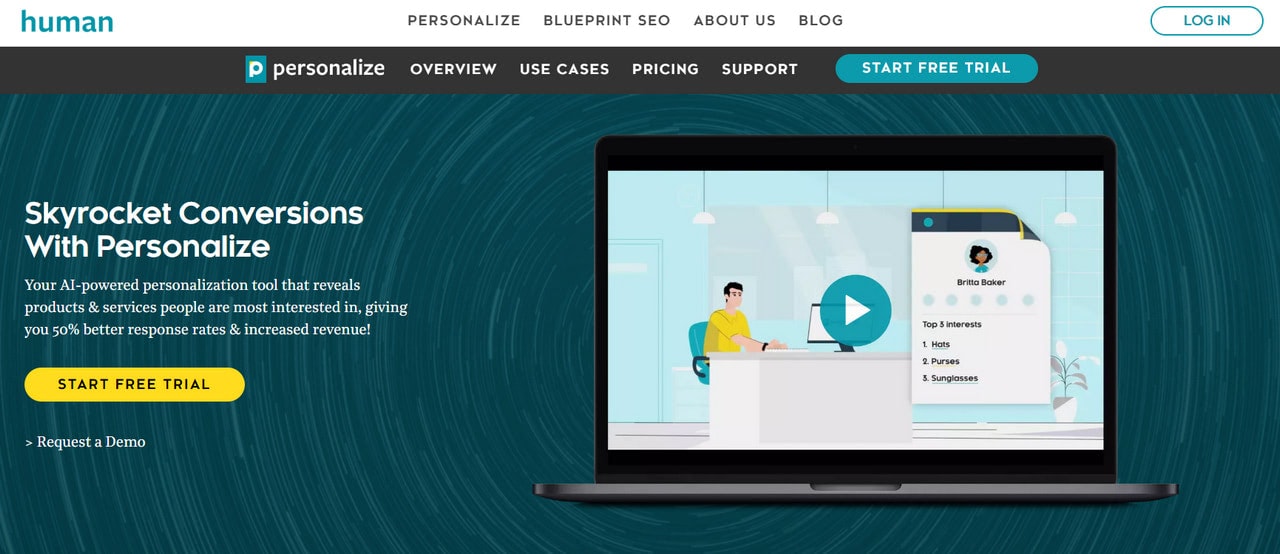 Created by Human, an agency expert in developing test AI marketing software for businesses of various scales, Personalize has a good reputation in the marketing community. Although it cannot do magic, its capabilities are certainly enough to streamline the workflow and increase the productivity of every marketer these days.
Personalize is an AI-driven tool that amplifies conversions by introducing hyper-personalization in customer interactions. It automates basic processes and tasks:
Track customer interests based on their digital footprint.
Reveal products people are most engaged in.
Provide real-time insights.
Create personalized campaigns for every individual.
Hook directly into your CRM or email platform.
With these functions on board, it boasts a 50% better response rates that increase engagement, conversions, and revenue. So why not introduce it into your marketing routine?
Scalenut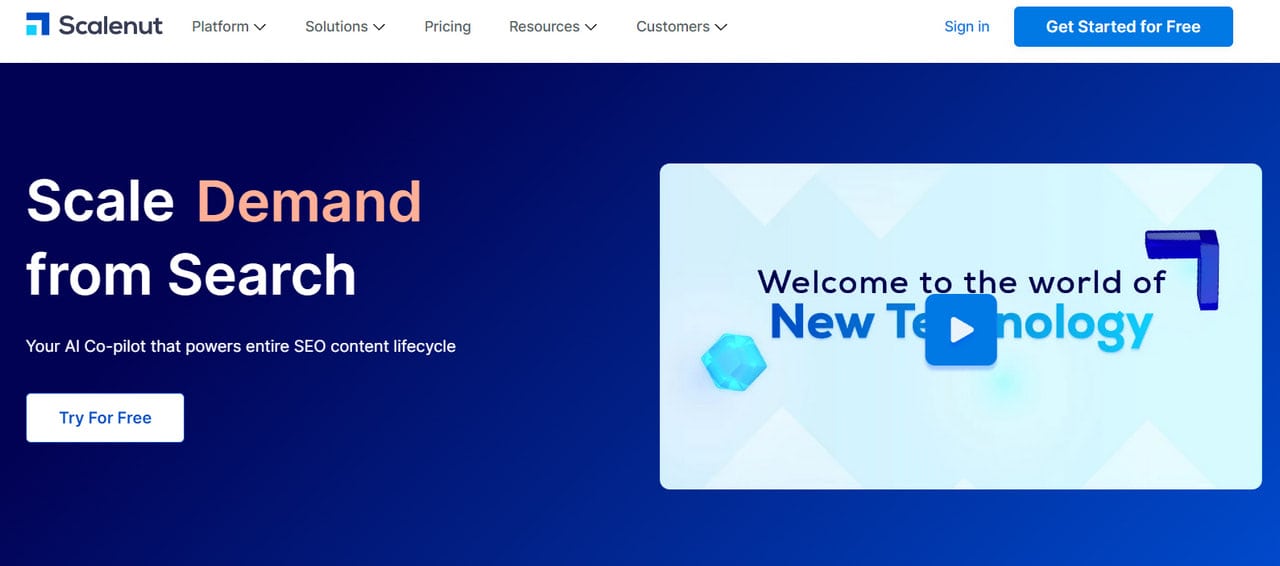 Scalenut is an AI assistant that streamlines and amplifies the SEO content lifecycle. Using advanced NLP models and AI tools that are based on the latest techniques, it successfully:
Plans content strategy and topic clusters.
Uncovers insights and semantic key terms through social listening and competition analysis.
Develops SEO-optimized content using over 40 templates to enhance website pages, product descriptions, and digital newsletters.
Audits existing SEO content and calculate a dynamic real-time SEO score.
Provides suggestions based on Quora, Reddit, and Google's frequently asked questions.
Scalenut is an excellent platform for setting up the outline for long-form content and brainstorming different creative ideas to generate reader-friendly, SEO-optimized content.
Brand24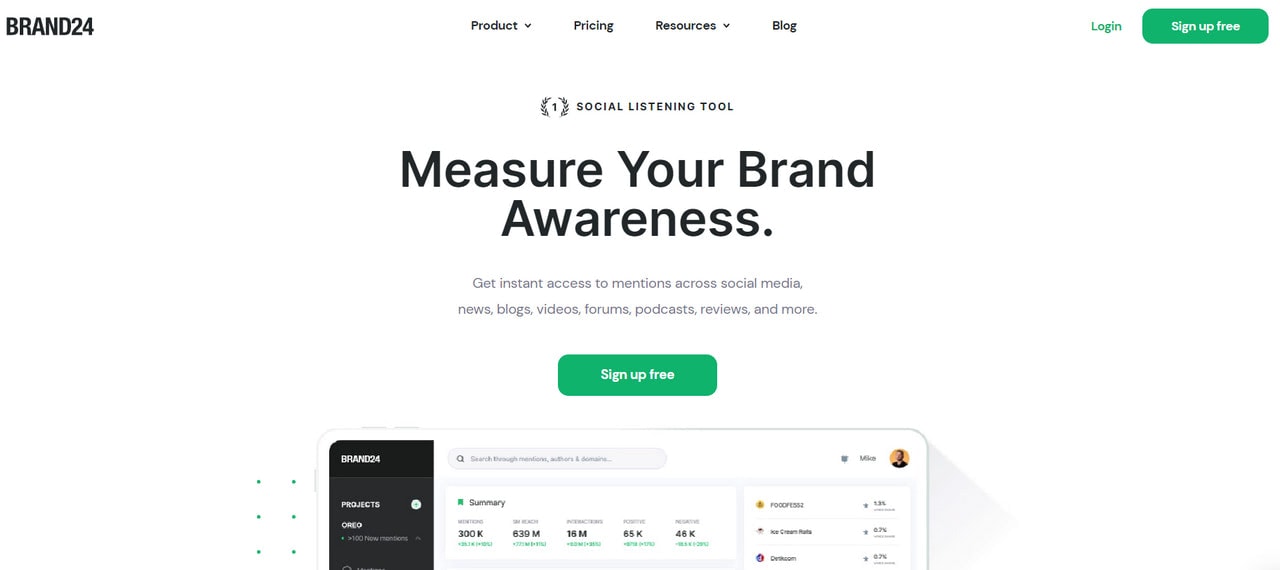 Brand24 is a top-rated social listening tool that provides instant access to mentions across multiple distribution channels, including social media, news, blogs, videos, forums, podcasts, and others.
It allows companies to gather insights from over 25 million online sources tracking them in real-time and collecting both positive and negative sentiments to measure and report PR coverage. With manual work, this is impossible; however, with AI and automation, this can be easily done.
With a fast and accurate AI-powered core, marketers may evaluate marketing efforts against competitors, filter out the noise to keep the picture clear and accurate, learn from online conversations, track hashtags and measure their volumes, and get vital customer insights.
Brand24 lets business owners cover a vast area, scale analysis, and efficiently make sense of a bulk of data.
Conversica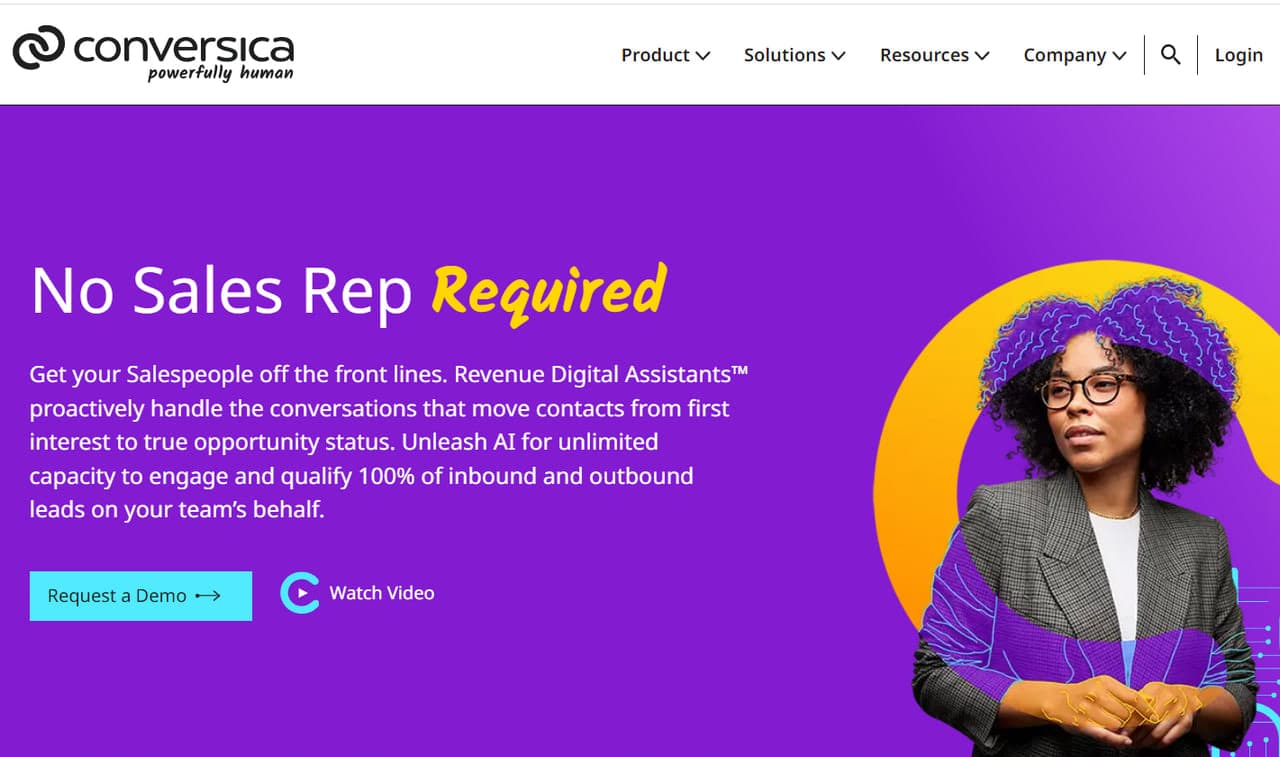 Conversica is a conversational AI platform that allows companies without a sales department to handle the conversations proactively and move contacts from first interest to truly engaged status.
Driven by a multi-model AI core, which includes ChatGPT, it offers numerous tools and automated processes to drive pipeline and convert customers. Key features include:
Giving the dialogue a natural feel by mimicking the natural flow of human conversation.
Delivering conversations at the right time, place, and language.
Qualifying 100% of prospects with personalized outreach.
Warming target accounts.
Improving retention through monitoring performance, collecting feedback, and leveraging insights.
The platform has multi-integration capabilities that cover the needs not only of the marketing but also sales and customer success departments. It integrates into the company's existing tech stack unlocking its true potential despite the working environment.
Chatfuel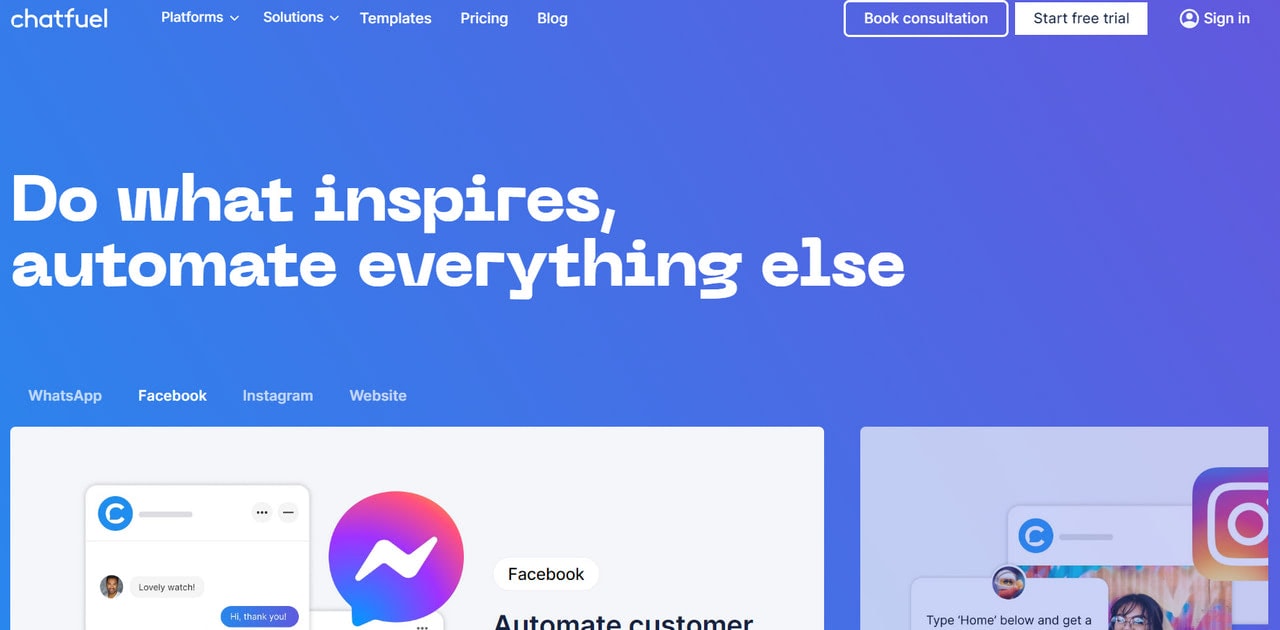 We could not help but mention an AI tool that helps businesses create a chatbot for their platforms. The latter has become an integral part of every sector. You can see it everywhere: e-commerce, SaaS, blogs, and even landing pages of various organizations. It instantly addresses all standard, popular, and burning issues interacting with users 24/7.
However, how to create one that will be tailored to your specific needs? It is here where Chatfuel and services alike come to play.
Chatfuel is a professional online service to develop and train chatbots using AI models and tools. It has templates and pre-made answers for popular questions. One of its main tasks is to collect user feedback and analyze common inquiries to automate conversations and feed the chatbot with answers that are crucial for your target customers. The platform also segments the audience with an internal CRM and schedules reengagement sequences.
Evolv AI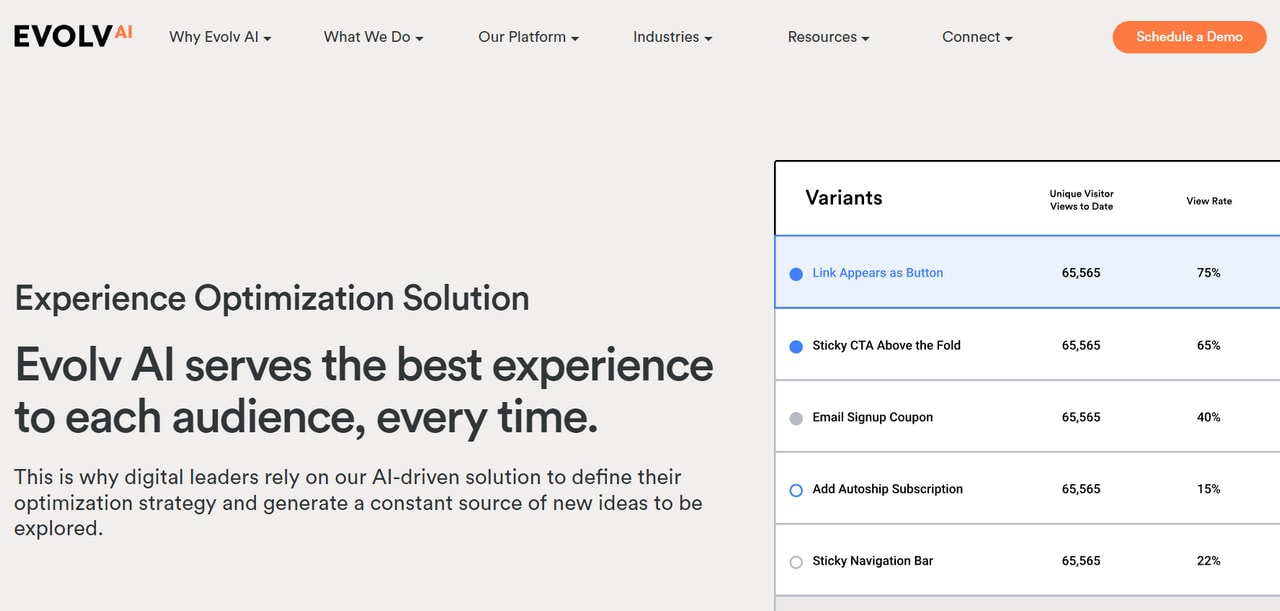 Evolv AI helps business owners optimize and ipso facto improve customer experience across various channels. It seeks better ways to connect and interact with customers, building strong relationships and brand perception.
The platform leverages AI and advanced algorithms to supercharge the traditional experimentation process and get deeper insights faster and with less traffic. It optimizes and personalizes the user journey in real time, discovers better-performing segments, and programmatically explores various ideas.
Marketers may easily control a range of frontend touchpoints, analyze data from other platforms and channels, run multiple experiments concurrently, and monitor live performance in real-time to make well-informed decisions.
With an intuitive dashboard, Evolv AI is an excellent platform for the whole team to contribute to the company's growth.
Konnecto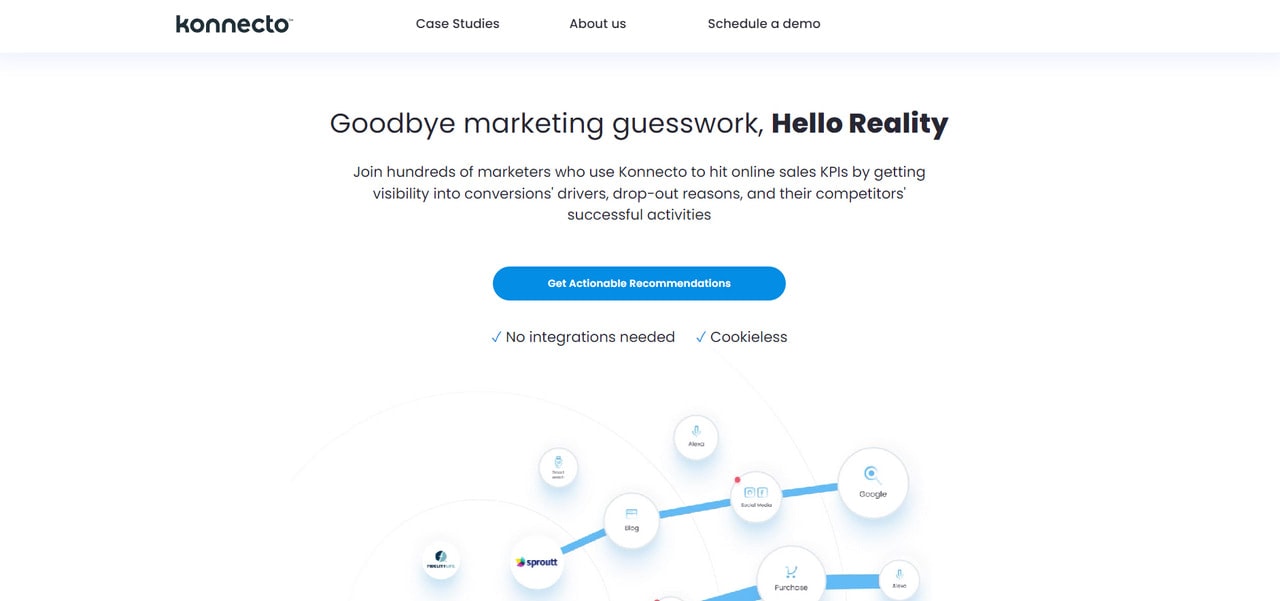 Trusted by leading brands like Lego, Samsung, and Coca-Cola, Konnecto has earned its place by taking the guessing game out and feeding business owners with actual data. AI models provide visibility into conversion drivers and drop-out reasons, track competitors to identify their successful activities, and offer valid suggestions on improving strategy and campaigns to beat this competition.
The platform is ideal for a range of tasks:
Develop targeted strategies.
Amplify customer acquisition efforts.
Analyze the mass of competitive intelligence data.
Identify key affiliates and reveal hidden opportunities.
When smartly used, Konnecto is an excellent instrument to meet KPIs and boost a company's growth with less effort, time, and money.
Conclusion
Growth is getting hard due to intensive competition, consolidation, and market saturation. Digital marketers are always searching for solutions that will help them keep businesses afloat and move forward. AI tools and machine learning help them to do their job successfully and accomplish their targets.
AI is not something new; however, it is still uncharted territory. Even though it has a pretty simple implementation in real-world applications, it promises to play a significant role in an organization's future growth across all market segments.
You may have noticed that increasingly digital marketers leverage AI in their daily routines. According to Harvard Business Review, 2018 McKinsey's analysis of more than 400 advanced use cases showed that marketing was the domain where AI contributed the most significant value.
It already helps increase strategies' efficacy, escalate productivity, and provide organizations with much-needed acceleration to keep up with the competition in the market. It also drastically improves customers' lives and boosts brand perception and reputation.
Even if you doubt AI and its capabilities because it has shortcomings and obstacles to overcome, trying some tools to automate tasks, compute solutions, and improve efficiencies is still a good idea. Take baby steps to introduce AI tools and machine learning into your routine using one or two services. Always remember that it requires human intervention to achieve the best results.
Like what you're reading? Subscribe to our top stories.