Top Statuspage Atlassian Alternatives in 2023
Atlassian has a vast range of products in its portfolio, from project and issue tracking to tools for streamlining the workflow of DevOps teams. One of its tools is Statuspage. It was designed to publicize incidents so clients can level up incident communication, reduce support tickets and build trust during outages or incidents. It shares the detailed report of systems health and provides insights into the platform's visibility and operations for dev and support teams through private or audience-specific user-facing dashboards.
Their status pages are good-looking, modern, easily digestible, fast, and accurate. Companies may fully customize them by setting colors, choosing fonts, adding logotypes and graphics, and displaying information through ready-made widgets. They do not have to dive into CSS and HTML to make the report look eye-pleasing – the builder is intuitive and user-friendly, ideal for a non-tech-savvy person.
Statuspage by Atlassian can display all sorts of data:
Uptime, performance, and current operational status of the system.
Current status of inner components of infrastructure.
Historical uptime.
System metrics.
Past incidents.
On top of that, it allows companies to integrate a subscription form to get users who want updates on the situation into the list, link the page to their domain, and use custom HTML, CSS, and JavaScript.
Statuspage by Atlassian is a high-quality product that provides companies with a solid ground to deliver website performance data through stunning design.
However, it has one big drawback. It does not directly monitor websites or other aspects and services of the environment. Companies need to integrate monitoring tools or employ Atlassian's API to update the page programmatically.
No-Code Email Template Builder
With Postcards Email Builder you can create and edit email templates online without any coding skills! Includes more than 100 components to help you create custom emails templates faster than ever before.
Start Free
Plus, prices are above average. For instance, the starter tier that gives access to five metrics, and five team members costs $29 per month, whereas the next tier sets companies back $99 per month, with only increasing the capabilities twice.
If these shortcomings push you away and make you think about Statuspage Atlassian alternatives, we are here to help. We have compiled a list of the best Statuspage Atlassian alternatives in 2023 that provide the same functionality but cost less and give capabilities to monitor the website's performance without extra integrations.
Read more about other alternatives:
The Top Statuspage Atlassian Alternatives 2023
Pulsetic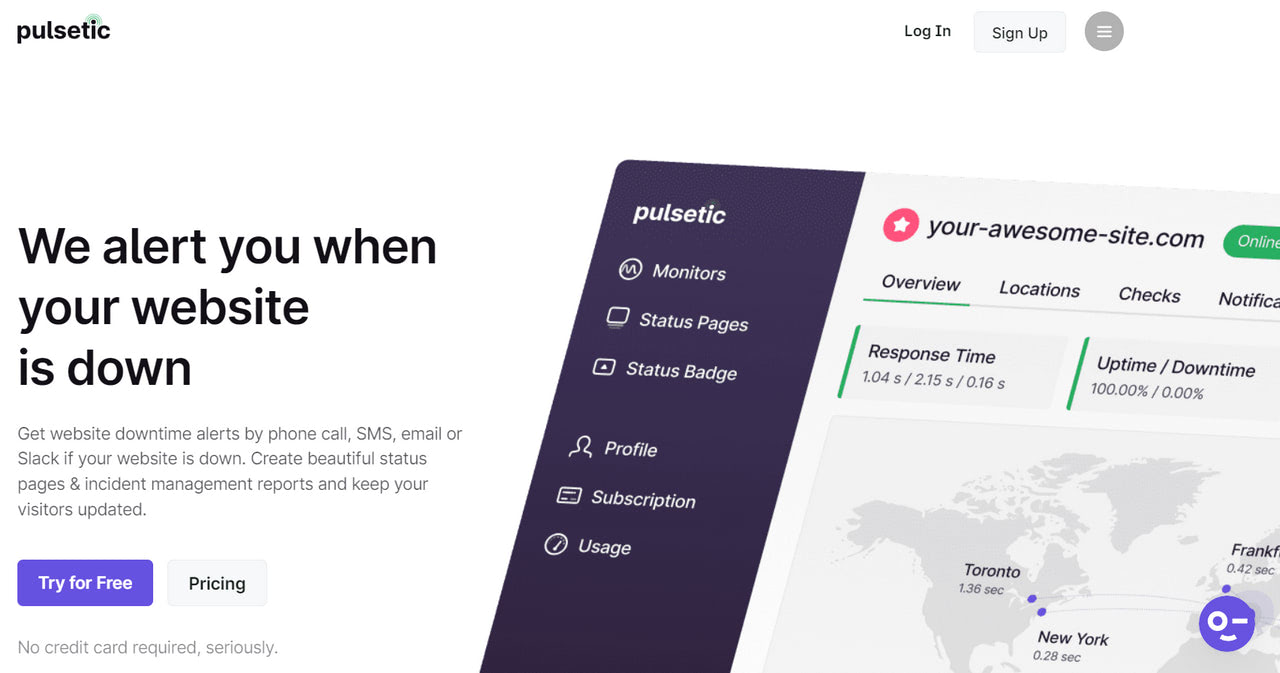 Pulsetic is the top Statuspage Atlassian alternative in 2023 that has proven to the digital market validity through a reliable set of instruments, modern regularly revisited features, and an increasingly responsive support team.
It is a small, yet powerful automated monitoring tool that meets the needs of startups, mid-sized businesses, online retail companies, SaaS, and Dev teams. It covers the most popular use cases, provides visibility into the most critical elements of the system, collects actionable metrics, shares data through good-looking status pages, and asks for a pocket-friendly price.
The main benefits of Pulsetic include:
It efficiently tracks the website's uptime, SSL certificate, response time, and website speed.
It has numerous data centers across the Globe to avoid false positives and generate detailed regional reports to narrow down the issue.
It sends instant alerts via email, SMS, Slack, and other popular communication channels.
It offers full request customization.
It has a status page builder to create nicely designed, modern-looking, and brand-tailored dashboards to deliver incident management reports to the end users.
It offers private and protected status pages and automatically updated status badges.
It comes with a collaborative environment with teams and roles for participants.
Pulsetic has four pricing tiers. The first tier is free and ideal for solopreneurs, small projects, and hobbyists. It allows for 10 websites to be monitored at five-minute intervals, notifications through primary communication channels, and access to the status page builder.
The second tier is designed for startups and small companies. It unlocks almost all features except for API access, allows monitoring of up to 50 websites, and invites up to 5 teammates. The price for that plan is just $19 per month.
The third tier focuses on the professional use of the system. It grants access to all features and allows monitoring up to 200 websites with fast 30 seconds check. It costs $39 per month – this is the best price for such capabilities in the market.
The fourth and final tier targets big companies and agencies that need to monitor up to 1,000 websites around the world. It asks for just $69 per month.
Super Monitoring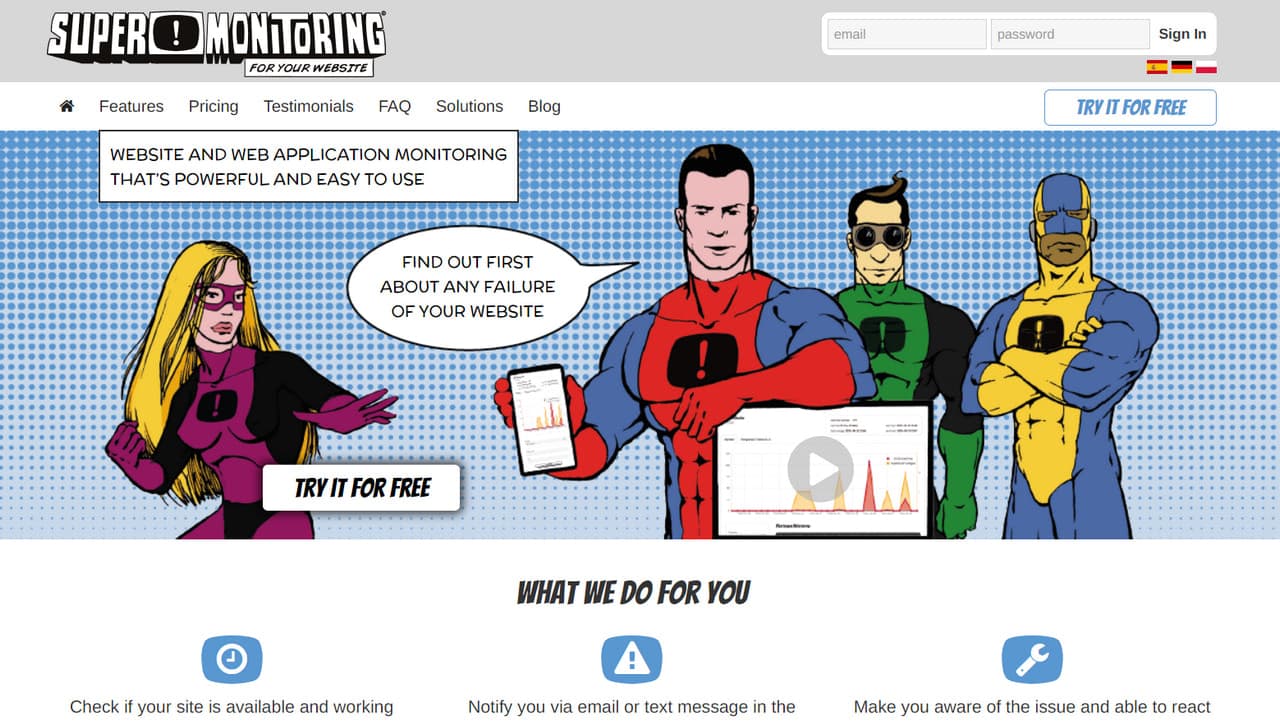 Super Monitoring is a Statuspage Atlassian alternative that covers the same functionality concerning status pages and offers some extra features that extend companies' capabilities for improving the system's overall performance. Much like Pulsetic or Pingdom, it is a reliable instrument tested by businesses across the Globe.
Inside its suite of products, you will find these valuable features:
Availability monitoring that tracks website, server, file server, email server, database server, and other elements of the environment such as TELNET, SSH, or DNS.
Performance check that tests response time and notifies if it is longer than it should be.
Content and form verifying.
Process testing that checks all processes according to the company's configuration.
Alert system that informs about an error or an outage by email or text message.
Public status pages that publish incident messages.
The pricing policy in Super Monitoring is one of the most flexible. The team has created five plans to meet the needs of companies of various scales.
Freelancers and hobbyists who require just one website to be monitored will be charged $5.99 monthly. This includes a one-minute check interval, 15 SMS credits, and basic tracking features.
Small companies and startups who seek a platform to monitor up to 3 websites will pay $14.99 per month. This includes the same range of features available in the first tier.
Medium-sized companies that need to track up to 5 websites will pay $19.99 per month. This includes a one-minute check interval, 55 SMS credits, and some premium monitoring features.
To unlock all the features, companies should pay $29.99 or $39.99. For this, they will be able to work with 10 and 20 websites correspondingly and use all the system's capabilities.
Hetrix Tools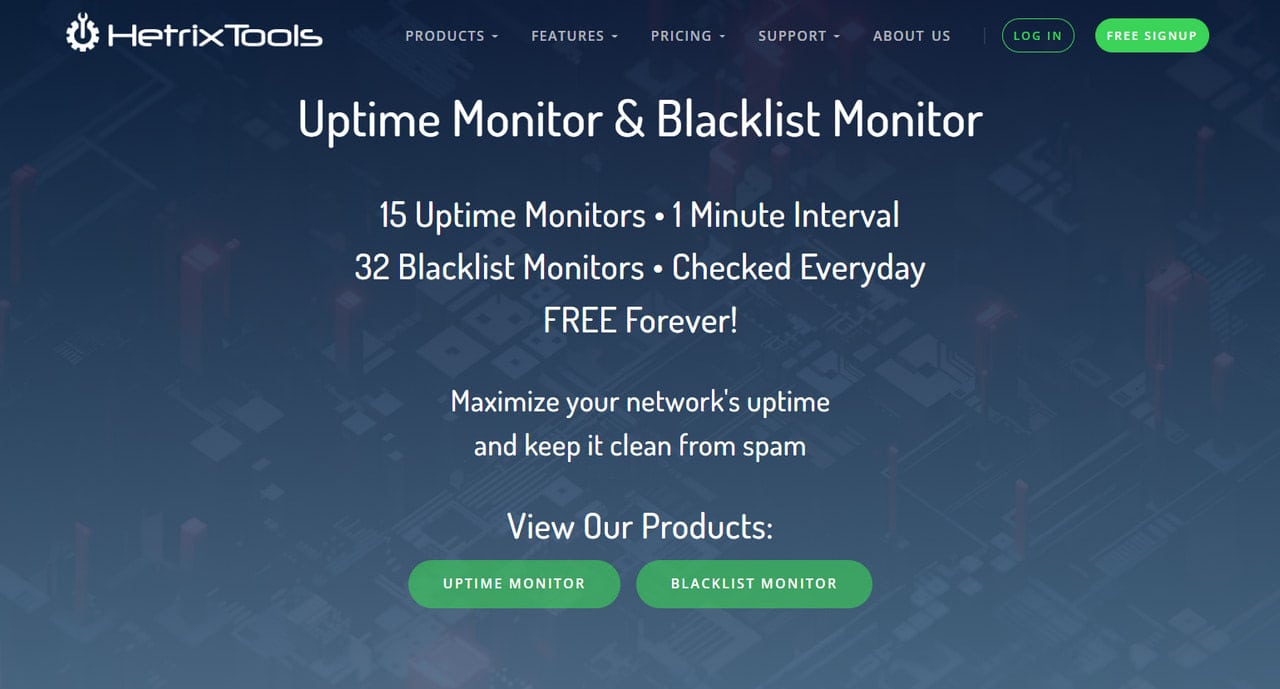 Hetrix Tools is a simple yet viable uptime monitoring tool with the basic functionality you would expect from a service in this niche. It has several primary capabilities:
Uptime monitor and sever monitor from twelve data centers scattered around the Globe.
Domain and SSL certificate expiration monitor.
Outage diagnostics.
Blacklist monitor.
Blacklist check.
Status page builder.
Although Hetrix Tools do not offer beautifully-designed status pages with modern features like Pulsetic, they are still viable solutions to deliver system health information to non-tech users in a digestible form.
Plus, the platform excels in uptime monitoring and blacklist checkups, and the highly responsive customer support team addresses all sorts of issues without delay.
Much like Pulsetic, Hetrix Tools can provide significant savings. First, the basic plan starts at $9.95 and allows for 30 uptime and server monitors with a one-minute checkup frequency.
Second, the pro plan that doubles the amount of website and server monitors costs just $19.95.
Third, the free plan is free forever. It includes 15 uptime monitors – not much, but it is a good start for solopreneurs and hobbyists.
OffAlerts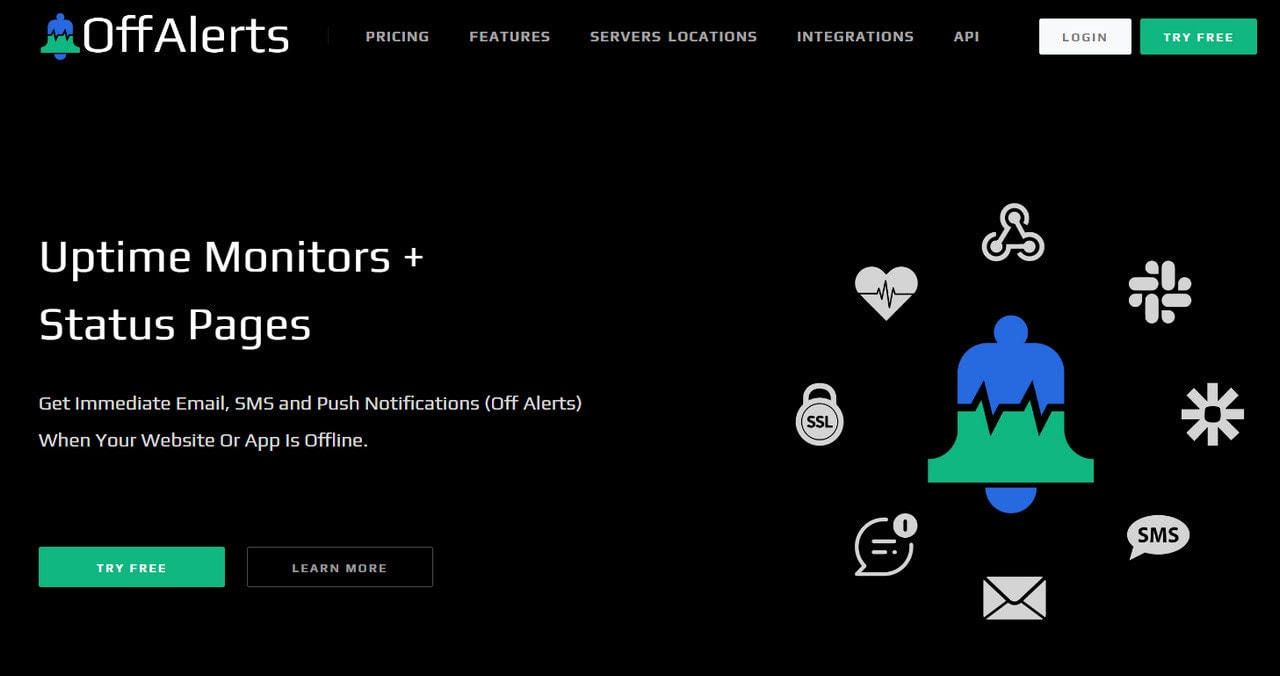 OffAlerts is another oversimplified solution on our list of the best Statuspage Atlassian Alternatives in 2023. It was explicitly created to meet the needs of startups, solopreneurs, and companies that need only uptime monitoring, a sound alerting system, and a status page builder.
So, do not expect impressive capabilities; instead, expect good-looking incident management reports and highly-polished regularly-revised tools to track the availability of your website without hassle.
OffAlerts ships in these essential features:
Uptime and SSL monitoring.
Several international ping servers, including locations in North America, the United Kingdom, Europe, India, and Singapore.
Immediate notifications by SMS, email, and Slack.
Webhooks and Zapier integration, which opens doors to 2,500 SaaS applications.
API access to make it easy to add and remove checks programmatically.
Status page builder.
The main benefit is that the pricing is competitive and occupies the middle ground in the niche. The basic plan created for personal needs starts from $12 per month and allows companies to monitor ten websites, create ten status pages, work on ten projects and analyze the system's performance.
The next tier is centered around the needs of startups and small companies. It allows 60 monitors, 60 status pages, 60 heartbeats, and 60 projects. It sets the business back $60 per month.
The last tier was designed for big companies and teams that need to control up to 200 websites. It costs $180 per month.
Pingdom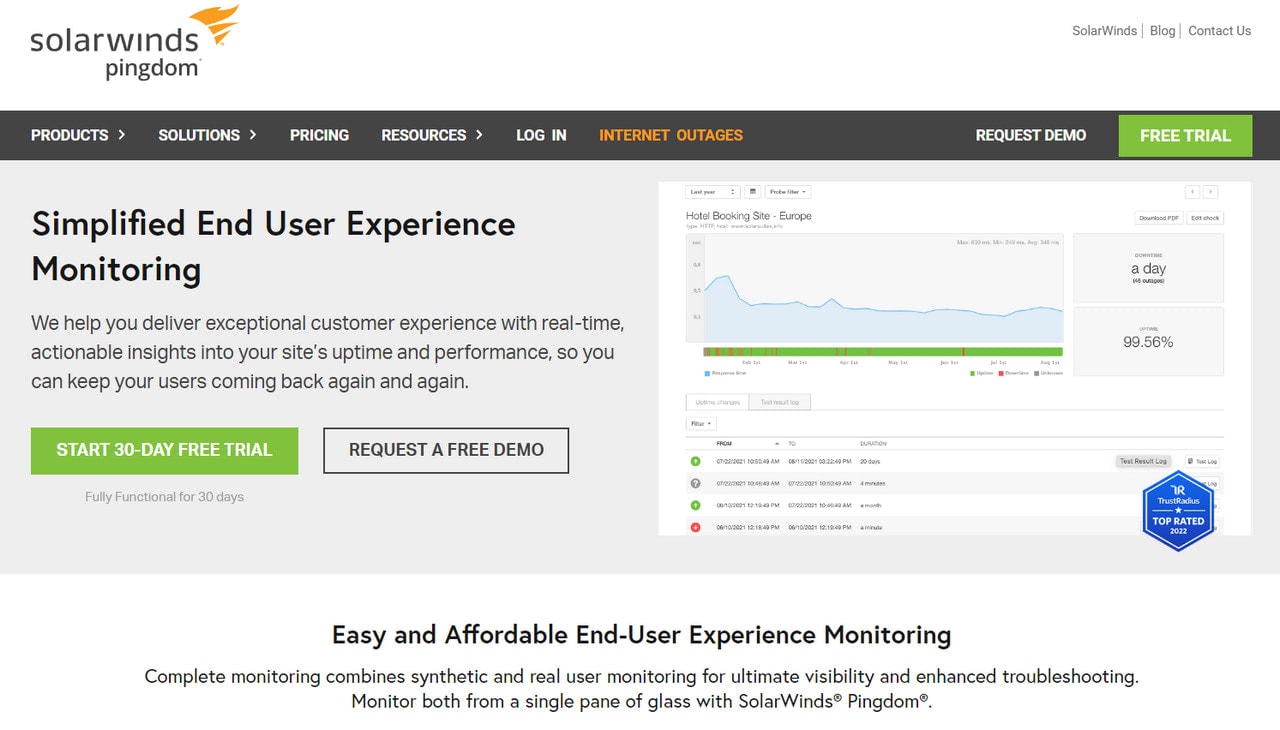 I bet you have heard about Pingdom once or twice. It is a widespread monitoring solution that has been in the niche for several decades already. It is trusted by millions and serves millions of clients across the globe. It specializes in several areas:
Synthetic monitoring. This implies tracking uptime, page speed, and transaction and notifying the team about the problem or inconsistency.
Real user monitoring. This implies tracking user experience and behavior and page load performance.
Infrastructure monitoring. This implies tracking the availability and performance of servers, virtual hosts, and other parts of the environment.
Application monitoring.
Log management and analytics.
With such a vast suite of products, it is no surprise that it has a huge fan base. However, it still does not fit all companies. First of all, it has prices above average. Second, it offers plans that might include functionality that startups, solopreneurs, and mid-sized businesses do not need. Pingdom is the ideal Statuspage Atlassian alternative when your company requires a status page, uptime monitoring, and, most importantly, deep insight into your system's performance.
As for pricing, as we have already noted, it is above the average. For instance, monitoring 100 websites costs $124. Compared to other alternatives in our list, it is high. On the bright side, clients get extra features for the visibility of the system's performance. On top of that, they may choose configurations for their accounts and slightly reduce the final cost by paying exactly for the number of monitors they need.
Conclusion
Many huge companies (DigitalOcean, Dropbox, Intercom) have chosen Statuspage Atlassian as their tool for delivering information about the system's health and incident management status to end-users. However, it does not mean you should do that. As practice shows, startups and mid-sized companies may find better solutions to meet their specific needs and not hit them in their pockets.
Among the best Statuspage Atlassian alternatives in 2023, you will find Pulsetic, Super Monitoring, Hetrix Tools, OffAlerts, and Pingdom.
If you want the best price for the value, Pulsetic is the top choice. It is a fully-fledged monitoring tool with all the crucial capabilities, including a professional modernized status page builder.
If you need an oversimplified solution with a reasonable price in the market yet fewer capabilities, then Hetrix Tools and OffALerts are the best options to consider.
If you are up to a combination of status page builder and tools not just to track uptime but also to get a deep insight into the system, then Pingdom, with its wealth of capabilities, is an ideal option for you.
Like what you're reading? Subscribe to our top stories.