Free and Beautifully-Designed Resume Templates
Resume design matters. If you want to stand out from the competition, you need to take it seriously. It is not just a sheet of paper with your knowledge, skills and experience. It is a real presentation tool that should unobtrusively introduce you with a certain level of impression.
A good CV or resume is informative, includes pertinent information (and not every thing you've ever done) and is well-designed. The modern-day resume should impress. Consider Creative Resume Template, Blue Print Resume and compare them to Capt Jack Sparrow Resume Template and Minimal Resume.
The first two examples are made with creativity in mind. The freebie by Graphic Google has a bright and energetic aesthetic. The giveaway by Sunu takes a minimalistic approach with a two-tone color scheme and a ton of white space, successfully adopting a fantastic wireframe style. The bundle includes several pages to uncover your personality.
Creative Resume Template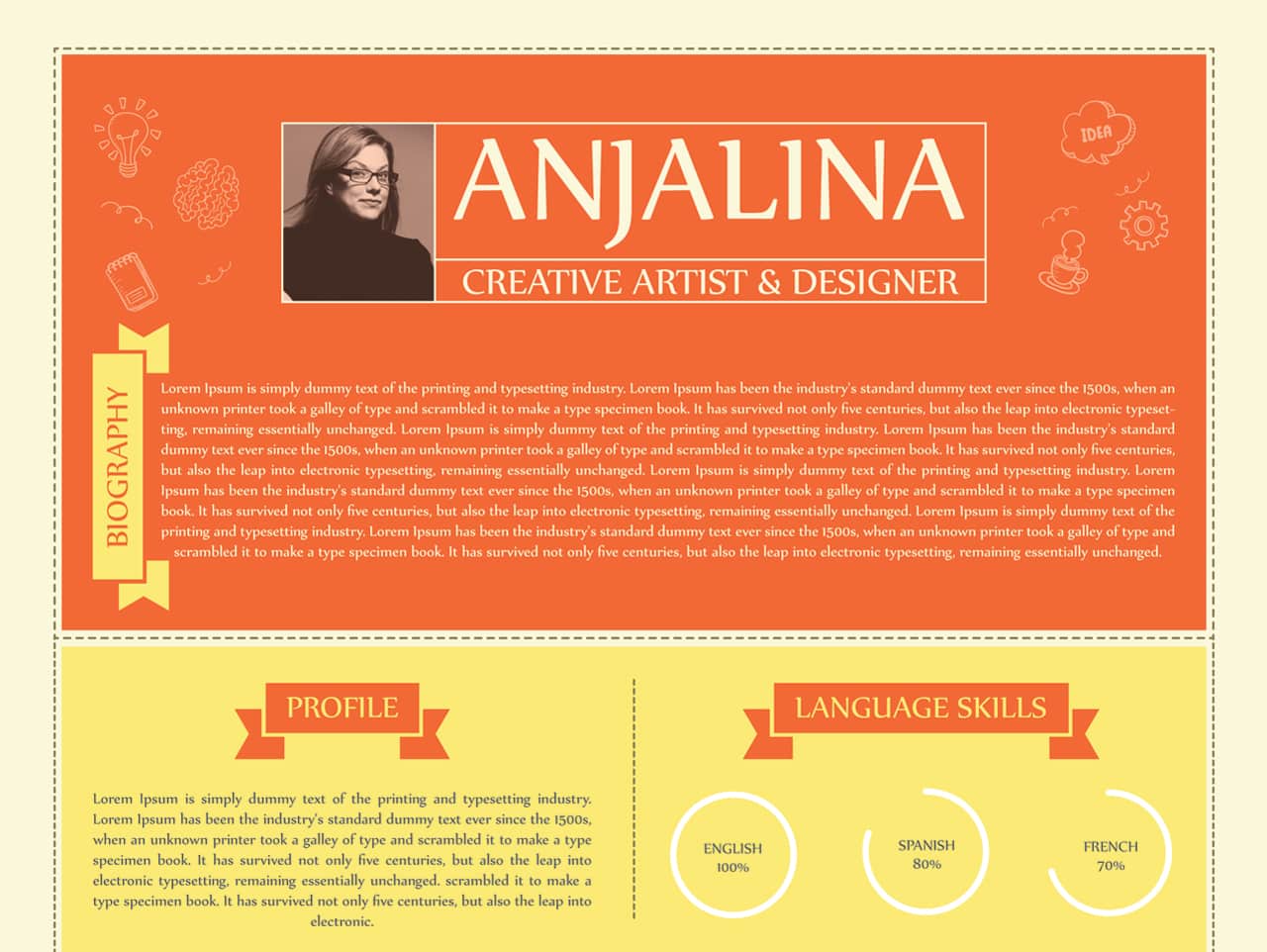 Blue Print Resume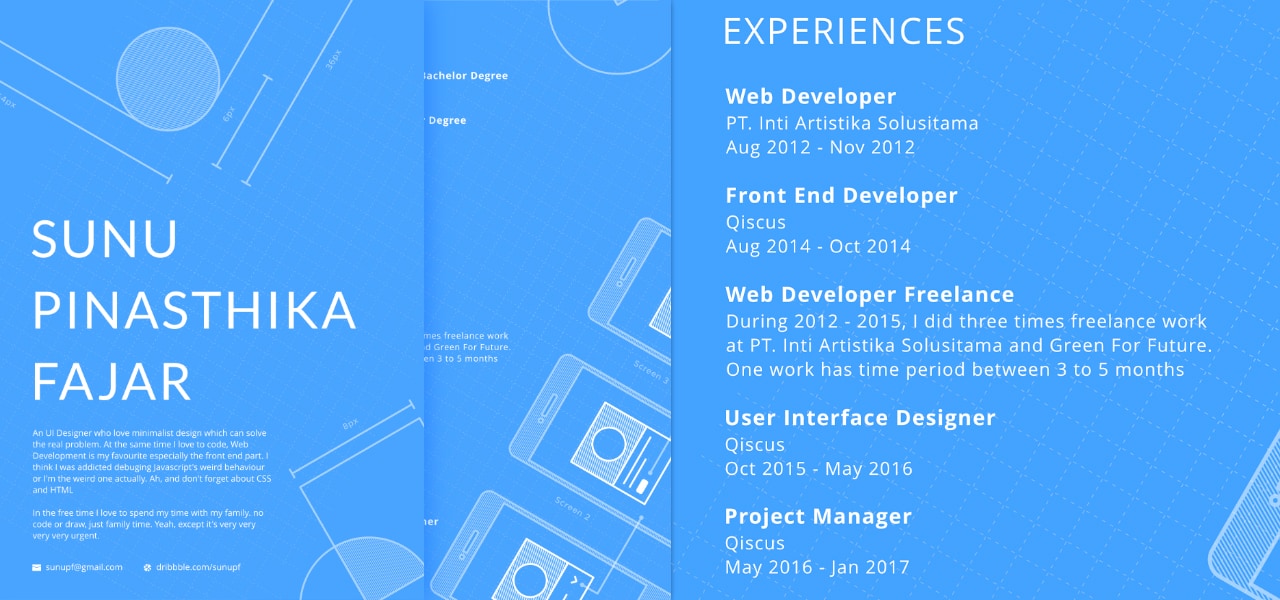 The CV of daredevil Capt. Jack Sparrow and CV by Sovon Halder look primitive and even a bit boring by comparison to the previous examples. But both designs cover all the essentials such as experience, skills, leadership, education and contact info. Yet still it does not catch your attention. The vital moment of creating a great first impression has passed. Of course, it does not mean that your resume will fail. If you are a master of your trade with a wealth of experience, then nothing can compete with this.
Capt. Jack Sparrow Resume Template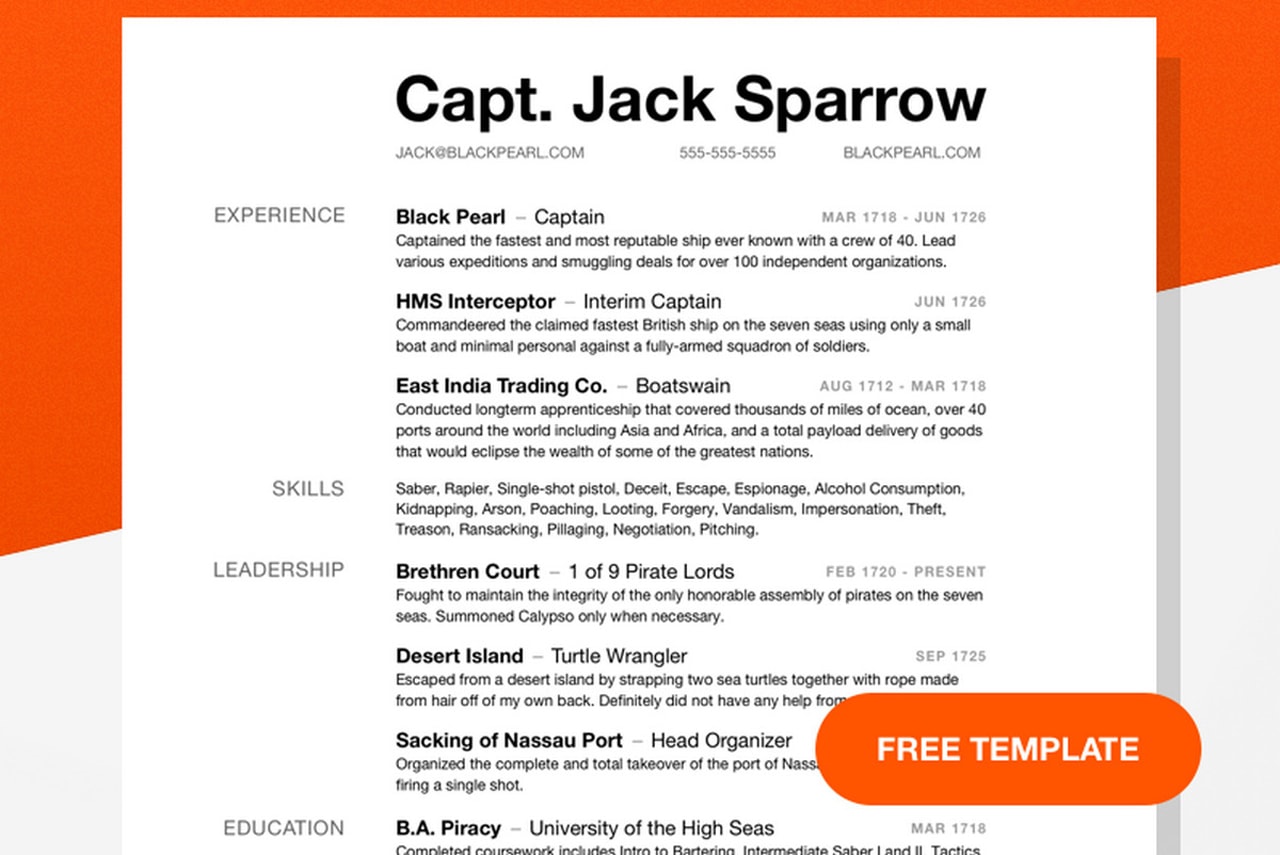 Minimal Resume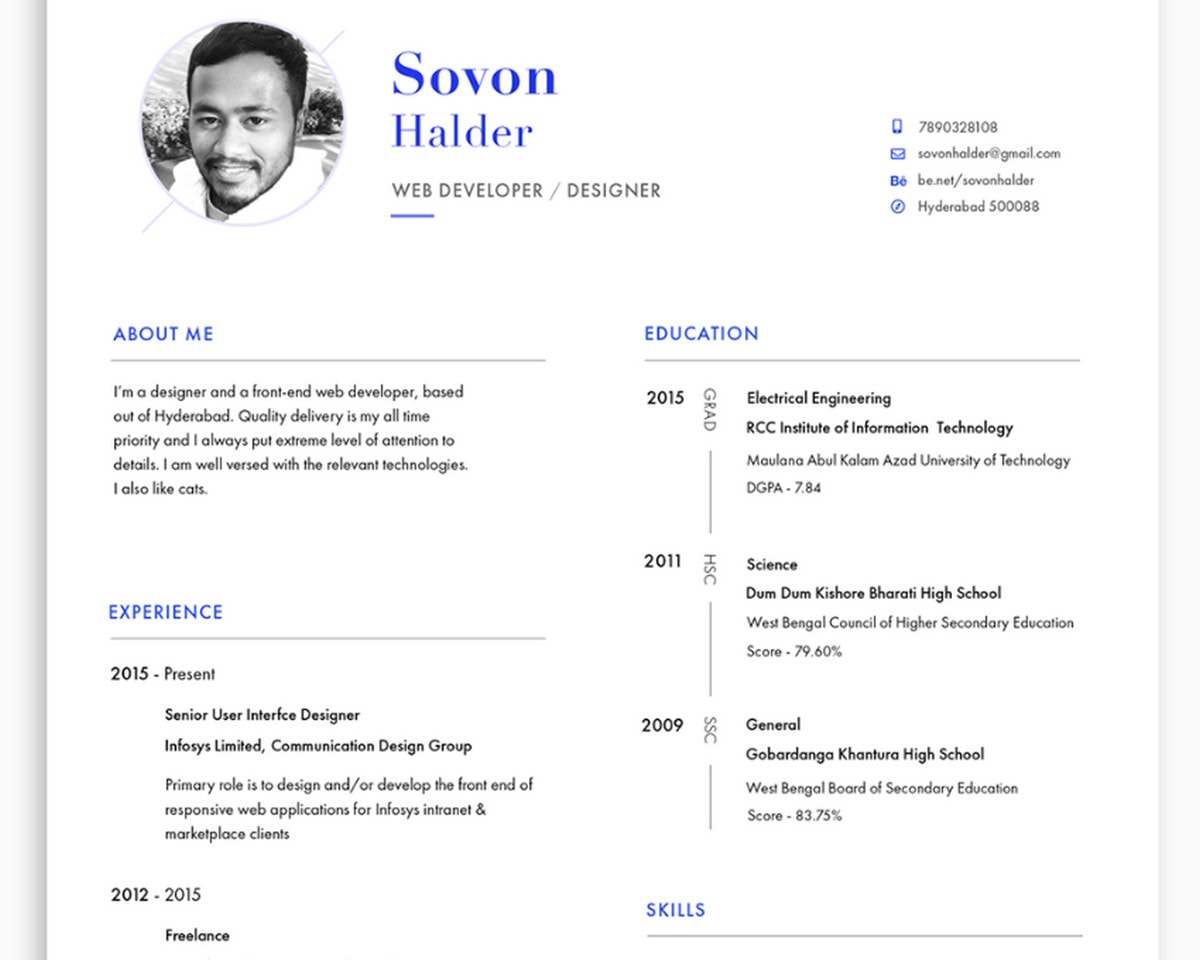 What to include in the resume design should be information about education, experience, skills, leadership, personal qualities and a touch of your personality. 
Design
The importance of good design is indisputable. It is your strategic weapon in winning over a potential employer. Let's consider it from different angles, since every detail matters.
No-Code Email Template Builder
With Postcards you can create and edit email templates online without any coding skills! Includes more than 100 components to help you create custom emails templates faster than ever before.
Try Free
Other Products
Layout
You have finally prepared all the necessary information. What's next? It is time to create order out of chaos by organizing and dividing everything into digestive portions. There are several ways to lay out data. You can go for:
A one-column layout to reveal data sequentially guiding potential employer from top to bottom like in case of Clean and Simple Resume and Multipurpose Resume Template. Simplicity lies at the heart of these templates. They have a clean and neat structures. Thanks to gorgeous typography and beautiful vibrant coloring, they feel original and inspiring.
A two-column structure that feels like a traditional online personal portfolio. Try Creative CV Template or Designer Resume Template. Both templates employ a sidebar for separating contact information and a portrait from the rest of the content. The Graphic Google's freebie is delivered in Illustrator format whereas the freebie by PSD freebies is in Photoshop format; each in high resolution.
A well-structured masonry organization like Designer Resume Template PSD Bundle. The grid structure can be beneficial in such situations.
Multipurpose Resume Template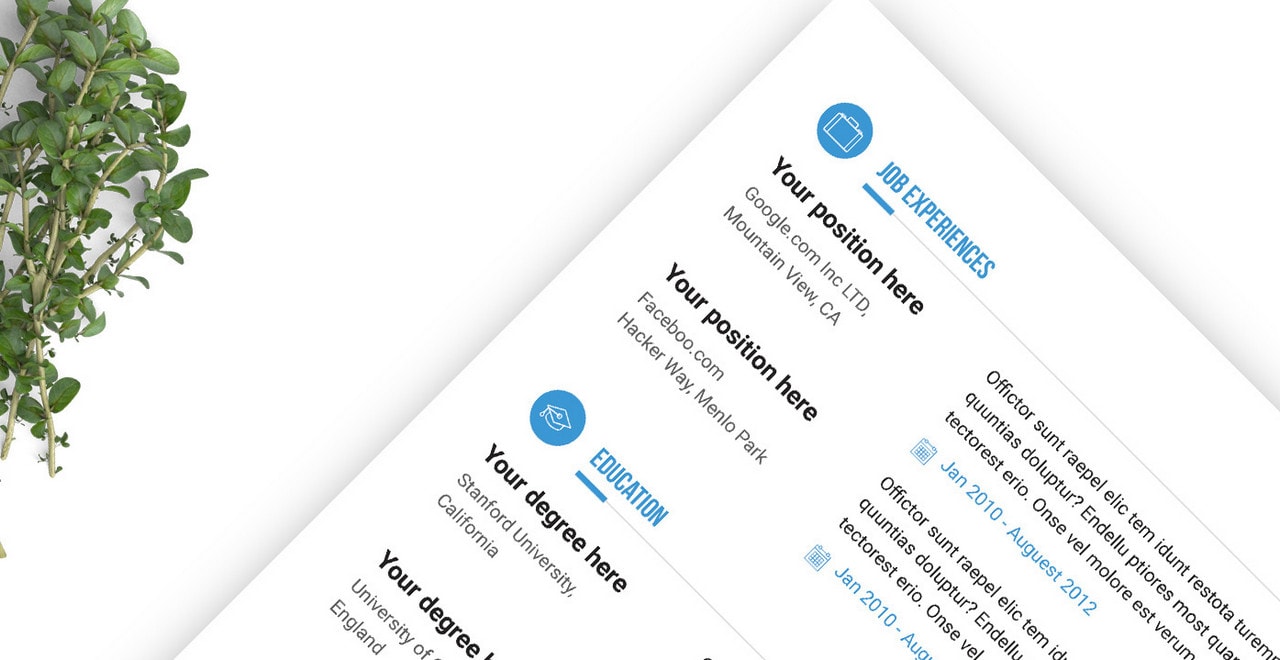 Clean and Simple Resume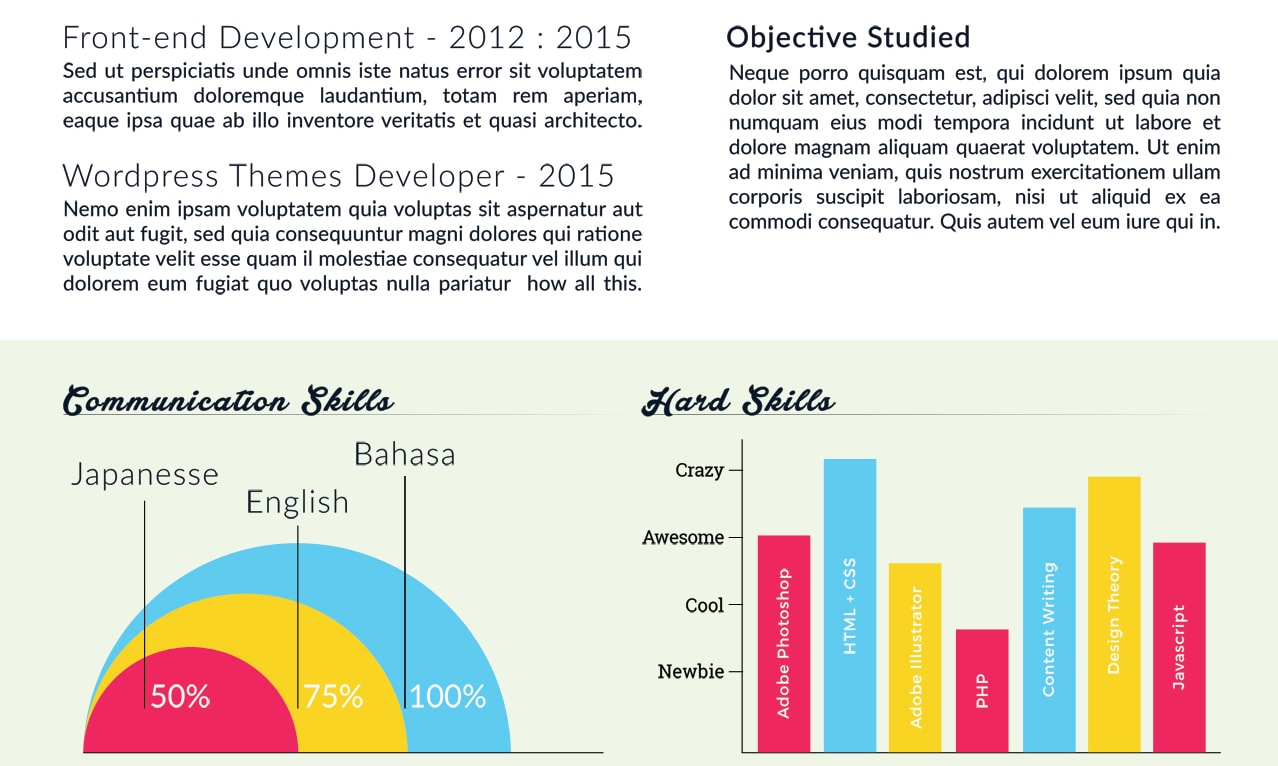 Creative CV Template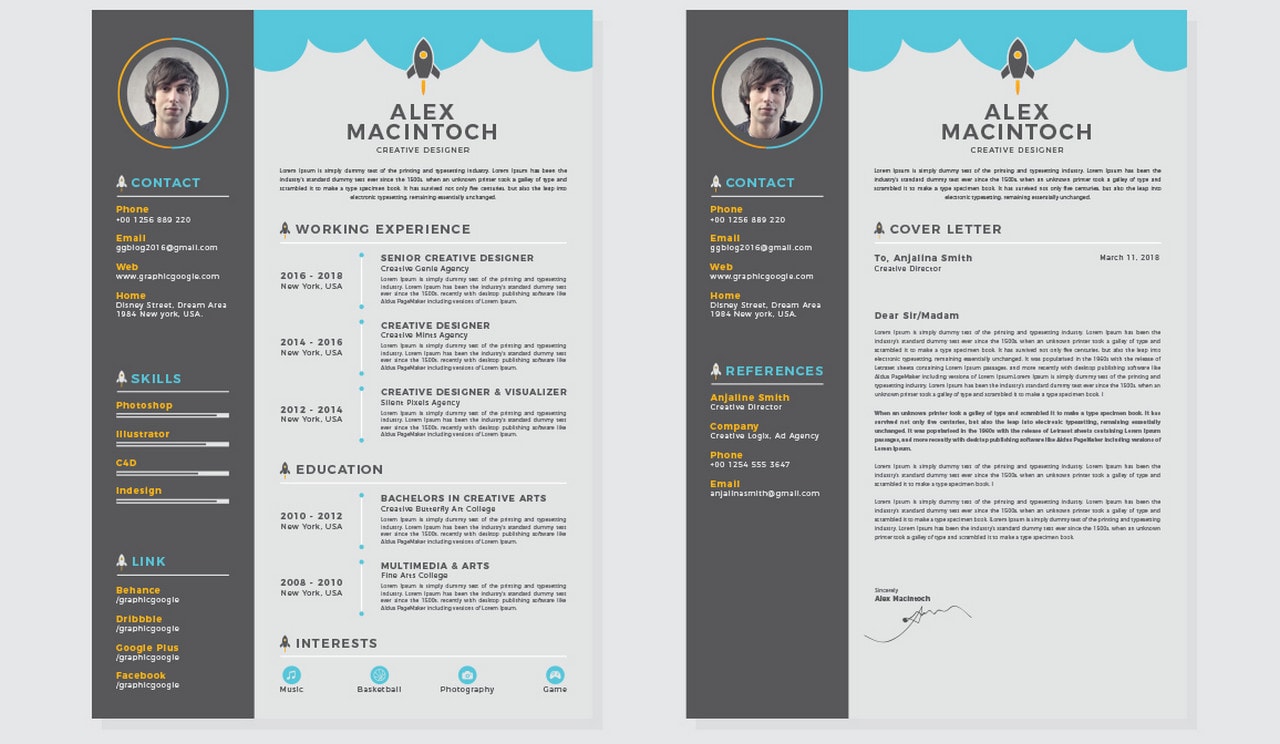 Designer Resume Template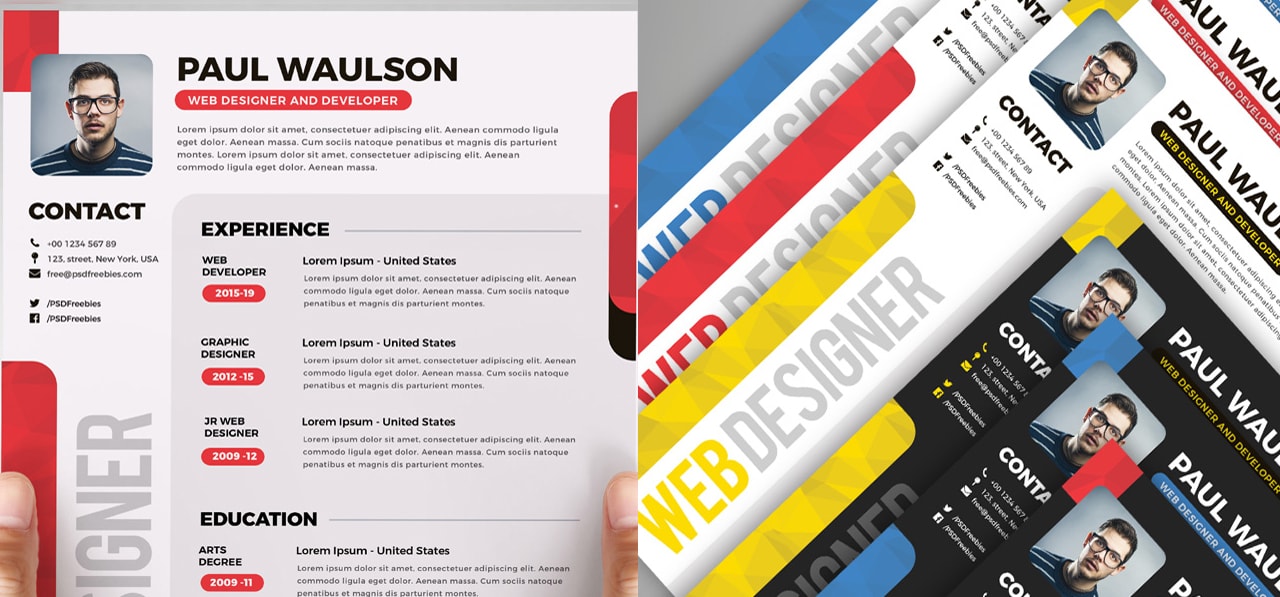 Designer Resume Template PSD Bundle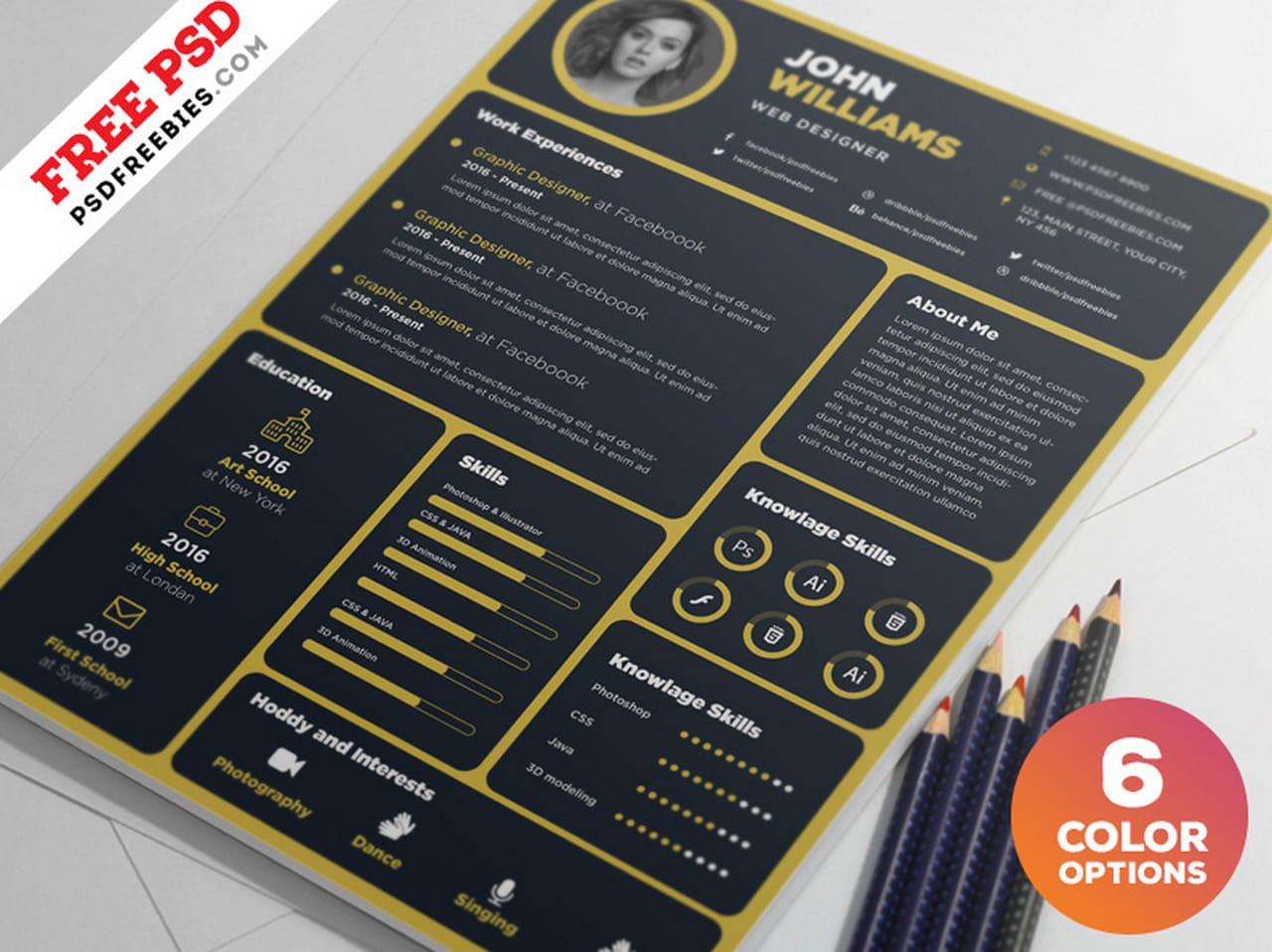 Color
The majority of resumes employ light coloring with white as a core and black for typography. Modern Resume with its elegant appeal is a representative example of this. Going for a time-proven palette, it ensures the optimal readability. With its neat structure, it easily covers information and is easy to read.
Modern Resume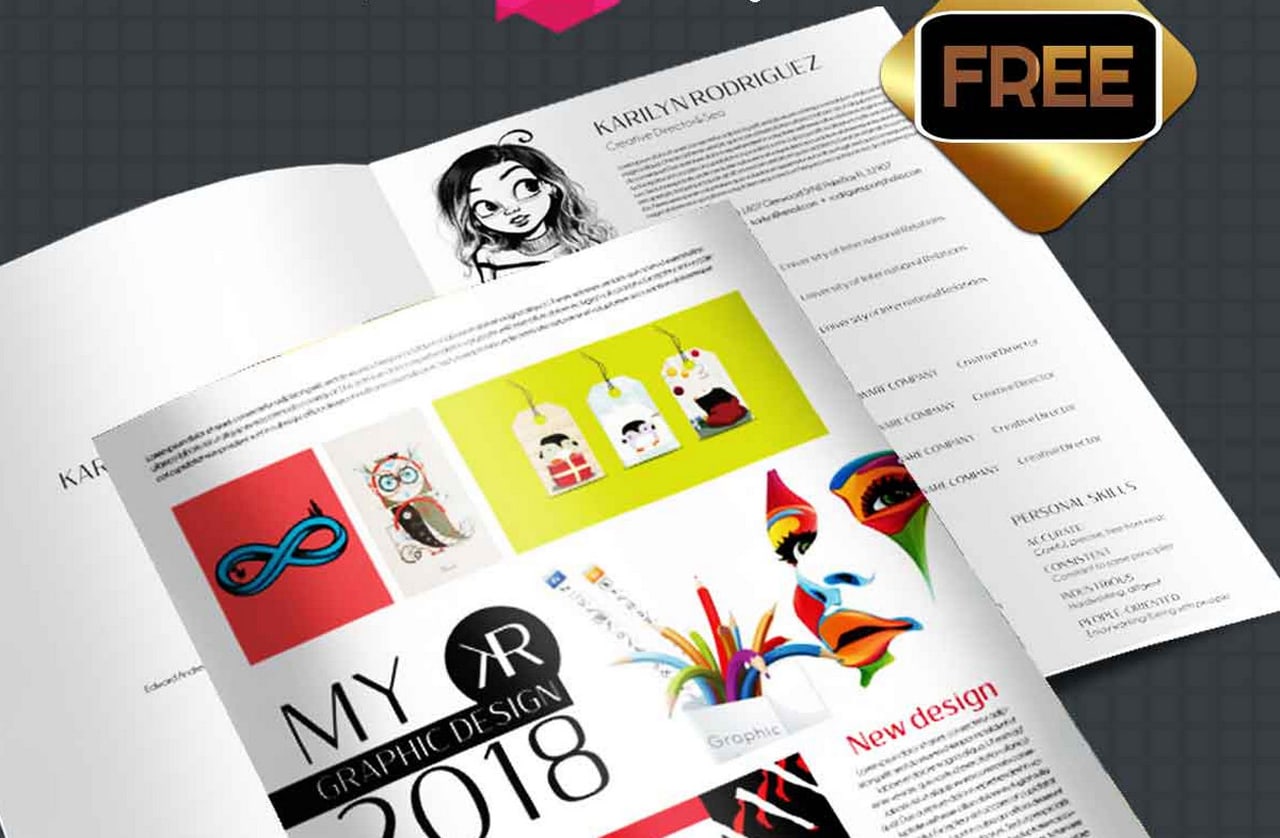 Neutral coloring is always a safe choice, but with it, it is difficult to show creative thinking. In this case, you could use few additional tones. Consider Designer Resume by PSDDaddy and Designer Resume Template. Both templates hint at the bright personality of their owners with a vibrant palette.
Designer Resume Template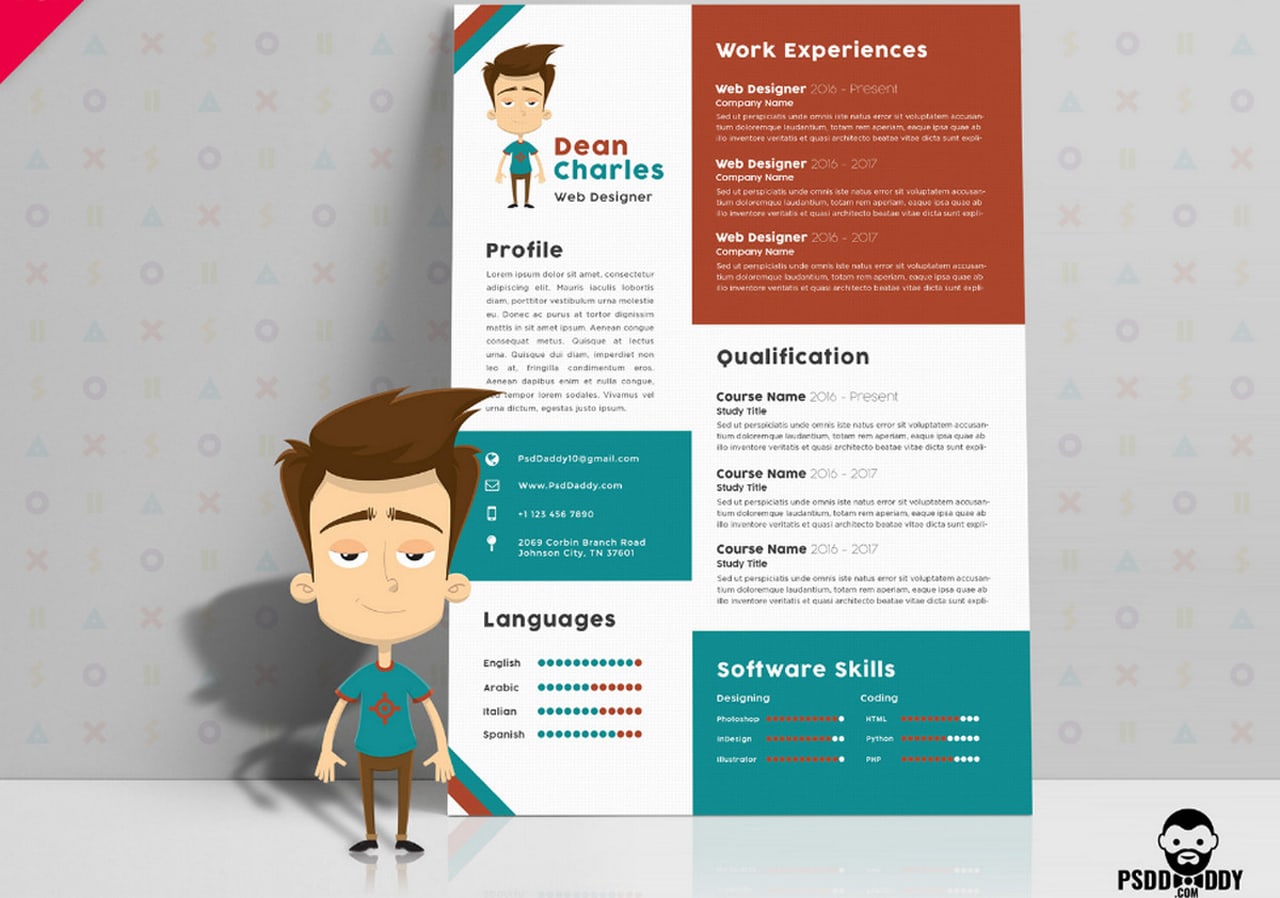 Typography
Typography in resume design performs two roles. It creates visual hierarchy, delineating headlines and text like in case of Simple Resume Template. Tom Hardy shows how to use fonts properly. Experiment with size, weight, and color to achieve the pleasant experience. Typography also contributes to creativity as a decorative instrument.
Simple Resume Template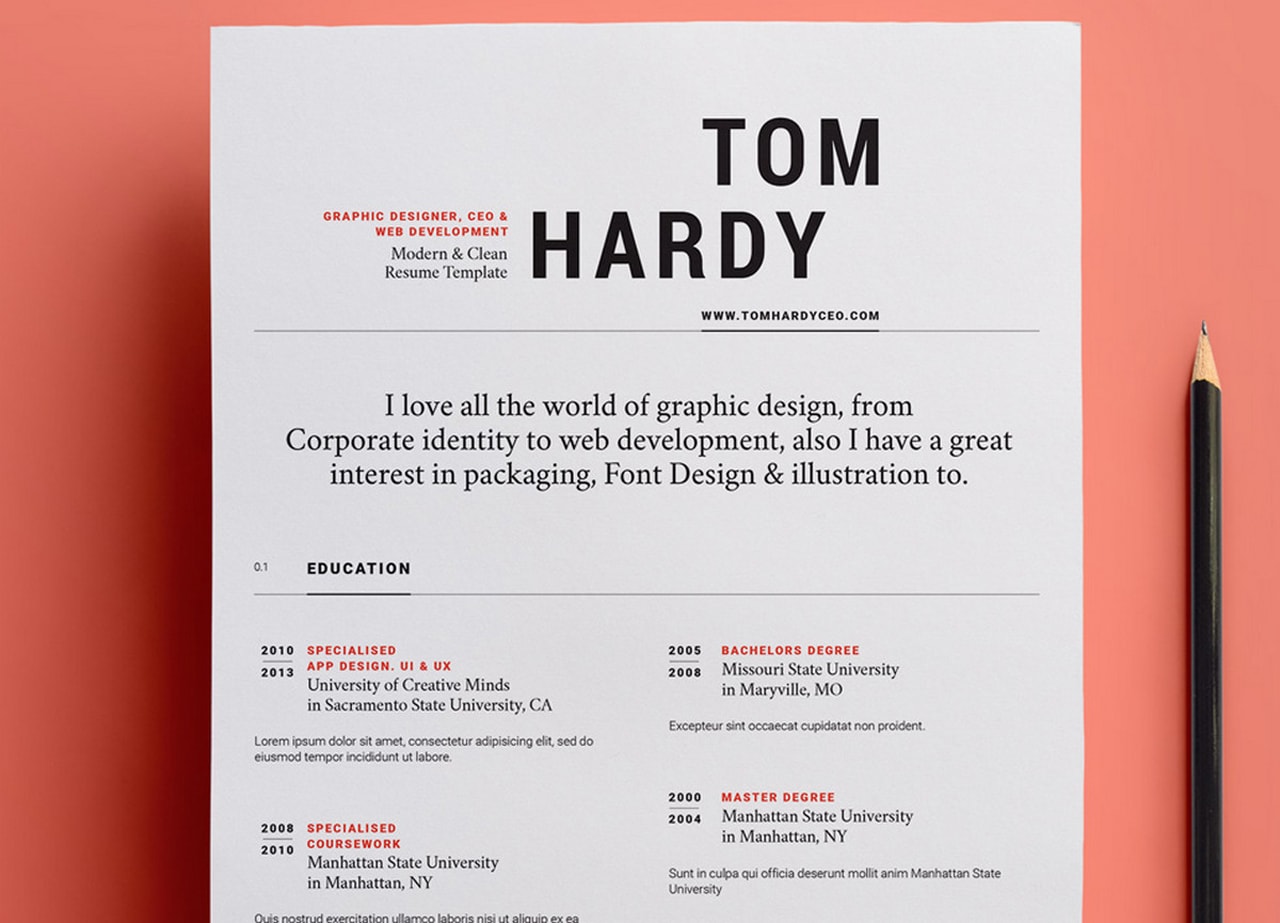 Infographic Elements
Do we actually need this? I believe we do. Do you remember that people scan rather than read? You may think that this is not a case of resume; however, with dozens of candidates to review, it can be difficult to stay focused. With infographic-related elements, the content is easy to perceive. What's more, this pleasant experience will leave a favorable impression. Consider Sample Resume, 2 in 1 resume template and Infographic Resume.
Freebies by Resumeee and Steven Han are harmonious symbioses of text and graphics. They skillfully visualize vital moments making the resume easy to scan.
Sample Resume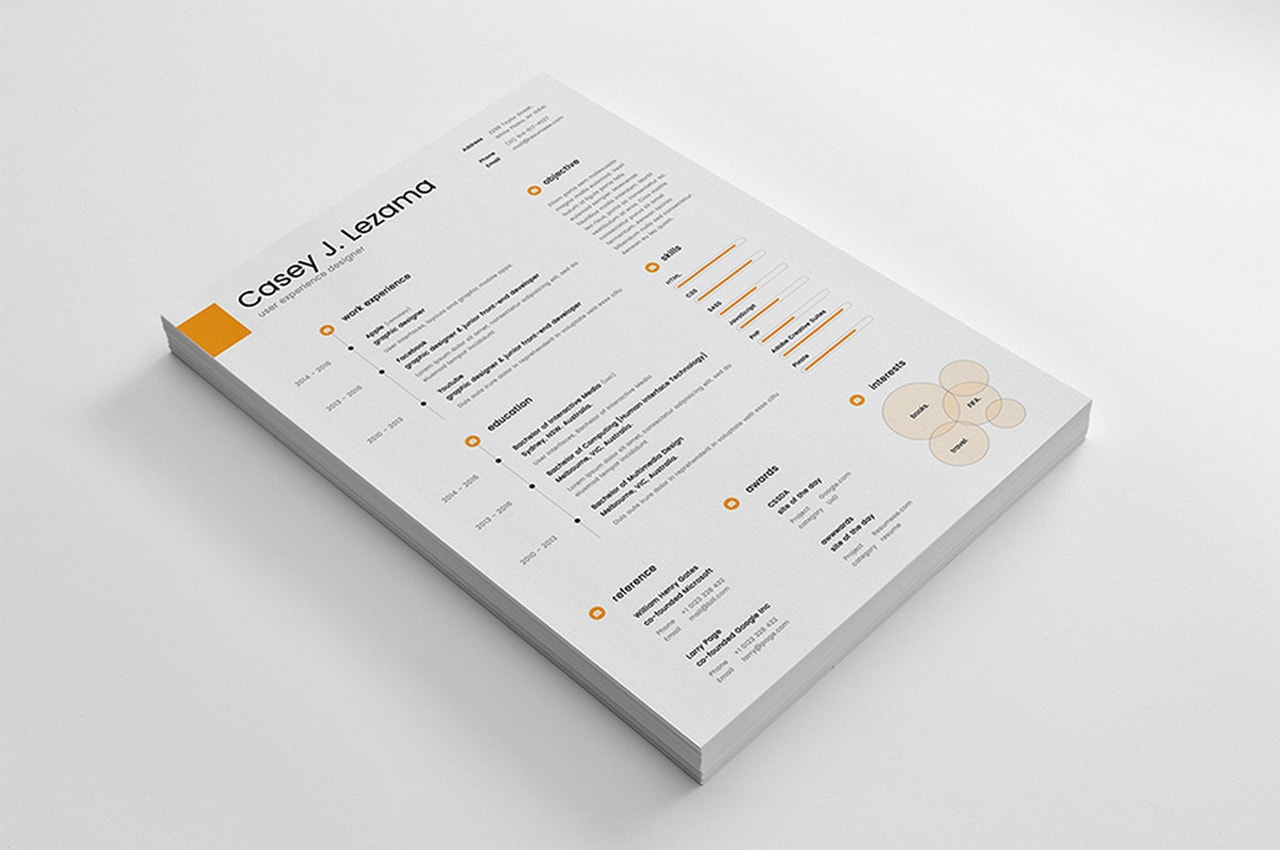 2 in 1 resume template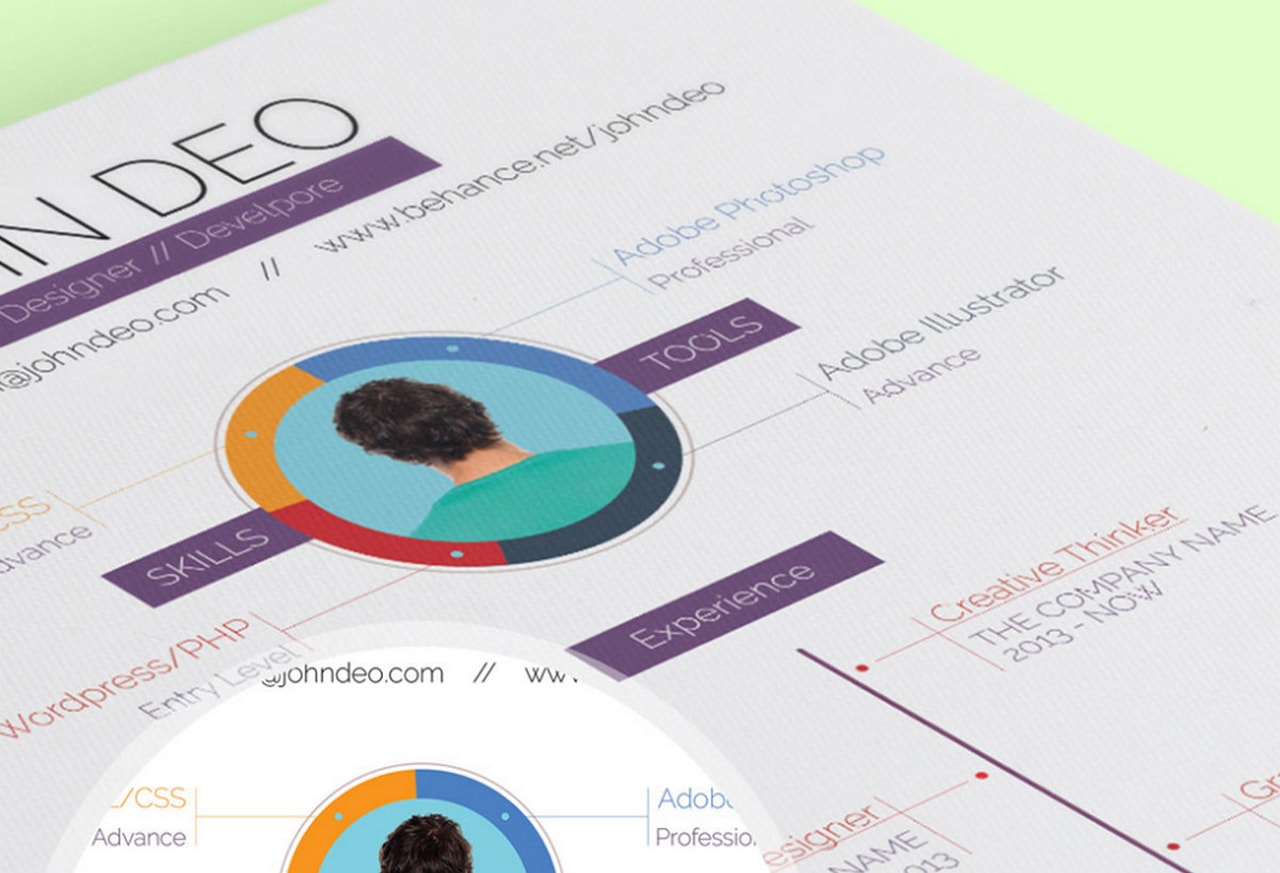 As for infographic resume, it does have a cartoonish flavor, but is engaging. All the chunks of text have been transformed into marvelous graphical presentations that are hard to overlook.
Infographic Resume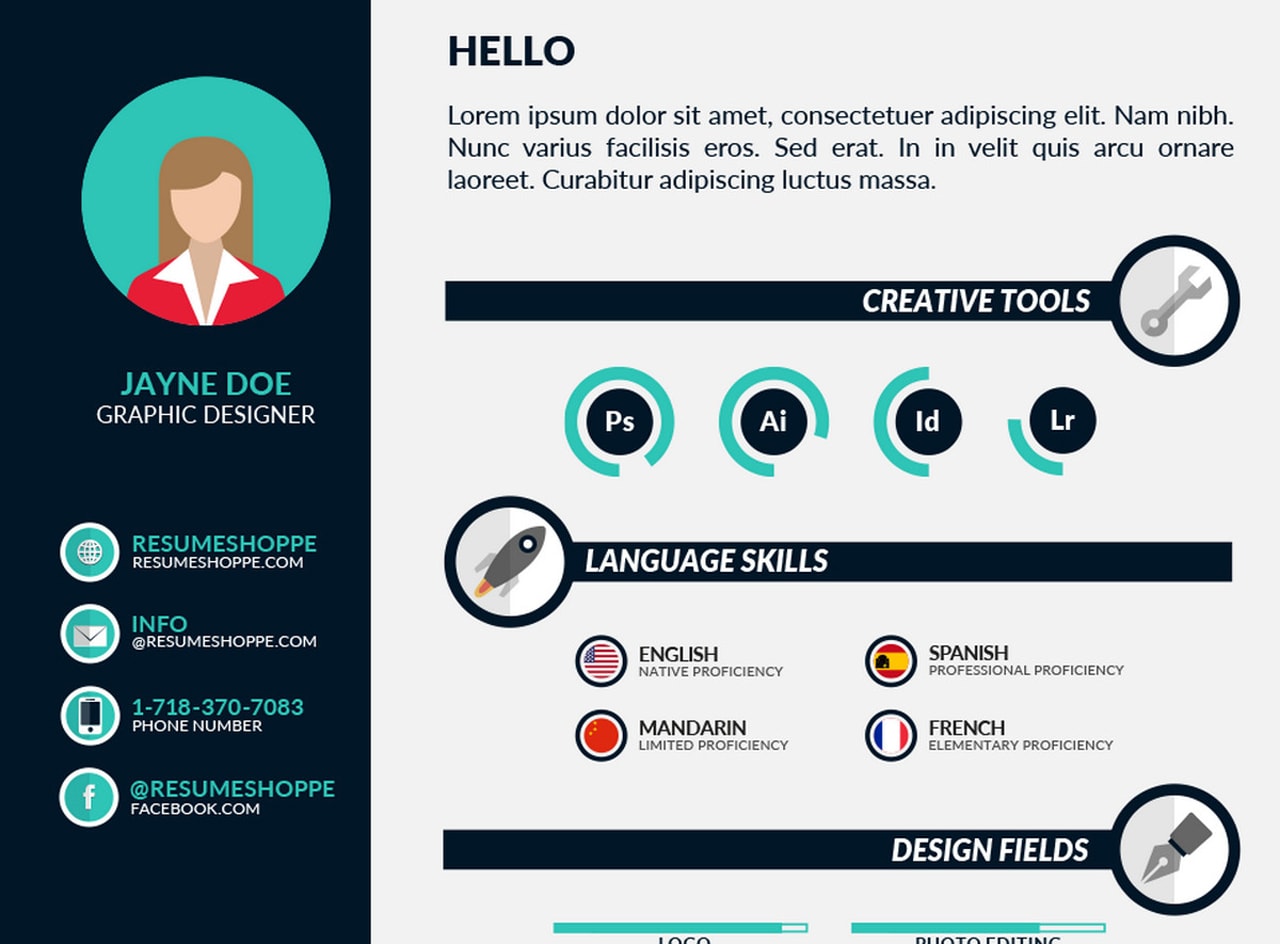 Simplicity or Complexity?
This can be tough to decide, especially when you are struggling to show off. As a rule, a resume takes up several sheets of paper, so simplicity is an obvious choice; however, this does not mean that it should be primitive or insipid. Take a look at Simple and Minimal Resume and Draco Template. Both templates have successfully embraced minimalism. They are uncluttered and well-arranged with a note of originality. While the first compactly arranges data thereby naturally highlighting important moments; the second is fresh thanks to generous amounts of white space. It is also available in HTML format.
Simple and Minimal Resume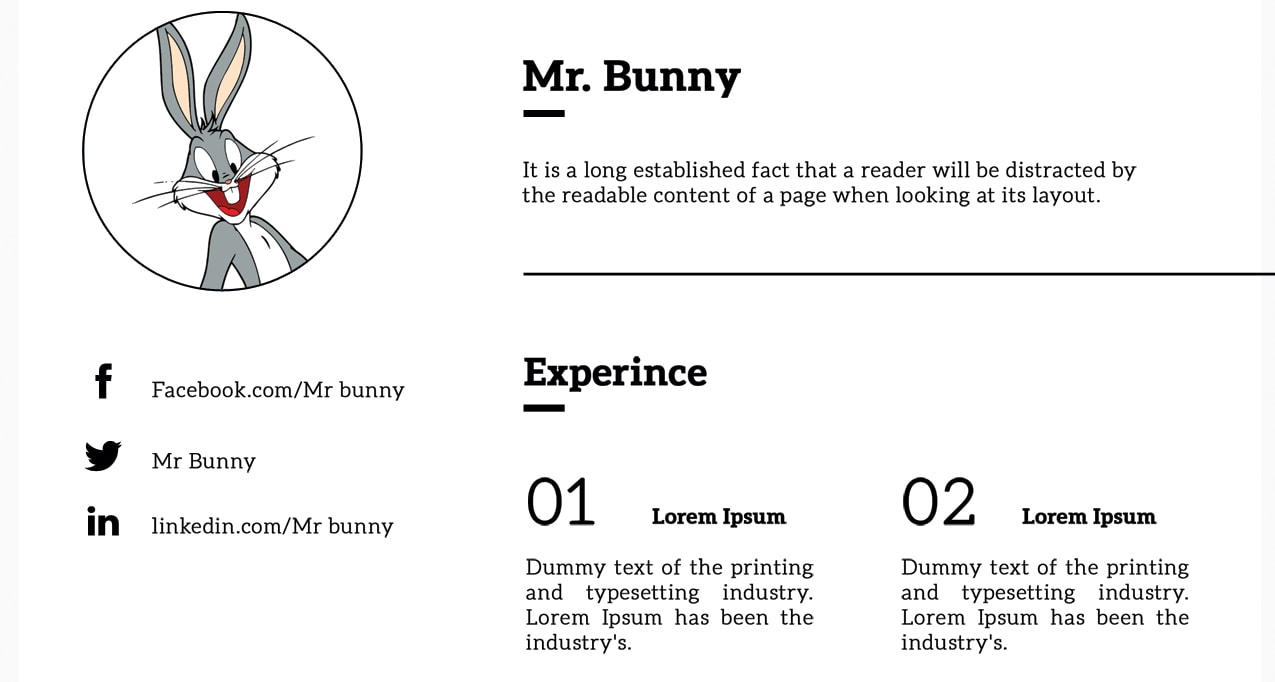 Draco PSD and HTML Template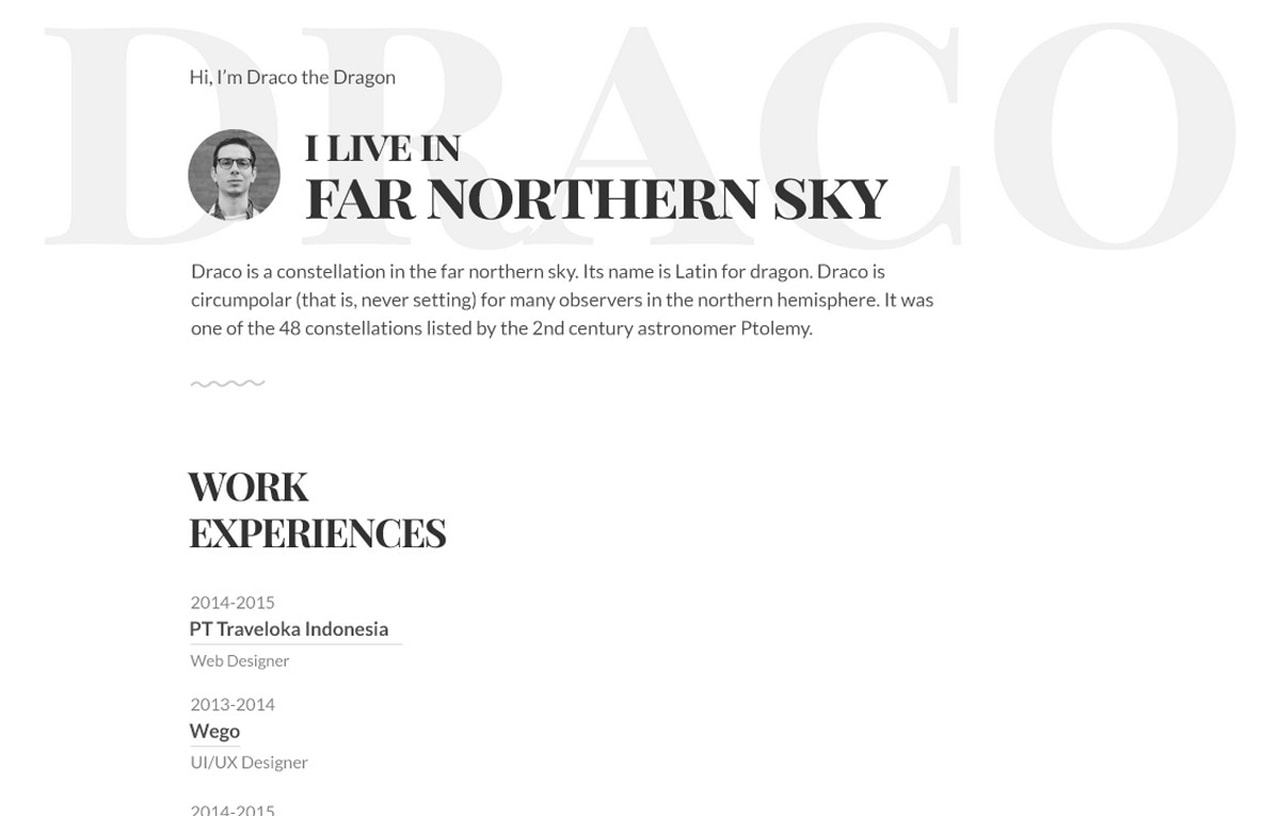 If the previous templates do not meet your requirements then complexity is probably the right choice. Consider CV Template and Rare Resume Template. They come with several templates that let you reveal as much information as you want, including personal data, portfolio, cover letter and more.
CV Template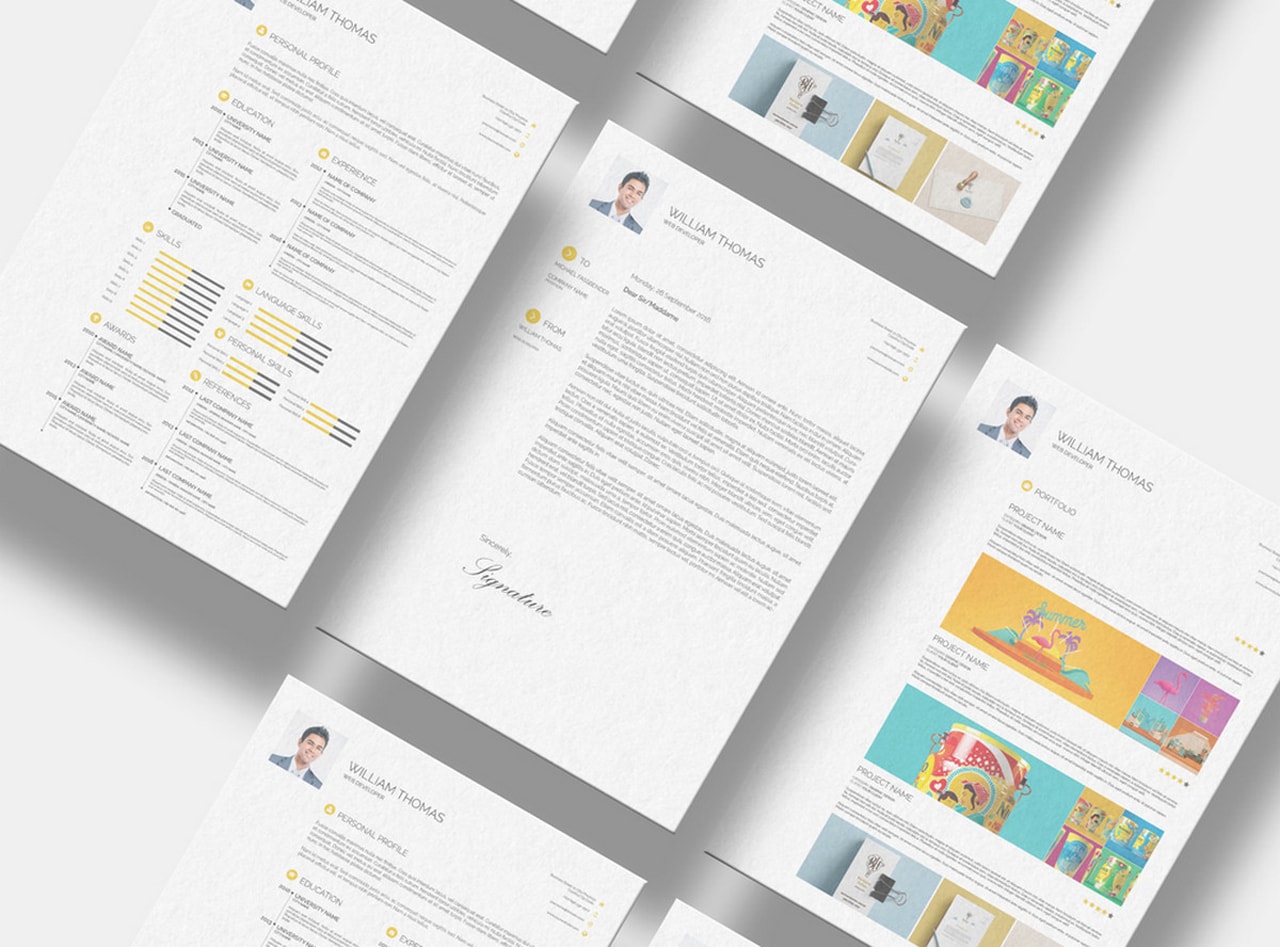 Rare Resume Template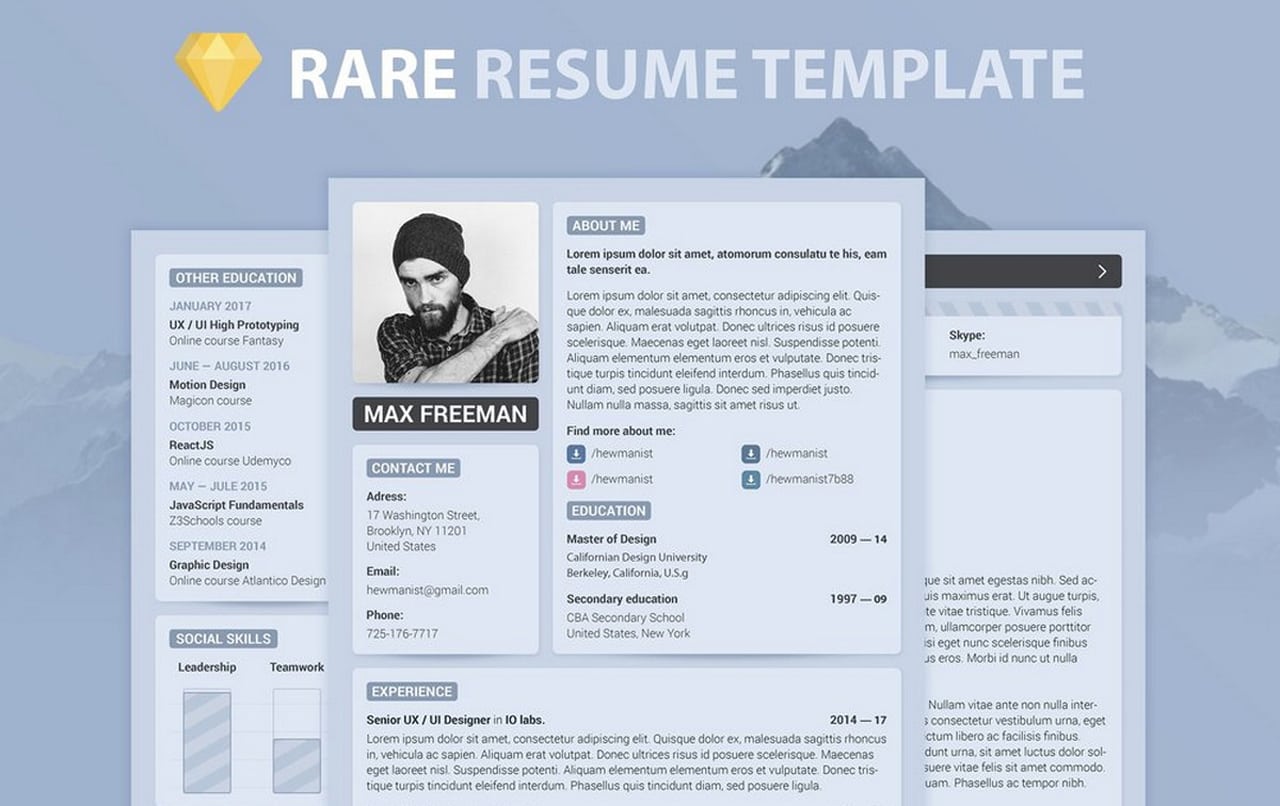 Conclusion
Coming up with a well-designed resume can be a tough task. Putting all the pieces together and achieving an original and informative artwork on just a sheet of paper is an art form in itself. I hope our collection of well-crafted resume templates give you a solid start in this undertaking.
So, tell us, what do you include in your resume? What colors do you prefer? What tricks do you use to win over employers? Please, share your experiences in the comments.
Like what you're reading? Subscribe to our top stories.