How to Get a Remote Job
Virgin Media Business recently predicted that 60% of office-based employees will regularly work from home by 2022.
You've had enough of office life? Need a change? You don't need to be stuck with the job positions offered by your local employment market.
Finding remote work is as hard as finding a regular job – there are a lot of options out there and getting started can be tricky. However, there are definitely some things you can do to speed up the process.
The good news is that more and more employers are embracing remote working. According to The Guardian, one-third of employees think that commuting will be a thing of the past by 2036 and a survey conducted by FlexJobs found that remote workers feel more productive when they work in their home offices.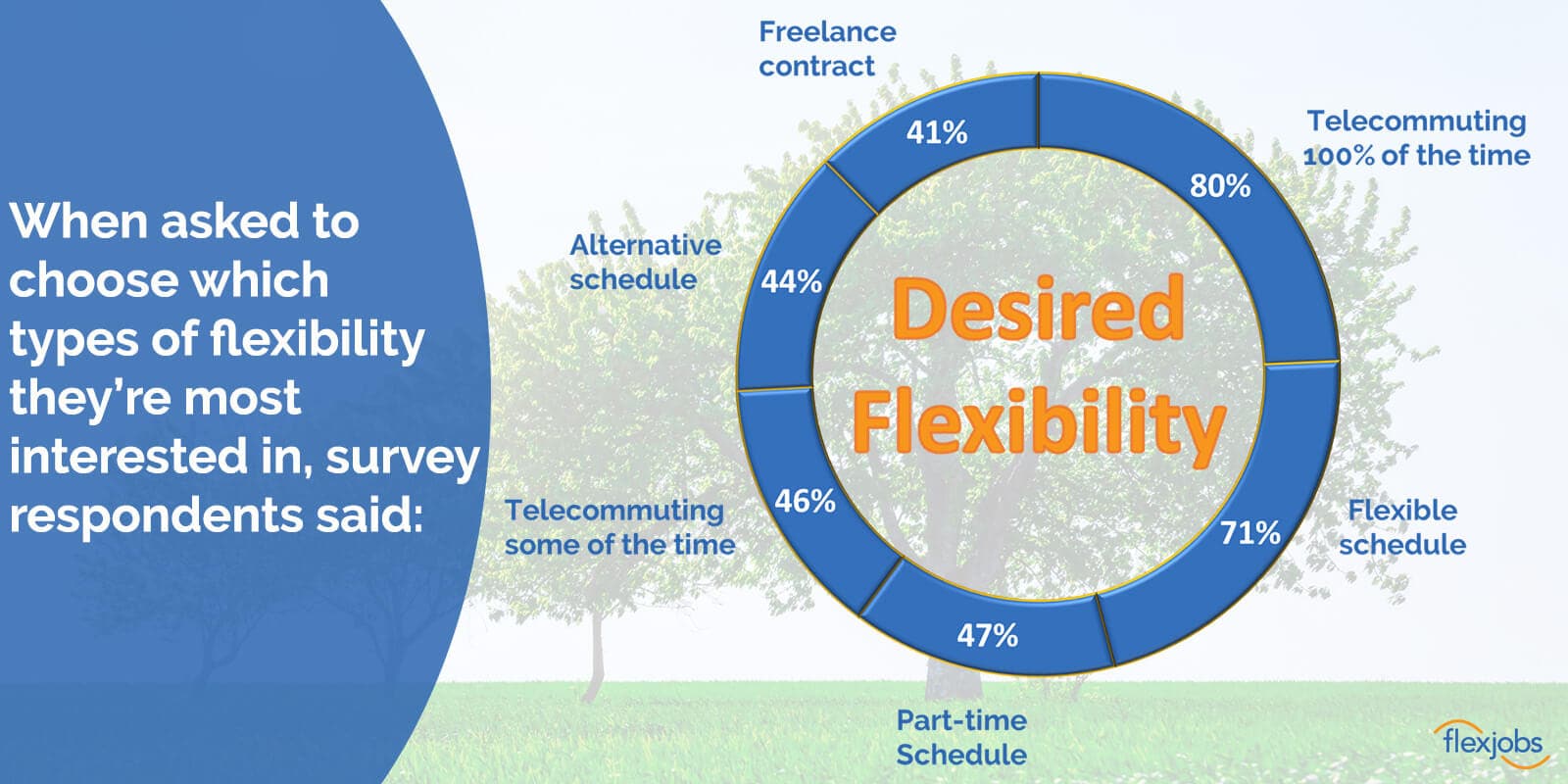 One of the key reasons why people switch to remote jobs is to gain more flexibility. Source: FlexJobs.
Tips on How to Find a Remote Job
Greater autonomy, less time spent commuting and all the flexibility you might ever need – we all know the perks of remote working.
No-Code Email Template Builder
With Postcards you can create and edit email templates online without any coding skills! Includes more than 100 components to help you create custom emails templates faster than ever before.
Try Free
Other Products
But how do you find a remote job?
Don't worry – there are numerous remote opportunities out there.
Follow these tips and learn where and how to look for a remote job.
Target Job Boards
If you're a job seeker, the first thing you need to do is target the best job boards available.
There are a great number of job boards online and all you need to do is to skim job listings regularly in order to find remote job positions. Save yourself some time by subscribing to job boards that specifically offer remote jobs.
I've dedicated the last section in this article to list the most popular job boards for remote workers, so scroll down!
Start Networking
As you already know, job opportunities often aren't reported publicly, even those in top-notch companies. So, it's vital to network as much as possible – meet like-minded people, and attend conferences and retreats. Let people know that you're looking for a new job and that you might even be thinking about taking a whole new career path.
Social media platforms like Facebook and Twitter can also help you meet like-minded peers. Talk with people who already have experience with remote work and follow their tips. How did they get their job? Are they satisfied with their remote work? Also, talk with colleagues and friends who already know your personality and skill set – they can point you in the right direction.
Improve Your Search Tactics
You'll be surprised by how many different results you'll get on Google if you only change one keyword. Don't just search for "remote jobs," also try "telecommuting," "work from home jobs," "work-at-home," and "remote careers." Also, in order to expand your search options, remove location constraints on job boards and leave them blank.
Develop Your Skills
Let's say that you've already started the job hunt. You've targeted the best job sites, researched remote positions and remote companies, and sent your cover letter. It's been months and you can't even get to the interview stage. Don't panic.
Maybe it's time to try a different strategy and develop your skills. Find out what type of skill sets remote employers are looking for, especially for remote interviews. Also, think about which industries offer remote positions and which of them you would like to take part in, regardless of your previous education and professional experience.
You can take courses on various platforms like Coursera or Udemy and develop your skills. Also, check if there are any courses in your city. This is a great opportunity to learn something new and meet people who are already working in the field.
Top Remote Jobs and Industries
Remote work was made possible through computer technologies and the best remote jobs are in this type of industry. But don't be disheartened. There are countless remote job opportunities that don't require great tech knowledge.
Here are the top remote jobs and industries. But remember, this is just a small portion of all remote job offers available on freelance and job boards.
Web Design & Development
Web development is basically the work that happens behind the scenes to make a website function properly, and it includes creating social media applications, business applications, and web-based applications.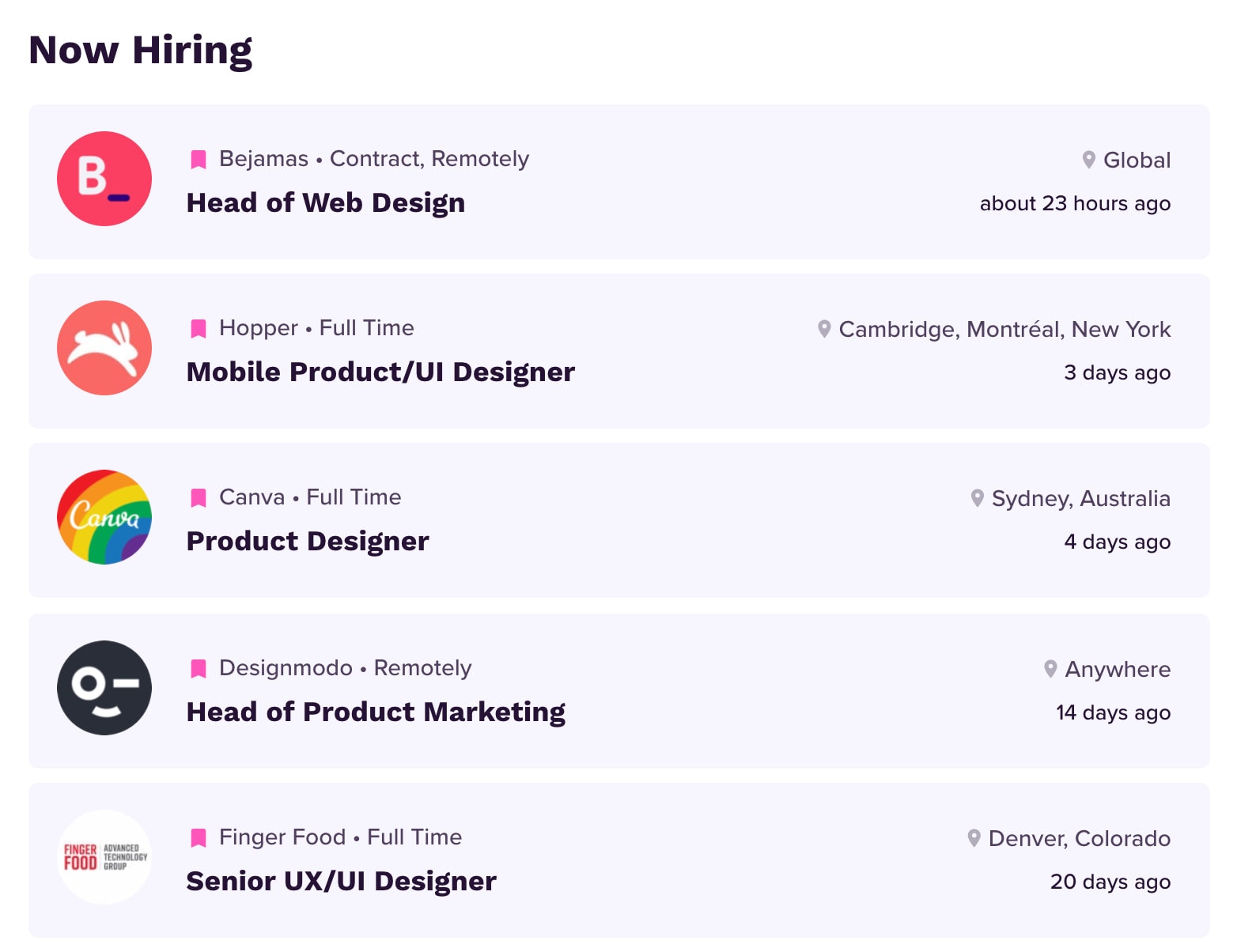 Web design & development jobs posted on Designmodo's job board.
Web developers should have knowledge of three programming languages such as HTML, CSS, and JavaScript. If you're a web developer tired of office life, check out Designmodo's job board – you may find some great opportunities.
Also, if you're ready to start a new career path in web development, there are numerous useful tutorials and online books and courses that allow you to start learning immediately.
Digital Marketing
Digital marketing is a growing field focused on every form of marketing that exists online. The professionals in this field use various digital tactics in order to promote products and services to customers.
From email marketing, affiliate marketing, and search engine optimization to social media marketing, there are numerous digital tactics that fall under the umbrella term "digital marketing."
If you don't have any professional experience under your belt or a fancy college degree in the field – don't worry. You can always google some of the digital marketing disciplines. There are countless articles that can help you learn a lot, not to mention that platforms like Coursera, Udemy, and LinkedIn Learning offer thousands of different free certification courses for digital marketing.
Digital marketing jobs can take the form of SEO Specialist, Social Media Manager, Content Writer, Content Strategist, and many more.
User Experience
User experience (UX) is a tech field focused on researching groups of people who use digital products (like apps and websites). How customers react to certain products, how it makes them feel and how appealing they find the product's design – all these pieces of information are used by the professionals in this field to improve customer experience.
People who work in this field are usually referred to as UX designers, but their job doesn't have as much to do with design as it has with developing product strategies, doing product research, and finally, making product improvements based on their research.
User experience can be a job that appeals to problem solvers, critical thinkers, and team players. There are also countless free online courses that can help you start a career in this field.
The Best Sites for Finding Remote Jobs
If you're looking for the best remote jobs online, you should constantly check job boards so you won't miss any golden opportunities. Whether you're a web developer or an entry-level copywriter, here's a list of job sites where you can find remote employers hiring for your role.
FlexJobs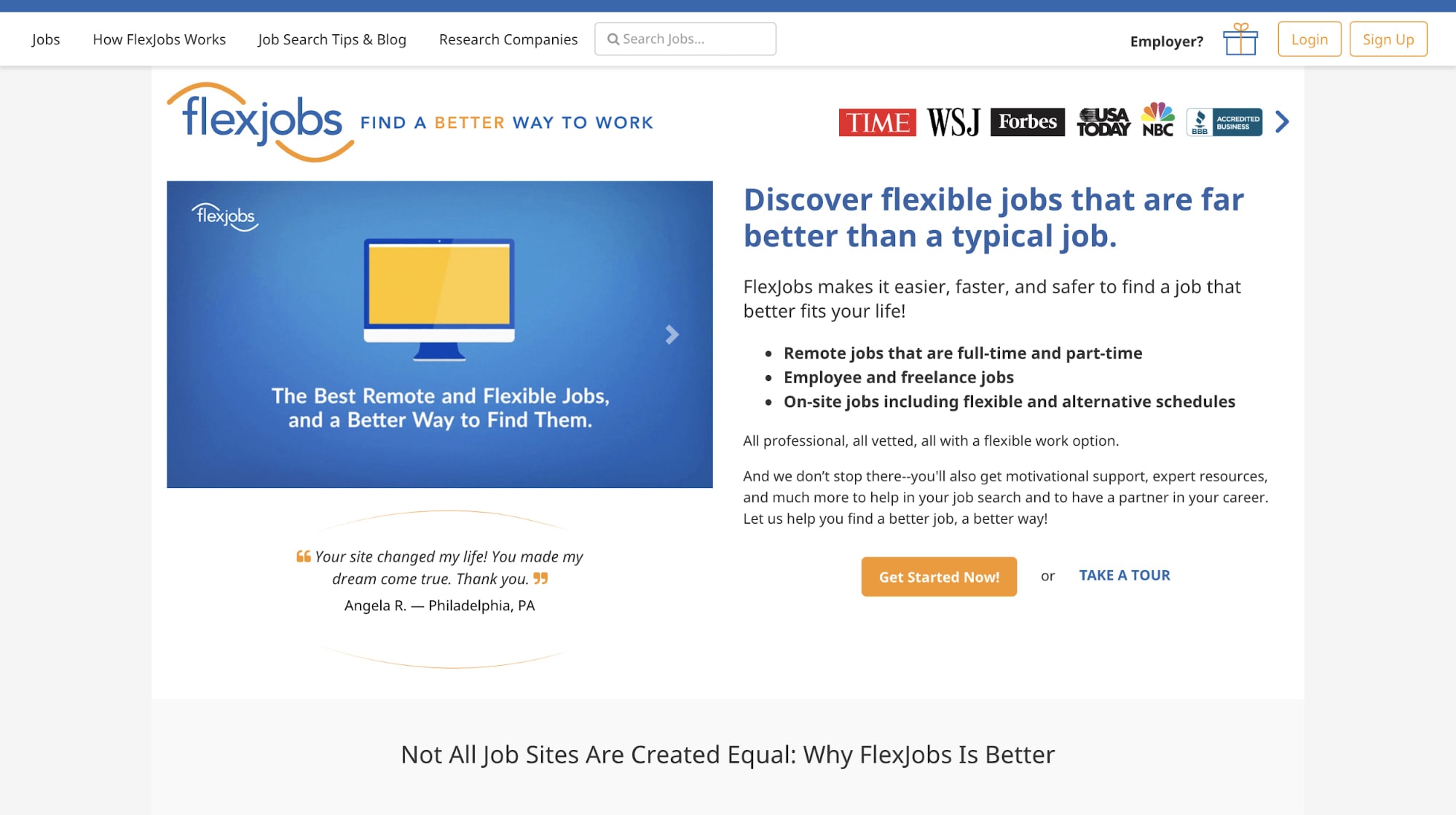 FlexJobs is a job board focused on finding flexible and remote jobs opportunities for clients. It has a team of experts who screen hundreds of job opportunities daily in order to find the perfect remote job opportunities for you. They divide job opportunities into 50 different categories and various ranks, such as part-time jobs, full-time jobs, and partly-remote jobs.
The best part?
FlexJobs is not just a platform that gathers flexible job opportunities in one place, it's a website where remote job seekers can find amazing educational content on how to approach the remote job market. It has an amazing library full of articles, videos, skills tests, and search checklists that can be very useful to anyone looking to quit their 9-5 job and find something flexible and remote.
The website currently hosts more than 20,000 remote job positions.
Designmodo Jobs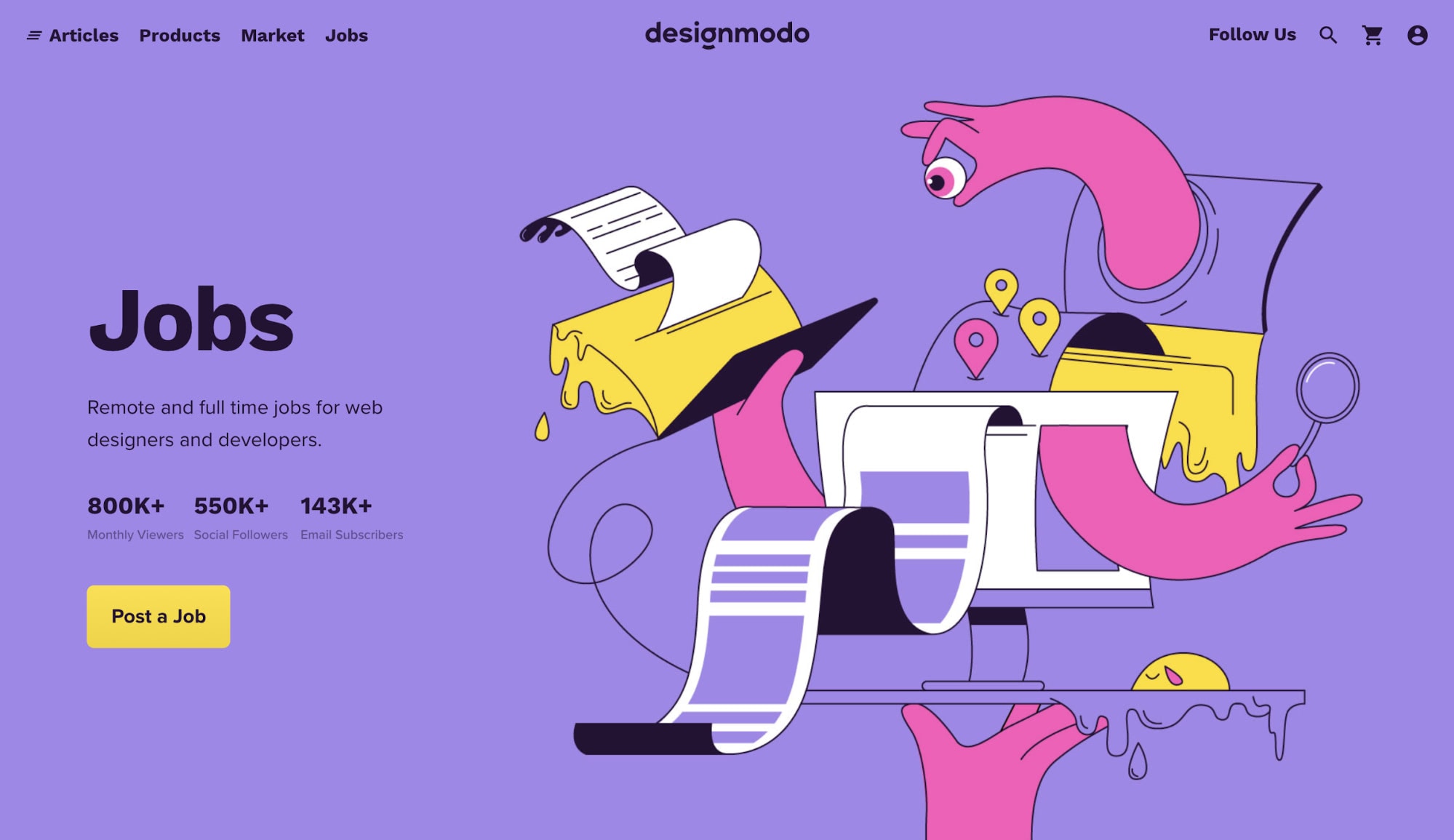 Are you a web designer or a developer looking for a remote job? Check out Designmodo's job board. Design job applicants know how competitive this market is, so they can definitely use a platform like Designmodo, a platform that is constantly updated with jobs exclusively from this field.
Instead of scrolling endlessly on other job boards filled with thousands of job opportunities that don't fit your profile, you only need to visit Designmodo's website and see if there's any new job offers for you.
What's more, Designmodo's website is user-friendly. With just a few clicks, you'll get an updated database of job opportunities in your field of work.
We Work Remotely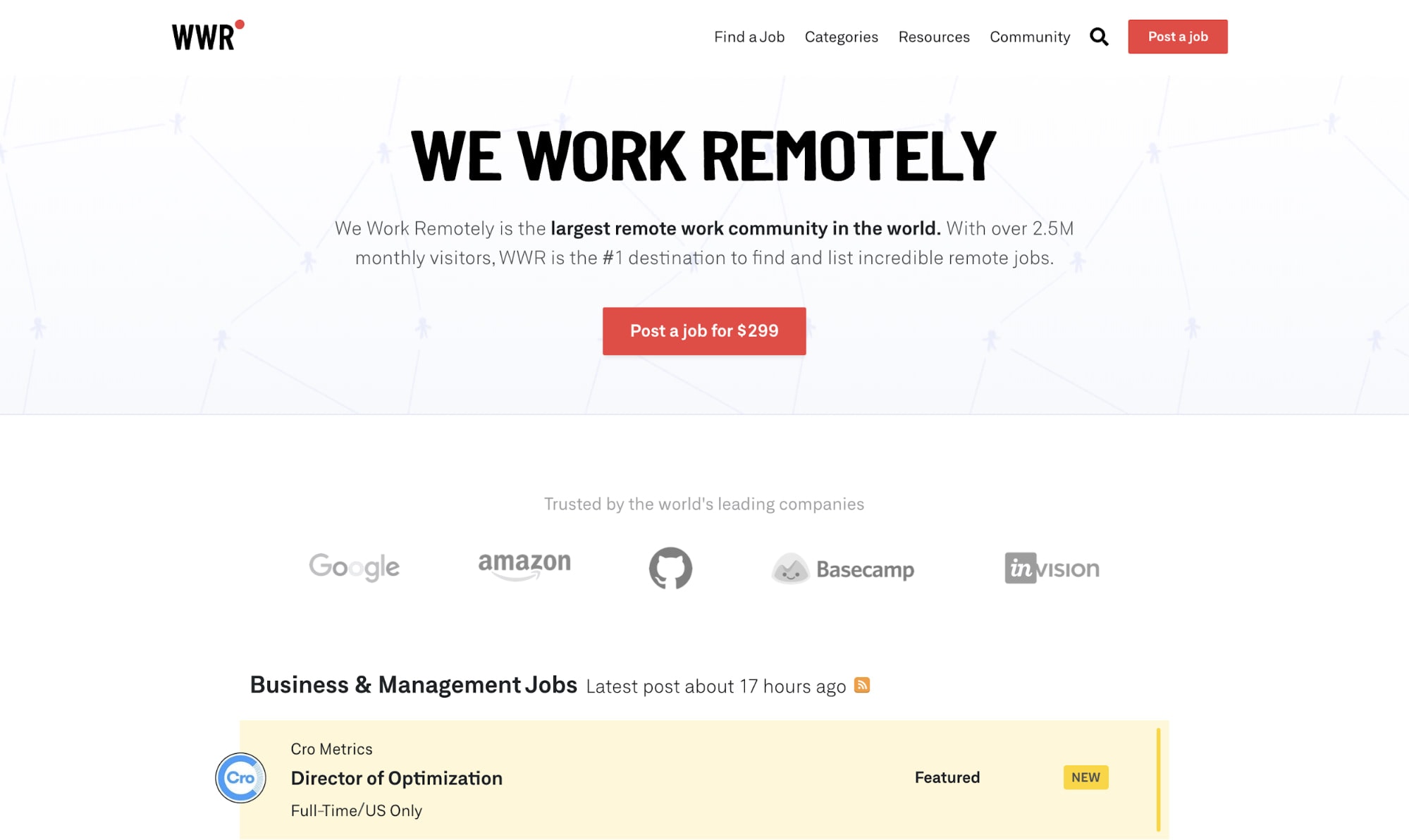 WeWorkRemotely is one of the largest communities of both remote employers and remote workers. The platform adds hundreds of new job opportunities in various industries daily.
With over 130,000 monthly users, WeWorkRemotely lives up to its motto, "finding the most qualified people in the most unexpected place."
Currently, it offers job opportunities in the following industries: sales and marketing, programming, customer support, copywriting, business and management, and design.
Jobspresso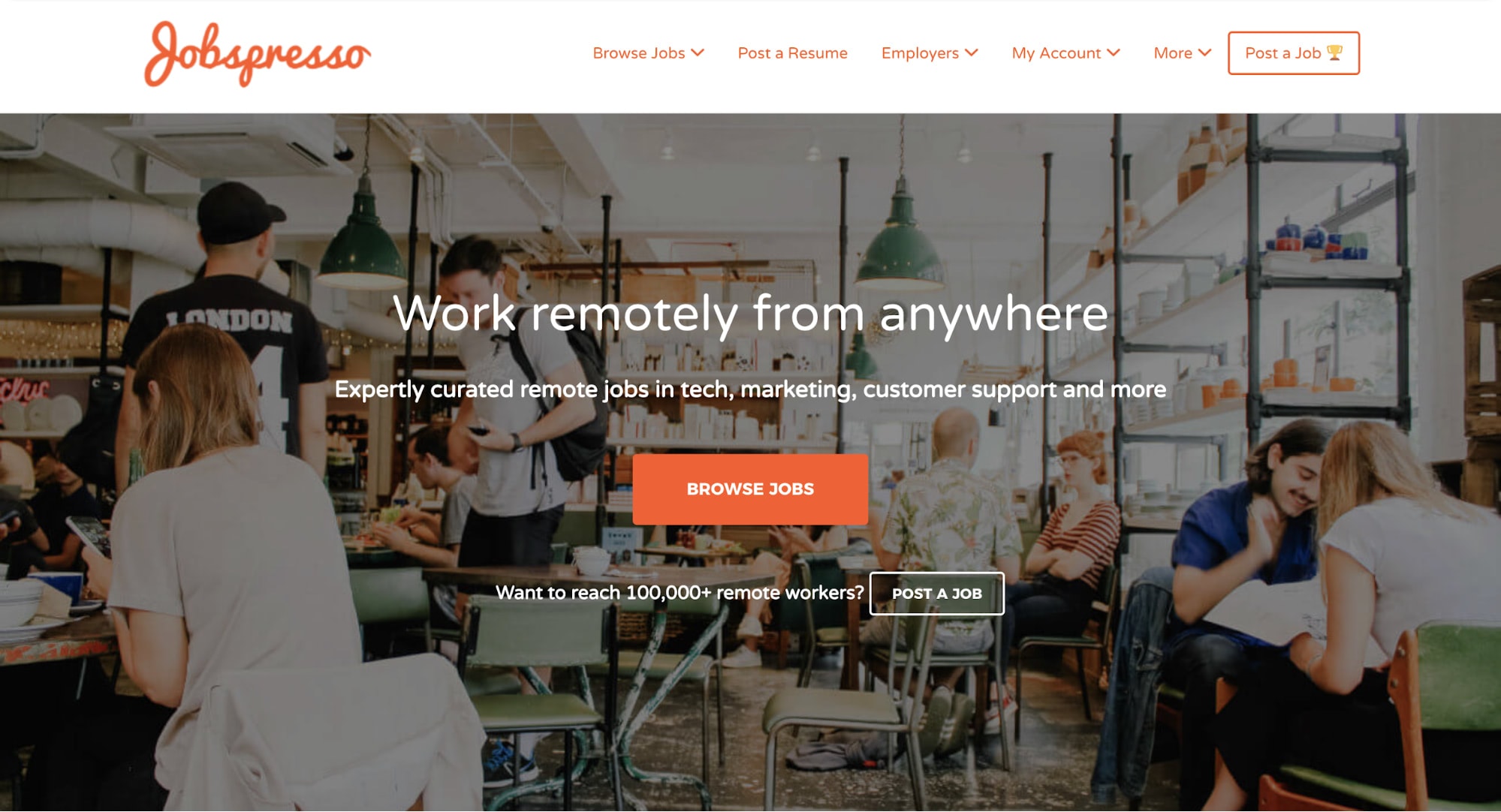 Jobspresso is one of the most popular job boards offering job opportunities in various industries, from web development, marketing, design, and programming to business and management jobs.
Its website is visually appealing and user-friendly, so you can find your way around easily. The best part? Each job opportunity is hand-picked and reviewed by Jobspresso's team, so job seekers only get to see the best gigs.
Wrap Up
Think there are tips and tricks for finding remote jobs that we've missed? Share your thoughts in the comments section!
Like what you're reading? Subscribe to our top stories.