Guide to New Year Email Newsletters with Examples
New Year is the last milestone in an annual email marketing campaign. Coming right after the biggest shopping events, Black Friday and Christmas, its importance is often overlooked and underestimated.
The deal is that at the end of the day, your creativity running low, your motivation running low, and you are certainly devastated by two previous email campaigns that took your heart and soul. However, New Year's offers a valid sales opportunity that, when played right, can maximize your revenue before the ball drops. Whatever mood you are in, close the year with a show-off campaign.
Create Email Templates with Postcards Email Builder

Postcards: Email Template Builder
Our guide to New Year's email newsletters marketing campaign will help you to do it.
Subject Lines
Coming up with a subject line that rocks is essential. Much like Christmas or Halloween, the New Year is marked by a sea of email newsletters. Therefore, you must create a headline that will stand out, ignite a contact's interest, and prime him or her to click on your email newsletter. So what can you do?
No-Code Email Template Builder
With Postcards Email Builder you can create and edit email templates online without any coding skills! Includes more than 100 components to help you create custom emails templates faster than ever before.
Start Free
"Last chance in this Year" – Establish a sense of urgency. FOMO is a powerful motivator and proven tool to make users click on the email newsletter.
"Free what?" – Arouse curiosity by hinting about huge deals to bring outstanding results. On top of that, people intuitively try to answer questions addressed to them, therefore asking a question in the subject line may also lead to high open rates.
"Get the First Look! The New Year's Collection is Here!" – Build excitement. Everyone loves VIP status and early-bird access.
"Top 10 Presents for New Year!" – Promise the best of the best, thereby removing the legwork for subscribers and providing valuable content.
"5 Tips for Achieving Your Goals Next Year" – Play on New Year's resolutions and a phenomenon of a fresh start.
"20.20% Off" – Offer themed discounts. Use humor and puns to lighten up the atmosphere and put everyone in the festive mood.
"???" – Add emotions. Using emojis is not something new. Nevertheless, they easily save the day. Here, you can use not just icons dedicated to New Year, but also seasonal options.

The main color of the background of the email newsletter is a luminous pink. The email's header is decorated with a pretty pattern that gives the whole thing a touch of elegance with pink color. The email's footer is black and has big CTA button. In general, the pink and black color scheme gives the email newsletter a bold and stylish look.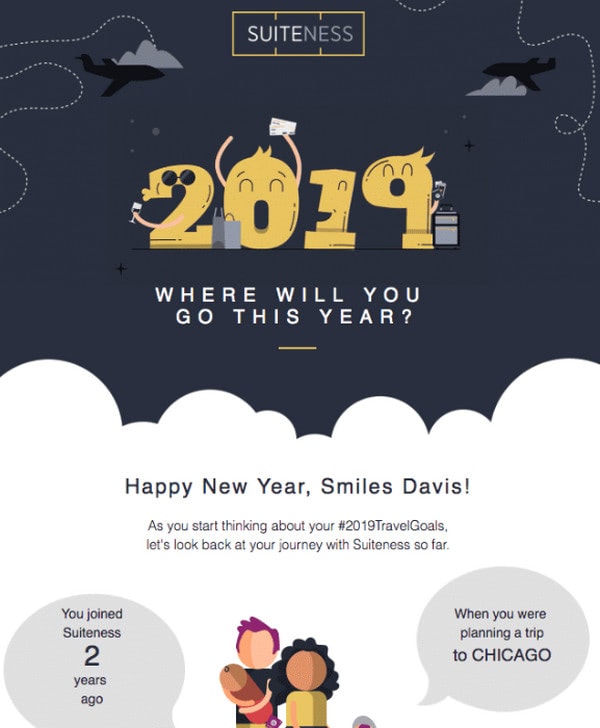 Email Newsletter from Suiteness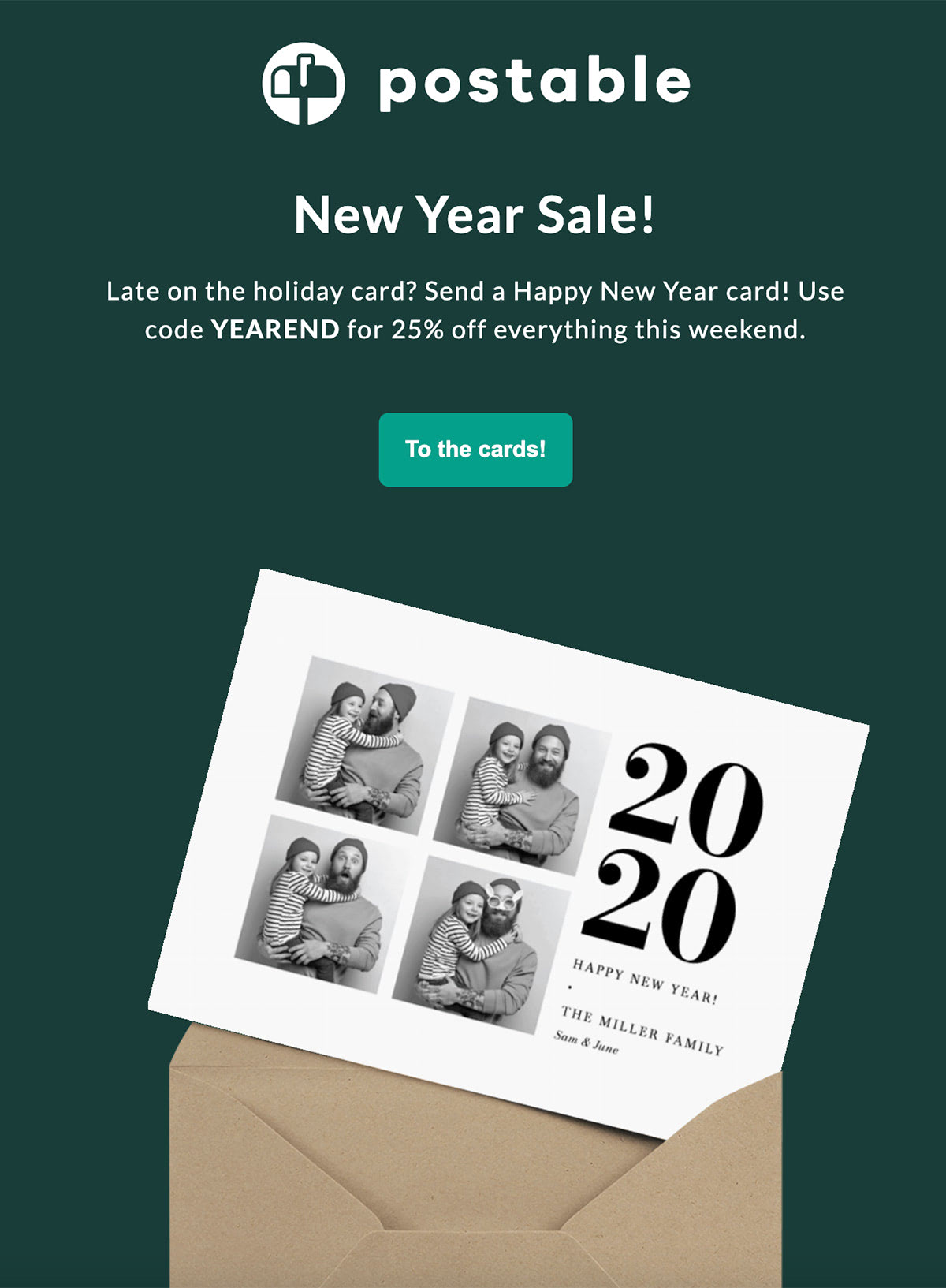 Postable
Post-Christmas Campaigns
Prolonging Christmas never hurt anybody. Its festive vibe and mood are so infectious that it is difficult to get rid of them even when the holiday is long over. People will be in high spirits and open to suggestions; therefore, it is an excellent opportunity to tout products.
However, do not push too hard. Send unobtrusive email newsletters that give the nod to the Yule holiday and hint at upcoming New Year celebrations. Link these big days together to create a consistent experience to keep the fire alive.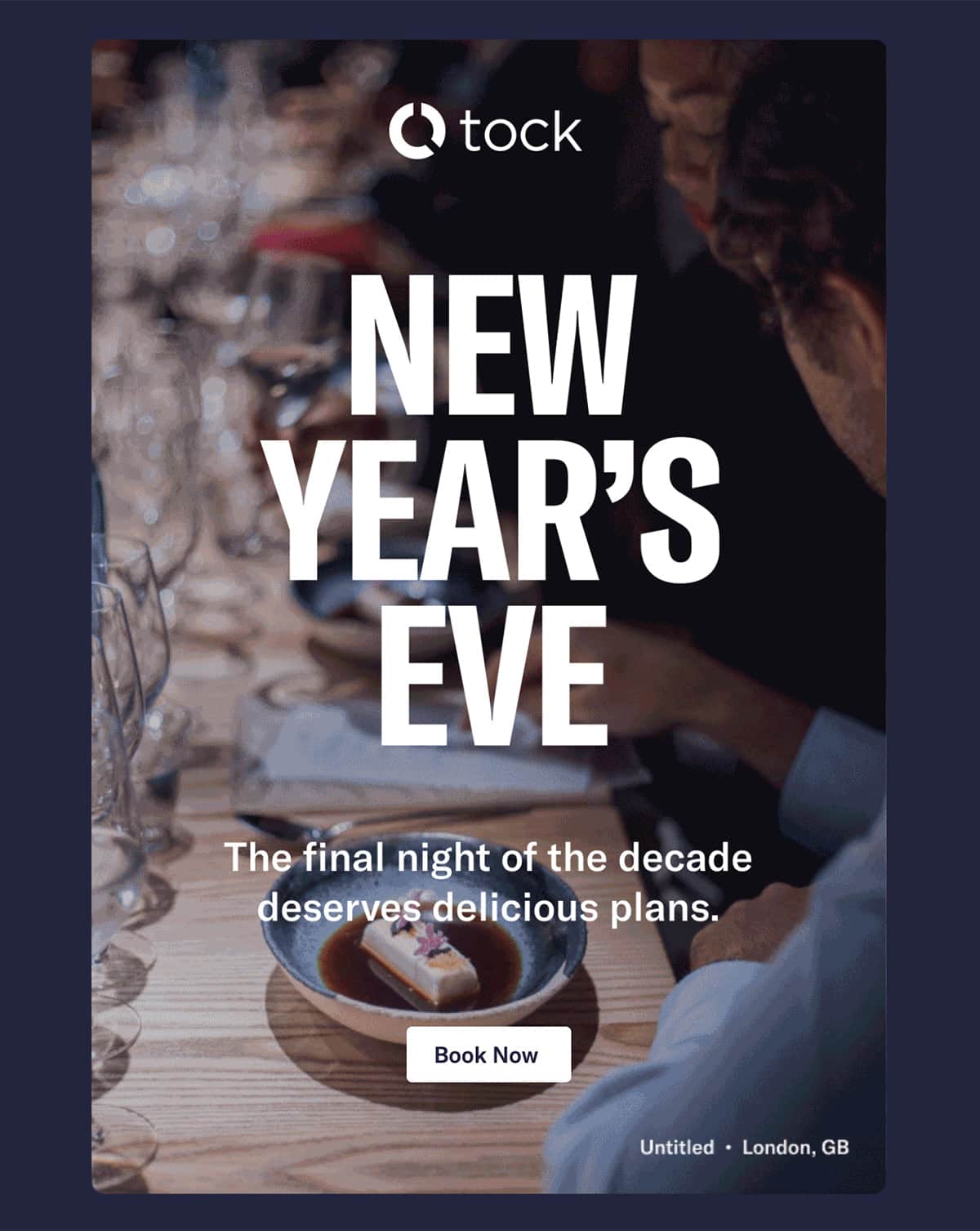 Tock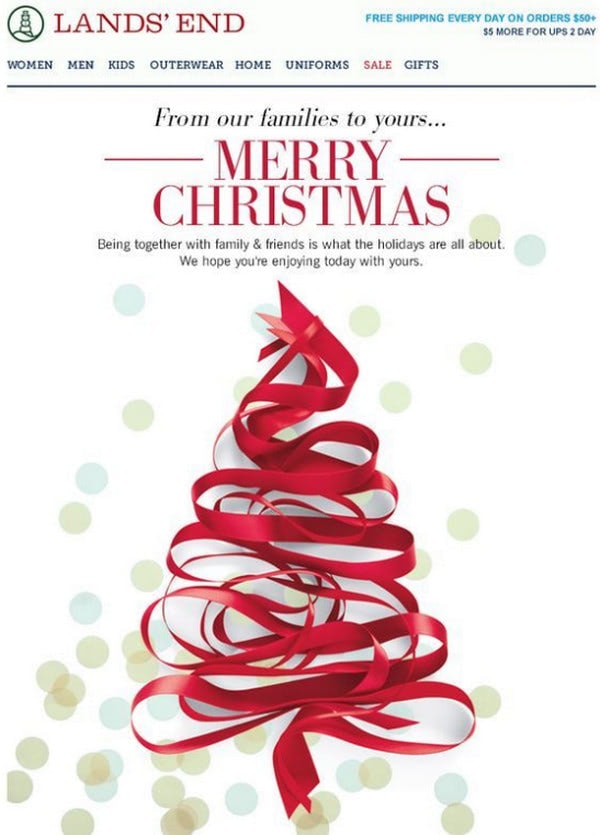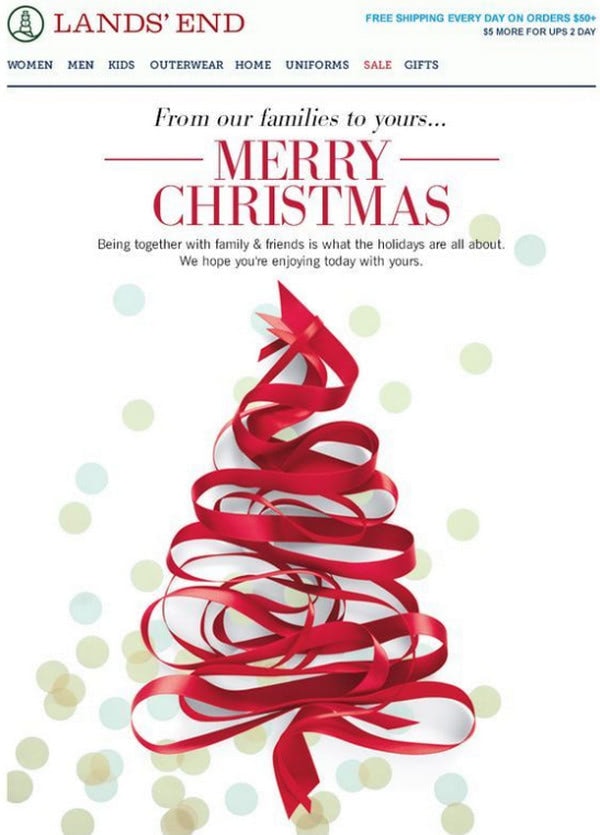 Email Newsletter from Land's End
New Year Campaign
There are two ways to go.
First, you can ditch all the marketing tricks and warmly greet online subscribers. After all, it is a widespread feast that is celebrated at the same time by the lion share of the inhabitants of our planet. Therefore, unless your targeted audience is Chinese, chances are there will be parties for hosting and marshmallows for toasting at midnight on Dec. 31.
So why not show your involvement and appreciation? Show contacts that your brand is close to them and an integral part of the celebrations. Use social skills to connect to subscribers and contribute to your relationship by sending a non-promotional email newsletter with a personal touch. The individual approach always brings more benefits than impersonal ones.

The design of the Gussi email newsletter is bold and eye-catching, with a black background as the main color and bright yellow accents all over. The header of the email is black, and the company's name and logo are shown in a big way. In the middle of the email's body is a big picture of a girl, and around it are blocks of text in black and yellow. In the email's footer, which is also in black and white, there is more information, like the sender's address and contact information. Overall, the newsletter has a modern and lively look because of how black and yellow are used.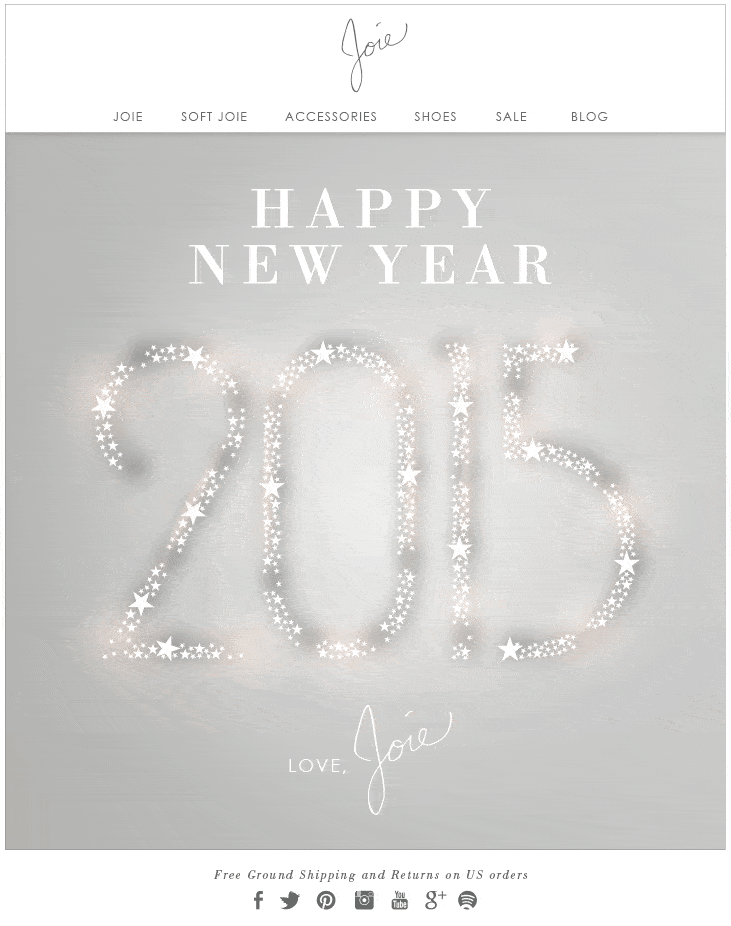 Happy New Year
Alternatively, embrace your inner Ebenezer Scrooge and use the New Year as an opportunity to advertise goods. Choose products that may become a perfect present for relatives, friends, or colleagues. Create a gift guide, share a big discount, or adopt time-proven shopping incentives.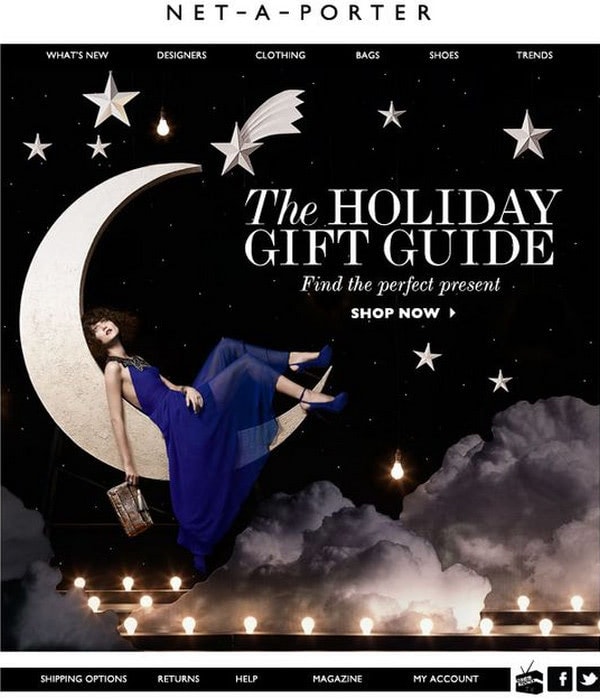 Email Newsletter from Net-a-porter
You can also benefit from combining these much like the team behind Jack Spade. Their email newsletter includes both a greeting and an offer that produces quite an impression.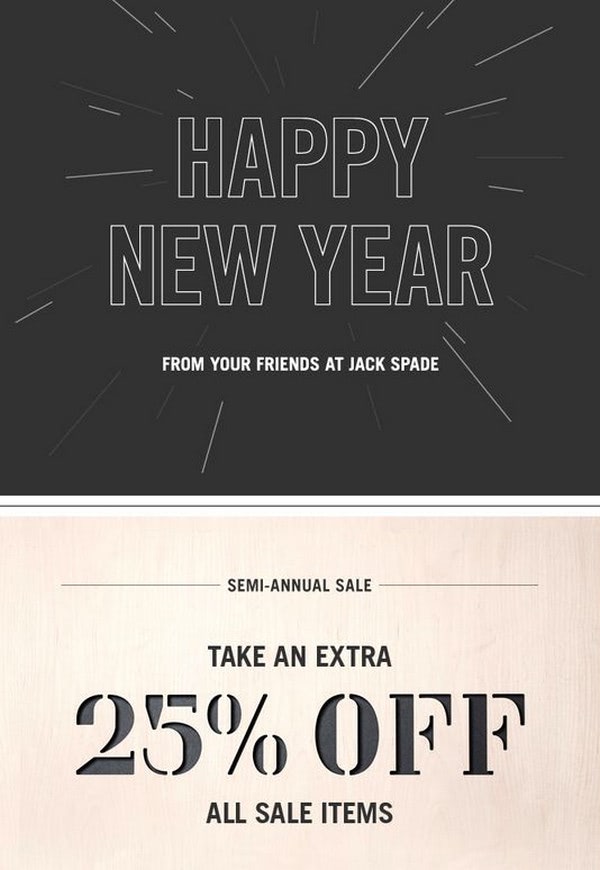 Happy New Year from Jack Spade
New Year's Resolutions
New Year's resolutions are a common and widespread phenomenon. Everyone wants to reboot their life, start over with a blank sheet, and make the world a better place. Therefore, it is a perfect time to send out supportive email newsletters.
What should you send?
First, create copy that is fueled with optimism. It will encourage contacts to stick to their intentions and think positive, no matter what.
Second, focus on products that may help them achieve goals. Here, you need to analyze products bought during the year. It will help to segment your audience according to preferences.
And finally, choose products that may serve as a reward for subscribers' diligence. It can be small goods or even coupons with future discounts.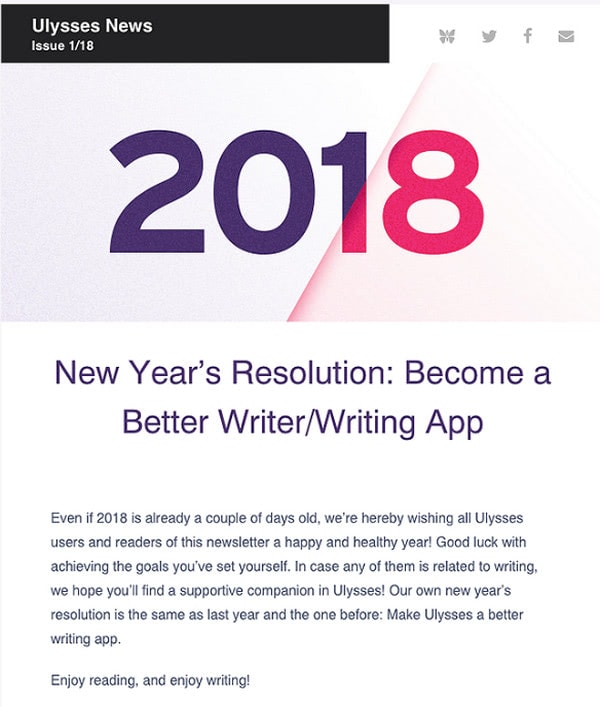 Email Newsletter from Ulysses News

Email Exmaple by Hitch
The design of the Hitch email newsletter is fresh and modern, and the green background adds a pop of color to the overall look. The newsletter is full of interesting articles, stories, and feature pieces. The text is broken up into clear, short sections that are easy to move through and read. Overall, the Hitch email newsletter is a well-designed and informative piece of writing that is sure to get its readers' attention.
Post-Celebration Campaign
Even though it seems that at the beginning of the new year, the holiday season is over, the truth is that Christmas sales are likely to be on. Therefore, it is the perfect time to re-engage subscribers, reminding them why your brand is excellent.
It is also a good reason to leverage transactional emails, such as "we are missing you." A new year is considered to be a fresh start, so why not give your relationships with customers a new life?
The main obstacle of a New Year's campaign is that at this point, your customers will be already shopped out. Therefore, it is your task to motivate them. Offer a considerable discount; remember no one will fall for mediocrity. Make it big; make it loud.
Alternatively, if you cannot afford to be too generous, focus on items that fit a slashed budget and spice everything up with such shopping incentives as free shipping or extra gift.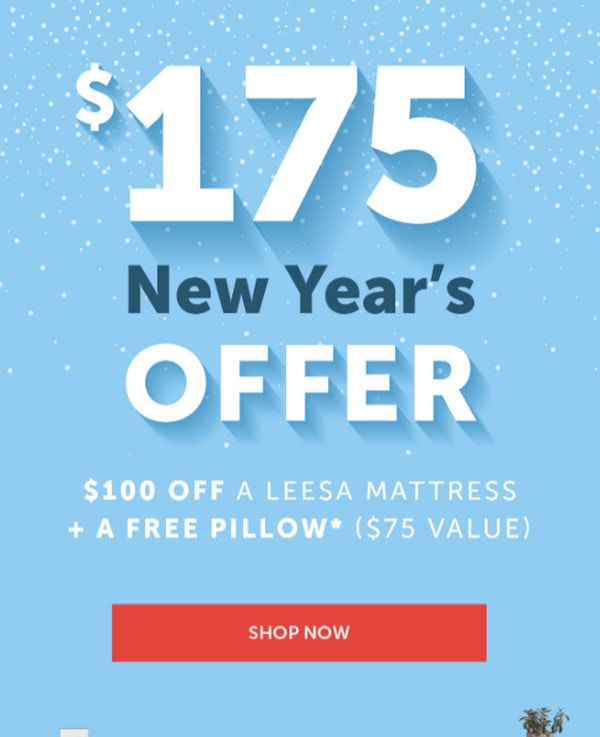 Email Newsletter from Leesa
Basic Preparation
Every email marketing campaign (and every email newsletter) is a combination of a dozen of well-thought-out steps. Here is a shortlist.
First, clean up your subscription list. Do not knock on the doors of subscribers who have never opened because you will end up with a high bounce rate.
Second, segment your audience. It will help to deliver subscribers valuable content that stands behind high open rates and click-through rates.
Third, choose the best time. A high open rate is all about timing. Remember, contacts will be bombarded with email newsletters at the end of the year, therefore figure out the time when your readers are going to check out their inboxes is a path to success.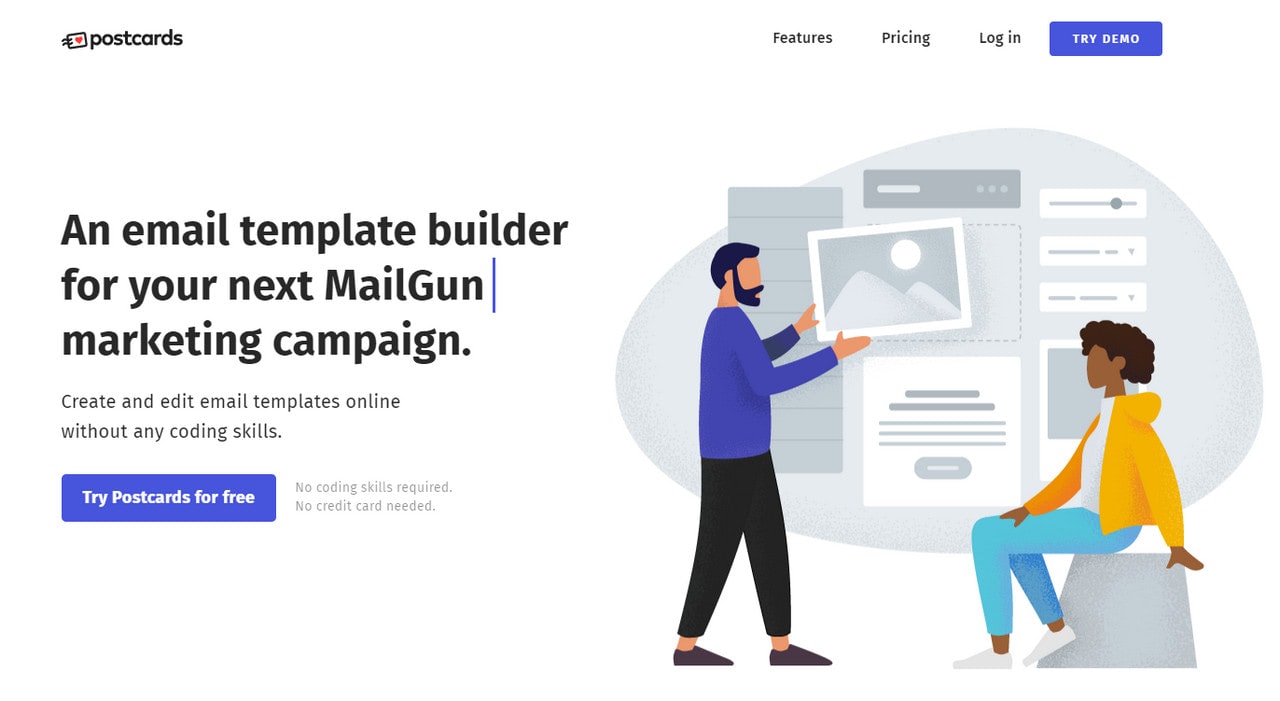 Fourth, create a design that's mobile-friendly. According to recent statistics, people prefer to browse through their inboxes using cell phones and tablets, especially when it comes to personal correspondence. The email newsletter should look good across all the devices. If you experience problems creating a layout with responsive behavior, address this issue with professional tools like Postcards.
Postcards is a popular free HTML email template builder using drag and drop, where you can easily create a layout just by choosing the necessary blocks. There are more than 100 components with modern designs to choose from. Build an email newsletter of your dream that will work consistently across all the devices as well as email readers in minutes and without coding skills.
Fifth, always do A/B tests.
Finally, create and verify the email newsletter before sending it out. Use our pre-launch checklist to avoid common mistakes.
Design
A good email newsletter design is pulled together by many things. The principles of highly successful email campaign cover such general pieces of advice as:
Focus on content that brings value.
Do not overwhelm subscribers with too many options and CTAs.
Use festive decorations. Much like in the case of Thanksgiving email newsletters, seasonal elements and festive details help to convey the proper mood.
Add emotion through the motion using animated gifs.
Make things engaging by inserting interactive hotspots.

Email by Danner
The Danner email newsletter shows a beautiful winter scene with a warm house nestled in the snow. The house is illuminated with bright colors, giving the picture a holiday feel. The newsletter's main color scheme is green and gray, which makes it feel warm and friendly. The newsletter has a list of things, like winter clothes and accessories, that would make great gifts. The newsletter's text is easy to read and organized in a way that makes it clear and easy to understand. Danner's newsletter is a great way to show off their winter products and get people in the mood for the holidays.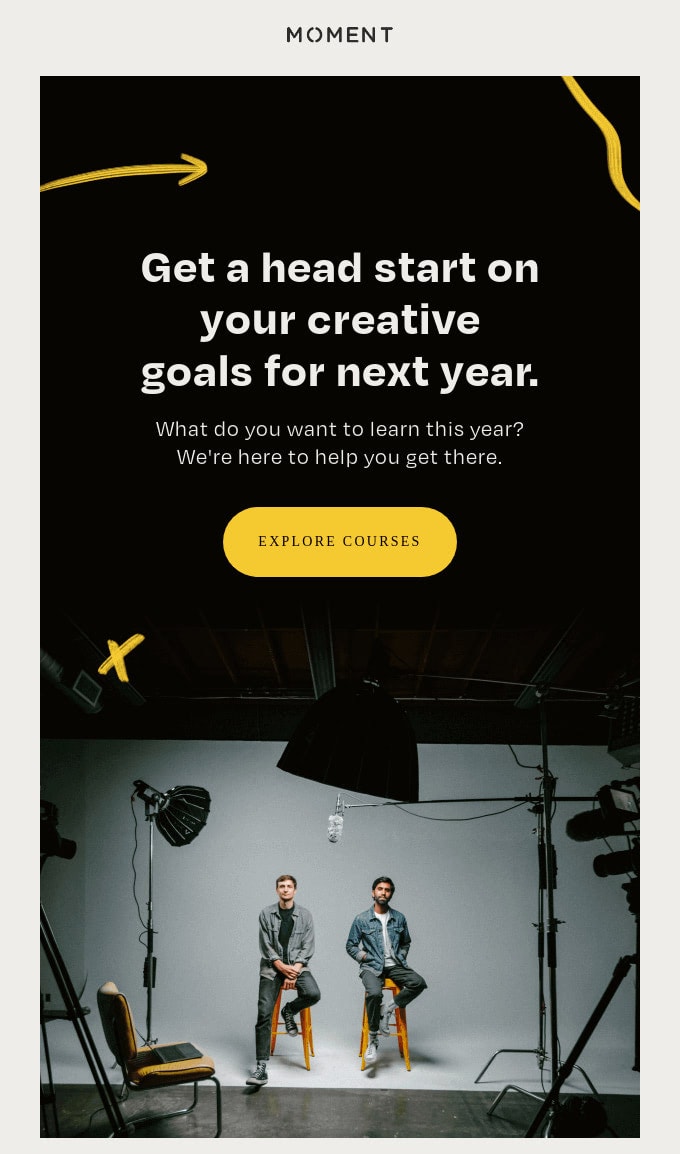 Moment Email Newsletter
The Moment company email stands out from the crowd with its stunning black background and bright yellow CTA button. The newsletter has a high-quality picture of two guys working in a photo studio, which gives readers a look at how Moment works. The newsletter's text is clean and easy to read, and headings and subheadings are written in a white font that stands out from the rest of the text. Overall, the newsletter looks modern and professional, and the CTA button encourages readers to take action and learn more about Moment.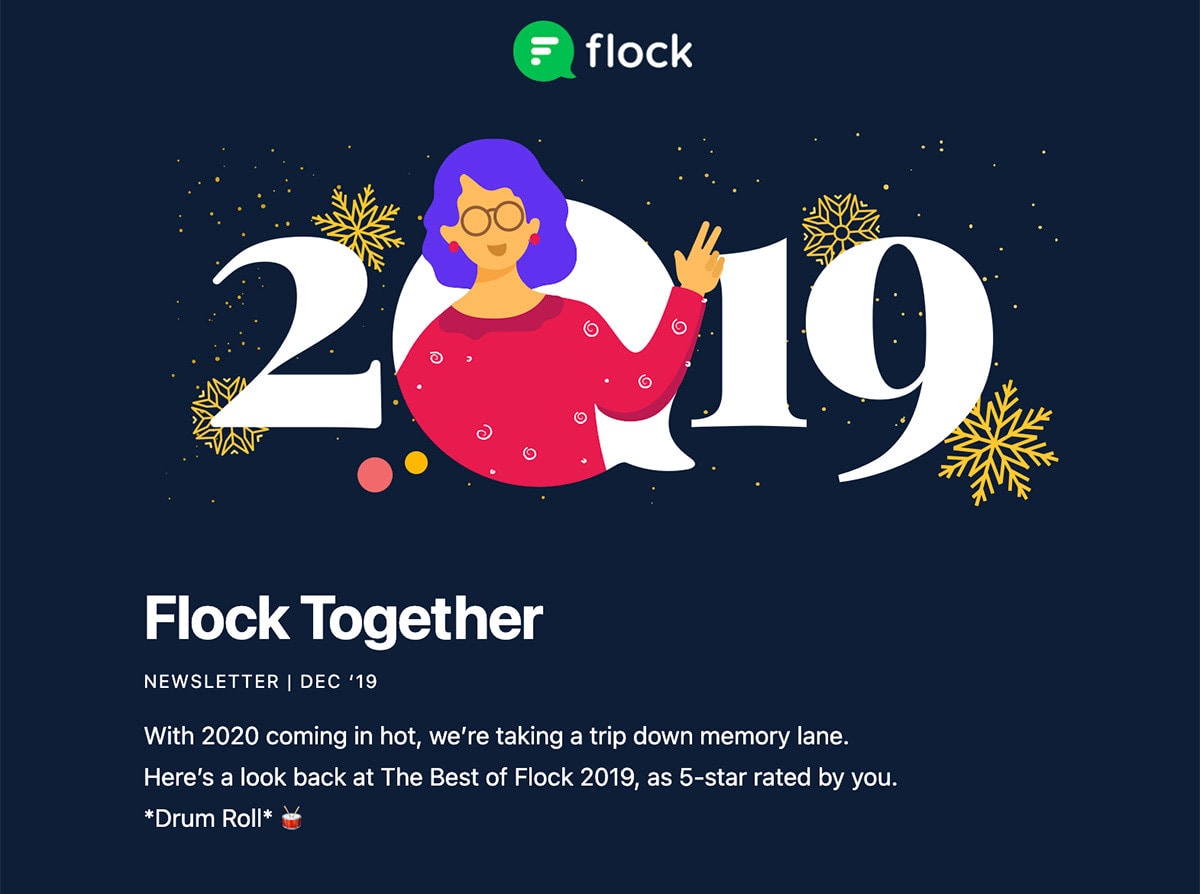 Flock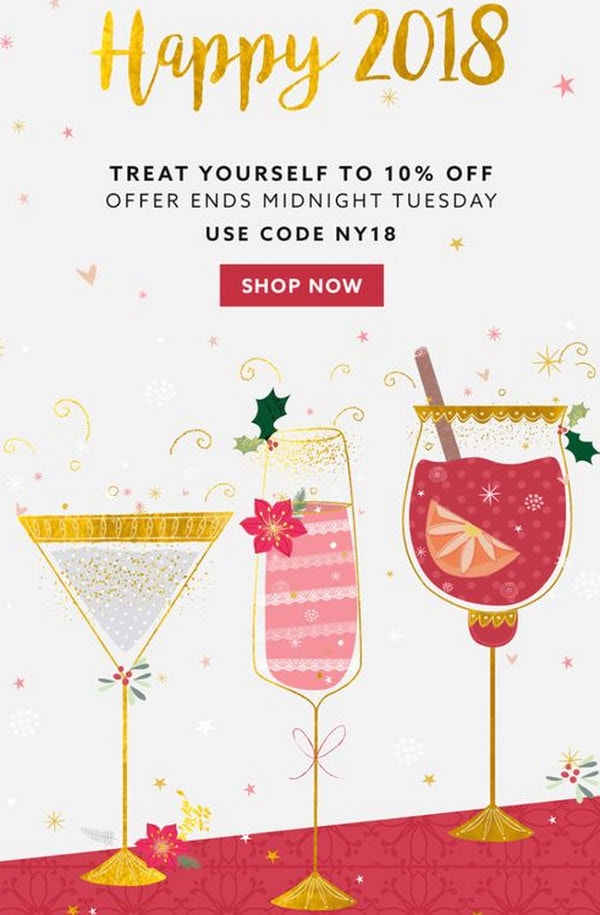 Happy 2018 by Whistlefish
The email newsletter sent by Whistlefish is an absolute classic that never gets old. It is a fully illustrated piece where the picturesque background sets the tone to a festive one.
The team was smart with the content by avoiding information overload. All you can see here is just a short copy with a skillfully highlighted offer and CTA that instantly catches an eye and naturally connects with the audience. The entire design feels like a traditional digital greeting card that includes a small present (aka discount).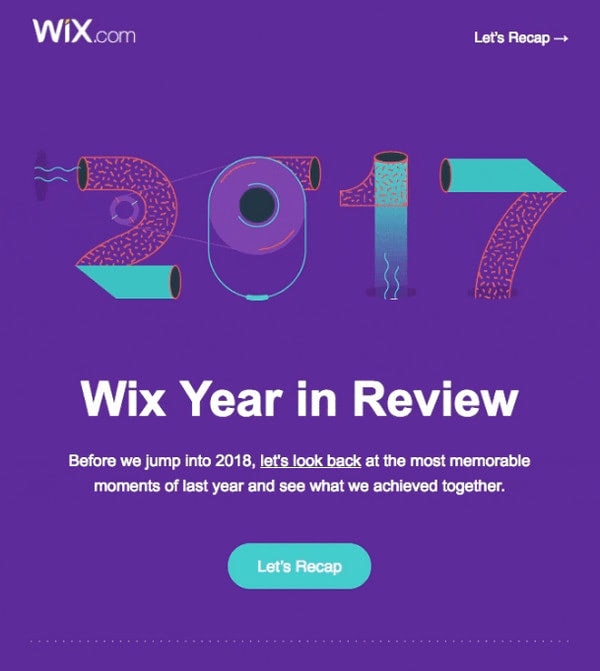 Year in Review by Wix
"Year in Review" is a quite common type of email newsletters sent at the end of the year. Initially, it is a non-promotional piece that focuses on providing visitors with valuable data about the brand.
In the case of Wix, the team has done it smartly. Unlike the others who prefer to put all your cards on the table, they have decided to drum up the interest in their contacts and lure them into the website with an apt introduction. As a result, they have generated leads and promoted their brand.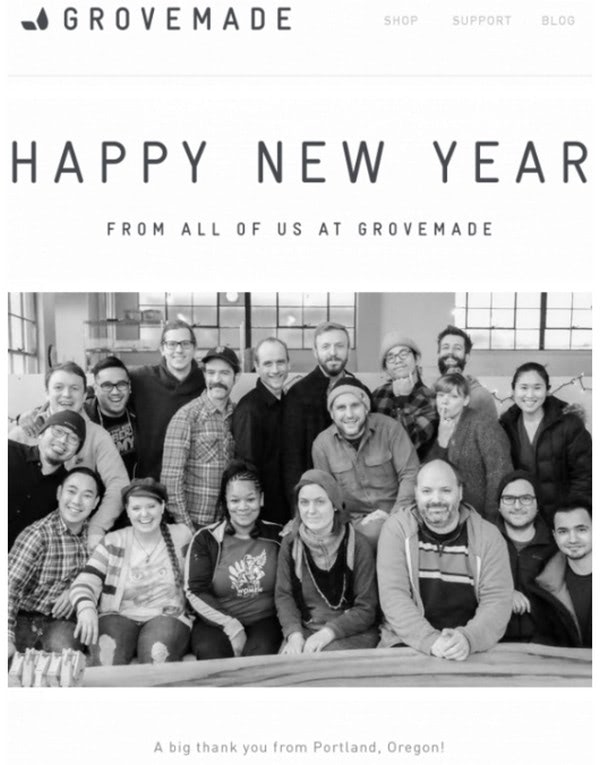 Happy New Year from Grovemade
This is another outstanding non-promotional email newsletter. As we have said already, not all eblasts sent before the ball drops should be commercial. Sometimes human touch can be much more beneficial than regular advertising.
Grovemade has gone the extra mile. The newsletter appeals to the audience and conveys a cozy homely atmosphere making you feel like you are a part of a big family.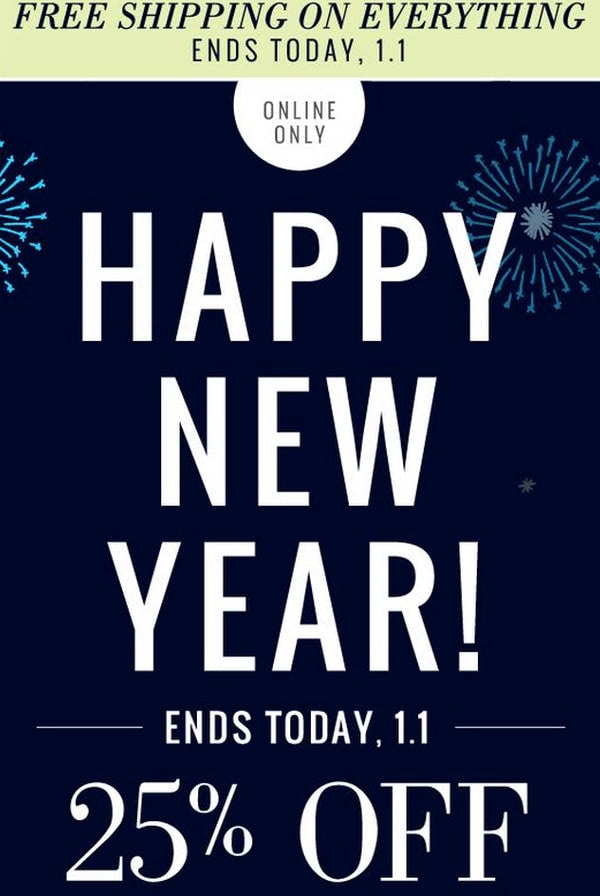 Email Newsletter from Aerie
Aerie's New Year email newsletter does a great job at combining the promotional and non-promotional elements. The congratulations occupy most of the screen, showing us that their intention to say "thank you" is a priority.
However, it does not mean that they did not get their contacts anything else. On the contrary, they have skillfully worked into the layout a time-sensitive offer, which is quite impressive, and a shopping incentive (aka free shipping).
The team has buttered up their audience and then skillfully put the offer on the table. Smart.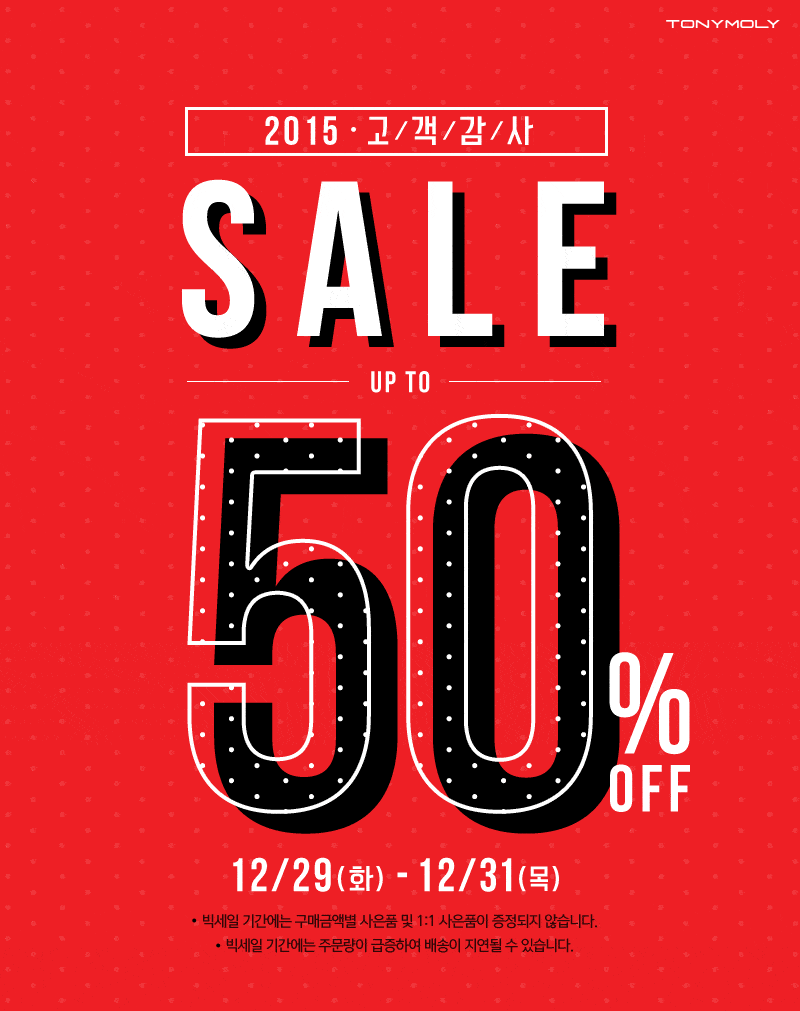 Email Newsletter from TonyMoly
The email newsletter from TonyMoly is a representative example of a pre-holiday campaign that took place right before the big event catching the audience in full anticipation. The team has benefited from a less is more ideology by creating a minimal, yet informative and effective design.
It is an animated gif that instantly directs the attention toward the big, almost overwhelming discount. Even though there are no distinct festive decorations, you can feel festive vibes thanks to the coloring and background.
Simple and straight to the point.
Like what you're reading? Subscribe to our top stories.