Best No-Code Website Builders That Save You Time
Do you know that WordPress powers over 36% of all websites in the world? With just basic to no coding skills, people may create a blog, portfolio, and even digital store, turning this framework into a popular solution among those who seek simple ways to bring their ideas to life. With no code website builders, designers are now handed the keys to the kingdom. These platforms come equipped with intuitive drag-and-drop interfaces, vast template libraries, and customizable design elements. But what if there is an even easier way to build a website?
Professional no-code website builders completely abstract users from coding, providing an intuitive environment to build all sorts of web projects without any development experience.
Zero-code website builders are no longer primitive visual editors. They are all-in-one solutions that include hosting, domain, templates, website editor, team management, marketing, and extra features to scale business. According to stats, almost 85% of enterprises have turned toward them for their ability to reduce strain on IT resources and craft web interfaces from scratch without coding skills or learning curves.
Export Figma Designs to Live Website – No-Code
No-Code Email Template Builder
With Postcards you can create and edit email templates online without any coding skills! Includes more than 100 components to help you create custom emails templates faster than ever before.
Try Free
Other Products
Let us consider the importance of using no-code website builders, the benefits and value of this approach, and the top seven tools in this niche to kick-start any project.
Importance of Using No-Code Website Builders
No-code solutions have a proven track record of being quite effective for businesses. Experts believe that delivering reliable, cutting-edge, high-quality websites that meet consumers' needs helps companies stay in the mainstream and keep up with the rest of the World, which is crucial to surviving now. Apart from that, no-code website builders come with these top advantages.
They speed up execution
Speed is a crucial factor in the success of every venture. Not only because time is money, but most importantly because with the ability to bring websites to market faster, companies can:
Deliver a product before competitors, stay on the top of the charts, and develop a reputation as an industry leader
Reach consumers quicker to learn what they want and adjust campaigns to ever-changing demands and expectations in time
Reduce research and development costs
Avoid pontificating and rutting
Secure a stronger business position in the market and move forward
They bridge the gap between business and IT
Another good reason to set your eyes on no-code website builders lies in their ability to align business and IT, which traditionally exist independently. They facilitate the ultimate partnership between these two parties, creating a single eco-system where all stakeholders may easily participate in the process, bring in their unique skills and experience, and contribute their opinion and vision. This helps to take the product to the next level and eliminate various bugs and flaws.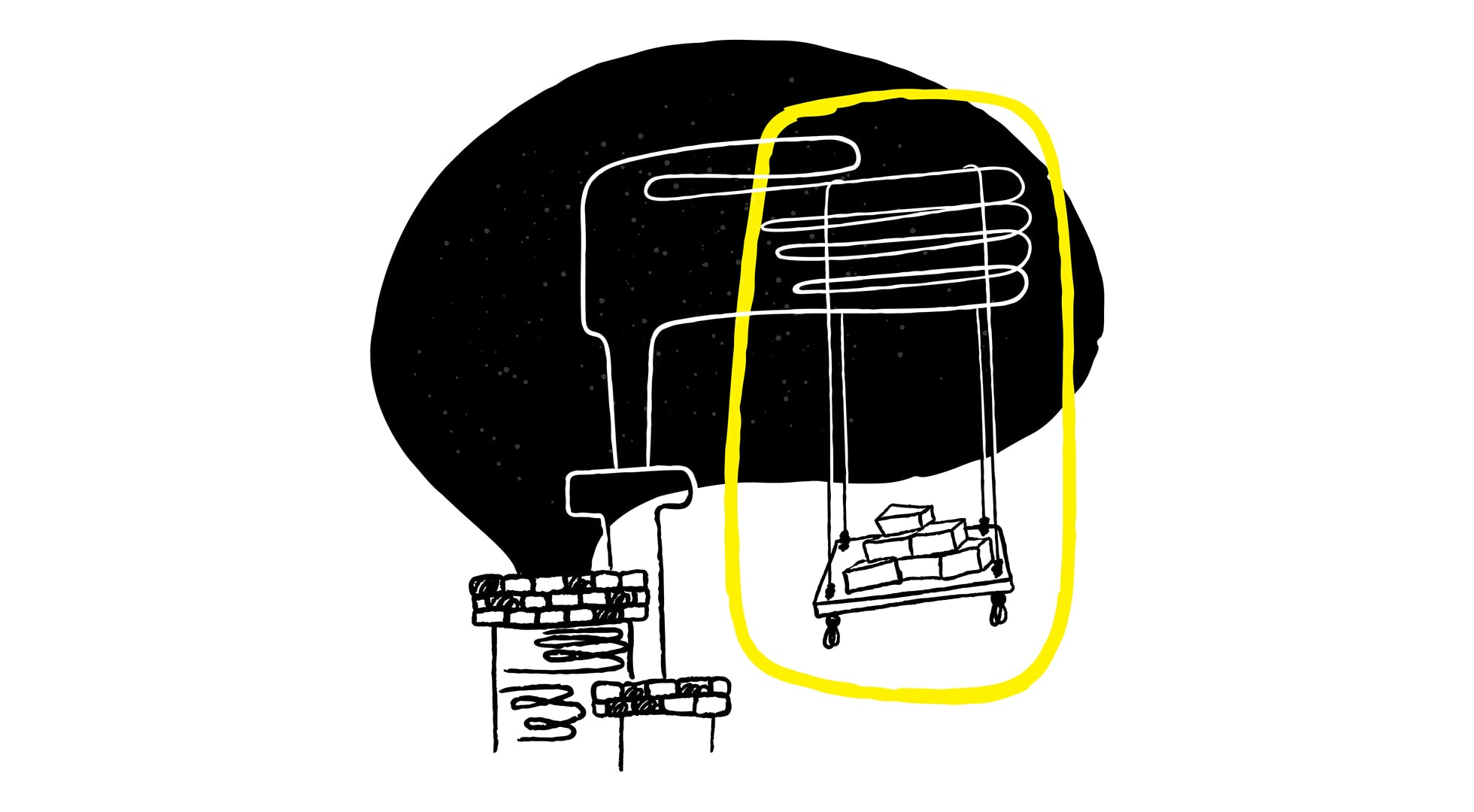 Image by absurd.design.
They have a low barrier to entry
Website builders are not restricted to a specific niche. Anyone, literally anyone, can use them because they have an incredibly low barrier to entry: they do not require any special tech skills, previous experience, or extra knowledge. On top of that, most of them are increasingly cheap. Therefore, even startups and solopreneurs with tight budgets get a chance to bring their ideas to life, streamline initial project stages, test hypotheses and deliver simple yet time-consuming solutions in minutes.
They have multiple use cases
A decade ago, pure no-code website builders were extremely limited. However, today, when the movement has almost reached its stride by involving the best technologies in the sector, their use case scope has become quite extensive. For instance, with a website builder, you can construct:
Landing pages
Single-page websites
Fully-fledged websites
E-commerce solutions
Digital stores
Application prototypes
Customer-facing apps with simple functionality
No-code website builders cover the needs of businesses that come from various niches, serve different target markets and pursue multiple goals.
Benefits of Using No-Code Website Builders
Driven by ideas, not technical expertise, no-code website builders encourage users to build a web application or construct complex workflows without writing a single line of code. They are intuitive, easy to manipulate, simple and straightforward to enter. They offer clients certain freedom of realization, making them independent from dev teams and agencies. These are not the only benefits that this approach provides. Let us consider other fantastic advantages of putting it into practice:
Fast delivery. Companies may significantly reduce development time by eliminating the need to write code and go through some bureaucratic stages inherent to dev departments in huge organizations. In some cases, it may boil down to a single day giving the company a cutting-edge advantage over the competition.
Less overload on IT departments. Marketers, advertisers, analysts, and other non-IT departments may efficiently address their issues on their own. For instance, they can quickly build forms, conduct surveys through web widgets or test several versions of landing pages for marketing campaigns. As a result, IT departments avoid overload of monotonous tasks, thereby getting more time to focus on complex problems.
Tight collaboration. No-code website builders offer a productive collaborative environment that encourages all departments to participate in the process and contribute their unique opinions and skills.
High standards. Website builders employ only reliable solutions to ensure the stability of the core and high-end technologies to give the platform pioneering features to meet the current demands and expectations of the target audience. As a result, clients build responsive, mobile-friendly, accessible, interactive, and meaningful projects, thereby securing a high-quality project that meets popular standards.
Great look and feel. Website builders are famous for following modern trends. Their teams constantly update styles and add new features to make their components look up-to-date.
Trust and credibility. It is in people's nature to put faith in good-looking products. Therefore, the modern look and zingy features of projects generated by website builders always instill trust in the product and increase the company's credibility.
Resource and cost savings. With no-code website builders, users do not have to pay for domain registration, hosting, templates, integrations, additional functionalities, designer's help, and developer's assistance. They pay for a subscription plan and build everything that they want and need on their own.
Zero maintenance costs. The team behind the website builder does all the heavy lifting concerning legacy issues, bugs, and flaws. This reduces maintenance costs and saves lots of time for your IT department by allowing them to keep what works and change what does not without interfering with code.
Partial creativity freedom. Although low-code platforms are still limited in tools, as practice shows, they cover all essentials and offer flexibility to start building immediately. Users can adjust components on the fly and completely redirect when necessary. Plus, the process is more visual. Therefore, non-design-savvy users may create some beautiful and on-branded projects without compromises and sacrifices.
Risk mitigation. Using no-code website builders, companies can focus on solving actual business problems instead of bugs and tech errors. They minimize risks of failure by getting more control of other aspects.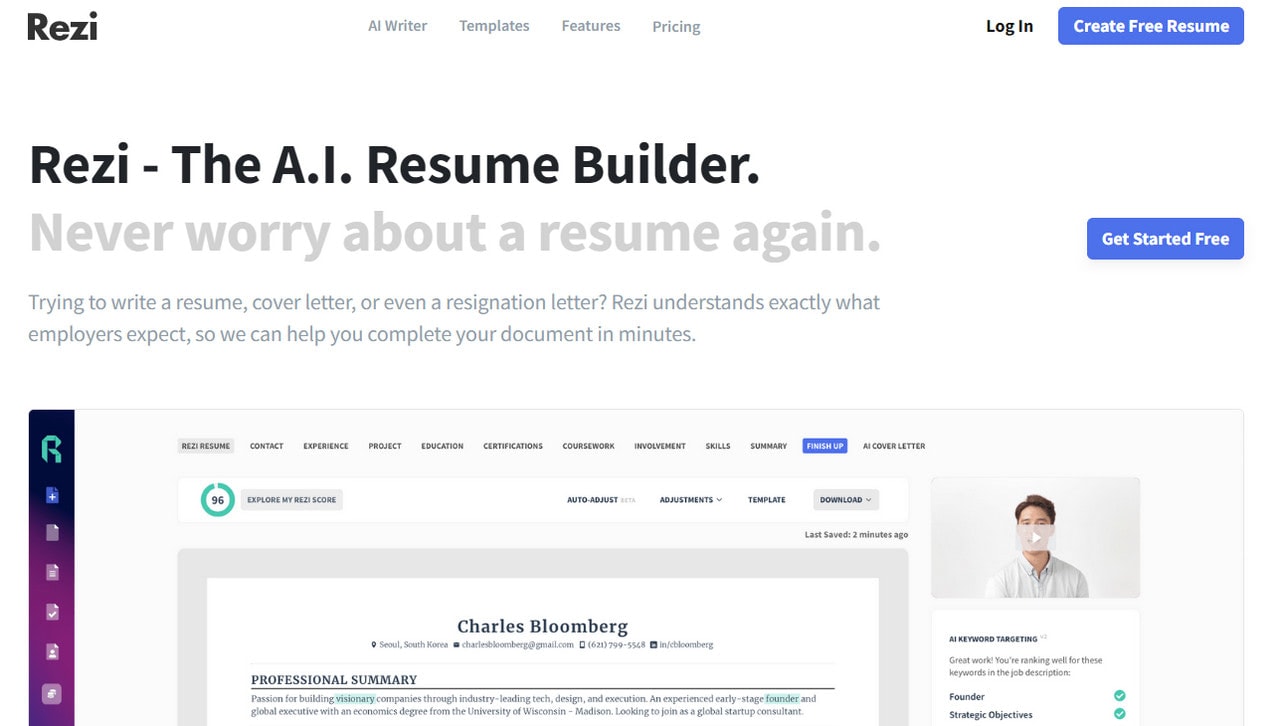 Rezi – Made with Startup app, popular website builder
Potential Issues and Weaknesses of No-Code Website Builders
No-code website builders do all the heavy lifting when creating web applications from scratch. And with all that, they do not require customers to have tech skills or coding experience. However, this power encapsulated in the simplicity of utilization comes with certain sacrifices. Let us consider some potential issues and weaknesses of this approach.
Privacy and security risks
This is the first thing that comes to mind when you start using such solutions. Indeed, no-code platforms are infamous for lacking transparency in data storage and minimal source code control. It is almost impossible to spot these issues. Therefore, at some point, this may lead to the loss of sensitive data or security breaches.
Vendor lock-in
This is another huge concern and certainly a potential issue for businesses. The extent to which a company can scale its solutions depends on the provider. They cannot have a feature that is not a part of the toolset. Plus, it is difficult to maintain the project or add some niche-specific components. Finally, yet importantly, it is almost impossible to switch vendors.
Poor integrations
Although the no-code movement has made a massive leap toward complete integration with essential services and platforms, it is still far from perfect or from what we expect. Limitations and restrictions occur all the time.
Lack of customization
Unlike low-code solutions that allow customers to fine-tune their components through code, no-code solutions do not have this feature. Users are left only with pre-defined themes, template features, and essential stylistic options.
Last but not least
All these issues can be minified or overcome to some extent. For instance,
Privacy and security risks can be mitigated with data protection regulations like GDPR, DMCA, and CPRA.
Vendor lock-in can be overcome by choosing a platform that constantly improves the system, so clients do not need to change vendors.
Poor integration can be addressed with an outside dev team that will write an application programming interface for a particular case.
Lack of customization may apply to free or the most basic subscriptions of the platform. With more advanced plans, users may unlock dev mode, where they can customize code.
Top 7 No-Code Website Builders
In this list, we zero in on no-code website builders. Note that some of them may include low-code features in advanced plans.
Siter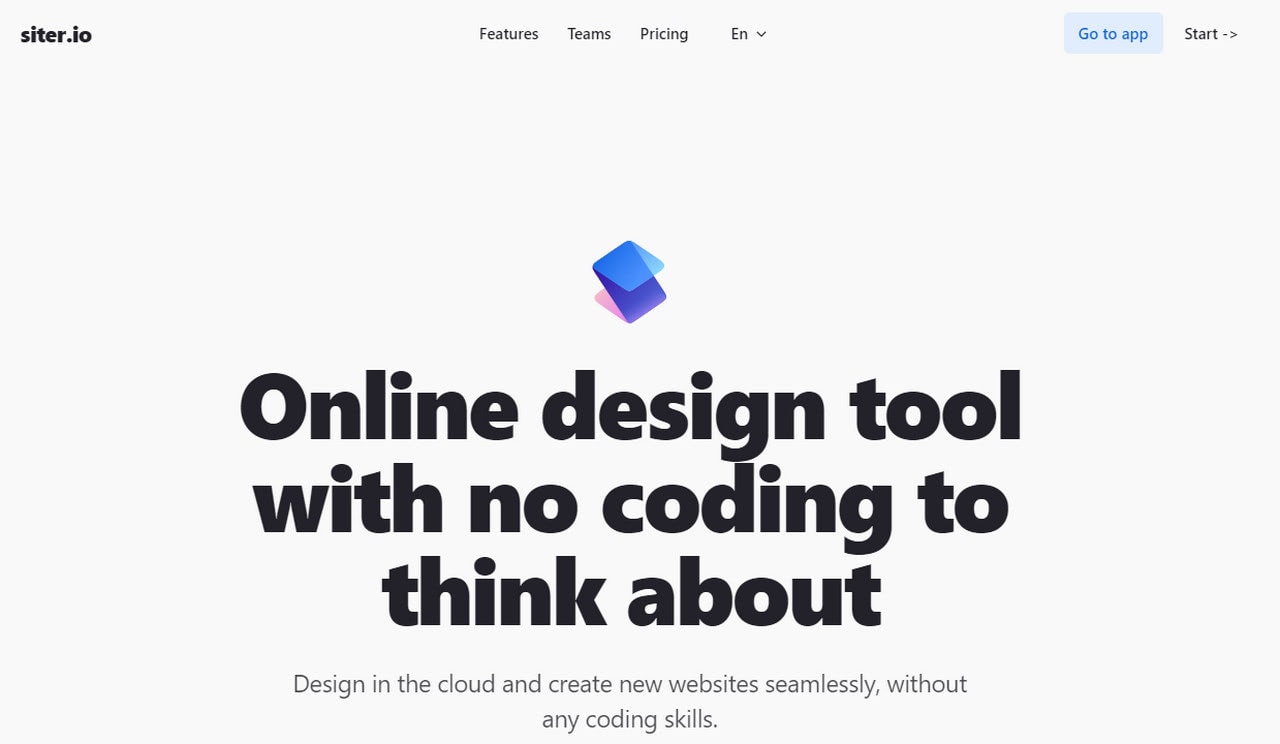 If you are up to a pure no-code website builder that keeps users away from coding stuff and let them focus on the design side of the project, Siter is your top choice.
Siter is a small yet powerful tool to create beautiful, responsive, mobile-friendly, accessible websites within hours. It does not require tech skills or previous experience. With an intuitive drag-and-drop playground, customers can create whatever they need simply by dragging, stacking, reordering, and removing pre-defined, vigilantly designed, and easily customizable blocks.
On top of that, it has numerous helpful features that streamline the process and let businesses make the most out of this experience. For instance, it has:
Thousands of free icons
Integration with Unsplash, a database with millions of royalty-free images
Integration with Figma to easily export design projects and turn them into real-life websites
Collection of forms and apps to extend functionality
Team collaboration
Free domain
All that comes with a pocket-friendly price. The basic plan starts at $12 per month.
Startup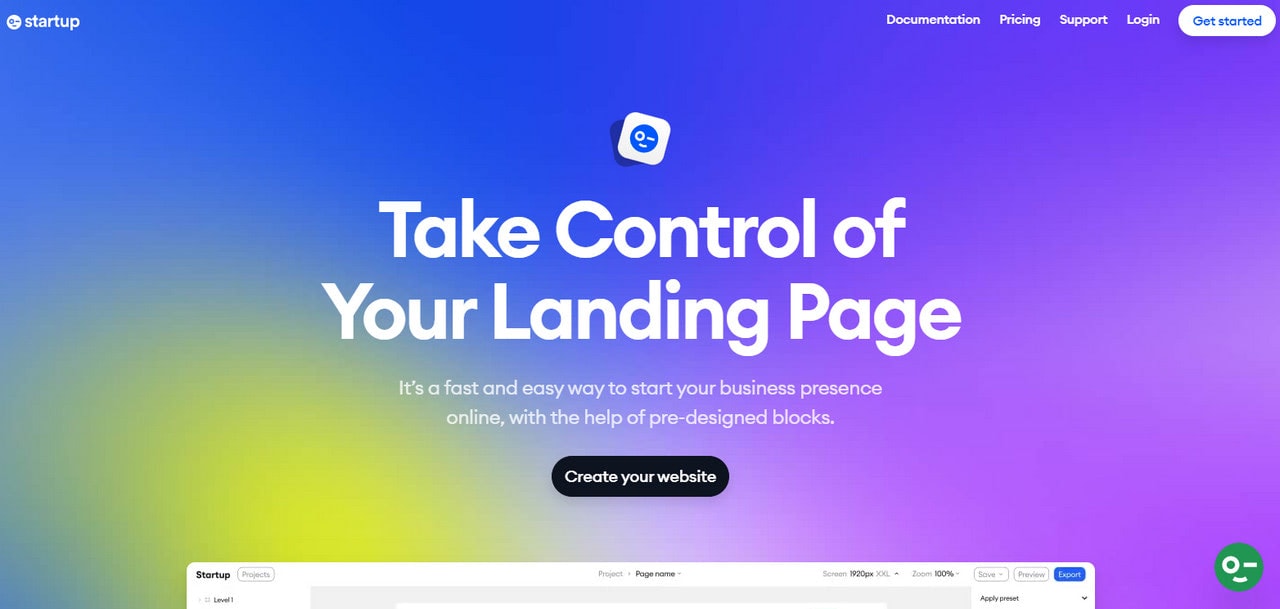 Startup has already earned an excellent reputation as a reliable platform that does not require coding skills or technical background to build modern and high-quality websites from scratch. It embraces both no-code and low-code features to give citizen developers more freedom in realization. Users are welcome to benefit from these components:
Powerful yet intuitive online editor
Extensive collection of hand-crafted and vigilantly-design blocks, modules, and units
Multiple customization options to fine-tune every tiny detail of the design
Full integration with Static.App to host your website online, which comes with an SSL certificate, media storage, custom domain name, and some other fantastic features
Export option to get code, images, text, and styles in one click
Project management to create multi-page websites without leaving a platform
Focusing mainly on one niche, websites, Startup efficiently covers all essentials and some specific modules to meet unique projects. One of its most significant advantages is that Bootstrap powers it. This means every in-home dev team may take it to the next level. In addition, you may easily use this code outside the platform, enjoying the freedom to leave anytime.
The best part is the standard plan is less than $13 per month. There is even more to that: as a newcomer, you can create your first website free.
Squarespace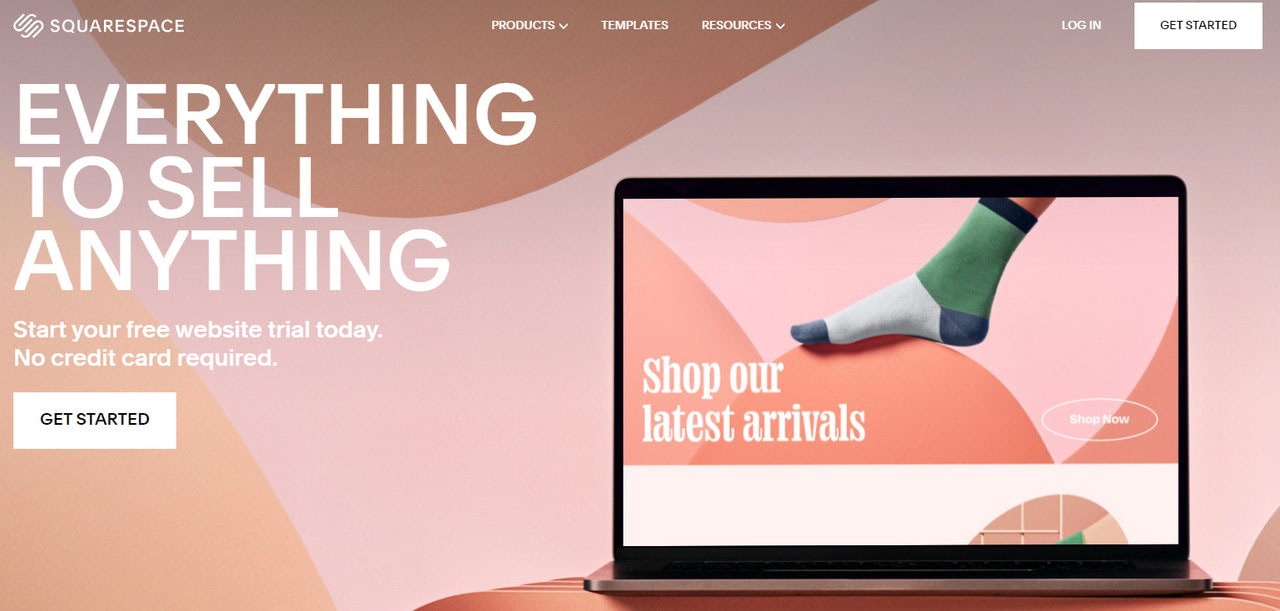 I bet you have heard about Squarespace once or twice. Their commercials featuring Hollywood stars like Winona Ryder and Keanu Reeves, and icon of country music, Dolly Parton, have helped them earn brand recognition. They have turned their website builder into a premium service.
Although it is not the cheapest option, it will set you back $24 per month; this does not include a custom domain. Nevertheless, it may provide good value for your money if you need to implement some big business plans.
Among its main features, you may find:
140+ preset designs
Options for selling both digital and physical products
Payment methods including PayPal, Stripe, and Square
Automatic tax and shipping fee calculation
Add-ons and third-party integrations
Multilingual support thanks to Weglot integration
Member areas add-on to monetize your expertise
Native integration with Google Ads and Google Analytics
Integration with Mailchimp to build subscriptions and email marketing campaigns
The platform is pretty powerful in what it can do, but it is still easy to use. Though, at some point, it may require some additional tutorials.
Webflow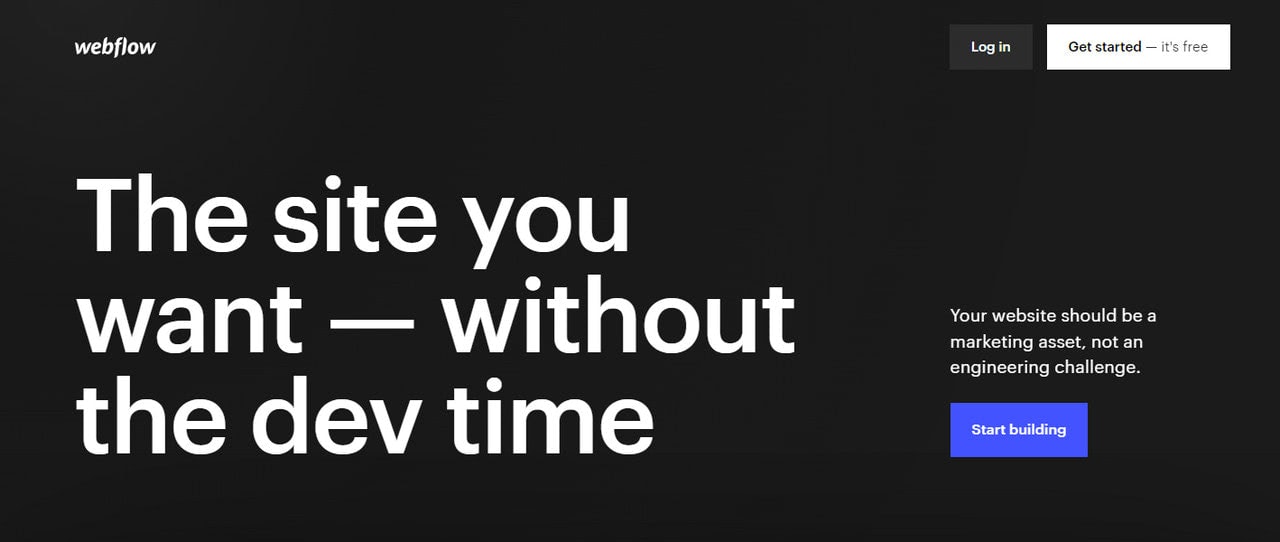 Webflow stands out from other no-code website builders by being suited to citizen development while offering an escape hatch for those ready to build more complex, enterprise-grade web applications.
Webflow positions itself as a marketing asset built for enterprise-scale growth. Therefore, it has tools not just to build websites but also to launch new campaigns faster and connect your website to crucial marketing tools. Among its main features are:
100+ responsive website templates
Over 2,000 web font families
Interactive elements
Dynamic SEO and Open Graph (OG) settings
Collection of custom 404 pages
Website backups and versioning
Auto-generated XML sitemap and much more
The basic plan starts at $12 per month and allows for launching a simple website with 50 GB bandwidth yet without any database records.
Wix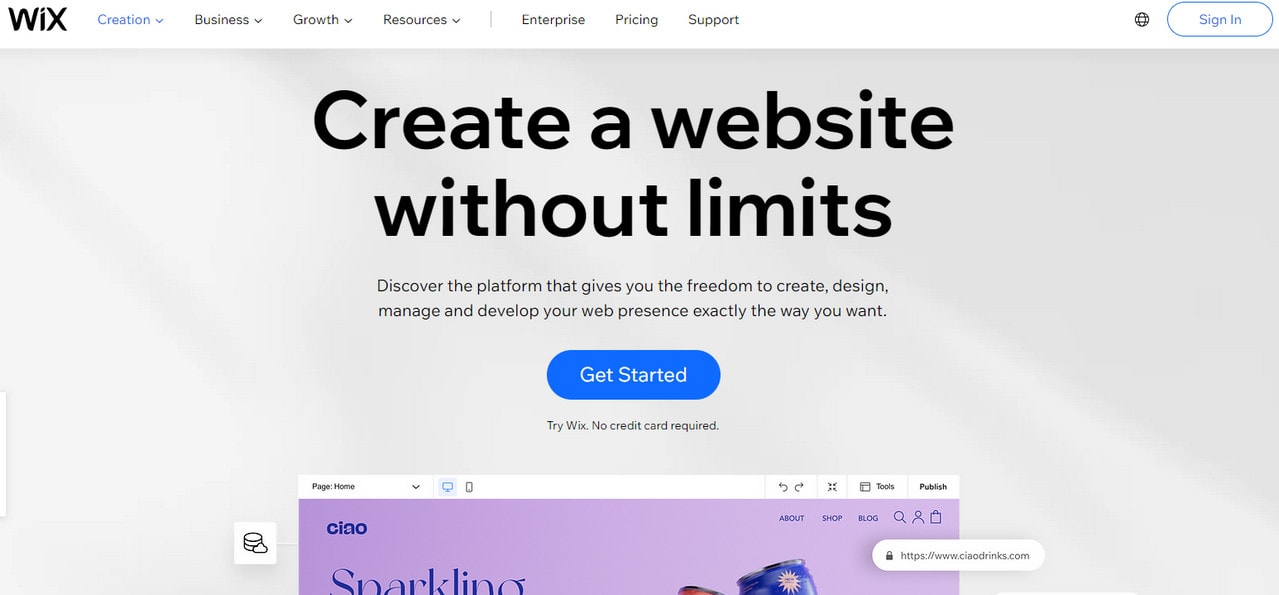 Much like Squarespace, Wix is a well-known brand name whose popularity rocketed with commercials. However, their professional advertising campaigns are not the only reason the community prefers this no-code solution.
Wix has long established itself as a professional platform for creating cloud-based web development services, primarily websites. It offers server services so that customers may not just build their web pages but also host them immediately.
The platform has a wealth of valuable features. For instance, it has a so-called Wix ADI (Artificial Design Intelligence chatbot) that builds a personalized website for customers by analyzing their answers to various simple questions. If you prefer a more traditional way of creating projects, you may do everything by yourself using these:
Over 500 pre-designed templates
Video backgrounds, scroll effects, and animation settings
Mobile-optimized layouts
SEO settings
Drag-and-drop visual editor
As for pricing, much like Squarespace, Wix is on the expensive side. The basic plan starts at $16 per month (billed annually).
Weebly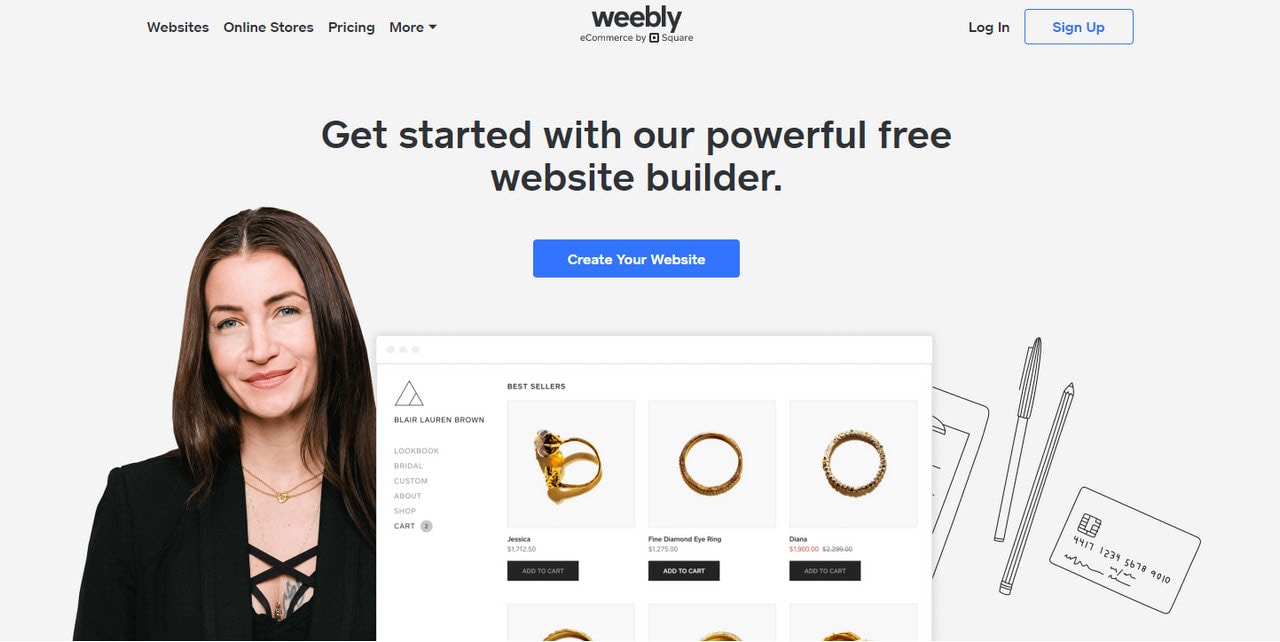 Released in 2006, Weebly is one of the oldest solutions on our list. It has a long history of improvements and enhancements that turned it into a viable product in the no-code niche. It has already powered over 50 million websites, serving hundreds of customers from different fields with no learning curve every day. Among its prime features are:
40+ mobile-friendly responsive, highly customizable themes
Selection of third-party applications to extend functionality
Online store capability
Team management
Membership area capability
Weebly Professional starts at $12 per month. There's also a free plan that is perfect for some personal projects or testing ideas.
Shopify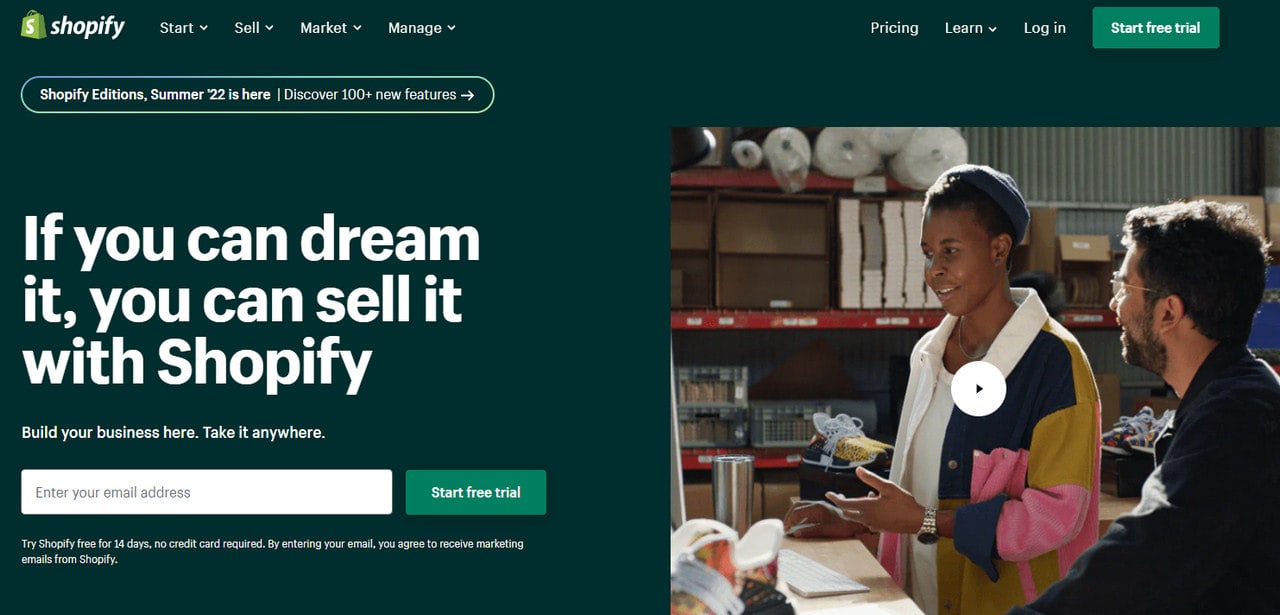 As their bold motto says, if you can dream it, you can sell it with Shopify. Indeed, this popular platform has been synonymous with digital commerce for years. Prioritizing just one niche, Shopify has excelled in numerous ways, letting users create and launch their online stores without much coding and technical background. It does not require software installations or hosting services: everything is included by default. Customers may enjoy these features:
Professional yet intuitive and feature-rich visual editor
Pre-defined templates and themes
Popular payment methods
B2B and Shopify POS for better conversions
Tools to manage inventory
Engagement tools
Real-time customer insights
Hundreds of third-party extensions approved by the platform
As for pricing, do not expect it to be cheap. After all, it is a fully-fledged solution to run your e-commerce business online. Be ready to pay $29 per month and cover credit card fees.
Conclusion
Some say no-code website builders are our future, while others believe that professional development agencies will never die because there is a range of projects that can be done only by them. There is no way to know what the future truly holds. However, the current state of affairs is that the low-code and no-code movement is gaining momentum. It already has multiple use cases, from building small modules like popups to creating fully-fledged multifunctional digital stores with payment on board.
According to statistics, 23% of users worldwide have participated and benefited from this movement to a varying degree. Experts predict this number to grow in the next five years dramatically. Though, there is no surprise to that. No-code website builders come with numerous benefits that open enormous possibilities for companies to increase their revenue and prolong the lifetime of their products and brand. Although they have certain weaknesses and shortcomings, they are already valid instruments to forward businesses in numerous niches.
Like what you're reading? Subscribe to our top stories.