Free Snippets for Twitter Bootstrap, Examples of Websites
Bootstrap is an elegant, intuitively easy and powerful interface framework, increasing speed and making it easy to develop applications for the web. It includes HTML and CSS bootstrap templates of design for typography, web forms, buttons, labels, navigation units, and other web interface components, including JavaScript extensions.
Bootstrap is created for designers and developers with any level of knowledge and experience, for bearded oldsters and beginners. You can use it both entirely, for full-fledged design, and partially – in your projects.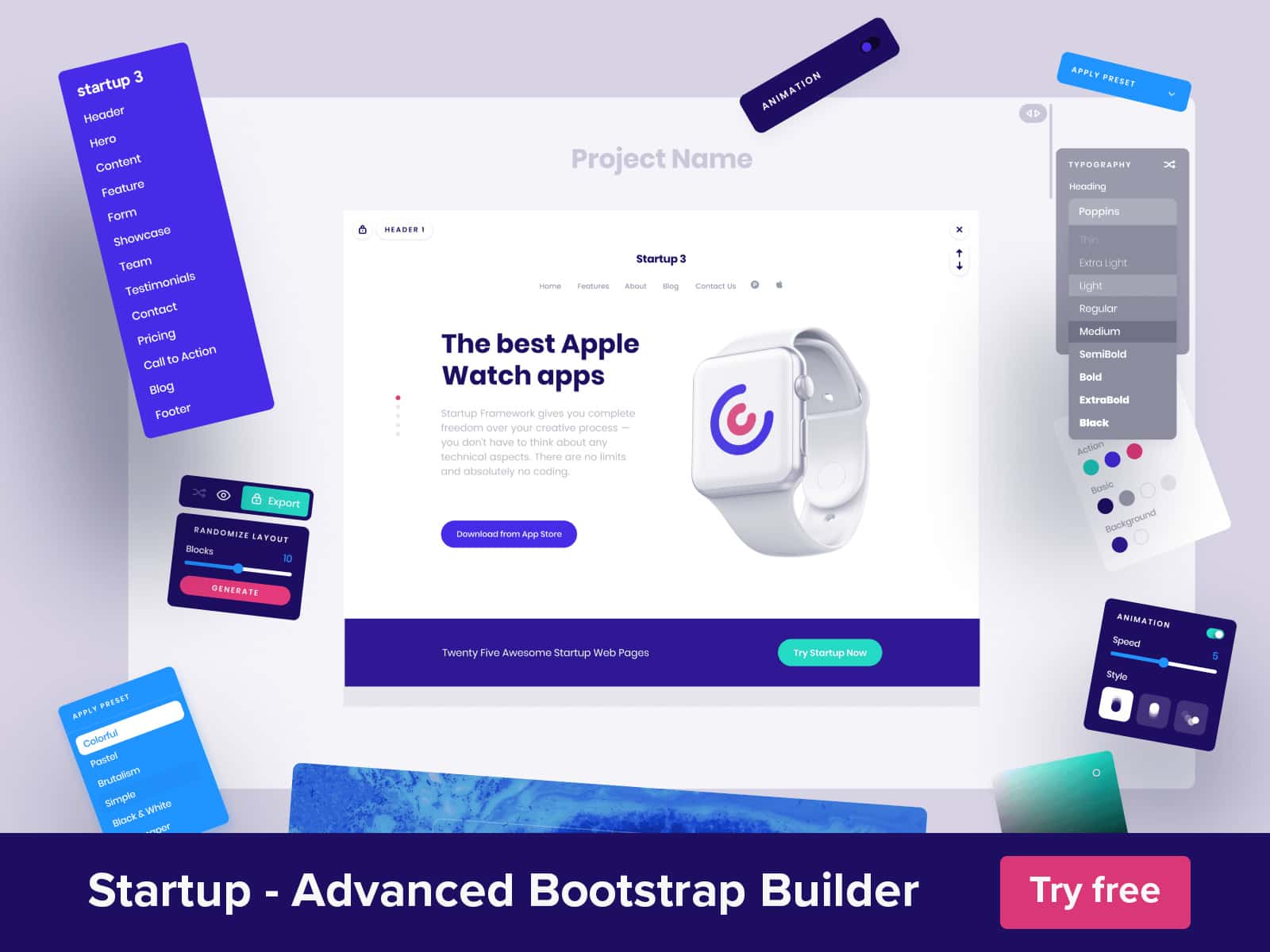 Bootstrap uses the latest developments in the sphere of CSS and HTML, therefore you should pay attention to the support of the old browser. Where the good old CSS fails, LESS comes. Variables, nested functions, operators in LESS make CSS development quick and more efficient.
Main features of Bootstrap
Grids – pre-defined sizes of columns, which can be used immediately, e.g. column width 90px relates to .span2 class, which can be used in the CSS description of document
Templates – Fixed or flexible document template
Typography – Description of fonts, the definition of certain classes for fonts, such as code, quotes, etc.
Medias – Offers certain management of images and Videos
Tables – Design tools for tables, up to adding functionality to sorting
Forms – Design classes for not only forms, but also certain related events
Navigation – Design classes for Tabs, Inserts, Paging, Menus and Toolbar
Alerts – Design of dialog boxes, Tips and Pop-ups
Even without modifications, the created layout is suitable for many things
It can be used for administrative panels
It can be used for web applications without claims in respect of design, for which all thingies are not important
You can quickly sketch a prototype of your page in the course of development, and use the needed interface later
Information on CSS Framework for the beginners
CSS Framework was initially made for resets for IE, which means that some settings of Internet Explorer styles were reset from NORMAL. For example, the border was removed from pictures.
Then, people started defaulting for purposes of good look. This means headers, column width, stripes and margins. Defaulting was used to such extent, that, a style being connected, each awful page became improved. Then, bearded monkeys moved to forms. Various inputs, beautiful elements let graphics be easily connected, but thank God, CSS3 degenerated, and graphics were essentially rejected.
Online Email Template Builder
With Postcards you can create and edit email templates online without any coding skills! Includes more than 100 components to help you create custom emails templates faster than ever before.
Try Free
Other Products
Then, someone in the crowd shouted: "Down with grids!" And span16 was invented. Others wanted span24. Rubber was rejected, and finally, with the advent of HTML5 with one wave of hand, it became possible to make a site of unprecedented precision with literally a wave of heel above the keyboard.
The freshest historical tendency is represented exactly by Bootstrap, CSS3 started changing substantially for inquiring minds, and LESS came up.
Examples of websites created with Bootstrap
Flat UI Free
Flat UI Free is a comprehensive collection of pixel-perfect HTML/CSS-based elements that are essential for the majority of website designs. Each one is enhanced by flat style, gorgeous bright coloring and of course Bootstrap foundation. While the premium version lets bring into life any crazy idea, the freemium version also has something to marvel at. Thus, you will become an owner of
numerous buttons;
several types of navigation menus;
sleek inputs;
progress bars and sliders;
toggles and tags;
checkboxes and radio buttons and some others.
What's more, there are fancy CSS effects that accompany several items and new web-font icons.
Scoutzie
Although the project was officially closed, however this one-page structure with a 'good-bye' letter looks simply fantastic. It is clean and accurate with a strong focus on the content. The header image nicely flows into the design, lightening up the atmosphere. It looks great on tablets and mobile devices.
Jojari
Jojari is an excellent example how to get the most out of modular system provided by Bootstrap Boilerplate. The classic and reliable horizontal stripe layout that underlies the front page holds sections with varied number of columns to meet the amount of data. Color differentiation also makes its important contribution naturally separating text and widgets from the backdrop.
leanIX
Much like the previous example, the website lays out the content in two, three and more columns quite effectively. Although on the contrast to the Jojari, here sections take up less space resulting in a more compact structure, yet thanks to grid and relatively huge gutters the readability does not suffer and great deal of data does not overwhelm readers.
Resource Guru
While bright green that seizes the whole header background instantly catches the eye and unobtrusively evokes a sense of serenity, peace and harmony; the overall structure also boasts of well-balanced look and equilibrium between all the parts. Thanks to Bootstrap foundation, the website is handy to use on any device, whether you are surfing it via mobile or desktop device.
Joostrap
Providing users with reliable and good-looking Joomla templates that are driven by Bootstrap, the team demonstrates how to turn the foundation to its advantage on practice. With a ton of data to display, the front page deals with this task pretty efficiently. Each box with content whether it is simple text or multimedia seems to be on its own place.
EISENHOWER
Sticking to Bootstrap-powered grid system, the website has a responsive and mobile-friendly layout that hits the targeted audience regardless of a device they are using. Every element of UI starting from a clean monochrome backdrop and ending with sharp formal typography enhances user experience and let the overall design produce an excellent impression.
Improvely
Much like a service that is advertised here, the website needs to handle a generous amount of content. Though with a helping hand of Bootstrap framework, this hurdle has been easily overcome. At first sight, the front page looks content-heavy, however it can be quickly scanned. Data is broken into digestible portions that located within neatly-arranged cells. Altogether, they form a secure structure.
Accord
Accord is a flexible and viable WordPress theme that is created for bloggers. It is meant to cover a gazillion of posts and present them in non-intrusive and enjoyable manner. Thus the homepage takes the best features of grid system and cards design, creating order out of chaos with an ease. It also includes
nine custom widgets;
infinite scroll;
two types of navigations;
post badges;
Ajax contact form and much more.
Fleetio
Fleetio has a modern and stylish appearance that is bolstered by beautiful background gradients and lovely primary coloring. Although in general, the team utilizes a two-column organization, yet there are some sections such as 'Testimonials' or footer that arrange the content into four columns. Nevertheless, everything looks just fine.
Free HTML snippets for Bootstrap
Blog posts with a picture
Created by Msurguy this tiny snippet mimics classic way of arranging posts in blogs. Each item is defined by its own thumbnail, such information as date, author, category, number of comments, tags, excerpt and 'Read More' button. Although it has an insipid appearance, yet you can easily customize it via main CSS files.
Search form with toggles
Crafted by the same developer as 'Blog posts with pictures' this small streamlined component will seamlessly integrate into any design and improve its functionality. It also offers a starting point for prototyping more refined searches. It looks nifty and elegant even despite the old-timey gradients that are used as backdrops.
This is another compact and sleek component in our collection that is created to sit at the top of the page and provide users with a handy way to move around the project. It extends from one side to the other, giving inner components lots of space. It consists of logotype, menu and drop-down with some extra features.
One month calendar
Better One Month Calendar by Msurguy has an elegant polished appearance and solid base. It is compact and universal. There are also controls to move through months one at a time. Thanks to alternation of white and grey, structure is clear and quickly perceived.
Music / Video controls UI
This is a super minimalist element, yet it is quite powerful in what it can do. While you can leverage it as a base for developing standard audio player that enables users to enjoy tracks from the list, it can be also broken into items and used as a part of something bigger and more complex. The code snippet is applicable for Bootstrap 2.3.2 and higher.
The component takes up a small amount of space thereby becoming an ideal instrument for interfaces that are oriented at mobile devices or tablets. It features titles with accompanying icons and status of each function as well as utilizes a highlighting color to distinguish selected item from the others.
Full-width login form
As you may have guessed from the nameplate, the widget is aimed to occupy every pixel on the screen thereby seizing the whole attention and forcing users to concentrate namely on one task, that is filled out the form. Although it includes just two inputs and huge 'Sign In' CTA, however, you can easily add other fields through HTML. The author has also taken care of standard error message that indicates problems with validation.
Text Editor toolbar
The component has a classic shape and formal look. Being quite neutral in terms of design, it is pretty universal and generic. Although the artist included just the popular buttons such as 'insert image' or 'style text', nevertheless, much like in the previous example you can expand it. Each item has two states: the default one that is based on a smooth gradient and the selected one that is spiced up with an embossed effect.
The component has a chic and sleek appearance. It can be a part of more complex toolbar. It includes buttons for such functions as write, edit, delete and list that are suitable for various interfaces. Solid accompanying icons in tandem with embossed effect makes each CTA look intuitive and legible.
Pricing table
The developer shares with users a code snippet of a simple and carefully organized pricing grid. The latter demonstrates plans in a straightforward manner. Although the component is deprived of fancy features and artistic touches, it is just a collection of intersected rows and columns; yet it performs its primary role pretty well. All the key features are neatly dished up and CTAs look highly clickable.
Conclusion
One of the greatest advantages of Bootstrap foundation lies in its ability to be easily expanded in terms of functionality. An open-source code untied developers' hands resulting in a massive collaborative work. Snippets, HTML/CSS UIs, templates and tiny enhancements that are freely available on the wild boost up prototyping and upgrade the projects.
Like what you're reading? Subscribe to our top stories.