Best Email Checker and Validation Tools
Do you know there is a way to improve your email deliverability, low open and click-through rate, and even ROI? Professional email marketers across all niches are perfectly aware of the impact that a healthy subscription list and good sender reputation can do. According to studies, these two decide whether your subscribers open the email and follow the lead or not. There are many ways to improve them, and an email checker is one of the most valuable solutions.
The average global inbox placement rate, representing the percentage of emails that successfully reach recipients' inboxes, is around 85%. However, this rate varies by industry, country, and email service provider (ESP). The sender's reputation significantly impacts deliverability rates. Senders with a good reputation, as determined by factors like low spam complaint rates and high engagement, can expect inbox placement rates above 90%. On the other hand, those with a poor reputation may have inbox placement rates below 50%.
The email checker does not need a special introduction. It does what it says – validates emails. However, there's more to this than meets the eye. Depending on the platform, apart from locating and removing invalid, dangerous, temporary, or duplicate emails, it may also do these tasks:
Detect email traps
Indicate and delete emails with hard bounces
Validate syntax errors and locate spam words
Test responsiveness, mobile-friendliness, and accessibility of digital newsletters
Check up on whitelists and blacklists
Verify the receiver's domain
Generate detailed reports
Not only does it scan your email list, newsletter design, and even campaign using a variety of different checks, but also it removes possible mistakes, issues, and flaws and improves the overall email marketing campaign and relationships with clients.
To find the best solution for your team, check out our list of the best email validation tools in 2023.
Best Email Checker and Validation Tools
Unspam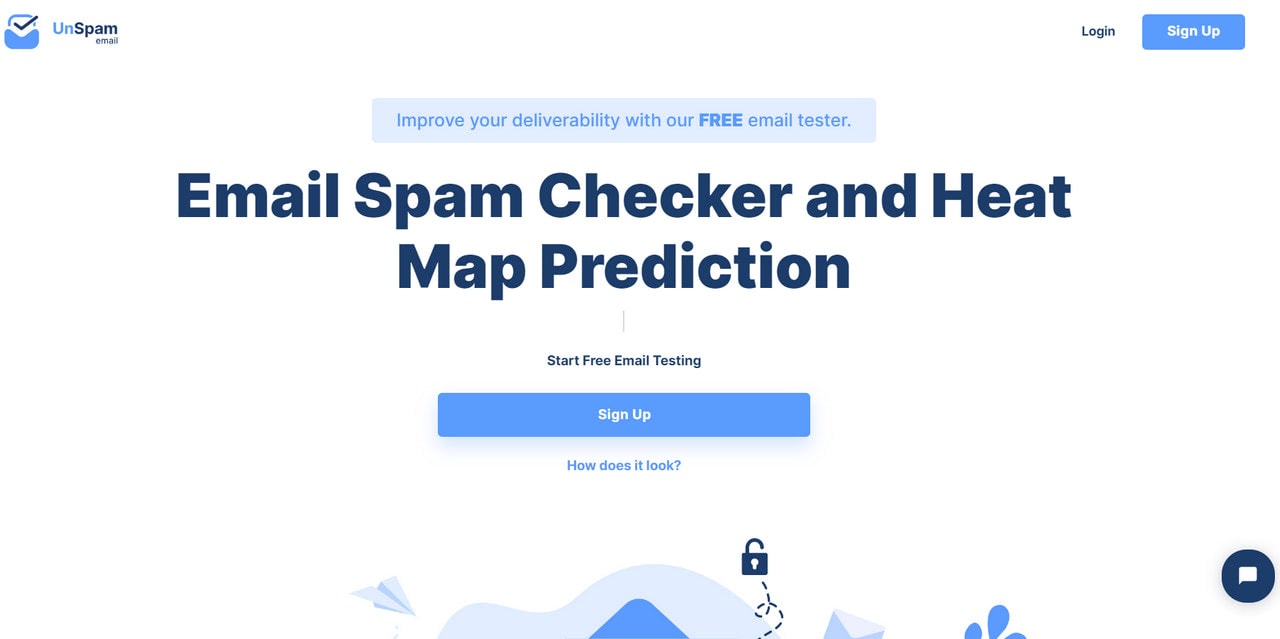 Unspam.email is the first email validation tool in our collection. There are many good reasons why it is on the top and should be at your fingertips throughout the email marketing routine.
No-Code Email Template Builder
With Postcards Email Builder you can create and edit email templates online without any coding skills! Includes more than 100 components to help you create custom emails templates faster than ever before.
Start Free
It has proven its validity over the years. It offers the best price for its value. It has a reliable and user-friendly platform and a highly responsive customer support team. Finally, it is trusted by thousands of customers, including entrepreneurs, startups, and big companies.
Unspam can do this range of tasks:
Verify email addresses
Monitor blacklists to check the domain and IP addresses
Check accessibility
Show email design in real-time to ensure it works great across all popular devices, operating systems, email readers, and screen sizes
Make an eye-tracking prediction heat map
Verify SPF, DKIM, DMARC, and DNS
Its prices are one of the best in the niche. Its plans fit every budget from $9 to $29 per month. On top of that, the service offers a free tier, which allows three tests and three email previews per month, and a custom plan for unlimited tests, previews, and heat maps.
DeBounce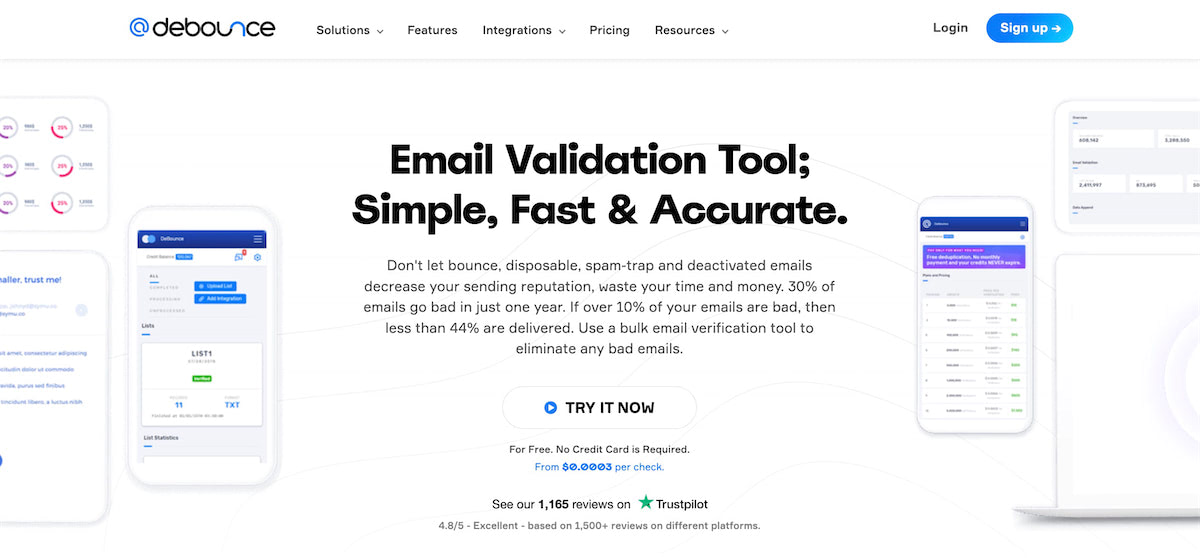 The effectiveness of email marketing campaigns often suffers due to bounced emails, disposable addresses, spam traps, and dormant accounts. In fact, a staggering 30% of emails become obsolete within just a year. And if more than 10% of your emails are labeled "bad," you're looking at a deliverability rate of less than 44%. The solution? A robust email validation tool like DeBounce.
Why Choose DeBounce?
Comprehensive Cleaning Procedure: DeBounce doesn't just validate; it thoroughly cleans your email lists. From identifying invalid or spam-ridden mailboxes to ensuring that no email on your list is troubled with an unwanted message during validation, DeBounce goes the extra mile. The endgame? A pristine email list tailor-made for your marketing endeavors.
Eliminate Bounce Woes: Bounced emails are not just numbers; they're missed opportunities. DeBounce uses an advanced SMTP check to root out those invalid and hard bounce email addresses that plague your database.
No More Disposable Emails: With DeBounce's Disposable Email Checker, those one-time-use email addresses from providers like Mailinator are easily spotted and eliminated.
Catch-All Domain Insight: Understanding catch-all domains is crucial, as they return valid for every email. DeBounce's verifier efficiently identifies these, allowing for more informed decision-making.
Syntax Errors No More: An invalid email format can be a result of a mere typo. But these small mistakes can lead to delivery issues. DeBounce's Syntax Eliminator tool ensures such inaccuracies are immediately removed.
Advanced Anti-Greylisting: By simulating a sophisticated email engine, DeBounce dramatically cuts down on unknowns.
No Repetitions: Duplicated email addresses are redundant and consume resources. DeBounce's Email Deduplication feature ensures each email address is unique.
Seamless Integration with DeBounce API: Want real-time email verification on your platform? The DeBounce API is your answer.
Customizable Downloads: Why download everything when you can pick and choose? With DeBounce App, get only the results that matter to you.
Intelligent Spam-trap Detection: The Spam-Trap Indicators ensure your list remains free from spam records, enhancing your email deliverability.
Authentic MTA Validation: By checking the Email Transfer Agent's validity via its MX record, DeBounce ensures your emails reach genuine, active servers.
In essence, DeBounce isn't just another tool; it's a comprehensive solution for businesses seeking efficiency in their email marketing campaigns. By ensuring that every email in your list is genuine, valid, and active, DeBounce sets the stage for improved engagement, better conversion rates, and heightened brand reputation. Invest in DeBounce, and let your emails hit the mark every time!
Email List Verify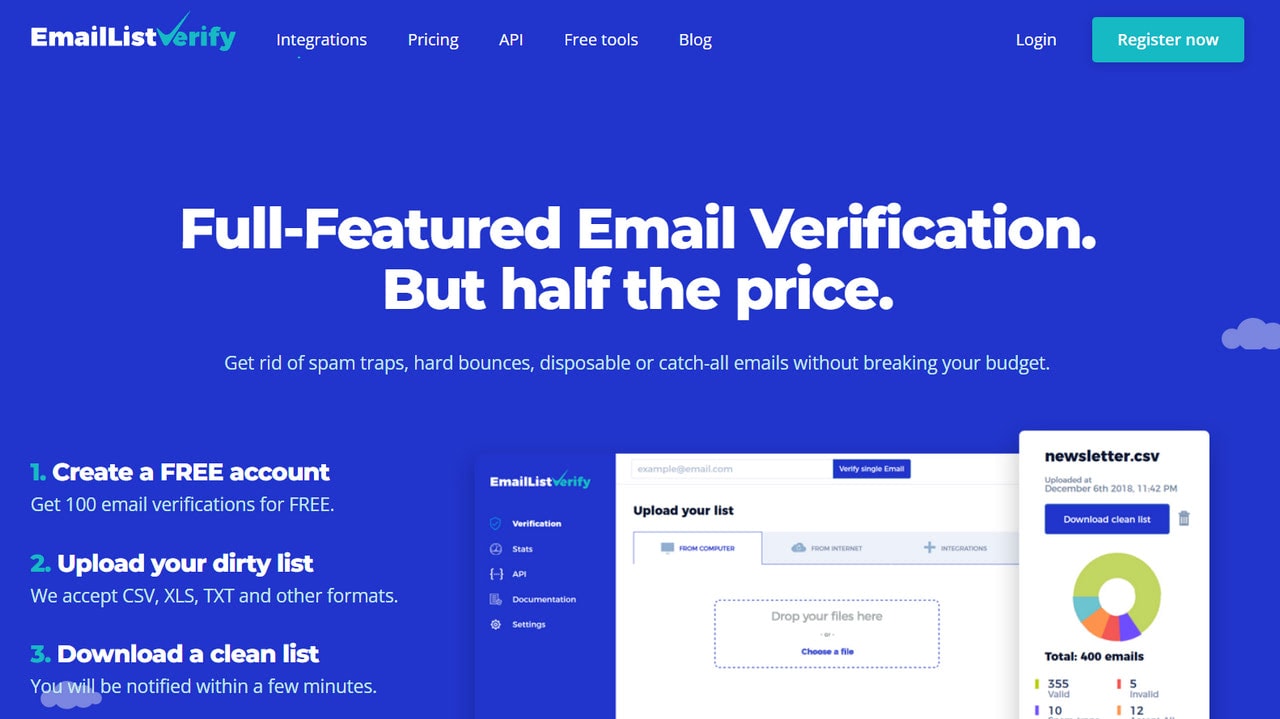 Email List Verify is worth your attention, rated 4.5 out of 5 on Capterra. It is fast, reliable, and pretty affordable regarding bulk email validation. It is also easy to handle: the interface is intuitive, user-friendly, and inviting.
Among its main capabilities are the following:
Detecting email spam traps, hard bounces, and disposable or catch-all emails
Validating domain and STP
Checking MX records
Locating syntax errors
Integrating with email services such as MailChimp, MailerLIte, SendGrid, or Aweber
The pricing is average. There are two options: "pay as you go" and a monthly subscription. The basic plan starts at $139 monthly and allows working with 5,000 emails daily. If you want to try out the service, you can always create a free account and give it a go.
Mailer Check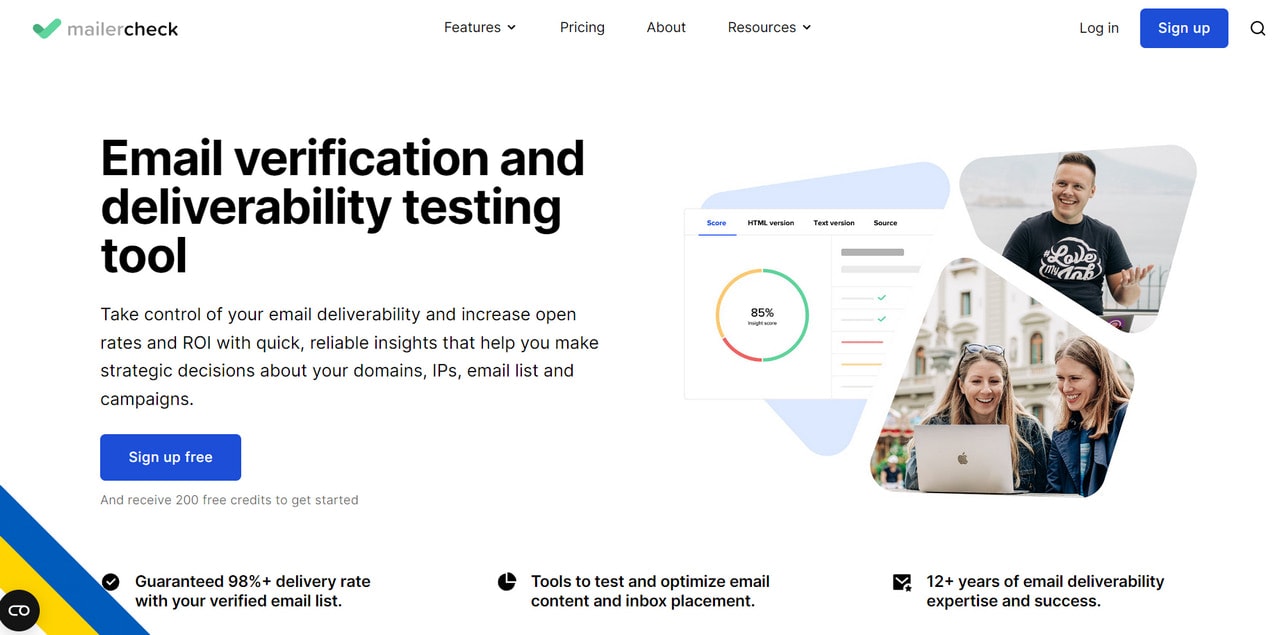 Created by one of the most popular email marketing tools on the web, Mailer Check has already proved to the market, including some big companies, that it can do its task flawlessly. It serves almost 40,000 customers across the globe, offering a range of valuable instruments. Inside their arsenal, you may find:
Email list verification
Real-time API verification
DMARC reporting tool to track domain activity
Blocklist monitoring
Filter for threatening emails
It also tests email content to get insights on improving overall deliverability and open rates by indicating spam-like words, poorly-formed code, or broken links.
Two ways to pay for the service are a one-time purchase or a monthly subscription. Both options are average. For instance, 5,000 subscribers cost $45, whereas the basic plan starts at $125 monthly. The good news is a free account allows for 1 DMARC domain check, two blocklists monitors, and email support – it is a good start for solopreneurs and hobbyists.
My Email Verifier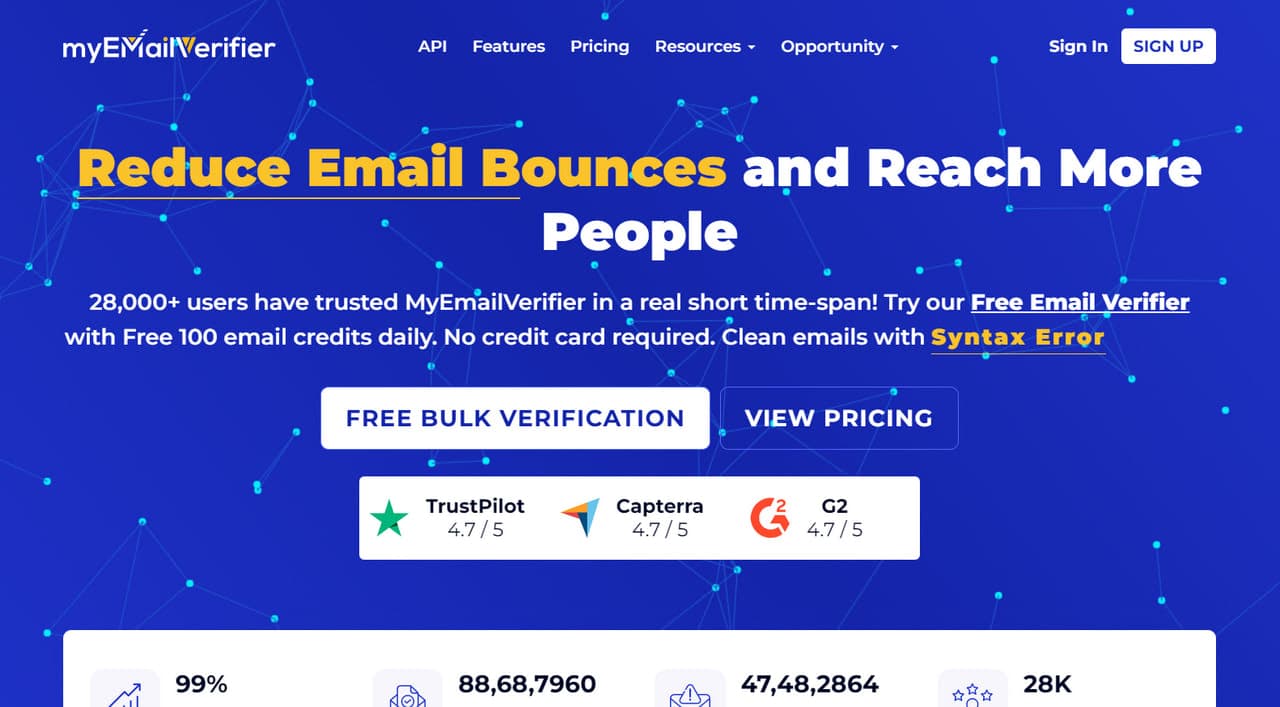 My Email Verifier is a popular email checker tool appreciated by over 28 thousand customers. It is highly rated on Trustpilot, Capterra, and G2, occupying the top list. It has multiple verification processes along with numerous integrations. It can do many invaluable tasks:
It checks email addresses syntactically with IETF standards.
It identifies domains with valid, invalid, inactive, or parked email addresses.
It detects free domains, catch-alls, temporary and role-based email addresses, and spam traps.
It automatically removes bad emails from your list.
It generates detailed SMTP responses.
It reduces the deliverability issues with anti-greylisting technology.
It offers high-performance real-time API.
Unlike others, My Email Verifier offers only prepaid plans, but clients still pay for what they use. On top of that, they have the best prices on the market: 5000 credits cost just $12. The more credits you need, the bigger discount you get. You can also try the service free of charge by using 100 email credits daily.
Hunter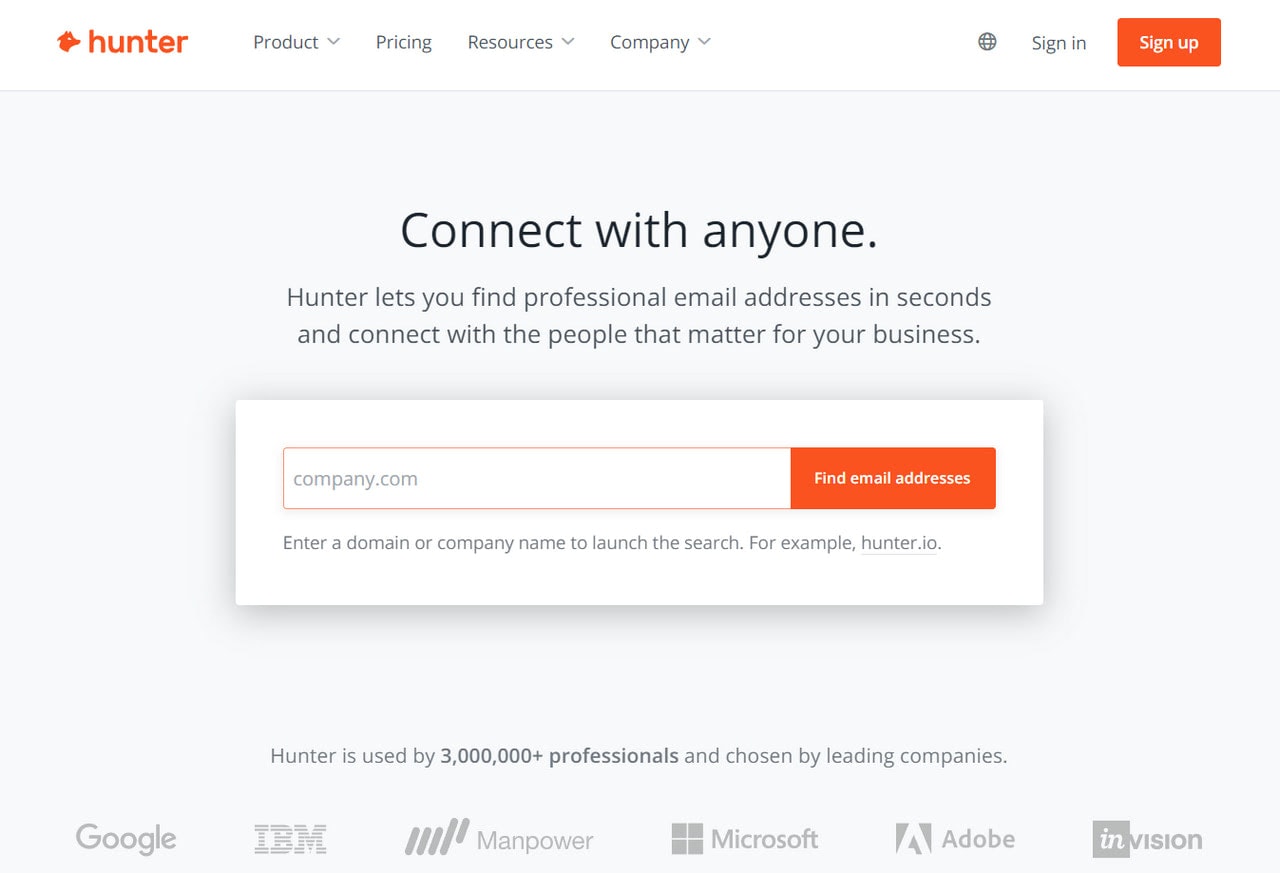 Hunter is the most popular email validation tool on our list. It serves 3,000,000 customers, including Google, IBM, Microsoft, and Adobe. It is a fully-fledged platform that comes with some exceptional capabilities. For instance, it has software to send cold emails and schedule follow-ups from your Gmail or Outlook account.
Along with that, it offers these functionalities:
Email verifier to fast and accurate email checks using multiple-level validation processes.
Email finder to get the address of any professional.
Author finder to locate article authors and their email addresses.
Domain search to narrow down email addresses from any company name or website.
Integrations with all popular CRMs, emailing services, automation tools, and third-party applications.
The pricing is tier-based and above the average. However, companies are welcome to start with a free option, with access to email searches, verifications, and email campaigns, and build their way up. The first premium tier costs $49 per month and includes 1,000 monthly verifications.
Folderly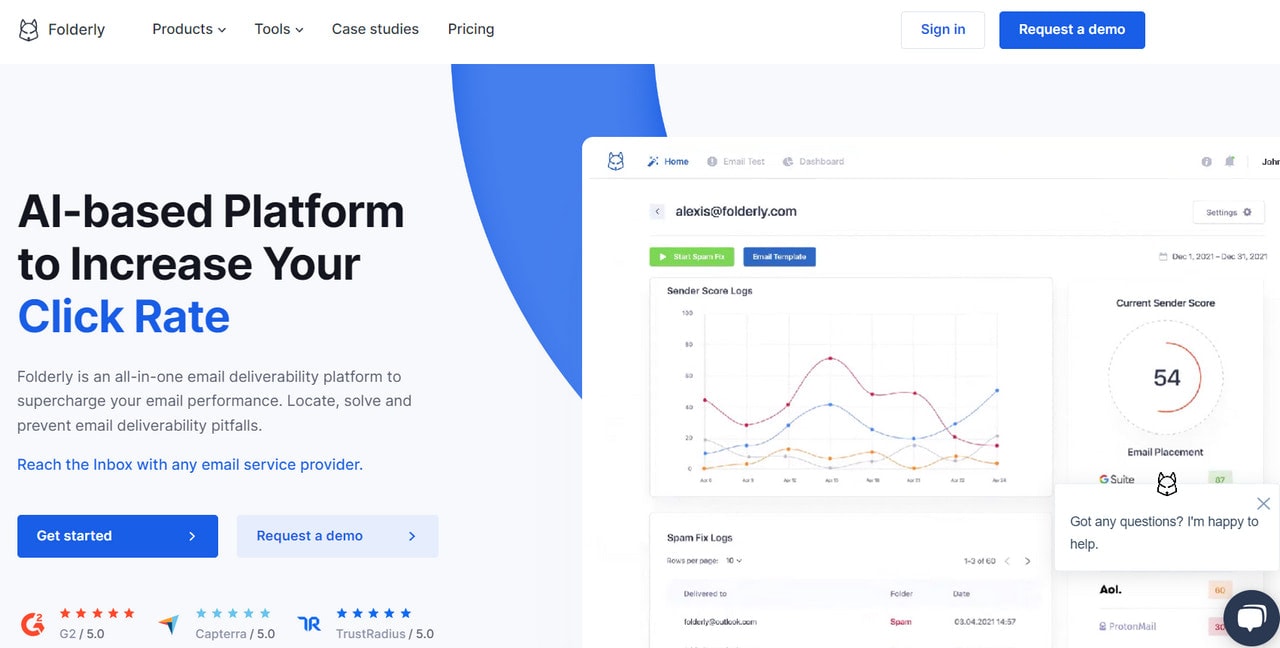 Folderly stands out from the rest of the group because it is the email checker tool that strongly relies on AI. It embraces automation to bring about the best and fastest results. Proof of its validity and success is its high ranks in Capterra, G2, and TrustRadius, 5 out of 5. On top of that, it has been trusted by thousands of customers.
Its suite of products includes
Email Spam Checker that detects spam triggers
Email Marketing Toolbox comprised of email sender and hosting software, marketing analytics tools, email management software, and email template builder
Cold Email Outreach Tools that include email list validation and verification, email outreach, and DNS monitoring
Email Placement that finds out what holds your deliverability back
Email Deliverability Tests that conduct composite research to identify issues that affect your email performance
Integrations with the major ESPs, CRMs, and marketing software platforms
Regular audits that give a clear vision of email marketing performance
In a word, it is an all-in-one email deliverability platform that meets numerous case scenarios.
Choose either pre-made packages or add-ons to enjoy these capabilities. The basic package starts at $160 per month. Other options are calculated according to the customer's needs.
Clear Out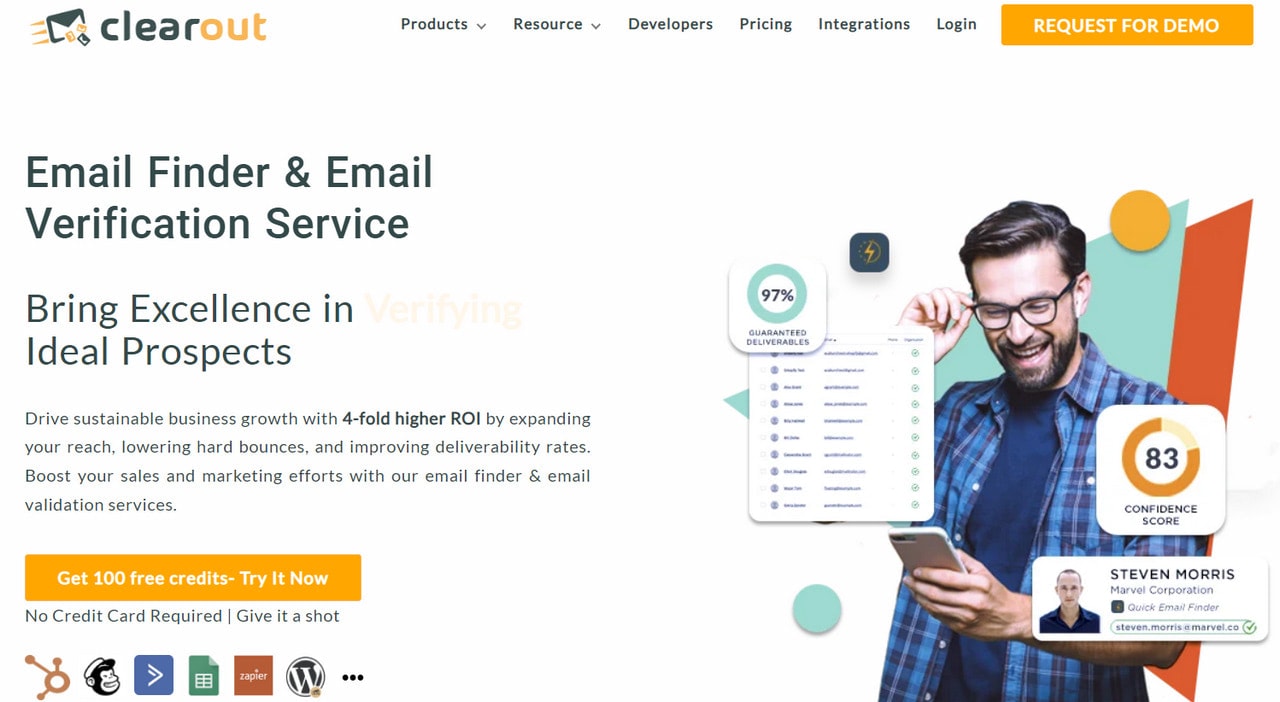 Clear Out is a simple yet effective email validation tool that integrates with many email marketing service providers, including Apollo, Hubspot, Mailchimp, Moosend, and Salesforce. Trusted by some big names, including Adobe, it has a dozen tools to try out. For instance, it helps to do these tasks:
Finding emails by locating individual or bulk emails by person's or company's domain
Detecting Catch-All, random and duplicate addresses
Checking blacklists
Cleaning up Google Sheets
Validating phone numbers across 240 countries
Plus, it offers API for Email Verification and Finder services.
The pricing policy is based on the credit system and the "pay as you go" ideology. To get 3,000 credits, customers have to pay $21.
Million Verifier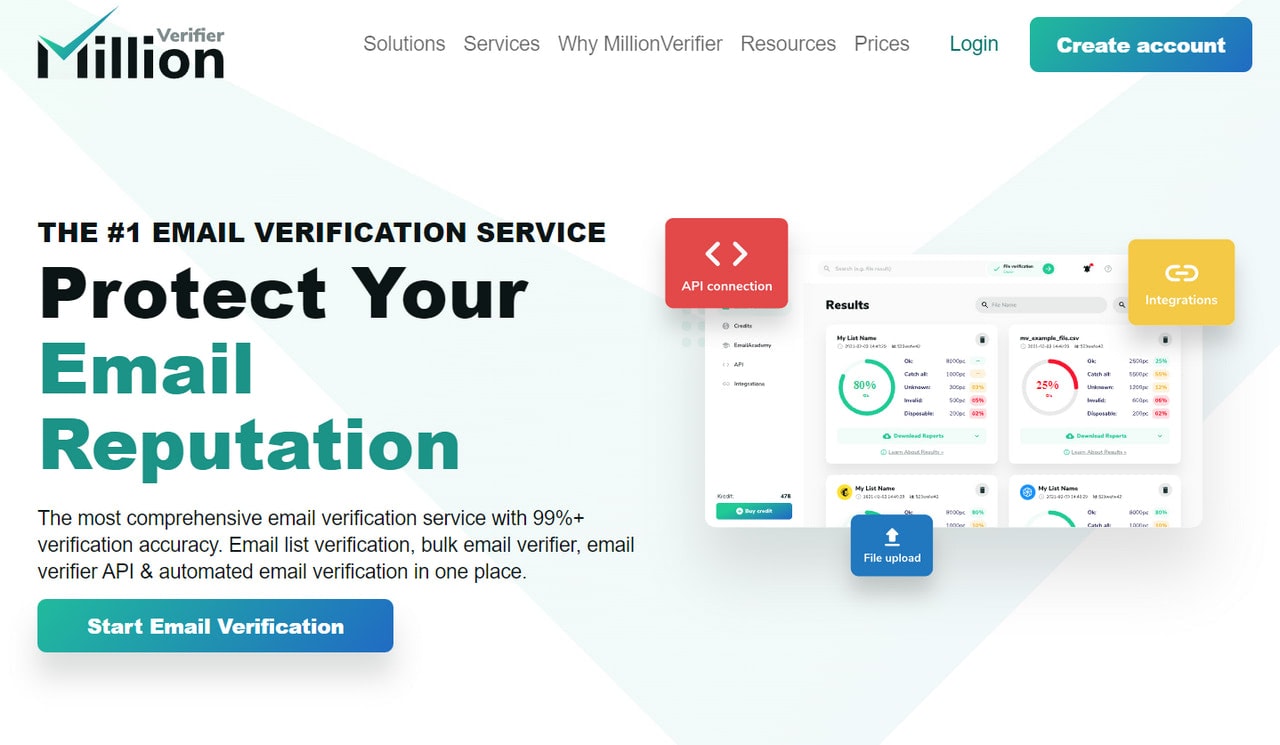 Million Verifier is a major email checker tool with all the essentials to ensure high deliverability and open rate. It offers customers to do these tasks using their reliable, time-tested, and marketers-approved platform:
Clean old email lists
Verify new emails in real-time
Block temporary and disposable emails
Analyze a bulk of emails at once
Keep your email marketing account clean 24/7
Integrates with Sendinblue, Mailgun, Mailjet, Drip, SendGrid, and others
Rated excellent on Trustpilot, it ensures a 99% accuracy rate and collaborates with EmailAcademy to provide its clients with a practical email marketing toolkit.
Million Verifier claims to have the best price in the niche. Believe it or not, you can check 10,000 subscribers for only $15 per month. This is the cheapest option on our list.
Snov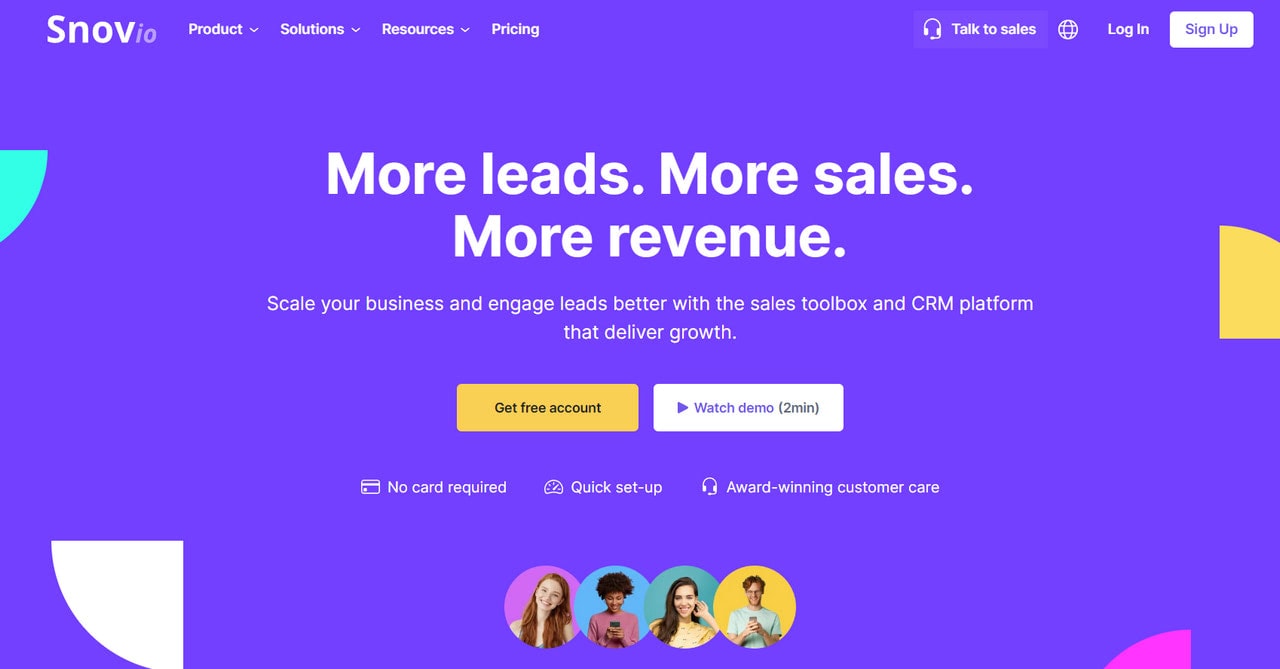 Snov is a powerful tool that scours email validations at multiple levels and provides a range of services necessary to keep the subscription list clean and healthy and conduct other crucial tasks to increase open rate and improve ROI. Premium customers may benefit from these instruments:
Email Finder to narrow down and collect leads and prospects anywhere online
Email Drip Campaigns to create personalized email sequences
Email Warm-up to improve deliverability and inbox placement
Email Verifier to detect questionable addresses and remove them from the list
Technology Checker to discover the technology stack of clients
Sales CRM
Snov has a three-tiered pricing policy. The basic plan starts at $30 per month. It includes 1,000 credits and 5,000 email recipients. The professional plan costs $75 per month and includes 5000 credits and 10000 email recipients. The final tier starts at $999 monthly and offers custom lead gen and outreach strategy.
Zero Bounce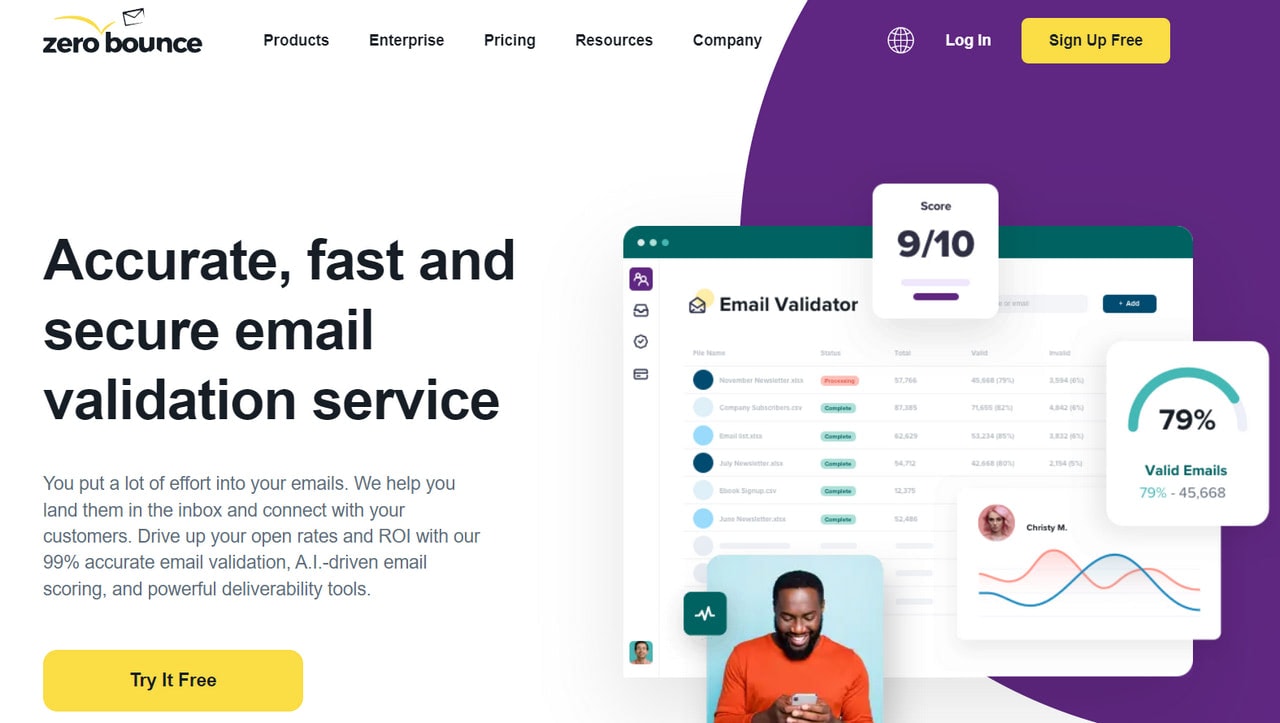 Making the Inc. 5000 list for the fourth time this year, Zero Bounce is one of the most promising services in our list of the best email checker tools in 2023.
As a relatively new market entry, it has already earned a strong reputation as an accurate, fast, and reliable instrument that validates emails and provides tools to improve overall deliverability. It has this suite of products:
Email validation to clean the subscription list and reach engaged customers
Email activity data to target the most active subscribers
AI-based email score to get an in-depth insight into your email list
Email testing tools to check servers from more than 20 international addresses
Blacklist monitor to protect your domain, IP address, and sender reputation
As for pricing, companies pay for an exact number of subscribers. For instance, 5,000 subscribers is $39. Plus, the service offers good discounts for more considerable amounts.
Emailable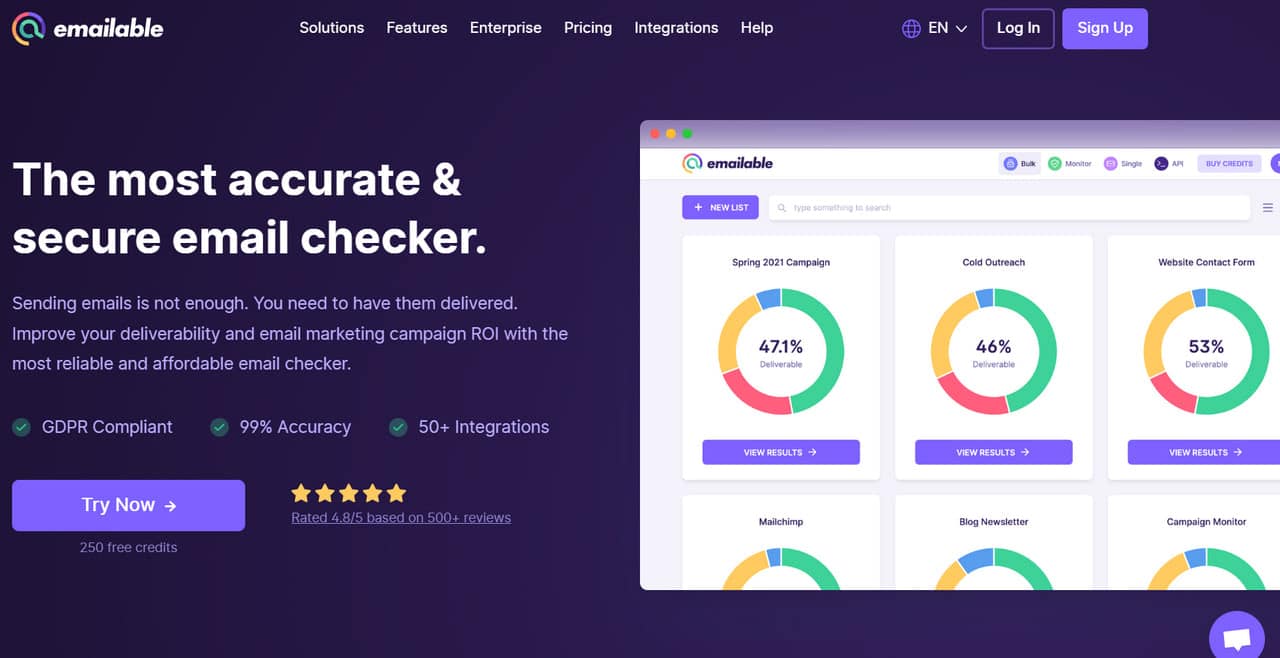 Emailable is a reliable email checker tool designed to clean email lists and do many other tasks that improve open and click-through rates. Among its main capabilities are the following:
Detection of disposable, Accept-All, temporary, tagged, role-based, and duplicate email addresses
Verifying email with custom API
Identifying syntax errors and common typos in domain names
Calculating email quality score
Providing real-time results
Generating customized exports
Integrating with popular service providers and marketing platforms customers already use
Emailable offers three types of payment. Users may buy credits, monitors, and plans for improving deliverability. Prices are average at 5,000 credits for $30 per month, whereas monitoring up to 1,000 subscribers costs $9.
On top of that, a free plan offers 250 credits for basic needs.
Pros and Cons of Using Email Checker and Validation Tools
If you are still unsure whether you need an email validation tool, you should consider its pros and cons to make an informed decision. The benefits of using an email checker are the following:
Establishing a healthy email system
Cleaning email list of invalid email addresses
Improving email deliverability
Increasing inbox placement
Ensuring error-free and spam-free email content
Securing responsiveness, mobile-friendliness, and accessibility
Keeping domain safe
Helping the brand avoid blacklists
Minimizing bounce rate
Keeping a high inbox placement score
Raising your brand and sender reputation
Amplifying open rate, click-through rate, and ROI
Reducing the costs of the campaign
The quality of your email list is a tiebreaker when it comes to whether subscribers open or not. Therefore, an email checker is a crucial tool for email marketing success.
Sounds good so far. However, what about shortcomings and issues? The cons are that companies may use them for list washing, trap washing, and related spam support services. It also generates footprints by sending hundreds and thousands of requests to servers. On top of that, it can become expensive at scale.
Another possible issue is a false sense of confidence. Often, companies that use email checkers neglect the importance of exercising best practices in this niche, such as using correct technical settings, introducing accessibility features and hyper-personalized email content, or avoiding tactics that may resemble spammers' activities, thereby ending with poor results.
There are many tools to validate emails, from narrow-focused solutions to all-in-one platforms. Even with our list of top email validation tools in 2023, deciding what fits you most is hard. If you are in doubt, consider these factors:
Your team's capabilities
Your company's current targets
Budget
Integration with email systems and services
Ability to examine individual addresses and group contact lists
Responsiveness of customer support
Platform's extensibility and adaptability
Conclusion
Email checkers are the secret weapon of successful marketers. A good one will detect bad email addresses, check blacklists, minimize and even eliminates issues, trap technical problems with the subscriber lists and digital newsletters, and provide reports and analytics to enhance digital campaigns.
It shields the brand from sanctions and takes the sender's reputation to the next level, improving email deliverability, open and click-through rate, and increasing ROI. Whether you are in B2B or B2C sector, it is an absolute must-have for your company.
There is a wide choice of email validation platforms on the market, from extensive and costly platforms that gather multiple products under one roof to small yet effective narrow-focused solutions. How to choose the best one for your company? Consider factors such as the company's targets, budget, team's capabilities, platform functionalities, integrating capacity, customer support, and pricing to see which option fits the bill.
Like what you're reading? Subscribe to our top stories.