How to Measure the Success of Your Email Campaigns
The easiest way to determine the success of an email marketing campaign is by tracking whether it accomplished its main goal – be it boosting awareness, improving conversions, or generating new leads. Depending on the scale and scope of the promotion, the success criteria may vary.
However, to create a standard way to measure the efficiency of email marketing efforts, business owners track a well-defined set of metrics. In this post, we'll describe the main criteria for analyzing email deliverability, help you capture them efficiently, and put all campaign data into a bigger picture.
Why Email Success Tracking Is Important
It will not come across a surprise that most business owners track email marketing campaigns – 99% use monitoring tools to measure the performance of newsletters. Teams invest in capturing metrics and gathering insights to know their customers better and be able to make data-driven marketing decisions.
If you are wondering whether email tracking is worth your while, here are some convincing reasons to adopt the practice at your team:
Provides marketing teams with context. Email tracking offers marketers a broad range of insights – how much time users spend interacting with the content, which areas of the letter had better visibility and more engagement, what links are clicked on, etc. Gathering all this data helps business owners to know a lot about prospective customers – interests, peak activity time, habits, and values. Through email tracking, you can get a much-needed context to empower your product development, sales and content marketing strategies.
Helps measure engagement. Based on the way users react to the content, a marketer can make sure he didn't disappoint the audience, that there's no mismatch between the subject line and the body of the email, and the content resonates well with the audience. Being able to track engagement helps avoid boring letters and send out only relevant newsletters that keep readers' interests alive.
Allows discovering new audiences. By capturing email marketing metrics, you can discover that the segments you didn't prioritize are more interested in the content of the newsletter than those you thought of as the primary audience. This way, business owners can find ways to penetrate into new markets and niches, bringing forth more revenue and leads.
Saves money. Missing out on leads due to poorly optimized or irrelevant newsletters can cost a business a lot in the long run. Other than that, only by tracking emails you can be confident that the marketing team performs at its peak. If you promote different newsletters via social media, tracking success can help understand which platform is more relevant and cut off the ad channels that don't attract relevant audiences.
How to Track the Success of a Campaign
Most email marketing teams monitor the performance of email marketing campaigns through benchmarking. You will have to establish the baseline, reaching which would mean the success of your marketing strategy.
Here's a short guide to creating email marketing campaign benchmarks:
No-Code Email Template Builder
With Postcards you can create and edit email templates online without any coding skills! Includes more than 100 components to help you create custom emails templates faster than ever before.
Try Free
Other Products
Step 1. Take a look at past reports. If you have enough data on how many people read the email, how many interacted with it or replied, as well as the number of visitors and product orders the newsletter attracted, start by analyzing these insights.
Step 2. Establish average patterns. In most cases, you will have no trouble pinpointing an average number of daily readers, website visitors, etc. If there are repeated growth spikes (common, for instance, for Black Friday content marketing) or fall-throughs during a set period of time or in response to a selected email, mark these patterns and take them into account.
Step 3. Monitor your email marketing campaigns using average metric values as the baseline. If a campaign performed better than expected by the baseline, deconstruct it and determine what contributed to such efficiency. If, on the contrary, a campaign has failed you, take time to re-test it, consider changing using new infographic ideas or changing the copy of the email to make it easier to read and more engaging.
Most marketing teams use email tracking tools to capture performance metrics and generate automatic reports. Such solutions help analyze the efficiency of every newsletter you send out and identify room for growth within the company.
Top 10 Email Marketing Metrics to Track
There are dozens of performance metrics business owners can track. However, since keeping tabs on piles of data is too time-consuming and confusing, I narrowed the list down to 10 most relevant email marketing campaign success criteria. In my experience, capturing these metrics for every email you send out gives an in-depth insight into every right and wrong decision you made when planning, designing, and executing campaigns.
Here are the most important metrics email marketers should track to know if they are communicating with subscribers efficiently.
1. Open rate
An open rate is a number of people who opened the email divided by the number of subscribers who got the letter.

This metric is crucial for testing the efficiency of the subject line and the address field. If your email doesn't engage users from the get-go, there's no point to invest in sleek design or catchy copy.
2. Click-through rate
Click-through rate is a number of subscribers who clicked on in-mail links out of all people who got the message.

This metric is crucial since re-directing people to the website is often the main point of starting an email marketing campaign in the first place. If your emails have a low click-through-rate, consider changing the placement of the link or the copy that leads up to it.
3. Unsubscribe rate
Unsubscribe rate measures the number of people who unsubscribed from the campaign out of the entire audience.

A low unsubscribe rate could be a red flag of a mismatch between what you promise in the sign-up form vs what you deliver in the email. Optimizing the delivery schedule is another way to lower the rate – sending newsletters too regularly or too rarely can both result in a spike of unsubscribers.
4. Bounce rate
The bounce rate is a metric that measures the number of emails that didn't make it to the recipient's inbox.

A high bounce rate could be caused by an old subscriber base. It's common for business owners to delay campaigns up to the point when the emails of their readers are no longer active. Other than that, the increase in the metric could mean that the recipient server is blocking the email due to a code or a processing error.
To lower the bounce rate of emails, I would suggest re-testing the campaign and ensuring error-free email deliverability.
5. List growth rate
List growth rate is calculated by subtracting the number of unsubscribers from the number of unsubscribers and dividing the result by the total number of subscribers.

The metric reflects the growth of a subscriber base over a selected time frame. Tracking list growth is important, as it helps business owners find out how well they prioritize email marketing efforts.
If your subscriber base is not growing efficiently, consider promoting the newsletter on social media, redesigning the sign-up form, or improving the sign-up offer – for instance, an e-commerce store can offer a discount in exchange for an email subscription.
6. Forward rate
The forward rate is the number of people who shared or forwarded an email to other contacts divided by the total subscriber count.

The metric helps measure the relevance of the content you share with subscribers, as well as the campaign's viral potential. After capturing the forward rates for a long time, you will be able to tell which content types your audience finds useful and leverage the full potential of such copy.
7. Engagement over time
Email marketing success is a lot about the email entering the recipient's inbox at the right time. To find out when your audience feels like reading and sharing newsletters, start tracking engagement over time.
To do this, send emails with varying timing over the course of a week. Then, analyze the engagement levels every group had with the copy on different days of weeks and times of day.
Here's the example of tracking engagement over time: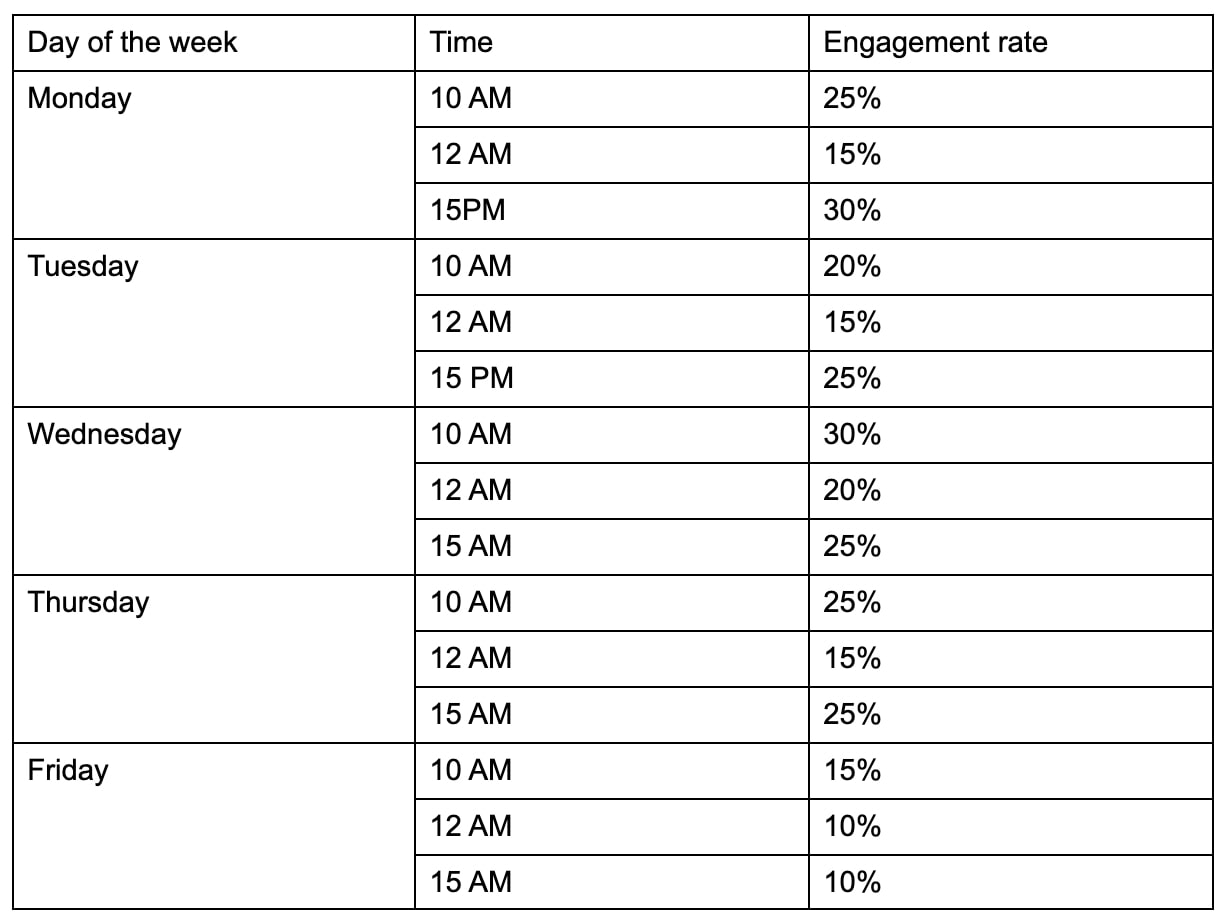 Finding out the best time to read newsletter emails helps marketing teams design campaign calendars that have the highest potential engagement.
8. Mobile click rate
Mobile click rate is a metric, similar to CTR that applies only to phone and tablet users and helps business owners determine how well they are communicating with mobile users.

Although mobile click rates are typically lower than desktop ones because users find it harder to access links via smartphones and tablets, noticeable differences in CTR and mobile click rate means that you need to prioritize mobile optimization and simplify the navigation process as much as possible.
9. Revenue per email
Revenue per email can be calculated by diving the revenue an email has generated by the number of email addresses in the user base.

The metric helps determine the individual success of each email on the campaign and choose better-performing types of newsletters for future strategies.
10. Overall ROI
Campaign ROI is captured by dividing the revenue generated by the campaign by all the spendings needed to complete the campaign.

Although ROI is an important metric, it's not perfect since the return on investment can be evaluated objectively in months if not years after the campaign is complete. That's why I'd recommend regular re-iterations on the metric to ensure you can evaluate the performance of every campaign objectively.
Conclusion
Tracking the performance of your email is a way to get to know the audience better, ensure a thought-out decision-making process, and maximize the efficiency of every campaign. By setting benchmarks and tracking the most important email marketing metrics, business owners and marketing teams can analyze the efficiency of marketing practices and get one step closer to creating a #NoFailMail.
Till next time! :)
Like what you're reading? Subscribe to our top stories.