Free Cryptocurrency Icon Packs, Vector Crypto Icons
Some say it is a universal fraud, nothing more than hype; others consider it not just our future but already our present. Cryptocurrency has become a big part of our life. "Bitcoin accepted here" is popping up everywhere. More websites, especially those that deal with digital goods, are adding digital currency to payment methods. Among big names are eBay, Amazon, Apple's App Store, Microsoft, Wikipedia, Steam, Stripe, Shopify, and others. Therefore, in this showcase, we have decided to include the best free cryptocurrency icon packs you can use in your designs. This collection includes updates of the most popular free crypto icons you can use in your apps or websites.
If you believe in the crypto-future or try to benefit from trends, you will certainly need graphical stuff to adapt your website to new realms. Our collection of free cryptocurrency icons is a perfect start. Here you will find a perfect icon for your crypto project or checkout page.
Truth be told, it was not easy to build. To our surprise, despite the fact that Bitcoin is growing in popularity, there is not a lot of good visual material out there. Nevertheless, we found some great choices.
Collection of Free Cryptocurrency Icons
Colored Crypto Icons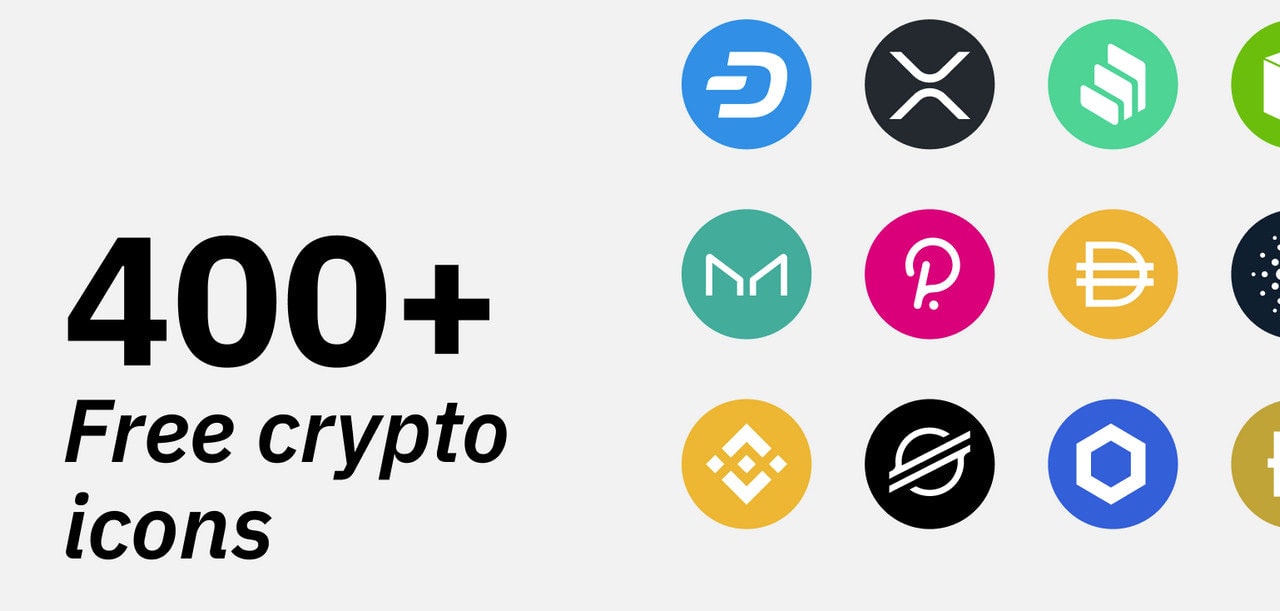 Figma Crypto Icons by Myro Fanta
If you have been struggling to find the crypto icons pack that has it all for your next Figma-based project, then search no more. You will never run out of icons for your projects with this massive bundle created by Myra Fanta. Including more than 400 high-quality items, it features the most popular cryptocurrencies like Bitcoin, Litecoin, Etherium, as well as some unique ones like Binance, Dash, or Tron.
On top of that, not only is the variety impressive but also the design pleases the eye with beautiful realization. Capitalizing on the simplicity and flat style, icons boast a sleek and subtle look. In addition, explicit use of brand colors and logos makes them instantly recognizable.
Online Email Template Builder
With Postcards you can create and edit email templates online without any coding skills! Includes more than 100 components to help you create custom emails templates faster than ever before.
Try Free
Other Products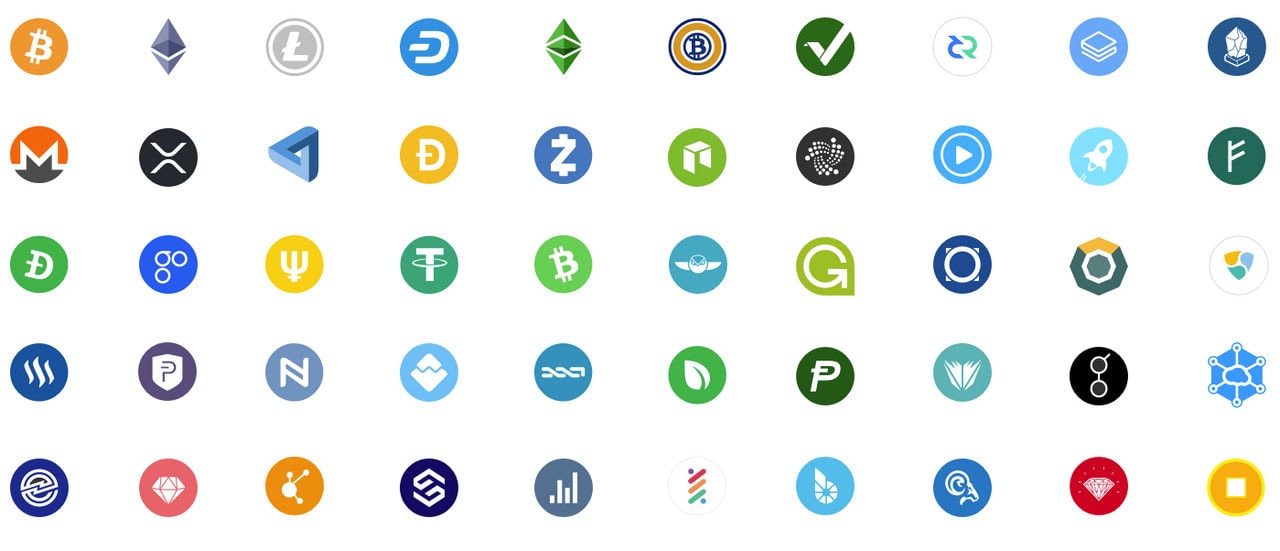 Sketch Crypto Icons by Myra Fanta
This is another freebie from Myra Fanta, who has generously shared another pack of crypto icons with the community. However, this time it was designed for all Sketch enthusiasts.
It includes only 50 items inside; however, the assortment is still great. The pack is also freshly updated. Therefore, it consists of the most popular coins on the market, such as Ethereum, Litecoin, Bitcoin Cash.
As for design, each icon is bright and flat, though you can easily recolor them and add some extra features in the editor.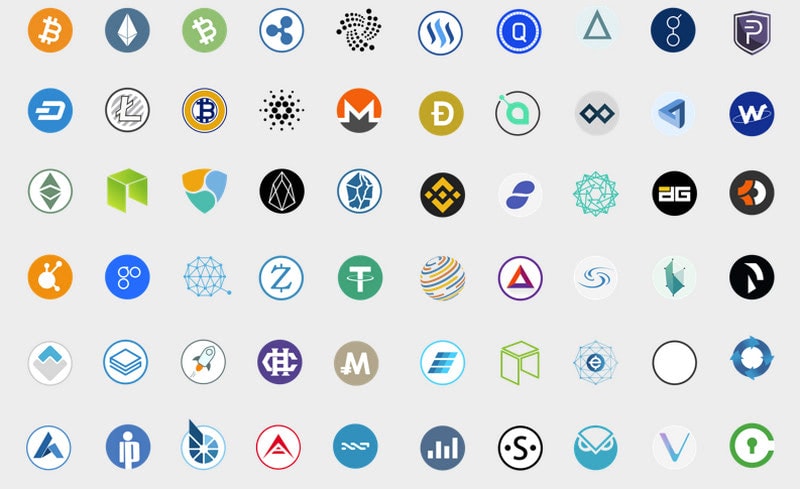 If 50 icons are not enough for your future project, you should check out this incredible bundle created by Aervea. Much like the previous one, it also offers high-quality graphical material for the Sketch community. However, this time, it includes 100 items with a clean and neat design, well-organized elements, and editable content.
The great thing about this bundle is that if you are not a Sketch evangelist, you can always use other graphic editors since each item is presented in several well-established formats such as SVG, PNG, AI, and even EPS.
Every icon takes after the official logotype to save the authenticity of the currency.  ARK, BTC, BNB, Dash, EOS, GNO, NXT- as you can see, there are some rare options inside.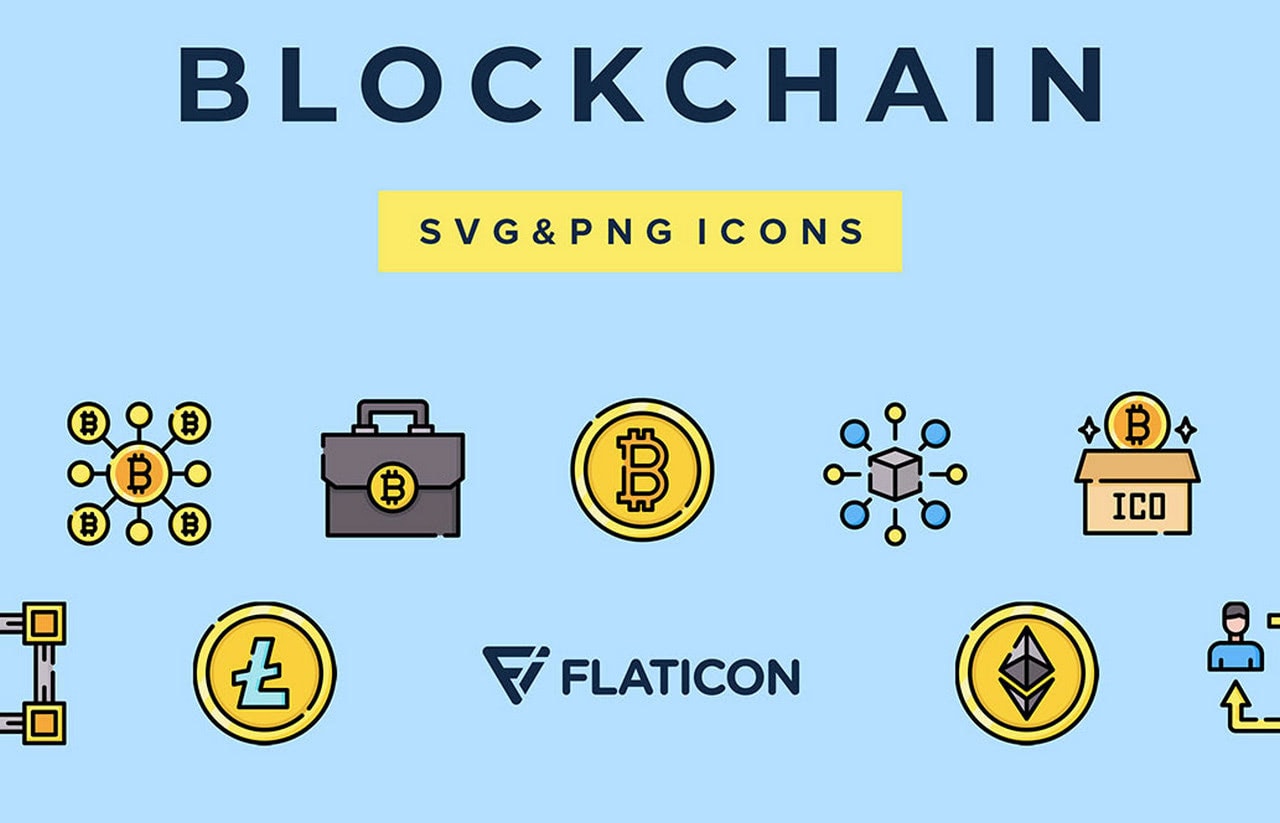 This bundle of 50 beautifully designed vector icons focuses not only on cryptocurrency but also on the entire blockchain sector. It mimics the look of such specific technologies as funding, investing, buying, mining to meet UI designers who need to craft a website or mobile application for this niche.
Icons look like tiny illustrations due to an enormous amount of little details. They have a sleek, vibrant design that is great for adding a fintech personality to any project.
Icons come in three different styles (colorful with outline features, monochrome outline, and seamless colorful) and two popular formats (PNG and SVG).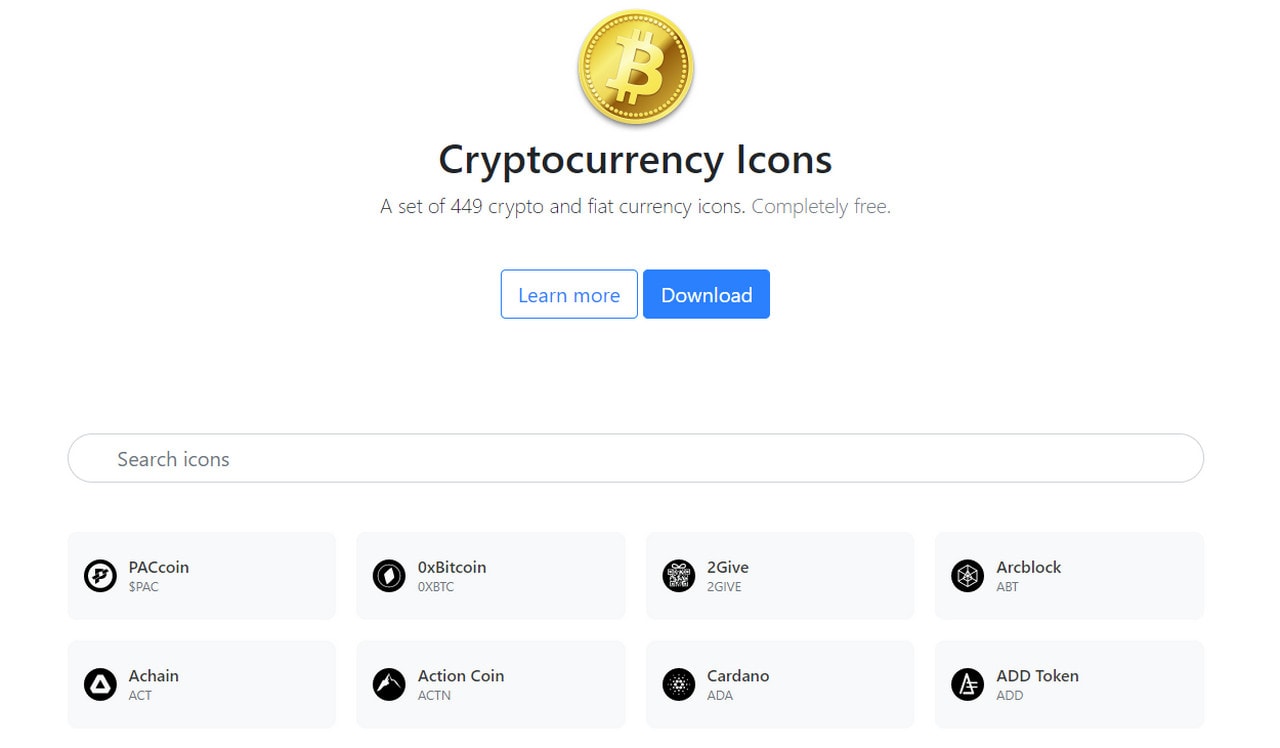 Cryptoicons is a unique project created for all those who work in the crypto niche. It is regularly updated to feature new popular altcoins meeting the current demands of the market.
Inside the library, you will find more than 400 cryptocurrency icons and some popular fiat currencies such as USD, GBP, EUR. Each one is presented in four styles (black, white, flat and colorful), a range of sizes (32x32px, 32x32px for retina screens and 128x128px) and two formats (PNG with transparent background and flexible SVG).
Besides, the pack includes a generic icon that can be used for creating custom icons in the same style so that you can replenish the collection with whatever coin is coming your way and maintain consistency in design.

IF you are bored by typical styles for cryptocurrency, you will certainly appreciate this unique bundle of crypto icons made with a rainbow in mind. Yellow, pink, purple, turquoise – your visitors will undoubtedly get some dose of positive emotions. It also works great with dark interfaces that are increasingly popular today.
The pack includes 40 items, among which you will find BTC, LTC, NEO, Monero, and other popular digital currencies. Each one is made in SVG format that is infinitely scalable without sacrificing quality.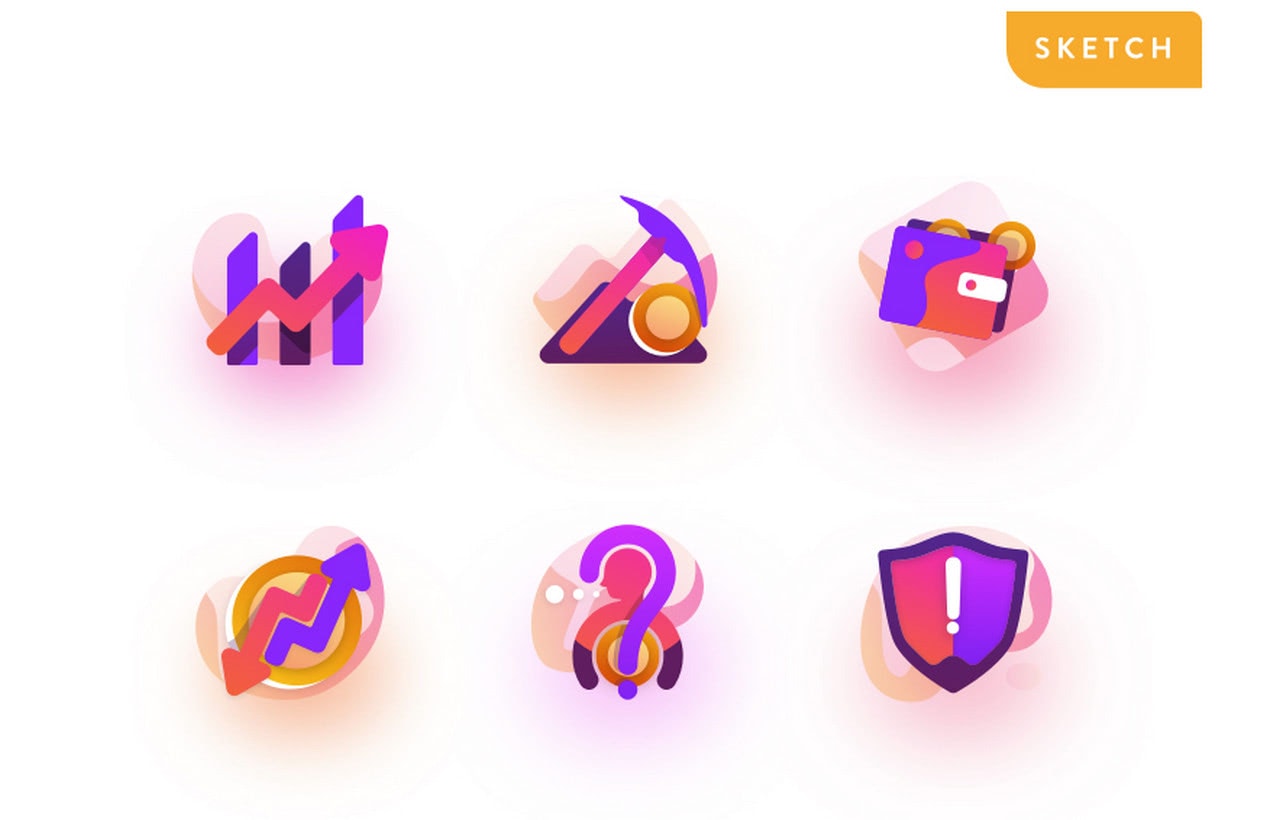 Trading and Mining Icons by Reiza Pahlevi
Much like the Blockchain vector icons pack, this bundle features some general concepts widely used in interfaces in the fintech sector.
There are just six items that cover general ideas of trading and mining. However, this can be enough for the majority of projects out there. Besides, they have such a vibrant personality that they will become the center of attention, making an interface look exceptional.
The only drawback is the bundle was created only for the Sketch community.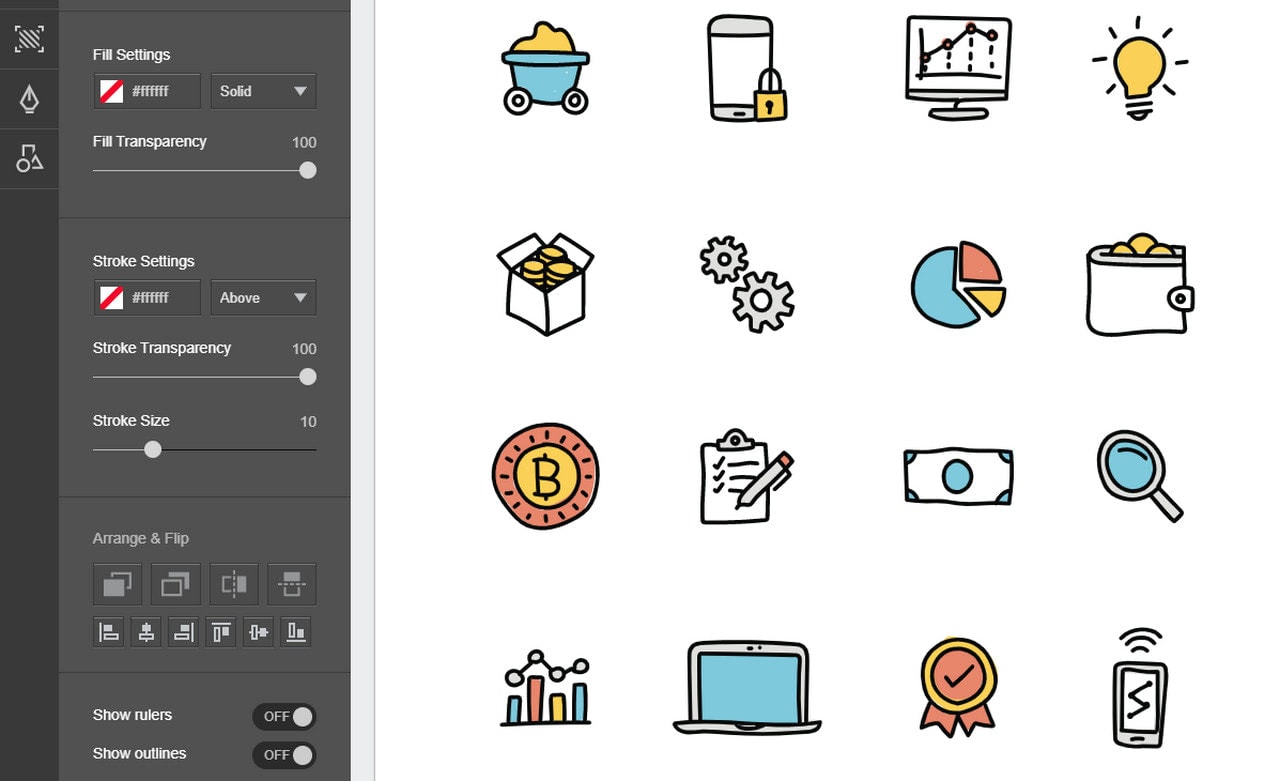 Doodled Set of Data Mining Icons
Do you need some more skillfully visualized concepts from this niche? Then check out this freebie. It has graphical material to depict 16 popular terms such as business, analytics, mining, security, cryptocurrency.
The icons are made in a lovely doodle style with a handwritten vibe that makes any design feel warm and personal. The default coloring is soft and pastel that adds to the general atmosphere.
Note, although this is a freebie, it still requires your attribution.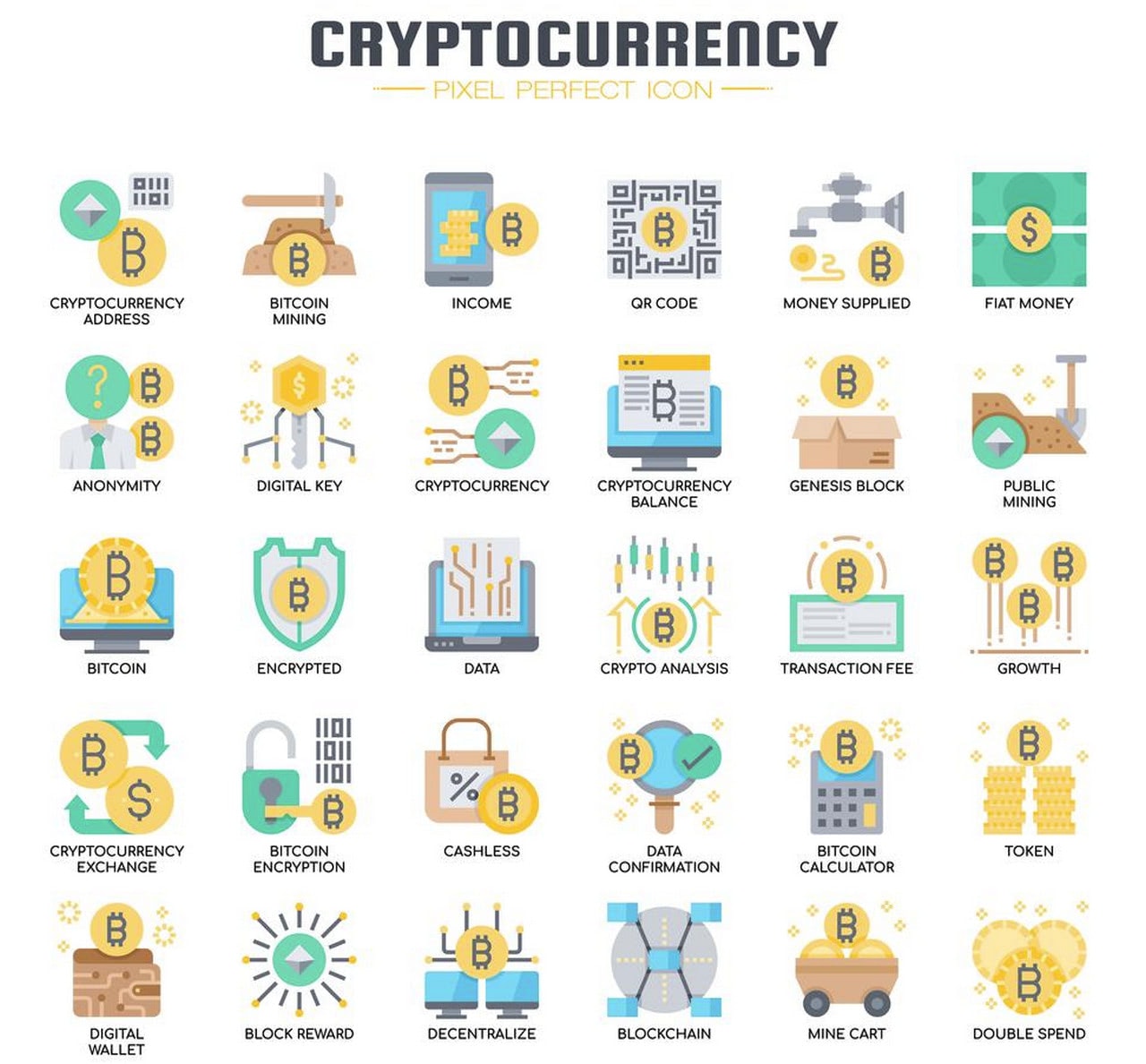 Kanin Abhiromsawat, the author of this fantastic bundle dedicated to blockchain, has done a great job. Each icon is a masterpiece: a small illustration with meticulous attention to details and Bitcoin set in the heart of each scene. There is no doubt about its designation.
You will find public mining, transaction fee, bitcoin encryption, and cryptoanalysis among the skillfully brought to life concepts.
The file is available in EPS and PNG formats.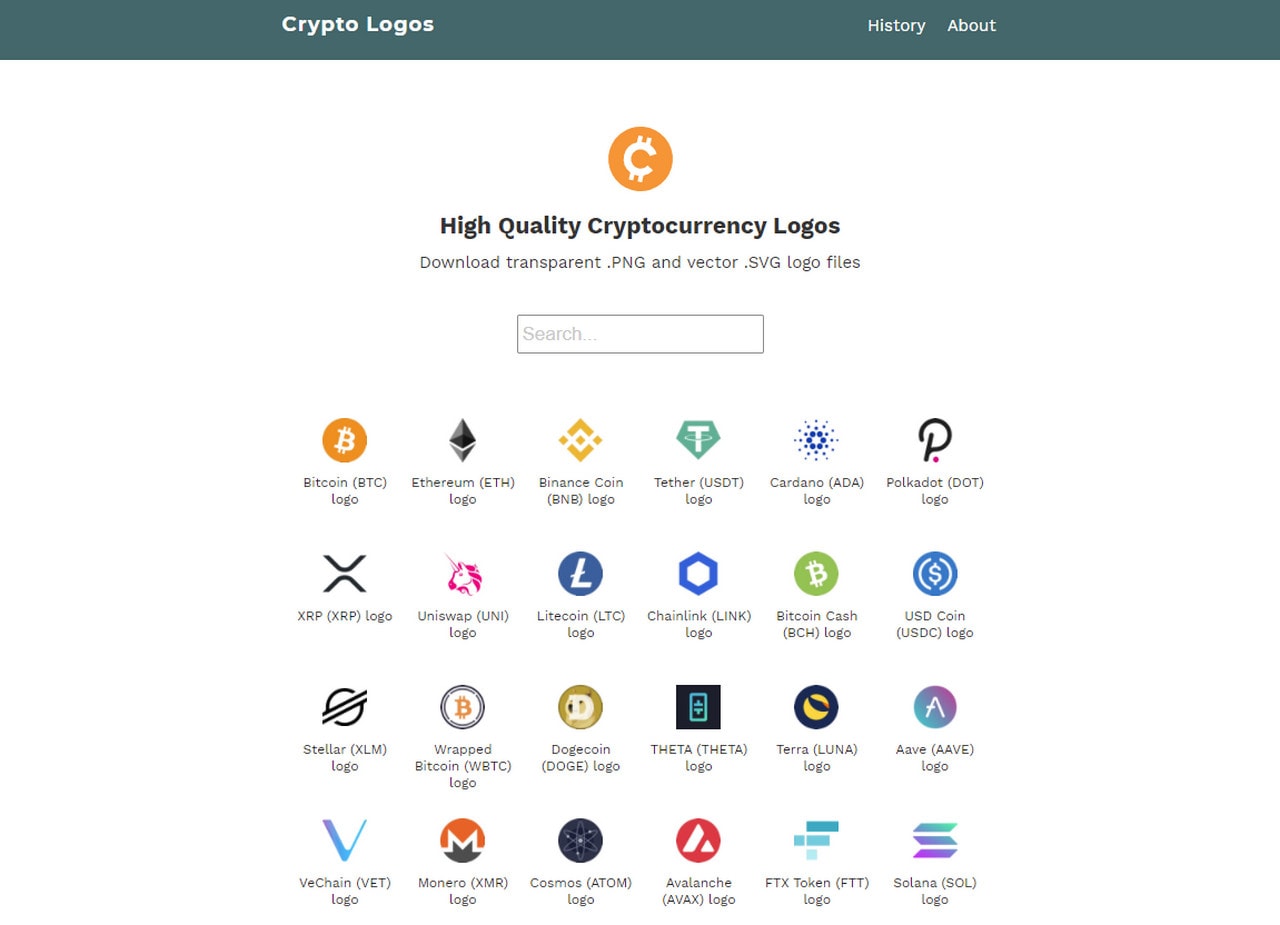 As the nameplate of this great, regularly updated online library states, it is all about cryptocurrency logos. No circular frames, sophisticated compositions, or fancy styles: just bare logotypes. The platform aims to provide a well-structured way to find, share and use cryptocurrency logos in the digital expanses. And it certainly nailed this.
It is the biggest and most accurately curated collection of professionally prepared high-quality icons with an intuitive interface. Starting with popular options like BTC or LTC and ending with some barely known options like TRX, ADA, AAVE, it has every coin or token available on CoinMarketCap. Each icon is available in two formats (SVG and PNG).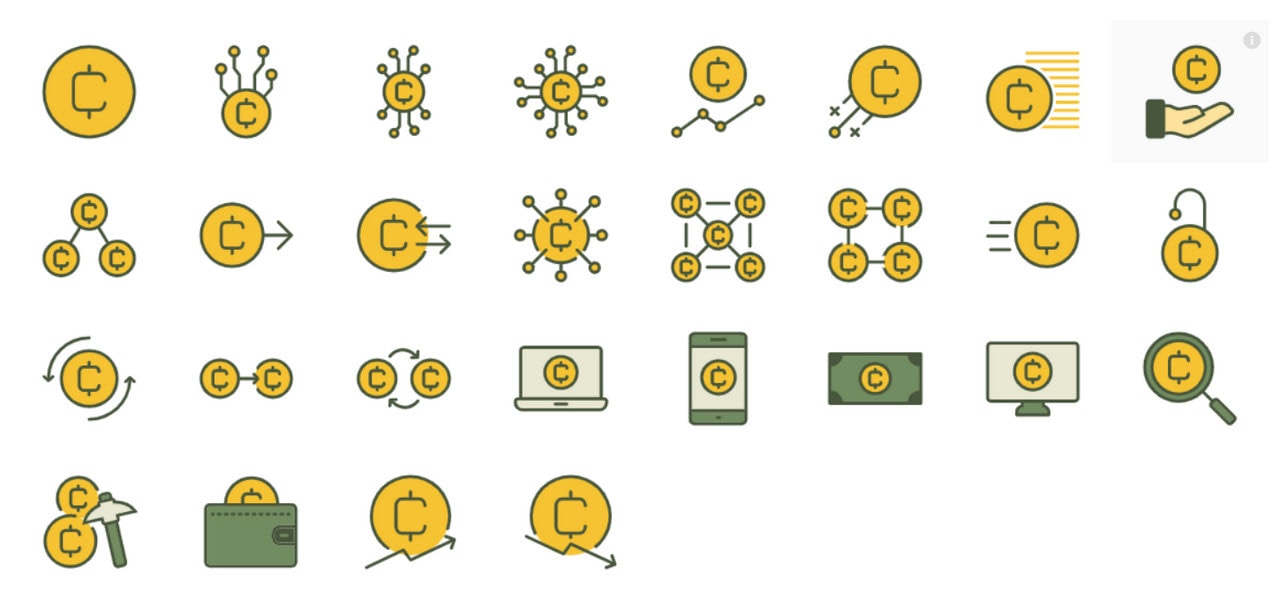 Although the name of this bundle features "coin," however, you will not find any popular token inside. The theme that runs through all graphical assets in this bundle is the blockchain niche. It aims to provide fellow designers with visual material that illustrates popular concepts such as mining, trading, exchanging, cash, desktop and mobile operations, and analytics. There are 28 beautifully crafted icons in total.
The great thing is, with this freebie, you have two options to go. The first way implies you download graphical material as it is. Each icon ships in two popular formats (SVG and PNG) not to have problems in customizing them. Just open your beloved editing software for that.
The second way implies the utilization of the online editor in the platform. Here you can make instant adjustments to color, background, border, size, position, and rotation. You can play with the icon until you get a satisfactory result. Then download it in the preferable format.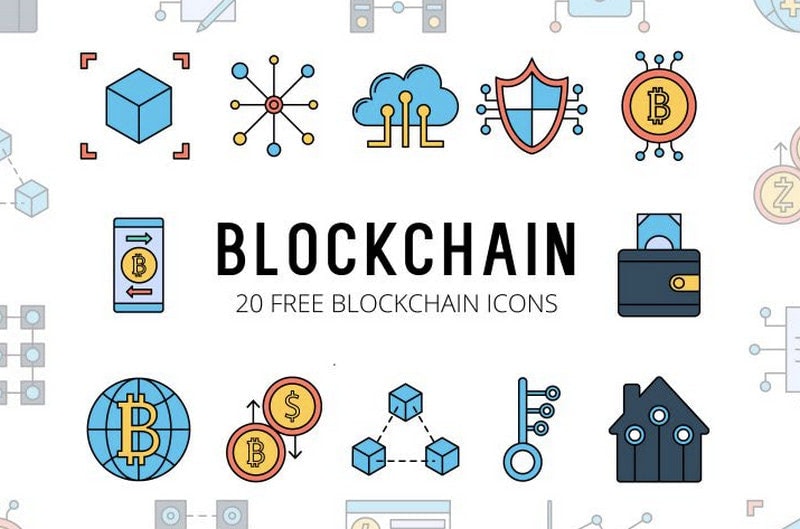 Blockchain Free Vector Icon Set
Need to create a stylish user interface for a modern financial site or mobile application? Check out this modest yet helpful pack of icons dedicated to the blockchain sector. It includes only 20 yet high-quality thematic illustrations that depict popular concepts such as cloud storage, security, mining, transactions in all their beauty.
Each icon ships in three formats (AI, EPS, PNG) and two well-crafted style options (bright and charismatic colored option and elegant and refined linear option). They are royalty-free for use in both personal and commercial projects.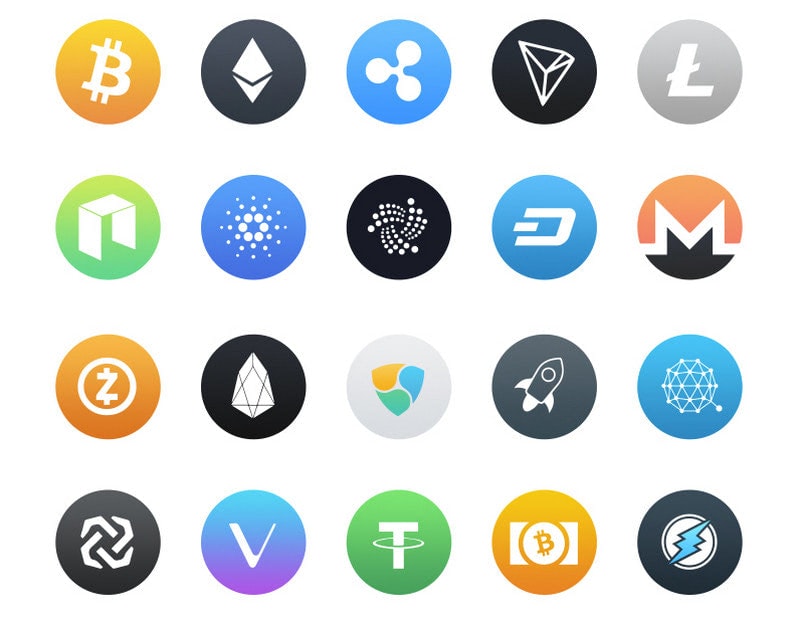 Free Cryptocurrency Icons by NaldzGraphics
The team behind NaldzGraphics knows a thing or two about graphical design; therefore, their freebies are incredibly popular among the community due to their high quality, skillful realization, and a great idea. This free bundle is no exception. It is a must-have for every designer who is up to a collection of trusted resources.
The pack includes Bitcoin, Litecoin, Etherium, and some other popular tokens. There are 20 items in a bag. Each one has a traditional eye-pleasing circular shape, a lovely gradient that adds a bulgy feel, and sharp details to look precise on any device.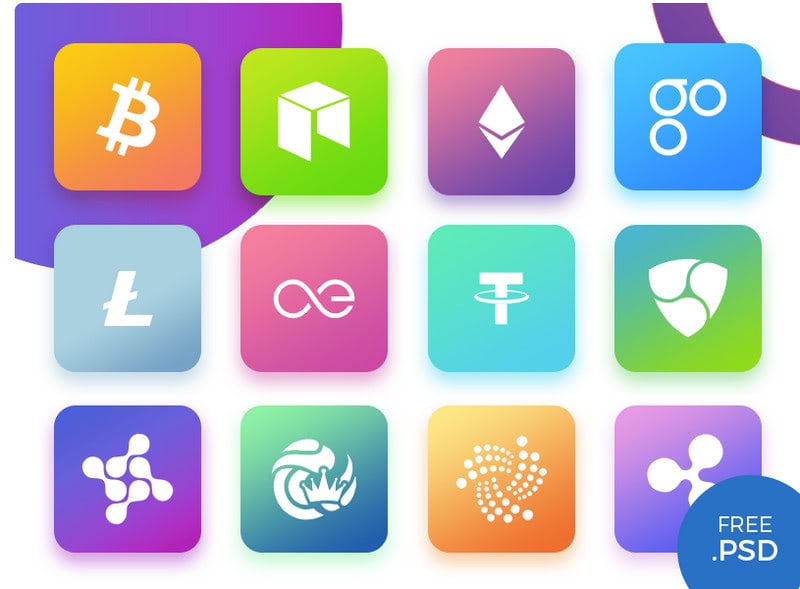 Cryptocurrency Icons by Mansoor Ali Khan
If the circular shape is not your cup of tea, you should try the Cryptocurrency icons pack by Ali Khan that offers lovely square-shaped icons with sleek rounded corners.
That is not all. The key feature of this pack lies in a gradient that is bold and daring. It makes each icon look amazing.
The pack includes 12 items that represent the most popular coins in the market. Each one comes in PSD format with fully editable and well-organized layers.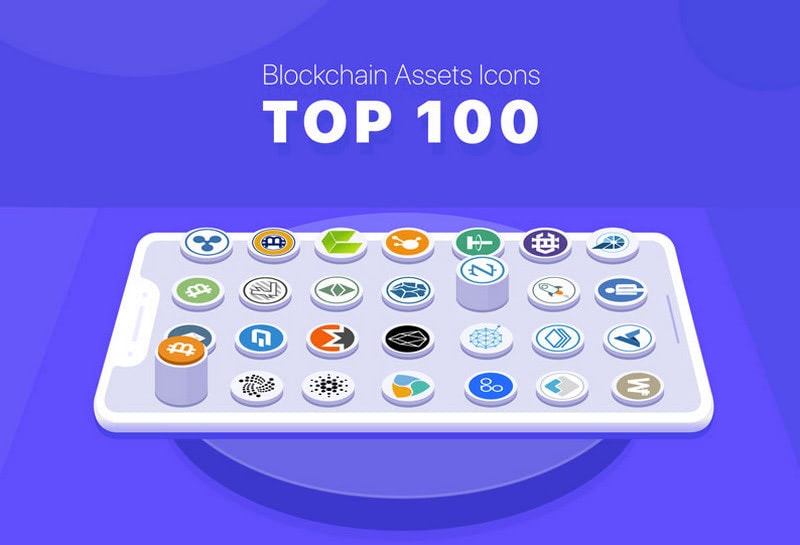 100 Blockchain (Cryptocurrency) Icons by Allen lee
Focusing on the top 100 coins in the World, such as BTC, ETH, XMR, and USDT, Allen Iee has created a bundle of icons that meets the current demands of the crypto-obsessed community.
Each icon comes in a clean, sleek, flat style (not 3D style, as you can see on the preview image). Each one is made according to producer specifications. Therefore, the set is neutral so that any design may benefit from it.
The artist gives away this 100% vector graphics in five formats: EPS, SVG, AI, Sketch, and PNG.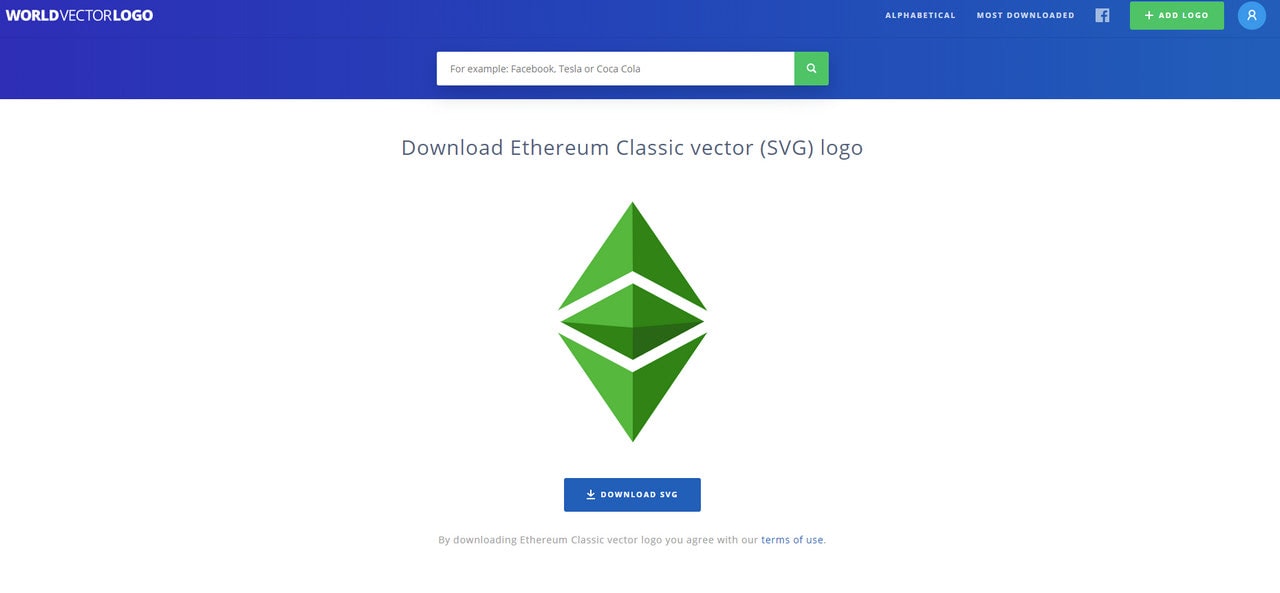 World of Vector Logo's mission is to make all logos around the Globe accessible to the designers. Since cryptocurrency is an integral part of it, here you can find logotypes of all registered coins. Each one comes in a scalable format, SVG, and pretty massive resolution.
Although there is no online editor where you can customize graphics to fit your project that is a popular feature of such platforms, you still have some options to choose from: tokens are featured in several styles and color schemes.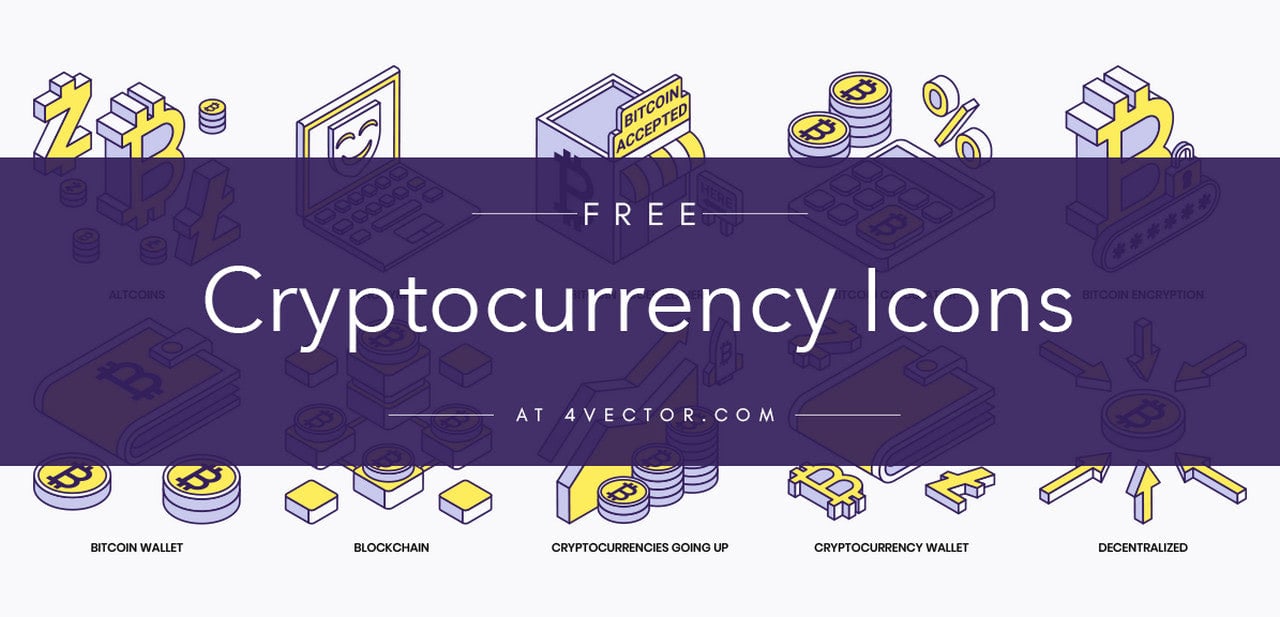 Free Cryptocurrency Icons from 4Vector
Bold, isometric, extremely detailed, and just charismatic: icons in this fantastic bundle will spruce up any interface, artwork, or presentation with an irresistible 3D appeal. Even though they feature just two hues, this is enough to delineate the crucial elements and catch the reader's eye with its great appearance.
Created with the blockchain sector in mind, the pack has some skillfully illustrated concepts like anonymity, Bitcoin calculator, Bitcoin encryption, Bitcoin wallet, and some others.
Graphics come in four formats: AI, EPS, PNG and SVG and two relatively big sizes (256x256px and 512x512px). Thanks to scalable format, aka SVG, you can resize them to fit your needs without sacrificing quality.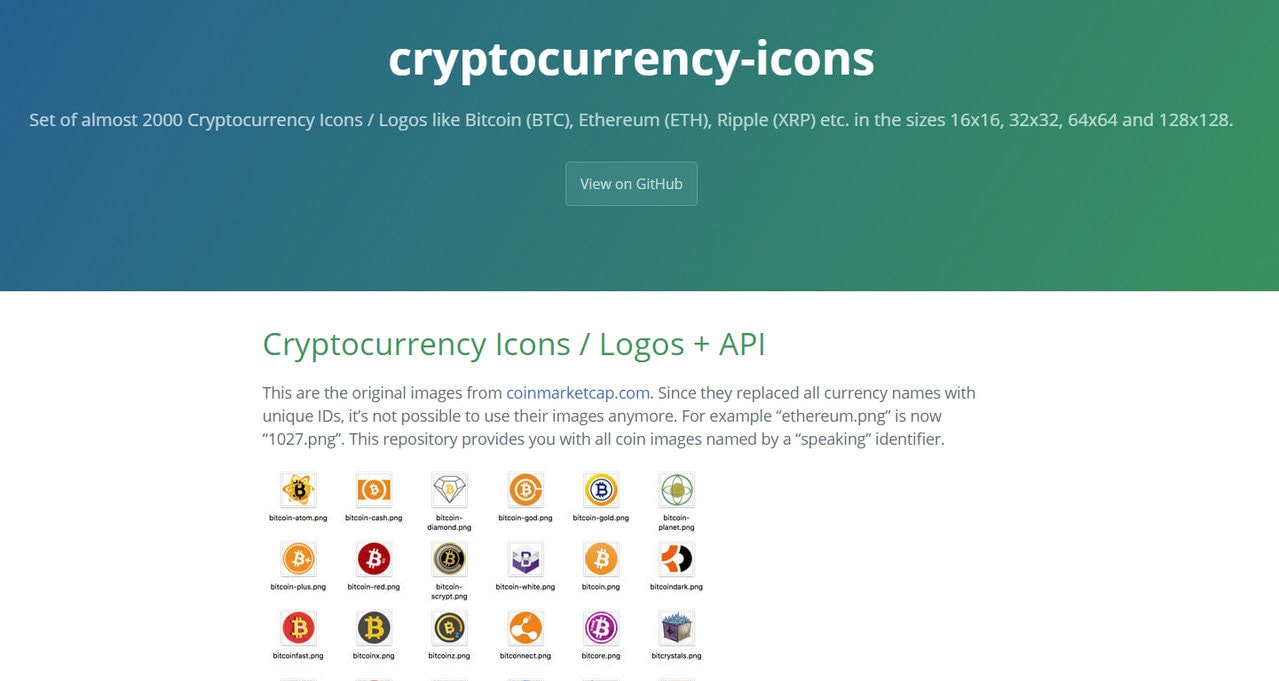 Cryptocurrency Icons by Condacore
This set of cryptocurrency icons counts almost 2000 items. It is one of the most extensive and all-embracing libraries on the web: it features all available coins in the market.
As for design, even though there is nothing fancy about the icons' style or look (each one is a basic circular-shaped button with a logotype inside), nevertheless, they look neat and elegant.
Each icon is available only in PNG format but in four standard sizes 16x16px, 32x32px, 64x64px and 128x128px.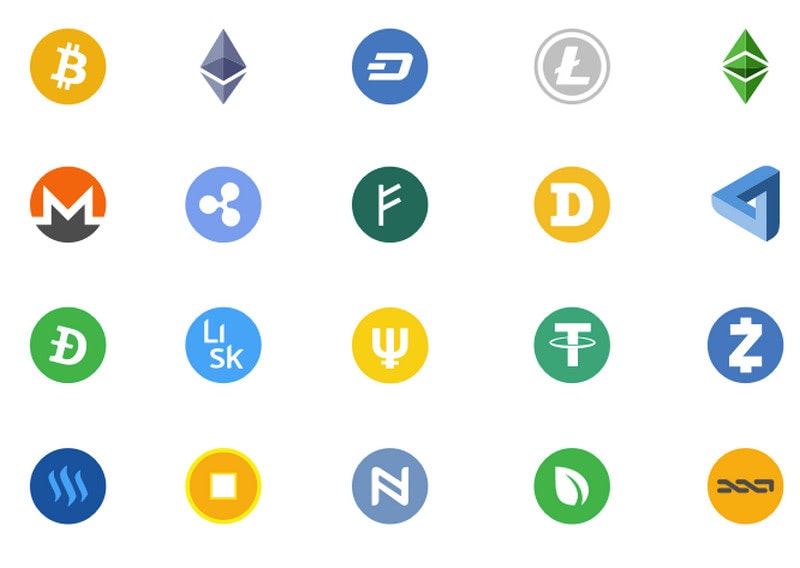 Dated back in 2017, this set of cryptocurrency icons still provides designers with relevant graphical material. The deal is Vladislav, the author of this pack, has smartly singled out 100 popular digital currencies that have easily gotten through the years.
Made in a subtle flat style, icons have a neat and clean appearance. Each one comes in three formats: Sketch, Ai, EPS.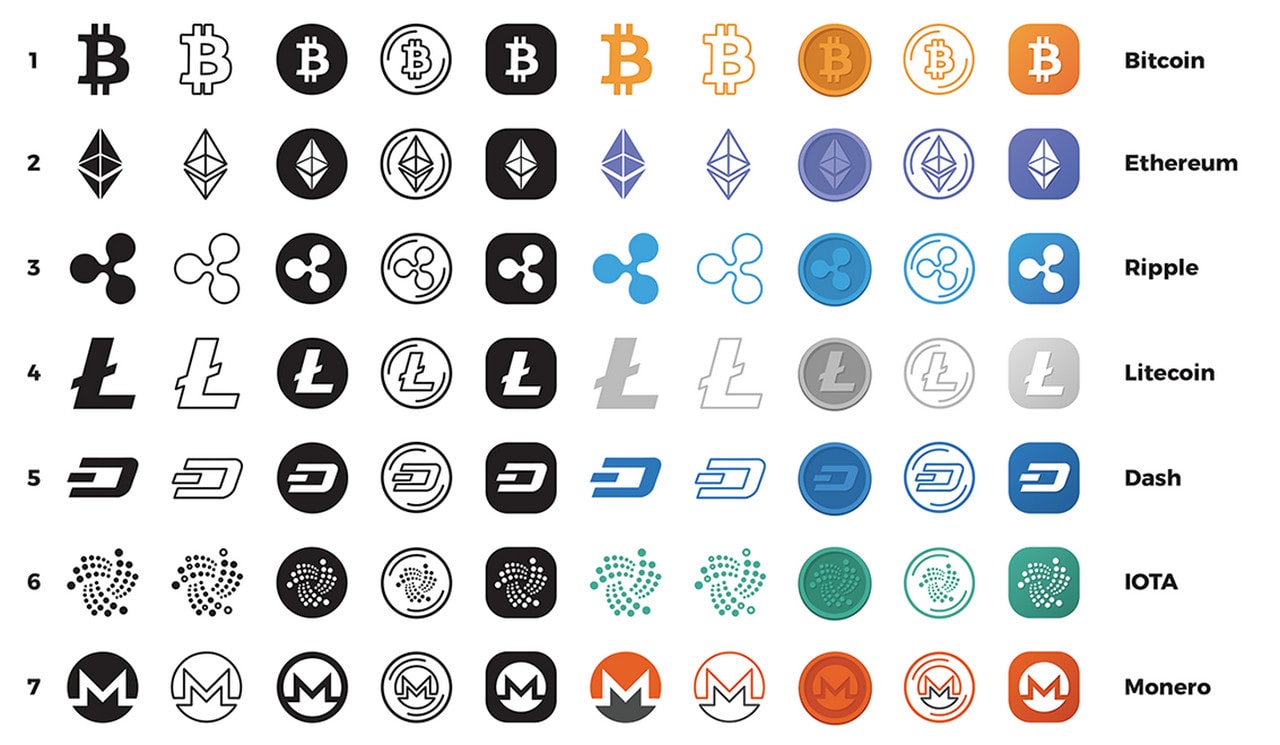 Cryptocurrency Icons by Junik Studio
The freebie covers 28 digital currencies from popular Bitcoin to less known AquariusCoin in 10 different styles (monochrome, outline, colored, solid), resulting in 280 items. Each icon is provided in four sizes and two formats.
Monochrome Icons
If you are up to creating something big and extravagant, then you need monochrome graphics since it serves as a solid base for manipulation. For example, Bitcoin Solid and Bitcoin 2 – packs created by Iconscout where Bitcoin plays the first fiddle – provide a safe foundation to let your imagination run wild.

The team has created a range of graphics that visualizes popular concepts such as payment, analytics, banking that are an excellent choice for any fintech project.
As for design, the first pack has icons with a solid flat design, whereas the second one features icons with refined hole shapes. Everything is available in 6 different formats (PNG, SVG, EPS, PDF, ICO, ICNS).
This pack of cryptocurrency icons covers popular coins and tokens in the market and illustrations that visualize basic concepts necessary for creating blockchain-related interfaces. For instance, along with BTC, LTC, ETC icons, there is graphics that portray mining, transactions, eCommerce, and other essential terms from the crypto world.
Inside the package, you will find 90 items made in the carefully crafted line style and neutral black color. They are easily customizable so that you can alter their appearance. Available in three formats: AI, PDF, and SVG.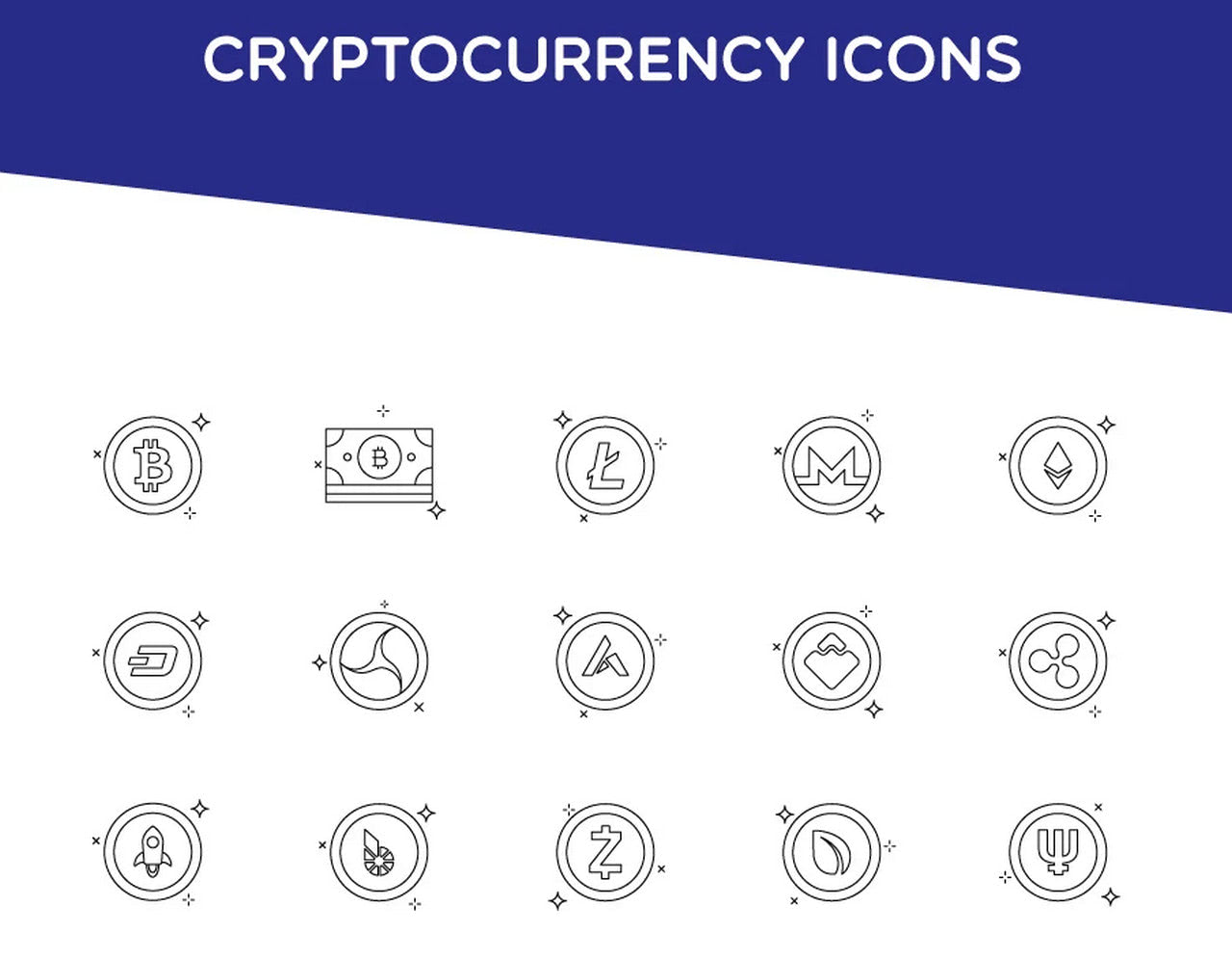 Steven Ankri's top 100 cryptocurrency icons collection has unique items like GXShares, Syscoin, or ATMChain. You will undoubtedly be surprised by its assortment.
As for design, icons ship in three different styles (vibrant and solid, traditional black and white, and basic circle-shaped). If you want to customize them, you can use Sketch App since each item is available in Sketch format. Alternatively, each icon is presented in PNG format in three popular sizes: 256px, 512px, 1024px.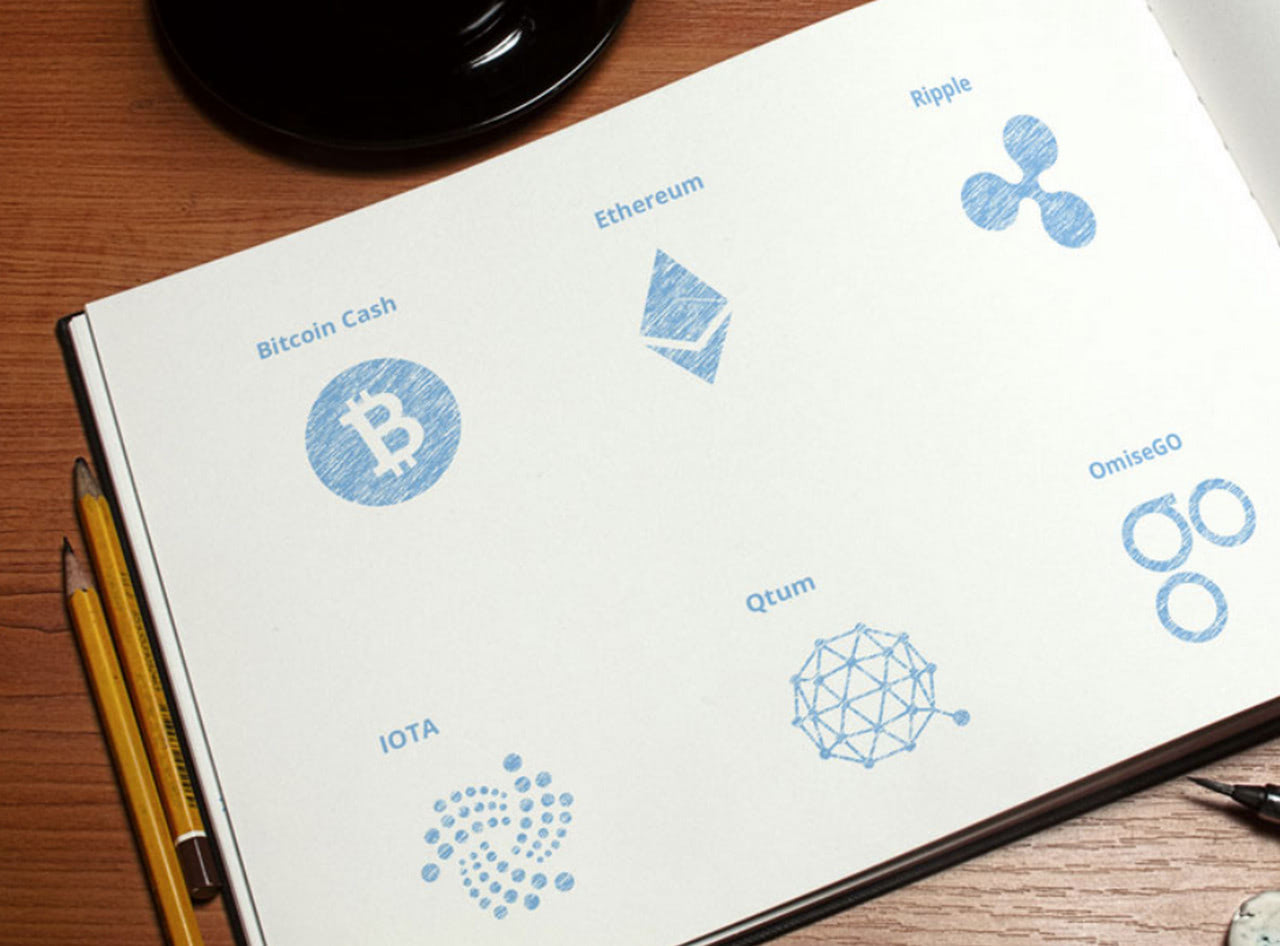 Top 100 Cryptocurrency Icons – Blockchain by Steven Ankri
The Bitcoin Vector Icons pack from Graphic Pear can help crypto startups who are in search of high-quality graphical material that explains fundamental blockchain concepts in a simple way.
The freebie includes 25 beautifully crafted icons made in elegant monoline style and black color that ensures a simple yet modern appearance and instant delivery of the message. It will go perfectly well with all sorts of web interfaces, mobile apps, digital newsletters, and of course, artworks.
Each item comes in AI format.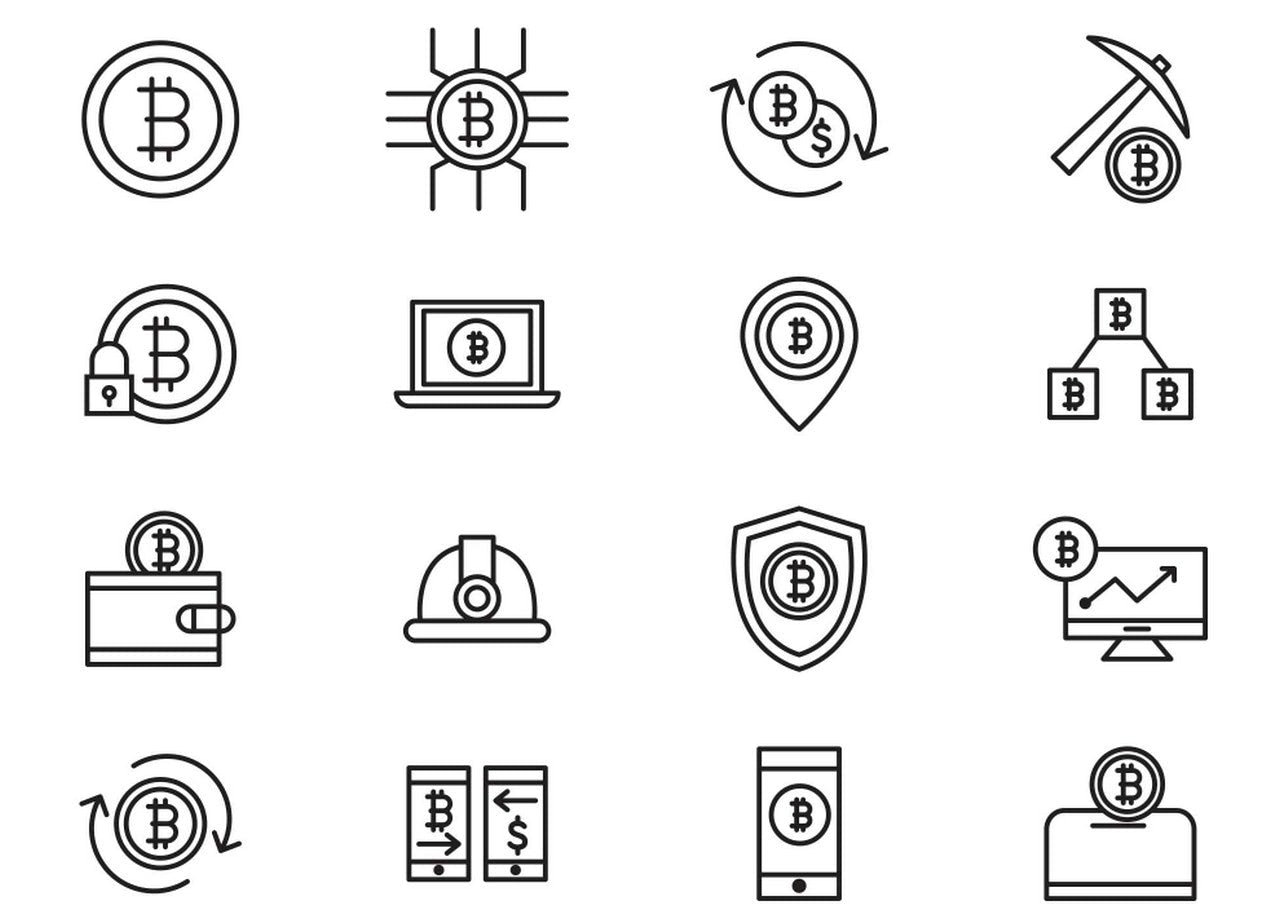 Free Bitcoin Vector Icons from Unblast
While most blockchain-related packs try to cover various concepts, this one prioritizes only one element, Bitcoin. The father of all digital coins is featured almost in every icon here. However, it is so well ingrained into every composition that it does not overwhelm viewers.
The bundle comprises only 20 items; however, each item can be easily customizable through the online editor. You can choose among 12 styles: monochrome, monoline, vibrant, solid, colorful, etc., and download it in six available formats: PNG, SVG, PDF, EPS, ICO, ICNS.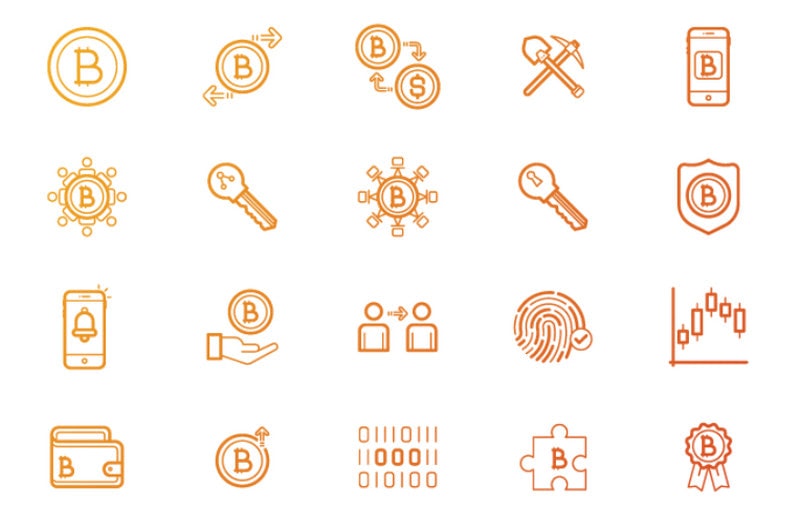 Crypto Icons is an ongoing open-source project that is regularly updated to provide the most extensive collection of vector-based icons of digital tokens.
By now, it has 290 items, among which you can find both popular and rare coins. The pack's key feature is that it offers icons in traditional formats like SVG, AI, and Sketch, and web font with style files so that you can work them into any online interface quickly and efficiently.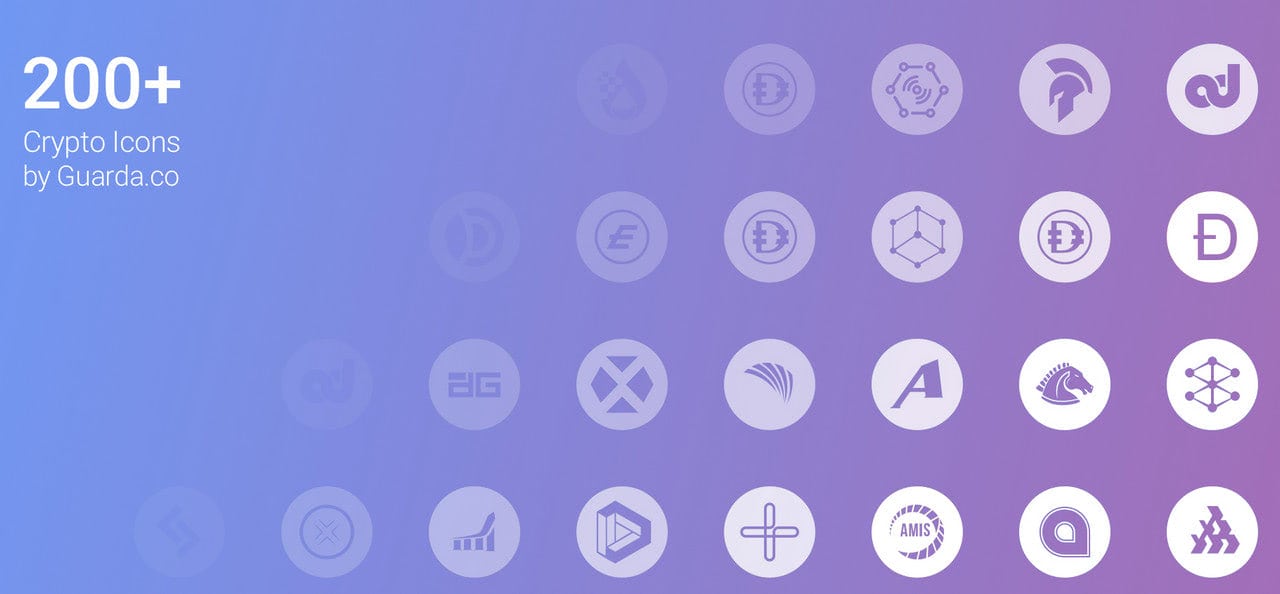 Other Stylistic Choices
Colored and monochrome are traditional solutions for icons, but there is always an alternative. For example, Fintech Icon Set gets its beauty from a modern color-shifting effect, whereas the icons pack by Iconshock has a smooth cutting-edge feel thanks to a beautiful gradient.
Both these bundles have almost 50 items related to the blockchain industry covering such vital concepts as profit, wallet, transaction, and of course, popular tokens such as Bitcoin, Litecoin, and Etherium.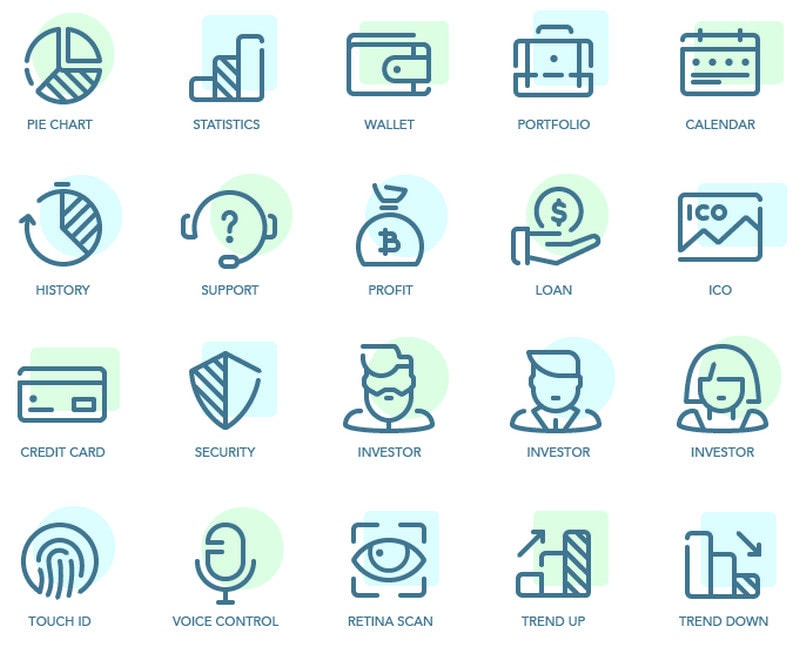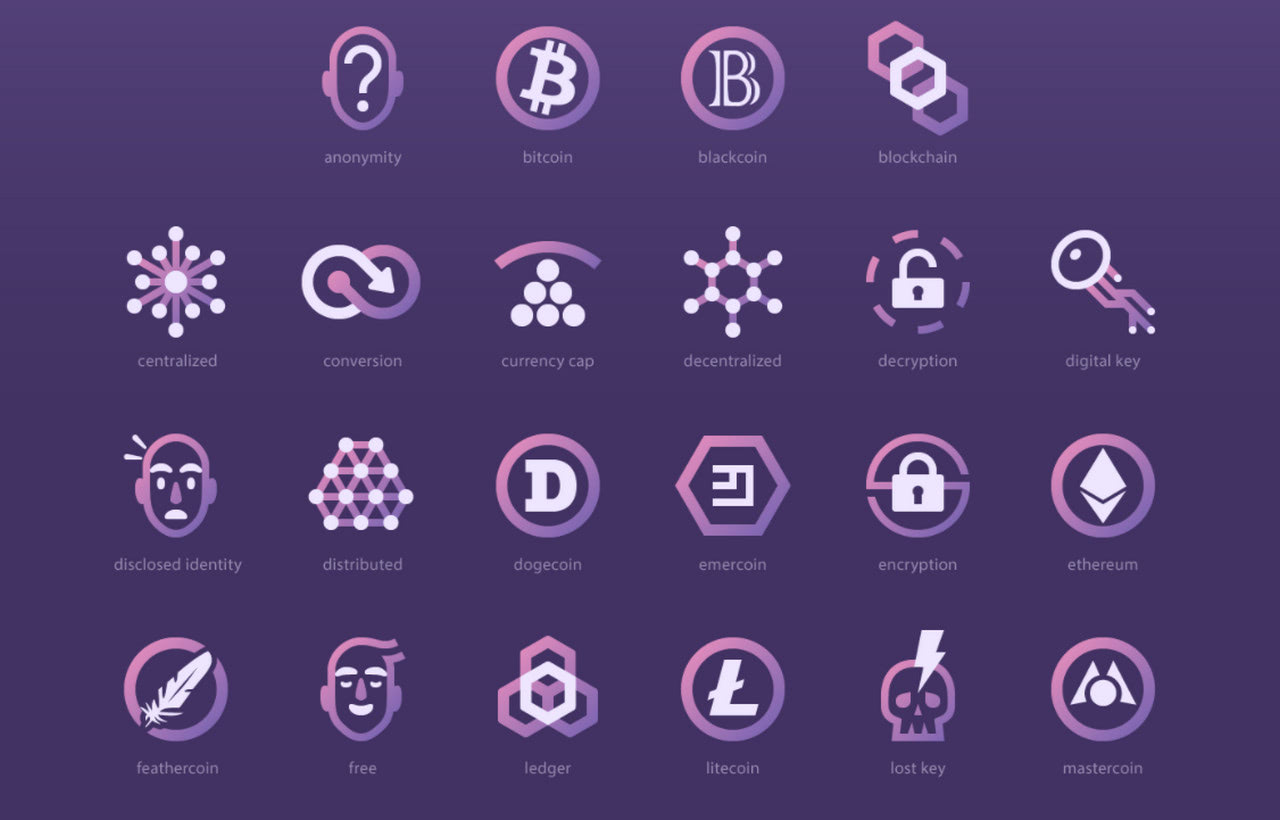 If you are a fan of the line style, which can be seen in a ton of websites, then look at these two packs below. They skillfully benefit from a refined, outlined aesthetics.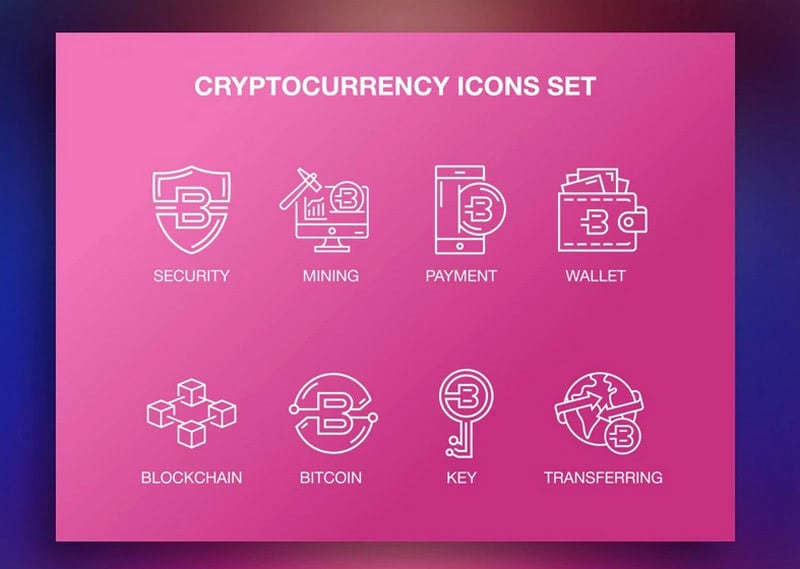 Cryptocurrency Icons Set by Daviann Bespoke
Cryptocurrency Icons Set by Daviann Bespoke demonstrates bitcoin in several general concepts that are modern and sophisticated.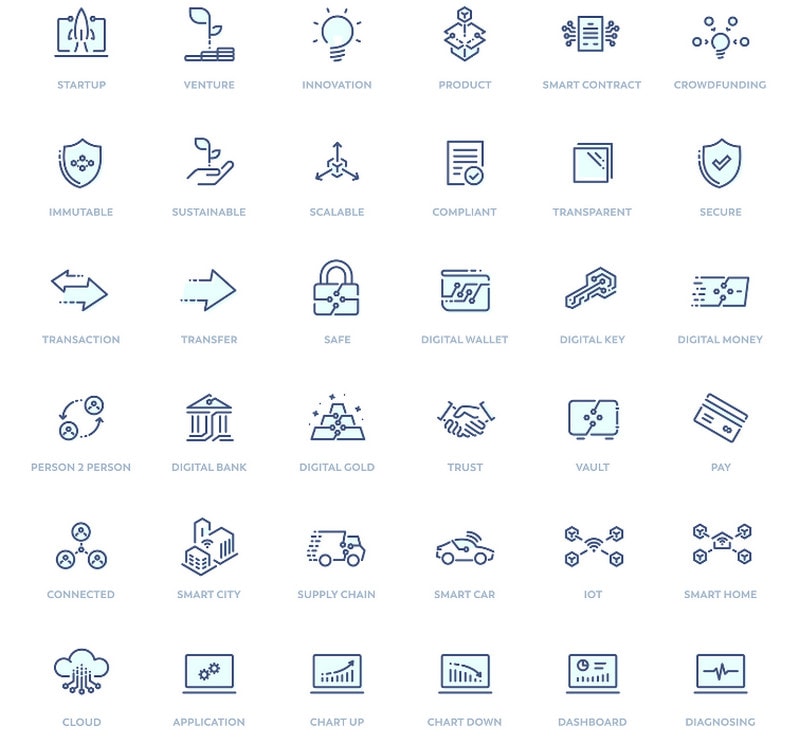 Much like the previous pack, this one was also designed with blockchain companies in mind. However, this time, you will find almost 70 tiny detailed illustrations. Some of the concepts are ideal for the fintech niche, while others like venture, innovation, immutable are perfect for the non-financial blockchain sector.
The team has skillfully embraced the minimalistic approach using only crucial details to illustrate the concept. They also use the two-tone palette that feels amazing and clutter-free thanks to color shifting.
Each icon is delivered in high-resolution PNG format and fully scalable vector format (SVG).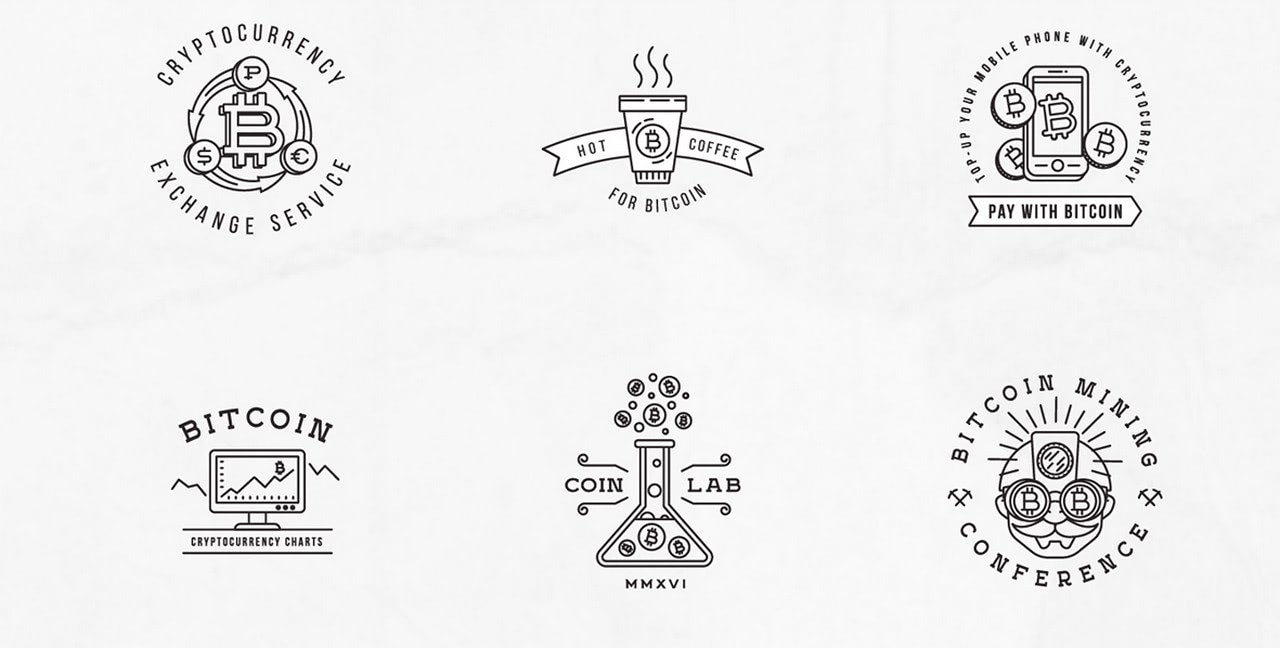 The package by Askhat Gromov screams a retro vibe on all fronts with its adorable badge-styled interpretation. It can be used in traditional designs and, of course, the modern ones since it looks exceptional.
Each icon is delivered in three formats, among which you can find an AI file that gives you an opportunity to replace text, set color, and change size.
Web Fonts
Step aside from classic graphical formats and explore a valid alternative that allows you to quickly and efficiently add any crypto coin or blockchain-related concept to creative work and customize it through basic CSS styles. Yes, we are talking about web fonts that give you lots of freedom in manipulating icons without compromising quality.
Besides, they are retina-ready. Therefore, they are ideal for responsive and mobile-friendly projects.
There are several popular and time-tested options in the wild such as Cryptocoins and Cryptofont. Let us consider them closely.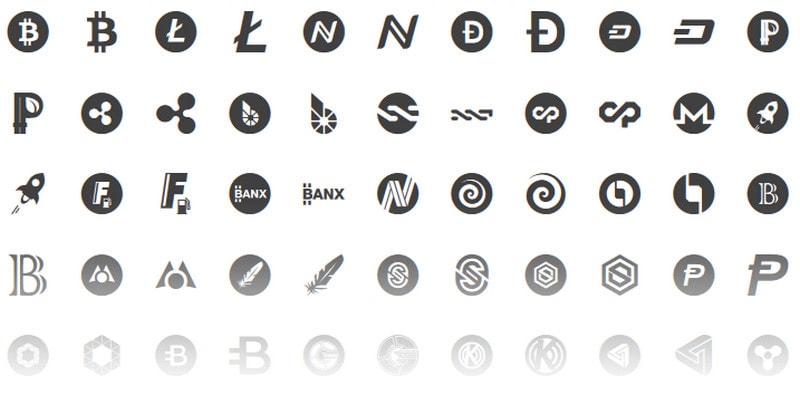 The Cryptocoins pack by Martin Allien is said to be the complete set of currencies. From famous Bitcoin to unheard Byteball, the collection is impressive. Note the font was created several years ago, so chances are it features some tokens that are already non-existent. As for hits, they are certainly there.
Each icon looks clean, neat, and sharp.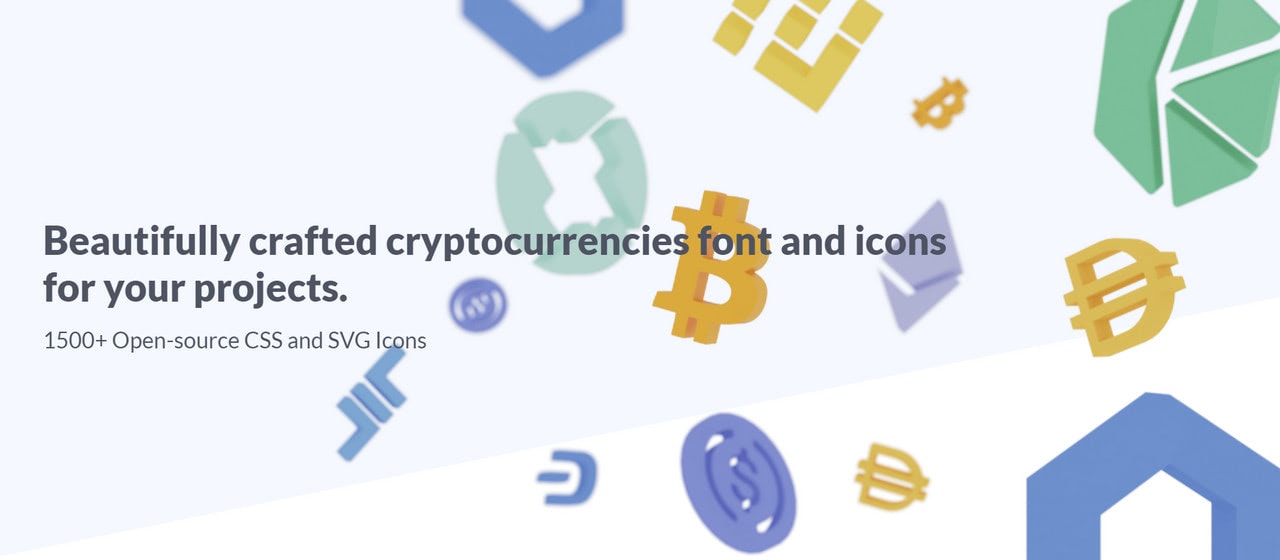 Cryptofont is a regularly updated web font that already has more than 1200 icons. It is open-source so that anyone can contribute to it.
The great thing is it can be used for HTML and CSS projects through CDN and Sketch, Photoshop, Illustrator, Adobe XD, and Figma since it is fully compatible with these platforms.
Conclusion
2017 was designated the year of Bitcoin; 2018 was established the year of the altcoin, 2019 and 2020 saw a decline in this industry; today Bitcoin costs $60000. The Crypto world is back up and running.
Although no one can tell whether it is a fraud, a Ponzi scheme, or a real thing that leads to an entirely new era of decentralized payment systems, still the truth is, it is a part of our life. Therefore, you can undoubtedly derive some benefits from our collection of free cryptocurrency icon packs.
Do you use Bitcoin or not? What do you think about this boom around cryptocurrencies?
Like what you're reading? Subscribe to our top stories.