Free Custom Shapes for Adobe Photoshop
Free custom shapes are one of the many helpful utensils that come with Adobe Photoshop, the most popular graphics editor. Along with brushes, they help artists– both professionals and amateurs – to bring into life true masterpieces.
By default, Photoshop has a bunch of free custom shapes: arrows, bulb, heart, envelope, scissors, bubble chat, and some others. They prove to be quite effective. However, as your artworks getting more sophisticated, you may find yourself in need of more than just that basic range.
Export Figma Designs to Live Website – No-Code
Siter.io: No-Code Website Builder
It is here where you can get help from fellow artists who have generously shared with the community their Photoshop shapes. Before moving to the collection of free custom shapes, let's find out how to install them, work with them and even create your own preset to fit your specific needs.
No-Code Email Template Builder
With Postcards you can create and edit email templates online without any coding skills! Includes more than 100 components to help you create custom emails templates faster than ever before.
Try Free
Other Products
Pros of Using Photoshop Shapes
Photoshop shapes are vector-based objects. Therefore, the first and foremost advantage of using free custom shapes lies in their scalability. Since they are described using mathematical definitions, they can be easily enlarged and reduced in size without distortion and loss in quality. In the world where you have to deal with all sorts of screens, and the artwork should look equally good on a tiny cell phone and large TV monitor, it is a crucial quality.
Some other pros for using free Photoshop shapes are:
They are re-usable. You can use them from project to project without creating everything from scratch. Just save them to the panel and add them wherever you want in any work. In addition, you can use them in various versions since the majority of them are cross-compatible. This helps to save lots of precious time.
They speed up the workflow since you do not need to create them from scratch repeatedly.
They work great with other tools. You can combine vector shapes with other instruments like vector masks to create intricate decorations.
They provide a perfect base to build on. In essence, they are mere silhouettes. However, namely, this quality of being black-and-white and schematic makes them universal tools. They serve as a solid foundation that can easily underlie something more complex, and intricate.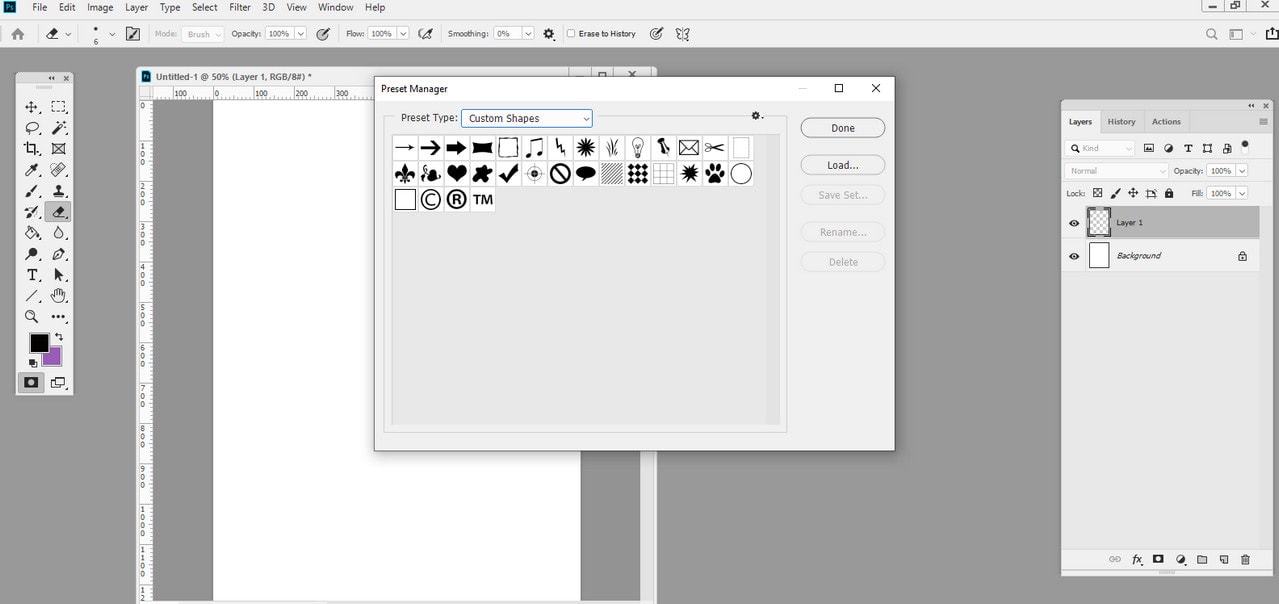 Custom Shapes Preset Manager
How to Create a Custom Shape – The Basic Routine
Creating your own Photoshop shape from scratch is not rocket science. Anyone can do this even without design skills. The routine consists of two basic stages:
Create a silhouette.
Define the object as a custom shape.
Let's break these steps down so that you can easily follow them.
1. Create a silhouette
First, you need to create a silhouette of the future Photoshop shape.
If you have a natural talent for drawing, then you can create an outline by hand. Just take your tablet and do a sketch.
For the rest of us who do not have any design skills, this step implies a precise tracing around an object in a picture and the employment of professional tools available in the program. So what to do?
Find the image that depicts an object that you want to turn into a custom shape.
Open it in Adobe Photoshop.
Create a layer for future custom shape. Make it active.
Select the Pen Tool.
In the Options Bar, click on the left icon, aka "Shape Layer" option, to use Pen Tool for drawing shapes.
Start tracing around the object. Click to add anchor points. To create curves or straight paths, drag out the direction points. To avoid blocking the object from view with filling, you need to lower the opacity of the Shape Layer. Go to Layers Palette, ensure that the custom shape layer is selected, and lower the opacity. Set it to 50 to make the object visible through the shape.
If you need to add details inside the shape, you can subtract them by using the Select tool. If you need to add more intricate details, you may use Pen Tool to draw paths and then remove areas.
Note, alternatively instead of Pen Tool you may use the Magic Wand Tool. The routine is relatively quick and straightforward.
Select the tool.
Set the tolerance to 20-30.
Click on the area that you want to convert into Photoshop shape.
Go to Select-> Inverse and delete the background and everything else.
Right-click on the object to open the fly-out menu.
Find "Make Work Path" and choose it.
Set the tolerance to minimal.
However, be careful; this method is not very precise.
Finally, yet importantly, you can use Shape Tools to generate the object as well. You need to mix and match rectangles, ellipses, circles, and other polygons to generate a figure. However, it is often tricky. Therefore, use this method only if it proves to be more effective and handier than one that involves the Pen Tool or Magic Wand Tool.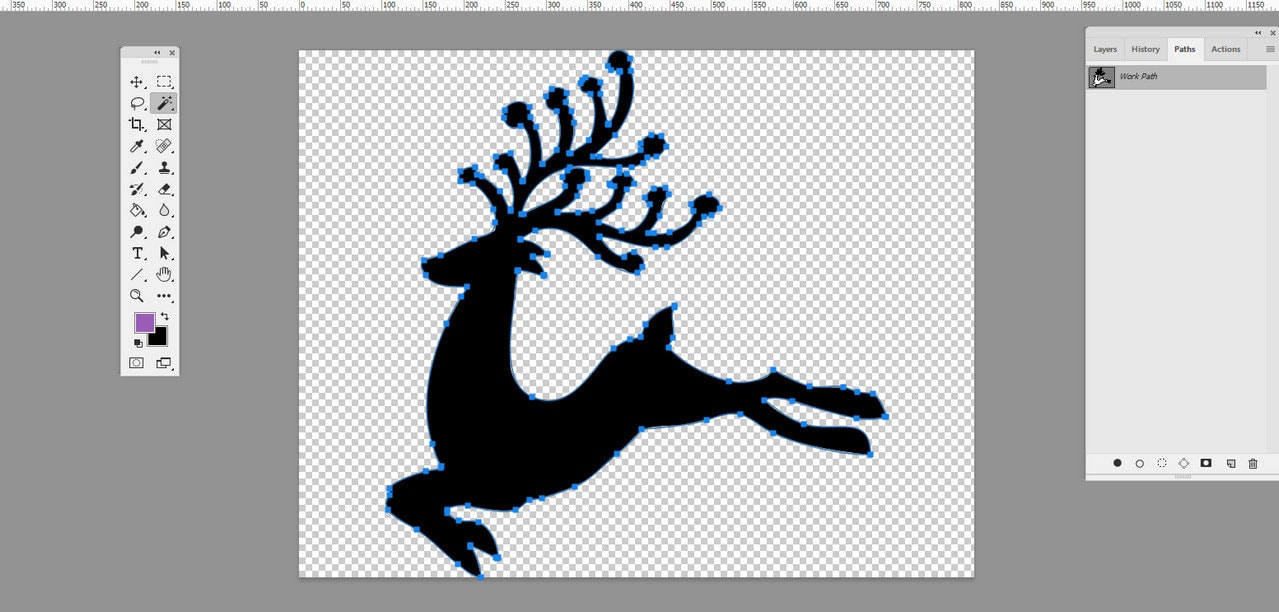 Magic Wand Tool
2. Turn your Freshly-baked shape into a custom shape
When you are satisfied with the silhouette, the time has come to define it as a Photoshop shape. To do this, follow these two basic steps:
Choose the layer with the shape. Make sure the preview thumbnail is selected.
Go to the top menu and select "Edit." In the dropdown menu, click on "Define Custom Shape." In the Shape Name Dialog box, set the desired name.
That is all; your free custom shape is ready.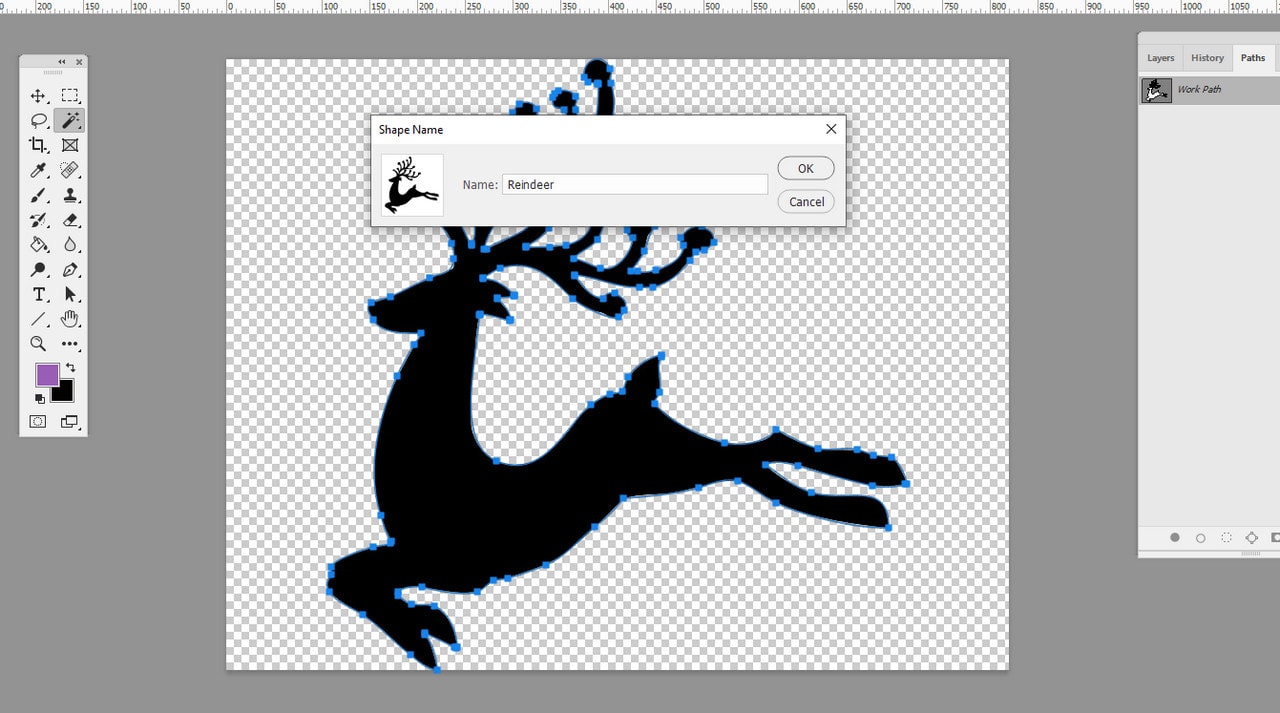 Dialogue Box for Defining Custom Shape
How to Use Custom Shape in Photoshop
To use any Photoshop shape, whether it is made by you or found in other resources, first you need to open the document.
After that, click on the Custom Shape Tool in the Tools palette. For those who are the first-time Photoshop users, it should be mentioned that this utensil looks like a rectangle shape. Do not back down. Click on it to open the fly-out menu. Move the cursor down the list, and in the end, you will find a polygon icon entitled "Custom shape Tool." That is your guy. Click on it.
Find the desired free custom shape and choose it by clicking on the thumbnail. If you cannot see it there, then it is hidden. To make the Selection Box to show all the options, you need to click on the gear icon located on the right side and choose "All" from the appeared menu.
Click inside the document and start to drag the shape.
For those who need to reposition the shape during the dragging, you need to hold the spacebar and move it to the new position. Release the spacebar and continue dragging the shape until you find it satisfying.
Note, while you are dragging the shape to fit the desired size, it will be outlined. Do not worry. After you release your mouse button, it will become solid. The Adobe Photoshop will use tone set as a Foreground color to fill it.
How to Change Photoshop Shapes
You can easily change the size, color, orientation as well as scale, rotate, flip, skew, and distort the custom shape in Photoshop at any time. All the manipulations are done through basic functionality.
If you need to change the color, you should get back to the Layers panel. Double-click on the left thumbnail in the Shape's Layer, aka the Color Swatch Thumbnail. This will bring up Photoshop's Color Picker. Set whatever color you want and push the "Done" button.
If you need to resize the custom shape (whether you want to make it smaller or bigger), you should use a Free Transform Mechanism.
Make sure the Shape's Layer in Layers Palette is selected.
Turn on Photoshop's Free Transform box. Find it in the Top Menu Bar under the "Edit" menu. Alternatively, you can use shortcuts: for Windows – Ctrl + T and Mac – Command + T.
After you activate the tool, you will see that your Photoshop shape has transform box and handles. Just click on one of the handles and drag it.
By default, the aspect ratio is locked; it means that you scale your free custom shapes proportionally without any additional manipulations.
However, what if you need to scale them non-proportionally? Then hold the Shift key while you are dragging, and you will easily squish or stretch out the custom shape.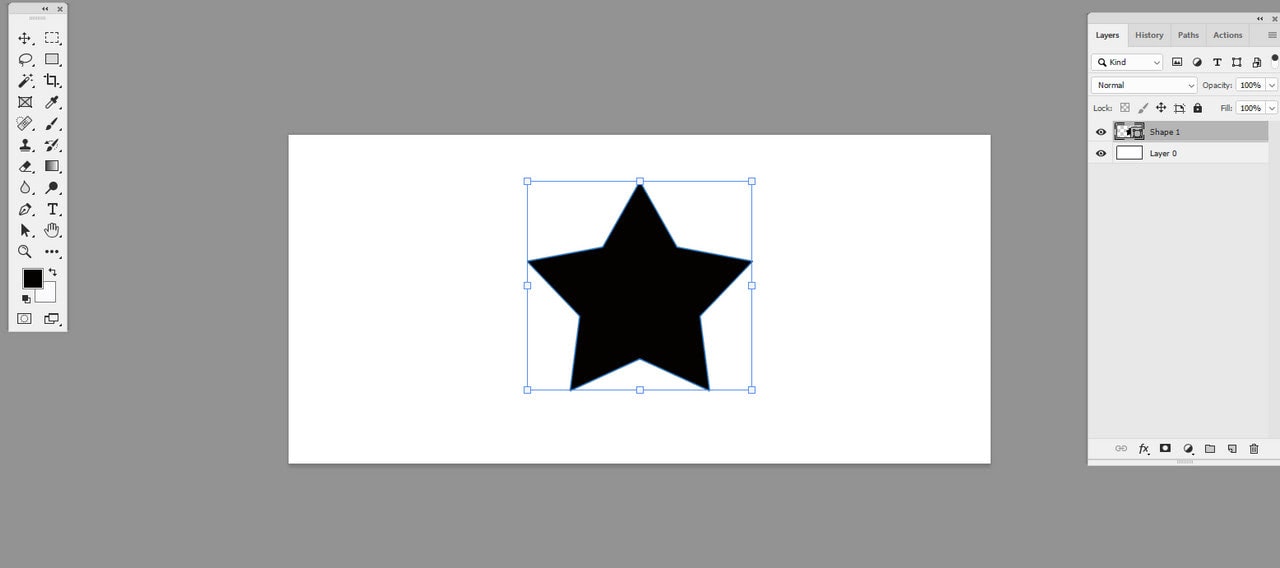 Transform Handles
How to Install Free Custom Shapes in Photoshop
Before installing new free custom shapes in Photoshop, make sure that they are available in a file with .CSH extension. If you have a ZIP package, then unzip it and get the Photoshop shapes in the correct format.
When everything is ready, you can add custom shapes to your collection in Photoshop.
Select the Custom Shape Tool in the toolbar.
Go to the Topbar and find the Preset Picker icon. This will activate the Shape Selection Box.
Click on the gear icon that is in the top right corner. In the fly-out menu, select the "Import Shapes"; it is right on the bottom. Using the dialogue window, upload your new pack of free custom shapes to Photoshop.
That is all. They are ready to go.
Alternatively, you can upload free Photoshop shapes directly to the Photoshop files.
Find the folder with Photoshop files in your disc.
Inside it, open the "Presets" folder. It will contain the "Custom Shapes" folder.
Copy your .CSH file and paste it inside.
Restart Photoshop.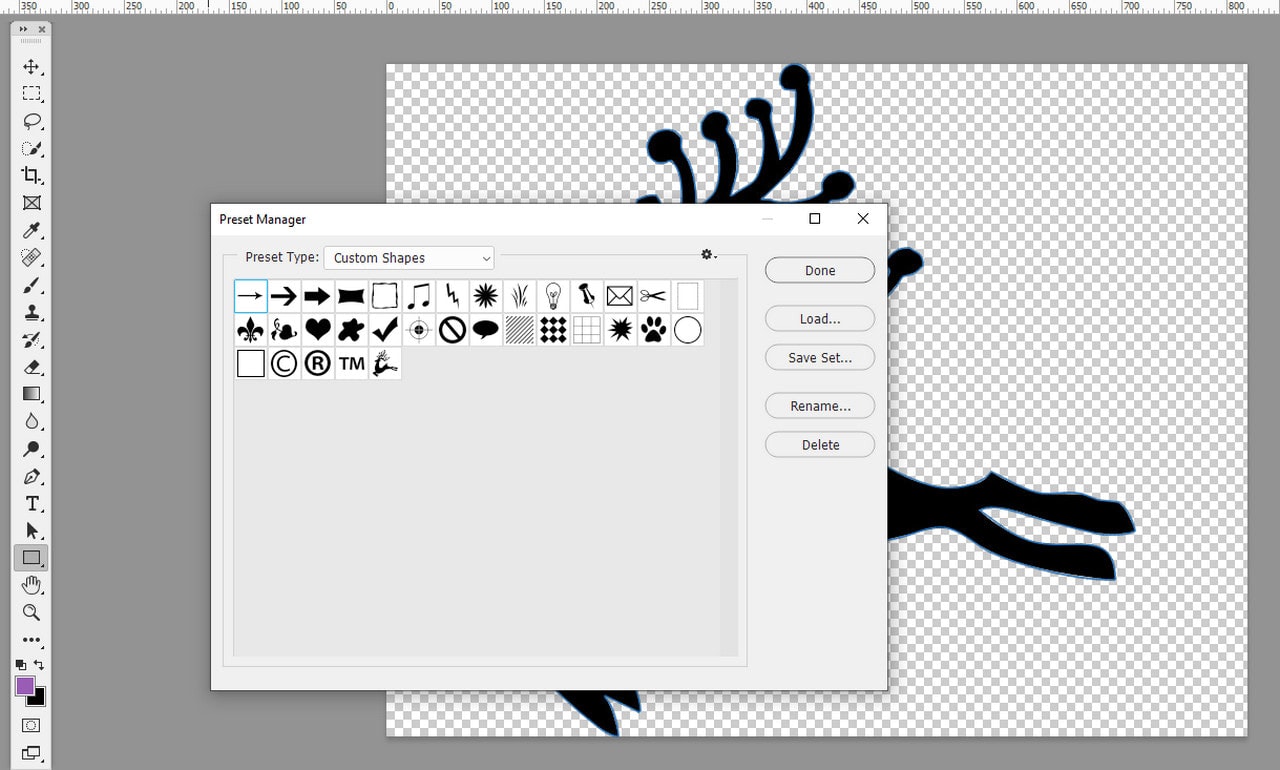 Preset Manager with Default Custom Shapes
Collection of Free Custom Shapes for Photoshop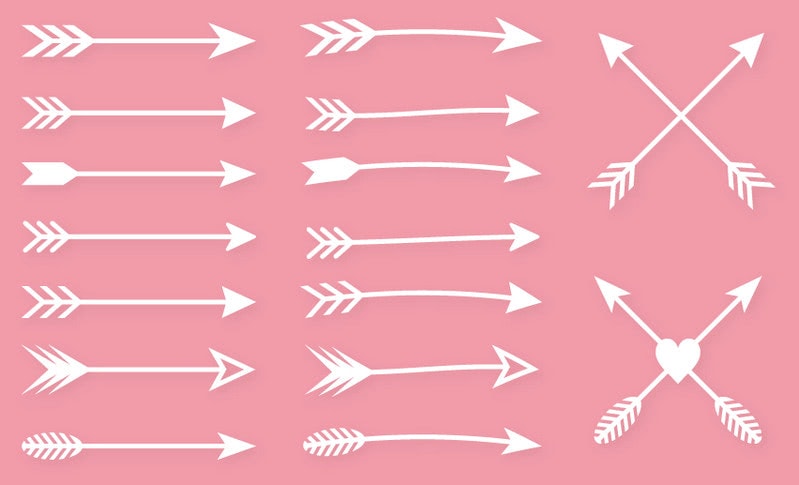 Archer Arrows Photoshop Shapes
The freebie is a small collection of fancy objects created by Shapes4Free. The team is famous for high-quality graphical material that can be used in all the latest Photoshop versions; therefore, you do not need to worry about compatibility issues.
This pack includes arrows and hearts made in a beautiful hand-drawn style. Along with traditional long arrows, there are short versions that perfectly blend into modern application interfaces. This is a perfect instrument for creating artworks for St. Valentine's Day and all other projects with the "Love" theme in mind.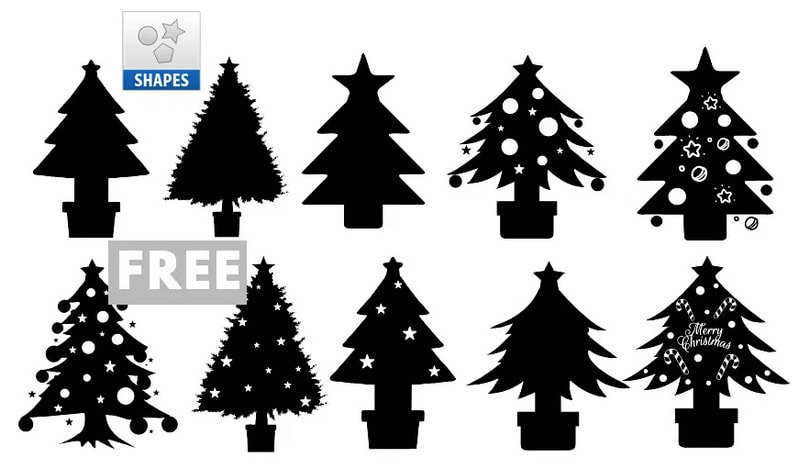 The Web is teeming with numerous free Photoshop shapes so that you can speed up the workflow for various projects. While the previous set is suitable for Cupid-theme artworks, this one was made for all Christmassy projects.
From a simple bare pine tree with a lonely star on the top to the heavily decorated version and an option with a "Merry Christmas" banner, there is a sheer diversity. Even though the package includes only ten objects, nevertheless you will find something special for you without doubt.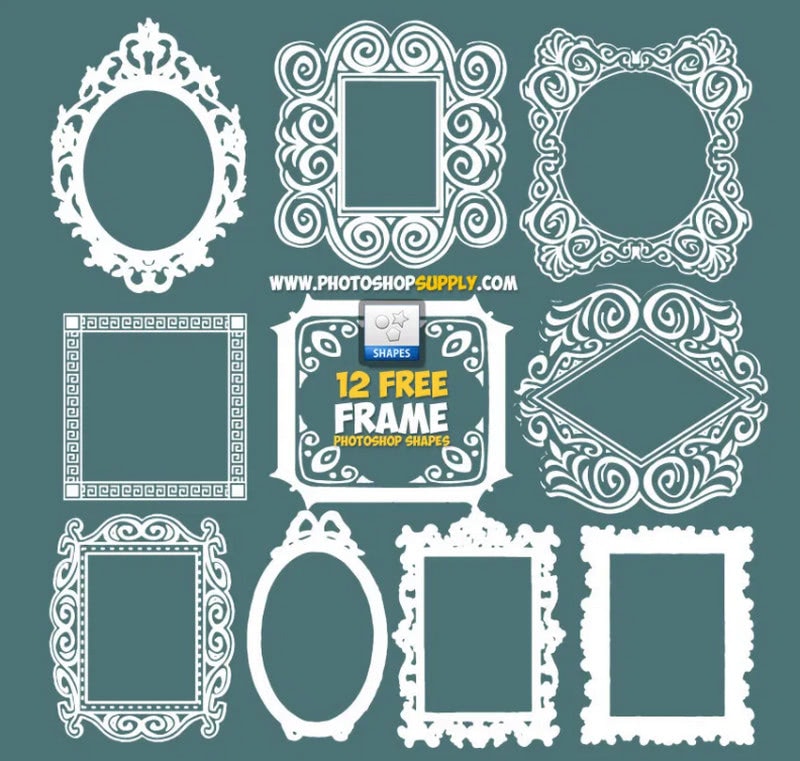 Photoshop Frame Shapes Free Download
This amazing set of free frame custom shapes was explicitly created for those who need to make their photos look finished. There are twelve different borders with a highly decorative nature.
Some of them have a traditional style with lots of curls, swirls, and floral details that are applicable to imitating Baroque and Vintage styles. Whereas, others are created with modernism in mind featuring geometric shapes and straight lines. On top of that, some of them have a rectangle shape, while others have a circle shape. This is another compact pack that focuses on diversity.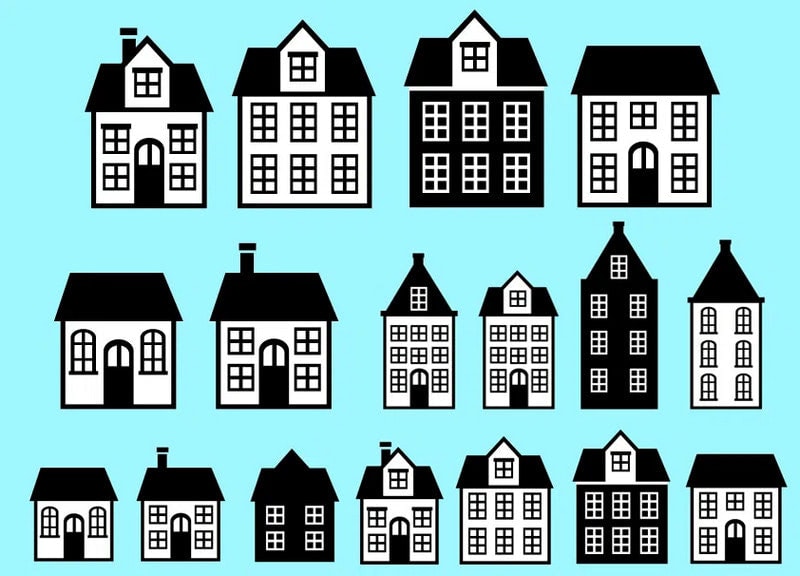 Free Custom Shapes of Houses for Photoshop
This fantastic pack of free Photoshop shapes of houses has a beautiful Scandinavian feel that separates it from the competition with ease. Although the objects comprised of primitive shapes (mostly rectangles and squares), nevertheless, they still look fancy.
You will find inside 12 house silhouettes with windows, door, roof, and even chimney. The level of detail is pleasantly surprising. You may use them one by one or put together to create a scene where a boxy vibe ties everything together.
More Photoshop Custom Shapes
Kiddy Stuffs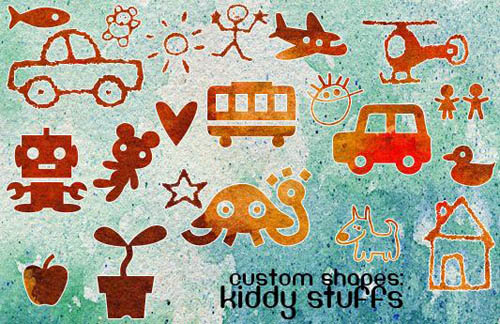 Want to enrich your website dedicated to children, create a youth artwork with a proper look and vibe or simply give your illustration hand-drawn touch, then this set of custom shapes made by hikaridrops will make your day. The package includes 72 elements that cover various funny doodles and sketches. So if you want to add to your design hand-drawn toys or small yet funny drawings just favor the author and download the file.
Red Faction Guerrilla Shapes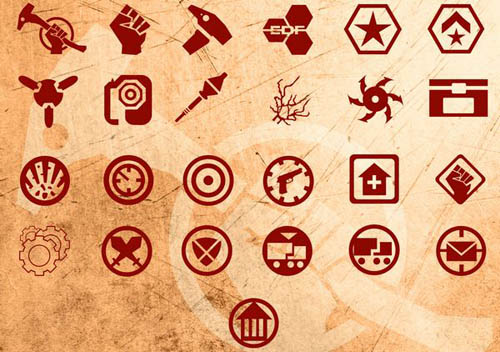 Are you addicted to video games? Want to create an artwork that will evoke feelings from popular "shooters", then try out this package. The nameplate speaks for itself; you will find icons for weapons, targets, missions and so on.
However, before working elements into your project, check to the license since it has 3 important points such as:
no commercial/corporate use without permission;
can be used for prints both on and off Deviantart;
should not be used for artworks that express violence and other illegal stuff.
Ornaments 2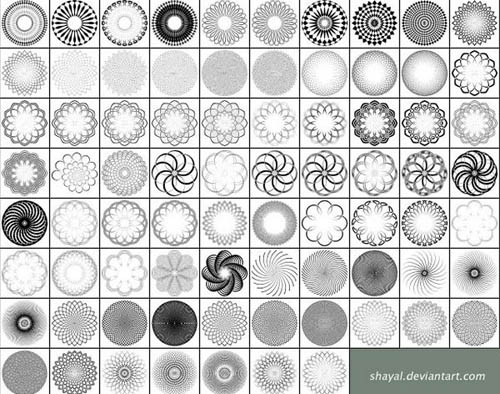 This subtle ornamental set is adopted for various designs that need to convey a delicate and elegant atmosphere. The package includes 77 sleek rosette-inspired shapes that are perfectly compatible with CS3 and CS4. Moreover, this is a sterling addition to the first set by this author that is also marked by this magnificent theme.
Car logos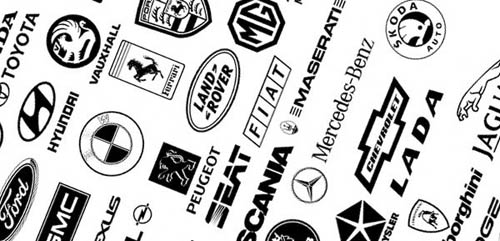 High-quality graphics of brand logos that can be set in various sizes without loss of quality and sharpness is highly regarded among designers. Whether you are up to creating a t-shirt print or making artwork for sale, these logotypes will enormously contribute to the composition, making it look more powerful and prestigious.
Here, you are able to grab logos of various leading car manufacturers including:
Volkswagen, BMW, Audi;
Mazda, Toyota, Honda;
Ford, Chevrolet, and others.
Pack 4: Abstract Shapes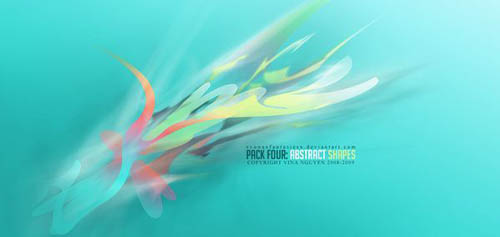 Nothing can be so exciting as an abstract masterpiece that forces your imagination to run wild. Want to create one? Then you will definitely need some helpful stuff such as well-crafted conceptual shapes. The package comprises:
2 magnificent wallpapers to spice up your desktop;
mini-tutorial for those who are feeling uncomfortable with third-party elements and its utilization in Photoshop;
30 vector shapes.
Ornaments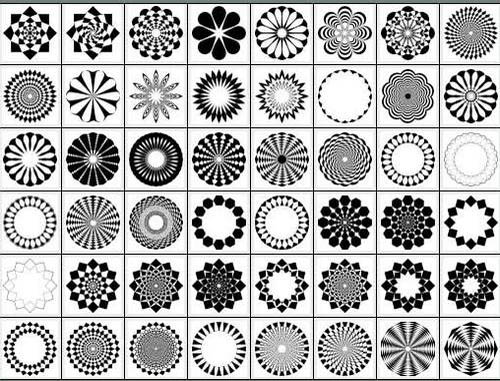 This set of sleek ornamental shapes was inspired by different variations of how a star can look on a paper. The package includes 48 custom shapes that will help to adorn any of your designs, adding a special faint note of delicacy.
Besides, the set has a second version that also includes various decorative round-shaped elements that will help to finish the look of your design, just take a look at number 3 in our list.
Custom Shapes Vegetation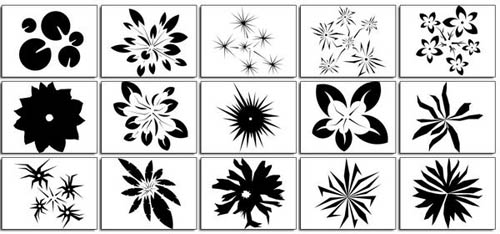 Though the author claims out that the vegetation shapes are roughly made without lots of details and nuances so that it is quite difficult to leverage in small scaled artworks, however, if you feel absolutely comfortable with Photoshop and perfectly aware of how to neaten the edges then this set will look gorgeous used both in small and large sizes. Otherwise, if you are a newbie then just make the most out of it by employing it in the landscaping plan.
As for the license, though the author does not require credits, yet you should be a member of Deviantart in order to put this preset into a work.
Dead Trees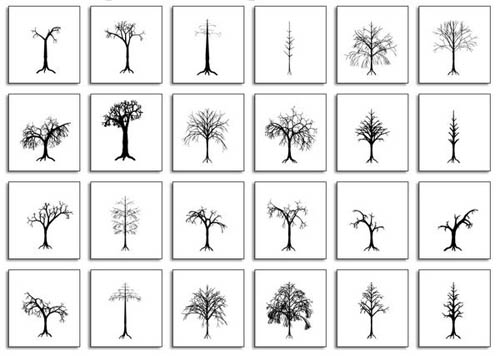 In addition to the previous set, we have included the package that features 24 shapes of different dead tree silhouettes that will add some specific organic vibe to your project. It is well-suited for creating logos, prints and various nature-inspired compositions. However, much like in previous example, before using it take a glance at the license that allows leveraging the set on your projects with several exceptions and requirements.
Isometric Shapes II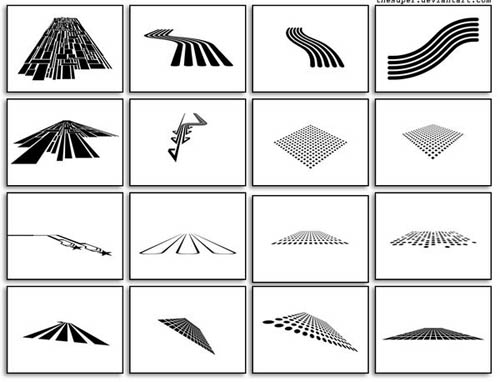 Step away from boring plane objects by adding some zest of an offbeat 3d dimension feeling and spicing up your artwork with isometric touch. Though the set includes only abstract forms that are composed of lines, dots and zigzags, yet this vibe of conceptuality, originality and primitiveness will definitely diversify your design.
Straights and Swirls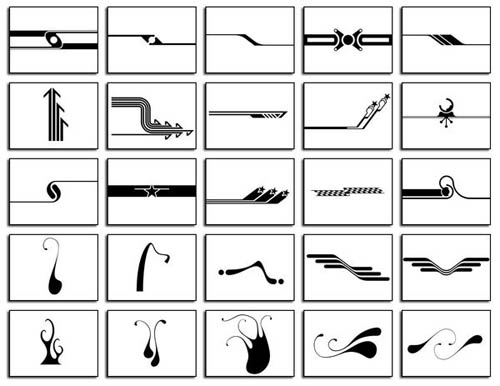 Want to create some visual paths in order to guide users from one point to another, show a direction for a look by focusing attention on the more important things or just decoratively separate one block from another? Then various lines will be simply irreplaceable, especially when these lines are enlivened by some interesting and unexpected decorative elements such as stars, swirls and blobs as well as smooth and winding lines.
Photoshop Shapes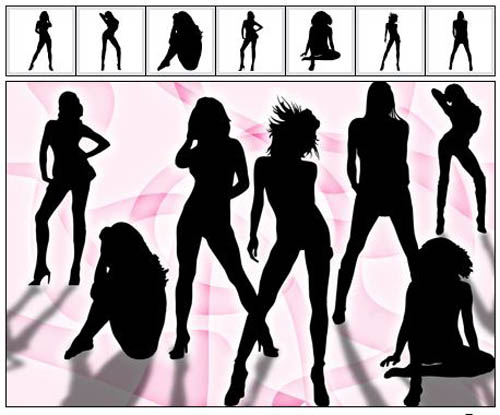 This small yet very helpful set of woman silhouettes will definitely find its place in your toolkit. Those who regularly create party flyers as well as woman-oriented print material will highly appreciate this well-crafted set. It has 7 various shapes that can be scaled to any desirable size. So if you feel a need for charging up an atmosphere of your project a bit and impregnate it with some fancy girlish vibe then check out this pack.
Code Geass Symbol Set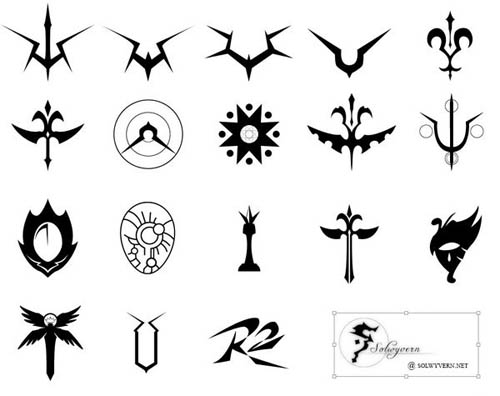 Are you a fan of bright graphics, vibrant characters, and grotesque and highly imaginative themes, in other words "anime"? Does unique Japan style of cartoon production manage to fascinate you? If yes, then this set of items related to Code Geass, one of the most popular Japanese anime series in late 2006 and 2008, will make you feel really happy.
The package includes:
Photoshop brushes;
custom shapes;
18 different symbols.
90 Photoshop Gears Shapes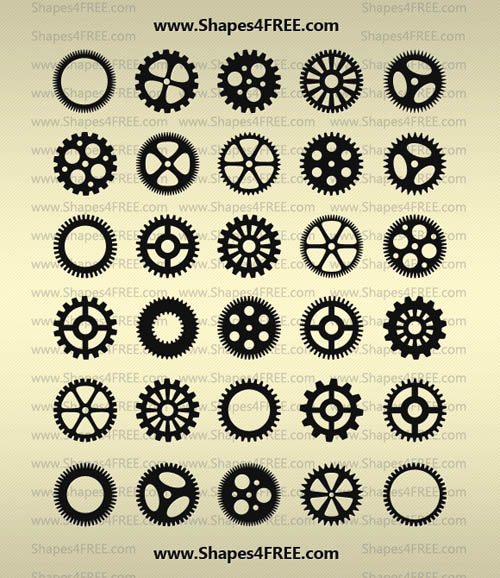 Do you have an urge for building a mechanical artwork or creating illustrations with a strong technical atmosphere? Then check out this enormous set of rough shapes and brushes that embraces 90 different gear symbols.
The set is also great for drawing complex backgrounds, technical illustrations and various kind of industrial logos and prints.
Zoom (Magnifier) Photoshop Vector Shapes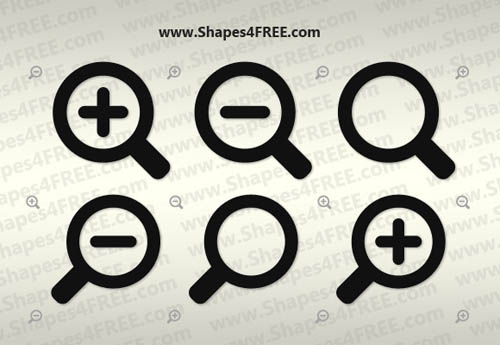 As the author claims, the shapes will look great both in large and small sizes, yet the small scaled graphics will gain more benefits. The set ships with:
zoom in shapes;
zoom out shapes;
regular magnifier icons;
2 vector formats.
It is ideal for creating such graphics as search fields, search buttons and modules for image viewers, for example a lightbox.
120 Arrows Photoshop Shapes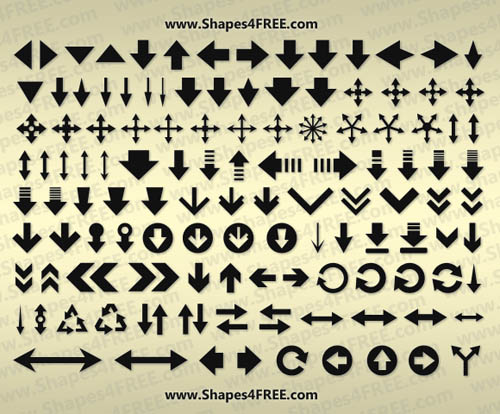 Using lines for directing users in order to walk them through your areas is a really good solution; however nothing can be compared in terms of creating visual directions as arrow signs. And it is not the only sphere where custom shapes of arrows can be useful. Let's remember different control panels or image sliders – those two interfaces are usually populated with such pointers.
So that 120 variations of arrows that are presented in various weights and interpretations will be a quite valuable addition to your toolbox.
25 Wavy and Spiral Sunburst Shapes for Photoshop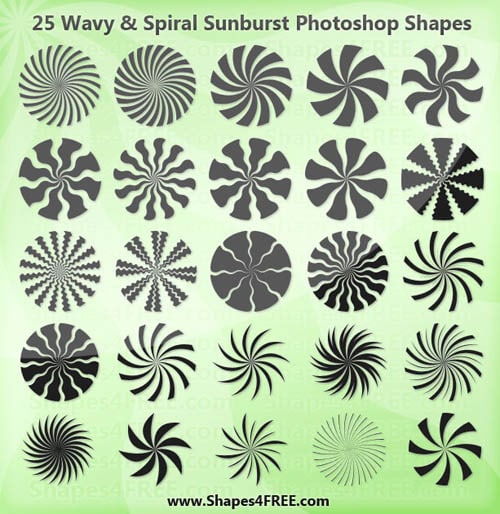 Bright retro-style graphics as well as vibrant hippy-inspired elements always bring some positive emotions, giving your project a note of optimism and cheerfulness.
The spiral sunburst shapes as well as wavy rosettes will definitely reanimate and vitalize your project with its powerful, promising and rosy mood.
60 Shopping and E-Commerce Photoshop Shapes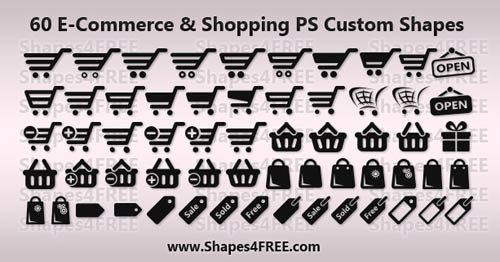 Building a basic interface of an eCommerce website or e-shop application sometimes can be a bit laborious since you have to create lots of small widgets and functional modules such as cart, payment options and so on that need to have distinctive easily-recognizable icons. This set is here to lessen your efforts by providing you with a set of 60 shopping and eCommerce shapes for Photoshop. Here, you will find carts, sale tags and gift icons.
30 Cookware and Tableware Photoshop Shapes (CSH)

If you are up to mock up a cooking-oriented design you will definitely need some specific graphics such as kettles, saucepans, knives, forks, spoons, plates, mugs, rolling pins, graters and others.
And this set already has everything you may need in order to make your project look harmonious and completed. Get your required neatly-made bakeware containers and utensils as well as tableware items.
10 Cake Photoshop Custom Shapes – Birthday Cakes

Want to design an illustration featuring mouth-watering baking? Then take a look at this set that consists of various cake silhouettes. It is an ideal option for adorning your Birthday flyer, cooking-themed design and various yummy compositions.
Here, you will find 10 vector shapes, each one in 2 file formats (CSH & SVG). The set is ready to be used in Adobe Photoshop CS3, CS4, CS5, CS6.
12 Free Photoshop Glass Shapes

We continue to replenish your toolbox with various cookware items. This time the set is dedicated to various stemware items. So, you will find vector symbols for creating
wine glasses;
cocktail glass;
champagne glass etc.
40 Free Photoshop Shapes – Sun, Clouds, Home, Keys

Coming with everything you need in order to create a wonderful skyline, countrified or rustic design, this set will become an excellent addition to your Photoshop toolkit. The pack features such forms as:
sun variations (about a dozen items);
home and houses;
clouds;
keys.
32 Fancy Stars Photoshop Custom Shapes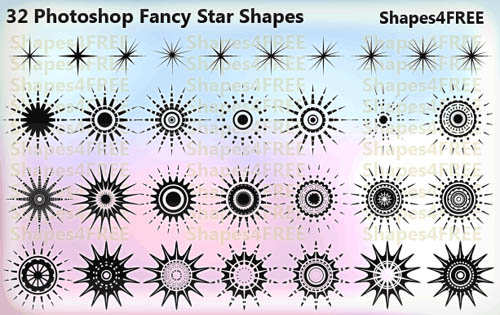 The set allows you to experiment with a fancy star theme, giving you an opportunity to create various fantastic, cosmic and skyline compositions. It includes several illustrative options that will definitely find its proper place in your project. The asset will enormously contribute to your website aesthetics and brighten illustrations, posters, flyers and background designs.
16 Photoshop Cup Shapes – Coffee and Tea Cups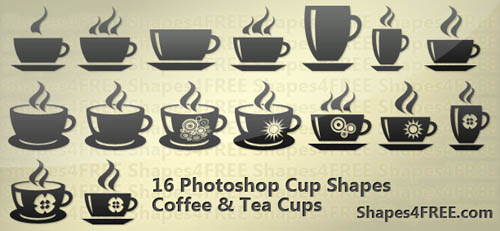 The package effectively interacts with other previously mentioned sets of cookware and glasses shapes. This one will be ideal for your graphic designs dedicated to 5 o'clock ceremony, Birthday flyers or tea party invitations. This is a great addition to your toolkit of drinks custom shapes.
30 Photoshop Fish Shapes – Natural Fish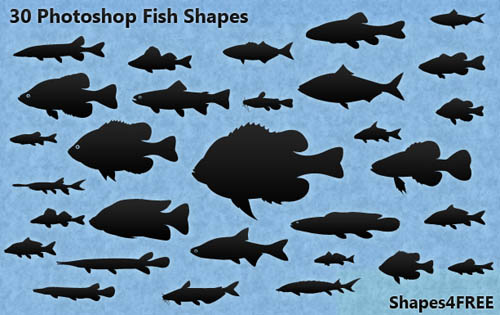 Marine theme of your website or illustration won't look finished without a fish silhouette. This asset is an excellent option for drawing artworks related to seas, oceans, lakes and rivers. It includes 30 custom shapes that can be easily implemented in your design. The compatibility with Photoshop CS3 lets designers who do not update their software or do not have the opportunity to buy a higher version freely leverage this package.
20 Photoshop Shapes – Circles (CSH)

This is an excellent asset of circular shapes that is aimed to reinforce disco-inspired projects. You can easily combine together various items and prettify them with a help of vibrant colors in order to get the greatest output. As for website design, your backgrounds will definitely gain some vintage vibe with these custom shapes.
9 Photoshop Alarm Clock Shapes

Sometimes we need specific graphics that either should be bought or created, and since we highly value our time, usually we resort to e-market option. However, if you have a really extensive toolbox that is filled with various Photoshop custom shapes, you will definitely choose an option of crafting something by yourself. And with this peculiar asset that will add extra zest with some special pre-made items you won't waste your precious time and proceed straight to the point. The set includes 12 custom rectangular-shaped clocks.
12 Photoshop Clock Shapes – Square Clocks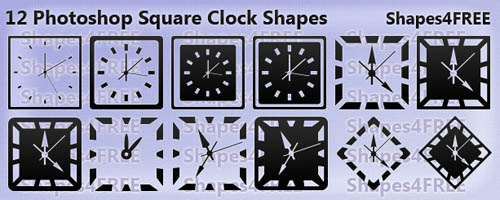 Sometimes we need specific graphics that either should be bought or created, and since we highly value our time, usually we resort to e-market option. However, if you have a really extensive toolbox that is filled with various Photoshop custom shapes, you will definitely choose an option of crafting something by yourself. And with this peculiar asset that will add extra zest with some special pre-made items you won't waste your precious time and proceed straight to the point. The set includes 12 custom rectangular-shaped clocks.
12 Clocks Photoshop Custom Shapes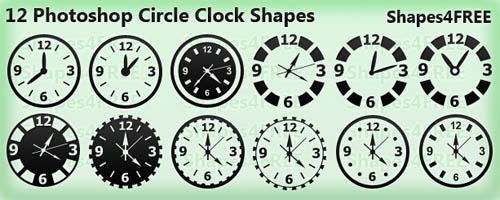 I hope that some extra graphics of clocks with numbered dials won't be redundant. The author offers shapes based on a traditional appearance of the clock. The package embraces 12 vector silhouettes in CSH format, whose simplicity is gained by effective combination of lines, rectangles and circles.
31 Photoshop Clock Shapes for Timeless Designs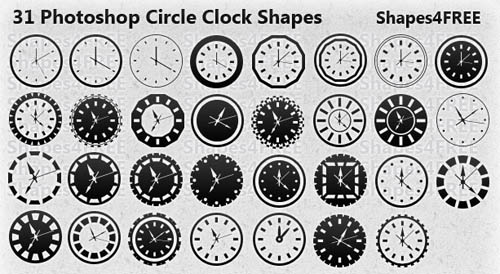 Grab this package that consists of 31 round clock faces in order to complete your collection of free Photoshop clock shapes. You will get more than 30 well-crafted vector custom shapes that can be easily adorned with a help of basic Photoshop tools such as gradients, paint brush or layer style options panel.
Signs of the Zodiac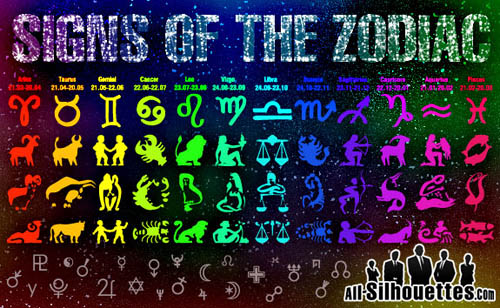 Want to create an app that will tell others what stars have prepared for them, or just design a module with a horoscope? Then you will truly appreciate this pack of custom shapes. It gives an opportunity to quickly populate your illustrations, artworks as well as various app interfaces and widgets with astrological signs. The set contains:
4 full sets of Zodiac signs;
several styles;
extra astrology symbols.
Vector Eagles Clipart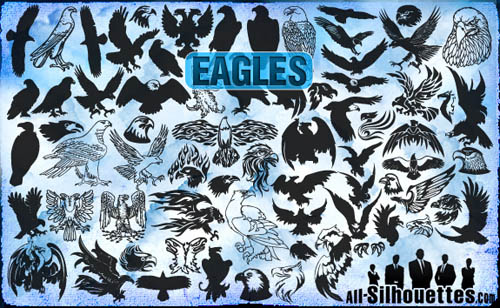 A great deal of logos, emblems, stamps and hallmarks resort to a natural theme and leverage images of mighty animals and birds in order to convey a sense of superiority and power. So that a clipart with vector eagles at fingertips will certainly come in handy.
Here you will find such flying predators as:
bald eagle;
golden eagle;
kite;
flying eagle and others.
Vector Racing Flags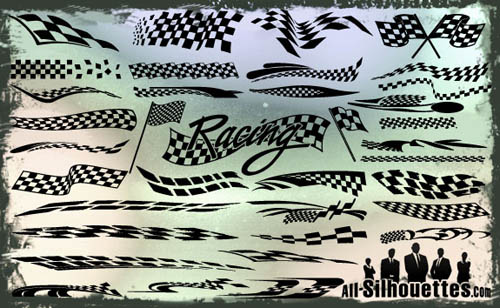 Motorsport as well as racing theme can derive enormous benefits from this asset of shapes, since the clipart covers such helpful elements as:
vehicle graphics;
extreme car illustrations;
vehicle tattoos;
motor racing flags;
checkered flag.
Moreover, you can use the set in Adobe Illustrator.
Business People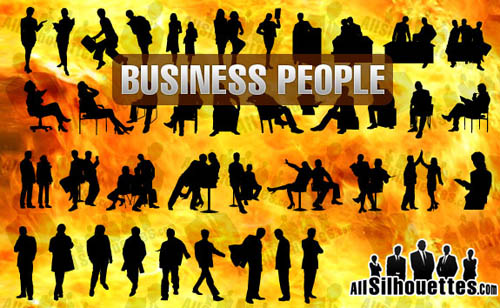 How about giving your design a powerful businesslike vibe? Whether you are creating a corporate website or special print material, you should definitely take a look at this set that features 41 custom shapes including:
different vectors of businessmen;
silhouettes of people in the office;
images of group of people.
Custom Shapes: WW2 Planes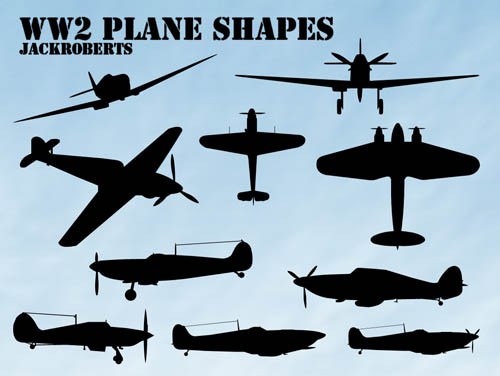 This asset of airplanes that were popular in World War 2 will certainly find its place in various designs. And it's not necessarily should be devoted to this sad and tragic time, for example, those who are eager to craft retro illustrations or military theme can use them as ideal complimentary decorations.
Custom Shapes: Maritime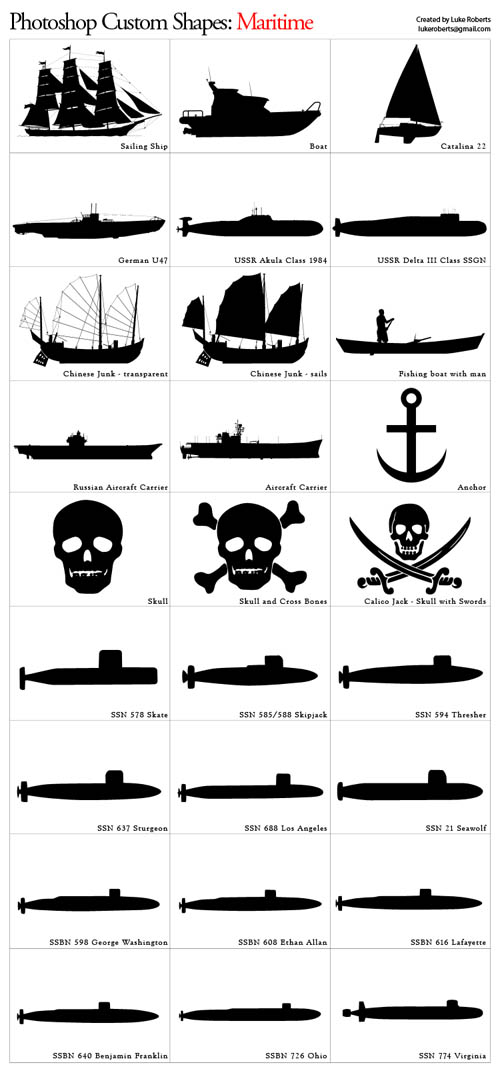 Sailing ships, submarines, boats, death marks and much more are hidden in this marine-inspired asset. You will become an owner of 27 nautical custom shapes, presented in 2 formats: SVG and CSH. Though graphics are not so detailed as it should be, yet it still will look great in your print material. Leverage it as standalone elements, patterns or ornament for backgrounds.
Sea Creatures

We continue to replenish your toolbox with nautical-themed graphic stuff. This time, the package comprises different sea creatures such as:
fishes;
crabs;
crawfish;
lobsters.
Custom Shapes: Aircraft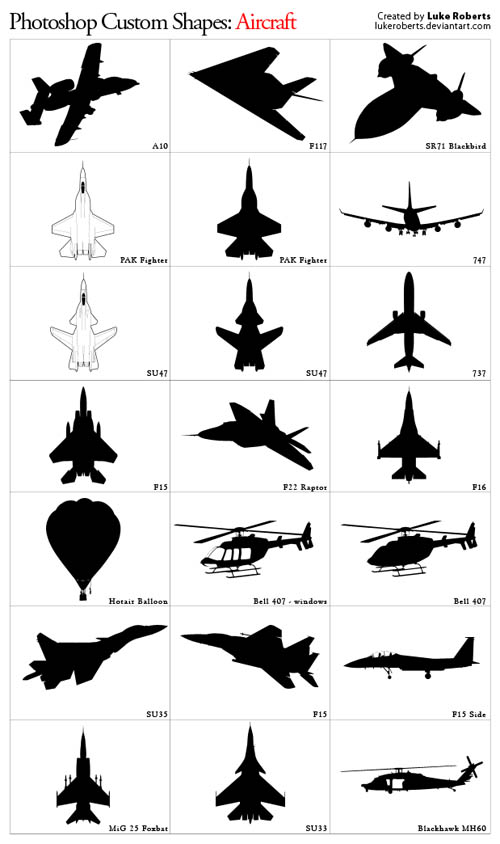 If subtle silhouettes of old WW2 airplanes (presented above) are not enough for realizing your idea concerning air transport, then you will be simply delighted with this vector pack that is aimed to expand your toolkit with 15 modern aircraft custom shapes. You will get images of:
civilian airplanes;
helicopters;
war-planes;
and even a hot air balloon.
CSH silhouettes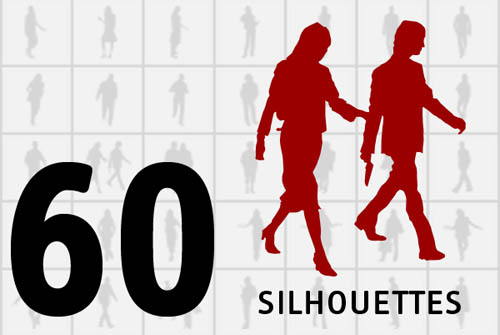 The set is perfect for creating compositions that should have a human touch. It includes 60 shapes each related to one theme "people silhouettes". It can be divided into several categories: walking people, "stay still" people, and gesticulating people. It goes well with such spheres as:
party flyers;
movie posters;
social brochures;
prints for t-shirts.
Media player buttons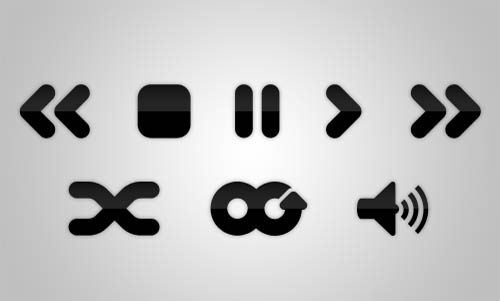 The author of this package is perfectly aware of the fact that musical widgets as well as music applications are highly popular both among developers and regular users. He has given away a very useful pack that allows you to quickly prototype a basic control center of such interface. You will find icons for creating various buttons including volume/mute, forward/backward and play/stop/pause.
Photoshop Shapes: World Map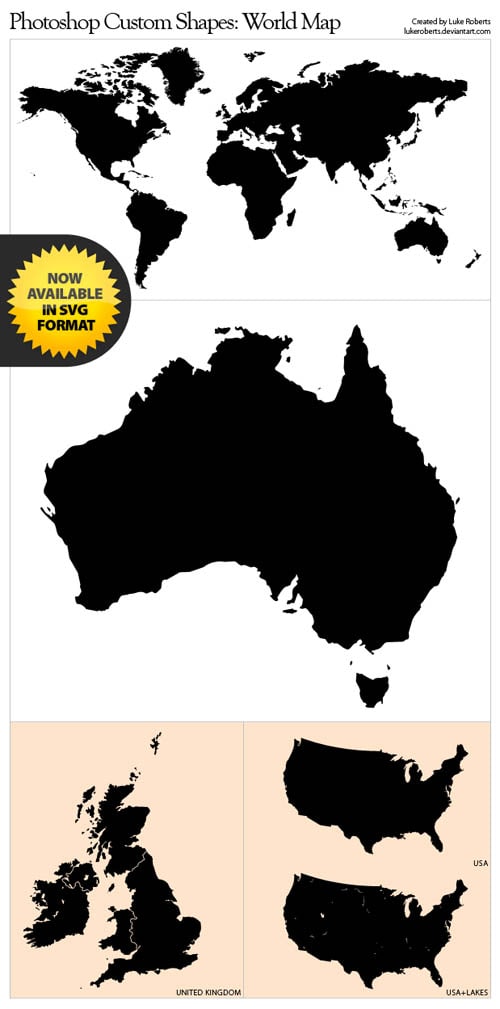 Need to create infographic or demonstrate some important statistics, then the custom shape of a world map will certainly come of assistance. Moreover, aside from a map of our planet, the package features:
Australia map;
map of United Kingdom;
and USA map.
Free 45 Custom Shapes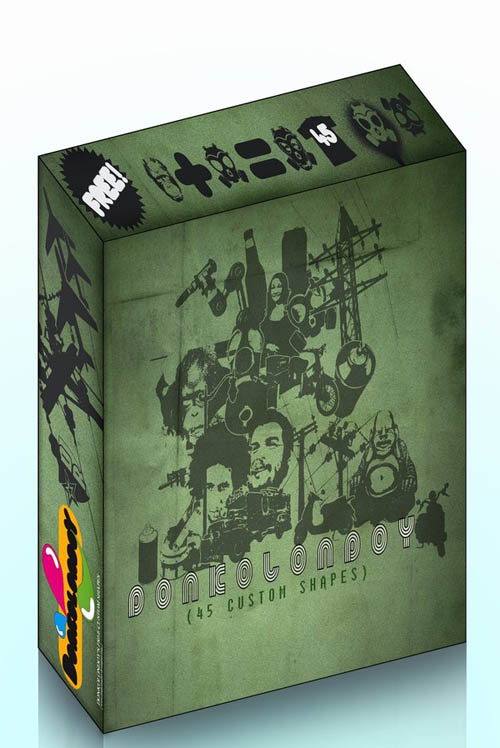 The author offers a helpful pack that includes 45 assorted custom shapes. You can find here the silhouettes of famous people, gas mask, aerosol, vehicle, motorcycle and much more. Unfortunately, the set was made for Photoshop CS2, so you can experience some problems in later versions. However, if you are ok with that, then download it in order to find out what else is hidden inside it.
Lavas Custom Shapes Set One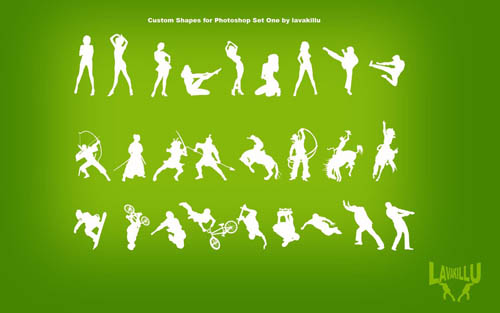 This collection of 26 high-quality Photoshop-only custom shapes is going to add some dynamics to your project. Though the author claims out that this pack is marked by simplicity and randomness which not everyone will understand how to turn into its advantage, yet every shape is able to set up its own positive and vivid atmosphere related to sport activities. There are silhouettes of:
dancing women;
fighting warriors;
bicyclists;
rodeo lovers;
skateboarders.
Sun Photoshop Shapes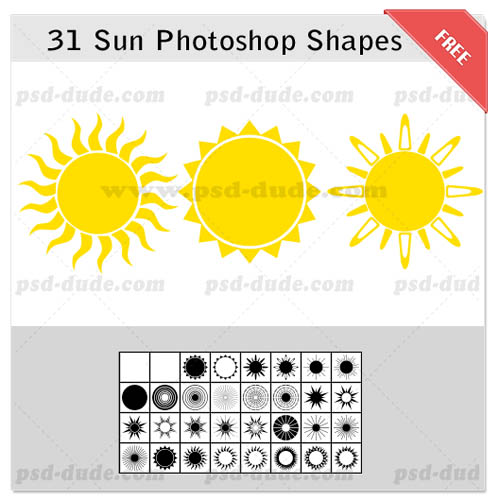 Step away from gloomy and dark designs, and reveal your shiny side with this useful pack of sun-themed custom shapes. The author has gathered a small collection that contains 31 items, so your project with a warm and radiant atmosphere won't remain without a proper vector graphics.
The set implies several variations for demonstrating a sun:
standard representation;
abstract representation;
and whimsical representation.
Banner + Scrolls Custom Shapes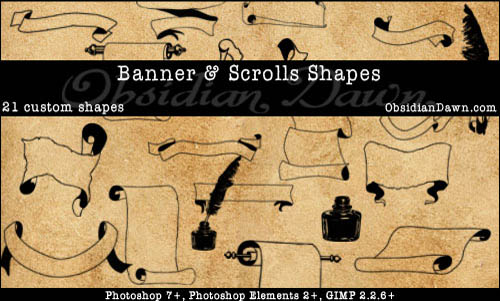 As the nameplate indicates, the set includes resizable shapes of
banners;
paper scrolls;
bits of parchment;
feather-style pen;
ink bottle;
feather inside an ink bottle.
Do you feel an urge of implementing one in your project, then try out this package, the more so it can be used both in personal and commercial projects.
Halloween Custom Shapes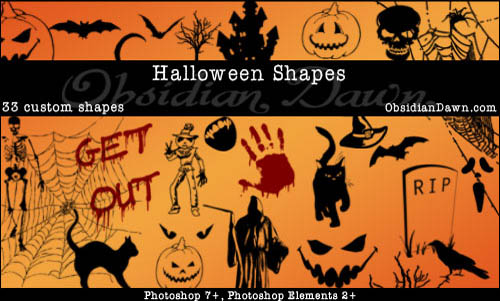 Halloween is one of the beloved feasts among a great deal of people. All we prefer to create invitations and greeting cards for the All Saints' Eve, so that it is really vital to have an appropriate ready-to-use graphics at hand.
The collection of 33 custom shapes embraces such popular items as:
carved pumpkin with a face;
scary faces;
spider web;
skull;
cat;
skeleton;
and other creepy stuff.
Conclusion
Photoshop offers its loyal users various sorts of time-savers that not only prevent designers from spending hours on crafting something from a scratch but also help to enrich their projects with ready-to-use high-quality graphics pretty quickly. And the custom shapes are one of those helpers that are able to make your workflow more productive.
Photoshop offers its loyal users various sorts of time-savers that not only prevent designers from spending hours on crafting something from a scratch but also help to enrich their projects with ready-to-use high-quality graphics pretty quickly. And the custom shapes are one of those helpers that are able to make your workflow more productive.
Although many of us are accustomed more with using brushes when designing something in Photoshop, we can still find many other useful instruments we can play with when there are some inspiration and free time at hand. As for brushes, free custom shapes save you a lot of time and energy when you're in the middle of the creational process and don't want to take a pause to edit some details or elements from your design. When you don't have the right brush or need the effect with a higher resolution and quality Photoshop custom shapes can come in handy.
Before including components in our toolkit, most of us try to take into consideration several things, first of all, topicality, secondly efficiency of the compiled material, and finally diverseness. So when it comes to replenishing your toolbox with some valuable stuff for Adobe Photoshop, as a rule, we are guided by the possibility of saving our time as well as making our workflow more effective and giving a final result harmonious and finished look, so to say kill two birds with one stone. Eliminating all the unwanted distractions is really vital. If you have a comprehensive set of tools at your fingertips, you will be able to craft professionally-looking stuff quite quickly, whether you are creating UI design or illustration.
Adobe Photoshop provides several options for allowing you to speed up your work. Custom shapes are one of them. Unlike other powerful instruments – a brush – shapes can be easily scaled to a large or small size without a loss of quality and sharpness. Though they present only vector silhouettes of various things, yet with a help of other basic tools such as gradients, patterns, color filling, etc. you can easily transform a simple contour into a realistic piece that will nicely fit into your project.
We have highlighted more than 50 custom shapes packages, covering more than 1000 individual items that fall in different categories, so you will certainly find the one that will ideally co-work with your upcoming project.
How about us showing you today 50+ sets of free Photoshop custom shapes that will definitely catch your eye and make you want to use them? Here they are for your use and fun. Enjoy!
Like what you're reading? Subscribe to our top stories.