Free Custom Shapes for Adobe Photoshop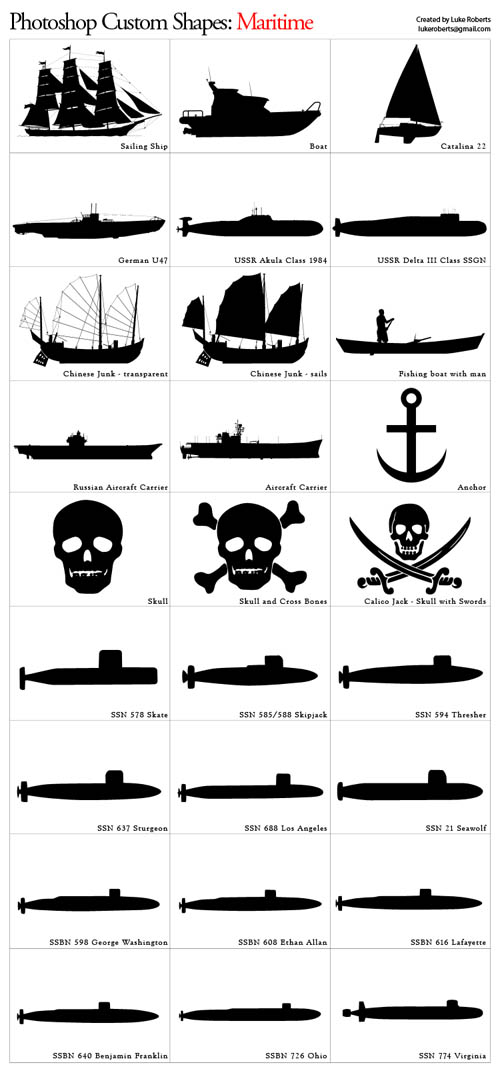 Sailing ships, submarines, boats, death marks and much more are hidden in this marine-inspired asset. You will become an owner of 27 nautical custom shapes, presented in 2 formats: SVG and CSH. Though graphics are not so detailed as it should be, yet it still will look great in your print material. Leverage it as standalone elements, patterns or ornament for backgrounds.

We continue to replenish your toolbox with nautical-themed graphic stuff. This time, the package comprises different sea creatures such as:
fishes;
crabs;
crawfish;
lobsters.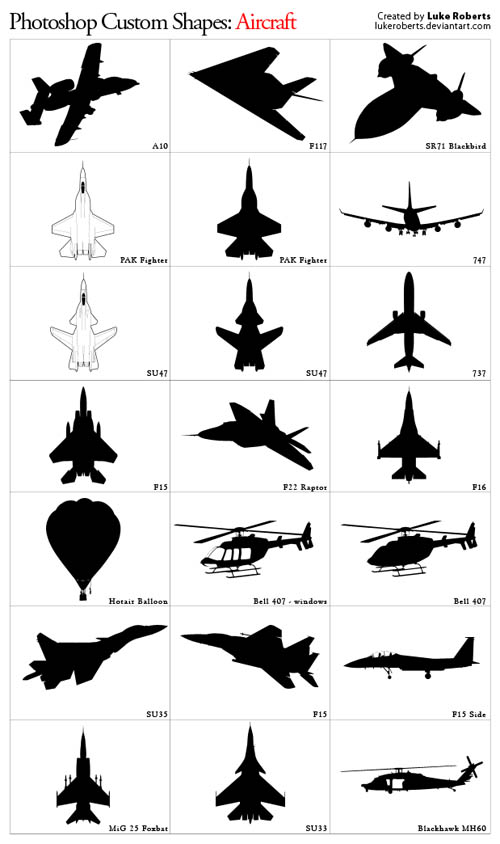 If subtle silhouettes of old WW2 airplanes (presented above) are not enough for realizing your idea concerning air transport, then you will be simply delighted with this vector pack that is aimed to expand your toolkit with 15 modern aircraft custom shapes. You will get images of:
civilian airplanes;
helicopters;
war-planes;
and even an hot air balloon.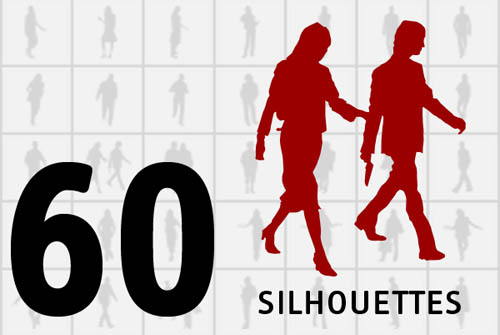 The set is perfect for creating compositions that should have a human touch. It includes 60 shapes each related to one theme "people silhouettes". It can be divided into several categories: walking people, "stay still" people, and gesticulating people. It goes well with such spheres as:
party flyers;
movie posters;
social brochures;
prints for t-shirts.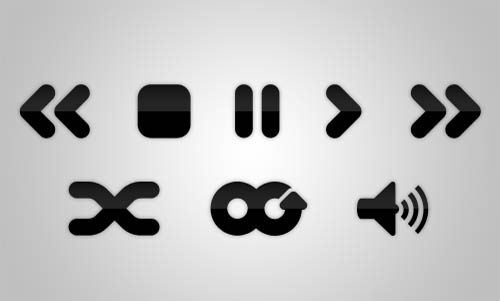 The author of this package is perfectly aware of the fact that musical widgets as well as music applications are highly popular both among developers and regular users. He has given away a very useful pack that allows you to quickly prototype a basic control center of such interface. You will find icons for creating various buttons including volume/mute, forward/backward and play/stop/pause.
An image of vibrant sunburst will certainly establish a warm atmosphere in your website or illustration, providing a radiant and fanciful feeling. Want to spice up your project with some hot sunny rays or add some retro style touches? Then this set of 30 different sunburst custom shapes is made specifically for you.
Besides, there are no restrictions in using them, whether you are up to personal project or commercial one, you can get the most out of it.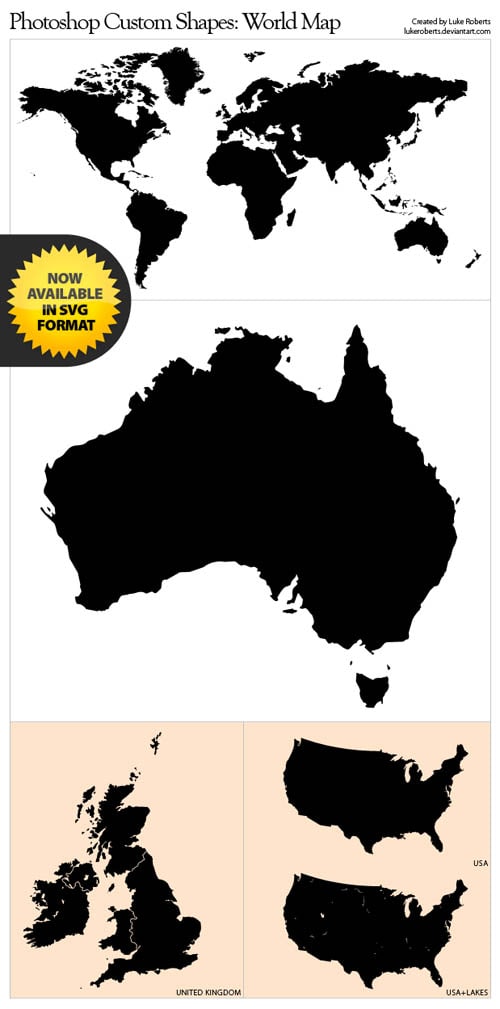 Need to create infographic or demonstrate some important statistics, then the custom shape of a world map will certainly come of assistance. Moreover, aside from a map of our planet, the package features:
Australia map;
map of United Kingdom;
and USA map.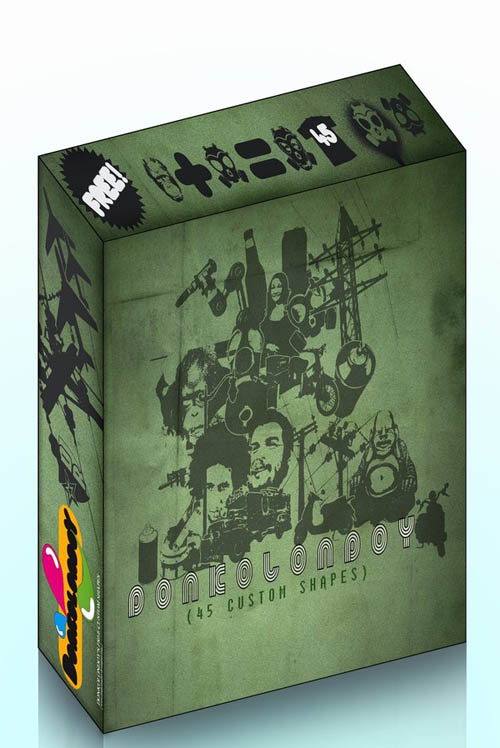 The author offers a helpful pack that includes 45 assorted custom shapes. You can find here silhouettes of famous people, gas mask, aerosol, vehicle, motorcycle and much more. Unfortunately, the set was made for Photoshop CS2, so you can experience some problems in later versions. However, if you are ok with that, then download it in order to find out what else is hidden inside it.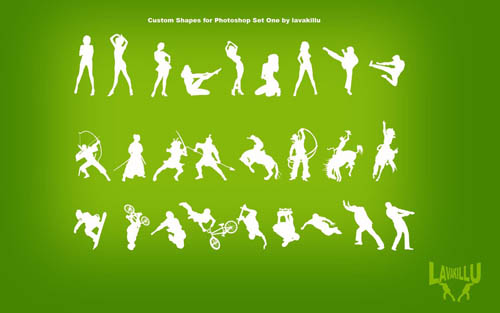 This collection of 26 high-quality Photoshop-only custom shapes is going to add some dynamics to your project. Though the author claims out that this pack is marked by simplicity and randomness which not everyone will understand how to turn into its advantage, yet every shape is able to set up its own positive and vivid atmosphere related to sport activities. There are silhouettes of:
dancing women;
fighting warriors;
bicyclists;
rodeo lovers;
skateboarders.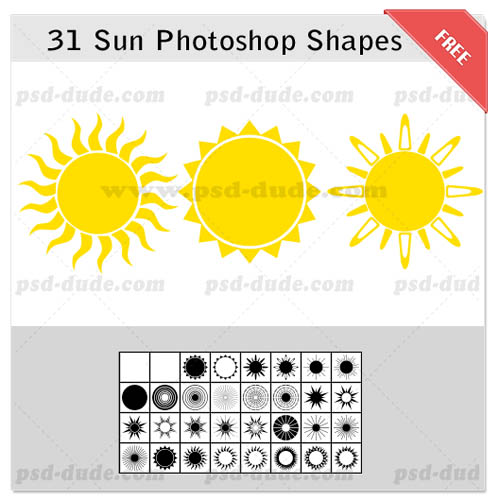 Step away from gloomy and dark designs, and reveal your shiny side with this useful pack of sun-themed custom shapes. The author has gathered a small collection that contains 31 items, so your project with a warm and radiant atmosphere won't remain without a proper vector graphics.
The set implies several variations for demonstrating a sun:
standard representation;
abstract representation;
and whimsical representation.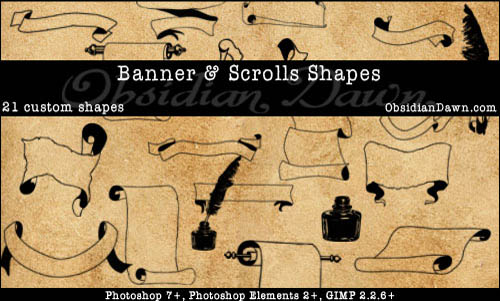 As the nameplate indicates, the set includes resizable shapes of
banners;
paper scrolls;
bits of parchment;
feather-style pen;
ink bottle;
feather inside an ink bottle.
Do you feel an urge of implementing one in your project, then try out this package, the more so it can be used both in personal and commercial projects.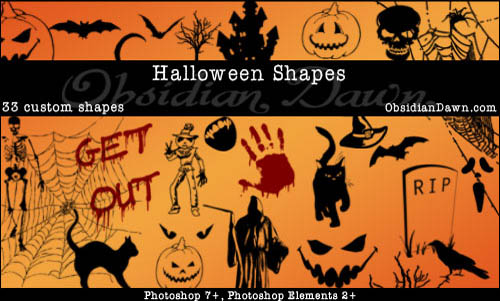 Halloween is one of the beloved feasts among a great deal of people. All we prefer to create invitations and greeting cards for the All Saints' Eve, so that it is really vital to have an appropriate ready-to-use graphics at hand.
The collection of 33 custom shapes embraces such popular items as:
carved pumpkin with a face;
scary faces;
spider web;
skull;
cat;
skeleton;
and other creepy stuff.
Conclusion
Photoshop offers its loyal users various sorts of time-savers that not only prevent designers from spending hours on crafting something from a scratch but also help to enrich their projects with ready-to-use high-quality graphics pretty quickly. And the custom shapes are one of those helpers that are able to make your workflow more productive.