Free UI Kits for Sketch App and Website Designers
Sketch App has a great number of fans who take delight in giving stuff to their colleagues. Sharing is caring and the community tirelessly follows this ideology. Regardless of your level of knowledge, skills or experience, you can achieve great results and please users with outstanding user interfaces with the help of others and maybe a little cunning.
Whether you have already switched to Sketch App or just intend to, our fresh collection of free professionally crafted and neatly tailored UI kits for prototyping web application and website designs might make your final decision easier.
Free UI Kits for Sketch App
Mac OS X Yosemite UI (PSD & Sketch) by Cory Shoaf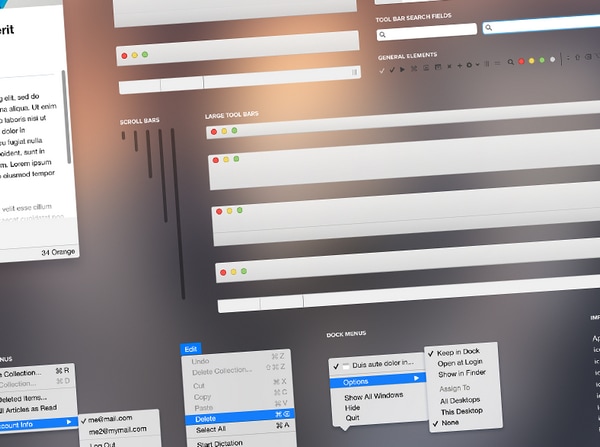 This customizable, pixel-perfect and fully scalable set of integral elements will assist designers and developers in mocking up application interfaces for Mac OS X Yosemite. It is also presented in PSD format for those who feel more comfortable in the environment provided by Adobe Photoshop.
Ink UI Kit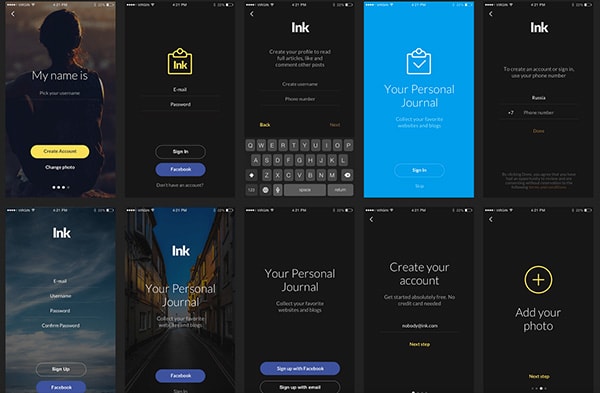 Ink UI is a collection of more than 120 elaborate screen designs for iOS. Each one is designed ni pixel-perfect detail and the collection is divided into seven category groups. Elements can be mix and matched to help designers create a fresh app with the included components.
No-Code Email Template Builder
With Postcards you can create and edit email templates online without any coding skills! Includes more than 100 components to help you create custom emails templates faster than ever before.
Try Free
Other Products
Creator Platform UI Kit: Sketch by Jay Stakelon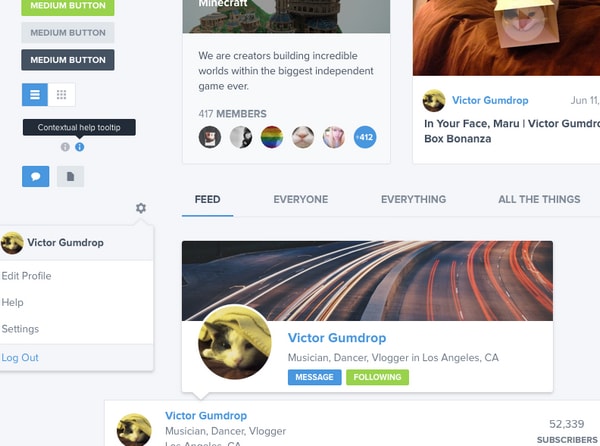 The kit is built on the basis of already existing website interface. The designer offers a package of high-quality elements that includes regular controls, navigation, buttons and some widgets such as user profile, twitter box and comments block.
Free Flat UI Kit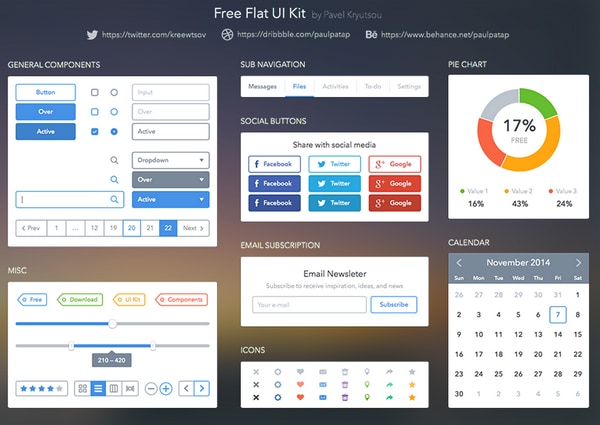 Free Flat UI Kit by Pavel Kreewtsov has a lovely boxy vibe bolstered by stately elegance of line style. Every component is made in flat style and a beautiful coloring that will fit into any modern interface. If you want to add a touch of refinement and subtlety, give it a shot.
Coloristic UI Kit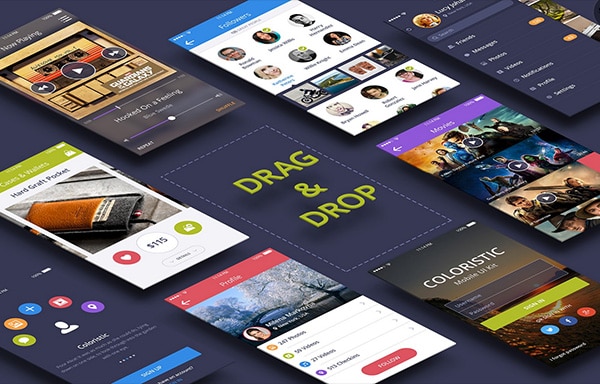 Coloristic includes all the tools you need to create a bright, engaging and colorful — as the name implies — app for iPhone or Android platforms. Each screen element features a modern design with flat style elements and wonderful color palette options. And the kit comes with a lot of screen variations to help you get an app going in a jiffy — logins, walk-throughs, navigation, multimedia, shop, social, profiles and plenty of basic elements.
Dark and Light UI Kit by Mateusz Dembek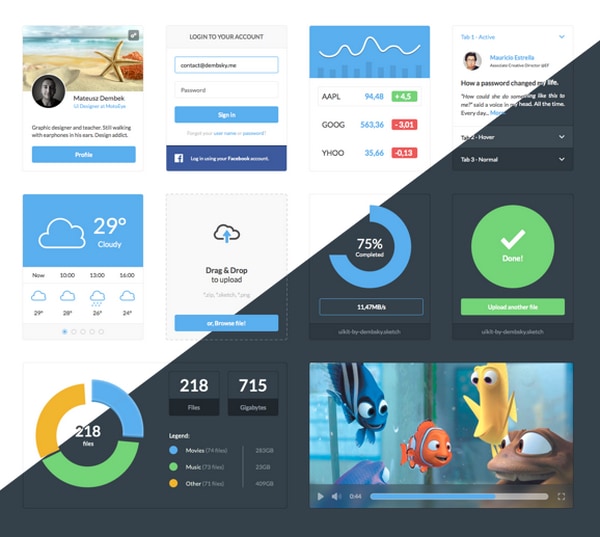 Not only does the UI kit presented in two color variations (dark and light), but it also has versions for standard and retina displays. The author certainly has put a lot of effort in to make this package universal and suitable for numerous projects. The assortment consists of music player, timeline, infographic components, buttons, menus and other integral pieces.
iOS 8 UI Design Kit for Free by Adam Zielonko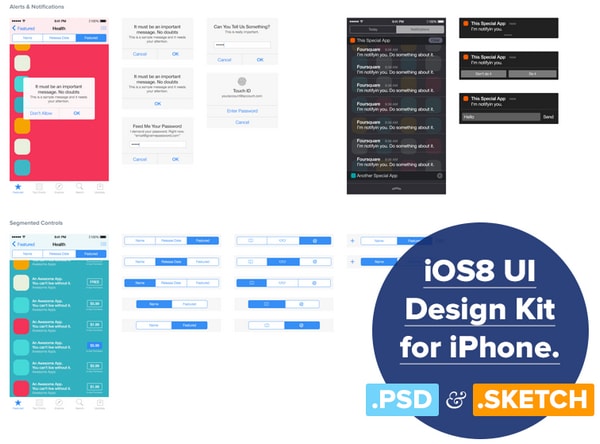 Keep the pace up with the rest of the community is not so difficult with Adam Zielonko, who kindly gives away a subtle UI kit made specifically for creating application interfaces for iOS8.  The main advantage is that the set counts more than 90 handcrafted components, and they are ready to be used for creating interfaces for iPhone 5s, 6 and 6+.
Basement Wireframe Kit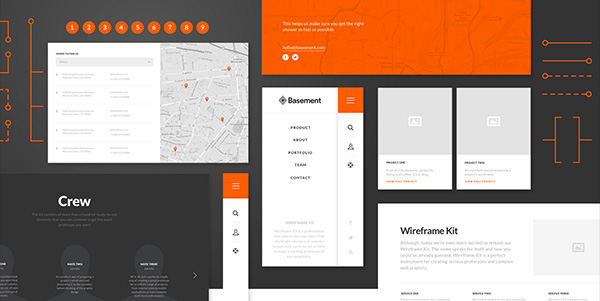 Basement is designed for serious prototypers. With more than 200 elements ready to go, you can mix parts to create the perfect app wireframe — and have it ready to show off — in no time. Pieces work together using a drag and drop format, making it a tool that almost anyone can use, even first-timers.
Free Sketch UI Kit by Pausrr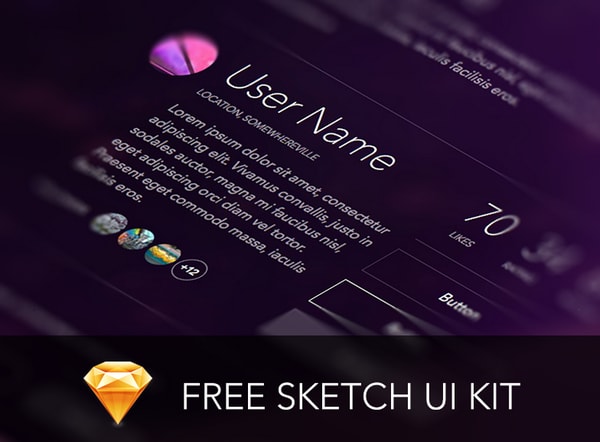 Dark, subtle and exquisite – the kit exudes namely such image. Beautiful coloring, sleek typography, a startling contrast and flawless execution will take your upcoming project to the next level. The kit includes buttons, typography, and some basic blocks.
UIFrames by Mariz Melo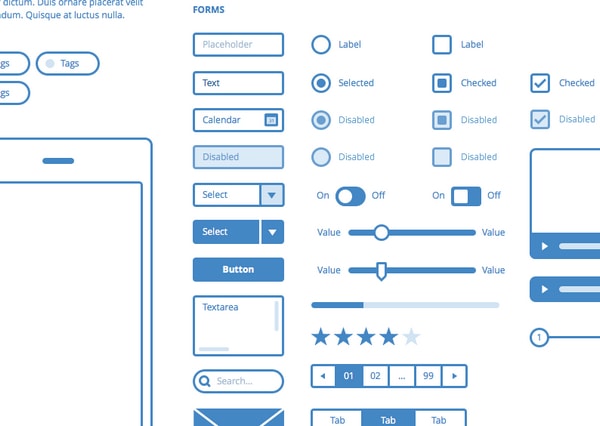 Wireframes made easy. The light version includes elements for delineating mobile application interfaces in an understated and visually interesting fashion. From tiny details to a sterling contour illustration of the corresponding cell phone for compiling beautiful presentations, the kit has it all.
Dashboard Sketch Freebie by Ante Matijaca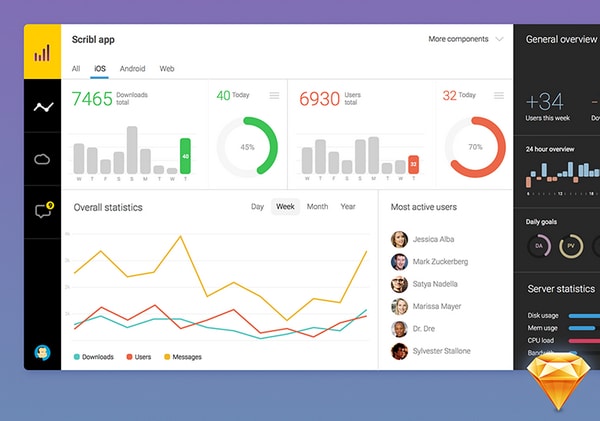 The author offers a carefully crafted dashboard mockup that harmoniously accommodates tools for various needs. You can easily break the template into pieces in order to use constituent elements one by one.
Mini UI Kit Freebie by Karina Baylocq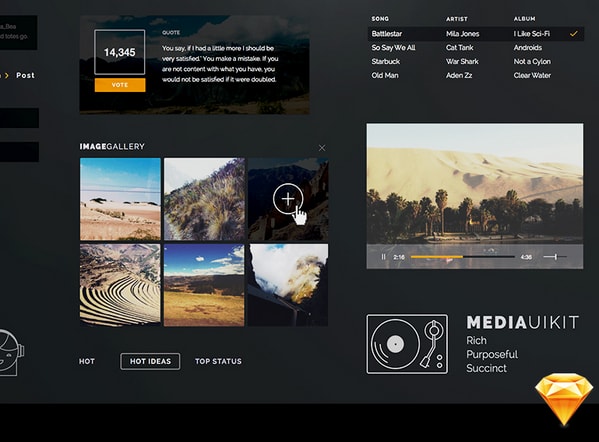 The designer tries to accentuate foreground elements making them excel from the dark background through a well thought out color scheme and neatly executed flat style. The package provides users with tools for building media-related applications so that it includes player, playlist, tiny image gallery and other corresponding elements.
UI Elements (Sketch) by Piotr Kwiatkowsk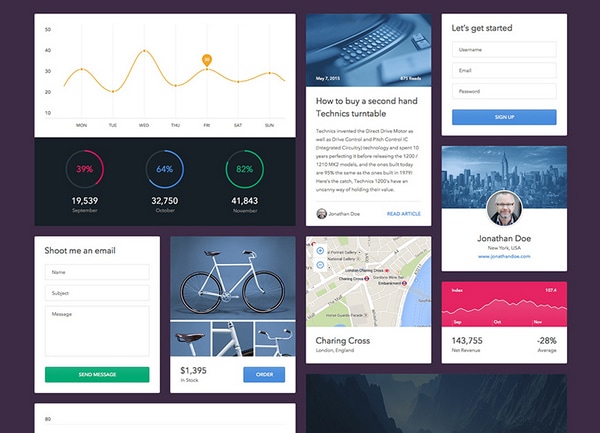 UI Elements lets you join the mainstream of card design that is gaining popularity. It covers several different functional boxes and widgets. The kit is proved to be useful not only in building app interfaces but also web designs.
Flat UI Elements .sketch resource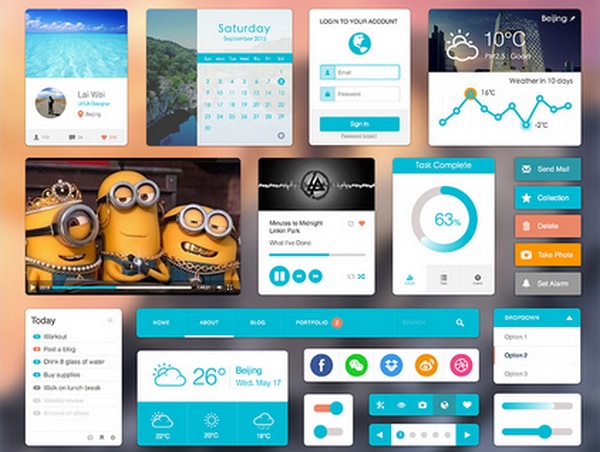 The set features a splendid riot of colors that is going to charge any project with positive emotions. Colorful, flat with elaborate amount of white space it is capable of prettifying any interface, easily separating it from others. As usual, it includes buttons, music player, standard widgets and graphics.
Wireframe Kit freebies .sketch – iPhone 6 by Barbara Giardelli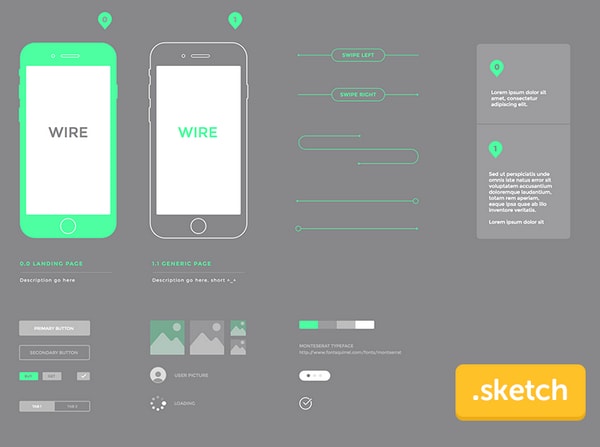 Creating wireframes instead of lavish and fully decorated interfaces enables designers to reflect their concept more clearly. The package is aimed to help in this matter. Being constructed with the help of subtle line style, it comprises a series of sleek fundamental elements and two versions of iPhone (solid and outline).
Conclusion
Despite your choice of image editor for creating application or web interfaces, you can always find free tools that can boost to your project and optimize the workflow. Whether you are a newbie or a pro in Sketch App, our list of time-saving GUI kits will certainly be of assistance.
Like what you're reading? Subscribe to our top stories.