Capture Contract Signatures Online with Eversign
Working online comes with the responsibility of collecting documents, signatures, and briefs from clients. This can be tedious when you take on multiple jobs from different people.
But with eversign the task of gathering signatures becomes a lot easier. You can quickly upload contracts and collect digital signatures from anyone at the click of a button. All signatures are legally binding and this process can be totally paperless.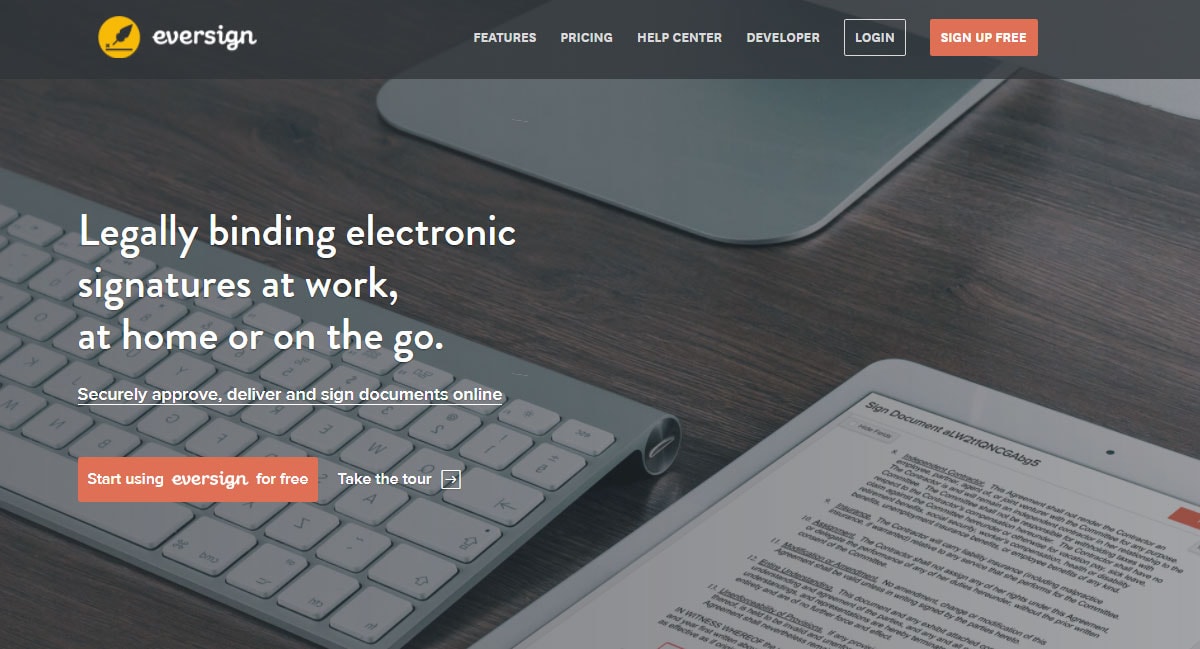 So what does this offer a typical designer, freelancer, or remote worker? Let's delve into eversign and see how it can improve our modern digital workflow.
Eversign Overview
The whole eversign system is an electronic signature platform made for digital contracts. Almost everything we do is done digitally these days, and signing NDAs or project specs should be no different.
You can send documents to yourself and other parties to capture multiple signatures on a new document. And each person can choose to either write their signature or type it out. Both forms are legally binding and authorized for all types of documents.
No-Code Email Template Builder
With Postcards you can create and edit email templates online without any coding skills! Includes more than 100 components to help you create custom emails templates faster than ever before.
Try Free
Other Products
Creating an account is easy and eversign comes packed with many handy features.
Digital signing
SSL security and optional passcodes
Custom templates
Team management features
Archive of document history
Optional in-person signing on touchscreens
You can setup an account for a freelancing business or a corporate business and digitally store all your important signed documents in one place.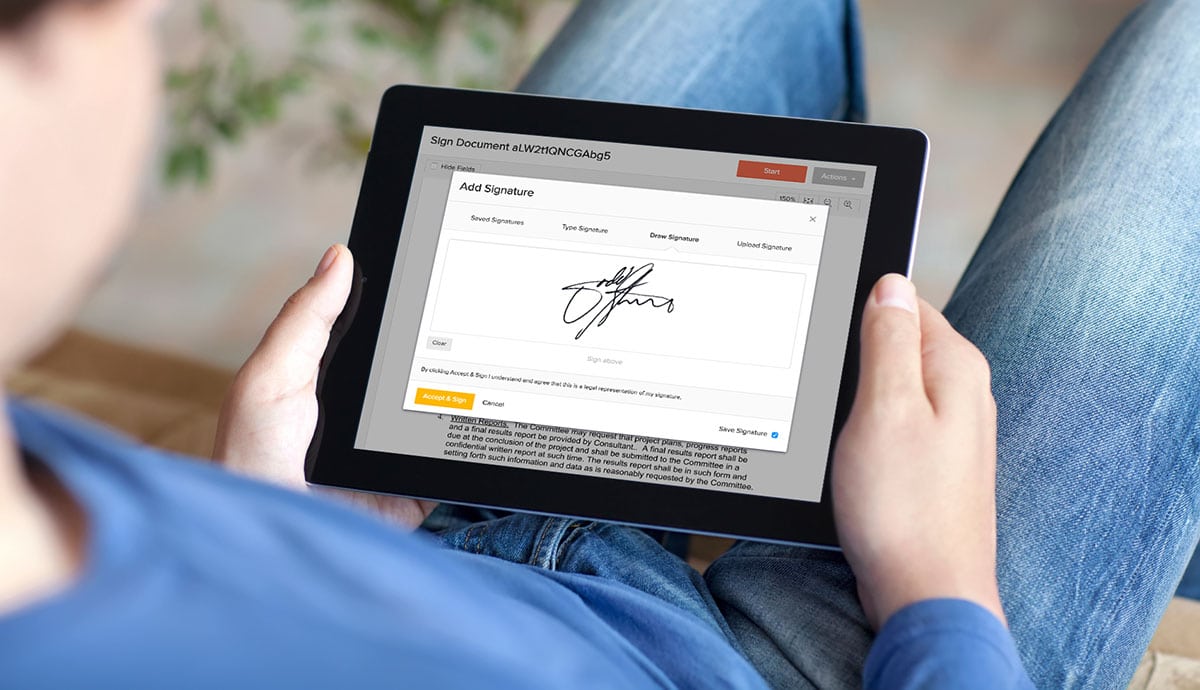 Certain documents can even be passcode protected for an extra layer of security. This ensures that you get the right person to sign your requested document.
Best of all there's a free plan which is great for designers and other freelancers. This includes 5 document signatures per month which is usually enough for anyone, and it's all fully secured in the eversign database.
But you can also export documents locally to your computer and delete them from your account with ease. This way you protect your documents from hacking and keep eversign as a 3rd party security tool.
But let's take a look at the signing process to see what that looks like.
The Signing Process
You start by uploading a PDF document from your computer, or by choosing one of the many pre-made templates from eversign's library.
Once complete this document should appear in your library. Now you can choose who should sign the document whether it's you, a client, or multiple people at once.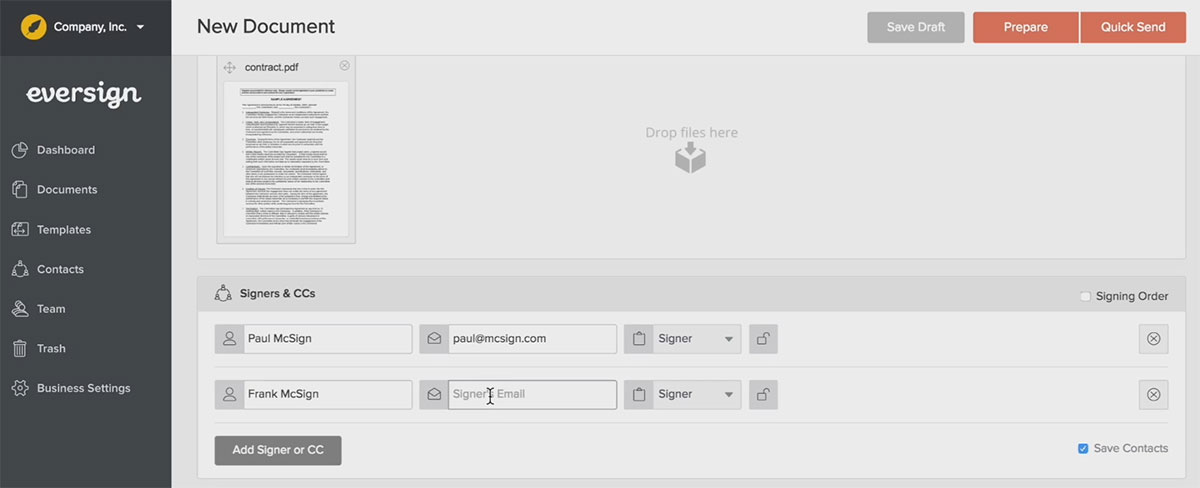 You can even add multiple PDFs into the signing process if needed. This way you can knock out a few signatures all in one email.
Once you've selected the right people to sign you can optionally add people to CC on the email. These people would not need to sign the document, but they might need to be in the loop about this document for whatever reason.
From here you can customize the email message and set an expiry date for the signing.
Once that's all done you'll have to edit the PDF to support signatures. Scroll up to the top of the page and click "prepare".
This brings you into the document editor where you can add signing fields, custom name fields, and basically finalize the document.
Using eversign's editor you can add dynamic information like either party's names, emails, or company names. If you're using a custom eversign template then these features should be available automatically.
But if you upload a PDF then you'll need to drag the signature field(s) onto the document, wherever it needs to be signed. You just select the person's name & click their signature field, then drag & drop in place.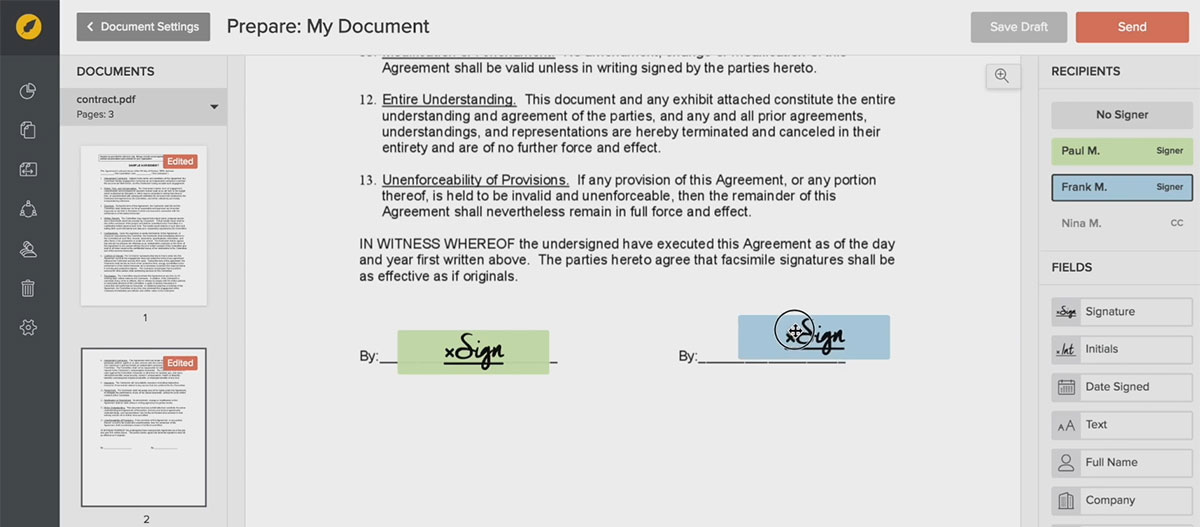 While editing you can save documents as drafts and come back to them later. But the editing process isn't very long, so once you've added the right fields & selected the recipients you can just click "send" and be done with it. Easy peasy.
Email delivery is controlled through eversign and all documents are secured with SHA-256 encryption. Your clients can sign all documents without needing an account which makes this an easy option for larger businesses & freelancers alike.
This is just a sample rundown of the signing process, and with any plans above the free account you have access to lots of other features. But you can quickly follow this process using just the free plan so there's no harm in giving it a try.
Easy Document Storage
With an eversign account you can store many documents for different teams and companies all organized into one place. So if you have a small ecommerce shop you can add those docs into your account, but you can also have documents for your freelance design business on there too.
Your account dashboard grants you access to everything so it's like one big repository of documents.
From here you can add new documents, new contacts, or request a new signature form with existing documents. Even with the free account you can request up to 5 document signatures per month, and all of those get stored in your account for easy access.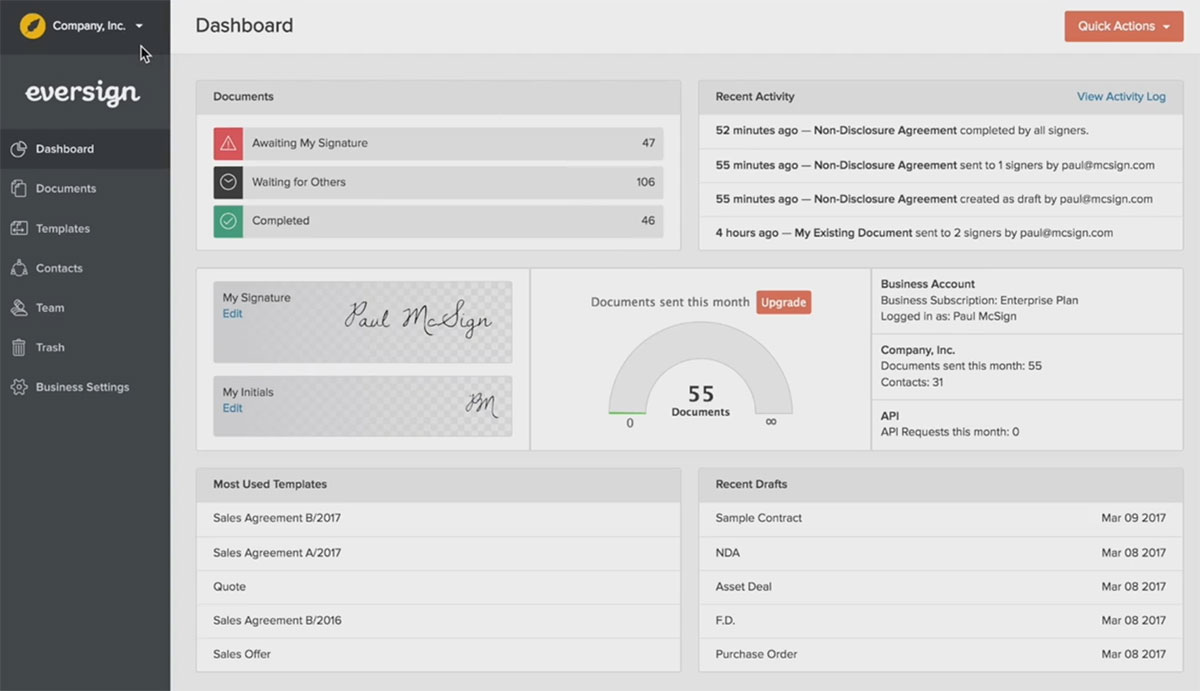 Best of all you can integrate your account with cloud storage to import documents from any of your accounts, or export copies to store backups in the cloud.
This cloud storage feature supports a number of popular choices:
Google Drive
Dropbox
OneDrive
Evernote
Zoho
You can learn a lot more by skimming the free help section which includes dozens of step-by-step videos for beginners.
But it's crystal clear that eversign can save anyone time and frustration by collecting digital signatures at the click of a mouse.
If you're constantly emailing new contracts hoping to find a simpler way to send, collect, and curate those documents, then eversign should be your go-to solution.
Start For Free Today!
If digital contract management is a big pain in your work then eversign can save you the hassle of collecting and archiving those documents. Plus you can easily capture signatures without faxing or scanning documents back & forth.
Just visit eversign to learn more and sign up for your free account. The free plan is totally free forever so you never need to pay a dime unless you want to.
Once you've tried eversign for even a few months you'll be amazed how much it improves your workload.
Like what you're reading? Subscribe to our top stories.