Guide to Successful Thank You Email Newsletters, Examples and Best Practices
A little appreciation goes a long way. Showing customers how much they mean to you is an excellent way to build strong, healthy relationships. In the email marketing world, there is a unique tool for this: the Thank You email newsletter.
Thank you emails do exactly what you would expect from the name. It is a platform to express gratitude to subscribers and leave a strong positive feeling turning them into brand evangelists. However, with a smart approach, it can be used to drive sales. Let's dive into our guide on how to create a successful Thank You email newsletter.
The purpose of a thank you email lies in expressing gratitude to subscribers. It plays a crucial role in the welcome series, where it is used to thank new subscribers for signing in. It is also the last step in the shopping experience that notifies users that everything went right. And it is a way to celebrate a subscriber's birthday. Thank you emails are also used for:
Holidays
End of the year
Personal milestones
Business landmarks
Finalizing deals
Performing asked tasks, and more
As a rule, entrepreneurs use thank you email newsletters for:
Expressing gratitude
Apologizing for inconveniences during service updates
Cementing relationships
Recognizing hard work
Boosting morale
Maintaining network
Re-engaging in an online conversation
Generating conversions
The great thing about the thank you email is that it is a softer sell. People are constantly bombarded with sales pitches, especially when it comes to winter, a holiday season that sees Black Friday and Christmas campaigns, and from time to time suffer from email fatigue. Thank you email newsletters help to fight this fatigue by providing a different kind of information and making them feel appreciated.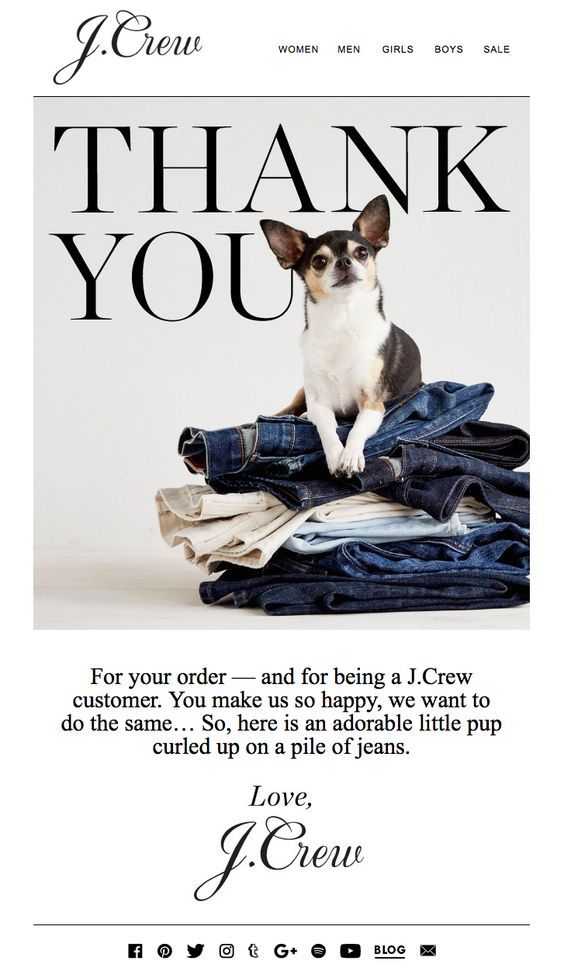 Thank You Email from J.Crew
No-Code Email Template Builder
With Postcards you can create and edit email templates online without any coding skills! Includes more than 100 components to help you create custom emails templates faster than ever before.
Try Free
Other Products
Rules of a Good Thank You Email in the Business World
Thank you email newsletters evolved from the business world. It is customary to send out thank you letters after a job interview, closing the deal, getting assistance from colleagues, etc. This follow-up message is used in a variety of business-related circumstances. It makes a huge difference in terms of building relationships.
Rules that can be beneficial for thank you email newsletters in email marketing:
Choose the right words. Whatever sector you are in, it is vital to use words that won't offend your recipient.
Choose the right tone. In the business sector, you are obliged to be neutral. However, when it comes to an email newsletter, everything depends on brand voice and image. If you want to establish a close friendly connection with your target audience, you can go for a playful tone. However, if you are a serious company, then staying neutral is the best you can do.
Stick to the same format and layout. Each letter in the business world adheres to a specific set of rules. This applies to email marketing, as well. Consistency in design, format, and structure makes it more intuitive to use. It is much easier to get all the necessary information in a familiar environment.
Proofread everything. This is a must-have for every business correspondence. And it is undoubtedly critical for the email newsletter. Go over every detail. Are your headlines, text, call-to-actions well-expressed, grammatical, and free of spelling errors? A little extra care never hurt anyone.
Follow the typical structure of a business email in case you do not know what to put in the letter. Begin with a personalized greeting; show your appreciation for their time; remind them why you excel in the sphere; tell them you are excited to hear from them more and show your intention to provide any assistance anytime.
These best practices are time-tested by millions of people who run successful companies. Therefore, use them to improve your thank you email newsletters.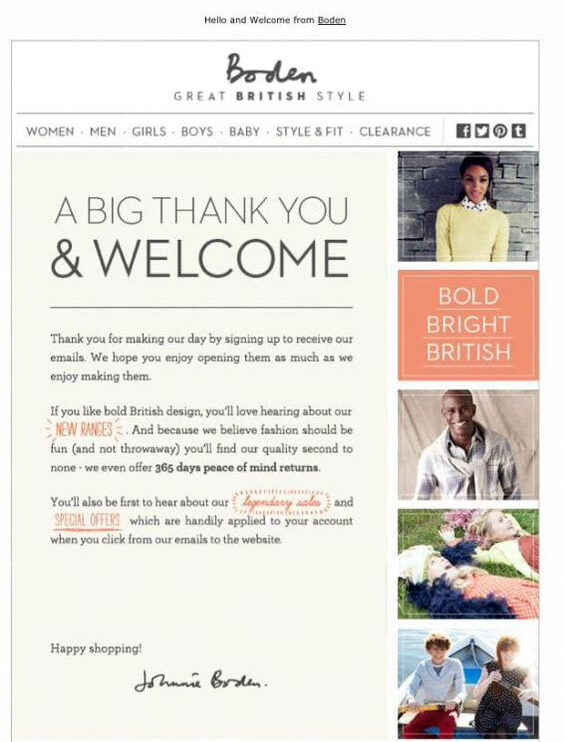 Thank You Email From Boden
Unlike holiday emails that are famous for a sheer diversity of subject lines, thank you email newsletters are more limited. However, it does not mean that you are stuck only with "Thank You." Depending on the goal, you may come up with some exciting pitches. For example, if you want to present your clients with a small gift as a sign of gratitude, you can share it in the subject line and preheader.
What's more, it is highly recommended to stay away from the barebones messages, like "Thank You." Nothing is intriguing in this generic phrase, so it won't pique the interest and compel contacts to open an email. Come up with something eye-catching and enthralling.
Let's consider some good examples of subject lines for Thank You email newsletters taken from brands that have skillfully pushed this area's boundaries a bit further.
Thanks for Joining! You're in good company.
Congratulations, You're Now on the list!
You're one in a million.
Big News and Bigger Thanks.
Thank you for using LendingTree in 2019!
A special surprise to say thank you
Holiday Thanks
This gift is to thank you
Your thank-you code is waiting
Your Feet Say Thank You! Get 30% Off
You're the best!
These tips can also help you get the most out of subject lines and increase open rates.
First, capitalize on the preheader. It is an extra space to make a subject line stronger and more impactful.
Second, spice everything up with emojis. They reinforce the emotional constituent and more likely to capture attention in the inbox. However, you should exercise caution with them. Before adding ideograms and smileys, make sure:
They apply to your target market.
They are in sync with your brand voice.
They comply with the established communication pattern.
They fit the occasion.
They display correctly in email readers used by your contacts.
Third, personalize it. Personalization is a powerful thing, and one of the most promising email marketing trends in 2020. All you need to do is to mention the recipient's name in the subject line. However, you may come up with something more intricate. Remember, you have the entire preheader for your creativity run wild.
Fourth, kindle customer curiosity by creating an information gap. You may also nudge the recipient to reply by asking about feedback.
Finally, yet importantly, do A/B tests. Much can be said about A/B tests. Like it or not but only this technique may help you create a subject line for thank you email that resonates with your audience.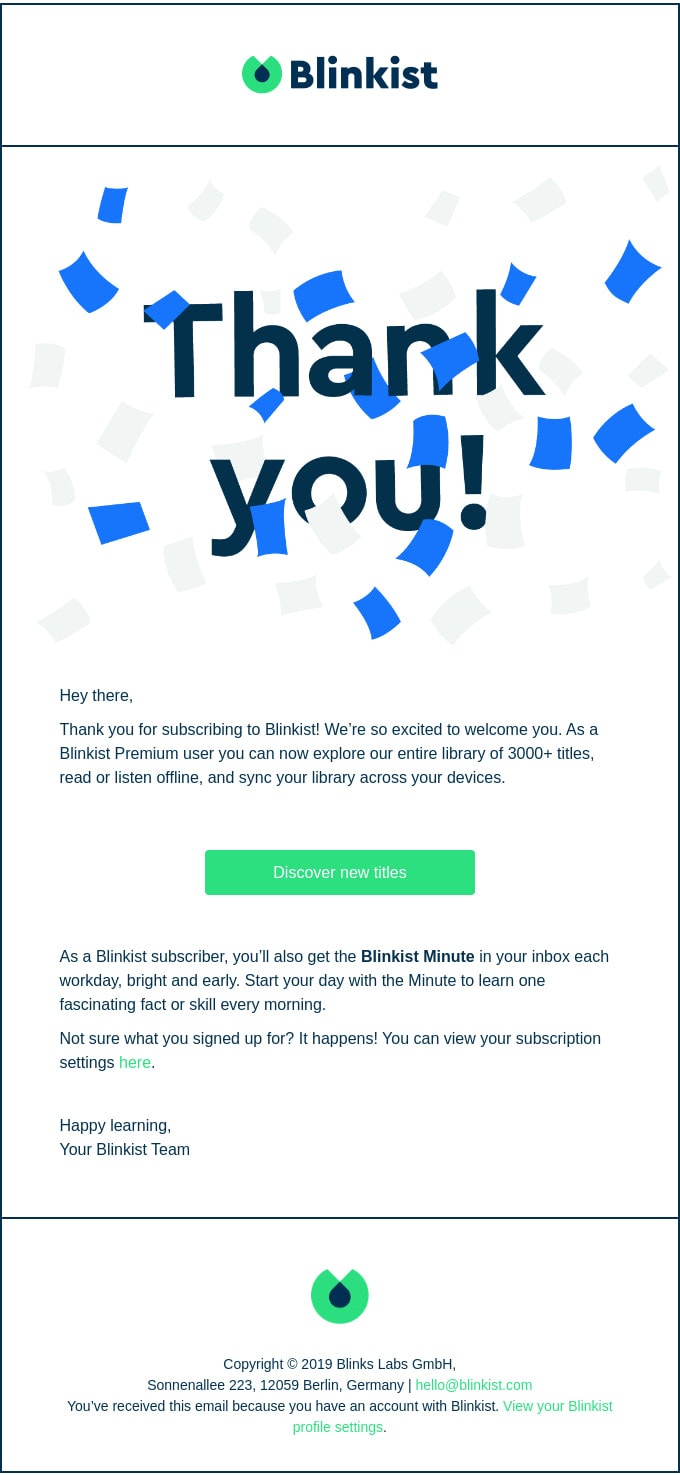 Thank You from Blinklist
The success of a thank you email newsletter hinges on many things: design, experience, message, tone, atmosphere, subject line. Let's consider them carefully.
Content
The first rule of a successful thank you email newsletter is that generic replies do not work anymore. Even though it is an automatically generated piece, it should be customized and, most importantly, personalized. Build content and messaging around the person and his or her preferences and remember to thank the subscriber by name.
Second, focus on the initial purpose of thank you emails. It should reflect your sincere appreciation and the reason why you are writing. Therefore, make thank you message evident from the get-go.
Third, follow these recommendations to create content that resonates with your audience:
Clearly explain why you're writing the letter.
Link to the most recent publication or helpful information. This will encourage the reader to get back to the site and stay a little bit longer.
Provide insight into the next step in case it is just an intermediate stage, like in welcome series or onboarding series.
Include navigation. If you are limited in space, add the most crucial links.
Add social media icons, hashtags for Instagram, or tools for sharing email newsletters with others.
Qualify the value of your company by bragging a little bit about brands that use your product.
Quantify the value of your company by sharing an impressive statistic.
Adjust the tone according to your brand identity and audience.
Do not sound too stiff. It may scare customers away.
Stick to brand voice and use the same language.
Provide contact information and different ways to reach you or the support team.
Include links to unsubscribing and managing preferences.
Finally, apply some marketing tricks to make the most out of this warm lead.
For example, for huge brands, it is customary not just to show appreciation but also to add a shopping incentive like "20% off for your first purchase" in thank you email. You can also play this trick to ensure a good start and lay the foundation for the funnel.
The content of a thank you email may easily combine commercial and non-commercial elements. Use a custom design to blend them to achieve harmony.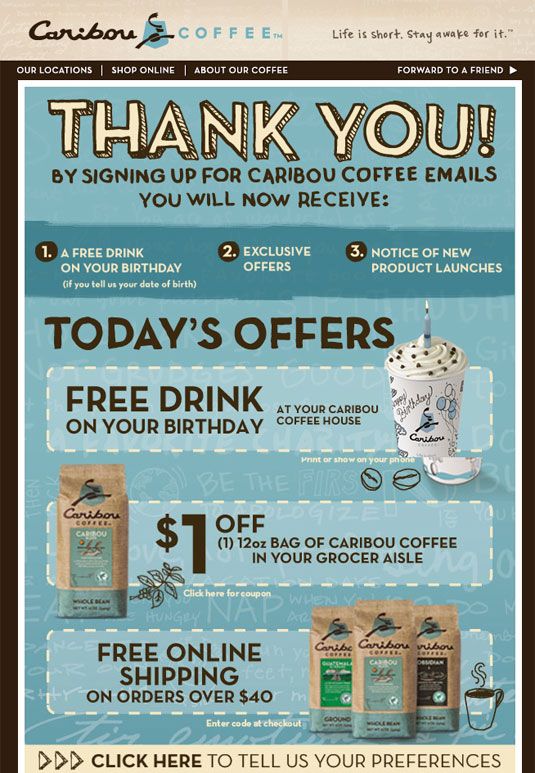 Email Newsletter from Caribou
Custom Design
Customization is the key to success. When you send out a hand-crafted email newsletter design, it evokes a feeling that there is a lot of effort. This helps to strengthen the impact produced by the content.
Unlike plain text email, rich HTML email has more chances to deliver your message and bring about an unforgettable user experience. It uses visuals and some other tricks like animated gifs, background images, and interactive hotspots.
When creating a custom design for a Thank you email newsletter, it is essential to remember such things as:
Mobile-friendly layout
Intuitive environment
Quick access to relevant information
Appropriate tone and message
Overall atmosphere
And of course, trends; even generic transactional emails should use them
Familiarize yourself with trends in email marketing and web design since many people see custom email newsletters as minimalistic landing pages. In addition, make sure the design also matches your personality, situation, and industry, and echoes with the website design.
Sound like a lot of things to bear in mind? If it feels like a real challenge to meet all these requirements, you can always solve it in two simple ways.
The first is to find free high-converting email newsletter templates like this free responsive HTML email newsletter. Use your design and coding skills to adjust it to your needs in any code editor.
The second is to create everything from scratch with a free HTML email template builder, Postcards. It is an excellent solution for those who want a thank you email with the design and structure the way they see it.
Postcards offers more than 100 hand-crafted stylish blocks that can be quickly mixed and matched in a handy drag-and-drop playground. You can edit text and visuals as well as add interactive features on the spot. The final result can be downloaded as a zip package or directly imported in Mailchimp or Hubspot.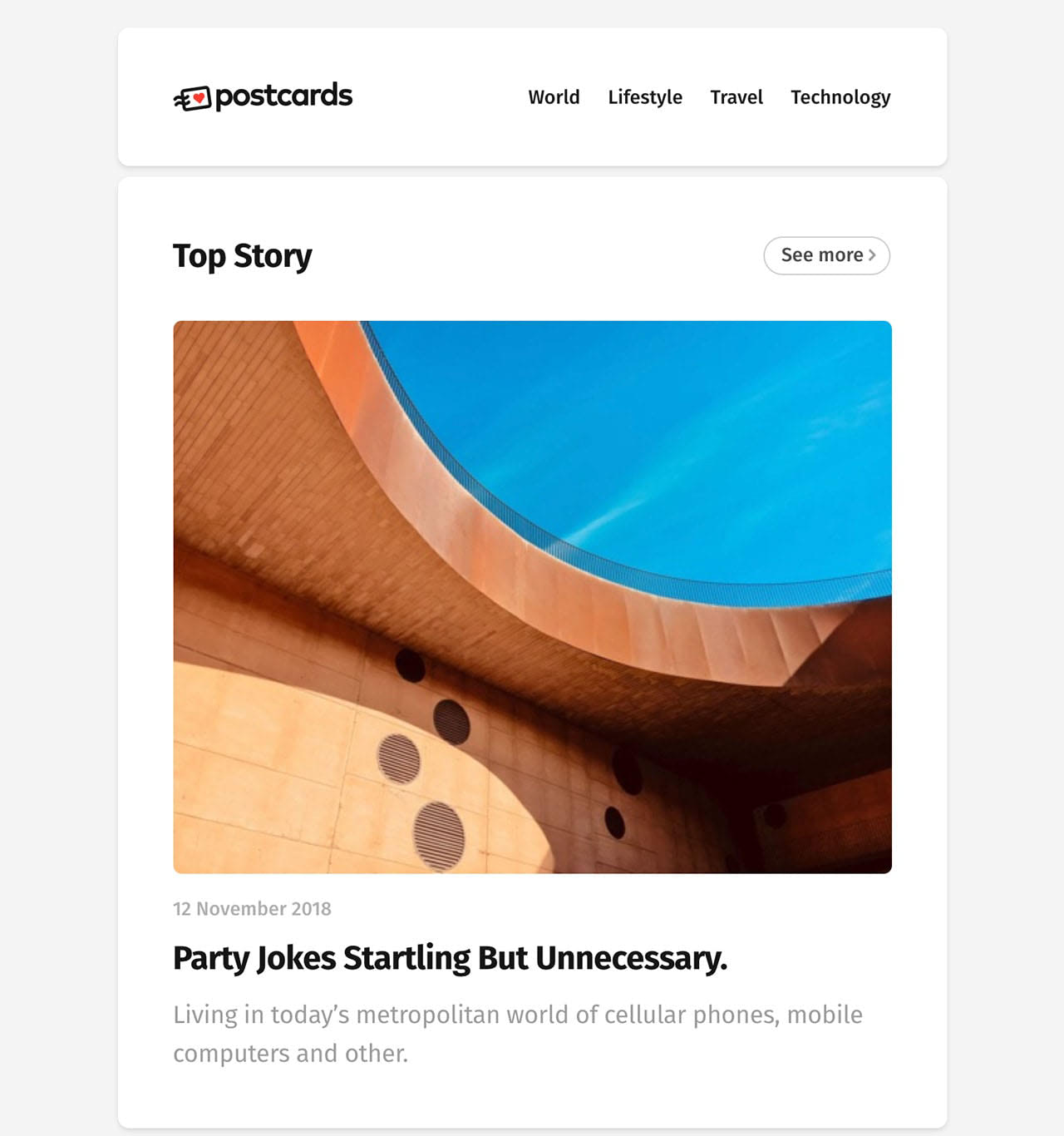 How to Drive Sales Using Thank You Emails
The great thing about thank you email newsletters is that they have a relatively high open-rate. So why not to use it to drive traffic and increase conversions.
Let's consider ways to drive sales using thank you emails:
Offer a discount on the next purchase. Make it big; make it loud. Also, do not forget to determine the expiration date. You can trigger FOMO or evoke a sense of urgency that nudges subscribers to purchase on a subconscious level.
Add a cross-selling or upselling section. As a rule, these marketing tactics are veiled under personal recommendations. Analyze the shopper behavior and purchase history to add relevant products.
Show what the user is missing out. For example, it can be the best seller or new item in a collection. Spice it up with a small nudge like "selling fast" or "low in the stock," and you will manage to play a scarcity card.
Provide VIP access to certain things. This helps to enhance loyalty and make contacts feel privileged.
Initiate a reward program. Multi-tiered rewards programs are a common thing. There is nothing new, but they work. They naturally cause excitement and drag users into.
Give away something. Reciprocity is another powerful thing. While it requires a small sacrifice from you, it still promises to benefit the company highly. In majority cases, it compels users to get back and make a purchase not to feel obligated.

Thank You Email from Bombas
How to Engage Subscribers Using Thank You Emails
When it comes to engaging subscribers, thank you email newsletters do not differ from others. It has the same potential to attract contacts to your brand, drive traffic, and generate leads. The more so, thankfulness brings contentment that easily wins over even the toughest crowd.
So how do you engage and re-engage subscribers using thank you emails? Some recommendations:
Do not be too pushy. Thank you email is all about acknowledging your appreciation of the customers, therefore play nicely.
Express your gratitude sincerely. Don't go over the top. People do not like flattery.
Remind people why you are the best company to choose from.
Send wishes on all special occasions to inspire loyalty. It can be red days in the calendar like Thanksgiving, New Year, Halloween, Valentine's Day, a local festival or celebration. You can even send it without a particular reason.
Capitalize on the customer's birthday. This is a day not to miss out. It is here where your appreciation may be perceived as admiration. This reaction may take your relationships to the next level.
Be helpful. Use thank you email to assist your customers. You can send out guides and useful tips as well as add a FAQ block.
Add direct contacts to the support team. Again, being helpful may drastically change the game and enhance your relationships with the customers.
Remember to thank people for every important action they take. It can be signing in, joining the particular part of a website, shifting to a premium plan, sharing personal information, accepting new terms, making an order, receiving an order, renewing a subscription, even leaving your website and unsubscribing from the list. There are numerous occasions to show subscribers that you value them, and consequently, innumerable opportunities to inspire loyalty, engage users, and boost sales.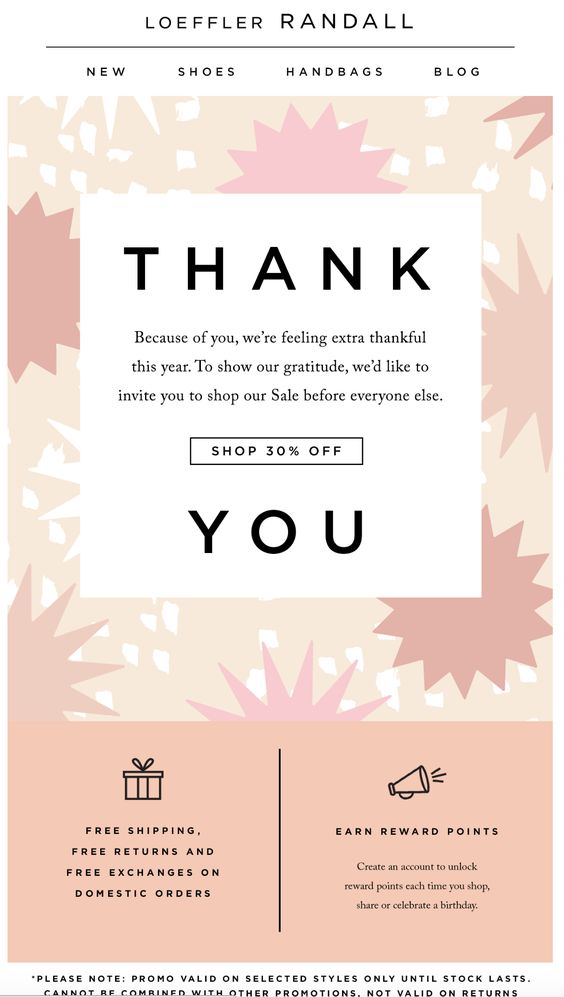 Thank You email from Loeffler Randall
Whatever email newsletter you are working on, it should follow email marketing tips to help generate more sales and 7 principles of highly successful email marketing. Peek inside these valuable guides:
Finally, yet importantly, consider these last-minute tips.
Track metrics to measure success, especially open and click through rates. Statistics do not lie. It will show you the effectiveness of the newsletter. If the opening rate is low, consider revising the subject line. If the click-through rate is low, consider improving your content and design.
Timing is critical. Given our expectations for instant gratification, sending thank-you email newsletters within several minutes is a must-have. A stitch in time saves nine.
Do not make it an isolated email newsletter. The thank you email is a part of a big gang. Therefore, it plays an essential role in the overall email marketing strategy, so do not put it inside a vacuum.
Create a sense of importance. Everyone wants to be VIP. Feeling privileged always wins some extra points to your brand, much like a sense of exclusivity. Therefore, play on human nature.
Do not underestimate the effect of surprise. Take aback your subscribers with a pleasant gift or something unique.
Last but not least, much like in the case of the subject line, always do A/B tests. Combine them with segmentation to define a strategy for a thank you email that works best for one or another group of people.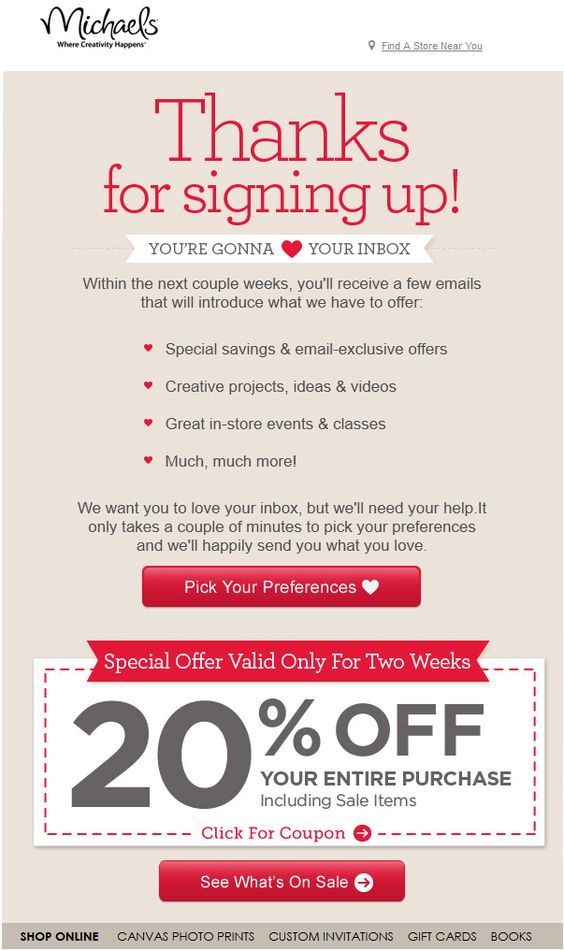 Thank You Email from Michaels
This thank you email example exudes love on all fronts. Indeed, you feel welcomed, like at home. Does not it put a smile on your face and compel you to click the button and check the website right away? This is a reaction that every email marketer expects to cause with the eblast.
This newsletter uses a skeuomorphic design and stylistic options. The team managed to make it timeless in terms of driving traffic and increasing conversions. It features warm gratitude, appealing discount, helpful information, and links to products that may pique interest.
It is one of the best examples of thank you email newsletter of all time. It gives a sense of belonging to the company that naturally engages subscribers and boosts conversions. Brilliant.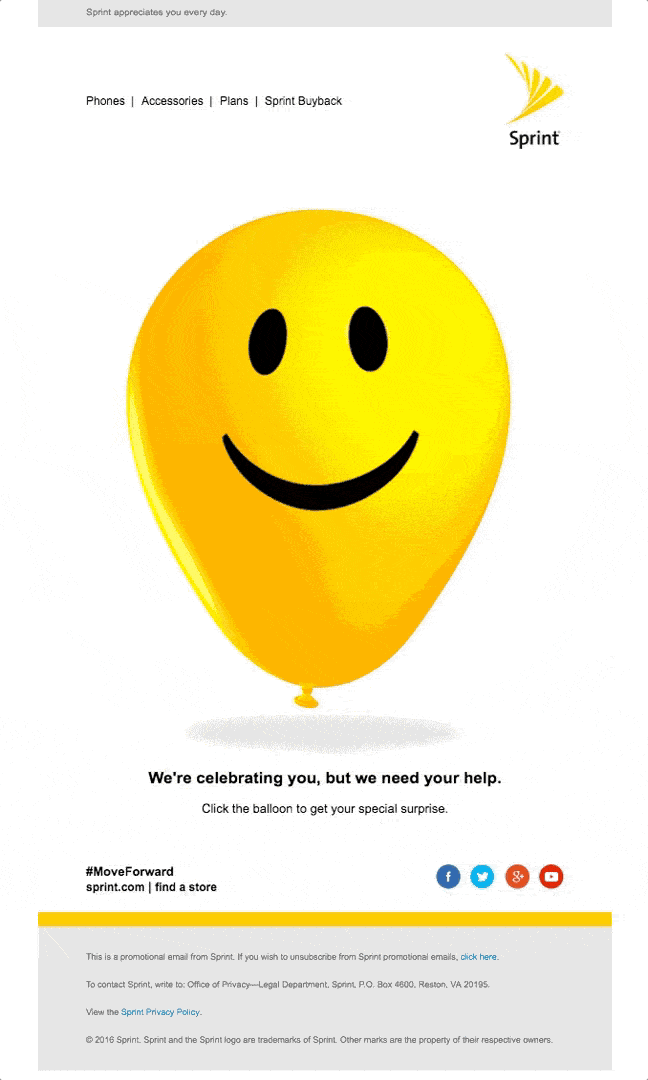 Thank You Email Newsletter from Sprint
This thank you email newsletter from Sprint goes hand in hand with the subject line that states, "A special surprise to say thank you."
The design has a subtle element of surprise and wow effect. It is minimalistic. However, the team has skillfully embraced a "less is more" ideology. The deal is, the team has successfully capitalized on the animated gif, one of the most popular email marketing trends in 2020. Occupying almost the entire space, it does all the heavy lifting here.
It creates a positive atmosphere.
It inspires trust with its broad smile.
It enhances the relationships with its friendly look.
It engages subscribers luring them into the website.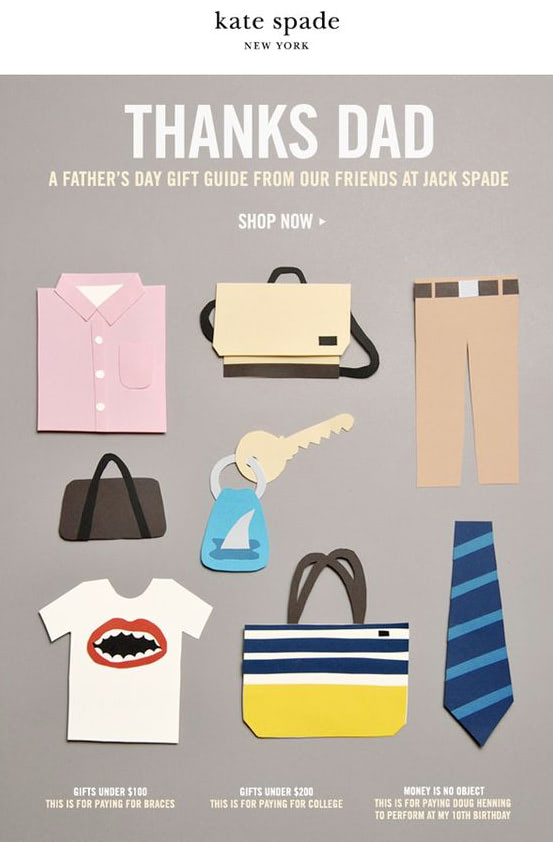 Thank You Dad from Kate Spade
This thank you email newsletter meets modern trends. It uses a flat style and beautiful illustrations. Again, this is a minimalistic design that shows vital information on one screen. Here people get quick access to the content.
The illustrated approach gives the design a friendly and approachable feeling that gets customers onto your side. The call-to-action is a bit dull and unattractive, however, it blends perfectly. The email is centered around the gift guide that resonates with the occasion. You may notice warm coloring and sea motifs that go well with summer email campaigns.
The email newsletter brings value and unobtrusively raises engagement.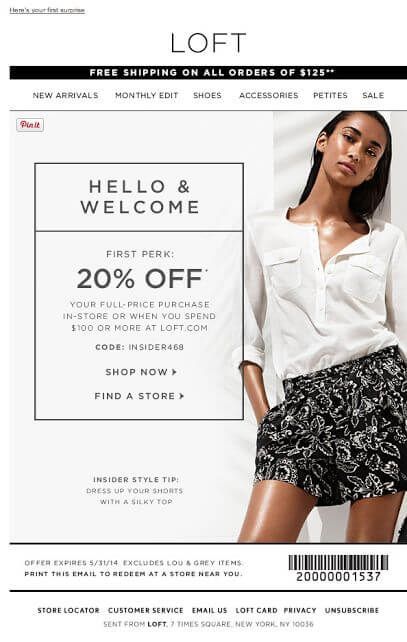 Thank You Email Newsletter from Loft
This thank you email is a part of the welcome email series run by Loft. Unlike the listed above examples, here you won't see a "thank you" message. But it is not necessary since the content was made with expressing gratitude in mind.
There are two focal points. The first one is the customary "Welcome." The second one is a discount that is skillfully emphasized with a big font size. The design is in sync with the Loft's website that creates pleasant consistency. It also conveys the chic atmosphere of the brand that fosters credibility.
What's more, the email newsletter can be printed to be used as a gift card in the retailer's shops. Nice touch and smart move.
With this email newsletter, Loft begins relationships with the subscribers on good terms.

Thank You Email from DavidsTea
"You are the best one!"  Who would argue with that? This subject line, along with the email newsletter that supports its message in every inch, naturally makes a subscriber's day.
The email is tied to the company's anniversary — this a great occasion to reach all your contacts and express your gratitude to them. Using humor and illustrations, the team has put everyone into a cheerful mood.
The email focuses on bringing value to subscribers. Though there are two unobtrusive shopping incentives featured right at the bottom. Much like in the first example, there is a powerful sense of belonging to the brand. This engages users and compels them to visit the website.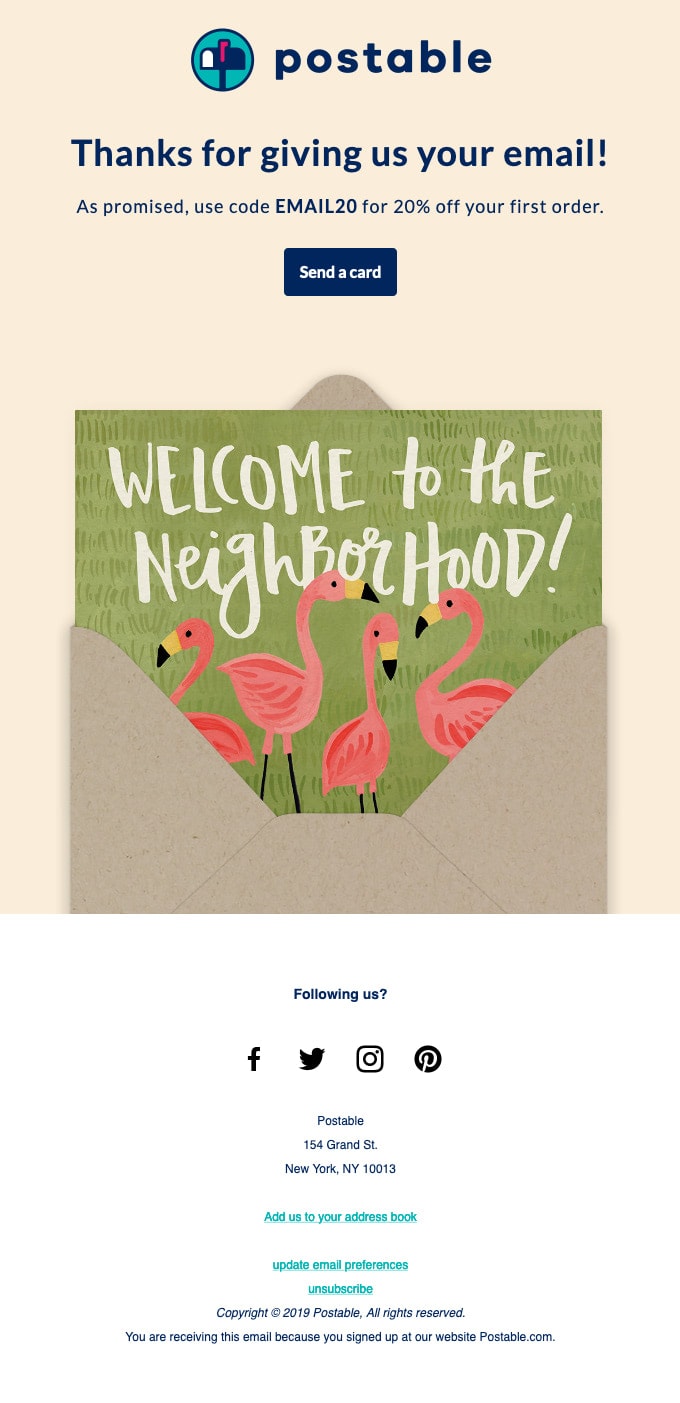 Welcome from Postable
We also featured this email newsletter from Postable in our collection of high-converting welcome email newsletter examples. This perfect example demonstrates how one great idea can make any design stand out from the crowd and leave a long-lasting impression.
The design is simple, beautiful, clean, and aesthetically-pleasing. Note, even though you should scroll through it, still the content is compactly arranged. Only several essential things are included here. The first is the greeting. The second is the offer placed on the top to catch an eye from the first seconds. And the third one is an illustration that creates the mood and tone of the email.
What's more, with this email, the team shows everyone that they keep their word.
Every detail of this email inspires trust and gets customer appreciation.
Conclusion
Although a thank you email is generated automatically, it should be customized and personalized as if you create each one for each person every time. It is a great relationship builder and a great sales opportunity. You can't ignore it since it plays a crucial role in the subscriber's lifecycle.
Follow our recommendations to make the most out of it and give a boost to your company.
Like what you're reading? Subscribe to our top stories.