December Email Newsletter Guide: Ideas and Examples
Winter is coming. Unpack your boxes because people across the globe are getting ready to celebrate Christmas and welcome the New Year, thinking about holidays, gifts, and parties. But as an entrepreneur, you cannot relax. It is your task to meet them where they are. Explore our December email newsletter guide for creative marketing strategies and examples that resonate with audiences and drive post-Black Friday conversions.
Along with dressing up brick-and-mortar stores, your digital presence should shift to the relevance of the occasion. Email is the best way to play along with December festivities. It is the perfect chance for businesses to connect with customers personally, capitalize on their eagerness to buy presents, and make the brand more relatable to the crowd.
December is packed with sales opportunities. From National Cookie Day to Human Rights Day, more minor events and holidays offer golden opportunities to connect with audiences, nurture them with festive cheer and heartwarming gratitude, cement relationships, and generate conversions and high revenue at the end of the year.
Indeed, December is rich in marketing events. The challenge is that it marks the end of one of the busiest shopping events, Black Friday and Cyber Monday, which exhaust customers' potential to buy.
Follow our guide to December email newsletter ideas and examples to get creative with marketing strategies to strike the right chord and channel festive vibes in your direction after the Black Friday madness subsides.
December is a "world of holidays." It ushers into winter Christmas, Kwanzaa, Chanukah, New Year, and a dozen small yet significant events and celebrations that inspire a flurry of activity in business and customers' personal lives.
No-Code Email Template Builder
With Postcards you can create and edit email templates online without any coding skills! Includes more than 100 components to help you create custom emails templates faster than ever before.
Try Free
Other Products
Sales, shopping, family gatherings, school holidays, baking, and seasonal changes – if your brand remembers that we are in it together and therefore commits to customers and community, it will undoubtedly thrive. Consider this list of holidays and events that are perfect excuses for getting closer to your target audience and running prolific email marketing campaigns.
National Pie Day (Dec. 1)
National Christmas Lights Day (Dec. 1)
World AIDS Day (Dec. 1)
International Day for the Abolition of Slavery (Dec. 2)
International Day of Persons with Disabilities (Dec. 3)
Santa's List Day (Dec. 4)
Wildlife Conservation Day (Dec. 4)
National Sock Day (Dec. 4)
National Cookie Day (Dec. 4)
International Volunteer Day (Dec. 5)
St. Nicholas Day (Dec. 6)
National Pastry Day (Dec. 9)
Techno Day (Dec. 9)
Human Rights Day (Dec. 10)
Gingerbread House Day (Dec. 12)
National Ice Cream and Cocoa Day (Dec. 13)
International Tea Day (Dec. 15)
National Ugly Christmas Sweater Day (third Friday)
Go Caroling Day (Dec. 20)
International Human Solidarity Day (Dec. 20)
Day of Winter Solstice (Dec. 22)
Festivus (Dec. 23)
Christmas Eve (Dec. 24)
Christmas Day (Dec. 25)
Boxing Day (Dec. 26)
Kwanzaa (Dec. 26)
National Thank You Note Day (Dec. 26)
New Year's Eve (Dec. 31)
There are many holidays to take part in. For instance, brands may go for "delicious" opportunities and celebrate National Pie Day or International Tea Day by sending helpful emails with recipes and tips. On the other hand, they may raise awareness of some burning issues on International Day of Persons with Disabilities, International Human Solidarity Day, and Human Rights Day.
There are many neutral marketing tactics and campaigns as well, including:
Celebrate the first day of winter
Promote the new winter collection
Run a holiday giveaway
Take customers behind the scenes by sending congratulations from the team
Let's consider some other good ideas and time-proven email marketing tactics run by companies in the last month of the year.

High-Converting Email Ideas to Exploit in December
December is a month of celebrations, festive vibes, and holidays. In marketing, everything is not a bed of roses. Entrepreneurs face the aftermath of Black Friday and Cyber Monday, during which customers have bought everything they needed at discounted prices. Let's consider some ideas for converting those Black Friday buyers into repeat customers and leading them throughout the month until they convert at the peak sale season.
Saint Nicholas Day
Saint Nicholas Day might not be a widely-recognized holiday in the U.S., but it is undoubtedly a big deal in Europe. If your target market is located there, you should add this event to your marketing calendar.
Celebrated on Dec. 6 in Western Europe and Dec. 19 in Eastern Europe, this holiday is rich in festive vibes and gift-giving. It is an excellent opportunity to spread holiday joy and cheer to your subscribers early, preparing them for upcoming promotional eblasts.
Email marketers may adopt various strategies, from inviting subscribers to become part of this longstanding tradition to sending gift guides and ideas. They may also send discounts and special offers and implement loyalty member rewards.
Pre-Christmas Email Campaign
Do you know that consumers are more likely to start their holiday shopping before the end of November? If you miss that, the first days of December are the perfect time to jump on this bandwagon and help your subscribers find what they were looking for.
Early Christmas shopping deals are the best way to engage consumers and boost sales. It is also that part of the year when you can try a daily deals campaign that plays along with traditional counting before Christmas. If 24 days is too much for your brand or customers, you may go for 12 days of Christmas.
Christmas Day
Do you know that over 90% of Americans report celebrating Christmas? According to statistics, almost half of the world's population celebrates Christmas for religious, cultural, commercial, or other reasons. If you want to run just one campaign during December, it should be it.
The good news is that email marketers are spoilt with choices, from creating guides for decorating homes to giving gifts and discounts. Consider four popular options that never get old and always generate conversions.
Guides for Christmas Decorations
The reasons behind people decorating their homes for Christmas are engraved in psychology. We hope to recreate the magic and joy of the holiday season, which we once experienced during childhood. Decorations are all part of capturing that old, much-needed spark. On top of that, we turn longstanding family habits into annual rituals to become an integral part of traditions passed down through generations. It is here where email marketers may meet this craving and make this emotional trigger work for their business.
Creating guides and sharing tips for dressing up homes, rooms, and even offices with festive vibes for Christmas is an excellent idea for an email campaign in early December. Help your customers show their style, instill pride in ownership, and add warmth and a cozy feeling to the environment inside. This will build strong relationships with the brand and make customers more open to your upcoming emails.

Delicious Ideas for Yummy Eats
Decorating homes for Christmas is not the only tradition many adopt during December. Hot chocolate and gingerbread houses, cookies and pumpkin pies, and delicious roasted root vegetables, mashed potatoes, and gravy – people love to cook and bake.
Although everyone has their beloved recipes, Christmas and New Year is the time to welcome something new. Plus, with so many "yummy" holidays on the way, creating email campaigns dedicated to meals and delicious food is a win-win solution.
Create a list of the beloved holiday meals, share tips on managing all tasks during a busy cooking week, give directions for the best local food suppliers, ask your subscribers to share their recipes, or run a contest. This way, you make your brand relatable to the holiday period.
Gift Ideas
Whether receiving or giving, whether buying for our friends or just us, we love gifts and the idea of wrapping and unwrapping them on holidays. December is perfect for playing on this people's obsession.
However, gift-centric emails are not that easy to nail. Everyone will run this type of campaign. To make your brand stand out, it is crucial to prioritize personalization and segmentation. Email marketers must inspect customers' purchasing history and analyze their preferences and behavior to find the best gift suggestions. Make your digital newsletter personal, like a gift you want on Christmas Day.

Christmas Offers and Gifts
Promotional Christmas emails are as much a part of the holiday shopping season as any carol. People expect brands to bombard them with special offers and discounts. However, it is important not to overdo it. Even though it is the biggest sales season, you may easily scare away customers by being too pushy and annoying.
For instance, take one step at a time. Along with cutting prices or giving away gift cards and presents, offer free shipping. You may also create personal discounts and send them with a thank you note.
To amplify the effect, use personalization and introduce interactive features with a gamified experience. Go for Postcards email builder, with its regularly updated collection of email templates, to create the best promotional Christmas email design for your target audience.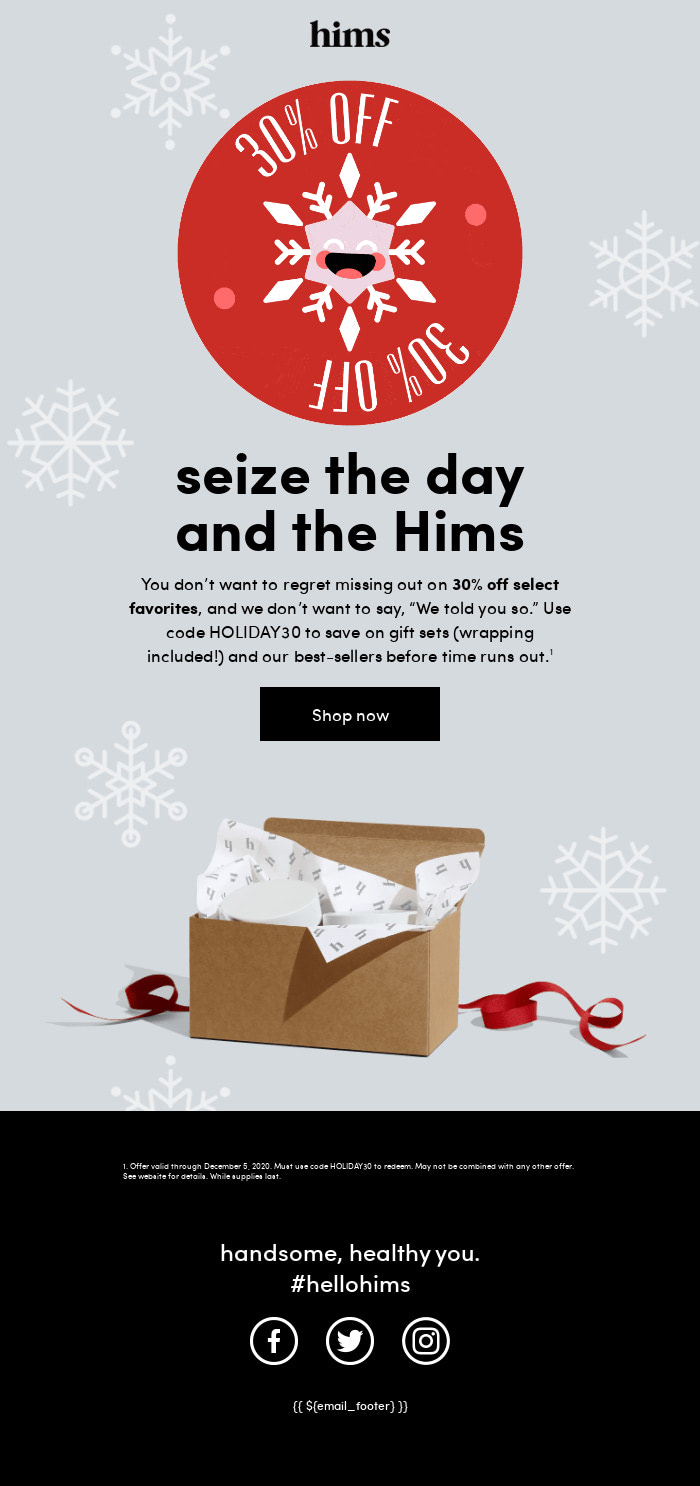 New Year's Eve
New Year's Eve email campaigns are a final chance to hit sales targets. Generally, people are in a festive mood and looking forward to the end of the year. So, email marketers do not need to prepare the ground or break the ice.
However, this does not mean any newsletter will do the trick. When Christmas shopping is done and everyone is enjoying themselves at family gatherings and parties, it is hard to compel customers to buy more. Therefore, email marketers need to play smart.
One of the best ways to run New Year's Eve campaigns is to send a heartfelt thank you email to the most loyal customers. Happy New Year wishes go a long way: they positively impact customer's perception of the brand.
Those who want to run a promotional email campaign have several reliable options. First, they can combine Christmas and New Year newsletters that go together perfectly. Second, they can capitalize on a tradition of making New Year's resolutions and offer a discount or promotional code for the next month. Finally, they can identify selling positions that customers are continually checking out near the end of the holiday season and offer them what they are looking for with a discount.
The thing to remember when running such campaigns is to be more personal and avoid being too pushy.

At the end of the year, we are all taking a moment to reflect on the past 12 months.
For email marketers, this is an excellent opportunity to connect with customers personally, cement relationships, and leave a positive impression. Brands take different approaches to summarizing highlights from the previous year.
Some of them celebrate customers and their achievements. Since people do not just love to reminisce but also read about themselves and see the fruits of their collaboration with the brand, this type of campaign works well. Email marketers make customers feel a part of something big, highlight their importance, and celebrate their achievements.
Another way to pull off this campaign is to focus on the brand and its product. Email marketers recap everything concerning the company during the year. This way, they strengthen confidence in their business, reinforce brand identity, and prove to customers that they have made the right decision to stay with them.
Whatever option you choose, meeting your target audience's needs and expectations is crucial. You may add an offer or special discount, but play smart. Always prioritize your customer's interests and put them at the heart of the campaign, even when you praise your company and product.

Thank You Note
A simple "Thank you" goes a long way, especially during December, a month of heartwarming greetings and celebrations. As the year ends, it is the perfect time to show gratitude to loyal customers and subscribers. If you cannot afford gift-giving or discounts, sending a letter of gratitude with a "Thank you" email message is the only option to close this year positively. It is appropriate and fits well with the holiday spirit.
Thank subscribers for everything you find important: their patronage, purchases, event participation, and just visiting your website. Add a CEO message and signature, or share a behind-the-scenes team photo. Not only can you nurture your loyal fans, but you might also prompt a lapsing customer to come back and check out your company and products again.
When running this email campaign, try to use an eye-catching design that holds on Christmas cheer and celebrates your customers.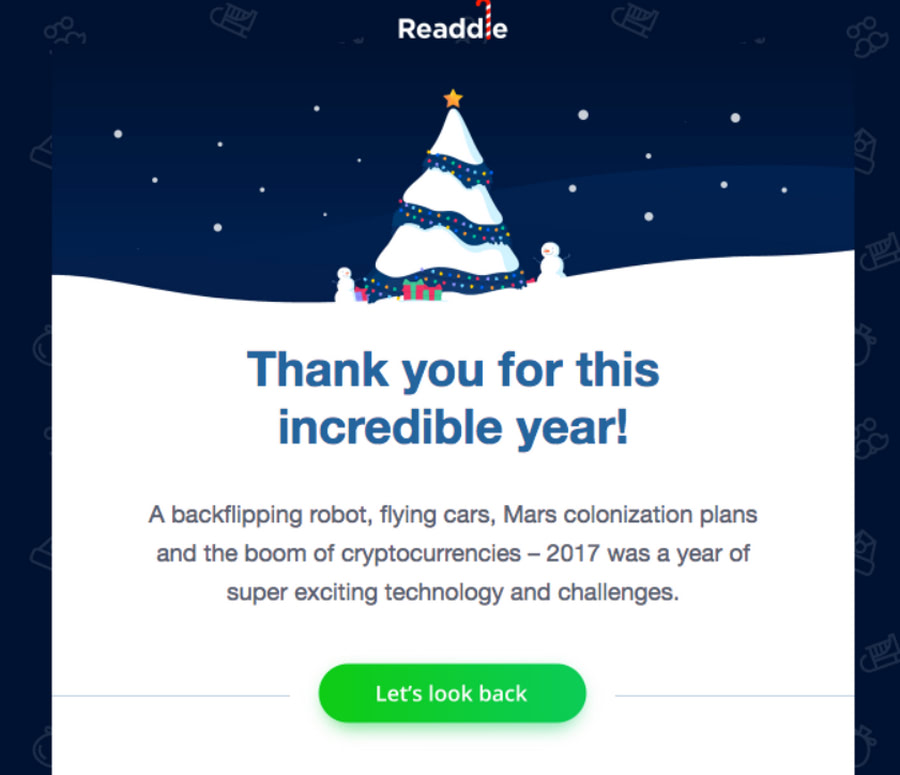 The importance of a good subject line is obvious. Most importantly, it convinces the recipient that the email contains information that will deliver value to them or improve their lives. So, it is worth opening. It also creates much-needed anticipation, separates email from others in overcrowded inboxes, and underlies a foundation to drive engagement and increase conversions. Whatever campaign you have in mind, make sure you give a lot of thought to it.
When it comes to December, much like in November, all key events occur at the end of the month. However, there is a vast difference between the 11th and 12th months. The latter is all about celebrations from beginning to end. Everyone is in a festive mood and ready to spend their penny to buy presents, decorate their homes, prepare the best dinner ever, and spend quality time with family and friends.
The central theme of December is Christmas. Even though everyone will exploit it, you will not go wrong if you follow the mainstream because it is one of those holidays when everyone expects you to do that. However, you must practice wit, be original, and do your homework well to stand out. Take your time to do proper segmentation. Make every newsletter personal, including the subject line.
Check out our collection of December slogans and headlines to align the body copy with the holiday campaign and use hashtags to benefit from the power hidden inside social media.
December Slogans and Headlines
For email marketers, December is a challenging period since it is during a peak busy season on top of being the end of the year. Customers have a ton going on. However, if you have a great set of subject lines and headlines, you can cut through the noise, meet customers' expectations, and get the most out of the year's final month. Here are a few tips to nail December headlines.
Instill a festive vibe. Have fun with holiday marketing slogans or employ rhyming taglines from beloved melodies, tunes, and movies.
Stay true to the event. Select a headline that perfectly describes it. On National Cookie Day, mention sweet treats. For International Day of Persons with Disabilities, raise awareness and support the community.
Add emotions. Convey a proper gamut of emotions and set everyone in the mood.
Employ traditional holiday greetings.
Let's consider some good examples for inspiration.
Rhyming taglines will undoubtedly evoke some positive emotions:
Oh, what fun!
Ho-ho-ho Holiday Décor!
Keep calm and merry on!
I HO! HO! HOpe your holidays are filled with fun!
Go dashing through the deals!
By golly, be jolly!
Silent night… yeah right!
It's starting to feel a lot like Christmas
Make it a jolly holiday with these sale prices.
Christmas spirits are on sale now.
Deck the halls with these savings
Holiday greetings and messages perfectly fit into the festive atmosphere:
Happy holidays! Wishing you all the joy, peace, and love.
Happy Holidays! From our crew to yours.
Santa Claus has the right idea: visit people only once a year!
Be the World's best St. Nick with just one click!
It's time to get festive!
Get a Holiday Ready.
A time for giving and sharing with friends and family!
Make someone's Christmas special with our product!
Sleigh your Christmas list with these last-minute gifts
Give yourself something you really want this New Year!
Beat the holiday rush with these tips
Gifts to Jumpstart the New Year!
Winter headlines for every occasion:
Make it a December to Remember!
Introducing Our New Winter Collection
Feeling a chill? This sale is heating things up
Together, we did a lot this year.
Cozy up with new arrivals
Winter Wonderland is calling
Beat the chill with these discounts

From festive Instagram hashtags to weather-related ones, December is a prolific period for teaming together email and social media marketing. Even used in digital newsletter body copy, hashtag gives your business a valid chance to expand your campaign above the email channel, increase visibility, reach social media users, and generate new leads and extra conversions.
However, please do not overdo it. As specialists suggest, use 2-3 hashtags throughout the content. On top of that, do not use only the most popular hashtags. They are highly competitive. Use a variety to cut through the noise and make an impact. Consider these popular December hashtags:
#advent, #blizzard, #boxingday, #chanukah, #christmas, #christmas2023, #christmascheer, #christmaseve, #christmasiscoming, #christmasmagic, #christmasmood, #christmasseason, #christmasspirit, #decemberholidays, #decembertoremember, #disabilityday, #fatherchristmas, #festivus, #frosty, #gingerbreadhouseday, #happyholidays, #happynewyear, #hellodecember, #holidayseason, #humanrightsday, #jinglebells, #lovewinter, #marrychristmas, #nationalcookieday, #newyearsparty, #noel, #presents, #santaclaus, #santaclausiscoming, #snowfall, #snowy, #stnicholas, #stnicholasday, #teaday, #wintersolstice, #yule.
December Subject Lines
December requires email marketers to consider the audience and what matters to them. It also demands respect for their customs and traditions and not wasting their precious time. Therefore, it is recommended to define the message immediately. Customers do not have time for guessing.
It also helps to demonstrate value and stay in the holiday spirit. Everyone expects festive vibes, so do not disappoint them.
Another good recommendation is to pique interest because there is no time for lingering in December. Customers' inboxes are overfilled with digital correspondence. Your pitch must drive engagement and arouse curiosity.
If you struggle to get creative, try leveraging emojis. They are perfect for adding a festive vibe, delivering the message with emotions, and drawing overall attention with some hilarious or heartwarming graphics. You will not go wrong employing one or two of these popular December emojis:
❄️🌨️ 🤾‍♀️ 🎄 🧥🧣 🎁 ☃️ 🍪🥛 🎅🎉 🤶 👩‍👧‍👧 🥊📆📦💳 🌃✨ 🥂🎇 🥧 🫚🍪 🧦 🌲 2️⃣5️⃣👼 🕯⛪ 🎊 🕺 🧝 🪄 🧁 🍵 🎿 🌓🌗 🍾
December is the first month of winter, so you may deploy this theme in subject lines as well. Go for cold, chill, snow, winter blues, staying cozy, and warming up.
Check out this list of December subject lines:
Melt the snow with up to 30% off
Winter faves for you ❄️
Snuggle up with savings
Beat the winter blues with 30% off
50% off to brighten your day
A sunny sale to help your winter blues
Curl up with some tea and shop online
Say hello to winter with new styles 👋
Winter is here! Time to layer up
Uncover the Winter Wonderland secret
Discover the hottest winter trends.
Discover the ultimate December survival guide
Snowflakes falling & cocoa calling 🌨️🍫
Free Presents Inside.
😌 Thank you for this incredible year!
Count on us for all your shopping needs this Christmas
Order last-minute gifts by December 22
It's the Most Wonderful

Time

Meal of the Year.
"New Year, New Gear"
Give yourself a fresh start this year.
Ring in the New Year with us!

Key Traits of December Email Design
Color
Cool, clear, and bright – winter is nothing but a delightful mixture of primary solid colors that sharply contrast background and foreground elements. Primary colors are usually cold, with blue undertones and lots of white. All shades of smoke grey, dark purple, pale pink, and petroleum green are perfect for the season.
December is not just a regular winter month. Christmas and New Year are known for their warm, almost hot atmosphere. Vibrant festive celebrations change everything, including the color choice. Therefore, apart from the traditional cool bluish palette, you may adopt festive tones like red, gold, green, silver, and chocolaty brown that naturally get that holiday spirit going.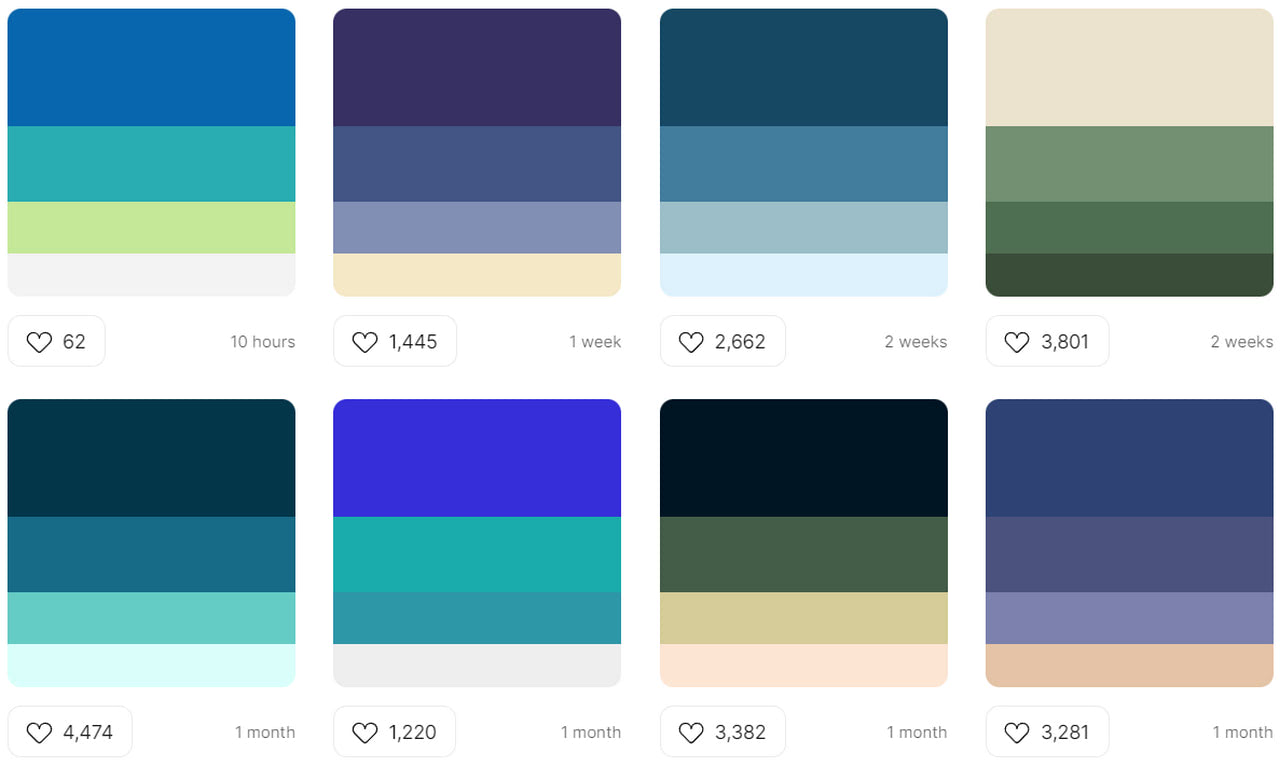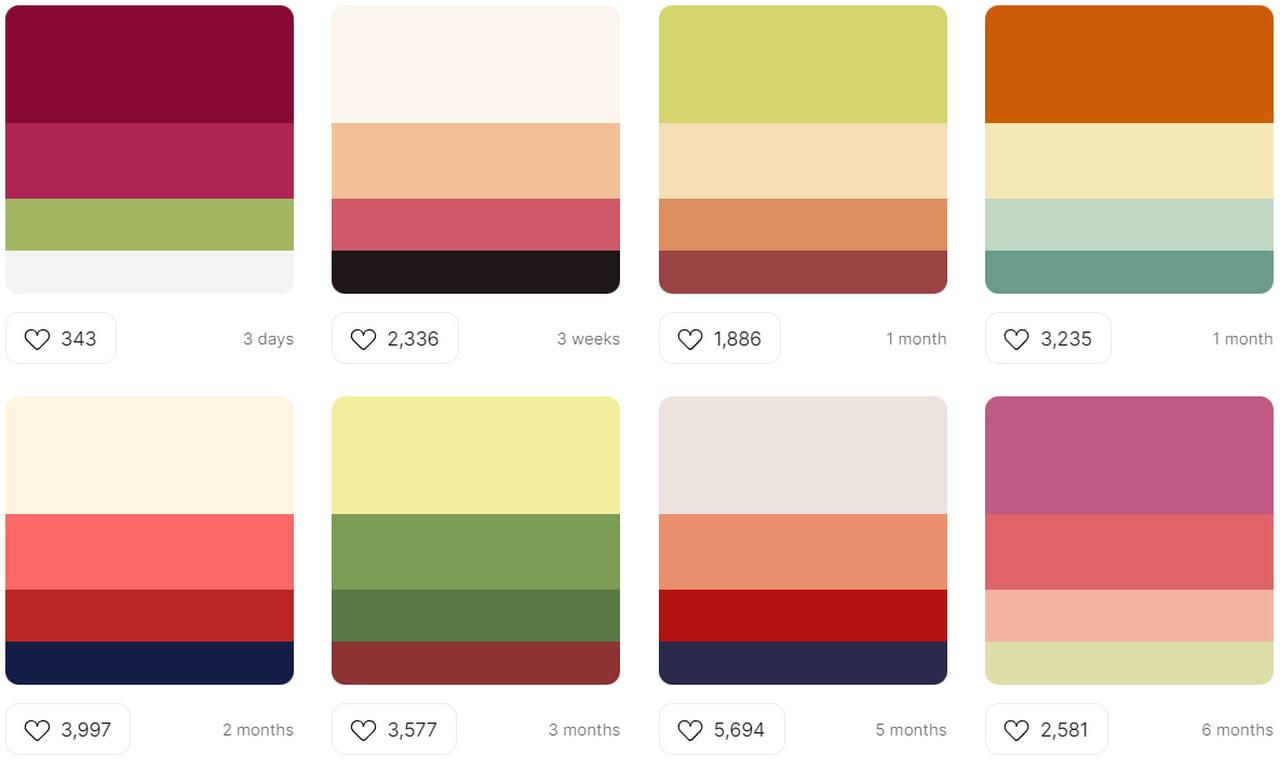 Typography
December typography is primarily influenced by the holiday season and winter motifs. Remember "Frozen" and its iconic icy typeface? This concept can help you achieve a truly winter vibe. However, if you do not want a custom font, you may adopt some neutral typefaces with sharp letterforms.
As for the holiday fonts, they are festive, decorative, and original. They give off much energy, communicate the holiday message, and bring up fond memories. Some of them have strong roots in hand-lettering, while others go for imitating a lace-like appearance. Some bring about playful and carefree scenes with their swirls and swoops.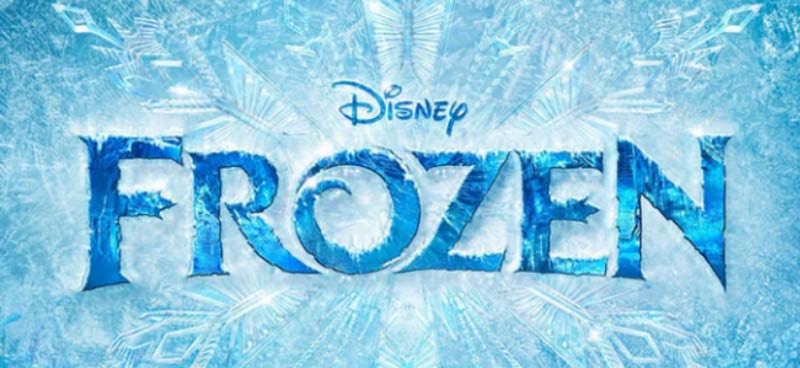 Motifs
The choice of visuals and motifs for the December email design largely depends on the campaign's type of event and theme. Suppose you target some serious events like International Day for the Abolition of Slavery, International Day of Persons with Disabilities, and Human Rights Day. In that case, they must capture the spirit of this day of reflection and awareness.
If you create a Christmas newsletter, images and illustrations with a heartwarming feel are preferable. You may employ festive patterns, textures, icons, and decorations that establish a proper atmosphere. The typical elements are snowman, wreath, mistletoe, Christmas tree, stockings, candy canes, cookies, hot chocolate, champagne, and fireworks.
Those who want to celebrate the first month of the cold season may benefit from photography that reveals the beauty of a winter wonderland filled with ice and snow. Alternatively, they may use pictures that depict a warm and cozy indoor atmosphere.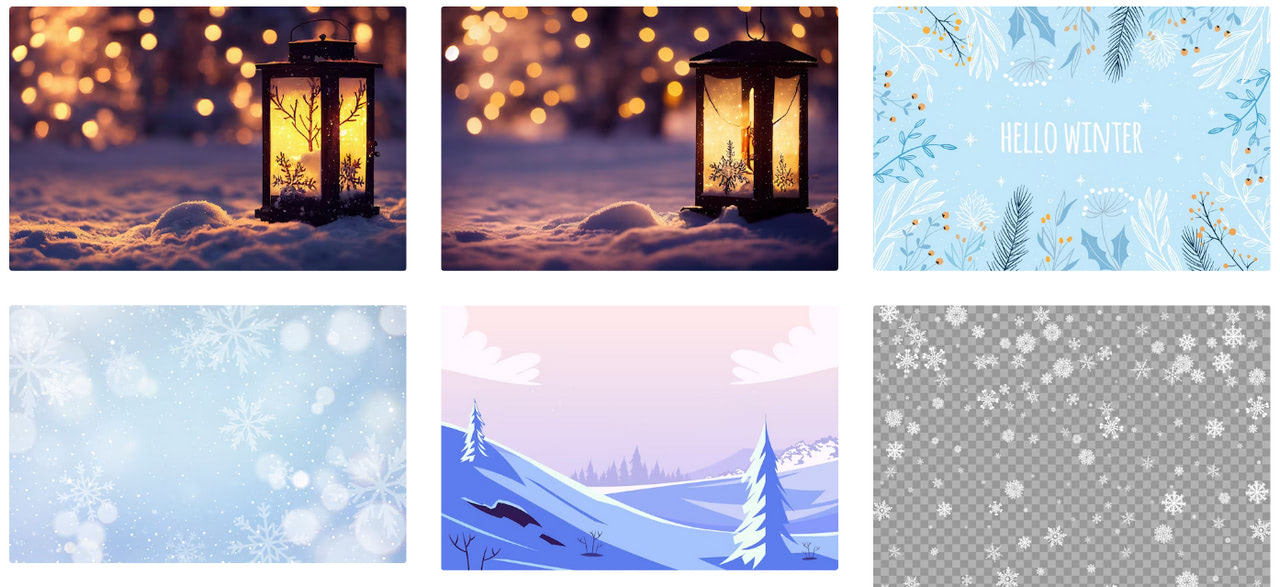 Email from Supergoop

We start our collection of December email newsletter examples with an example from Supergoop. What makes it so unique is that it is a representative example of digital blasts that do not implement a "cozy" theme. If you feel like your products do not fit this widely-used topic, you may adopt the approach by Supergoop.
The team has followed the winter theme by recreating a snowy atmosphere in the hero area. However, they put a creative spin on it. Instead of a real photo, they used a photoshopped picture with a bokeh effect. The latter naturally adds a touch of magic to the design and hints about the upcoming holidays.
As for the rest of the email, it is pretty basic. It demonstrates the best products with a call-to-action button and ends with some perks that customers should appreciate, like free shipping or an invitation to join the reward program.
Supergoop's approach to December newsletters is simple yet effective. Everyone can follow their example and ensure their products feel timely and relevant to the period.
Email from A-Dam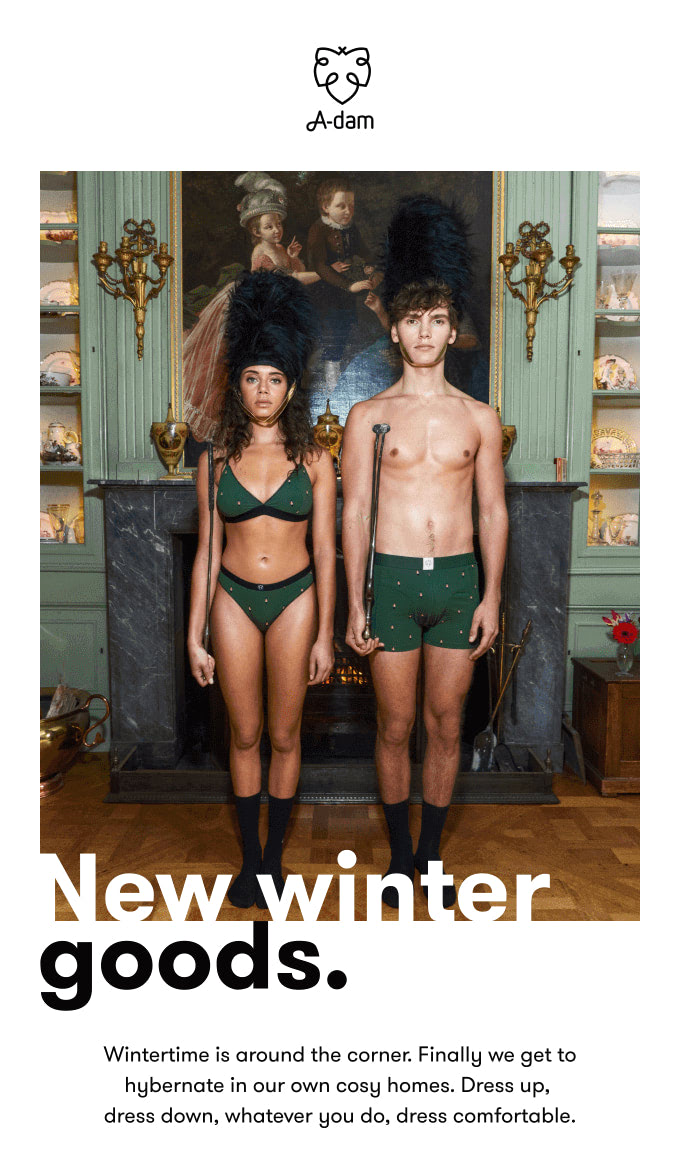 In a follow-up to the previous example, if you seek some valid ideas for creating email campaigns at the beginning of December, you should undoubtedly check out the email from A-Dam.
Their team knows perfectly well that the last month of the year is not only all about Christmas and New Year. It is also the official start of the cold season, so the time has come to introduce a new winter collection to the customers. While other brands try to generate conversions with discounts for old stuff, you will break a new day with fresh goods.
A-Dam shows how it must be done to drive engagement and generate conversions. They stay true to their brand identity and ditch everything concerning festive themes. The only thing that hints at the cold season are products and copy. As a result, the newsletter feels refreshing, and one-of-a-kind in the mailbox overfilled with celebratory messages.
Email from AllTrails

Another proven way to stay away from a Christmassy theme but play along with the period is to run a "Year in Review" campaign. People love talking about themselves and their achievements, so why not meet their inner desire and, at the same time, unobtrusively promote the brand's product and strengthen the company's position?
This email from AllTrails is an excellent example of how it should be done to focus everyone's attention on the brand and praise customers for their collaboration and hard work during the year.
Note the language here. You might see that the team uses "we," making subscribers feel an integral part of the group. This also extrapolates the brand's achievements to the person, making them an integral contributor and a part of something big and vital. A sense of belonging is a powerful thing that tugs on the heartstrings.
Another key feature is a thank you note at the end. It produces a long-lasting impression. Finally, you might have also noticed that the team does not promote the brand openly but constantly mentions it in the context of customers. This is a great strategy to reinforce relationships with subscribers and underpin a foundation for upcoming sales emails.
Email from Vacasa

While you may avoid the holiday theme for a while regarding winter and its chill breath, you cannot resist its presence unless you are in Miami or somewhere in a warm climate. For the Northern Hemisphere, December is about cold weather intertwining with customers' lifestyles.
It is a perfect excuse to run a promo campaign if you have products that help fight cold outside or make indoor life cozy. If not, there are still ways to play with a winter theme. Check out the Email from Vacasa.
It celebrates winter wonderland and cleverly promotes winter vacation. The team capitalizes on coziness, comfort, and relaxation. At the end of the busy year, everyone looks forward to well-deserved rest. The team certainly hits the right chord. Follow their example and try to find a way to show your audience how your products may help them during cold, snowy days.
Email from Fitbit

Our collection of December email examples would not be complete without festive blasts. After all, Christmas and New Year are some of the biggest and much-anticipated holidays in the year. People of all ages eagerly await them, so many brands center their marketing campaigns around them.
We are going to showcase several examples. Fitbit provides the first. The key feature of the Christmas newsletter is that it does not scream out festivities on all fronts. There are no holiday decorations or images; the coloring is also standard.
The only thing that betrays the theme is an ingenious headline, "Go dashing through the deals," and the subject line, "Holiday deals are here." However, this is enough to make products relevant to the period and compel readers to visit the website for more fantastic deals.
Email from Francis Lofts and Bunks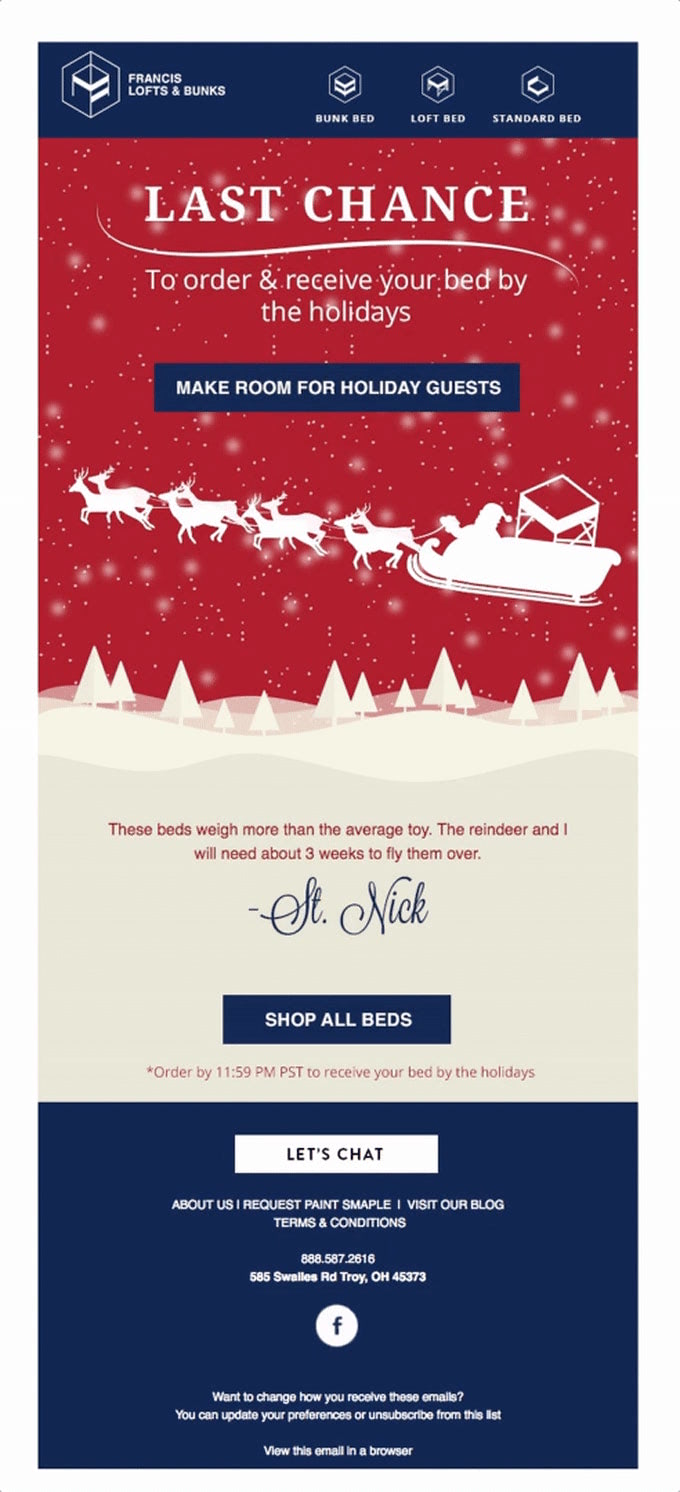 The email from Francis Lofts and Bunks is excellent inspiration for those who want to dive into the Christmas theme headlong. From the Christmas scene that welcomes subscribers to the festive language, it is a whole bag of St. Nicholas gifts.
The email design instantly puts everyone into the mood and reminds us why December is the most wonderful time of the year. The magic of Christmas that wipes out all troubles away, at least for one day, drives engagement and generates traffic to the website with some quality leads on the way.
Note that the email is compact but increasingly impressive and does its job perfectly.
Email from Wizarding World

Emails with gift guides are increasingly popular among brands across all niches. The best part is that you may start early with this type of campaign, setting everyone in a festive mood and preparing the ground for promotional emails later. Email from Wizarding World is an excellent example to get valid hints. Let's break it into pieces.
The team runs those campaigns in November, standing out from the emails with Black Friday notifications.
With a strong subject line, the team catches overall attention and provides value to those who have only started their holiday shopping.
The email design perfectly echoes the holiday theme. There is a fantastic Christmas scene, typography, and festive decorations – everything feels magical.
The team uses interactive features and dynamic effects to amplify the magical atmosphere.
They have chosen only the most popular goods relevant to the event, providing customers with some excellent options for presents.
Lots of work has been done here. However, it is the only way to fight through overcrowded mailboxes, drum up interest, and generate traffic during the biggest sale season.
Conclusion
There is no shortage of things to celebrate during December for people of all ages. From National Pie Day to International Human Solidarity Day to International Day for the Abolition of Slavery, to say nothing about huge events like Christmas and New Year.
Indeed, the 12th month is rich in activities and events: sales, shopping, family gatherings, parties, school holidays, baking, and seasonal changes. People are getting extremely busy during this period. However, this does not mean you cannot pull off several email campaigns to cut through this noise and reach your sales targets.
When planning email marketing campaigns for December, it is crucial to remember that it marks the end of the biggest sale events, Black Friday and Cyber Monday, so customers can be exhausted. However, many good excuses exist to connect with target audiences, build loyalty, reinforce the brand identity, and generate conversions.
Brands must play smart and not miss the golden opportunities the last month of the year opens. Think-through email marketing calendar beforehand, do wholly-grained segmentation, and use professional instruments like the Postcards email builder to create relatable email designs. Start with winter-inspired campaigns to warm up your audience and end with Christmas blasts that make the end of the year one to remember for customers.
Like what you're reading? Subscribe to our top stories.