Examples of Magical Winter Email Newsletters with Tips & Tricks
Winter is a season of contrast. It welcomes entrepreneurs with one of the most profitable periods of the year then pours cold water over them in January which is notorious for economic stagnation. However, you can't just stop email marketing campaigns due to bad conditions.
To survive tough times, you need to be smart. There are periods to promote deals, and there are periods to benefit from non-promotional campaigns. Let's divide winter email campaigns into three groups and consider events that can serve as a good reason to send out newsletters to subscribers.
December
All you need to know about December is that it has Christmas. It is the biggest event in the winter and one of the most important ones in the email marketing calendar. For most, nothing compares to this beloved Yule holiday. During the first winter month, your email marketing strategy will be built around it.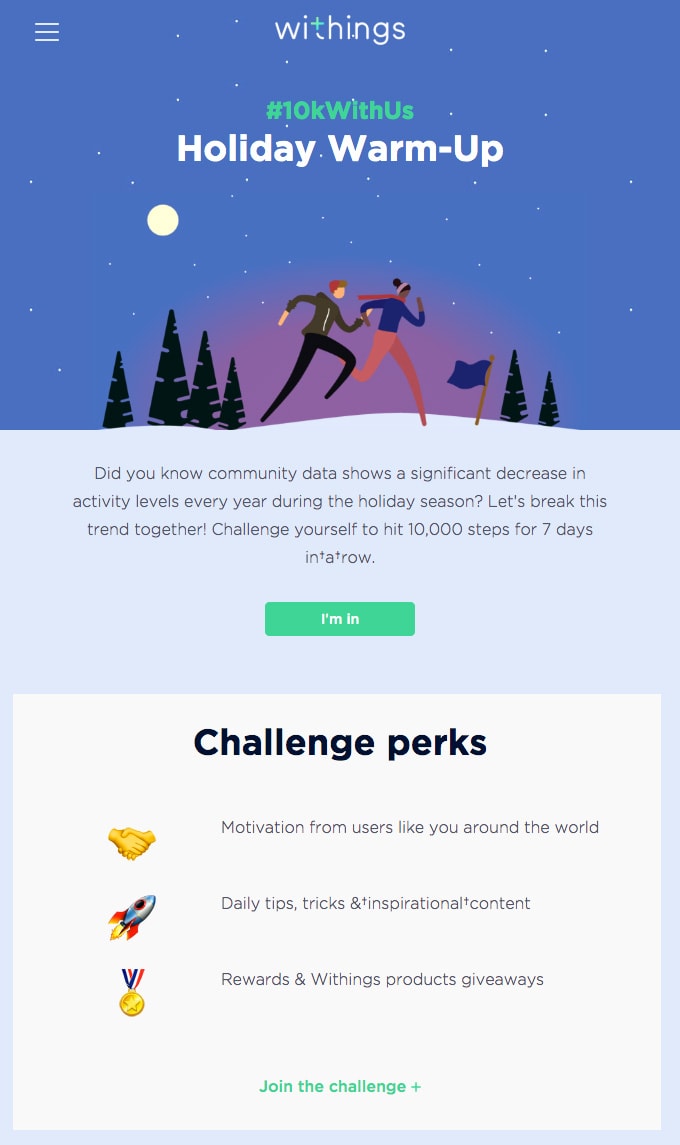 Winter Holidays
Let's consider four vital landmarks of the month that can be used to strengthen a Christmas email campaign.
BFCM Weekend
Although the weekend is at the end of November, it is a good practice to prolong sales for several days and even a week. Therefore, you can use this event to start December with extra revenue. To nail BFCM, check out our helpful guides:
No-Code Email Template Builder
With Postcards Email Builder you can create and edit email templates online without any coding skills! Includes more than 100 components to help you create custom emails templates faster than ever before.
Start Free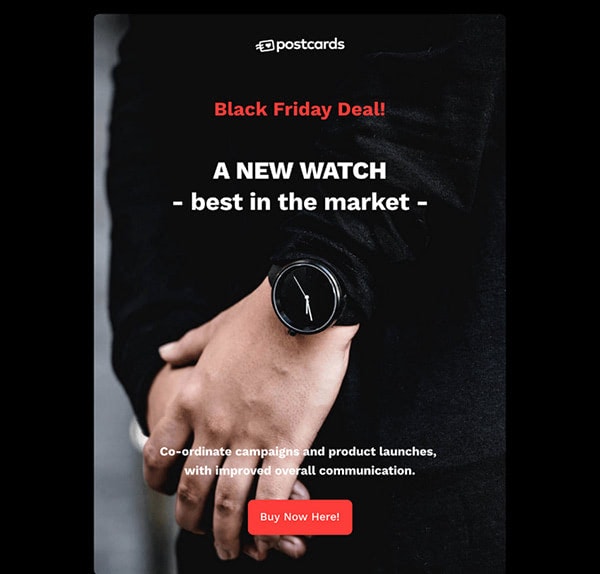 Free Black Friday HTML Email Newsletter Template
St. Nick's Day
It is a big event in Europe and a perfect occasion to treat subscribers who live there with exclusive deals or extra perks like free shipping. The feast is observed in early December in Western Christian countries and in the middle of the month in Eastern Christian countries.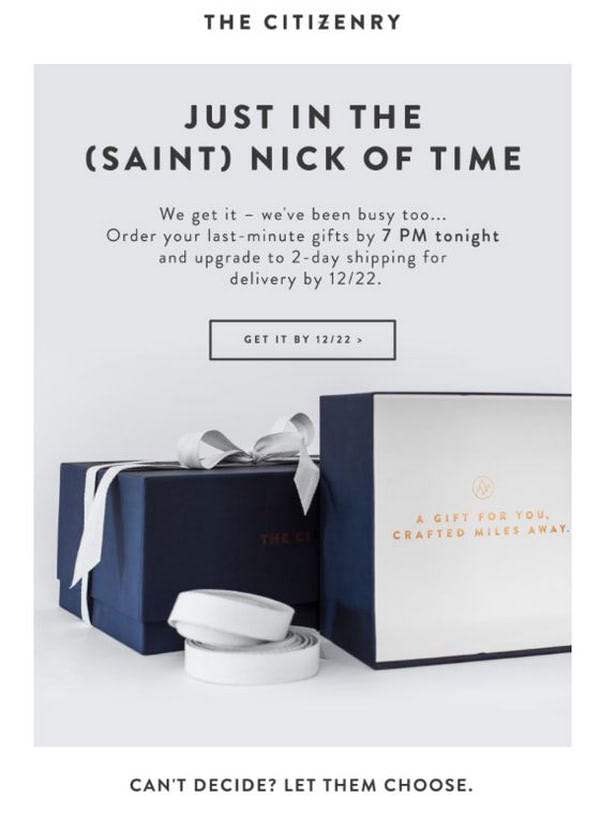 The citizenry holiday email
Christmas Day
This does not need any introduction: It is the biggest sales point and one of the beloved holidays. We have dedicated an entire guide to it. One thing to note here. Much like St. Nick's Day, Christmas might be observed at different times. Therefore, it gives you an opportunity to prolong your campaigns through Jan. 8.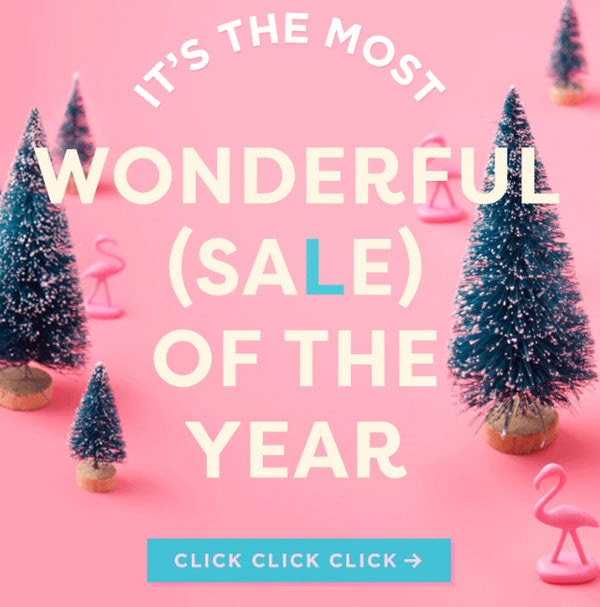 Christmas Email Newsletter
New Year
The New Year closes December with a lavish party. Whether you decide to prolong Christmas celebrations until January or not, New Year's email newsletters should always have a special place in your strategy. Although your customers' wallets will be almost empty, they won't miss an opportunity to congratulate friends and relatives with a feast.
Therefore, offer deals that will be tailored to their needs as well as budgets.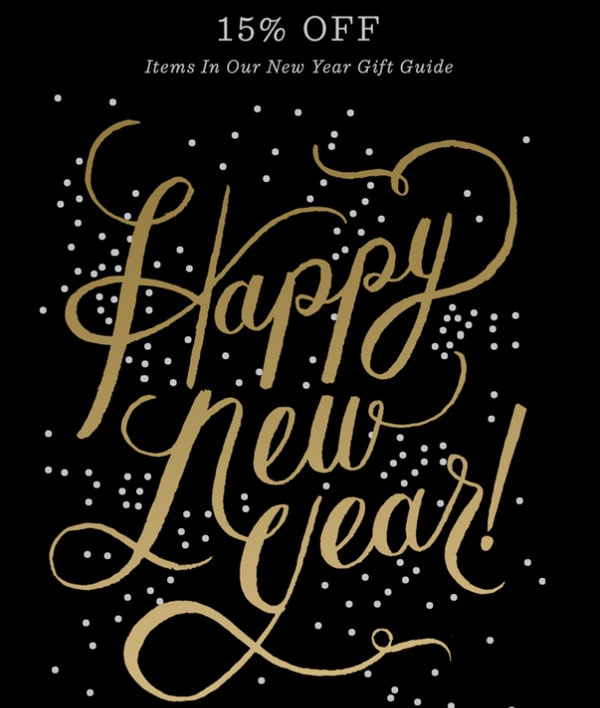 Happy New Year from Rifle Paper Co
January
It is safe to say that January is one of the toughest months for email marketers. It is that period when people are in no mood to spend money, simply because their wallets were emptied by Christmas shopping. However, it does not mean that you should drag yourself through a long January without any profit. Here are some ideas to help drive traffic, boost revenue, and even alleviate the agonies of your subscribers.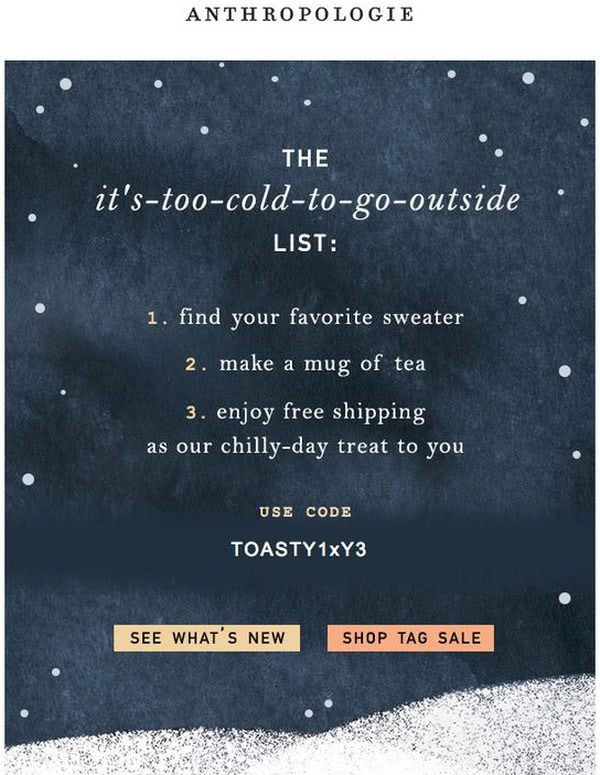 Email Newsletter from Anthropologie
Post New Year Celebrations
Prolonging festive celebrations is always a good idea and a perfect occasion to send out an email newsletter. Everyone loves holidays, extra discounts, and special offers. There is one catch. Although contacts will be in high spirits their current financial situation may not allow it.
Use this period for treating subscribers with valuable content. Focus on building strong relationships with your audience. If you can afford it, give something special away. For instance, it can be a coupon or even a small gift. After all, reciprocity never hurt anyone.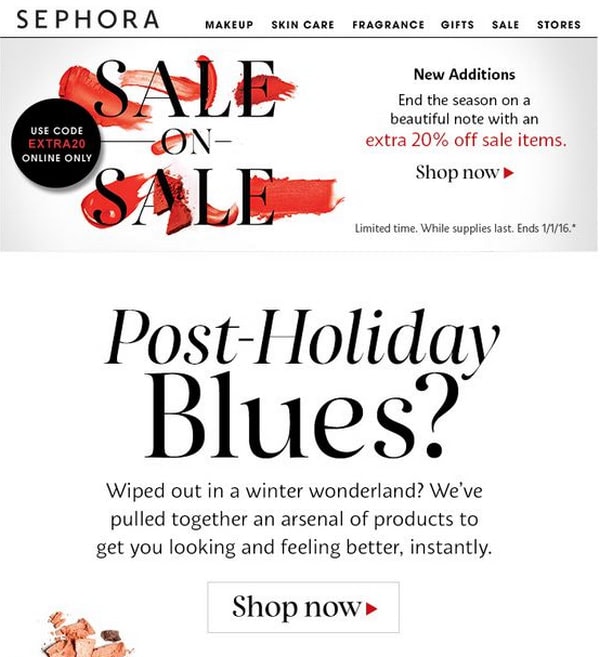 Email Newsletter from Sephora
Capitalize on New Year's Resolutions
The beginning of the year sees a massive craziness around New Year's resolutions. Many people take this phenomenon seriously. Some manage to kill bad habits and achieve new goals. It is a perfect time to send email newsletters that lend a helping hand to potential customers and support them and their goals.
Ask yourself what products will help clients succeed? What products can become a reward for their diligence? What content will motivate customers to proceed with their task? These email newsletters do not have to be commercial. Demonstrate your support to strengthen your relationships, and it will certainly pay back one day.
Capitalize on Blue Monday
Did you ever hear about "Blue Monday," aka the most depressing day of the year?
Some say this is pure nonsense, whereas others believe in it. The seasonal affective disorder is an opportunity to turn sadness into happiness with an email newsletter.
Use the third Monday of January to help customers and keep moving with their resolutions. Use humor, show empathy with a special discount, or offer a gift to lighten the mood. That will help not only to increase revenue but also add some extra bonuses to your overall marketing strategy.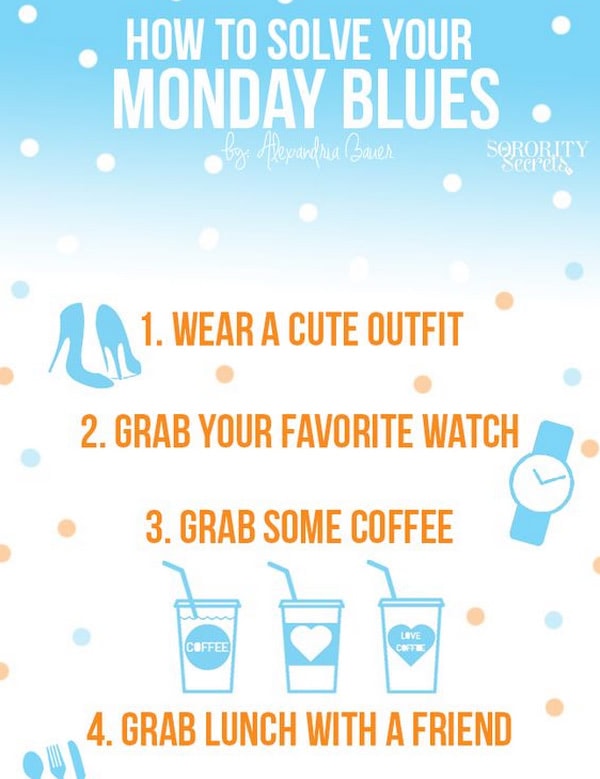 Email Newsletter from The Sorority Secrets
February
There is only one big day in February, and it is Valentine's Day. Although this holiday is not celebrated by everyone, it is certainly something. It is no longer associated only with loving couples; it is a festival for honoring love, friendship, and admiration. So what can you do?
Send out recommendations for getting the date night right. Include a list of restaurants, preferable dishes, apparel to put on, and what makeup to wear.
Include a gift guide. Roses and chocolate are not an answer to everything. Sometimes you should be more creative to impress loved ones. Provide contacts with some unique ideas tailored to their needs.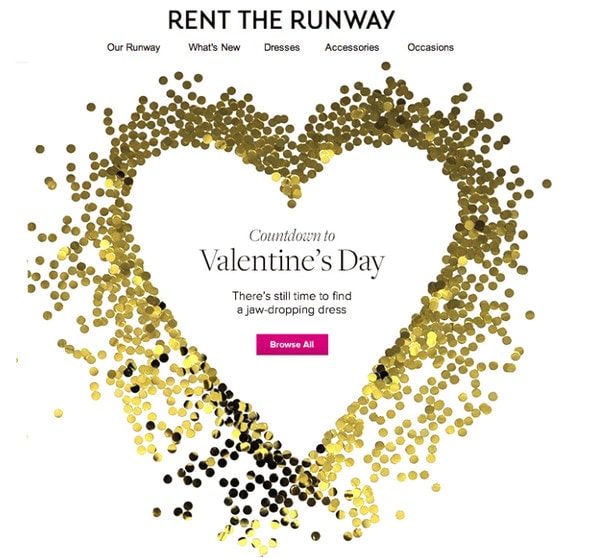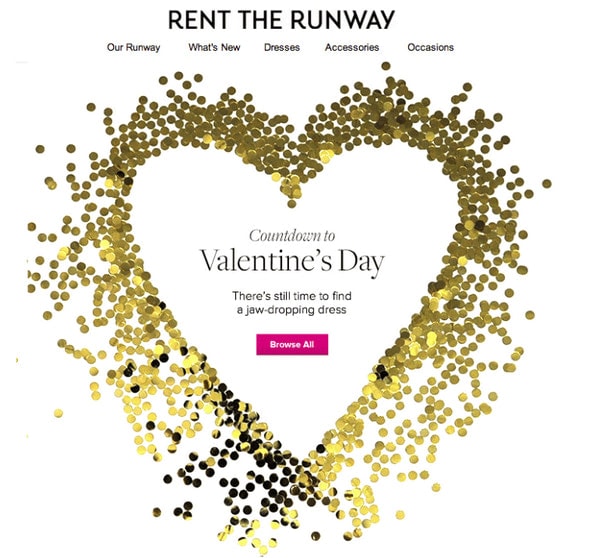 St. Valentine's Day Email Newsletter
February has some other aces in the hole. Treat contacts with some valuable email newsletters on Groundhog Day, Presidents' Day, and for the Super Bowl.
At the end of February, sending emails dedicated to spring, thereby warming up the audience with some sneak peeks of a new collection or extra discounts on the old one.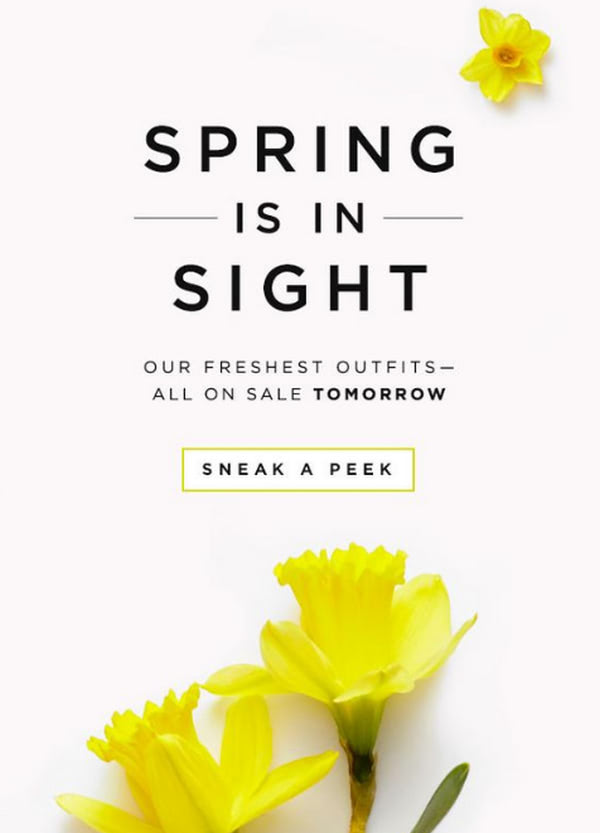 Spring is in Sight
Winter Email Design
Winter email newsletters are full of variety. Therefore, the design much depends on the event and theme.
For instance, if it is targeted at Christmas, you can use image backgrounds with fully decorated pine trees. For Valentine's Day, use an animated gif of a happy couple from the comic strip "Love is…". If it is a regular email with a one-day sale then you can go for a neutral design with winter coloring and motifs.
To seize all these opportunities and turn them into a profit, you need a tool to create templates quickly. It should be flexible, mobile-friendly, browser compatible, and easily integrated with various email services. For this, use Postcards.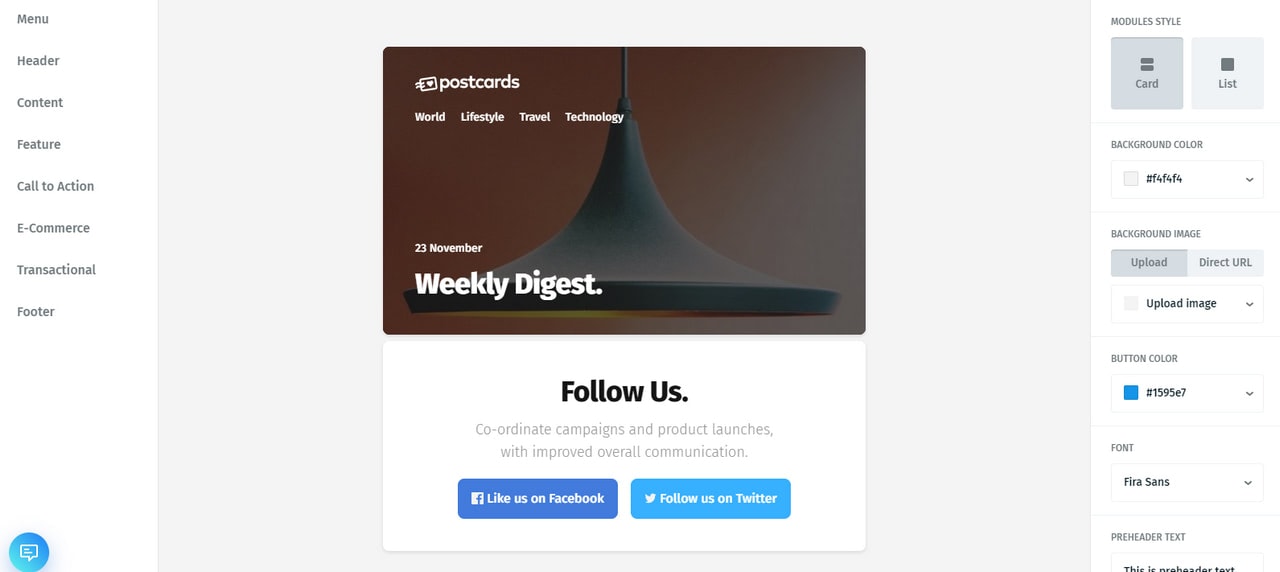 Postcards meets all these requirements and more. It is a powerful tool for building HTML email newsletters of various scale that does not require coding or design skills. Everything is already included. All you need to do is to drag the desired block into the playground, edit the visuals, and add your text. Simple and brilliant.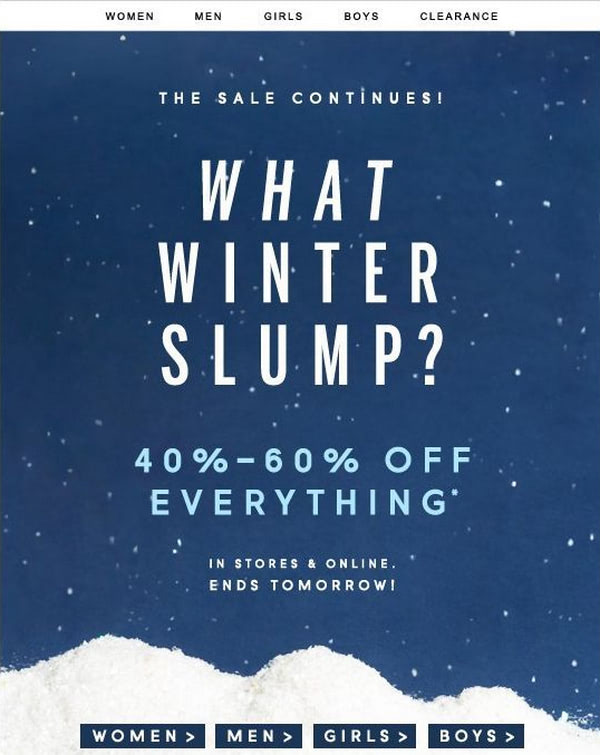 Winter Continues by J.Crew
Smartly titled "The Sale Continues," this winter email newsletter from J.Crew comes like a bolt from the blue sky winning over the audience, with a surprise and terrific deals. Even though the offer is time-sensitive — "Ends Tomorrow" — 40% to 60% off looks quite impressive, especially when Christmas sales are over.
As for the design, the team caught a magical aura of winter with a beautiful landscape. Everything is neat and clean. The deal is highlighted, and urgency is stressed. The email newsletter is simple yet undoubtedly effective.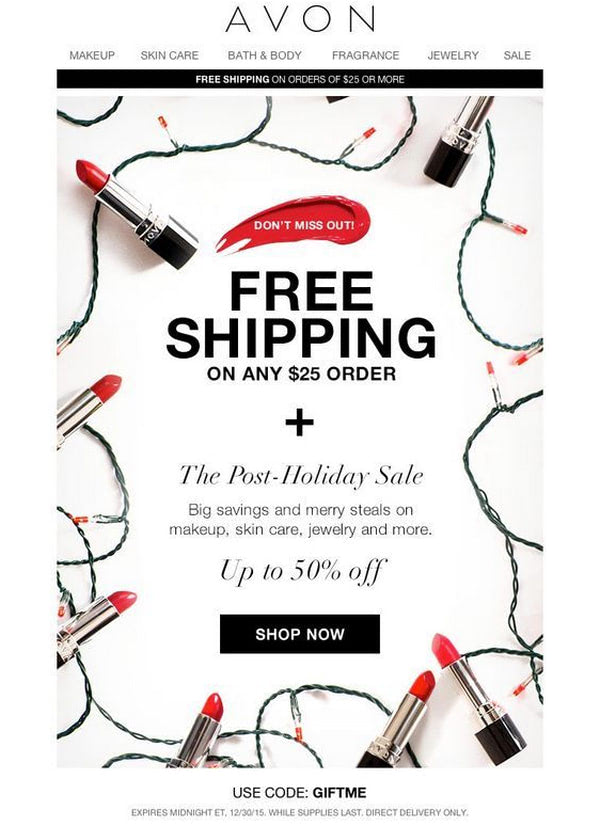 Post Holiday Sale by Avon
This is another excellent example of a giveaway email newsletter. Prolonging offers is a common practice that helps not just to catch subscribers who have missed the active sales window but also treat with some extra perks for those who have already made a purchase.
Note how Avon's team weaved their brand into the winter theme. They showed bestsellers with an enhanced visual identity. Brilliant.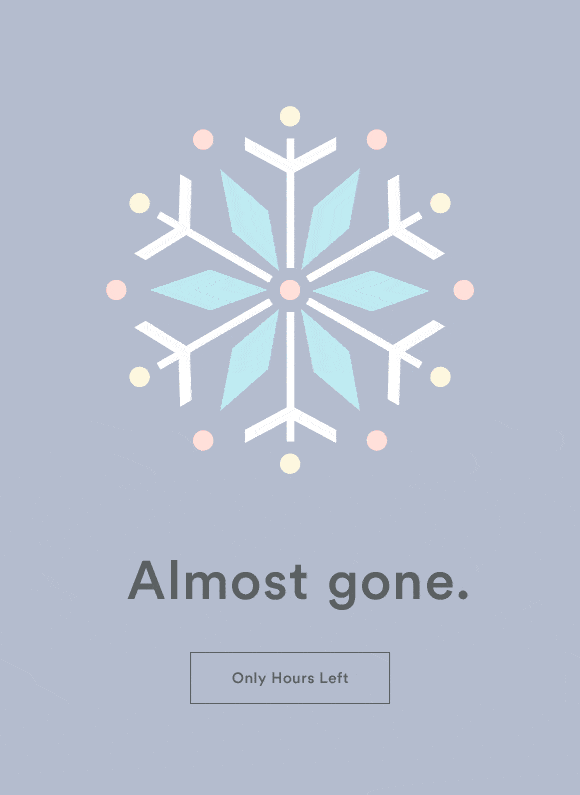 Almost Gone
The email newsletter "Almost Gone" is a perfect example of less is more. It includes only two elements: a big snowflake in motion and a prominent call-to-action button. Both are used to stress urgency. While the snowflake imitates the clock with disappearing hands, the CTA announces it out loud.
Thanks to pastel coloring, white space, and primitive shapes, the email newsletter does not overwhelm readers; it just passes on the necessary message.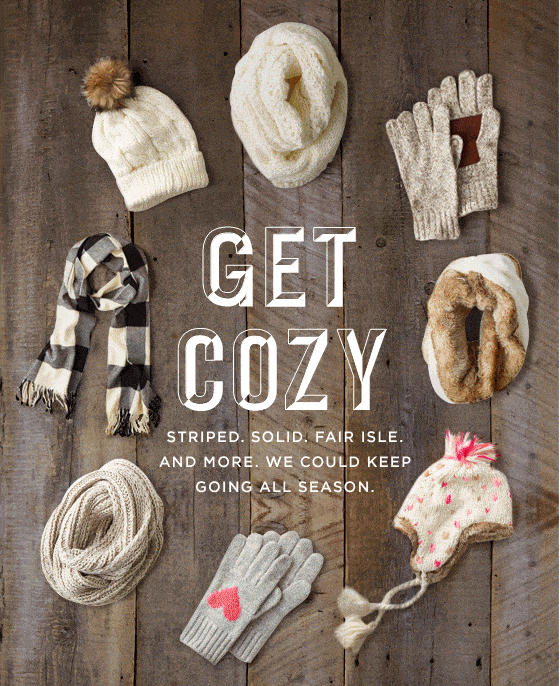 Get Cozy
The email newsletter from American Eagle Outfitters is focused on a new collection that is showed in an amusing and eye-catching manner. Here you can see winter accessories moving in a clockwise direction. This idea helps to direct attention toward the huge variety and imitate the timer. As a result, it lures potential clients in with brand-new things and creates a sense of urgency.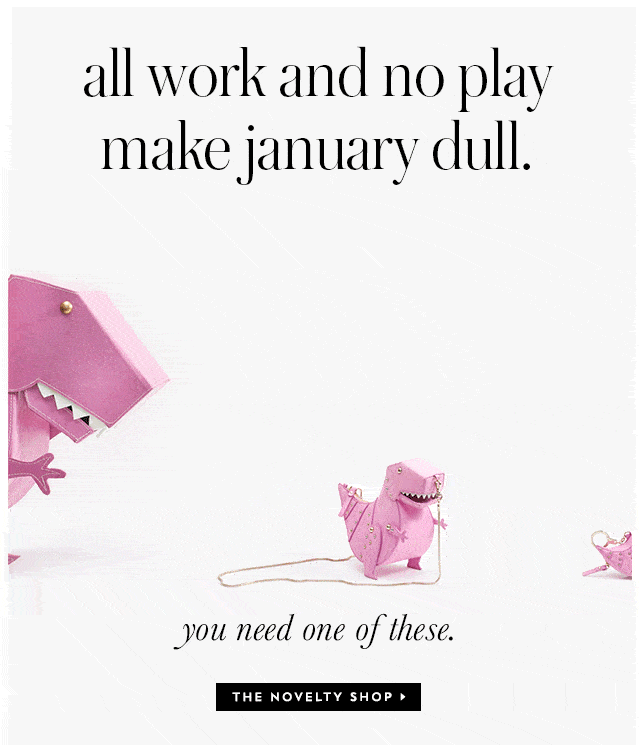 Novelty Shop
January can be a challenging month for subscribers and retailers. Therefore, cheer up both sides by creating an engaging email newsletter, like the team behind Novelty Shop.
Using a funny animated gif and some smart words, the team has lightened up the atmosphere and touted one of its popular goods. Note the colors here. In the midst of the winter season, you may feel sick and tired of everything white and blue. Therefore, bright tones may save the day, just like this beautiful pink color.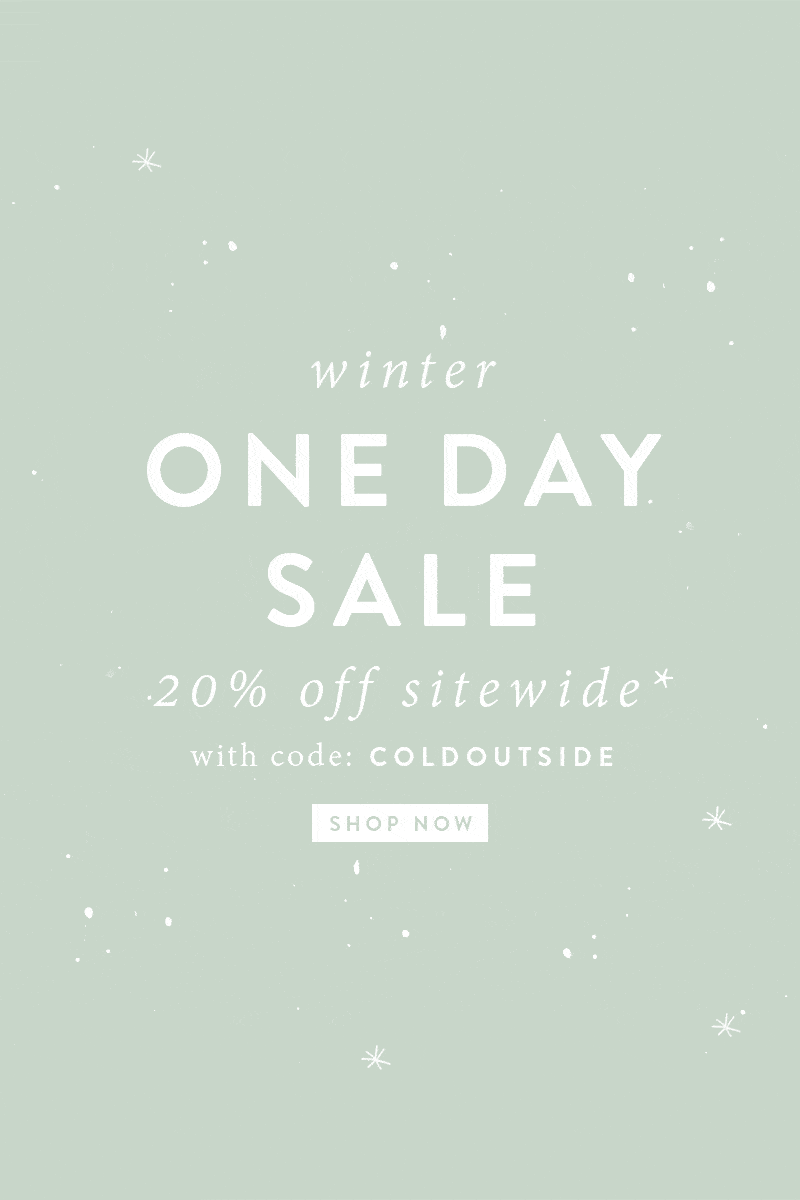 One-Day Sale
One-Day Sale is an ideal email marketing campaign for long, cold winter days, especially those that come in mid of January. Much like J.Crew, this one sticks to a beautiful, yet simple design where the wintery landscape does all the heavy lifting. The team also used an animated gif to spice things up.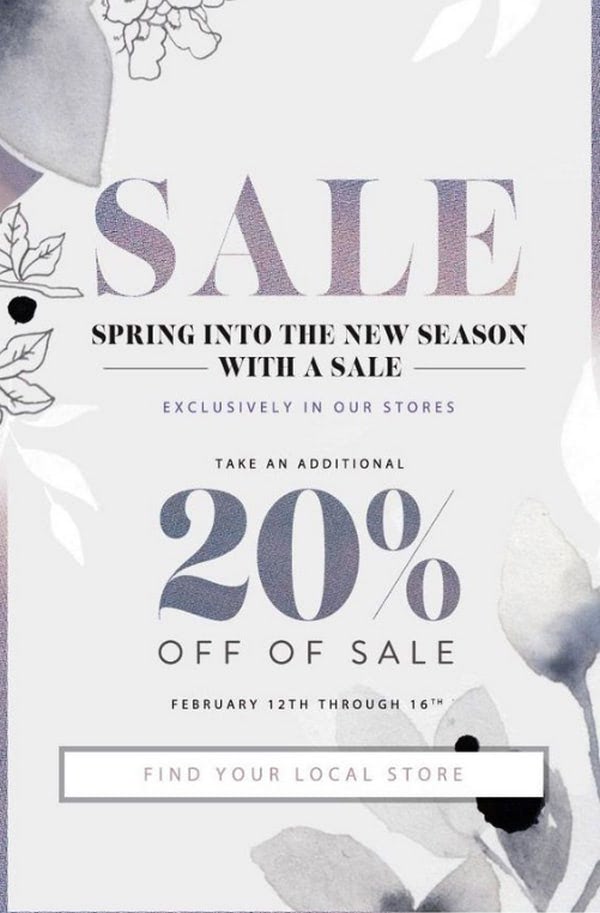 Pre-Spring Sale
Valentine's Day is not the only occasion in February to send out an email newsletter. Spring is coming. You can capitalize on that. Just take a look at this marvelous pre-spring sale blast that was sent in the middle of the month.
The design of the email newsletter is an absolute classic. Here the image background serves as a tool for establishing atmosphere. Big typography and contrasting color throw the spotlight on the offer. Color is chosen in a way to mute the spring motifs reminding contacts that it is still winter. Clever.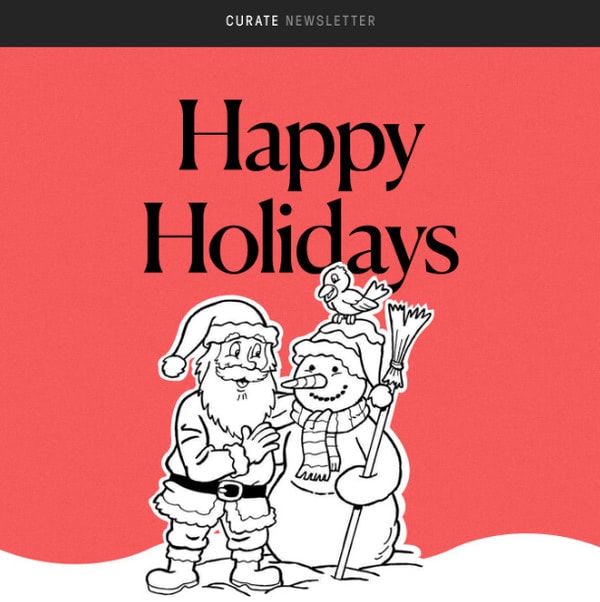 Happy Winter Solstice!
At Christmas, it is more blessed to give than to receive. Simple salutations can bring more profit than commercial email newsletters. Just look at the email blast from Curate Labs.
All it does is wish Happy Holidays! Is not it nice? And does it appeal to you? A simple illustration and warm words are just what the doctor ordered for the most wonderful time of the year.
Last but not least
By now you have an idea of what to include inside your winter email newsletter and how to format and design it. However, that is not all. According to the best practices for creating high-converting email newsletters, there are some important things that should be done. Let's list the essentials:
On top of that, always do the last-minute check. Consider our pre-launch checklist to eliminate any possible faults and our 7 principles of highly successful email campaigns.
Like what you're reading? Subscribe to our top stories.