Email Design Trends for 2022
Do you know that during 2020-2021, retailers saw a dramatic surge in email subscriptions? For some companies, volume doubled. More than 75% of marketers and business owners have seen an escalation in email engagement, desktop and mobile readership, and most importantly, open rates. Some studies show that the open rates have increased by 25%. These impressive numbers have proved to us that despite the pandemic, email marketing is alive and well.
It comes as no surprise that more than 90% of marketers and business owners have ranked email newsletters as the most crucial tool for a company to stay afloat during the pandemic and post-pandemic period, and 85% of marketers use them as the primary channel for generating leads today.
However, sending e-blasts to subscribers does not guarantee achieving those impressive numbers. According to statistics by Smart Insights, the average open rate is slightly higher than 17%, whereas the average click-through rate is 11%. Not so much, is not it? How do you secure these numbers for your brand? There are many strategies help to do this; however, one of the most viable ones is to follow modern email design trends.
Read more about previous trends
Trends in email design are a reliable source of changes. They provide signs of what works and what does not. They will also help with better forecasting for your business future and strategy, generate ideas that will resonate with the audience, indicate early signs in market fluctuation, give hints on how to improve your business model, and most importantly, save your money and time by offering solutions that achieve marketing goals.
Let's consider top trends in email design for 2022 to remain on top of the game and help your business advance instead of stagnate. We will also mull over some highly recommended strategies for the upcoming year.
No-Code Email Template Builder
With Postcards you can create and edit email templates online without any coding skills! Includes more than 100 components to help you create custom emails templates faster than ever before.
Try Free
Other Products
Top Trends in Email Design for 2022
Hyper-Personalized Experience
Much like the previous couple of years, 2022 will be about taking personalized experiences to the next level. People are getting smarter and more demanding – neutral solutions that speak to the crowd and treat users as transactions do not work anymore. Everyone wants to feel privileged and valued, and therefore, creating hyper-personalized experiences is imperative to stay in the game.
Next year, your email designs should be exclusive to subscribers. That means that addressing the person by name or offering a specific discount will not be enough. You need to send personalized content, establish a personnel connection with the subscriber and tug emotional strings by making the newsletter valuable and hyper-personalized.
That also means that mediums outside of email marketing, such as landing pages, checkout forms, and all sorts of destinations, should be personalized, individualized, and pre-filled with your client's data. This helps to make your loyal subscribers feel valued and appreciated.
In practice, that means you need to define the best option for all crucial elements of the email campaign, such as:
Segment
Time
Subject line
Content
Offer
Signature
In addition, trigger emails based on subscriber behavior and preferences and show your appreciation by maximizing such email marketing strategies as Birthday messages with discounts, Thank You notes, Early Access Invites, Customer Appreciation Emails, and Gift Card Emails.
Many approaches help achieve this: Create content manually, benefit from personalized tags, or do a series of A/B tests. However, as practice shows, 2022 will be a year of artificial intelligence and platforms powered by it. They will analyze subscriber behavior, purchasing habits, preferred products or services, open rates, and click-through rates to offer hyper-personalized solutions. Therefore, combine your knowledge and experience with AI to speak directly to your client's needs and expectations.
Let's consider Grammarly – a brand that is obsessed with hyper-personalized experiences. The team has practiced this ideology for years – and this has paid off wealthy since it is one of the most successful companies in the world with millions of loyal customers on board. And the secret to their success lies not only in a great product but also in effective retention campaigns and personal connections that the company establishes with every client.

What you can see here is a regular email newsletter that subscribers get from the company every week.
Note, the email does not feature the name of the subscriber. However, it still does its job perfectly because the content inside speaks to the subscriber. Everything is here about the user: achievement, productivity level, mastery level, vocabulary analysis, total words checked by Grammarly, even suggestions to blog posts are based on mistakes that the subscriber has made recently. Also, depending on account data, the email offers various ways to make the most out of the application.
Based on a thorough analysis of users' activity, preferences and behavior patterns, this email is exclusive to the user; therefore, it rocks and works. This strategy cements the relationships between the subscriber and brand, increases loyalty and trust, and proves to clients that they have made the right choice by staying with Grammarly. Smart.
Another great instance of hyper-personalized experiences is the email design from Butter. At first sight, it seems a bit generic due to the vast hero area with a standard offer. However, as you dive into the content, you will see that it was made with the subscriber in mind.
So, what helps it to win extra bonuses for the brand and compel the reader to visit the website? Actually, a number of things:
It is a personal greeting: the team employs the user's name and friendly salute.
It is a Thank You note placed right at the beginning of the speech and at its end.
It is a special discount served as a gratitude gesture for being a loyal fan of the brand.
It is a well-played card of FOMO (fear of missing out).
It uses a signature with the "L-word."
Finally, it is a pricing plan with benefits and reduced prices that summarizes everything in a visually-appealing manner.
There are so many small tricks intertwined with the personalization and bright and energetic design that this solution could not help but work. It is difficult to resist the temptation to visit the platform and check out the offer. The email certainly generates traffic.

Artificial Intelligence
Platforms and tools powered by artificial intelligence are the new trend for email marketing.
The deal is, 2022 will bring two significant problems to the email marketers. First, Apple iOS 15 includes new privacy features that will make it quite challenging to analyze subscriber behavior and campaign impact manually.
Second, getting precious data from subscribers will become even more difficult due to numerous recent scandals with privacy leakage. People are extremely cautious about sharing their sensitive personal information. As practice shows, they give up their data only in exchange for more personalized offerings. If this criterion is not met, they just leave.
Therefore, AI platforms and tools that explore relevant customer data on the background come to the fore providing a helping hand to the entrepreneurs from both B2B and B2C sectors. They sift through millions of data in no time, correlate data from various sources, forecast subscriber actions, define optimized sending times, clean up email lists, identify warning signs of the future campaign, and most importantly, make predictions and suggest the best strategies to drive engagement and secure high open rates.
And they already work. Recent studies conducted by Return Path show that email marketers who used AI tools in their campaigns the previous year noticed growth in deliverability, user engagement, and, most importantly, revenue. It is time to take advantage of the new technologies.
The most popular AI platforms are Validity by Return Path, Zeta Global, and Phrasee.
However, it should be noted that you should not ignore or ditch time-proven automated marketing instruments.
Although AI tools are getting momentum, they are still not as powerful as you may want them to be. Therefore, the importance of using time-proven analytical marketing tools and instruments such as spam checkers and email testers like Unspam.email is still crucial.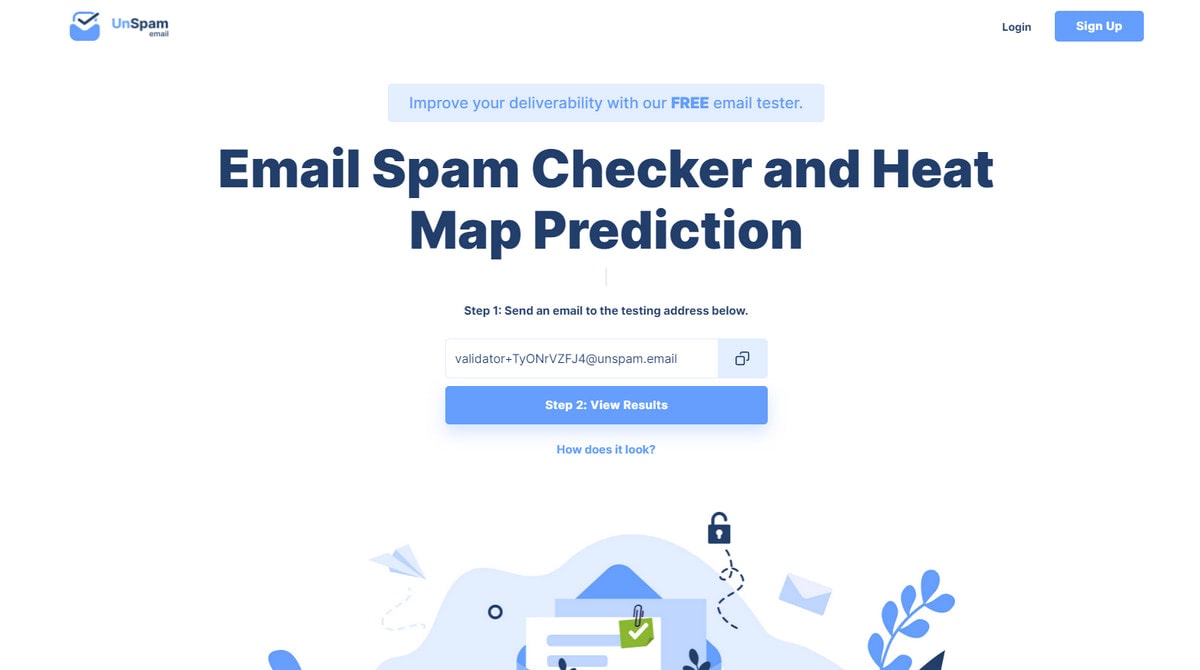 They will help test your campaign across various factors, providing you with a thorough report to eliminate all possible mistakes, avoid spam filters, protect your reputation, improve security, and increase deliverability.
As for enhancing strategies, finding solutions that resonate with the subscribers, scaling your marketing campaigns, and examining alternative ways to generate traffic and leads, you need to make the most out of automated tools like Mailpost.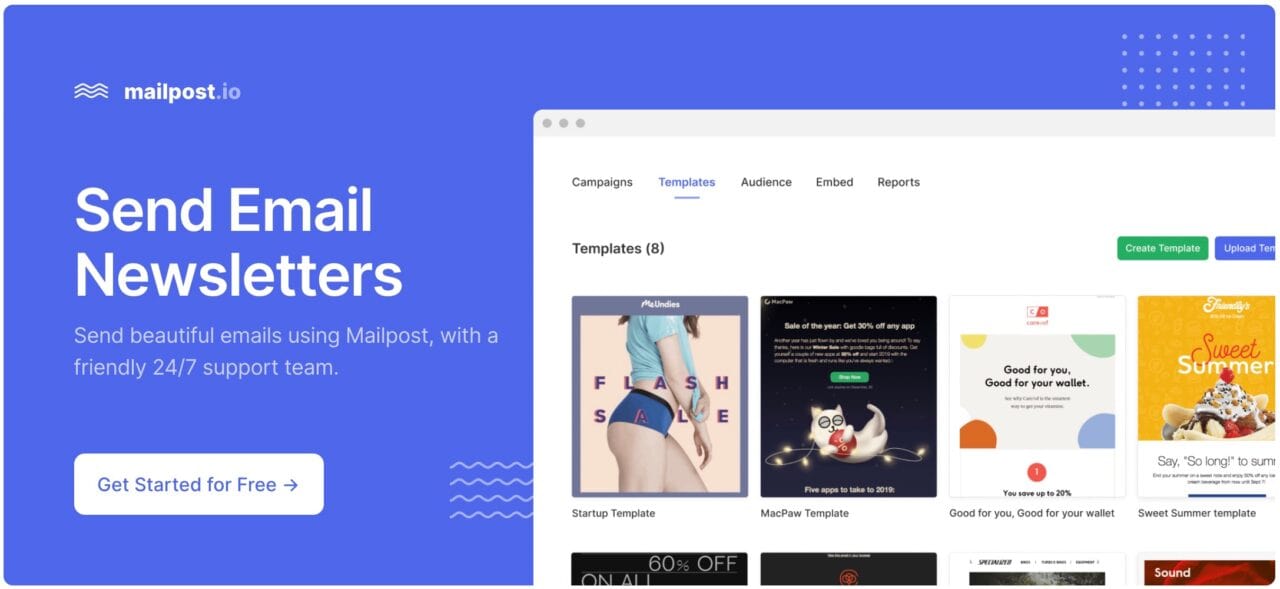 It is a powerful platform where you can quickly bring to life any email marketing campaign, instantly create a newsletter with the help of numerous easily customizable email templates, safely send e-blasts to your subscribers, and most importantly, get relevant reports to improve the campaign and overall marketing strategy.
Social proof has never been so crucial in email design. According to recent studies, almost 90% of customers check out reviews before buying, whereas more than 50% of them consider feedback a critical factor in their shopping decision. Like it or not, people trust reviews and personnel recommendations most of the time, making user-generated content a number one trend for 2022.
Social proof is a powerful instrument that influences users' decision-making process and offers substantial benefits for the brand, like building trust in the company and inspiring loyalty. Just consider the researchers conducted by eMarketer. The team behind this market research company has found out that negative reviews may easily ruin a brand's reputation, while positive ones may regain it in 88% of cases. In addition, their studies show that more than 75% of customers agree that no rates and no reviews lower trust in the brand. That means ignoring this trend can lead to some drastic outcomes.
While user-generated content was one of the methods to increase organic traffic last year, make the offer or product look more desirable, and convert prospects, today it is a must-have feature without which you will lose your precious subscribers.
The best part about social proof is that you can get it from your clients and even win some extra bonuses for your brand because people love to be heard. This trend works as a two-way street that benefits both sides. In addition, it is the simplest and cheapest way to revitalize email campaigns.
In email design, UGC may take different shapes. As a rule, you can see such elements as
Avatar or photography of the client
Name of the client
Short bio of the client
Star rating
Review
Call-to-action button
Some brands love to add avatars of their clients and their bio next to the feedback, while others prefer anonymous reviews. There is no one-size-fits-all solution in this case. To find the option that resonates best with your audience, do a series of A/B tests.
Let's take a look at some representative examples to get some hints.
Email Design from Italic
The newsletter from Italic is centered around user-generated content. It is a masterful combination of products and reviews left by clients. There are three blocks and two call-to-actions smartly placed on the top and the bottom of the design. In addition, there is a personal note from the CEO.

The email design is pretty simple: there is nothing extraordinary here that may catch an eye or ignite interest. However, it still works because it brings actual value to the clients by showing peers honest reviews. As a result, the newsletter increases trust in the brand and compels visitors to visit the platform, thereby generating necessary traffic.
Email Design from Mack Weldon
The email design from Mack Wildon is an excellent example of how to fetch reviews, thereby getting the necessary information for your next email campaign, as well as increasing loyalty by making clients feel privileged by hearing them out.
Again, the email is simple and more compact than the previous one. However, it does its job perfectly because it gets straight to the point and appeals to users' desire to put their cents in. Let's break the email design into pieces.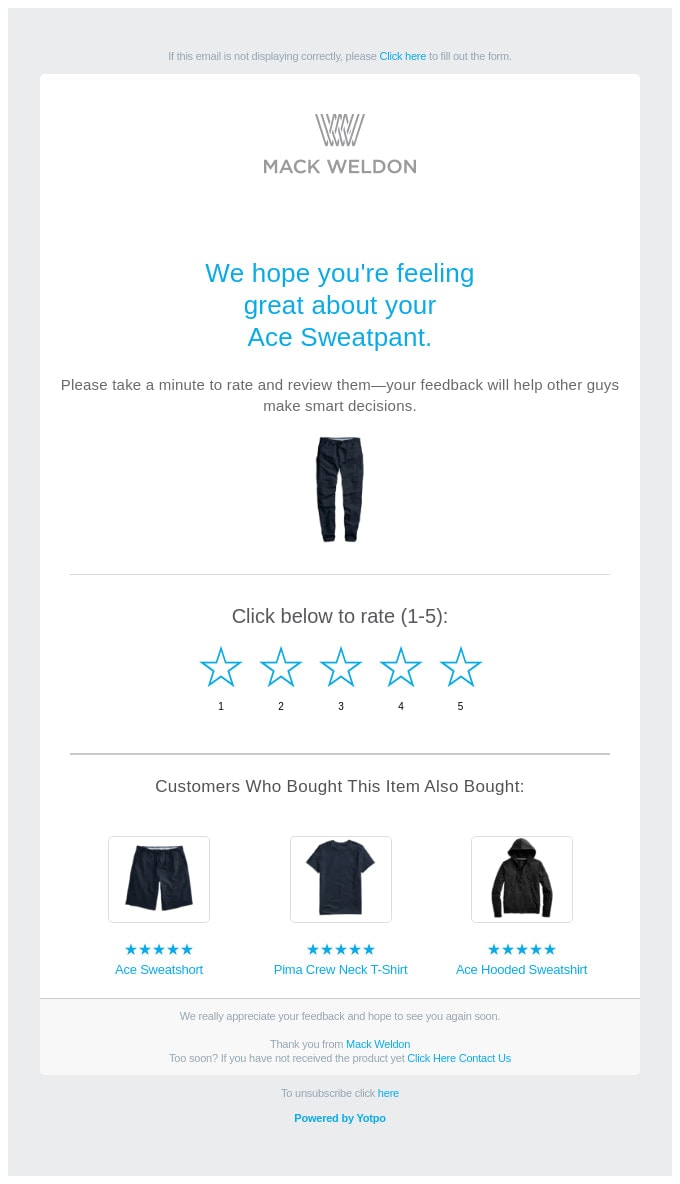 First, it starts with the introduction that evokes positive feelings and sets the right tone.
Second, it invites users to rate the product simply by clicking on the star – no hustle and bustle.
Third, a block with related products is a time-proven eCommerce technique to drive engagement and generate customers.
Finally, there is a Thank You note right at the bottom that leaves a positive impression.
Everything here is simple yet well-thought-out.
Email Design from Thinx
This email from Thnix gives you some great insights on how to show feedback from your team member and with all that sound natural, unobtrusive, and genuine.
The whole newsletter is dedicated to one person, a member of the Thinx team. She shares her own experience and, at the same time, promotes the product. Note how it should be done to look organic and unconstrained.

Here the review was turned into an interview with a playful zest. There are questions, answers, and fantastic illustrations that accompany the text and lighten the atmosphere generating friendly positive vibes. The top block is dedicated to the person, and you can see her name and a real photo. The middle block is all about the feedback broken into digestible portions. The last part (to be more precise, only the last block) is about recommending what product to get from the shop to feel comfortable if you have the same experience.
The idea is simple yet ingenious. And it was skillfully brought to life using the powers of visual impact and some psychological tricks. As a result, even though the team member, not an outsider, leaves feedback and promotes the product, the review still builds trust, cultivates loyalty, and certainly appeals to the subscribers, compelling them to visit the shop, thereby driving engagement.
Interactive Experience
Two years ago, it was only recommended to use more interactivity to enrich user experience because email readers were not ready to handle this active part. Today the situation has changed dramatically. First, support for interactive features has improved in the upgraded versions of iOS, AppleMail, and Android clients. Second, Google has popularized AMP.
What's more, recent studies show that more and more users expect entertaining components like animated gifs, dynamic effects, quizzes, sliders, galleries, events that trigger some actions, and even small games in their emails. For the time being, according to Litmus statistics, 91% of subscribers expect interactive content, but only 17% of companies satisfy this craving. This is a huge missed opportunity for any business because marketers indicate a 200% improvement in click-through rates when interactive details are involved.
So, what can you do in 2022? If you follow the steps of Mark Robbins, a pioneer in this direction, you can do almost everything because his strategy implies creating several options of the same email: static and dynamic so that you can reach the audience no matter what, or populate dynamic option with fallbacks.
However, if you want to play safe, it is advisable to stick to one of the following scenarios:
Use interactive email features to simplify the user experience. For example, remove friction and unnecessary steps from leaving review functionality.
Use interactive features to underline the product's best characteristics. For example, transform boring lists into blocks with animated gifs.
Use interactivity to explain complex notions. For instance, use animated gifs to show how your product works or how to benefit from the new feature.
Use interactive features to save space. For instance, employ sliders or galleries to display lots of data within one container.
Use rollover effects to bring more helpful information on the spot.
Use gamified elements to set the proper atmosphere, provide an unforgettable user experience, and convert prospects into warm leads.
Use interactive features to improve accessibility. For example, you may allow your subscribers to set typography size or adjust design mode options (choose a light mode or dark mode).
There is a lot to choose from, starting with time-proven options like animated gifs and ending with innovative ones like contact forms and sliders.
Remember people already expect brand dynamic elements. However, it does not mean you should follow blindly. Even though interactive marketing is our future, you still should exercise caution since email readers might still let you down by stripping out a lot of crucial JavaScript-powered details.
Let's consider two fantastic examples: an email from Caribbean International and an email from Protest Sportswear.
Email Design from Caribbean International
The email design from Caribbean International takes advantage of interactive marketing, offering their subscribers a truly immersive visual experience. The engagement spikes here – that is for sure.
The team brings the landing page into the inbox. There is traditional navigation, a hero area, a section with content, and a footer. Of course, the thing to marvel at is the interactive map in the header. It is just a masterpiece. Although there are not many dynamic tooltips, nevertheless it is enough to make an impression and provide an enjoyable and, at the same time, informative experience.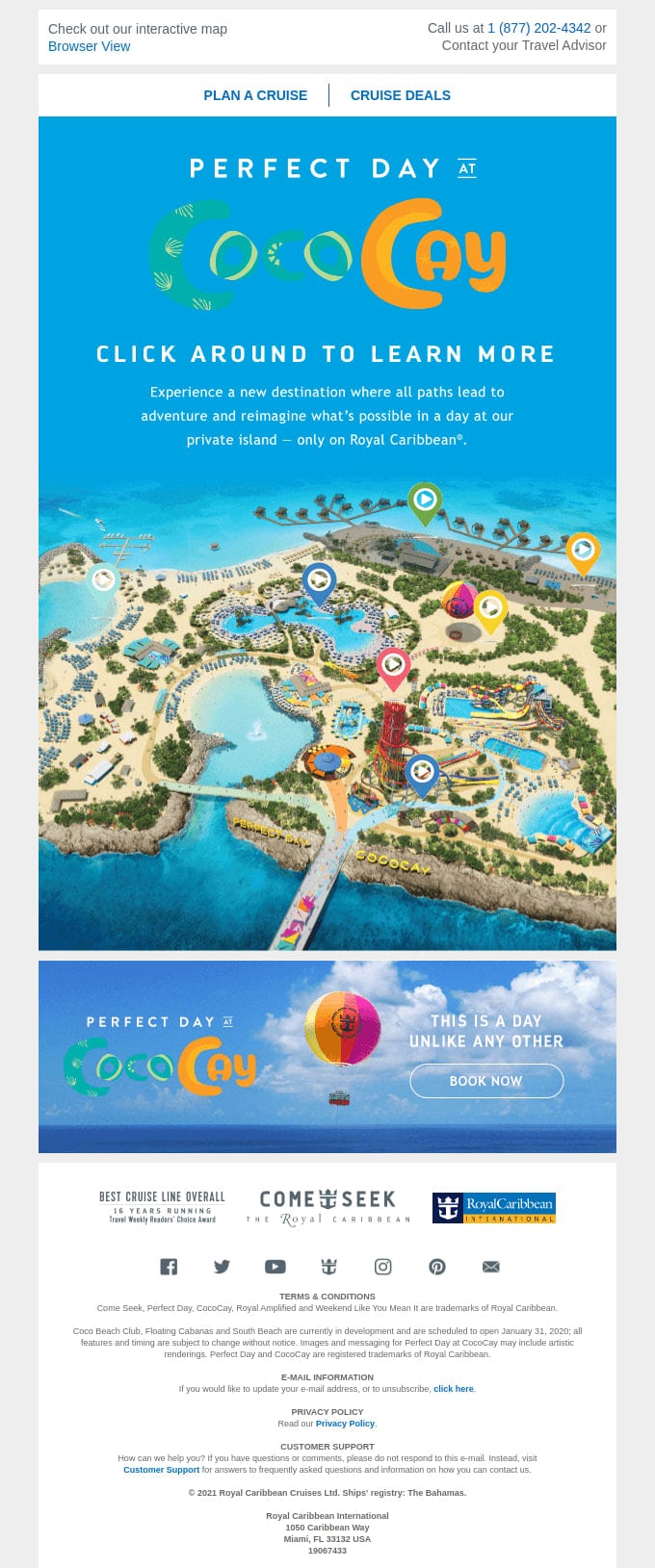 This strategy also removes actions that may ruin the conversion funnel by creating a faster and smoother journey for the customers and making them more inclined to act.
Email Design from Protest Sportswear
At first glance, the email design from Protest Sportswear is a regular newsletter that introduces new products. However, there is more than meets the eye. While the first section is dedicated to promoting sportswear, the next section is used to lure users inside the funnel and convert subscribers into leads.
Using interactive elements, the team imitates the traditional shopping experience that you can see on the product page. The subscriber can even choose the color. Plus, there is a block with related items that makes this experience feel complete.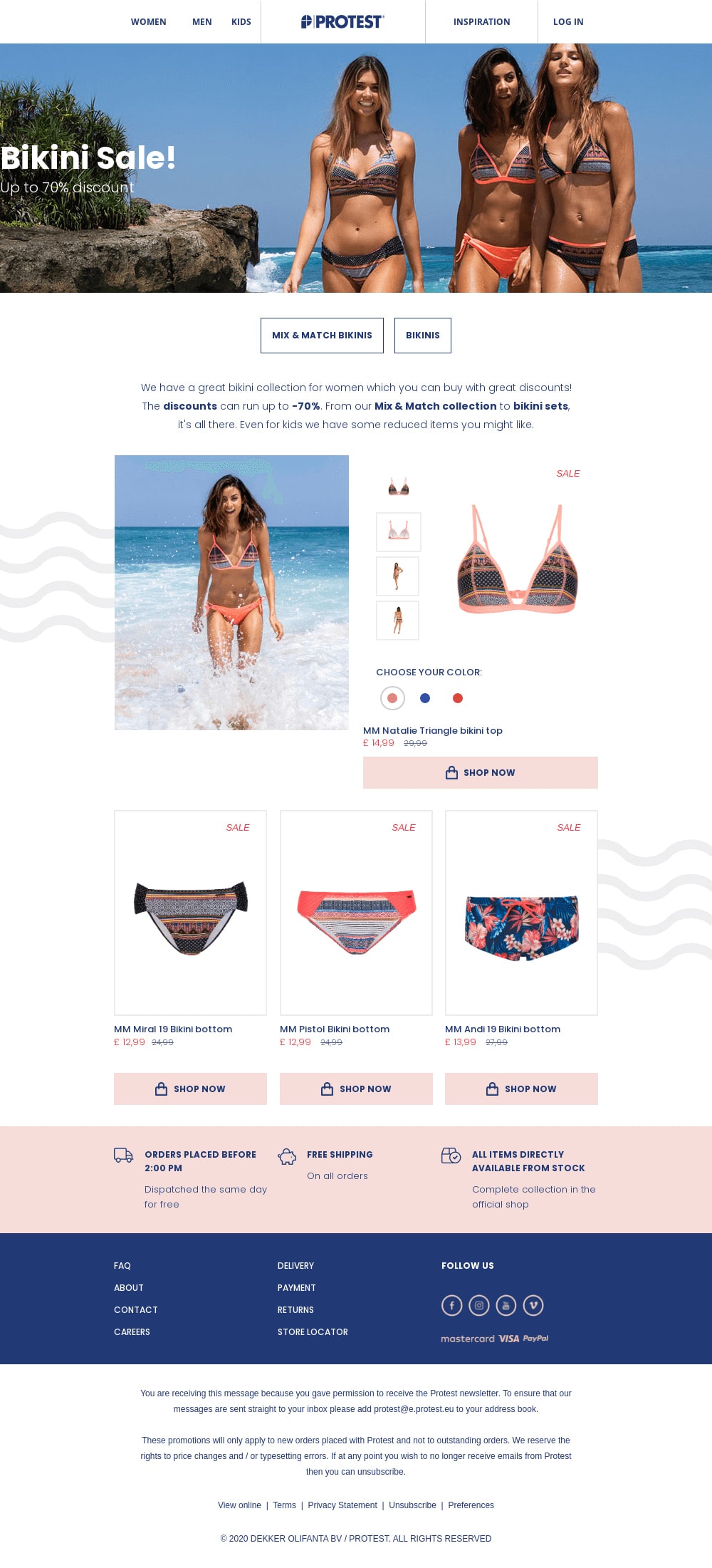 Much like in the previous example, the team eliminated obstacles in the user's path to the checkout page, making the shopping experience smooth. In addition, they have got a golden opportunity to study subscribers' behavior at a much deeper level. This will give great insights into improving future email campaigns for this particular user and even enhance strategy on the website.
If you are not ready to go bold with interactive experience or email readers of your subscribers ditch all the fun, dynamic parts from the code, you can still benefit from old-timey yet time-proven animated gifs that do the trick. Consider email design from Output and email design from Amass as great examples.
Email Design from Output
This is a regular promotional newsletter from Output where the marketing team advertises the product. Along with a fantastic email design made with the trends in mind (there is a dark mode, bright gradient elements on the foreground, illustrations used as icons, gorgeous centerpiece, and stylish typography), the team employs animated gif to spice things up. The latter energizes the design, brings options into the spotlight, and enriches the user experience.

The solution is nothing new, but it works here. It produces a favorable impression looking much better than the static version.
Email Design from Amass
Much like the previous example, email design from Amass is a part of the promotional campaign that advertises the product and at the same time advocates the brand. Again, it is pretty compact and minimal. Nevertheless, it still does its job perfectly well.
It has everything to compel the subscriber to visit the website. There is a special offer supported by "the limited time" announcement that evokes FOMO, an enormous call-to-action button that is difficult to miss out on, direct links to popular sections in the shop that could be of interest, and last not least, an impressive hero area.
The latter is an animated gif that is a combination of a static image and wave effect. It looks like the photo is alive. Note, the effect does not scream at you: it is smooth and gentle. However, it is still powerful. It enhances the overall impression, spices up the user experience, and, most importantly, reinforces the hero area.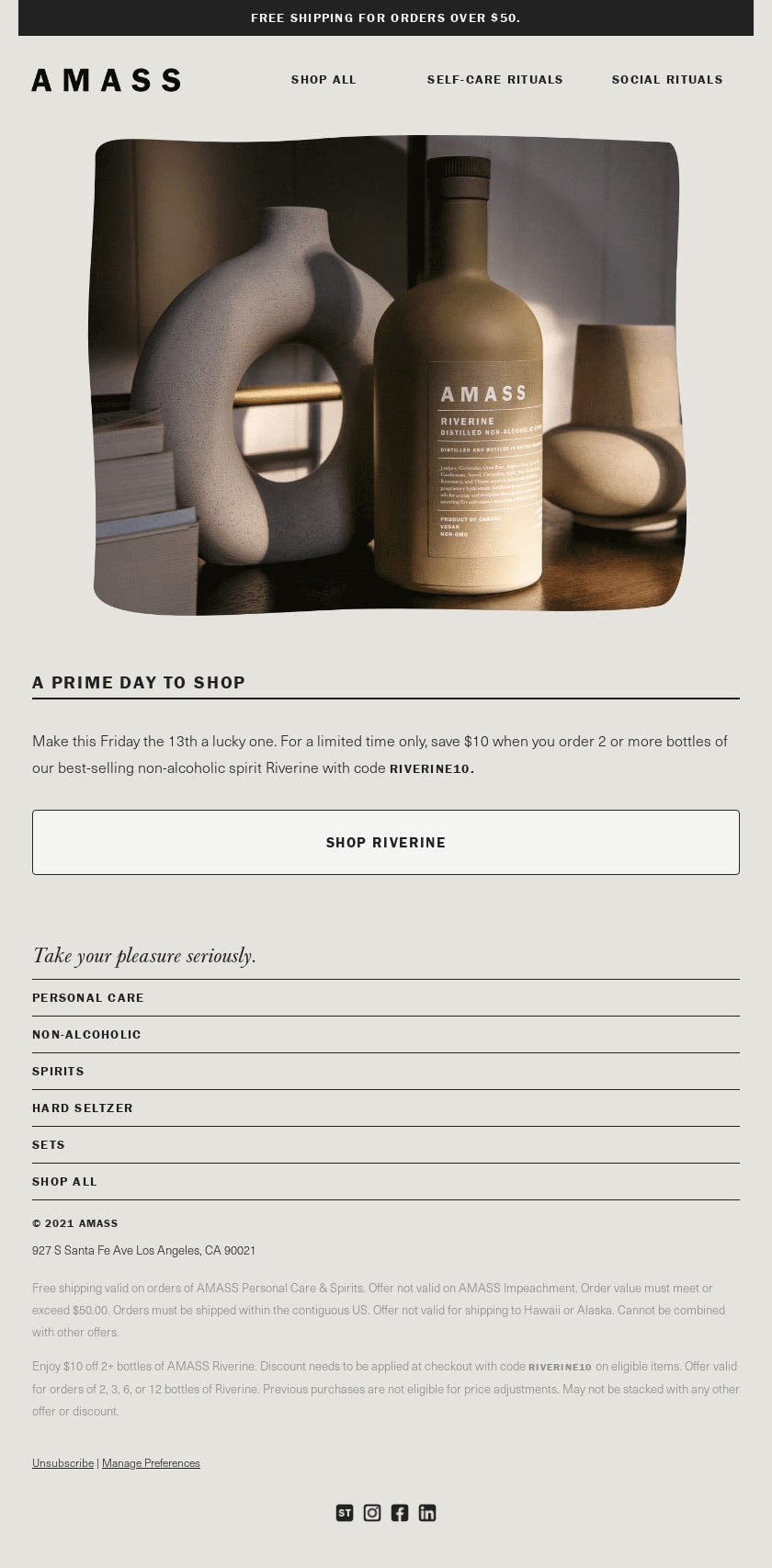 Again, the solution is simple and pretty standard, but it works because people love dynamic effects in emails, even those that are skillfully imitated with the help of image formats.
Protect and Respect Privacy
Privacy will be a talk of the office in 2022, primarily because Apple established new standards for digital newsletters in September. The team rolled out a Mail Privacy Protection feature, Hide My Email feature, and Hide my IP address.
As we have already mentioned in our guide on How to Prepare Your Email Marketing Strategy for iOS 15, this new iOS version will dramatically affect email marketing strategies because it will hide such important information about subscribers as open rates and deliverability rates. In addition, it will push the community to be more protective of their data. So, do not expect your subscribers to share their preferences with you that easily.
To stay afloat in 2022, you need to show your respect to users' private information. Establish safe email connections by enforcing SPF and DMARC protocols, as well as convince your loyal fans that you respect their privacy and desire to leave whenever they want.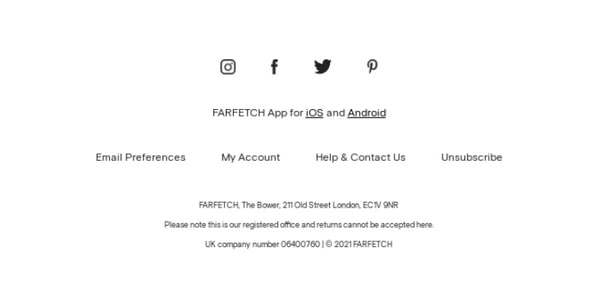 To meet this tendency, ensure every newsletter has a distinctive footnote with unsubscribe option and link to manage preferences. Consider email design from Farfetch as a case in point. The team has added everything subscribers may need to feel free in their relationships, such as Unsubscribe link, link to manage email preferences, link to user's account, and quick access to support team.
Illustrated iconography, neon color, and animated collage techniques: Graphic Design Trends in Email Design
The digital newsletter is no longer just simple correspondence; it is a powerful conversation and conversion tool that pursues numerous goals. Apart from compelling users to take action and dragging them into the sales funnel, it also tells stories, conveys the proper gamut of emotions, establishes necessary atmosphere, and brings positive emotions to the subscribers to nurture them, retain them, sometimes even bring them back when it seems that everything is lost and of course improve brand image and relationships. To unleash its powers, email marketers capitalize on the design since, along with offer and hyper-personalized experience, it is the key to success.
So, what trends do you need to follow to make your email design rock in 2022? You can go for different options:
Traditional news magazine-style: It implies a multilayered layout, high-quality photography, gorgeous typography, and muted palette that, in the end, should bring about a luxurious atmosphere.
Iconography with much more visual prominence: Forget about minimal and straightforward icons in your design. 2022 is all about illustrated approaches, intricate and complex scenes, and, of course, bright color palettes. Do not be afraid to use complex solutions to explain the product's features or the advantages of your company.
Animated collaging techniques: Animation is a top trend for email design; however, in 2022, do not overdo it. You need to be smart with dynamic gifs. Instead of being fully interactive and animated, combine static images with dynamic elements to reinforce the overall effect. This will create a fantastic visual depth, keep your loading time acceptable and give you control of what to show first to your subscribers.
Dark mode and neon colors: Much like this year, 2022 will be wrapped up with dark mode, which means the foreground elements will become brighter and lighter. On top of that, the neon color palette that is relevant to dark mode will become popular again. It can be already seen in newsletters from big brands.
Three critical things should guide you when you choose one of those approaches.
Pandemic impact: Like it or not, but Covid-19, with its numerous lockdowns, has left an undeniable imprint on your clients' lives. People are craving for socializing, getting new experiences, and sharing their thoughts with others. Therefore, it is only logical to create an email design that satisfies these cravings and targets emotional responses to cement the connections between subscribers and brands.
Target audience preferences and tastes: Whatever grandiose idea you have in mind or whatever popular trend is, if your target audience is people over the age of 60 or serious business owners, then probably bright animations and glowing neon colors will not work for you. Always prioritize your audience's tastes and expectations. Segment your subscription list by age, location, occupation, and gender to define the best option for each group.
Brand image: Staying consistent and looking reliable is very important in these uncertain times. People need brands that exude an image of stability. Therefore, it is no time for significant changes and renovations. Stick to your guns and capitalize on your philosophy and brand image.
When it comes to nailing email design, you should never forget doing A/B tests to find out what works best and using reliable HTML newsletter builders, like Postcards.
Postcards is among the most popular tools in the email marketer's arsenal to craft awe-inspiring and high-converting email newsletters. And there is a good reason for that. It is an intuitive HTML newsletter builder that comes with numerous helpful features.
For example, apart from offering more than 100 hand-crafted elements with responsive layout, mobile-friendly behavior, and accessibility features, it allows collaborating with teammates, creating a version history, managing different projects under one roof, hosting images in the cloud, and even exporting ready templates to popular ESPs. Not only is it a tool to shape your ideas, but it is also a platform to take the digital newsletters to the next level and enjoy all the benefits of automatization.
Consider email design from Apple, email design from Foxtrot, and email design from Salomon to see some of the graphic design trends in life.
Email Design from Apple
Apple always stays true to itself, thereby inspiring loyalty and nurturing its loyal fans at all times. This email invitation to their regular September keynote is no exception. It is minimal yet utterly sophisticated. It screams brand on all fronts and at the same time brings value to the audience right from the get-go.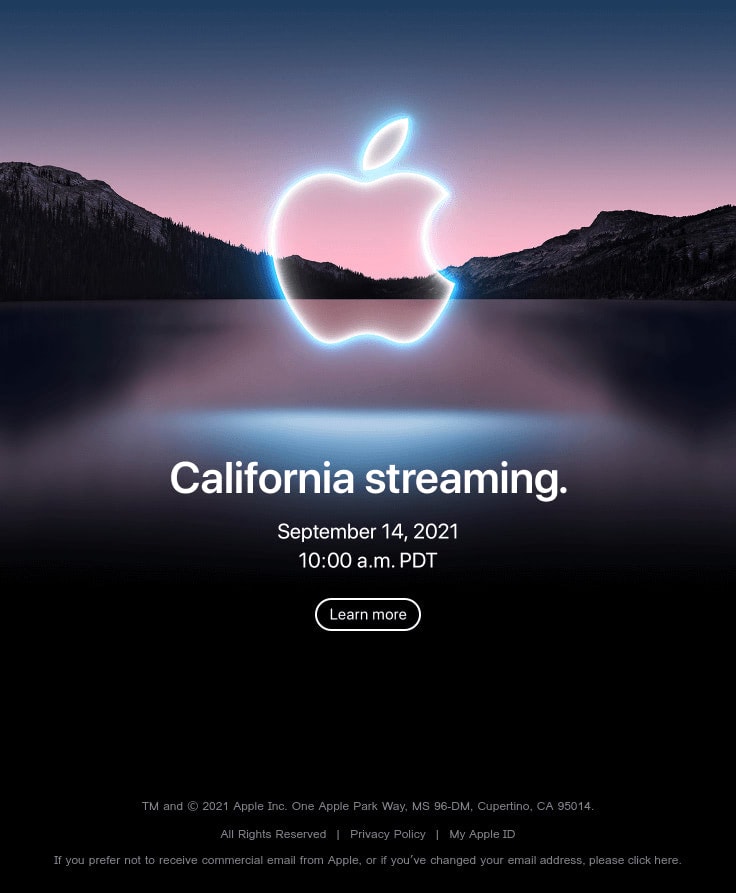 Note modern trends here. The team skillfully played with dark mode and neon coloring to create fantastic results that make an emotional connection that resonates with the audience. Minimal, yet brilliant.
Email Design from Foxtrot
You have probably seen hundreds like this: A basic two-column structure, large hero area, huge call-to-action at the bottom, and regular footer. However, the team behind Foxtrot has made things a bit interesting by taking advantage of modern trends.

They have played with dark mode to make the hero area count and fully illustrated icons to describe the product's features in the best possible light. As a result, the newsletter rocks. It treats the audience with visually-pleasing design and unobtrusively explains things bringing value to the client. As a result, the email is informative and helpful; it advocates the brand and generates traffic.
Email Design from Salomon
The email design from Salomon is a typical example of an editorial style used in practice. It takes advantage of a traditional news magazine layout. High-quality photography grabs overall attention and makes the entire design feel "expensive" and luxurious, even though it is all about sportswear. The beautiful pastel color scheme strengthens the overall effect, whereas typography reinforces brand identity.

Let's break the layout and content into pieces since they compel readers to visit the shop without creating tension. So, what is inside?
The hero area promotes the product quite effectively: there is a huge image that appeals to the eyes and an introduction that brings value.
Two call-to-action buttons lead to two different sections so that subscribers can get to the right place in no time.
The middle part of the email design looks almost like a hero area, yet you can see some more alluring images in there. Again, a set of call-to-actions accompany the block.
There is a section of the most popular items and direct links to product pages so that users can avoid the whole hustle of searching for them manually.
At the bottom, the subscriber can enjoy the benefits of using the shop, such as "free shipping delivery," that according to recent studies, is a massive boost in the decision-making process in the e-commerce sector.
The team combines modern trends and marketing tricks to make the user experience unobtrusive, enjoyable, and beneficial. As a result, the email drives engagement and generates traffic – precisely what is needed for any company out there.
Email Accessibility
Although email accessibility should not be called a trend, it is our duty to make communication in the digital world open to everyone, the sad truth is inclusivity is still subject to ignorance. Though, the previous year showed us that more and more companies (even small local brands) are concerned about their email designs being accessible by all.
As proof, in 2021, we saw not only websites but also emails made with accessibility in mind. Some offered subscribers to switch between light and dark mode, while others allowed setting preferred typography size to ensure optimal user experience and readability.
Next year will not be any different, except for brands becoming more conscious about the importance of being accessible and more serious about making their omnichannel mediums open to everyone.
That means you need to ensure such things in your email designs as:
Clear graphics
Easy-to-read and easy-to-understand text
Proper typography settings
Optimal contrast
Optimal readability level
No flashy animations
No radiant color palettes
Assigned aria areas and alts
Handy navigation
Mobile-friendly features
On top of that, a dark mode that is gentle on the eyes and increases the contrast between foreground and background will dominate next year. Therefore, be ready to embrace the power of the dark side and treat your subscribers with email designs that provide optimal contrast and generate such feelings as power, elegance, and sophistication.
Let's consider email design from Litmus and email design from Procreate.
Email Design from Litmus
This spooktacular Halloween newsletter from Litmus is a representative example of an accessible solution that puts users into driving seats by inviting them to choose the dark or light mode. Although it is made in a playful manner, it still accomplishes its mission.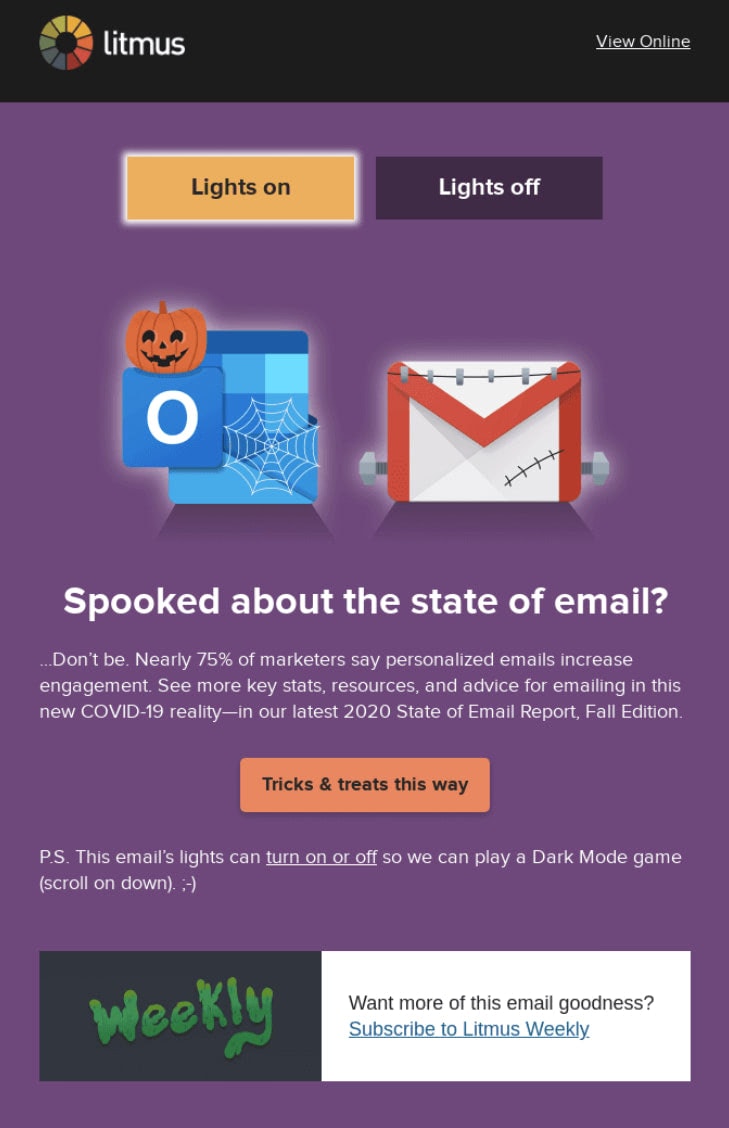 As for the rest of the accessibility features, the team has defined all necessary alts for images, set meta tags, attributes, and arias, adjusted the size of the tapping areas for various mobile screens, and ensured the layout works consistently across all devices.
Email Design from Procreate
Although this is not Vantablack coating, still this dark shade is good at its job of establishing sharp contrast for text and providing a high readability level. It also nicely highlights products in the hero area as well as the call-to-action button.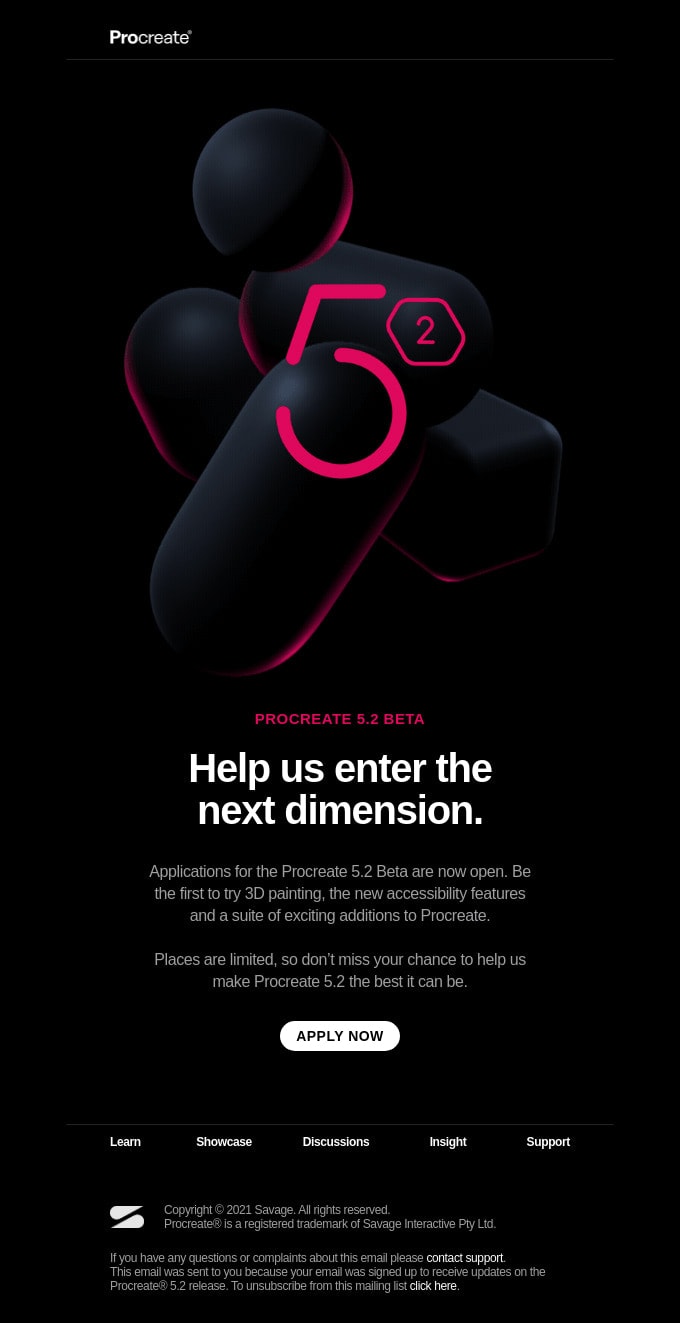 The email hits all the accessibility essentials: it is responsive and mobile-friendly and has all attributes set like alts, meta content, and aria.
Conclusion
According to a study by Bluecore, more than 64% of millennials and 60% of Gen Z believe that email is the best channel to communicate with the brand. In addition, Optinmonster states that 99% of email users check digital correspondence daily, with more than 50% of them opening the inbox in the morning. That means that subscribers are waiting for perfectly-crafted emails with hyper-personalized experiences, entertaining animations, eye-pleasing graphics, and most importantly, valuable content such as discounts or early-bird access notifications.
To meet these demands, you should never forget that email marketing changes and evolves, much like the desires and preferences of users. What worked yesterday may not work tomorrow, and following trends helps you keep up with these fluctuations in the market. Keep pace with rapid changes, capitalize on new technologies to upgrade what is working, and invent solutions that will work tomorrow.
Like what you're reading? Subscribe to our top stories.