Event Invitation Emails: Best Practices and Examples
According to Bizzabo's studies, more than 80% of top brands all around the world believe in-person events are critical for growth and success. Last year, they spent just a little bit under a billion dollars on gatherings. This year they show an intention to grow even more.
Indeed, event marketing is an excellent opportunity to raise credits for your company, generate qualified leads, and ensure revenue.
While hosting an event in real life can be a challenge that requires a professional planner, when it comes to sending invitations and ensuring good attendance, you can easily handle it without outside help. All you need is an event invitation email.
Let's dive into event invitation emails, walk through the basics, best practices, and examples from big brands so that you can get some good cues on how to ensure all your users join the party.
What Are Event Invitation Emails?
Event invitation emails are emails that inform your target market about an upcoming event. However, that's not all.
As the heart of an email marketing strategy that aims at high attendance, it should spark interest, inspire excitement, increase engagement, and drive traffic to a landing page with registration. Along with providing crucial information, it should also sell your event.
No-Code Email Template Builder
With Postcards you can create and edit email templates online without any coding skills! Includes more than 100 components to help you create custom emails templates faster than ever before.
Try Free
Other Products
The success of the event invitation email depends on various factors. Everything begins with defining the type of event that you want to host. Let's examine popular types of events so that you have a solid base to start.

Event invitation email from Invision
Types of Events and Event Invitation Emails
From traditional to ultra-modern, there are so many occasions to gather.
Different events have different selling points. You need to meet different needs and even different target markets. Although you can use the same skeleton for all the situations, still copy, and design should be different.
To make things a little easier, we have covered a dozen of popular types of events that may dictate their own rules and require specific information to be added. Here, they are with some hints:
Exclusive Sales
Treat your best customers to a VIP experience, starting with the event invitation email. Focus on exclusivity, benefits, and discounts. Some early bird offers may easily help you to increase attendance. Play fair – clarify details and exclusions.
Announce a new product
Your goal is to generate hype but not spoil the surprise. A product launch needs a little mystery. Uncover benefits and new features showing how the new product is better than its competitors.
Conferences
Highlight key takeaways, drop names of high-profile speakers, feature the companies in attendance as sponsors. Emphasize afterparties or after-hours events as networking opportunities. Here, you need to be niche-specific.
Awards
List categories of awards, nominees, and any entertainment accompanying the gala. Generate the excitement and make this event feel exclusive.
Customer Appreciation Event
Advocate human connection and put your subscribers into the spotlight. Unlike the previous types of events, here, your users are stars of the show. Therefore, make them feel VIP in your newsletters.
Webinars
Focus on the core of your webinar's takeaways. Clarify information such as what devices they will need to participate, alternative ways to join, and what additional material they need to download beforehand.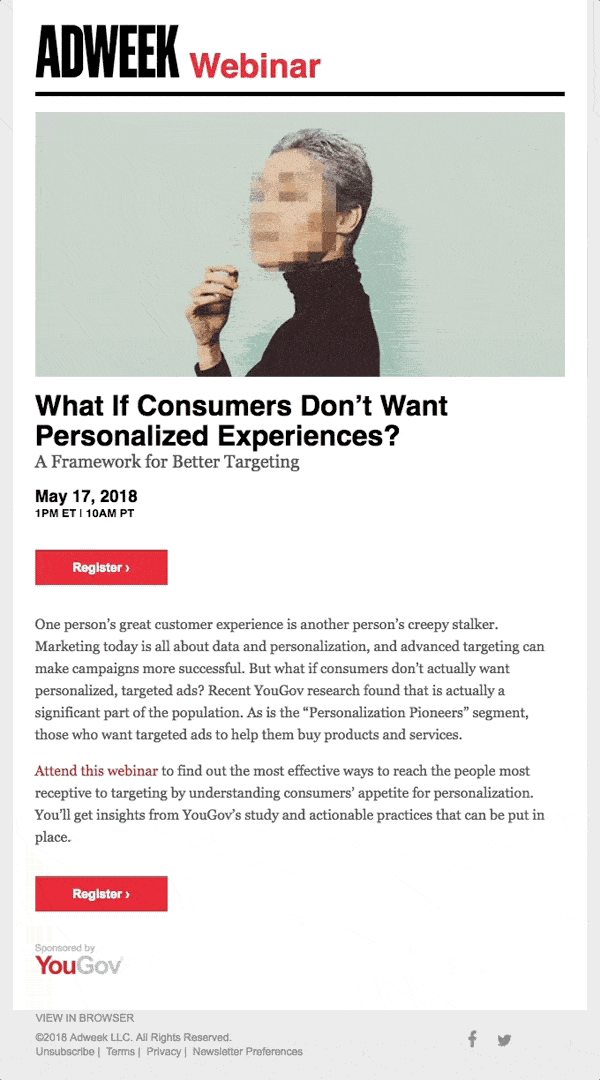 Event Invitation Email from Adweek
Executive Retreats and Incentive Programs
A mix of business and leisure should be your theme. Emphasize the user's opportunity to talk strategy and get some good advice on find out real experience. Highlight the location and leisure time. Provide a schedule for business events.
Charity Events
Focus on philanthropy. The cause should be clearly stated. Users should know whom they are going to help and why. Add statistics and numbers to dramatize the effect.
Team Building Events
Focus on your company's culture and brand. Leverage brand logo, colors, fonts, images, messages, and values. Add a sense of authenticity. Make your attendants feel like an integral gear of the device.
Parties
Depending on the type of the big day (holiday, anniversary, or milestone), you need to set up the proper atmosphere and put everyone in the celebratory mood. If you host annual events, then include links to the past ones.
Hint: To save time and money but still provide users with a unique customized design, create a base event invitation email template in Postcards. Using the framework's powerful customization options, you can alter the template to meet any campaign within minutes. You won't need design or tech skills since the team has done all the heavy lifting for you by providing the most relevant and high-converting style options that look great across all popular devices.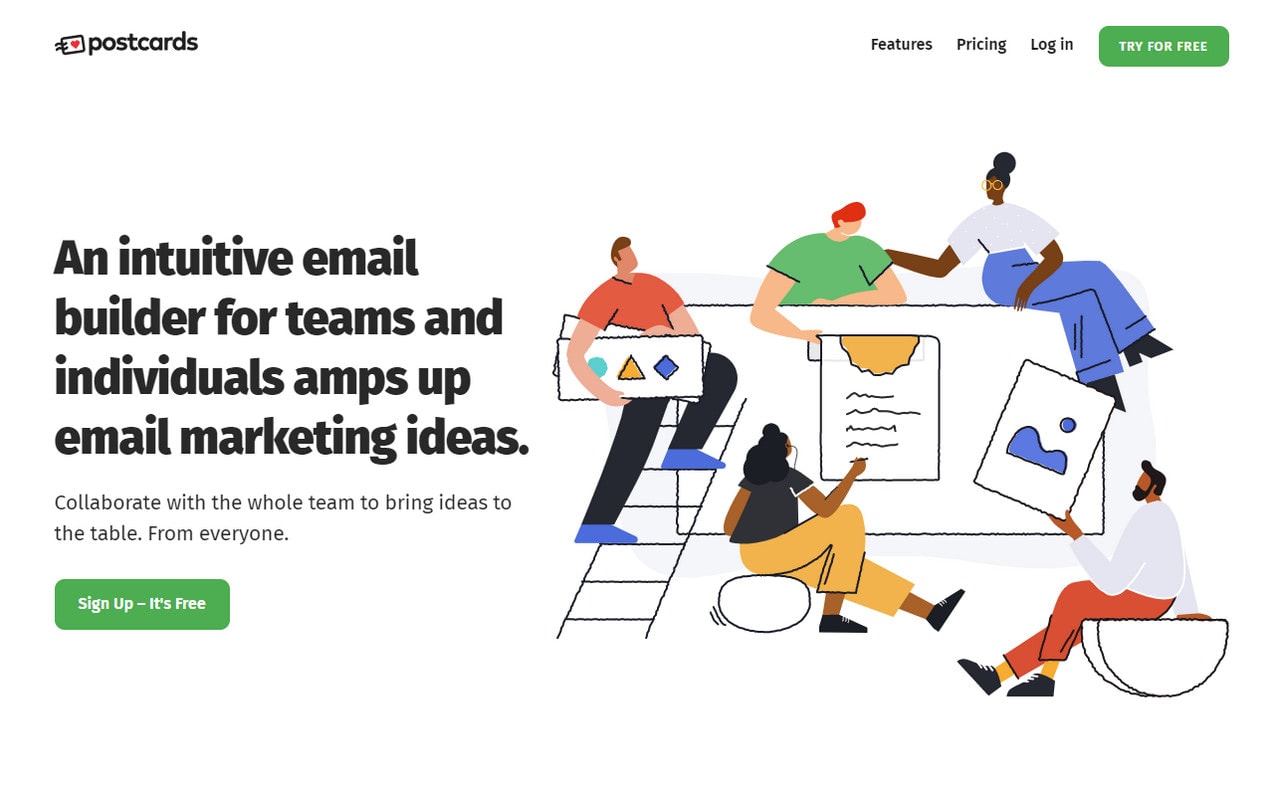 Event Invitation Email Campaigns
With short attention spans and constant information overload, one event invitation email is not enough. Sometimes, to get a response from your target market, you need to be a little bit pushy and use a well-thought-out sequence. Much like Black Friday and Cyber Monday or any holiday campaign, a series of newsletters gathered under one theme produces the best effect.
So, what is the plan? What emails should you send to prove event invitation email marketing to be effective?
An invitation where you cover all the important details. For many brands, it is the first email in a sequence. Though, some big brands send out early-bird event invitation emails. These newsletters do not have CTAs. Their mission is to generate excitement and warm up the audience.
A follow-up email to remind subscribers about the event in a while and onboard those who still question whether to go or not. There are many good reasons why it is vital to jogging the user's memory about the event: people have a short attention span; you may have exciting updates to share; changes in the event program were made. Re-engagement emails are powerful tools. More so, it can be used as an apology email when you forgot to add something important in the first place.
A last chance email where you can use some sense of urgency and fear of missing out to encourage the reader to register before the deadline. The last-minute emails made with creativity in mind always work.
A Thank You email that should be sent after the event. Gratitude always goes a long way. It helps to increase bonding with the target market by making them feel treasured. More so, you can easily extend this sequence with some more appreciation emails and confirmation emails with a thank you note. For example, send a thank you message after a successful registration. This will express your excitement for the reader's acceptance and win the brand some extra points.
An email that is sent to all those who missed the event.
If your event emerges victorious, it is an excellent opportunity to get real feedback and reviews. This information will help improve your next event and serve as a demonstration material to qualify your brand in other campaigns.
It is also a perfect chance to capitalize on satisfied users and promote your product converting subscribers into leads.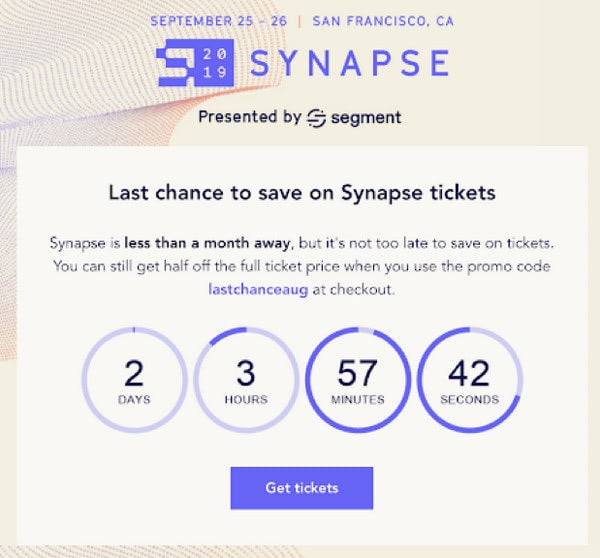 Catchy Subject Lines for Event Invitation Emails
Everything starts with a good pitch. Like it or not, if you fail to find the subject line that catches an eye and sparkles interest, you won't have a chance to prove to your subscribers that your event is worthwhile.
Creating a catchy email subject line that will ensure high open rates is tricky. The deal is, chances are you users have already seen this pitch million times. However, it does not mean you can't come up with something worthy.
First, try to create a truly original subject line. You can use various automation tools that will check its uniqueness.
Or use a tested solution revamped with your brand's charisma. The event invitation is all about the announcement; however, if this announcement has a spice or personal touch, it will easily fight through the crowd and reach its destination.
So, what can you do to renovate some trivial ideas to catch an eye and kindle interest?
Make it personal. Personalization is a huge thing these days. Everyone expects a certain level of individualized experience. Even though it is all about personal offers or content generated on the basis of the user's preferences or purchase history, it is still important to remember that personalization starts with the subject line. Conducting one-on-one dialogue with your clients is your aim. Addressing the attendee in person is the first step towards your goal. This will make your clients feel special, and the email newsletter feel personal.
Make it pitchy. After successfully grabbing attention with the client's name, you can pique interest or capitalize on the user's emotional state. For this, you can
Make a huge announcement.
Make an invitation feel exclusive.
Communicate scarcity.
Establish a sense of urgency.
Provoke action.
Ask question.
Use emojis. Add an emotional element to the subject line in case it is appropriate for your target audience. These tiny icons naturally grab attention and reinforce the message.
Consider these great subject lines of real event invitation emails:
You're invited! The 2020 Advanced Email Marketing Summit
Your exclusive invitation to preorder
What if you could launch products 12x faster?
🎓️ Save the Date! Graduate Exhibition in December
You're Invited: A Holiday Happy Hour
Improve your remote design process
Join us for No Code Conf this November
How to become a Most Innovative Company
Pandora Premium is here! Your exclusive invite
You're invited to the world premiere of DESIGN DISRUPTORS
Viewed 961 times Subject You're one in a million
Users exclusive: Designer List sneak preview!

Event Invitation Email from BigCommerce
Key Elements of an Event Invitation Email
Depending on the goal and type of event, the structure of your newsletter may vary. However, certain things are must-haves regardless of the event that you need to promote. These crucial elements are:
Professional email address
Time, date, location, and duration
Catchy introduction
Unique value proposition
Attractive design
Let's consider them closely.
Professional Email Address
It is tempting to save money by using a free email option. However, if you want to establish yourself as a trustworthy company that appears credible online, it can do more harm than good. A professional email address is what you need to increase trust, ensure reliability, and promote safety. Featuring a domain name, it makes it easier for customers to look up your company and your website for more information about the event. This can reassure users that you are a legitimate and established business.
That's not all. Along with playing an important role in maintaining a good corporate image, the professional email address is also directly related to high deliverability and open rates since it drastically reduces the risk of being marked as spam.
More so, when it comes to event invitation emails, this tiny detail can influence a decision of your future attendance very easily. The deal is no one wants to attend the event organized by the "Unknown" company. Such newsletters smell fishy. "No name" emails always fail to deliver the message and prove to readers that they are worthwhile. Therefore, the first key element of a successful event invitation email is to use a professional email address.
Time, Date, Location, and Duration
Time, date, location, and duration are obligatory details for every event invitation email.
As a host, you know everything about the event. However, your attendants know nothing. To fix this issue, you need to cover all the specific information about your event. At a minimum, it should cover:
Exact date and time. Be clear. Use the time zone format that is familiar to your target market.
Here you can be brief or show an agenda.
Location details. Add physical address and telephone number. Embed Google Maps or add a link. You can also include parking information and information on how to get to the venue through popular means of transportation. Also, if it is possible, add a link to instant chat with the support team.
These three points should be present in every type of event invitation email, whether it is a party or webinar, or masterclass.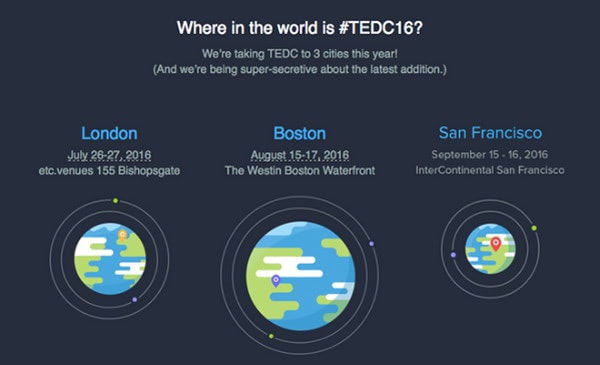 Event Invitation Email from Litmus
Catchy Introduction
The introduction is much like a hero area; it should be impressive. In the case of an event invitation email, it should be catchy.  Make it a warm welcome that establishes a friendly atmosphere and raises the moods of your subscribers.
"We'd love to see you among us," "Join us for our first-ever summit," "We'd love for you to join us," "Let's meet up," "Celebrate with us on Friday" are the kind of phrases that people expect to read in your newsletter.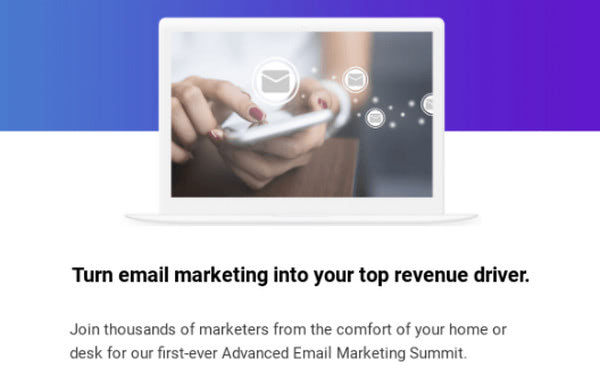 Event Invitation Email from Tinuiti
Unique Value Proposition
The details of your event are increasingly important for your readers. However, they will have no effect if your goers don't have the motivation to attend. It is here where you need to focus on another crucial element of email that is a unique value proposition.
Unique value proposition reveals why people should attend the event and what they are going to gain from coming to your event. It should spark curiosity, bring value, and make the person feel a part of something big, a part of your tribe.
Find a perfect motivator.
Use segmentation, subscriber's preferences, and personal information to speak directly to the user.
Use event slogans. They help people understand your event mission and set the right tone.
Use a memorable catchphrase.
Make it unique. After all, it is a unique value proposition.
Make benefits clear. Along with the fighting competition, you need to fight technology since they encourage users to stay at home and use a web connection for visiting the event. Therefore, center your message around unique features that only attendants can get, like meeting with speakers.
If you host a specific event that requires some stuff to be done in advance, for example, buying unique clothes since the dress code is implied, you should notify your users about that as well. The same goes for the additional entry fee, parking fee, and all kinds of restrictions.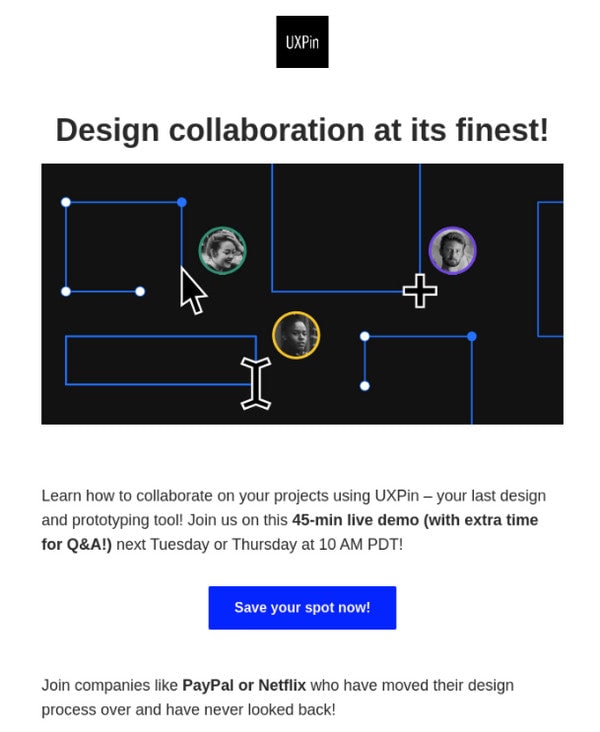 Event Invitation Email from UXPin
Attractive Design
Aesthetics judgment, as we have said before, can be crucial for the decision-making process. If the event invitation email design does not resonate with the target market or looks boring or outdated, it will fail the mission.
Much like content, subject line, and offer, design matters. The more attractive design, the more chances you have to persuade your subscribers to join your event. Everyone wants to be on top of things. Your email design should reflect this through aesthetics and stylistic solutions. Consider these five essential things that help the email design produce a favorable impression instead of scaring users away.
Follow email design trends. It may sound banal, but it works. Even if you position yourself as a serious company that favors traditional ways, you will look old, stale, and insipid without modern features. No one wants that. The company's professional image is achieved through various aspects, and staying up-to-date is one of them.
Stay on brand. Brand identity has a significant influence on subscribers. It builds trust and credibility that are increasingly important in digital expanses teaming with scams and frauds. It also ensures that the reader associates the email with your event and keeps your brand top of mind. Therefore, stick to brand identity in design and brand voice in the copy. Use logotype, brand colors, slogan, mascot, typeface. Do not overdo, though; event invitation email should prioritize the event and your users, not your company.
Choose authentic visuals instead of stock. Although you can easily apply some premium icons and even illustrations; however, when it comes to images, it is better to create your own. They will help to add authenticity to your email.
Consider AMP. Engaging, interactive, and actionable email experiences are what our future will look like. This movement is steadily gaining momentum. Someday, it will shorten the customer's journey letting him or her register without leaving the inbox. But now, unfortunately, you can't enjoy the full potential of AMP's commands in Gmail and other email providers. However, you can still use selected interactive features to create a highly rich user experience that resonates with the audience the best.
Create a proper atmosphere. The right mood is what tug user's heartstrings and makes them visit your party. The emotional constituent is what goes into creating a compelling message that will resonate with the audience. Therefore, use design solutions to convey the atmosphere of the event. Ensure that the tone of the event matches the tone of the email to maintain professionalism and credibility.

Event Invitation Email with Creative Design
What Makes an Effective Event Invitation Email?
Obviously, it is an ability to communicate information and deliver the message. However, that's not all. To be effective, the newsletter should sell the event. How to do this? Follow these helpful tips:
Drive action through non-standard ways but always remain in line with the email's core message. For example, create urgency through humor.
Communicate the message with a minimal amount of text. Use more accompanying images, graphics, animated gifs, and even videos to deliver the message. It will help not just to inform but also entertain users, leaving an excellent overall impression.
Ensure that your readers understand what action you want them to take. Make CTAs clear. Use action words. Also, give them multiple chances to click on the desired link. For this, use multiple buttons across the entire email that lead to one destination. When well-done, being repetitive can emphasize the purpose of the email.
Emphasize UVP. Explain what the reader will get out of the event right from the get-go. Be sure to articulate the intent to make life simpler for your invitee.
Always leave them wanting more. Stick to minimal information with an engaging story to entice the reader to continue the flow.
Include a recap video of the previous years' events.
Be transparent with attendees. Justify the costs. Prove to users and managers that attending the event will be worth the investment.
Personally address the attendee.
Do not confuse your reader with many messages. One email – one goal. Event invitation email should be all about the event, not participants.
Segment target audience to smaller lists so that you can send different emails to different types of audiences.
Use personal signature as a finishing point. On the one hand, it will add a professional touch to the email, making the audience believe in the organization. On the other hand, it will add a human touch that amplifies personalization.
Give people a reasonable amount of time to make their mind. Do not be pushy. Be patient. Do not overdo with the follow-ups.

Event Invitation Email from Inspiration Cruises and Tours
Last but not least, along with these helpful tips, do bear in mind the best practices for email designs whatever campaign you are running:
Make the design mobile-friendly. It means that not only should the layout look good across smartphones and phablets, but also images and content should display correctly without any distortion. Optimize all your visuals. Make sure the typeface is legible, and the call-to-action button is reachable for mobile users.
To save yourself from adjusting the layout to meet responsiveness on all fronts, use Postcards made with responsiveness, mobile-friendliness, and accessibility in mind. With this HTML email template builder, you can concentrate on more important things such as email marketing strategy and testing your ideas.
Make the email design compatible with all the popular browsers, devices, and email clients. Make sure all the crucial elements of the interface are displayed.
Make it accessible. Take care of people who use assistive technologies and those who experience temporary disabilities or read your email in the evening after a long working day. Try to reduce eye strain by ensuring you hit an optimal contrast or provide a black mode version. Make sure your typeface is big enough, and all the visuals are distinguishable.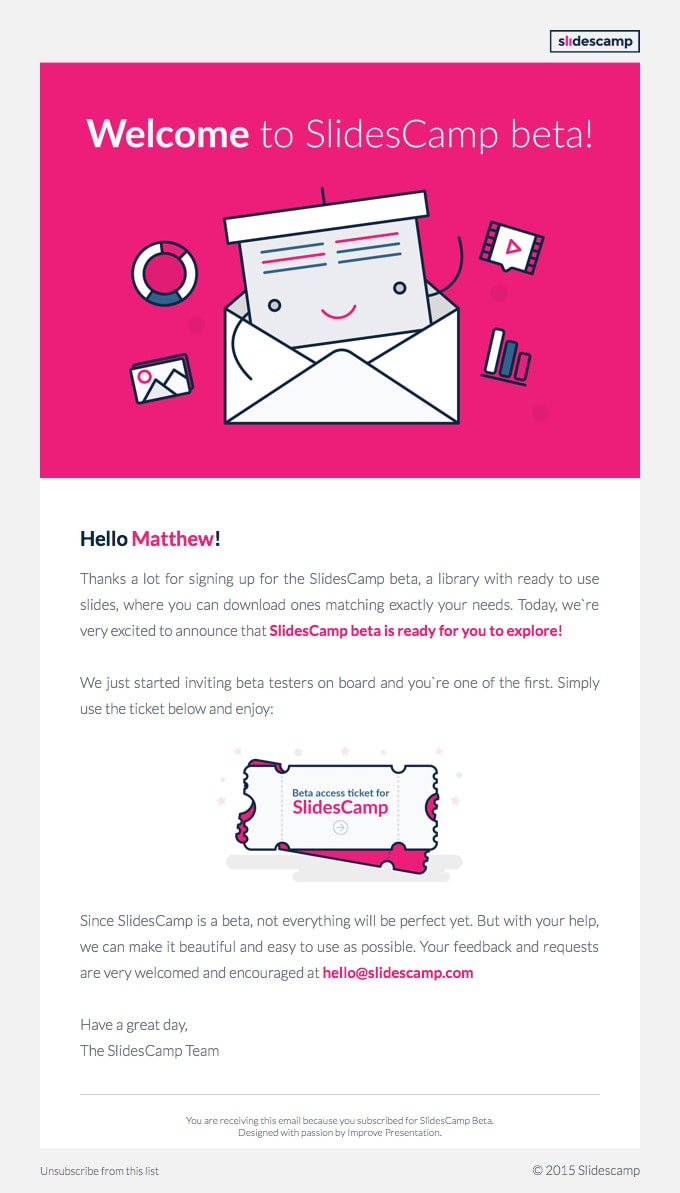 Event Invitation Email from Slidescamp
7 Successful Event Invitation Email Examples
We are going to end our guide with examples of event invitation emails. Here each and every case is an excellent source of inspiration, cues, and hints on how to use everything said above and emerge victoriously. Let's dive into our collection for useful takeaways.

Invite to the Launch Party
Assemble Papers provides us with one of the traditional types of event invitation email examples. It is pretty modest in terms of content but remarkable and memorable in terms of design. The deal is, the team focuses only on a core set of elements. So, what has the team done to promote the party and ensure high attendance relying solely on essentials?
They start their story with a huge illustration that visually supports the main message. It also sets everyone in the right mood as well as advocates the creative approach of the team.
They feature crucial information from the get-go.
They emphasize date, time, duration, and location.
They use a huge call-to-action button that is hard to miss. It is a closure that all users need.
They add a message from the CEO that makes the newsletter feel incredibly personal and human.
They insert a block with benefits to entice users to attend the event.
With all that, the team has taken care of formatting and structure: the reading experience is flawless, even for those who prefer scanning.

Event Invitation Email Example from Sonos
This exclusive invitation to preorder is one of those examples of event invitation emails that many traditional apparel retailers exploit. However, in the World of digital marketing, it does not matter what kind of a product you are selling. You can easily benefit from this type of event as well. Sonos is a vivid proof of that.
The email marketing team championed best practices.
The team ensures that all users get the information by creating a fully responsive, mobile-friendly, and accessible newsletter.
The products are the stars of the show. You can see them everywhere. Images are well-chosen and well-placed. They do not overwhelm readers even though they are a bit monolithic. On the contrary, they look "appetizing."
The team has added several buttons. However, all of them lead to the same destination and pursue one goal.
The team makes the most out of modern trends that improve email design and help the products look up-to-date.
Note, this email is all about a preorder. It is used to pique interest and make users feel important since they get exclusive access to the products.

Event Invitation Email Example from Louie Spence
Unlike previous examples of event invitation emails, this one capitalizes on personalization. Note the subject line: "I've seen you checking out my Bristol Masterclass." So it feels like the newsletter is addressed precisely to the subscriber and no one else. This is a good start that ensures high open rates.
Let's dive deeper into the newsletter itself. The event invitation email example from Louie Spence is a classic newsletter for promoting masterclass.  However, it does not look outdated. Thanks to some modern solutions, it looks fantastic. It increases engagement and certainly drives traffic. It features several marketing tricks that unobtrusively influence the decision of the user.
The letter begins with an intro addressed to the subscriber.
Right below the introduction, you can see a block with a special offer. The "seducing" discount of 20% off is hard to miss not only because it is pretty generous but because the team has skillfully highlighted it. The team treats subscribers right from the bat. Smart move.
There is a huge image-based hero area that makes an impression. It establishes the proper atmosphere and exudes the vibes of the event on all fronts.
There is some more information about the masterclass and some more discounts.
There is a video that shows what you can expect from the event. To amplify the effect, the team has also added a pretty motivation headline.
The overall design is energetic, just like the masterclass that is promoted. You can feel its heat and vibe.
There is a personal signature that makes a great closure.
The newsletter is planned down to the last detail. Every inch helps to accomplish the primary mission.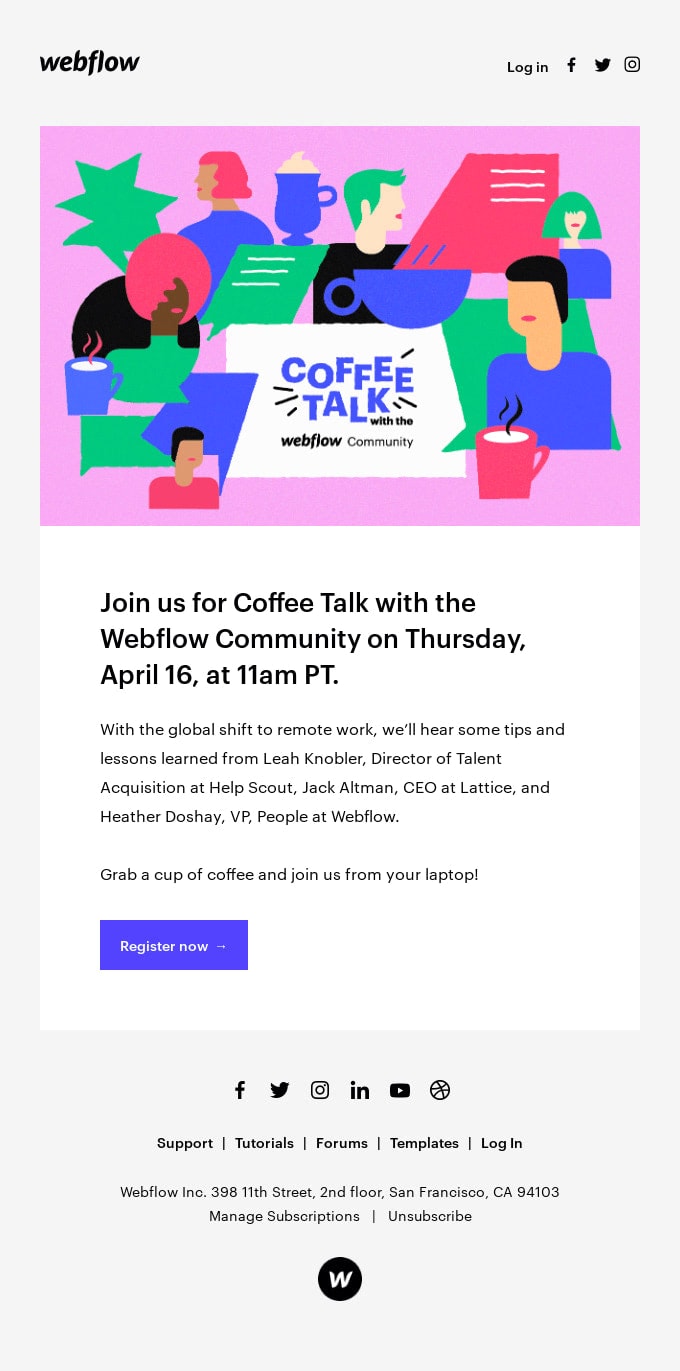 Event Invitation Email Example from WebFlow
Unlike the previous newsletter, this example of an event invitation email is compact and minimal. However, there is still room for some splash of bright colors and artistry that give the email irresistible charisma.
The team makes the most out of three essential elements that help deliver the message and compel users to register.
Hero area with a beautiful illustration that visualizes the event. It gives the email design personality.
Introduction that features details of the event. It has a big headline and some warm, welcoming words that break the ice.
Call-to-action button with the action that subscribers need to take in order to join.
To reinforce the overall effect, these elements are arranged according to an inverted pyramid principle.
Last but not least, the team has also hit the best practices for email designs. The newsletter is responsive, mobile-friendly, accessible, and compatible with popular browsers and email readers. It also has social media icons on the top and a footer with a physical address and helpful links.
It is an excellent example of how to stick to a minimal amount of information and ensure high attendance.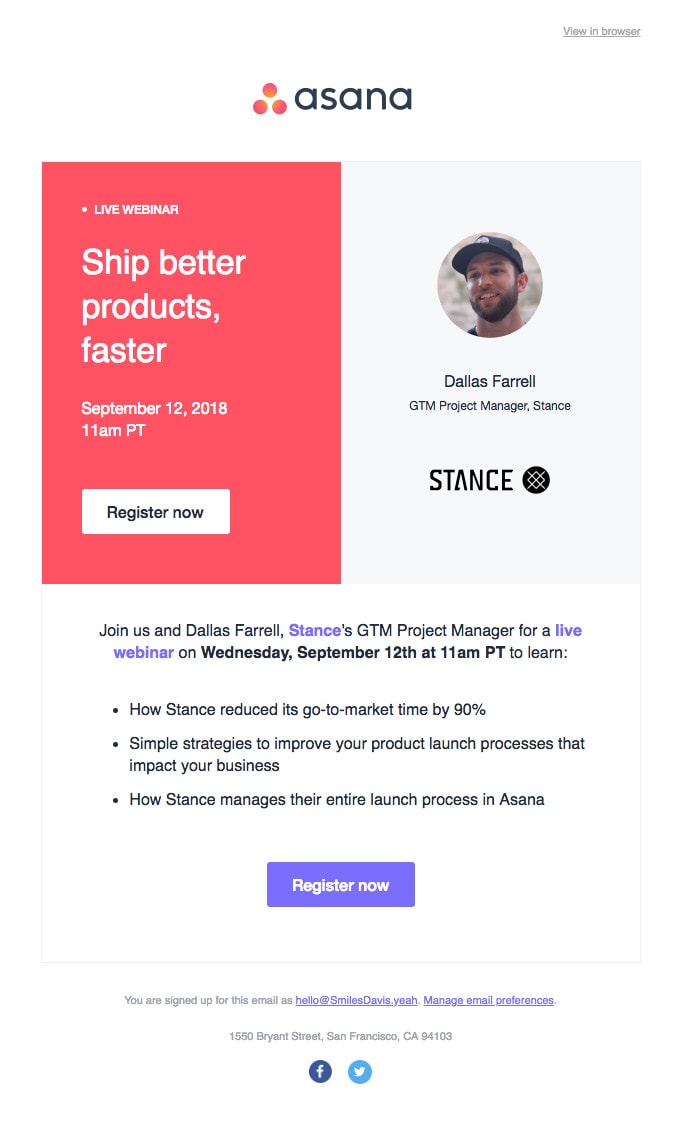 Event Invitation Email Example from Asana
The examples of event invitation emails from big brands always have some excellent hints on making the first impression count. Here, you can see a promising start. The subject line is impeccable. It has a question that naturally appeals to subscribers. It generates buzz since everyone wants to know how to launch products 12x faster.
What about the event invitation email itself? It meets all the requirements and uses some help of best practices. Much like in the previous case, the design is minimal. Nevertheless, it skillfully encapsulates all the crucial details and prioritizes vital moments.
Again, everything begins with an image-based hero area. However, it is much clever. Being split into two, not only does it feature the speaker, but it also has room for headline and call-to-action.
You can then see a copy that reveals details about the future event and a second call-to-action that, much like the previous one, leads to the same landing page.
That's all. However, what else do you need? It has everything.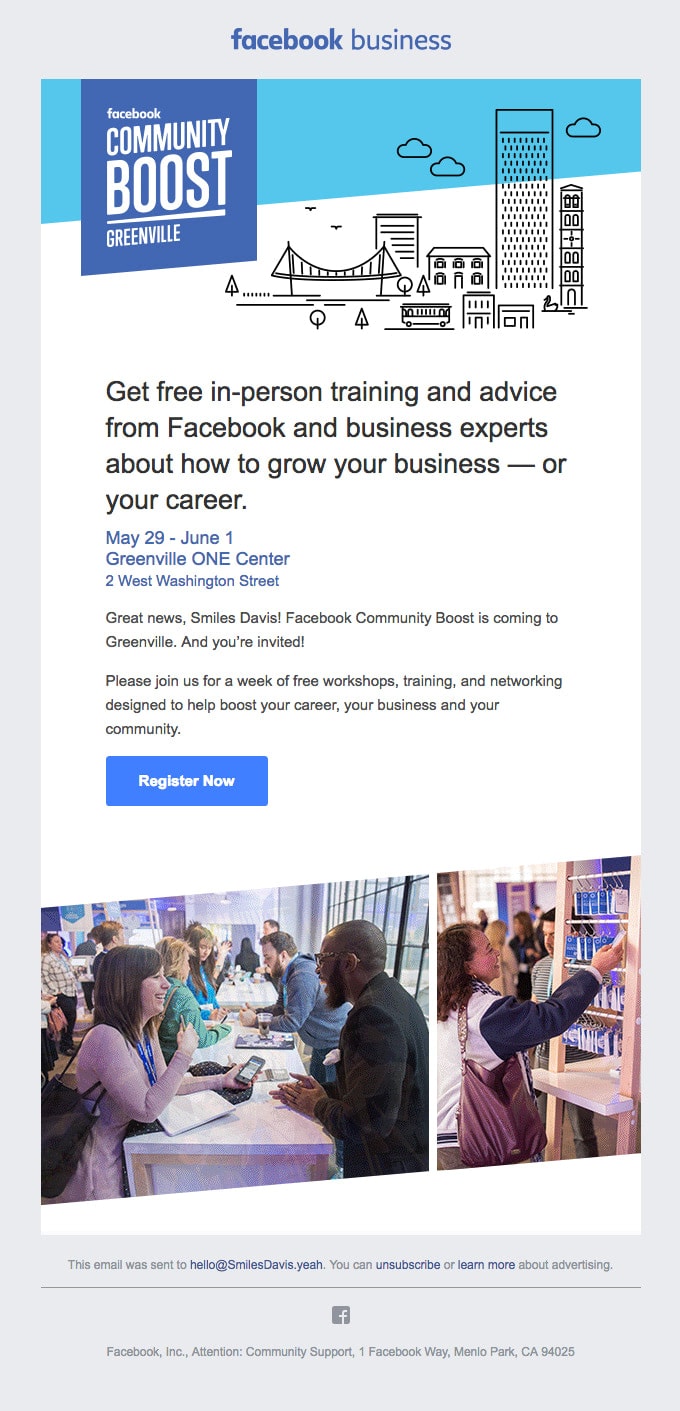 Event Invitation Email Example from Facebook
The email marketing team at Facebook knows a thing or two about this stuff and is a great source of inspiration. So, what key takeaways you can grab from their newsletter?
The email design is made with the latest trends in mind. There are beautiful illustrations, modern coloring, geometric shapes, and a neat and clean one-column layout.
Everything works great across all devices, email readers, browsers, and of course, AT.
It is based on the inverted pyramid where hero image, copy, and call-to-action effectively grab the user's attention, deliver the message, and prompt action.
The team has personalized the message making it more appealing.
Time, location, and duration are well-highlighted so that you can get this crucial information right away.
The team also features a schedule. It is short yet straight to the point. It is enough to give some insights and drum up interest.
Finally, there is a closure that features photos from the previous event.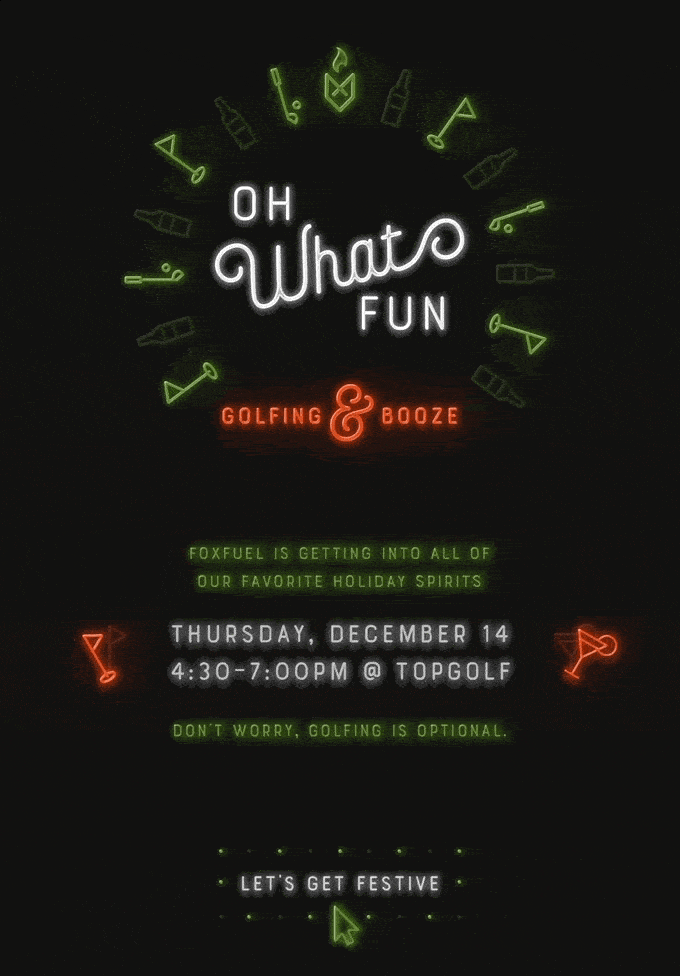 Event Invitation Email Example from FoxFuel
How about a party? Until now, we have featured examples of event invitation emails dedicated to conferences, webinars, and masterclasses; it is time to consider a party invitation. Take a look at this typical email design to see how it is done by leading brands that adore putting heart and soul into email marketing.
The first thing that strikes an eye is, of course, the design. It is outstanding. It screams out holiday on all fronts. It is like a digital version of a flyer that invites everyone to the VIP club. It establishes a proper festive atmosphere and gets everyone into a celebratory mood. Can you resist this?
Another essential thing to note is a negligible amount of information. It features are time, date, and location.
Finally, there is a dose of humor. It serves as a closure and reminder that the party is going to be awesome. Brilliant.
Conclusion
Even though we have all sorts of social media platforms to send invites, email marketing still stays on the lead when it comes to generating traffic and converting clicks into sales. Therefore, it comes as no surprise that top brands exploit it to the full extent. It serves as a reliable platform to feed subscribers with crucial information, stir up interest and drive engagement, thereby ensuring good attendance.
Creating an event invitation email campaign, much like organizing an event, can be a real challenge. However, no obstacle is insurmountable with the right tools at your fingertips.
Many factors come into play when crafting a successful event invitation email: subject line, copy, design, atmosphere, segmentation. To make it work, you need to come up with a personalized strategy that aligns with your objectives, email segmentation, and type of event. For this, please stick to the best practices, focus on core elements, and improve them with some tips and tricks provided by the leading brands.
Like what you're reading? Subscribe to our top stories.