High-Converting Re-Engagement Email Examples and Best Practices
No one wants to lose customers. Sadly, it happens all the time. People need reasons to stick around. If you do not nurture subscribers or slowly react to changes in relationships, you can lose customers. Onboarding a new customer is more expensive than keeping an existing one. Re-engagement email newsletters will help you.
There are different ways to reach out to subscribers who ghost you. The most effective is through re-engagement emails.
Re-engagement emails are a special kind of transactional newsletter. Unlike the majority of automated emails (like abandoned cart emails) that are activated by unique customer actions, this one is triggered by subscriber inactivity.
They play a vital role in the email lifecycle by providing a jumpstart for those who have shown a lack of interest. They push contacts in the right direction, keep relationships healthy, win back lapsed contacts, and save lost revenue.
Re-engagement newsletters come in several broad categories that deal with various types of inactivity, hesitation, and disengagement.
Types of Re-Engagement Emails
Generally speaking, re-engagement newsletters come in three main categories:
No-Code Email Template Builder
With Postcards you can create and edit email templates online without any coding skills! Includes more than 100 components to help you create custom emails templates faster than ever before.
Try Free
Other Products
Win-Back Emails
Reactivation Emails
Customer Appreciation Emails
Each can be broken into smaller groups. Thus, win-back emails include:
Friendly Reminder
We Miss You Email
Active Incentive Email
Last Chance Email
Good-Bye Email
Reactivation emails include:
Abandoned Cart Emails
"Latest Offer" Email
The Recommendation Email
Feedback Email
Survey Email and others
Customer appreciation emails are a particular case of re-engagement that stands on its own. While the two previous types mostly deal with cold leads, this one quite often works with warm leads. By keeping subscribers happy and nurturing them with the care, they reinforce the relationships and re-engage customers in times when they only start to lose interest in the brand. Therefore, they also fulfill a retention purpose.
Here are some popular types of customer appreciation emails:
Thank You Email
Special Day Email
Anniversary Email
Milestone Email
Exclusive Offer Email
Birthday Email
Gratitude Email
Depending on the level of inactivity and disengagement, you may need to apply one or another type of newsletter and strategy.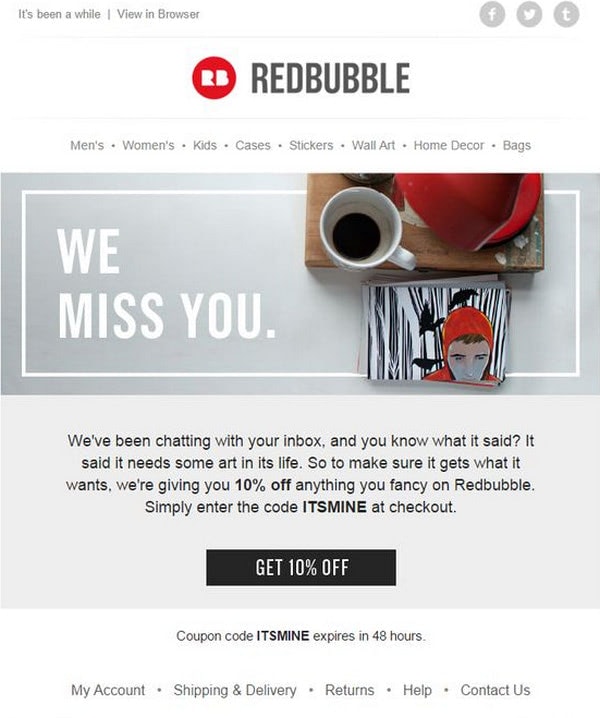 Re-engagement email from Redbubble
Predictably, the goal of a re-engagement email is to get people to interact with your emails and re-engage with your product and company. Though, that's not all. Since it is a transactional email and a part of the overall strategy, it should carry out some other missions as well. Quite often re-engagement newsletters are used to:
Introduce a new concept
Push contacts to finalize the deal
Remind the recipient of why they signed
Accentuate the value of the brand
Re-open a conversation with prospects
Reinforce brand reputation
Enhance email deliverability
Increase open rates and click-through rates
It is increasingly important to run re-engagement campaigns to maintain relationships with customers. When engagement drops significantly, and open and click-through rates see a considerable decline, ISPs may consider you a low-quality sender. Consequently, they may flag your emails as SPAM and grant you with bad email sender reputation and penalties. That is a disaster for any company.
Subject Lines for Re-Engagement Emails
Re-engagement emails quite often deal with cold leads. Therefore, unlike subject lines for BFCM weekends, here they serve as icebreakers. When done right, they become wake-up calls that grab people's attention and restate your value proposition.
To come up with a high-converting subject line, you need to take into account a type of re-engagement newsletter, since it dictates rules for theme and emotions.
For instance, when it comes to win-back emails, it is best to capitalize on the "miss you" theme. Therefore, subject lines with a sad note are absolute winners. Here are some excellent examples:
We've Missed You! Here's 15% OFF EVERYTHING
It's Been a While! We've missed You!
We Want You Back!
20% Off. Because We Miss You ❤
We Still Miss You. (And You Still Have 20% OFF!)
We Want You Back!
Is this goodbye?
Reactivation emails can be centered around various emotions. You may put everyone in a cheerful mood, add a healthy dose of humor, or stick to the sad theme as well. Also, do not forget to put your offer on the table right away to support the statement. Some good examples are:
Just Remember… We Just Love Treating You: Get 20% Off Everything!
There's Still Time! Extra 20% Off
You've been selected to receive $50 of free XLM
Last call: 3-year plan for you only
Surprise — A Profitable Unicorn
Have you seen this weird picture?
We need to have THE TALK
Are we breaking up?
Customer appreciation emails mostly enhance good relationships with the customers. Therefore, you may go for subject lines with a positive note. Here are some examples for inspiration:
Thanks for being our customer
Happy first anniversary to us
Welcome Back, <User Name>! Check Out What's New…
Glad to have you back, <User Name>!
A unique coupon to welcome you back!
When creating a subject line for re-engagement emails bear in mind the common recommendations such as:
Do not sound too spammy.
Do not sound too bossy and pushy.
Do not sound too desperate.
Use actionable or emotional words.
Offer real value.
Spark curiosity and drum up interest.
Use emojis like heart, star, sad face, gift to highlight the emotional side of the theme, and easily cut through the overcrowded inbox.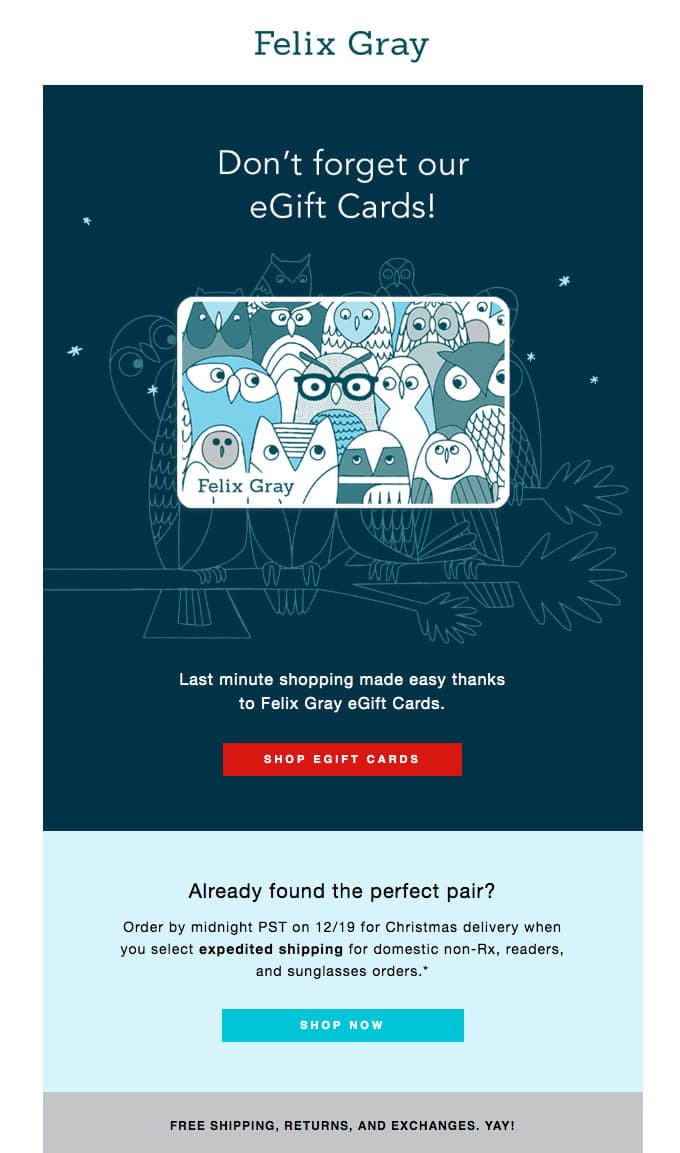 Last call for Holiday orders from Felix Gray
Why Users Tune Out
Before moving into tips on how to create effective re-engagement newsletters, we need to get to the root of the problem. It is crucial to define the reason why users ignore your brand since not everyone disengages for the same cause.
Depending on the reason why users stopped connecting and the type of inactivity, you need to create a customized approach. There are so many reasons why users may become inactive, from lack of time to issues concerning your product or email campaigns.
As a rule, the core of the problem lies in several things:
Product (poor execution, difficulties with using service, high prices, poor shipping options, unimpressive product release, fierce competition with valid alternatives to your product, etc.)
User experience (the design is poorly optimized for mobile devices, awkward interface, hidden access to essential functionality, tedious check out process, etc.)
Email campaign (too many emails, not enough nurture emails, emails without value, offensive emails, spammy emails, spammy subject lines, pushy content, bossy tone, inappropriate language, irrelevant content, repetitive emails, ill-considered product and service emails,)
Email overload due to holidays like Thanksgiving, Christmas, or New Year or huge shopping events like Back-to-School or Black Friday and Cyber Monday.
Deliverability problems
Personal reasons (busy working schedule, changes in customer's needs, etc.)
Even though discontent with product and user experience is not a concern of email marketing, still with well-thought-out re-engagement email, you can bring users around even in such situations.
Who Needs to Be Re-Engaged?
Re-engagement newsletters target subscribers who have gone dormant. This is a vast scope. Primarily, it includes subscribers who:
Lost interest in your brand
Do not open emails
Do not click on call-to-actions
Do not make a purchase
Have not finalized previous actions
Want something better or something more
Are existing customers but have subscriptions expiring soon
Who decided to opt out from the subscription list
Also, depending on your brand and target market, you may delineate some other types of customers who require a re-engagement email.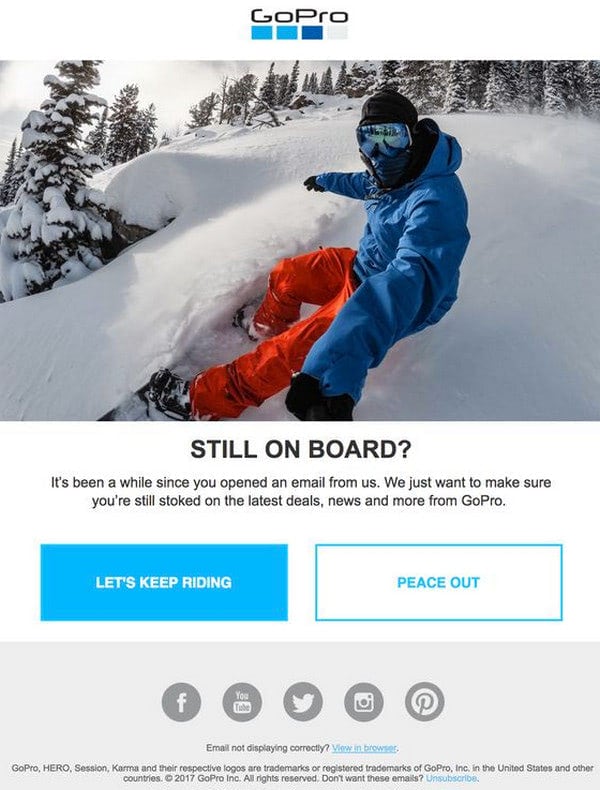 Re-engagement Email from GoPro
How to Create a Successful Re-Engagement Email
After you define who to target, it is time to create a strategy and re-engagement newsletter to bring them back. Here are best practices to ensure the success of re-engagement emails:
Segment your list of inactive subscribers. The success of re-engagement newsletters heavily relies on a properly segmented list.
Personalize everything: subject line, content, offer, design. This way, you create a one-to-one conversation catered to each person's individual preferences.
Focus on emotions. Re-engagement emails may benefit from various emotions. You may go for a sad theme, apply humor, be witty, establish a cheerful mood, etc.
Offer an incentive. Like it or not, but without a good discount, it will be difficult to re-engage subscribers. Reward customers for returning to the store with an irresistible offer. Make your deal sound exclusive.
Capitalize on an emotional response to FOMO, scarcity, or urgency.
Offer a gift. Reciprocity is an effective tool, especially in times when a subscriber needs some good reason to reconsider its attitude towards your brand.
Add social media icons and an option to share information with others through various popular channels.
Choose the right time. It is advisable to have a healthy waiting period. According to statistics, you should wait for 31-60 days before sending a re-engagement newsletter.
Use interactivity. It is a promising trend in email marketing in 2020. As a rule, it is realized through such features as hotspots, JavaScript-powered elements, and AMP. On top of that, email marketers use animated gifs to imitate traditional interactive experience.
Mix gamification with a reward program.
Offer alternatives to unsubscribing.
Set the right expectations.
Focus on content. It should be relevant, informative, and well written. On top of that, it should be bold, bright, and straightforward. Center your message around the theme of getting back together. Some good ideas to uncover in your copy:

Show how the product may improve the lives of the user
Acknowledge subscriber's achievements
Offer genuine congratulations
Showcase to subscribers what they've missed
Give examples of the user's success
Apologize for inconveniences
Detail how you plan to improve
Highlight the improvements in the product
Qualify and quantify your brand with social proof and statistics
Impart a reason to reactivate clearly and succinctly
Tease updates to come
Speak to real results
Show them that you care

Verify the email newsletter before sending it out. Proofread everything to eliminate embarrassing errors.
Let people update their email preferences and adjust email frequency.
Make the unsubscribe option clear.
Run an entire campaign.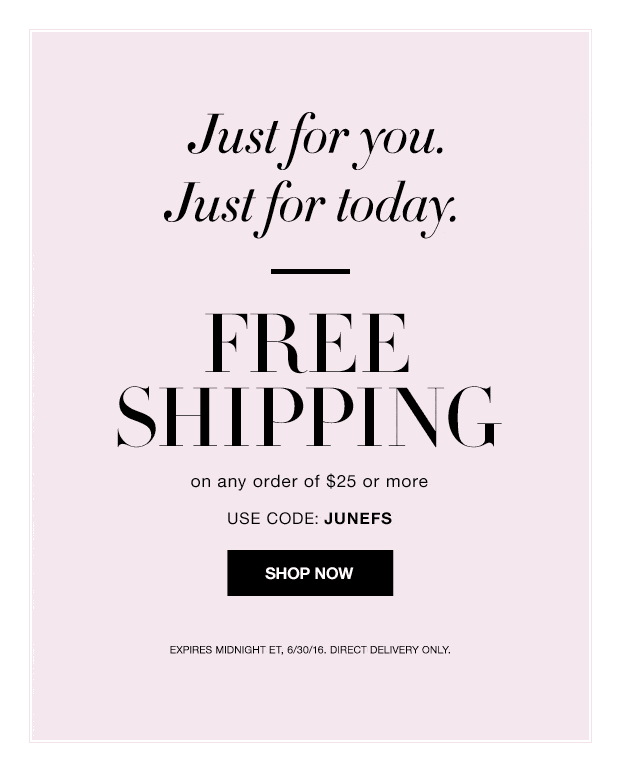 Re-engagement email from Avon
Re-Engagement Email Campaigns
All serious issues with subscribers require a complex approach that in email marketing means campaign. It is quite challenging to show subscribers why your product and your company worth their time in just one email. Remember, they have already become disengaged. They need some good reasons to get back. Besides, people are bombarded with emails each day. As a result, quite often, the first re-engagement email goes unnoticed.
You will need more than one friendly reminder with an offer to at least get the attention and direct it towards your brand, to say nothing about bringing users back. Therefore, you will need an entire campaign.
Re-Engagement Email Campaign Tips
In general, email marketers prefer to send three or more re-engagement newsletters. However, you need to exercise caution since too many newsletters may scare users away.
The rule of thumb, build your strategy around the level of user's commitment to the brand. For instance, if the subscriber is a loyal fan, then you can send five to seven re-engagement emails. However, if this is a new subscriber, then three re-engagement newsletters may even be too many. Also, if the subscriber has lapsed and intent to leave and never come back, then one email may be enough not to make things even worse.
Depending on the time of inactivity, you may adopt one or another approach to create highly tailored win-back emails. For example, those who have just become inactive need only a small push, whereas lapsed subscribers should be carefully treated and nurtured with a highly appealing offer. Plan tactic based on subscriber's behavior and lifecycle stage.
Do not offer many options. As a rule, re-engagement email should have only one message, one offer, and one call-to-action. Depending on your strategy and type of inactivity, you may plant a seed for future email or, on the contrary, try a cardinally different approach and reach the person from a different perspective. However, sending a follow-up email is obligatory.
To bring your series of re-engagement emails to life without losing precious time, you will need a quick solution. For this use Postcards, a free HTML email template builder. With the hundred stylish and field-tested components and an intuitive drag-and-drop interface, you will be able to assemble beautiful high-converting re-engagement newsletters within minutes and test your strategy without much hassle.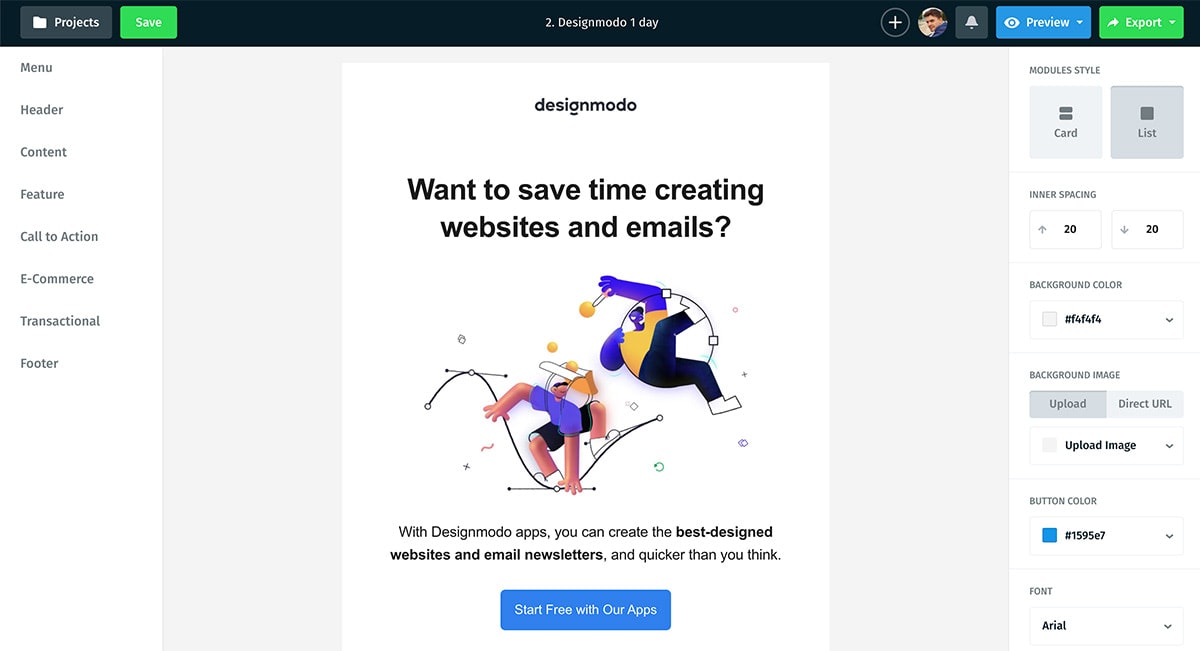 Last but not least
Re-engagement newsletters target inactive and passive subscribers. However, if the contact has decided to leave you once and for all, and even the most aggressive re-engagement email with the biggest offer failed to work, then it is time to let him or her go. Always respect the client's decision.
Key Features of a High-Converting Design of Re-Engagement Email
Generic emails seldom work when it comes to bringing lapsed subscribers back. You need to show emotions and deploy some marketing tricks in a beautiful wrapper. Even though plain text emails feel increasingly personal, you need a rich HTML design.
A custom HTML newsletter with good design does work better when it comes to re-engaging. To craft a high-converting email newsletter, you need to incorporate such feature such as:
A personalized experience that means the copy, imagery, even offer and design should be chosen according to contact's preferences.
Beautiful typography that not only displays messages but also delivers it under the proper light enhancing the meaning.
Tools like color, icons, background, textures that help to create a proper theme to match the desirable gamut of emotions.
Call-to-actions with powerful phrases and style that separates them from the reading flow.
The offer that caters to contacts needs.
Dynamic effects that leave a long-lasting impression produced by the interaction with the email.
The fully responsive structure that provides a consistent experience across devices.
Trendy details that make the newsletter look modern and brand up-to-date.
Usability that creates a comfortable environment for readers.
Email Accessibility that bridges the gap between the content and reaches as many contacts as possible.
Check out 5 Email Newsletter Designs, Best Practices for Beginners to nail this task.
High-Converting Re-Engagement Email Examples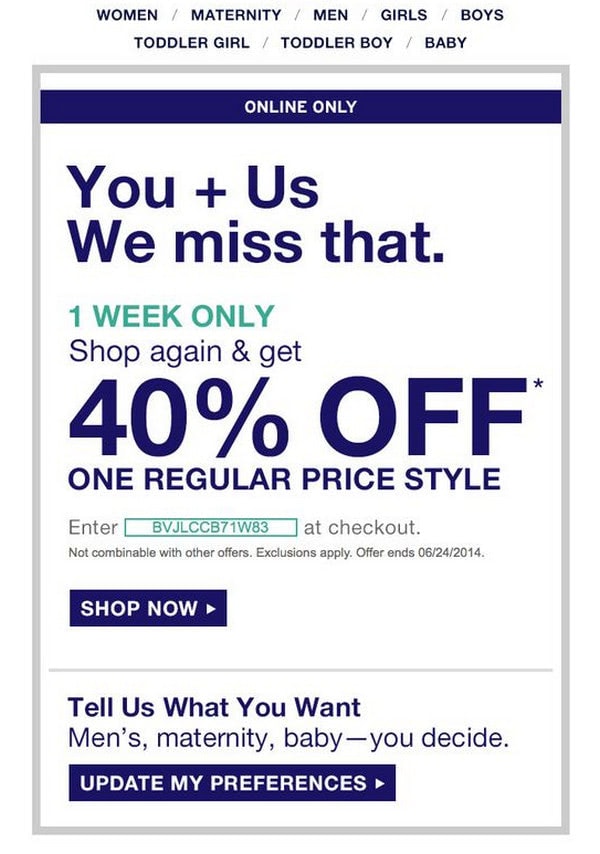 You+Us by Gap
Re-engagement email example from Gap woos inactive subscribers with a considerable discount featured right from the get-go. The team skillfully sets expectations and starts the conversation. Despite its compact size, the newsletter covers essential information.
A list of benefits to remind about the value of the brand
Invitation to update preferences to give contacts freedom
Shopping incentives to end the exploration of the copy on a high note
Note the design here. The team sticks to a clean approach with a well-organized structure, modest coloring, and a limited amount of visuals. The bold yet straightforward typeface does all the heavy lifting. It highlights the offer, focuses subscriber's attention on the crucial details, and simply tempts the users to get back.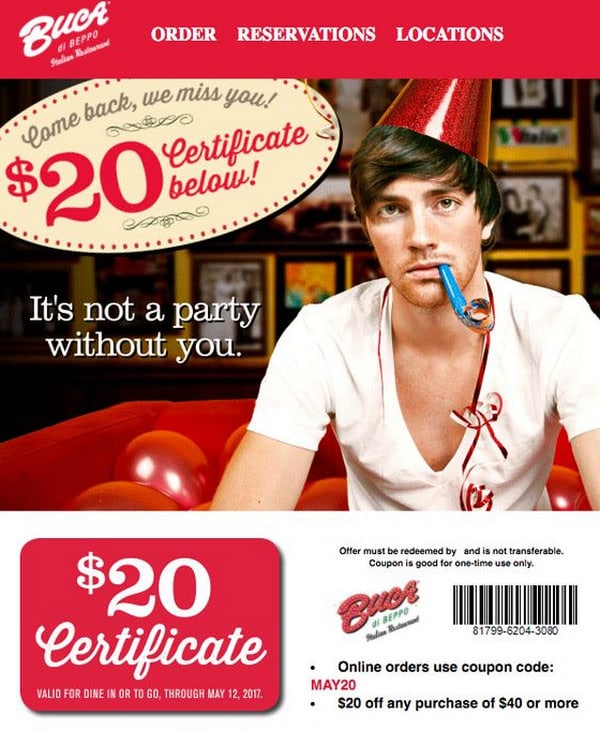 Re-engagement Email Example from Buca
Here, imagery speaks volumes.
The re-engagement email example from Buca starts winning subscribers back with a background that tugs at subscriber's hearts with its sad theme. The team has gone into persuasion mode without much pressure: photo is fantastic, whereas a $20 certificate is a pleasant eye-catcher.
Note, the design is extremely compact. All you see is a picture that makes a subscriber feel wanted and a shopping incentive that gives him or her a boost to reconsider indifference toward the brand. The idea is simple yet effective.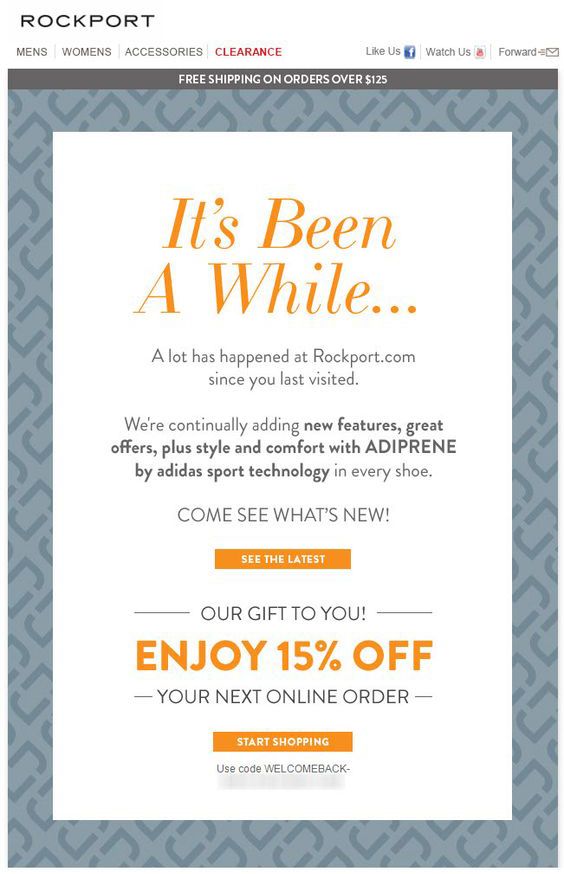 Re-engagement Email from Rockport
"It's been a while…" is a classic re-engagement email example. Many brands use it in their pursuit of getting back inactive subscribers. This one is the first email newsletter in the win-back series. As a rule, it targets those contacts that are inactive for a short period. Therefore, it has a non-aggressive shopping incentive and simple marketing tricks.
Note, the newsletter is relatively compact and straightforward. There are no lavish decorations but it feels stylish thanks to the subtle background and fancy typography. The copy includes three key things:
A link to everything that an inactive subscriber might have missed. The team tries to drive traffic to the website.
A small discount presented as a special gift. The team establishes a sense of exclusivity that appeals to human nature.
A shopping incentive (free shipping).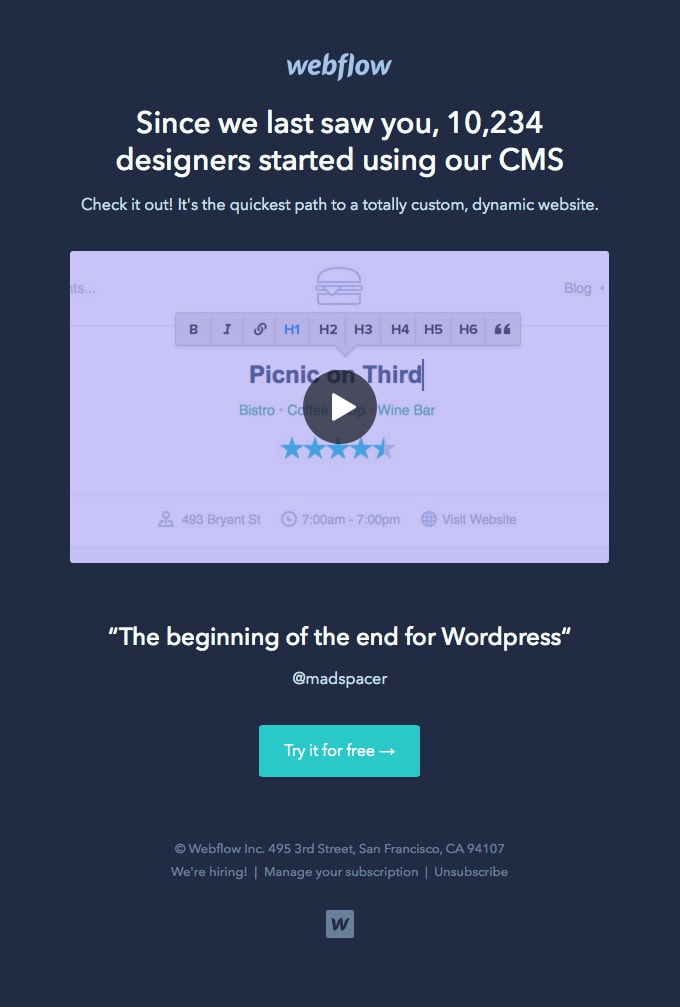 Miss You from Webflow
Simply entitled "Miss You," this re-engagement email example from Webflow appeals to subscribers who have recently become inactive. It rekindles the user's interest with impressive statistics that quantify the value of the product. Featured right above the fold, it is the first thing that strikes an eye. A good start is not it?
Also, the team has included a video with an engaging presentation and a testimonial left by one of the clients as a social proof to qualify the value of the offer. Note the button uses powerful action words and a hidden marketing trick.
The design is quite compelling: all the cards are played right. It easily re-engages those who still have an interest in the brand.
To imitate the same design within seconds, you may use Postcards. It lets you add videos, testimonials, and beautiful call-to-actions as well as set the colors and use fancy typography simply by dropping them to the playground. Quick and effective.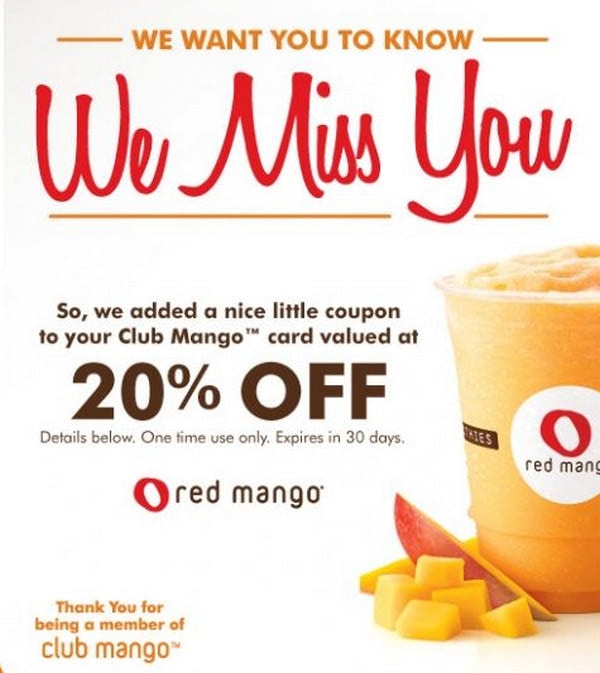 Re-engagement Email Example from Red Mango
As all we know, offering an exclusive deal is the easiest way to regain the attention of subscribers. Red Mango, with its re-engagement newsletter example, proves this in practice. The "20% Off" discount is a head-turner.
The key takeaways of this compelling newsletter are:
"We Miss You" title that is used to evoke empathy
Discount placed right at the heart of the design
Picture of a yummy beverage that gives an edge to appetite
"Thank You" note
Message centered around the exclusive deals for Club members
As for the design, again, it is minimal. It is just a one-screen layout that feels pretty much like a traditional paper flyer. It skillfully spotlights crucial moments tying everything into an easily digestible piece.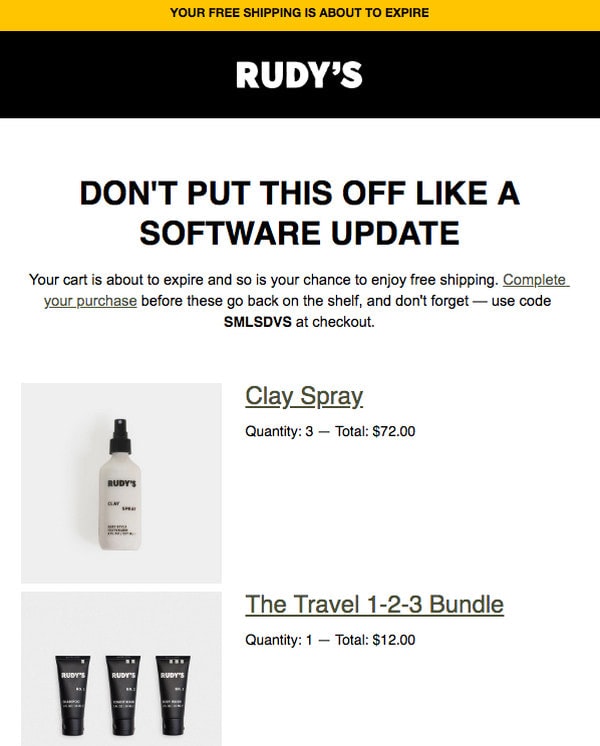 Abandoned Cart Email from Rudy's
Humor and emotional appeal work. This re-engagement email example shows how Rudy's team skillfully deals with the abandoned cart situation by capitalizing on emotion. A witty phrase lightens the mood and breaks the ice. Whereas the display of items left in the basket re-kindles interest.
To reinforce the overall effect, the team has added an announcement of the free shipping right to the top.
The design centers on a win-back strategy. There is no clutter; only things that bring value to the contacts. The call-to-action leads right to the handy checkout page. The company's name is also highlighted to eliminate the risks of misunderstandings.
The solution has all the main qualities of a good re-engagement email.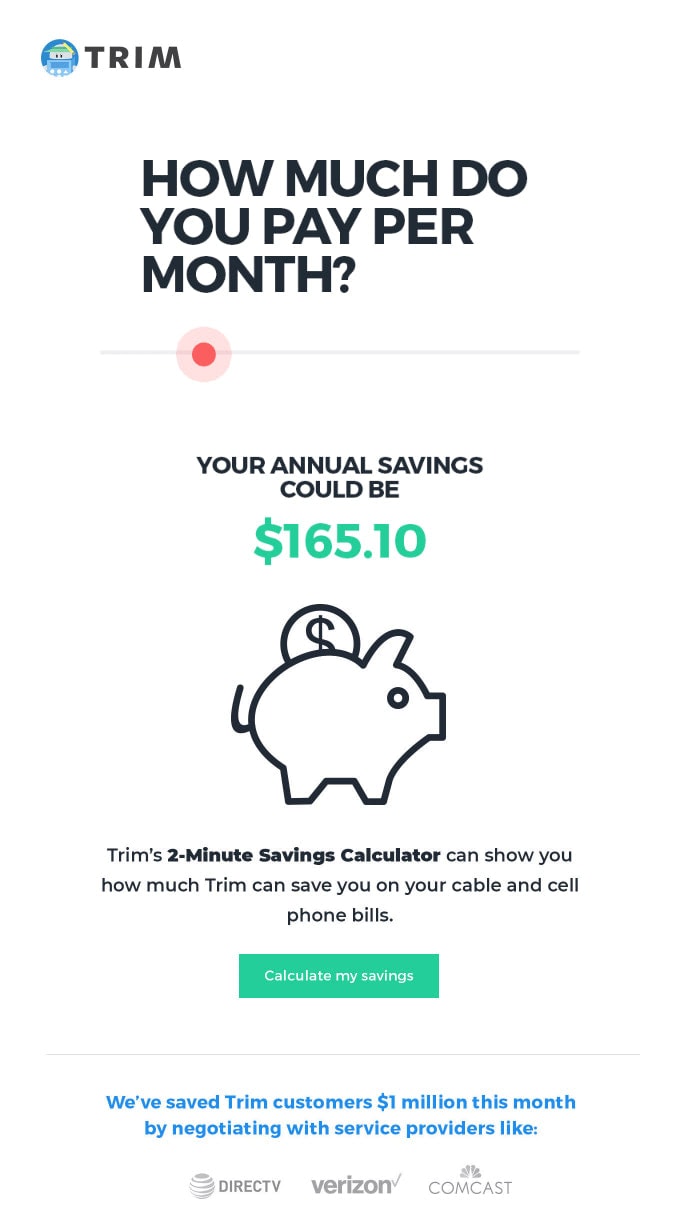 Re-Engagement Email Example from Trim
Unlike the abandoned cart email from Rudy's, which is rather obvious, this one is smart and canny. It is hard to say from the first seconds that it is a re-engagement email example. The deal is it feels like an informative piece that provides a helping hand for those who want to calculate their annual savings.
However, with a link to the calculator, the team drives traffic to the website since people do not feel the threat of being forced to getting back. Also, with digitized proof of what they have managed to achieve, they cultivate trust in the company and reinforce relationships by bringing value to the inbox.
The idea is ingenious. The trick works without a doubt.
Conclusion
Even though subscribers are just not that into you, it does not mean you should quit. When done right, the re-engagement email may save the day and keep dormant contacts awake. Of course, good re-engagement email requires a bit more legwork, but the extra effort can pay off.
Finally, no matter how successful a re-engagement email can be, it is better to prevent the problem than to fix it. Therefore, follow best practices for conducting successful email marketing campaigns in the first place and adopt preventative measures to reduce list churn rates. Consider these last-minute tips:
Regularly clean up subscription lists and segment according to the user commitment.
Use a double opt-in to onboard users who are interested in your brand.
Run polls and surveys to define user preferences correctly.
Ask for feedback and reasons why a subscriber wants to opt-out.
Check whether onboarding emails, as well as appreciation emails, work as they intended.
Track deliverability rates to assess whether you have problems with your provider, IP reputation, server, etc.
Monitor the drip campaigns and act immediately.
Do split tests. Do not make assumptions. Always test subject line, content, design, and offer.
Listen to your subscribers.
Like what you're reading? Subscribe to our top stories.