How to Get Response with Follow-up Emails
It happens to everyone: Your email message elicits no response. But everything is not lost. You still have an opportunity ahead of you with a follow-up email.
Believe it or not, the sixth email in the sequence may receive more response rate than the first one, according to Iko System. If users don't respond to your first email, it does not mean that they're not interested.
Break through this wall of ignorance with a reminder email. As other studies suggest, by investing in a follow-up strategy that includes more than four emails, you can be on top of the game, since 92% of salespeople give up after four "no's," giving you a clear way to win over clients on your own.
Let's walk through the basics of reminder emails, take a closer look at the best practices for follow-up emails, and of course, get some cues from real-life examples so that you have a solid start.
What Is a Reminder Email?
A reminder (follow-up) email is a generic element of every email marketing strategy. It should remind users about the current marketing campaigns and compel users to respond.
Why Do You Need a Reminder Email?
Whatever email marketing campaign you are running, will need a reminder email because people forget things. Subscribers, whatever loyal and responsive, are drowning in a flood of emails every day. Information overload is a harsh reality that plays a cruel joke on businesses. Unfortunately, we can't avoid this. Therefore, we have to face some consequences. To make these consequences less damaging, companies resort to follow-up email tactics.
No-Code Email Template Builder
With Postcards you can create and edit email templates online without any coding skills! Includes more than 100 components to help you create custom emails templates faster than ever before.
Try Free
Other Products
Well-thought-out reminder emails convert in a variety of scenarios:
Cold sales
Warm sales
Product sales
Giveaway
Promotional outreach and much more
They also prove to be useful when you need to:
Capture user attention
Retain leads
Convert leads
Close deals
Get necessary information
Build long-lasting relationship with prospects
Increase response rates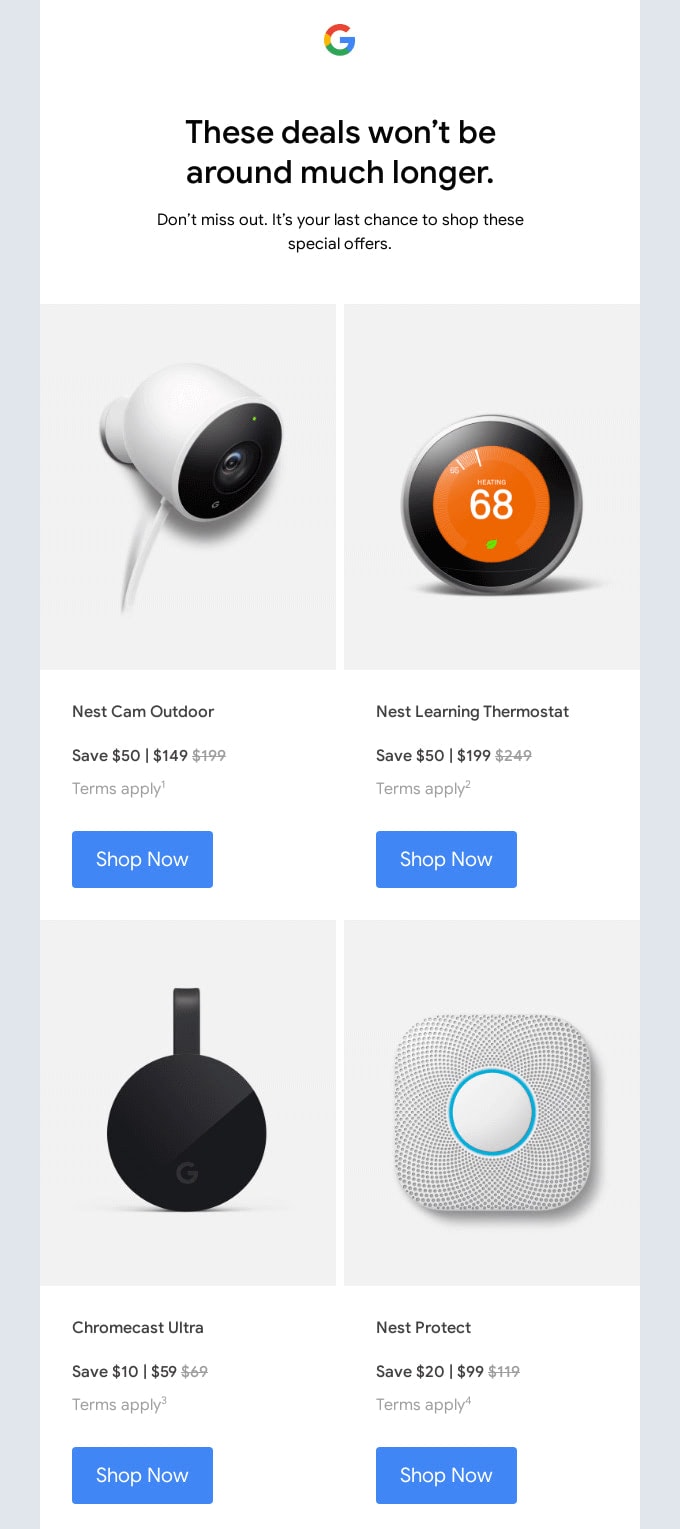 Reminder Email from Google
When Do You Need a Follow-up Email?
Based on the type of sales, reminder emails can be divided into several groups. They could be sent after such events and occasions:
After no response. It is a typical situation that the majority of us face daily. As we have already stated, do not give up. According to stats, you need to send at least four more emails to see through. Therefore, develop a phased strategy where follow-up emails are linked to each other, creating a consistent experience.
After a trigger event. Triggers can be different. One of the most popular is the user re-opens the email or abandons the cart. It is here where you can send a follow-up email with some shopping incentives to gauge prospect's interest. Using automated tools, you can set up a range of follow-up emails that will be right on time to get clients back into the sales funnel.
After you tweak an email. When some changes were made, or you need to edit the details of a deal like shipping information, you should use a follow-up email.
After a conference or networking event. After the successful event, it is always obligatory to say thank you in a follow-up email to all the participants as well as recap the best moments to have a chance to capitalize on the user's satisfaction later.
After a follow-up email. Do not expect your first follow-up email to be a success. Just keep going. Stick to your guns. Persistence pays off.
After sending several follow-up emails. It is not time to give up either. According to stats, 80% of sales require at least five gentle reminders to emerge victoriously. Therefore, be ready to send out some more emails.
General purposes. Reminder emails are integral for various campaigns. Whenever you feel it is appropriate to remind yourself, it is time to do it. It can be a Holiday email campaign, Seasonal email campaign, or Transactional email campaign.
After the first response. It is a common belief that after getting an answer, you need to stop. The deal is, the more customers you can keep happy, the faster your business will grow. After your first response, it is necessary to show your prospects that you value their time and explain how you can help them. So, another follow-up email, please.
The important thing to note is that a follow-up email can be used as a Thank You Email that plays a crucial role in retaining and building strong and healthy relationships with prospects. Showing gratitude does not always mean the response; on the contrary, as a rule, such newsletters do not imply this. Nevertheless, even without any reaction from your customers, they benefit the business significantly.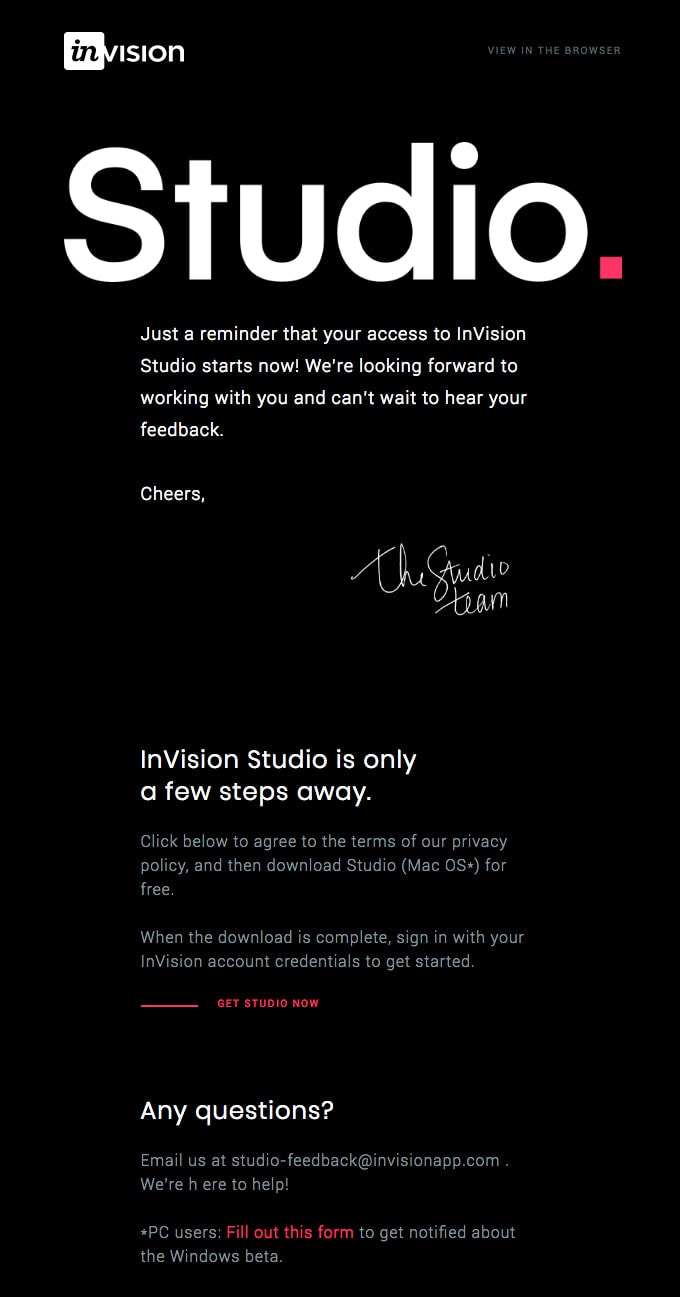 Reminder Email from Invision
How Long Should You Wait Before Following Up?
According to recent studies, 48 to 72 hours after your initial email is the best time to send reminders. However, your audience may dictate other rules.
Sometimes you can start earlier or hold for a bit longer. The key to success lies in proper segmentation and understanding your clients' behavior patterns and email habits. Also, the season and time of the week may influence this time window.
For example, during holidays, people rarely check out their emails, whereas they are more likely to open emails in their inboxes at the height of the working week. So, do your homework well: segment the audience and study your recipients' preferences.
The Best Time to Send an Email Reminder
As we have already mentioned, the time frame for sending out the reminder email vary. There are many factors to take into account. Bear in mind these practices that serve as a good starting point.
If the lead is very interested in your brand (basically, it is a hot lead or qualified lead), you can send out a follow-up email during the first 6-12 hours.
If the lead is warm and provides a positive reaction, then a reminder email should be sent from 24 hours to 72 hours.
If the lead is cold, the follow-up email should be sent within 3 to 5 days.
Also, depending on the situation, you may adjust this time frame.
If the sale ends tomorrow, then you can send a follow-up email right now.
If you need to remind the contact to pay an invoice after it's become due, you can send a follow-up during 3-5 business days.
If you want to provide some extra information, then you can do it for five days.
If you want to connect with a cold lead, you can send a follow-up email during 1-2 weeks.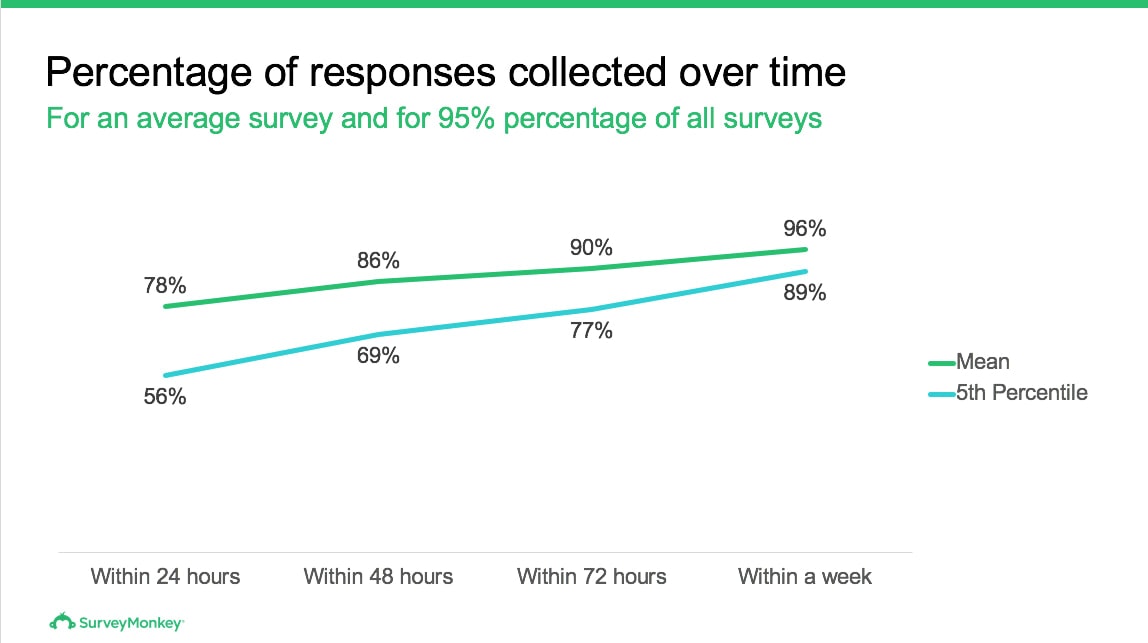 Stats by SurveyMonkey
When to Stop Sending Follow-Up Emails
Obviously, cut off reminder emails when you have met your goals. Usually, you are forced to continue reminding about your product or company completing a whole sequence of follow-up emails. But when should you stop sending those reminders?
Although statistics suggest that you need to send at least five emails, it does not mean this will work for your business. The right time to give up depends on your audience — target market, preferences, and the way you conduct a conversation with your subscribers.
If your audience is becoming irritating by your persistence – for example, unsubscribe rate starts to increase, or your emails are becoming marked as spam – it is a clear sign to stop sending follow-up emails. Continue the conversation that annoys your prospects may cause harmful consequences for your brand.
In other cases, limit the number of follow-ups to 5 and do some A/B tests to find out whether it works for your brand and audience or not.
Also, bear in mind that you may increase or decrease this number depending on the type of lead. For example, if you send a follow-up email to a cold lead, then, as a rule, you send 3-4 emails, spending 1-2 weeks on the prospect.
If it is a warm lead, you can continue following up until you get a yes or a hard no.
If you run a SaaS business, then you are limited by a brief free trial window. It can be 5-7 reminder emails sent during 1-2 weeks. As the best practices suggest, you may send more than ten emails to improve the trial-to-customer conversion rate during 14 days.
Tip: To deal with this number of reminder emails efficiently, use Postcards. It has a rich customization panel and history version to create HTML newsletter templates with different content and design within minutes. There, you can easily create ten emails in 14 days and accomplish your marketing mission.
Break-up Email
Giving up also requires some proper steps to be done to leave a good last impression. Even though the prospect is not ready to do business with you this time, who knows, maybe next time, he or she will be more compliant and disposed to your company and products. Alternatively, the prospect may recommend you to friends and colleagues that is also a big bonus. Therefore, ending the sequence of follow-up emails on a good note is crucial.
For this, send a professional "break up" email to leave subscribers feeling positive about your company.
To make this final follow-up email successful, maximize the subject line. Tell your recipients that this is the last email from your brand right from the doorstep. Though, do not be too literal. For example, you can ask for permission to delete your account, cancel a reservation or move a user to a freemium plan without extra perks.
As for copy, always show your respect towards customers and their decision not to respond. Send a thank-you note for wasting their time and wish them all the best.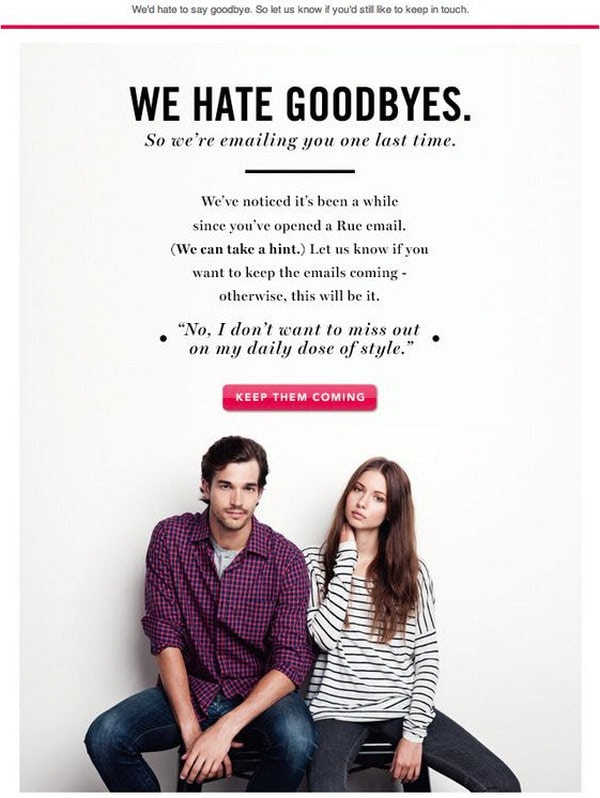 Break-up Email Design
Subject Lines for Reminder Emails
As usual, the success of any email newsletter depends on its ability to reach the prospect. This task calls for two steps to be done. The first one requires securing a high deliverability rate.
Check out our Guide to Email Deliverability: Best Practices and Tools to Avoid Spam Folders to get the grips of it.
The second step is to find the strong subject line that will stand out from the crowd and catch the subscriber's eye so that he or she wants to open your message.
Much like with subject lines for Black Friday and Cyber Monday, you can adopt the same techniques like:
Get straight to the point
Keep it simple
Make it short
Make it pushy
Put specific details
Transmit the importance of your message
To give you some hints, consider these fantastic real-life subject lines of follow-up email examples.
LAST CHANCE: 50% OFF Cyber Savings Ends Today
Activation reminder, action required
You still have a $423.20 voucher at Grayers
Don't forget about your 20% discount!
Final Day For Up to 60% Off
Three days left to change your Autoship!
Final call: Last chance to save
Almost done signing up for Rdio
Don't forget your $50 gift to Handy
Do not neglect the power of preview text. Here, you can extend the message slightly longer and make the subject line stronger and more appealing.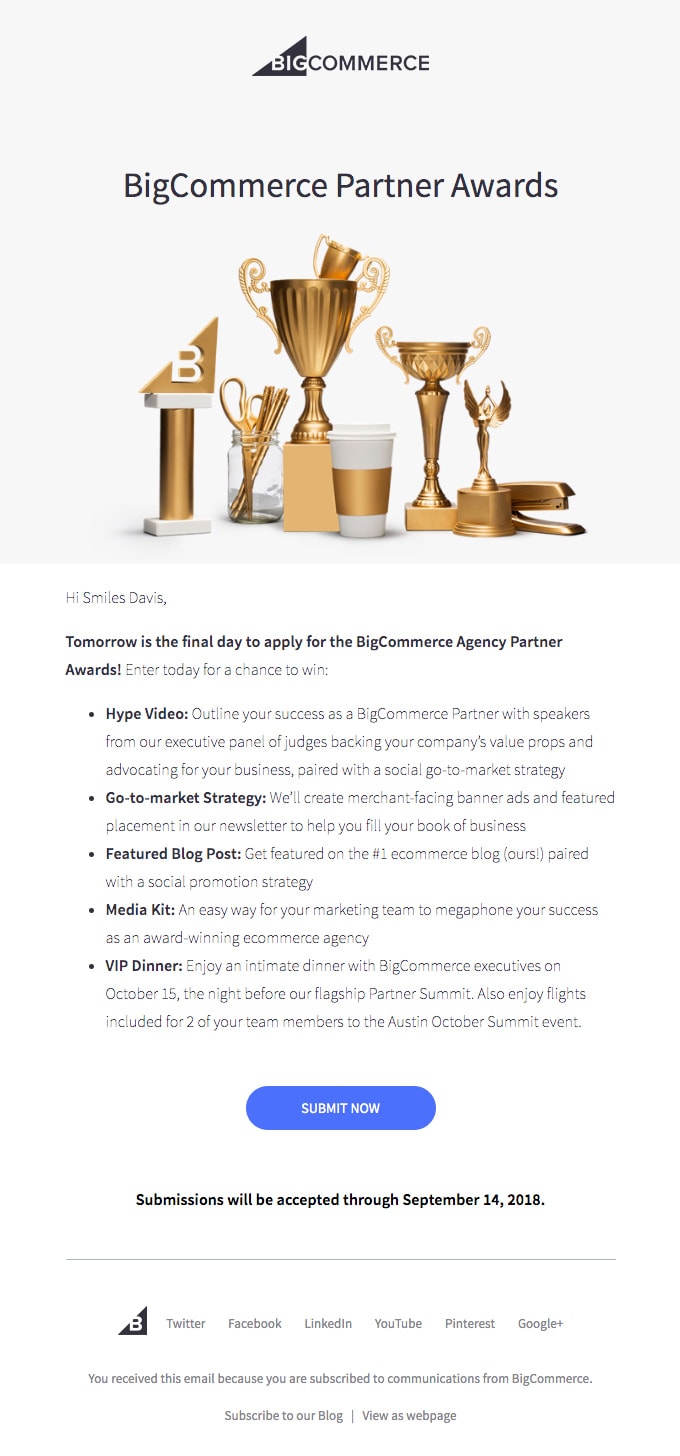 Reminder Email from BigCommerce
How Do You Politely Remind Someone to Reply?
Poor follow-up can become the biggest customer complaint. The problem is, a generic reminder email does not bring intended benefits and results. It fails to catch the recipient's attention and typically does not appear to provide any immediate value. You need something strong and persuasive and at the same time polite.
To be polite and start a conversation with the recipient on a good note, you need to stick to basic etiquette.
Do not be pushy
Do not bully
Do not use too many action verbs
Respect the right of your customer to ignore your newsletters and brand
These simple rules will help you to avoid customers turning their backs on you.
However, what about getting this cherished response? It is here where you need to play smart and bring to life some best practices.
Let's walk through some of those best practices that help to create an effective follow-up email.
Best Practices for Creating a Reminder Email
The biggest issue with reminder emails is that you risk becoming annoying and alienating your audience. This may drastically reflect on your brand reputation and customer's attitude towards your products or services. You need to play safe and stay away from being irritating and exasperating.
Another big issue is, if you wait too long, you may lose your recipients entirely. People have a short attention span. There are so many brands in your niche. Therefore, chances are they may forget about you altogether.
So, what is the way out? The solution is to create and optimize reminder emails without overdoing them.
We have already determined when to send out the follow-up emails and when it is best to stop sending reminder emails. The time has come to find out how to make the email newsletter resonate with the audience and bring actual results. It is here where you need to put the best practices to work since they are up to giving your customers a reason to respond.
Determine the Goal
Defining a clear goal is the first step towards success in any email marketing campaign. Follow-up emails are no exceptions. Even though they come after the first (initial) email that may include offers, discounts, or other impressive lead magnets and decision pushers, nevertheless, you should state your purpose clear and build a follow-up email around it.
A clear goal helps to decide on such important things as:
What information to include
What offers to stress
What call-to-action to add
What language to use
What atmosphere to set
What design to implement
In a word, with a clear objective in mind, you can provide your subscribers with a professional-sounding message, offer, and CTA that give them some immediate value. This way, you increase your chances of being heard, getting a response, and making your contacts do what you want them to do, leaving everyone happy.
Last but not least, what you want and need change with each campaign, and potentially, even between each follow-up email you send. Therefore, make sure you decide what you want to achieve from one particular email each time you hit the send button.
Personalize
As a rule, entrepreneurs automate emails, but automatization can make reminder emails lack personalization. While it is perfectly acceptable for huge brands to use generic or partially personalized email templates since their name speaks for themselves. When it comes to startups and other small and medium-scale companies, they do not enjoy such a luxury.
As we all know, hyper-personalized experiences in email designs are not just a trend for 2021, but it is a must-have for those who want to face competition and win the battle. Follow-up emails are no exceptions. The last thing your users want from another reminder email in their inboxes is a generic message. Retaining clients and getting responses requires you to pull all the stops: it means personalization is required.
What can you do? Make personalization as unique as possible if your time and subscription list allow, or you can go for straightforward techniques that are often the most effective.
Address the person by name in the subject line, greeting, and body. Mention how your product or service can specifically help him or her or their company at this moment. On top of that, segment list, adjust copy, choose images that resonate the best, and use offers based on client's preferences. Find the best time to send a reminder email and end the newsletter with a personal email signature to make the follow-up email legit and authentic.
Actually, whatever tools for personalization you have in your ESP arsenal, go for them. And always remember to look at it from the customer's point of view. Build a follow-up campaign specifically for your customers, not you.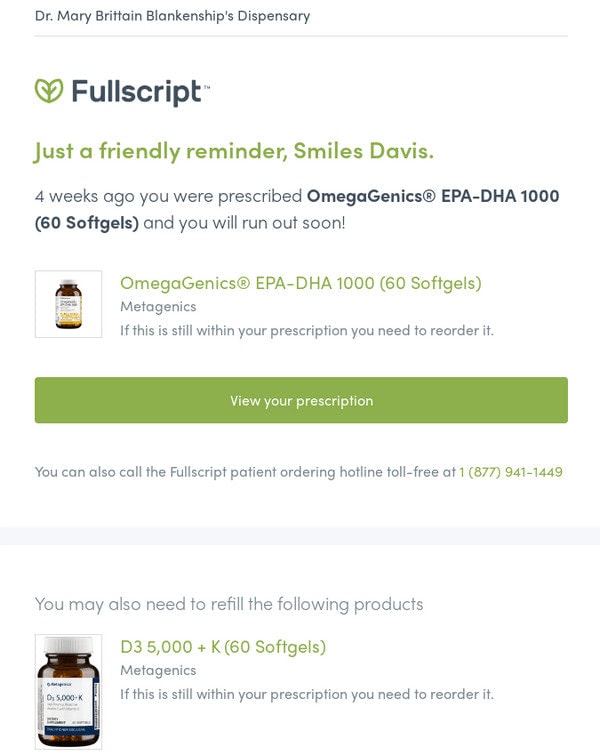 Reminder Email from Fullscript
Make It More Like a Conversation
A follow-up email is an integral element of your conversation with the subscribers. It helps to build strong and healthy relationships with the customers throughout their lifecycle. Therefore, ensure it does not slip through the cracks.
Remember, reminder emails are not sales pitches; they are like conversation starters.
To help them live to their name and purpose, consider these several handy tips:
Continue the story from the previous email to have a consistent experience and easily connect the dots. Try to jog your recipient's memory by opening your email with reference to a previous email.
Send replies in the same thread to let the receiver access the previous email fast and hassle-free.
Center conversation around the potential value that you can bring to the contact.
Add extra value. For example, you can offer a free trial, discount, a product demo, or just a traditional shopping incentive like free shipping.
Cut to the Chase
No one wants to read long follow-up emails. Your users have so much on their plate, therefore spending some extra time on a long-long reminder sounds like hard work to do. Time is money. Be respectful of the prospect's time. Therefore, always cut to the chase. Though do not strip away everything. Consider these best practices:
Be straight-to-the-point.
Keep it to two-three sentences packed with essential data that brings value to the customer.
Make sure the recipient knows the main point of the email. Chances are, your customers have already forgotten about your previous email. Therefore, the core message should be evident from the first seconds.
Re-establish your value proposition and differentiate yourself as early as possible in the email. Tell them why you are better than others.
Show absolute belief in your product's fit for the prospect.
Tell contacts exactly where they need to click to get the ball rolling.
Do not make follow-up email a basic rehash of what you have already sent. Add additional value. Try to tie the initial email content into your follow-up message, but give users a new reason to click.
Make Deadlines Clear
A deadline helps to strengthen the fear of missing out that can be an excellent boost for your clients to reply or finalize the deal. However, it is not recommended to center your follow-up email solely around the deadline.
Keep it casual yet helpful. Avoid being pushy. Announce the deadline right in the header. Use formatting and various stylistic options to make it powerful without being overwhelming. And remember to keep the deadline within the recipient's time zone.
A follow-up email won't do any good without a clear path of how to move forward. To get a response, you need to show users the way. A call-to-action button is what provides your contacts with this direction. More so, when well-done, it reinforces the value behind your message and compels users to follow the lead.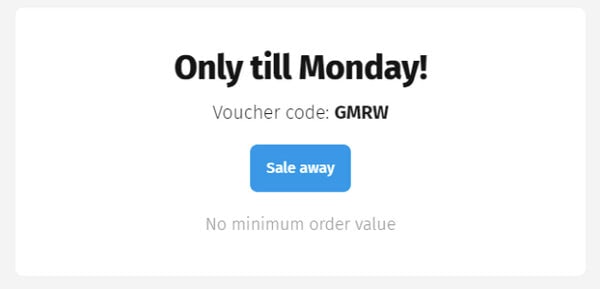 Consider these basic principles of high-converting call-to-action buttons.
Make it strong and persuasive.
Use action verbs.
Choose an eye-catching design.
Find the right place in the reading flow.
Do not make it read like clickbait.
Although plain text emails boast of having the personal touch that appeals to the audience, sometimes those newsletters with oversimplified feelings look boring. They often fail to catch an eye and leave a long-lasting impression. Remember, people make subconscious judgments about a product or email within a few seconds—design matters.
More so, without such design tools like typography, visuals, or dynamic effects, it will be increasingly difficult to set the essential details apart from the reading flow and stress out the crucial data without being overwhelming or pushy.
When it comes to regain interest and bring your audience back on track, you need something strong and impressive. A rich HTML email template is what you need. It will make users enjoy your reminder email and follow your lead on a positive note.
Follow these best practices to nail an HTML email template.
Use a captivating image that sets the proper atmosphere, reinforces the main message, and resonates with your readers.
Use custom typography to make the headline stand out.
Add logotype or mascot of the company to reinforce the brand identity.
Use design tricks to convey the charisma of your brand.
Use formatting to make the copy easily scannable.
Add interactive features like animated gifs, hotspots, dynamic effects, sliders, and tabs.
Use color to play psychological tricks on the user's mind. For example, the infamous color red helps to establish a sense of urgency. Therefore, it can be used when the deadline is near.
If you need support because you lack the time or just do not have design or coding skills, Postcards will lend you a helping hand. As one of the best HTML email builders, it has numerous features to help you throughout this process.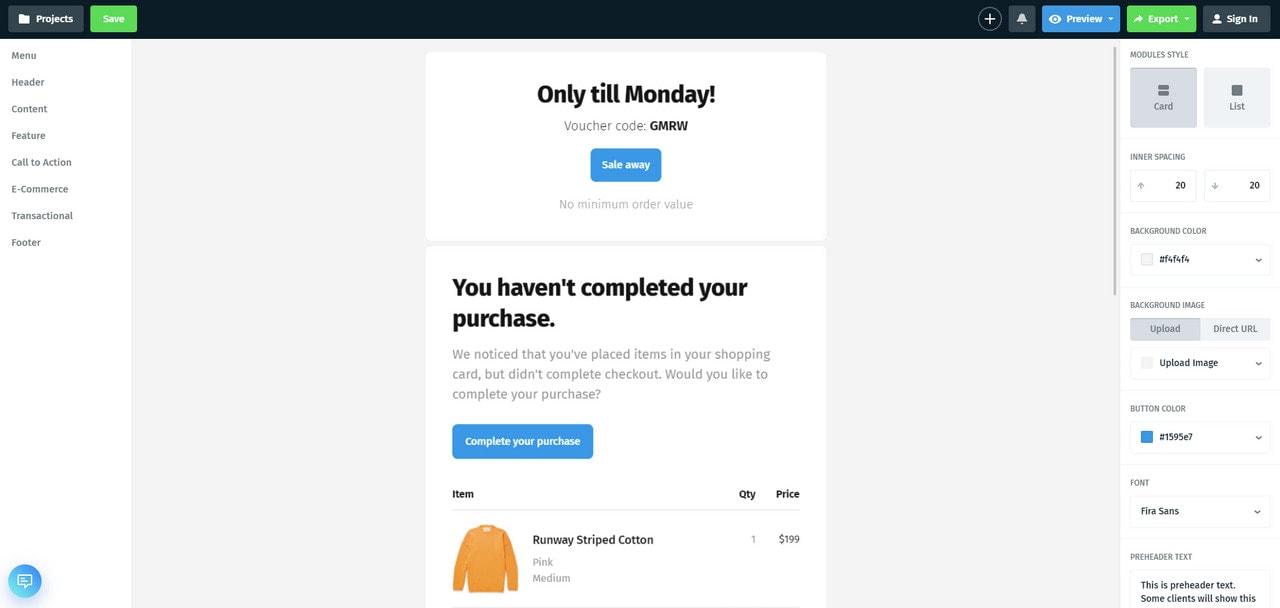 Different things may help achieve the goal; however, your reminder email should have a solid foundation to build on whatever tactic you have in mind. For this, it should be made with the basic principles of successful email design in mind. Let's refresh these essentials in memory.
Make email responsive.
Make email mobile-friendly.
Make email accessible.
Make email lightweight and fast.
A/B test everything: subject line, offer, design, copy.
Please do bear in mind that you also need to plan the entire sequence and, of course, sometimes think out of the box since you need to draw user's attention and persuade them to follow your lead.
Whatever large or small subscription list you have, you need to equip yourself with the right tools so that you have more time for the critical tasks such as doing segmentation, personalizing content, finding the best subject line, composing a newsletter template, and testing everything. You need Postcards. As an intuitive email builder with tons of field-proven styles and designs and an incredibly intuitive interface, it will be your assistant in creating sequences of follow-up emails.
The Don'ts of Reminder Email
We have already discussed some good practices in creating effective follow-up emails; it is time to illuminate some bad practices.  So, what are the "no-nos" of reminder emails?
Never bully your readers into taking action.
Never ignore the response from the recipient to change their mind in the next follow-up.
Avoid the temptation to be passive-aggressive about the user's lack of response.
Avoid aggressive tactics of sending follow-up each day to avoid getting flagged for spam, losing your precious prospects, and destroy your email reputation.
Avoid leaving email newsletter vague and ambiguous.
Never suggest that you may have missed their response. Therefore, never send follow-up emails with the subject line or copy with "I may have missed your email."
Stay away from generic subject lines like "I'm just reaching out again."
Collection of Reminder Email Examples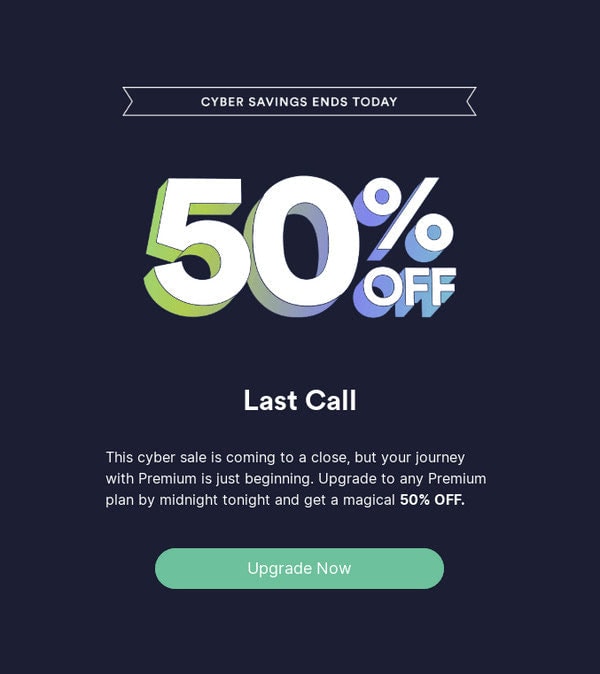 Follow-up Email Example from Grammarly
The reminder email example from Grammarly is a typical Last Call newsletter. It is generic and used in absolutely different marketing campaigns. The great thing is, it is familiar to the audience and even warmly welcomed by those interested in the company and service. Therefore, when played right, it can be very beneficial for the company.
The key takeaways of this particular example are:
There is a generous offer that screams out on all fronts. So, you just can't miss it.
The deadline is highlighted right at the top.
Call-to-action is clean and powerful.
The inverted pyramid helps to stress out information and CTA.
The email is straight to the point. It includes only essentials and gets down to business right off the bat.
It is vital to send relevant, valuable information to every prospect regularly. It is more important to remind them about the last opportunity to get hold of this outstanding value and avoid hard feelings of not being informed in time.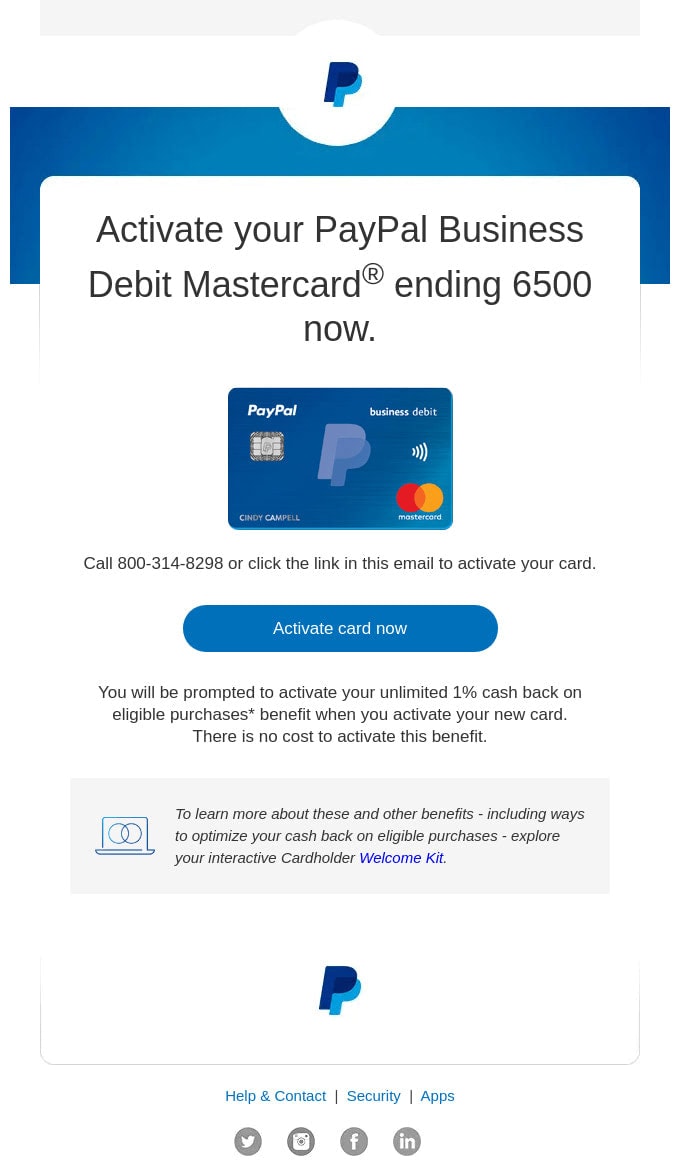 Reminder Email Example from PayPal
A follow-up email example from PayPal has a powerful start. It instantly catches the eye of the user with its strong urgency-centric subject line. As a result, it has high open rates.
The copy is made with the same principles as the previous reminder email example in mind. The team also prioritizes the action that users should take to enjoy the benefits of their product.
For this, they have chosen only the crucial information cutting to the chase. The value is reframed and stated right on the top. There is a strong CTA with action verbs. You can also find information that is necessary for cardholders.
The newsletter template is compact, well-formatted, and polished. The inverted pyramid gathers pieces together and directs the user's attention to essential details without being overwhelming and pushy.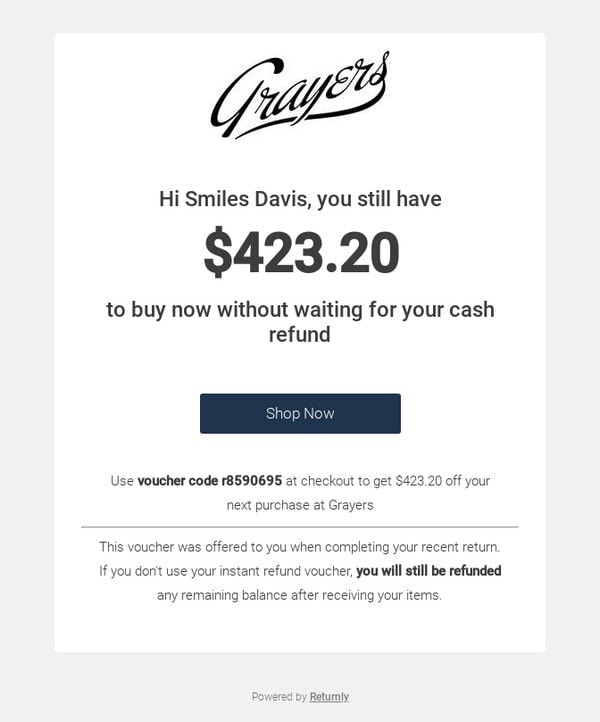 Follow-up Email Example from Grayers
This is another compact, almost capsule design in our collection that proves to be quite effective to tug at a user's heartstrings and turn the situation to its advantage.
Much like a reminder email example from PayPal, this one also boasts of a solid start. Their subject line that shows numbers ($423.20) is pretty persuasive. This trick easily compels a subscriber to open this newsletter. Therefore, the newsletter has successfully passed the first barrier by seeing through the flooded inbox and delivering a message to the recipient.
As for email itself, as we have already said, it is pretty much minimal. You won't find in here lavish images, illustrations, or interactive details. However, it is still effective. The deal is, the team adopts many best practices.
First and foremost, the copy is personalized.
Second, a follow-up email is a part of the overall conversation.
Third, the team is getting straight to business by putting an offer on the table.
Fourth, a follow-up email is a combination of a rich HTML template and some time-proven features of plain-text emails that result in a newsletter with a personal and authentic feel.
Finally, a clean and clear CTA with action words pushes users to proceed with the offer and brand.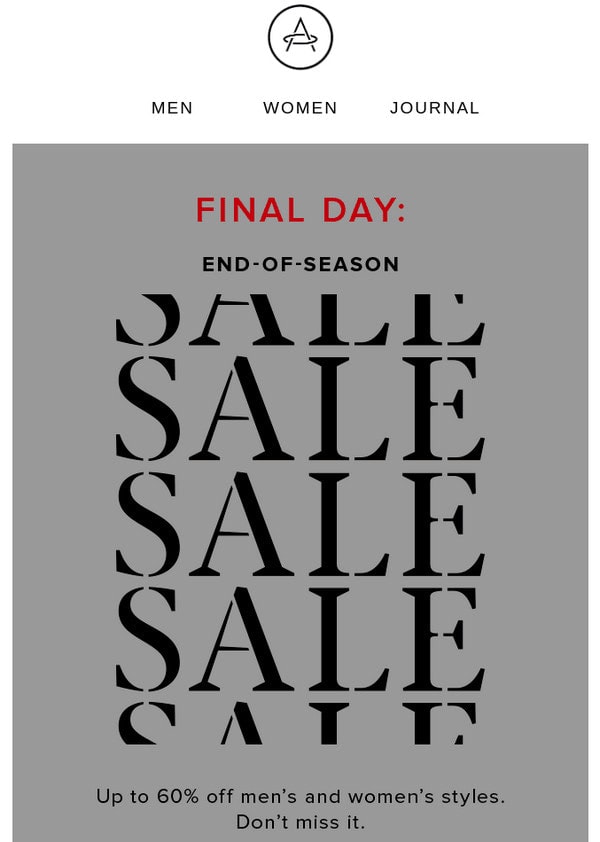 Follow-up Email Example from Aether Apparel
Much like the reminder email example from Grammarly, this one also tries to convert customers into leads playing on a sense of urgency. This is another classic Last Call follow-up email example that was framed as a "Final Day."
It is quite common among the retailers, SaaS businesses, and just startups that run sales. Note, unlike the majority here, this newsletter is pretty long, but the team has cleverly used the space.
First of all, they maximized on the hero area, putting important information there. "Sale," "Final Day," and "Up to 60% OFF" are the first things that you notice. That's a powerful start.
Second, they use a sale-inspired image for the hero area to reinforce the effect.
Third, the email includes two call-to-action buttons. One is for men, the other is for women, shortening the path to relevant products.
Fourth, there is a link to Instagram to help generate buzz in social media that may increase sales.
Finally, the team added an informative block as an alternative way to increase click-through rates and lure users into the website.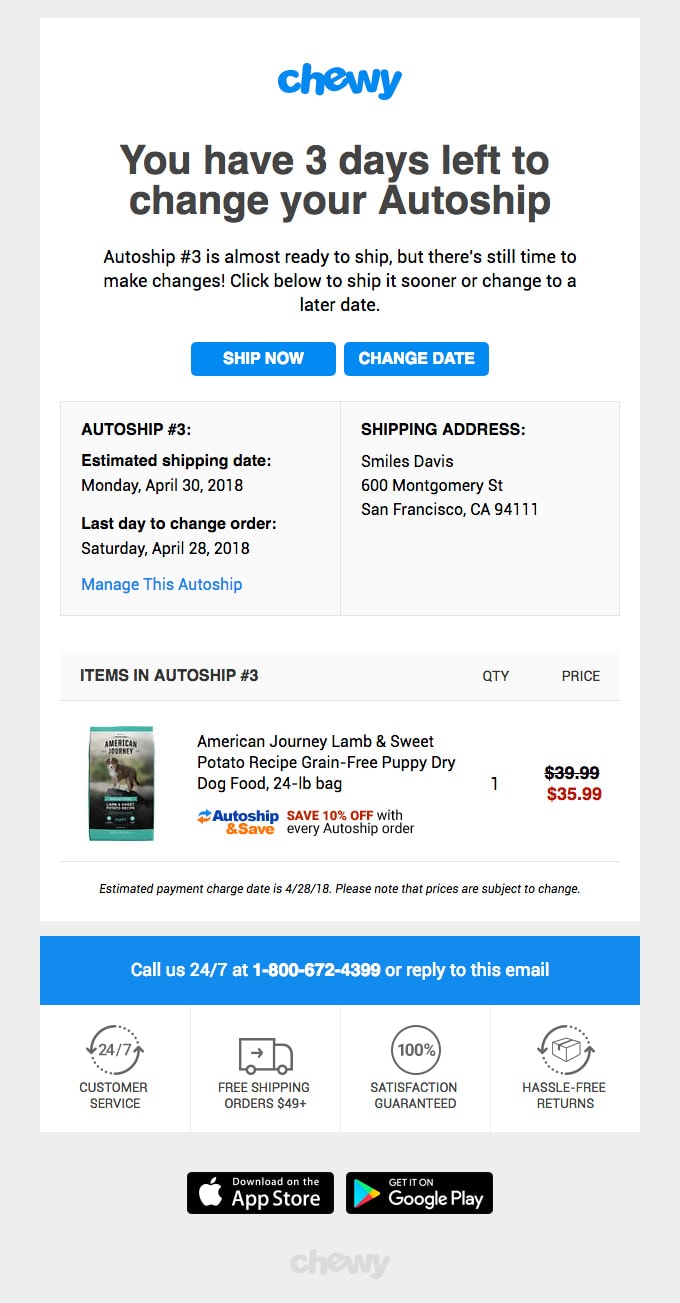 Reminder Email Example from Chewy
Not all follow-up email examples are built around sales; this one is purely informative, yet with some skillfully hidden call-to-action buttons that improve click-through rate and get users back on the website.
As you can see, the reminder email is about shipping that is stressed out with the help of urgency card smarty played by the team. The headline is big and strong but not overpowering. You can also see a product left in the cart with a reduced price that refreshes in the user's memory what it is all about. There are also some validation points like 24/7 customer support, free shipping, and hassle-free returns that qualify the company.
All these details secure the customer's decision to acquire the product and proceed with the brand.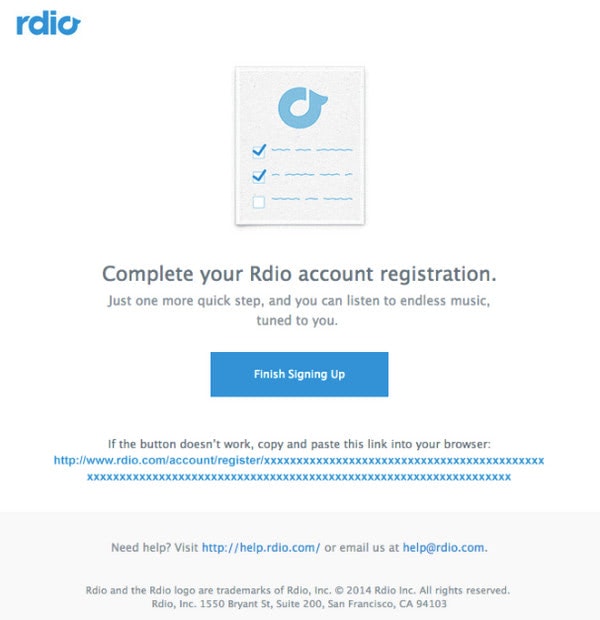 Follow-up Email Example from Rdio
Again, no sales pitches or tricks here. This reminder email was created with an email marketing goal in mind – to get users on board by making them finalizing registration and becoming a part of the subscription list.
The team gets straight to the point, keeping the message clear and straightforward. It gives users a clear reason to respond.
The design is smart. It is compact, pretty simple, yet effective. Everything is centered around crucial information. There is nothing redundant: only a headline that explains to users what they need to do and a call-to-action button that shows how to do this. Also, there is an alternative way to sign up by using a link.
All in all, there is nothing left for prospects to do but to finish this signing up.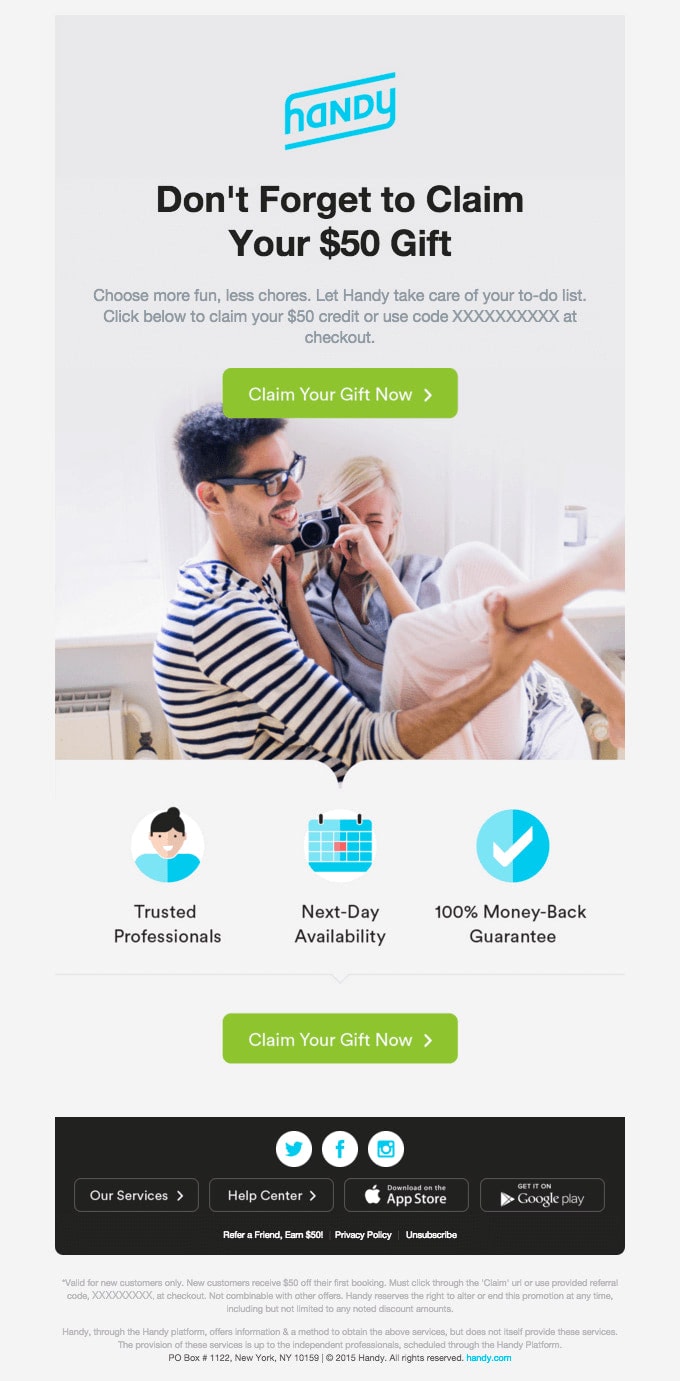 Follow-up Email Example from Handy
The email marketing team from Handy has also incorporated best practices.
They start with a strong subject line: "$50 gift" sounds tempting.
They skillfully highlighted the offer making it evident. The hero area is powerful, without a doubt.
The call-to-action button is duplicated. At first, it can be seen right in the hero area for those for whom the message in the header is enough. The second CTA is right at the bottom next to the block that qualifies the brand and builds trust. It helps to onboard those who need to read the entire newsletter to make a decision.
Finally, the atmosphere – that is quite often stays overlooked by email marketers – is incredible. It feels warm, bright, and sunny. This helps to lighten the mood and break the ice in conversation, generating positive emotions.
Conclusion
If you are getting held up by the lack of communication and need a clear reply from your contacts, then it is time to run a follow-up email campaign.
According to Marketing Donut, companies with a well-thought-out follow-up strategy enjoy more close deals than their competitors. They concluded that 80% of sales require five follow-up calls to get the response. Therefore, reminder emails are an absolute must-have for whatever email marketing campaign you are currently running.
Creating follow-up email that proves to be successful is challenging task. Each one requires your commitment not only to the company but also to your users. It is all about value for the customer.
So, what should you do?
Stick to the best practices to sound professional, helpful, and thoughtful in your communication.
Speak directly to your subscribers.
Address their needs.
Respect each customer's right to ignore you and your product.
Finally, do not give up right away. Remember, persistence pays off.
Like what you're reading? Subscribe to our top stories.