Sweet Hat Club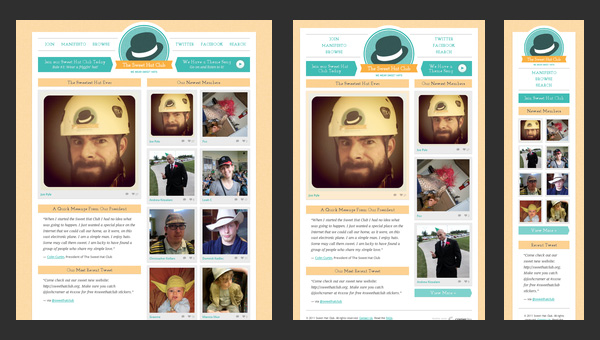 Much like the previous example, the content is tightly packed together. The newspaper-style layout is aimed to predominantly feature images since the website is an online club of those who like to wear hats.
The textual filling here is quite optional, so the responsive grid should chiefly take care of properly modifying image sizes and fitting them into new dimension. What is worth attention here is that even the mobile version of a website includes 2 columns as the original one.
Glitch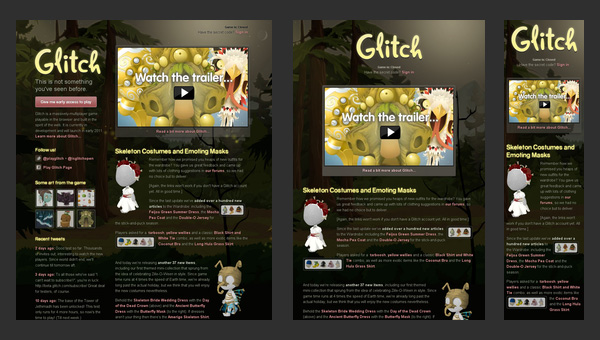 At the present time the website is closed. The home page includes some information about the previous project activity, helpful links and characteristic illustrations. This is only one static web page that is reminiscent of the old days.
However the non-working status in no way affects the responsive behavior that is inherent to the website. Even now, being out of service, it continues to complying with web requirements and formally notifying users about its current status whether they stumble upon the website sitting at his computer or using a cell-phone.
dConstruct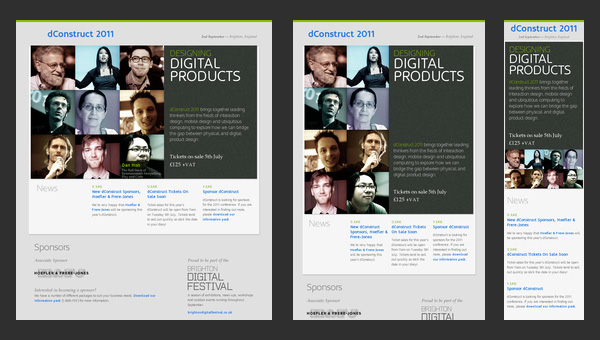 dConstruct is a website dedicated to conference and workshops that take a look at perceptions of technology and culture. Though the design is quite primitive, yet the informative side is really well-thought-out. Thus, the front page draws your attention to only 3 main moments:
Impress your audience with animated websites and web presentations.
With Slides, we don't make you start from an empty slate. All you have to do is to pick the elements you like best and combine them. Each slide has been carefully crafted to satisfy three key criteria: aesthetic, function and usability. That way you know every element works together seamlessly while enhancing the impact of your content.
Create a Website
speakers and workshops' teachers;
description about the event;
sponsors.
Those are the main things that worry potential visitors and need to be instantly highlighted.
Adaptive Web Design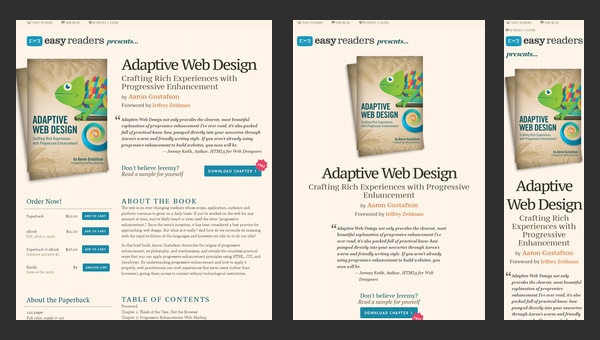 As the nameplate implies, the website is concentrated on adaptive issues. To be more precise, this is a promotional website that advertises a book that will answer all you questions.
So it's quite predictable that the developer leverages it as a tool for showcasing its skills through providing users with a representative example of how should a regular website behave when users come to it from various devices.
Authentic Jobs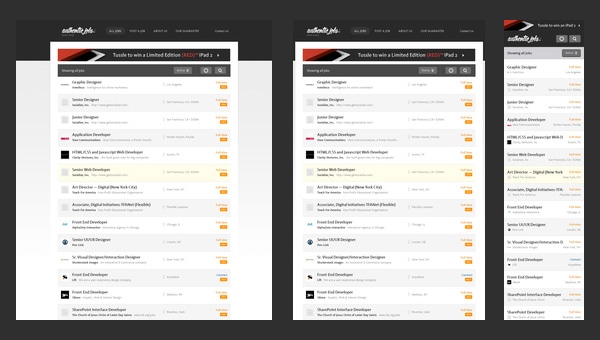 Authentic Jobs is an online directory that is aimed to unite employers with job seekers. It traditionally displays data via a list-style layout that is quite elegant and easy to handle when it comes to adding versatility via incorporating responsive behavior.
The transformation does not cause much trouble, since the structure stays the same; the only thing that undergoes changes is a sidebar which is moved down the hierarchy by giving way to more relevant and priority data.
Five Simple Steps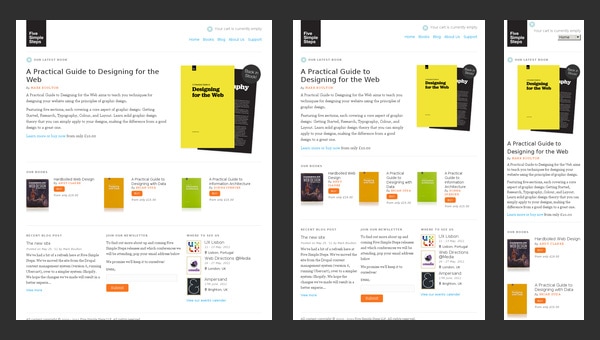 The website of Five Simple Steps has a clean appearance that features only some kind of valedictory speech and a list of helpful stuff from those who previously run this website.
Staying responsive till the end is a good rule of etiquette, and the company is perfectly conscious of this. Even being closed, the website continues to meeting current web requirements and supplying its mobile and tablet readers with a perfect readability.
Splendid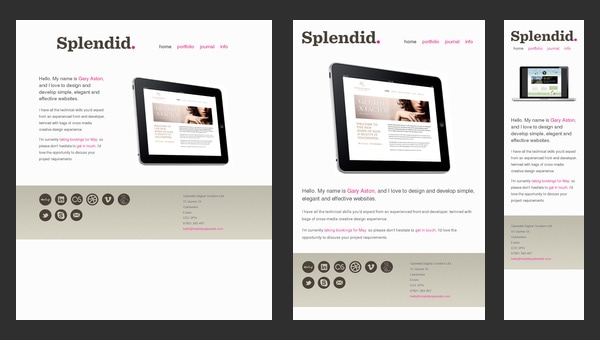 Splendid is a simple online portfolio that emphasizes users' attention on artist skills and experience. You will not find neither fantastic illustrations nor ingenious effects; the designer takes a minimal approach in order to present himself, and it definitely stands in a stark contrast to other sophisticated creatives' websites.
In this particular case, the minimal design doesn't mean minimal functionality. The artist feels that the responsive design is and will be the primary focus, so he takes care about a proper adaptation to huge and small screens.
Ryan O'Rourke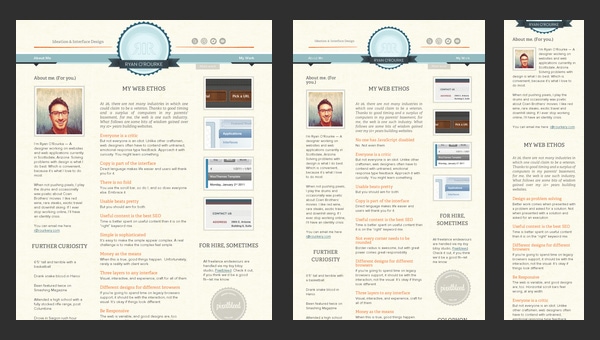 When you run into online portfolio of Ryan O'Rourke, it seems that the designer is guided by the wise phrase "brevity the soul of wit" and realizes it literally. Minimalism, minimalism and again minimalism…there is only one web page that features one sentence, email and small gif animation that shows off his activity. However much like the previous example, the website is based on a responsive framework that makes the website ready for mobile web audience.
FlexSlider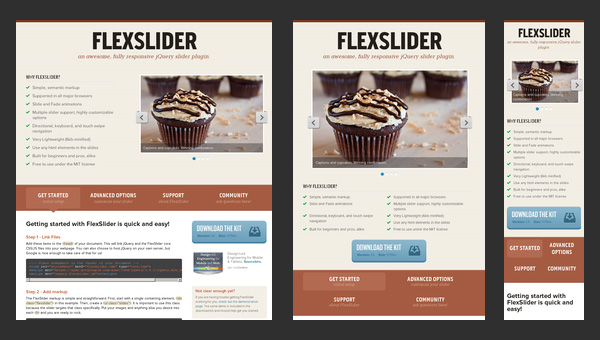 FlexSlider is a lightweight jQuery slider from WooThemes with simple semantic markup and numerous valuable features that was created to become your reliable companion for an ideal image showcase on every popular device.
Nevertheless, the web page that promotes the product, unlike the slider itself, is not as adaptive as it should be. Unfortunately, the team has missed this point that really disappoints.
El Sendero del Cacao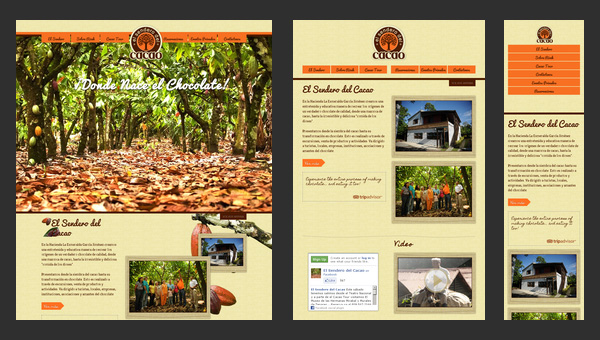 El Sendero del Cacao has a visually-appealing website with a calm and warm atmosphere that is achieved with a help of soft coloring, spectacular images and appropriate graphics. Moreover, thanks to such integral features as
responsive layout;
cross-browser compatibility;
easy navigation;
multi language support.
the website is able to unobtrusively force users to indulge in an enjoyable pastime.
Like what you're reading? Subscribe to our top stories.