Guide to Effective Password Reset Emails; Drive Traffic to Your Website
What type of email garners the highest open- and click-through rates? It is not a Black Friday promo nor welcome email. It is one of the plainest and most compact, and minimal newsletters in the email marketing universe. It is overlooked in most cases since it has the smallest marketing potential due to a transactional nature. Have you guessed already? It is a password reset email.
The reason is basic. People rely on them.
We are living in a world where information is everywhere. Every day we deal with the bulk of data: messages, news, gossip, articles, videos, tutorials, advertising, and pieces of data at work. Add to this short attention span, and it becomes clear why people forget things. There is so much information to deal with daily.
That's one reason why password reset emails are so necessary and have significant open rates.
While password reset emails are standard newsletters that are automatically generated, it does not mean they can't do good for your company. On the contrary, they create a window of opportunity. Let's consider the basics of password reset emails (including subject lines, design, and UI's crucial elements), tips on making it work for your brand, and a collection of well-crafted password reset email examples to grasp this opportunity and make the most out of it.
Basics of Password Reset Emails
Why the Password Reset Email is Important
Password reset emails are members of a transactional family. Triggered by a click, they are quick responses to user demands. Without them, users will be unable to enter an account and complete tasks, abandoning your platform. Like it or not, people heavily rely on them.
No-Code Email Template Builder
With Postcards you can create and edit email templates online without any coding skills! Includes more than 100 components to help you create custom emails templates faster than ever before.
Try Free
Other Products
Password reset emails play an important role in providing healthy relationships with contacts and ensuring your website's excellent working flow.
Tasks of Password Reset Emails
Aside from providing a link to the reset page, thereby keeping contacts within your client list and bringing them back on track, password reset emails can be much more than just link-carriers. When done right, they can fulfill a range of important tasks such as:
Secure interest in your brand. Quick response to user's troubles safeguards user's interest in your brand.
Cultivate strong relationships. Good user experience lays a solid foundation for healthy relationships between the company and its customers.
Ensure a high satisfaction level. When you quickly respond to the user's problem, you make him or her feel privileged, raising the satisfaction of your company. This can become a solid base for promoting goods.
Reinforce the picture of your company. Well-thought-out password reset emails advocate the trustworthiness and reliability of the company. These two qualities may easily win over any client, especially in digital expanses, where fraud and scam lurk around every corner.
Drive traffic. Password reset emails can be used as a base for providing some helpful information with backlinks to the website.
Promote goods. Every email design has room for marketing tricks. As long as you prioritize user's problems, you can safely pull them.
Without a doubt, password reset emails do have small marketing potential; still, it is something. Follow our guide to unlock it.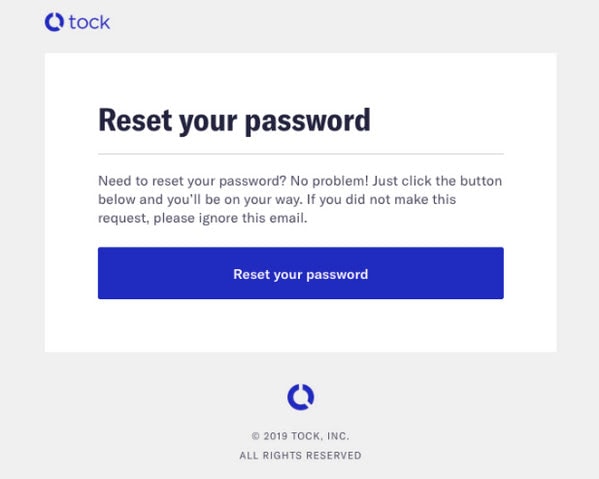 Password reset email from Tock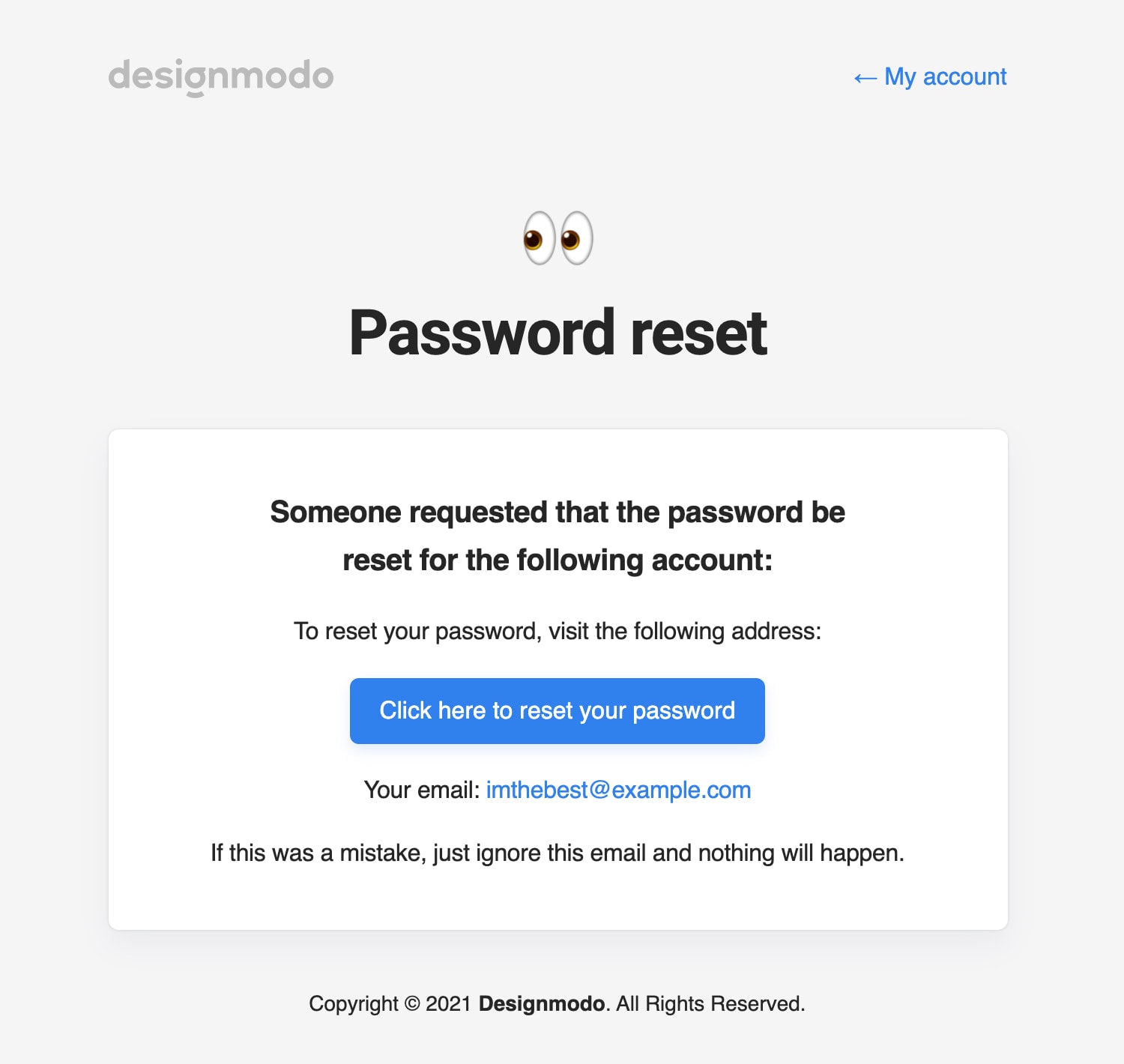 Designmodo's Password Reset Email
Typical Subject Lines for Password Reset Emails
We will start by unlocking the potential of password reset emails with the best subject lines.
The subject line for the password reset newsletter should be evident and self-explanatory. Preferably it should be short; for instance, something like "Password reset." There is one more important thing. It should always have the brand's name.
This type of transactional email is ubiquitous. With 100 platforms out there, you need to separate yourself from the others right from the get-go. Your brand name helps to avoid confusion and fasten the process of recovering the password.
Examples of the subject line for a password reset email include:
Your Zappos.com https://www.zappos.com Password
Reset your Stripe password
Patreon Password Reset
Reset your password on Pinterest
Your Password Reset Request from Flickr
Reset Your Lingo Password
Your password on Path
Resetting your Rdio password
Password Reset Email from Vimeo
As you can see, respectful brands follow this simple principle to provide their users with nothing but the value in a subject line that proves to be an effective strategy.
Crucial Elements of Password Reset Emails
As one of the most compact and minimal newsletters, the password reset email is a piece of few words. Traditionally, it had just one thing – a link to the reset page. However, everything is not that simple. In 2021, every email design should comply with the laws and regulations as well as provide the best user experience for all groups of people. Therefore, one link is not enough to meet current standards.
Like any other email, it should also advocate the brand and overall marketing campaign. Therefore, there is quite a list of essential elements. Let's consider them.
Link to the reset page. Obviously, the password reset email is all about providing a lifesaver link to recover a user's password. It should be there. And it should be copyable.
Instructions. Each email should have context. Your task is to explain the goal of this email. You can also add short and straight-to-the-point instructions. For example, it is customary to add instructions for those who did not ask for resetting the password. It serves as some kind of reassuring statement.
An alternate link. Every situation should be taken into account. For example, the server downtime may cause unexpected problems with your reset page. Therefore, there always should be a plan B in case the reset password proves to be out of reach or inactive due to other reasons.
Username. Personalization is essential not only in promotional newsletters but also in those that are automatically generated. The user's name placed on the top of the email will instill trust and make the conversation feel friendly.
Reply-to address. If there is some kind of a scam, your user will be able to report that. On the other hand, this address is a company's guarantee that this email is not spam or a scam.
Link to support team. This element provides an additional communication mode that is so vital for ensuring healthy relationships with the clients. Optionally, you can add a personal email signature at the bottom to assure clients that the real person is involved.
Time frame. For the sake of safety reasons, all password reset links should expire. As a rule, such links live for 24 hours. However, when it comes to financing and the e-commerce sector, the lifespan should be much shorter. Your client should be informed about that. Therefore, the time-sensitivity of the newsletter should be well highlighted.
Logo. Elements of brand identity perform two primary roles. First, they identify the company and separate the email newsletter from the others. Second, they inspire confidence and make the newsletter look trustworthy.
Footer.  Include contact info, physical address, link to the privacy policy, and unsubscribe option to meet the laws and regulations. You can also add social media icons or an additional menu or shopping incentives.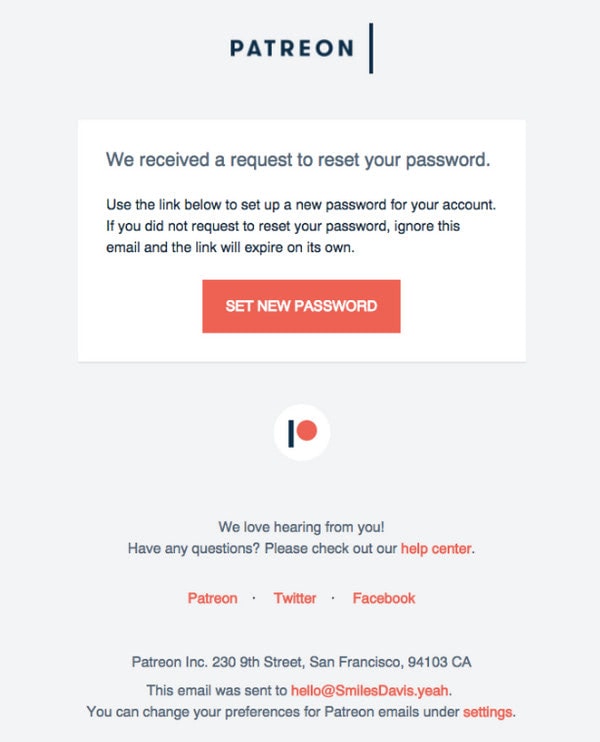 Password reset newsletter from Patreon
How to Design an Effective Password Reset Email
Although there is no much information to cover, the password reset email's design should not be taken lightly. Remember, it is a workhorse that can't be too dressed up. The effective email design should be simple, compact, and easily accessible to everyone. To make it effective, follow these simple rules:
Use a one-column layout.
Convert link to the button. Make it big and prominent. Place it on the top.
Place vital instructions on the top.
Use formatting to make the copy easily scannable.
Use headings to make the theme of the newsletter evident from the first seconds.
Stick to a neutral color palette.
Use a clean monochrome background.
Use a generous amount of whitespace.
Delineate sections.
Note, you can always step outside this comfort zone and play with some modern features to make the design look exceptional. For example:
Use an illustration or image to lighten the mood and ease tension.
Use an animated gif to make the newsletter feel friendly.
Add emojis to add positive emotions to the conversation.
Use fancy typography to adorn the look.
Align design with the current holiday or season.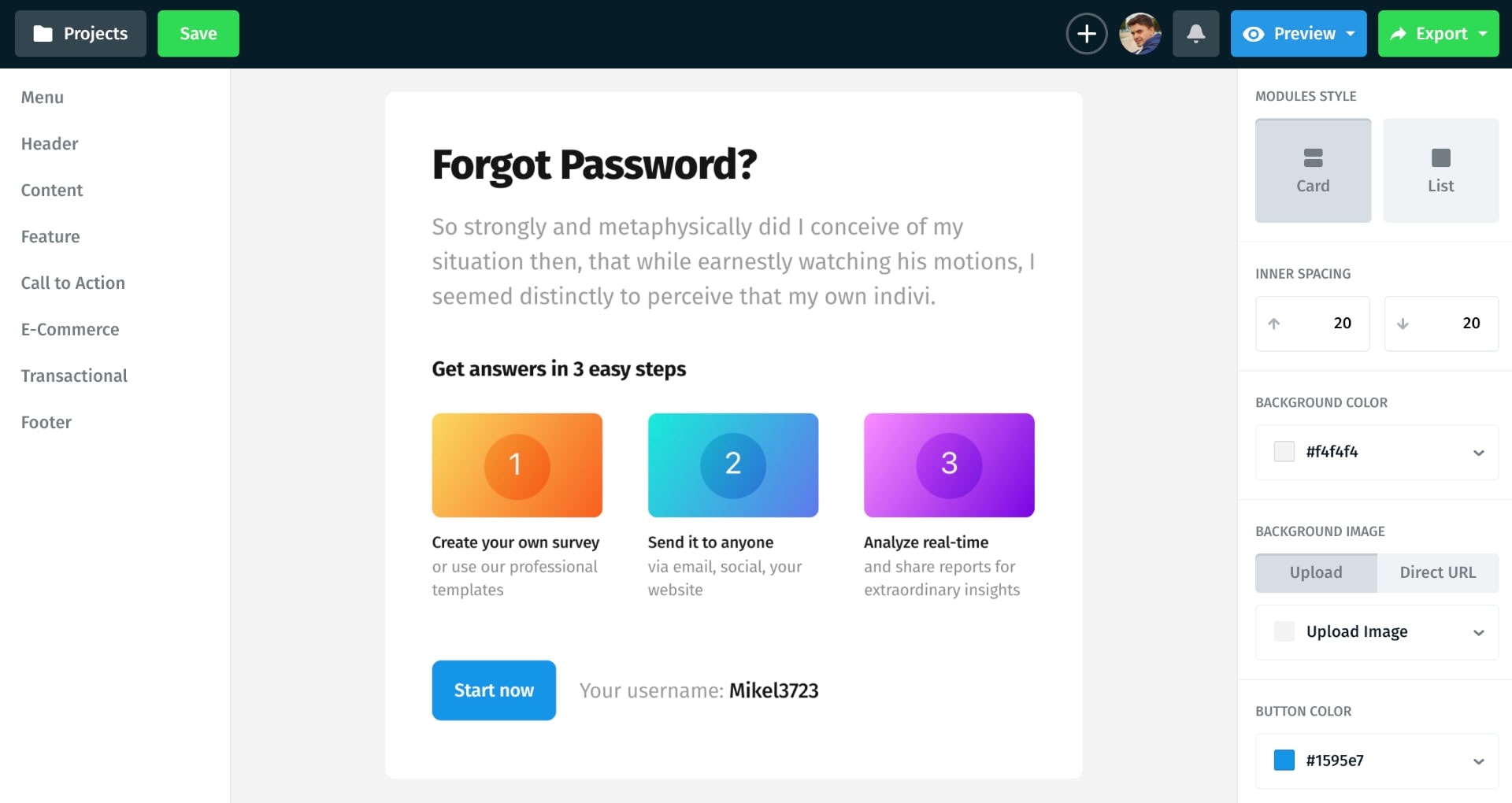 Postcards Email Builder – Password Reset Email Template
For those of you who need a good-looking and effective password reset newsletter template, we recommend using Postcards. Without design or coding skills, you will be able to create a stylish and beautiful newsletter that will provide a helping hand to your clients on every device and email reader.
Best Practices for Password Reset Emails
Rules of good password reset emails are mostly dictated by two things: security and usability. These crucial factors ensure the proper work of this type of email. Although security is your dev team jurisdiction, you should still tick all the boxes when it comes to securing the best deliverability rate. As for usability, let's consider the best practices to nail it.
Your password reset email should:
Arrive in the mailbox immediately.
Include the user's personal information to build trust and identify which account the password reset is for.
Be simple, straight-to-the-point, and valuable.
Live up to brand personality.
Be responsive and mobile-friendly. The latter quality is increasingly vital since more and more people use their cell-phones to enter platforms and even do shopping. With the Covid pandemic, these numbers increase exponentially. Therefore, all links should be tappable and clickable.
Be accessible. Inclusive design is of top priority these days. Even such a small email that is up to monosyllabic conversation should be accessible to all the assistive technologies. Set aria wherever needed, make sure you have an optimal contrast ratio, and your font is legible even on a 320px screen.
That's not all; there are some other general practices that you should try to implement in your password reset emails as well. They are
Use a clear subject line.
Add meaningful information in the "from" name and email address.
Make sure the reply-to address goes to a real person.
Never include a new password (even if it is temporary) in the email newsletter.
Add navigation to the top.
Provide alternative ways for communication.
Use rich HTML email instead of plain text email to structure the information and let subscribers quickly get the requested information through scanning.
On top of that, test compatibility. If you use Postcards, a professional HTML email template builder, then you should not worry about your email design to work correctly across all devices, email readers, and browsers since the generator provides you with templates that meet all the current standards. However, if you create everything from scratch, then be ready to get your hands dirty and spend hours on previewing, testing, and fixing bugs to ensure that everything works correctly regardless of the scenario.
Finally, do A/B tests. Along with looking and behaving well across all devices, password reset newsletters should also resonate with the audience. If your link is not evident from the first seconds, it may halt the process and cause confusion or anxiety. Therefore, test your design on whether it brings value right away and whether the user experience is flawless, even for those who use screen readers.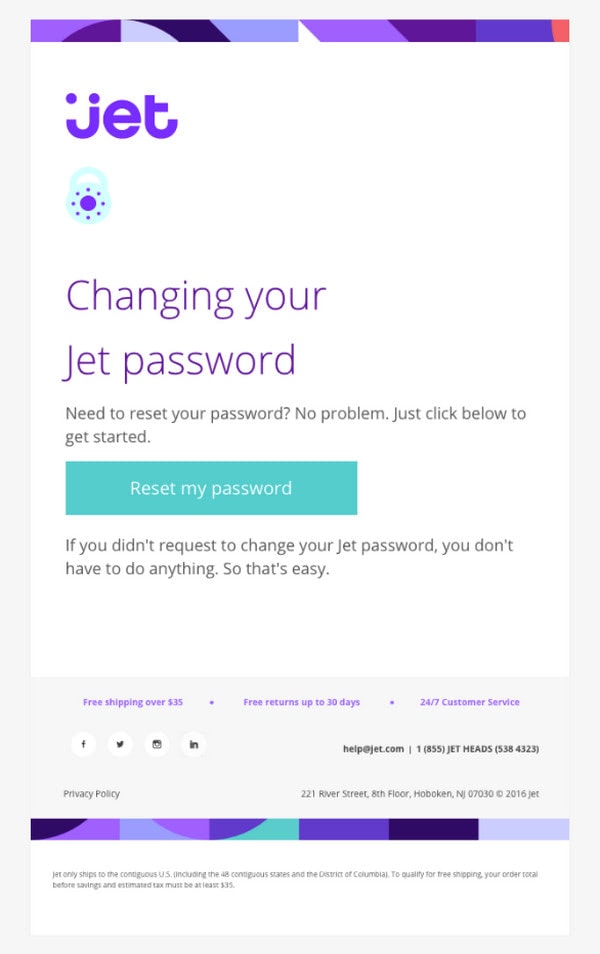 Password reset email from Jet
Two Types of Password Reset Emails
It is important to note that password reset emails come in two forms for two different scenarios.
The first implies sending instructions with a URL to a user who has an account on your platform—our guide centers on this type of email.
The second implies email that should be sent for those who do not have an account and try to enter the website by mistake. Here, you need to exercise caution to prevent a data breach and not allow scammers to break your system. Therefore, send a simple newsletter with an explanation that the user account wasn't found. You can suggest alternative approaches or provide the contact information of the support team.
Good Deliverability is Everything
Password reset emails are crucial for your company to thrive and your relationships with the clients to blossom. While you do not have to worry about its open and click-through rates, since when asked for, they are warmly welcomed in the mailbox, the deliverability rate is your prime concern. Also, when it comes to nail the security side, it is here where you need to pull out all the stops.
So, what can you do? Follow these simple steps:
Clearly identify your brand in your sender name.
Take care of the security of the SMTP server/domain you use for sending emails.
Use proper encryption methods.
Set up DMARC, DKIM, and SPF records.
Make sure your email sender reputation is fine.
Include both HTML and text versions.
For more information, check out our Guide to Email Deliverability: Best Practices and Tools to Avoid Spam Folders.
How to Drive Traffic with Password Reset Emails
It is widely believed that password reset emails, much like any other autoresponder, can't be a valid player in the email marketing game. However, nothing is impossible. Take a look at Wayfair's password reset newsletter. Along with providing a lifesaver link, it includes two special offers with beautiful images. Also, the phrase "For a limited time" creates a sense of urgency. As a result, the email piques interest and urges you to act quickly.
So, what can you do to drive extra traffic, increase engagement, and even generate some leads? Try these ideas, but not all at once.
Show best sellers.
Show seasonal essentials.
Show time-sensitive offers.
Show items from the new collection.
Add small yet effective shopping incentives like free shipping.
Notify about the reward programs.
Provide solutions for those who always forget their passwords with backlinks to your website.
Add some saucy news.
Quantify and qualify your company through statistics, reviews, and testimonials.
Add social media to spread the word about your brand.
Last but not least. It is vital not to overdo here since the original password reset email should provide a way to get clients back on track. Therefore, play marketing tricks safely. Do not be pushy and overwhelming. Be helpful.
Collection of Password Reset Email Examples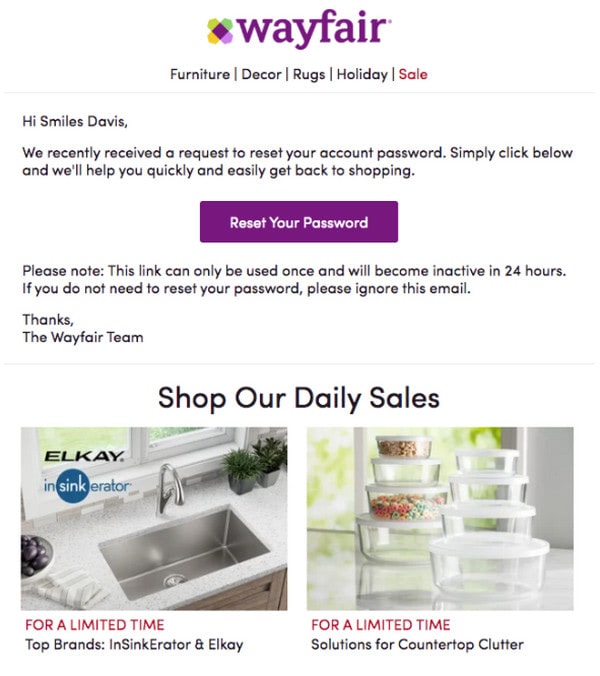 Password Reset Newsletter Example from Wayfair
We have already seen this password reset email example. Since it is a valuable point in our case, let's consider it more closely.
Unlike all the regular newsletters of this kind, this one reminds a promotional one. It includes a product display where you can find limited-time offers, a skillfully highlighted block with favorable credit terms, two buttons to get the app, social media icons, and even small shopping incentives like free shipping placed right at the bottom of the page. On top of that, you will find here the main navigation in the header and a supporting menu in the footer.
However, what about the reset link? Everything is well thought out. It screams out at the subscriber right from the get-go, drawing overall attention due to its enormous size and eye-catching appearance. Although the email has lots of information, nevertheless the reset link takes a top priority. Also, the team has provided all the necessary instructions.
Not only does this email solve user's issues, but it also piques interest, increases engagement, and drives extra traffic.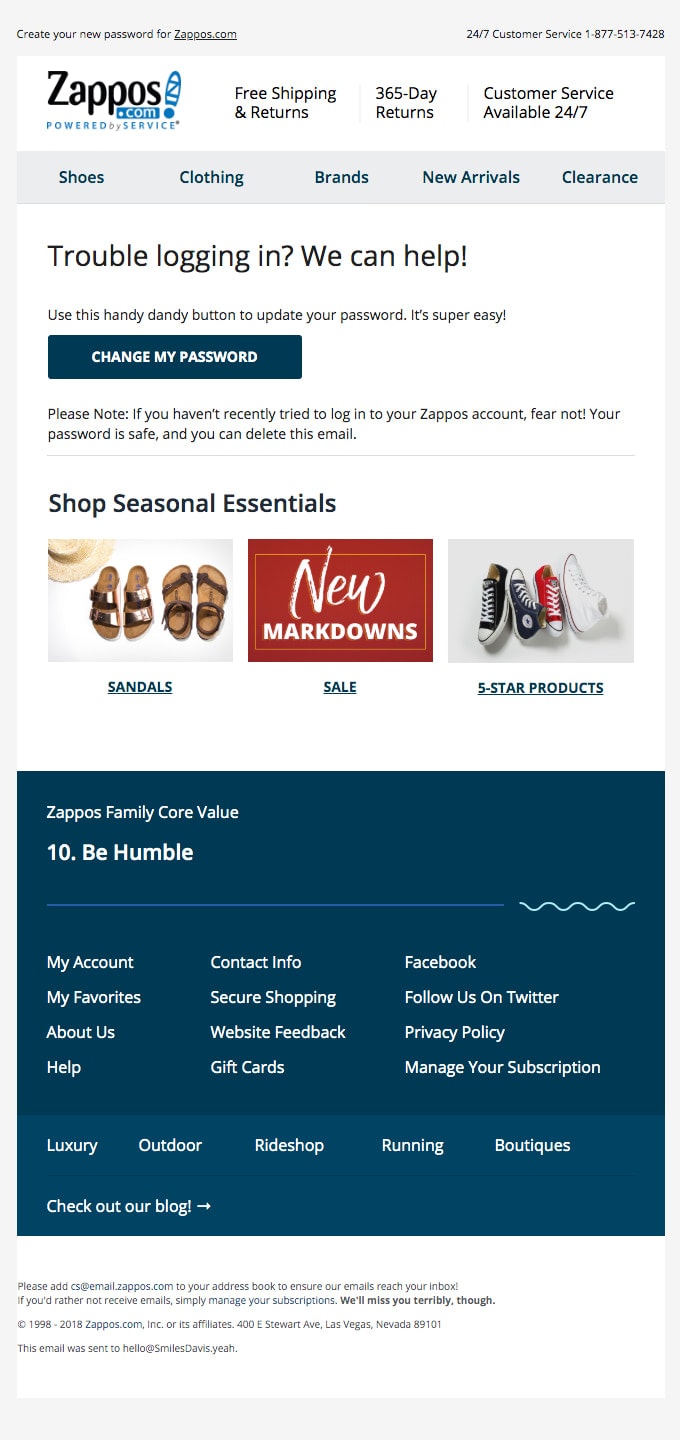 Password Reset Email Example from Zappos
This is another excellent case in point that also stays off the beaten track and uses this type of email as a platform to advocate the brand and advertise goods.
Unlike Wayfair, it is less content-heavy and pushy. At first sight, it seems that all it has is just a small block that promotes popular categories with seasonal essentials. However, that's not all.
After re-consideration, it becomes evident that the team was managed to include other marketing things to push the decision-making process and qualify the brand. For example, right at the top next to logotype, you can see an announcement of free shipping and free returns, 365-day returns, and customer service available 24/7. Impressive.
As for the reset link, it is right where it ought to be.
This password reset email offers the way out, provides assuring information to ease tension, and even has some marketing tricks. Smart.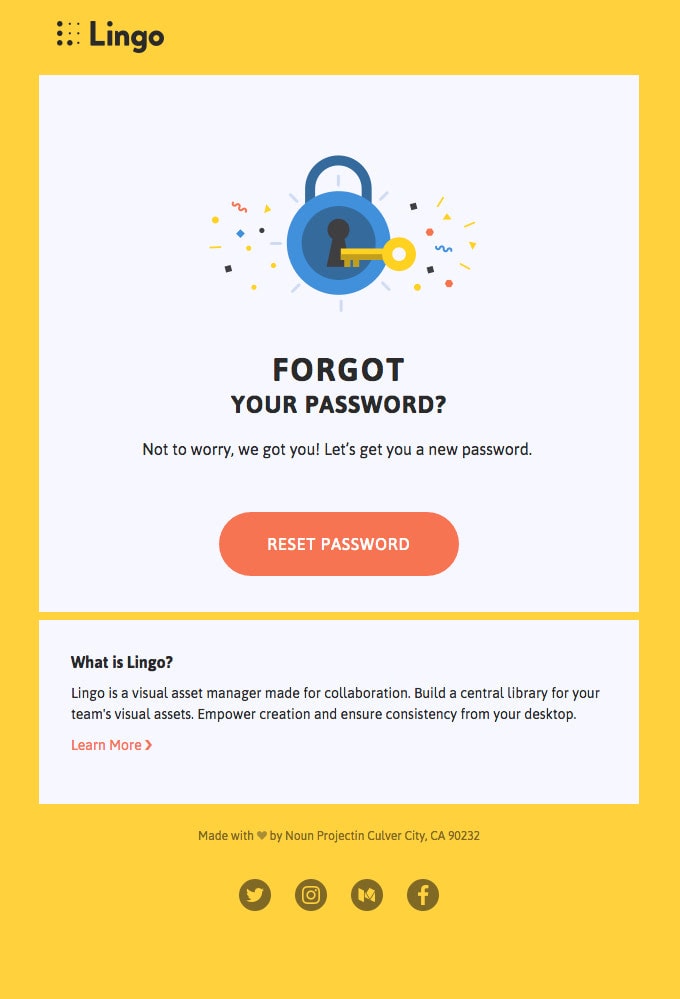 Password Reset Email Example from Lingo
Without a doubt, not all password reset emails are packed with promo features. Consider an example from Lingo that is a classic piece that was skillfully taken to the next level.
It is bright, refreshing, and stylish. A beautiful illustration that clarifies the goal of the email greets anxious users. From the first seconds, it establishes a positive, reassuring atmosphere and cheers up everyone. The block with the reset link is big but not overwhelming.
Note one thing. At the bottom, you can find a small block with information about the company that includes some pamphlets about the brand and a backlink to the website. This trick certainly invites users in.
Overall the password reset email is creative, positive, and valuable.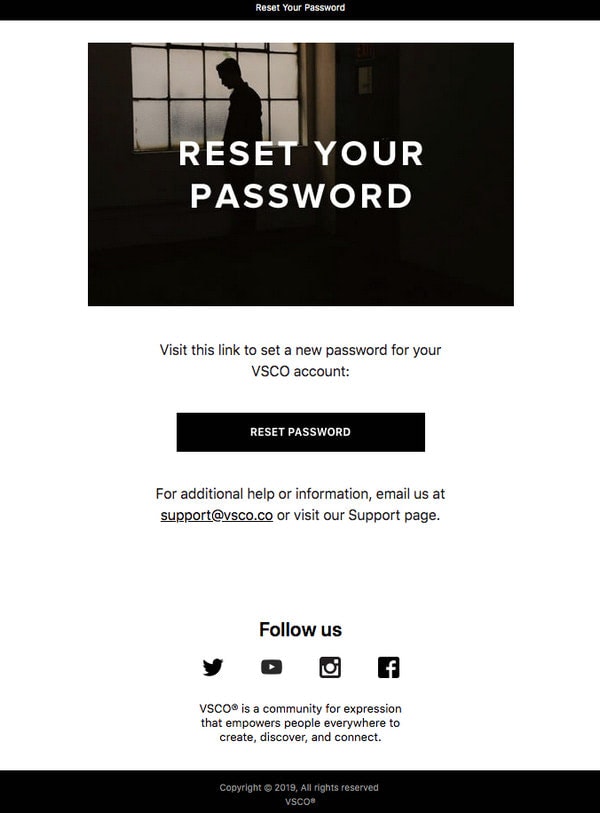 Password Reset Newsletter Example from VSCO
From a friendly, cheerful vibe to a serious, businesslike appeal, you can achieve any gamut of emotions with the right image in the hero area. Step outside your comfort zone and delight users with an original design that will ease the pain and raise morale.
This time we can enjoy some business atmosphere. Black and white coloring in tandem with a monochromatic picture is standing behind this beautiful aesthetics. Clean background, rigid structure, one-column layout, and proper formatting give the content a top priority. The reset link made as a button is certainly hard to miss. In addition, the team has also provided an email address of the support team in case subscribers have some issues.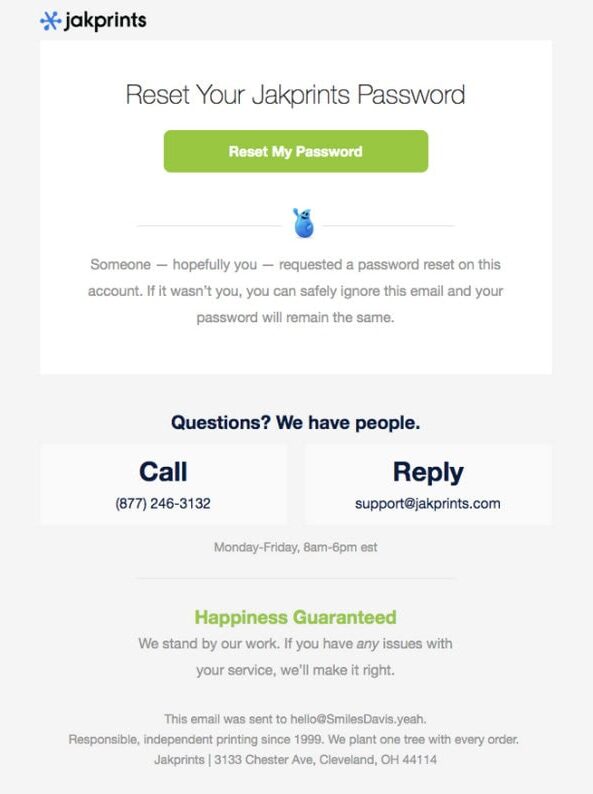 Password Reset Email Example from Jakprints
The password reset newsletter example from Jakpoints is a real problem-solver. Not only does it include a link to recover the password, but it also provides some helpful contact information. For instance, there is a phone number of the support team whom you can call from Monday to Friday and an email address for all those who want to send messages via the internet.
Along with that, it covers all the essentials: the button is big and prominent; there is an instruction of what to do if you do not ask for this reset; there is a company's contact information, logo, and even reassuring words to ease the tension.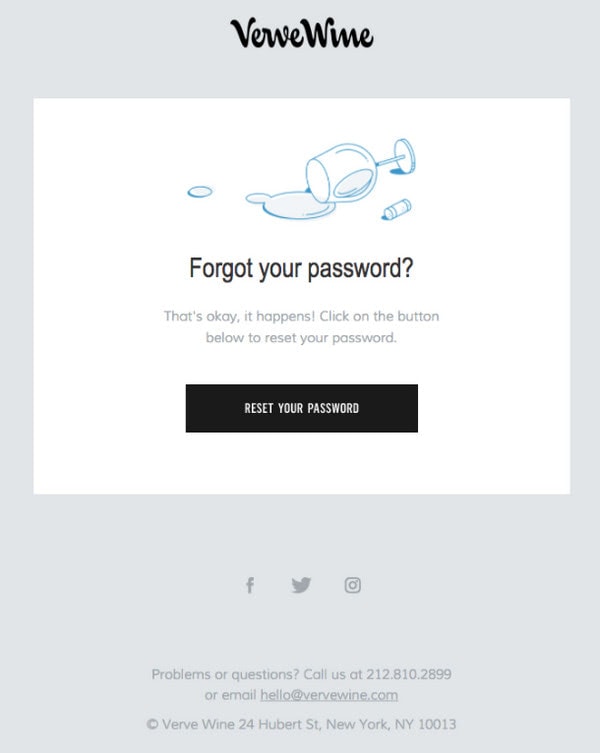 Password Reset Newsletter Example from Verve Wine
When it comes to password reset email from Verve Wine, less is more. The team shows us how to embrace minimalism effectively. The design is compact, almost capsule. Nevertheless, it has everything to bring real value to the user.
As usual, there is a button-style link that gets the lion's share of attention due to its monolithic appearance. On top of that, the footer has a telephone number and email address for all the issues. Although this vital information is not as well highlighted as in the previous example, it is still here. With such a meticulous approach, the brand certainly gets some extra points.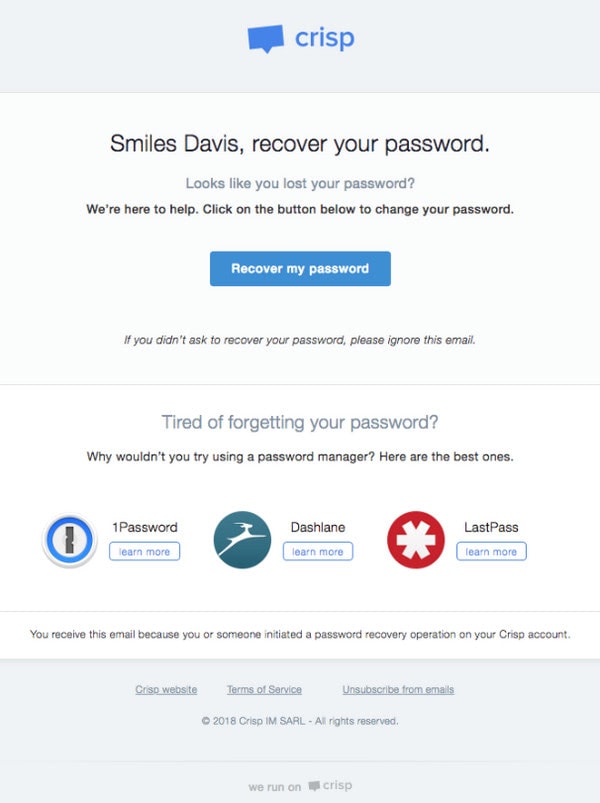 Password Reset Email Example from Crisp
Crisp's password reset newsletter is an excellent example that makes the most out of this situation. Along with providing a helping hand, it also tries to pull some marketing tricks to advocate the brand.
The newsletter is broken into two parts. The first one has a solution to the problem: there is a link to the recovery page and a short yet straight-to-the-point explanatory copy. This block is located at the top so that users can quickly get what they need.
The second block is all about providing a helping hand for those who often forget their passwords. It includes three products that may help with this matter. The company tries to be helpful, thereby advocating the brand and reinforcing relationships with the clients.
The rest of the design is relatively conventional. Yet, it is precisely what is needed. There is a logotype to instantly identify the brand, eye-catching "recover my password" button, short instructions, a footer with helpful links, and contact information.
Conclusion
With promotional emails like flash sales or holiday newsletters, password reset emails quite often stay overlooked. They do not have immense marketing potential; nevertheless, they are still crucial for your brand.
The deal is, without them, you will lose your precious subscribers since they just won't get inside to enjoy the benefits of the platform. That leads to a loss of interest in your brand and eventual abandonment. As we all know, to get a new customer is much more expensive than save the old one. A customer saved is a customer earned. Therefore, password reset emails are of top priority for every entrepreneur.
When creating password reset emails, always bear in mind two crucial things: security and usability. While the first one is all about ensuring excellent deliverability, the second one is achieved through the well thought out design and well-chosen copy.
Although the design of password reset emails does not require frequent customization or modifications still, it should not be taken for granted. It should meet all the current requirements and trends to resonate with the audience. To nail it, follow our guide, adopt the best practices, and study the examples to see how it's done.
Like what you're reading? Subscribe to our top stories.