Responsive Web Design: 50 Examples and Best Practices
Nordic Ruby Conference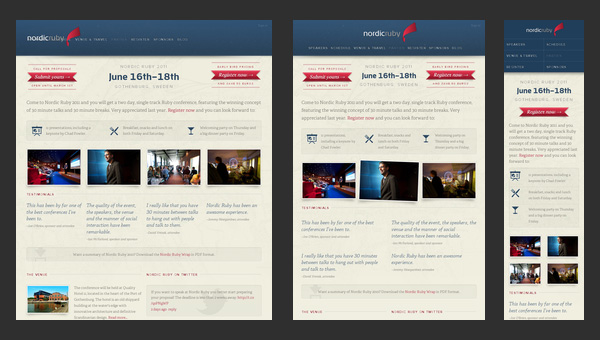 Nordic Ruby Conference's official website conveys a distinct sense of something really interesting should happen. Such features as:
clean overall design;
textured solid color backdrops;
well-formatted layout;
informative home page;
allows a pleasant, and at the same time, professional atmosphere prevail on the website. The responsive grid that is used as a base makes the presentation of the event available for a wide range of internet users.
Halifax Game Jam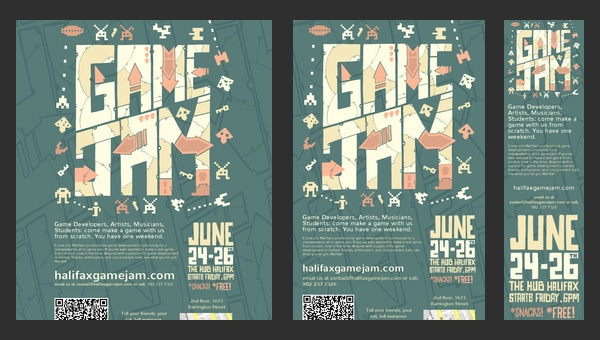 Halifax Game Jam has a powerful artistic vibe due to its ingenious flyer-inspired home page that features a mind-blowing illustration and highly original backdrop.
Of course, the creative design helps to make your website to stand out from the crowd, but how about basic web requirements that need to be complied? The team has also thought this through, and supplied the website with:
Best Designed WordPress and Bootstrap Themes
solid surface;
responsive layout;
proper optimization for browsers.
even despite of having only one page.
Diablo Media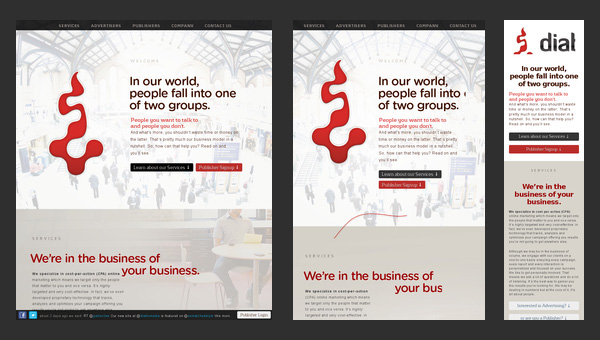 The team has obviously built the website with current trends in mind. There you can find
a hero area that greets newcomers;
smooth effects;
slide out highly comprehensive navigation;
flat-style graphics.
They also did not miss an opportunity to add flexibility as well as supply it with some extra features that are necessary for website's well-being in a competitive internet.
ASU Online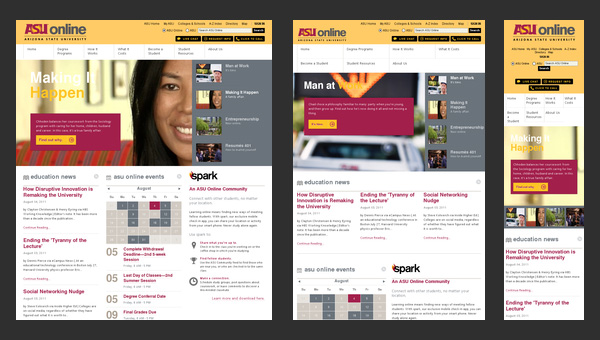 ASU Online is not reliant on an incredible design to be memorable. Being a website dedicated to a local university, it has a quite modest design that, by the way, goes perfectly well with a site's mission. The front page depicts everything that is needed to effectively familiarize visitors with an establishment.
As far as functionality is concerned, the website sticks to such core features as:
responsiveness;
seo optimization;
cross-browser compatibility.
3200 Tigres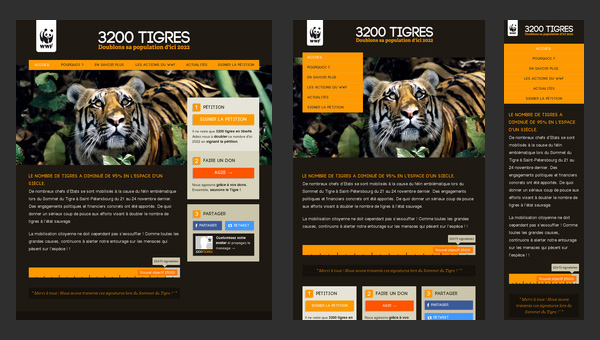 When your task is to inform about the acute problem and draw as many attention as it possible, establishing a proper online foundation is a must have. The WWF like no other knows the rule of the game, so it's not surprising that 3200 Tigres (one of its child websites) is pulled by such essential features as:
modern flat style design;
optimal information hierarchy;
responsive layout.
Kings Hill Cars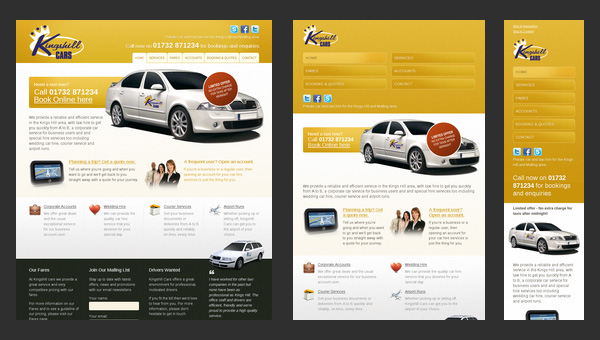 Kings Hill Cars is an official website of a company that provides taxi services. The landing page tries to cover everything that can be of use for potential clients.
Despite the fact that the website design is outdated and quite unremarkable, it is fully adaptive. And the last feature is more than enough to increase the conversion rates for company whose targeted audience, as a rule, comes from a mobile web.
8 Faces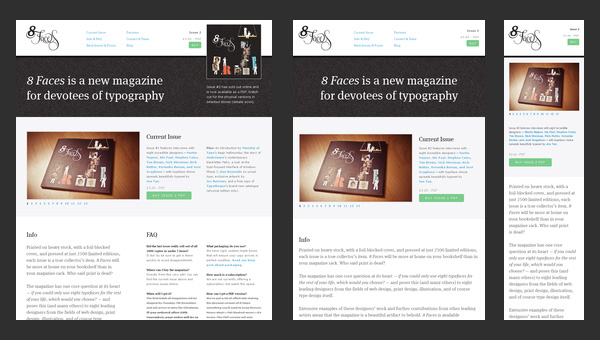 8 Faces is a printed magazine that forces its readers to speculate about typography, asking only one but tricky question:" If you could use just eight typefaces, which would you choose?"
The official website as befits is aimed to achieve a maximum exposure for its product with a help of
clean elegant design;
wide-screen image slider;
ability to gracefully fit the content into smaller screens.
Asbury Agile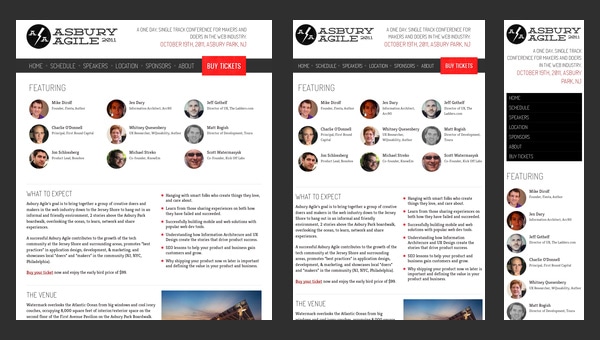 Asbury Agile is a conference for web professionals. As we have grown accustomed, when the event concerns web technologies and includes some high-end professionals, the official website not only has to look modern and up-to-date but also stick to some strict specifications such as
seo friendliness;
responsiveness;
browser optimization.
like Asbury Agile official website do.
Alsacréations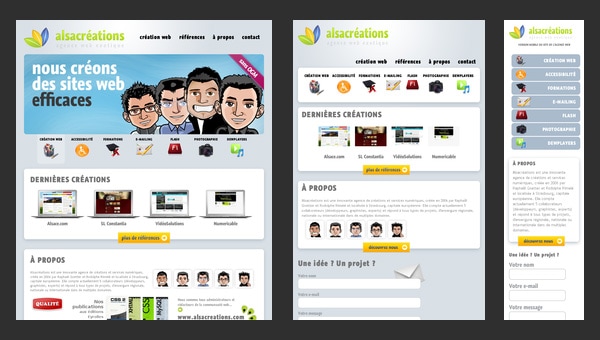 Alsacréations is a French-based web agency that has a regular online portfolio.
Though it seems that the website craves for some kind of a "facelift" since the design definitely comes from the past with its glossy icons and boxes with shadows, however, it has one huge advantage over some others; it is based on an adaptive grid that slightly changes the attitude to it, making us (I mean potential customers) believe that at least the base of your project will meet current requirements.
Sleepstreet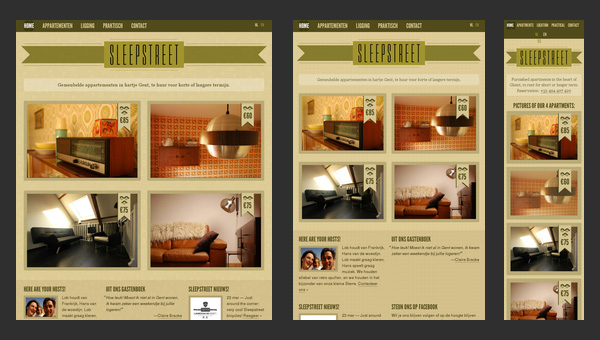 Sleepstreet is a fully responsive website that is really pleasing to the eye, even when it is displayed on your cell-phone. Moreover, it can boast of such features as
a grid-style layout for showcasing various rent options;
a retro appearance for creating a warm and cozy home-like atmosphere;
a multi-language support for covering a wide range of potential customers.
The responsive behavior embraces lots of aspects. Being fully adaptive doesn't mean solely being mobile and tablet friendly, it also involves proper display on huge desktop and notebook screens. Moreover, this feature is no longer optional; every website, whether it is an online portfolio of an artist or a regular school web page, has to quickly and efficiently react on changes related to the screen sizes. There are different ways of sorting out this issue, however we are here not to shed a light upon these techniques; we just want to demonstrate how ordinary websites, which flood the internet, are capable of gaining benefits from being responsive.