Giveaway Emails: Essentials, Best Practices, and Inspiring Examples
As one of the most engaging and promising communication channels, email marketing offers numerous instruments to help entrepreneurs run their companies successfully. Along with promotional, transactional, and informational newsletters, the giveaway email can be a real boost for business.
The giveaway newsletter is a powerful marketing tool.
Let's dive into its basics and find out how giveaway emails can work for your brand.
A giveaway involves distributing free merchandise or services for promotional and marketing purposes. Website owners and entrepreneurs run contests where the prize (giveaway) is given to a participant chosen from a pool of entries.
There are no strict rules: you can get as creative as you like. Sometimes the host chooses not one but several winners. Sometimes people can increase their chances of winning by earning bonus points from sharing the giveaway on social media. Sometimes the contest lasts for more than a month, nurturing customers every day.
Giveaway emails were created to inform users about the beginning and end of such types of contests. There is nothing intricate in them. However, when well done, they can be much more than just notifiers. Let's consider what tasks giveaway newsletters can easily accomplish.
No-Code Email Template Builder
With Postcards you can create and edit email templates online without any coding skills! Includes more than 100 components to help you create custom emails templates faster than ever before.
Try Free
Other Products
Tasks that Giveaway Emails Can Accomplish
As part of the overall email marketing strategy, giveaway newsletters play along with the company's goals.
Keep users interested in an event
Notify about the progress of an event
Create awareness for popular and sought-after products
Gain product exposure
Promote a particular category of products
They can be used to:
Increase engagement with the brand
Gather new subscribers
Drive traffic to the website
Show appreciation to contacts
Liven up your community
Refresh relationships with subscribers
Get a wave of positive feedback for the brand
Encourage the target audience to try complementary products
Grow leads
Rev up sales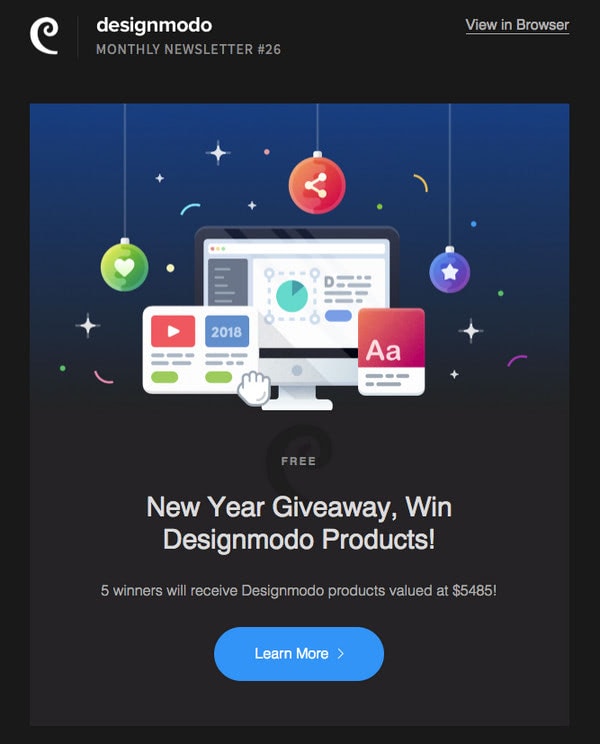 Giveaway email from Designmodo
There are two pitfalls of running giveaway email campaigns. First, you can disappoint those who took an active part in an event but got nothing in return. They may unsubscribe or lose interest in your brand. You should have a strategy for winning over those who did not have luck. Send them a hilarious video or animated gif to lighten the mood, show sympathy through kind words, give bonuses for a reward program, or offer a special discount.
Second, giveaways are notorious tools for collecting contacts. It is a bad practice for websites, and it is certainly not good for emails. Giveaways bring people who are initially interested in a freebie, not a brand. Therefore, you risk filling your subscription list with disengaged contacts.
However, this obstacle is not insurmountable. Subscribers from giveaways are people interested in the product; they are more likely to shop with you. Therefore, after getting onboard a new contact, it is time to pull all the stops to turn him or her into a brand ambassador. It is here where you can offer a special discount for newcomers or other shopping incentives. Second, you should stick to the seven principles of highly successful email marketing and regularly clean your subscription list to exclude all the "bad apples." This will help to keep the subscription list healthy.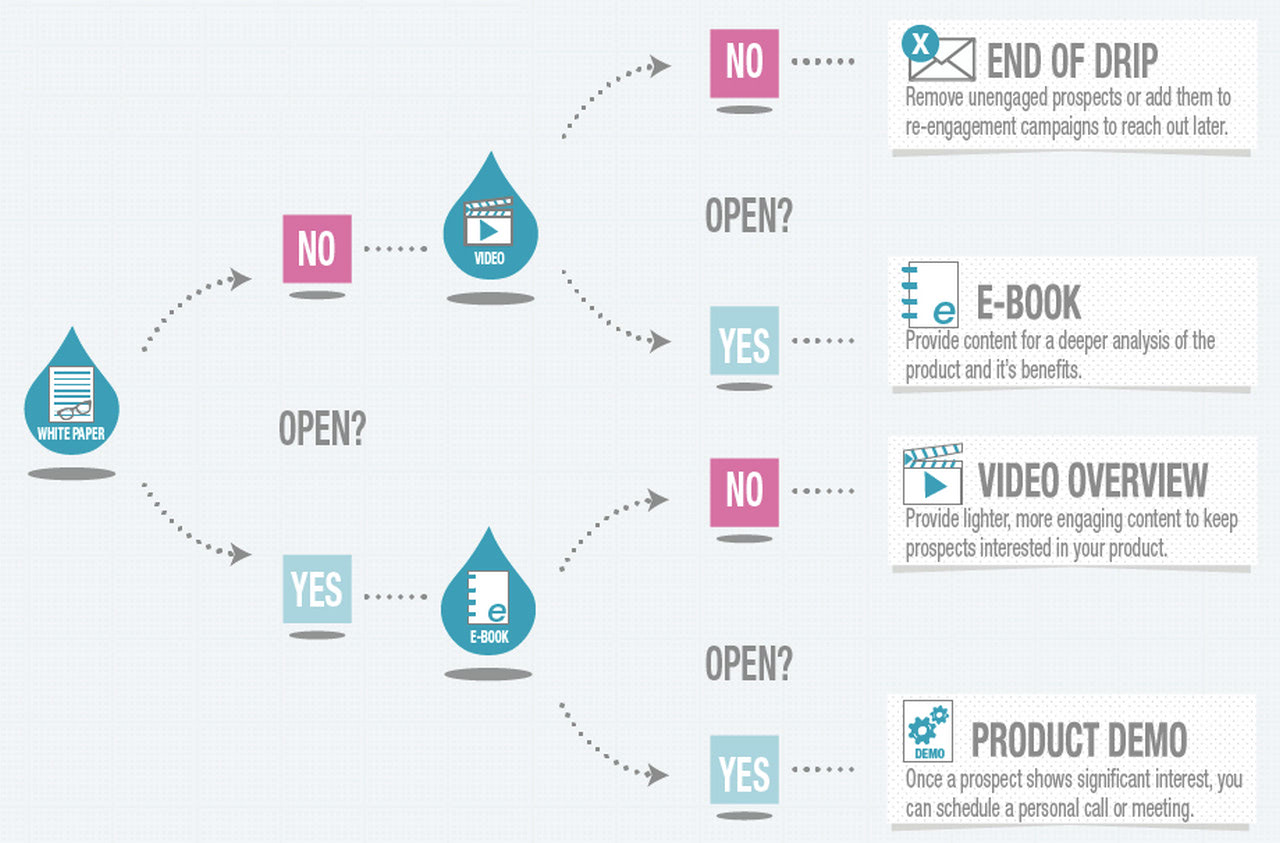 Importance of Giveaway Email Campaigns
To compel users to enter a contest can be a relatively easy task; however, keeping contestants engaged throughout the entire campaign is a real challenge. It is here where giveaway emails join the game, creating a window of opportunity.
They let you speak to your audience one-on-one, fuel their interest, and increase engagement. They can present new products, promote the brand, tempt people to purchase more, and enhance relationships. Whatever sector you are in, with its huge potential, giveaway emails are increasingly important for the contest to thrive and campaign to achieve the goals.
To unlock the potential of giveaway emails, first and foremost, you need to get through the crowded inbox and compel the contact to open the newsletter. For this, you need not only a good deliverability rate but also a compelling subject line.
To create a subject line that will stand out from the crowd and make users open the message and take action, follow these simple yet helpful tips:
Use action words like "Enter," "Win," "Do not Miss Out On."
Use powerful words like "Free," "Gift," "Prize," "Last Chance" that evoke an emotional response. Though do not set big expectations; do not overpromise.
Emphasize those actions and powerful words by capitalizing them.
Use a person's name.
Show figures.
Reveal the prize from the doorstep.
Make it short and sweet so that mobile users can get the entire pitch.
Use preview text to give readers a sneak peek.
Move to subject line examples for giveaway newsletters taken from popular brands to see how to put these tips into practice.
Examples of Eye-Catching Subject Lines for Giveaway Emails
Let's consider real-life examples of giveaway newsletter subject lines to get insights and hints on how this should be done:
Enter to win this sweet ride
Enter Our Giveaway to Honor the Real MVPs
Win all of our masks
Hey Amily, Win a £3,000 Stay on Us
Eames Hang-It-All Giveaway
You're missing out the last chance to win
One day to go… will you WIN a prize?
$5k Giveaway, New Films, and More to Celebrate Women
Lucky You!: There's Still Time to Claim Your Prize
Watch out for this cool surprise
You deserve a little something extra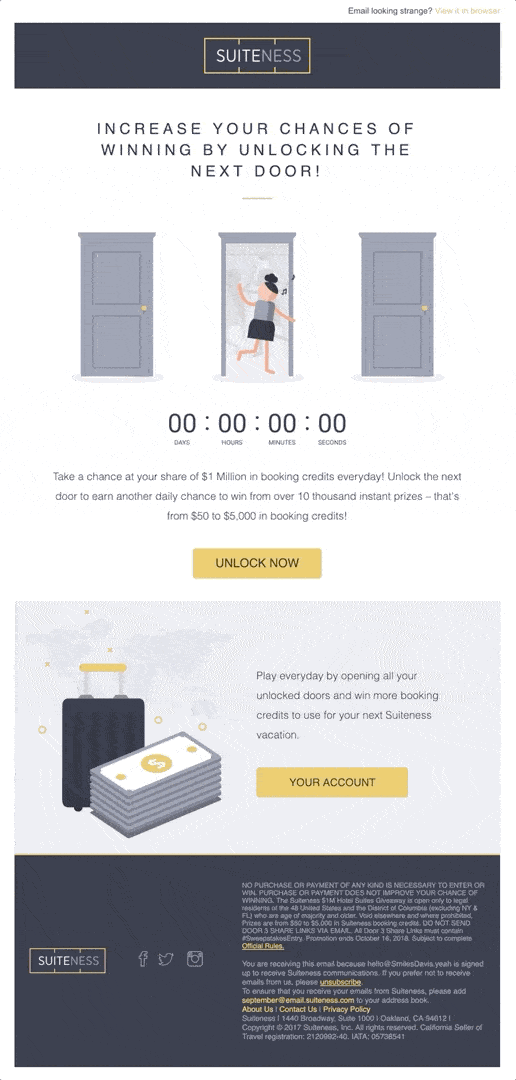 Giveaway email from Suiteness
How to Make Giveaway Emails Effective: Best Practices
The second step to unlock the giveaway newsletter's potential is to polish and refine the email according to the best practices. There are four critical things that you should take into account. Let's consider them closely.
1. Proper Segmentation
Define your target audience carefully.
Segmentation plays a crucial role in various email marketing campaigns; giveaways are no exception. Proper segmentation ensures the success of giveaway contests. Without it, you could end up with a massive list of unqualified leads. Therefore, ask yourself what kind of people will your prize appeal to? Do you need these subscribers? Are they already part of your list?
Therefore, run a giveaway email campaign wisely. Choose the right audience for the prize. You can group people by gender, age, profession, purchase history, person's preferences, and even location. Good segmentation will help to bring actual benefits to the brand, achieve its primary goals in an increasingly small window of time, and, of course, onboard qualified leads.
2. Personalization
Personalization is key to everything.
Whatever email you send (holiday email, seasonal email, transactional email), should be personal. And when it comes to inviting people into a lottery, it is here where you can't do, at least without a name. If you can create a customized email based on the contact's preferences or purchasing history, it will be perfect.
Appeal to your target audience by name, let contacts know the exact number of points they've earned, try to catch their drift, and show how giveaway can benefit them.
3. Best Time
Time matters.
The success of giveaway newsletters largely depends on time. For example, if you sell jewelry and stuff for couples, then obviously the best time to run the contest is the week before Valentine's Day. Since this time of the year gives the most exposure.
Depending on the type of prize, products you want to promote during the contest, and the target audience, you need to find the best time to run the campaign. You can align it to red days in the marketing calendar like Black Friday, Christmas, or Easter. However, do bear in mind it still should run solo. It is highly recommended to run such campaigns a few weeks before the holidays since it is much difficult to get through the crowded inbox during those days.
To define the best time:
Do segmentation
Analyze contact's preferences and behavior patterns
Analyze previous campaigns
Do A/B tests
Check out our guide on how to define The Best Time to Send Email Newsletters for Black Friday and Cyber Monday to get some valid insights.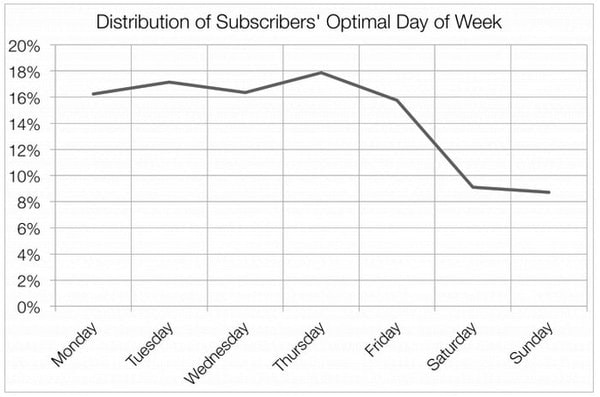 Distribution of Subscribers' Optimal Day of Week
4. Run Giveaway Email Campaign
The giveaway contest is not only about sending one newsletter that notifies about the event, and another one that introduces the winner. The event lasts a certain period of time. You should be with your participants all the time. There should not be total silence because people will simply forget about the sweepstake.
Therefore, you need a whole campaign with a range of follow-up emails to generate buzz around the company, keep clients engaged, and pursue marketing and promotional goals from various sides.
Last, but not least
Keep in mind these essential tips that can take any giveaway newsletter to the next level:
Prepare the contest page for a participant. Fill in personal information like email address, name, gender, etc., to join the giveaway right away.
Do not make people act against their self-interest. Encourage users to share the news by giving them extra bonuses.
Keep in constant communication with the entrants.
Choose one goal for each email.
Make newsletter responsive and mobile-friendly so that mobile and desktop fans could participate in the giveaway without barriers.
Make it accessible so that any person, even with impairment, can take part.
Use colors to create the right gamut of emotions.
Use the inverted pyramid principle to accentuate the offer and call-to-action.
Promote your brand by qualifying and quantifying its value.
Use psychological tricks like FOMO, sense of urgency, exclusivity, social proof.
As we have said already, giveaway contests are not one-day events. They last for several days, weeks, and even months. They pursue various marketing and promotional goals. To make the most out of them, you should run the whole campaign. As a rule, each one includes such crucial newsletters as:
Giveaway Announcement
Follow-up Email
Winner Announcement
Thank You Note
Giveaway Announcement Email
The giveaway submission email is the first email in a sequence. It sets up the expectations and establishes the proper atmosphere. It appeals to the audience and brings nothing but value.
Its primary task is to announce the start of the event. Therefore, it should include such vital details as
Name of the prize. Highlight it using various stylistic tricks like bright color, bold typeface, fancy typography. Place it on the top so that contacts get it right away.
Image of the prize. Images are the first focus of the brain. Therefore, to drive maximum attention towards the contest, use screenshots or photos or the freebie.
Instructions on how to take part in a giveaway. Along with a prize, instructions are increasingly vital since your subscribers should know the rules of the game. They should be clear and transparent. Everything should be on the surface to cultivate trust. Format them well so that even scanners and skimmers can get the key points without indulging in reading.
Formulate all the rules of the contest, including exclusions. You can use a particular page on the website for that. However, still, all the key moments should be displayed in the newsletter.
Call-to-action button. As one of the most important details of all promotional newsletters, it should take its place under the Sun here as well. It is a gateway that leads contestants to the landing page. Therefore, much like a prize, it should be prominent and significant. It should include action words to give contacts the motivation to enter the challenge.
Footer with contacts and legal information.
Brand identity.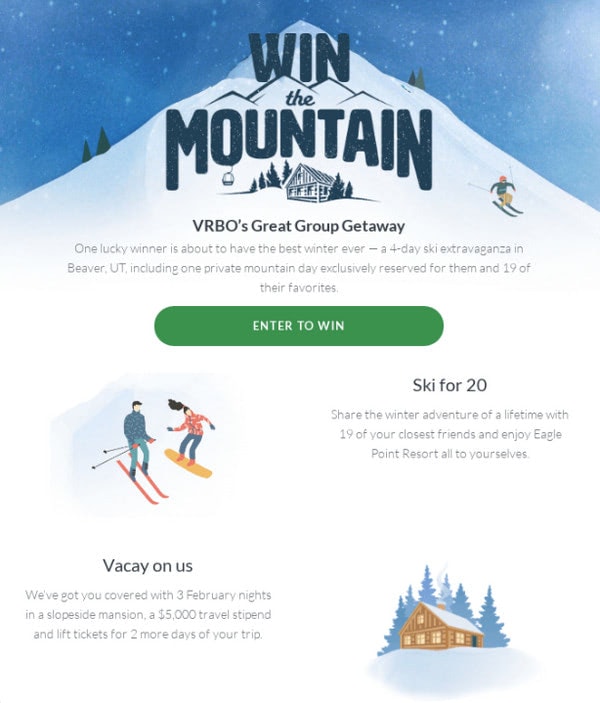 Giveaway email from VRBO
Follow-up Emails
After the giveaway submission email's success, it is time to treat your target audience with some follow-ups. These organic status updates help keep the contestants informed, increase engagement and maintain interest.
For example, you can send a notification that the contest is about to end. Consider using a countdown or time-proven phrases like "Hurry Up!" or "End Soon!" that sharpens the sense of urgency. This can be turned into an instrument of increasing engagement, drumming up interest, and compelling contacts to act quickly.
When well-done, follow-up emails can be used to
Increase engagement
Encourage shares
Promote a new collection by showing products that go well with the giveaway product
The longer the giveaway, the more similar emails you can send, the more chances you have to fulfill your marketing mission.
To give you hints on what emails to send, check out these popular ideas:
Congratulate people for joining your giveaway
Update people about their recent points
Encourage them to keep sharing
Educate them about the offer and brand to strengthen motivation
Update people about the end date
Remind about the last chance to win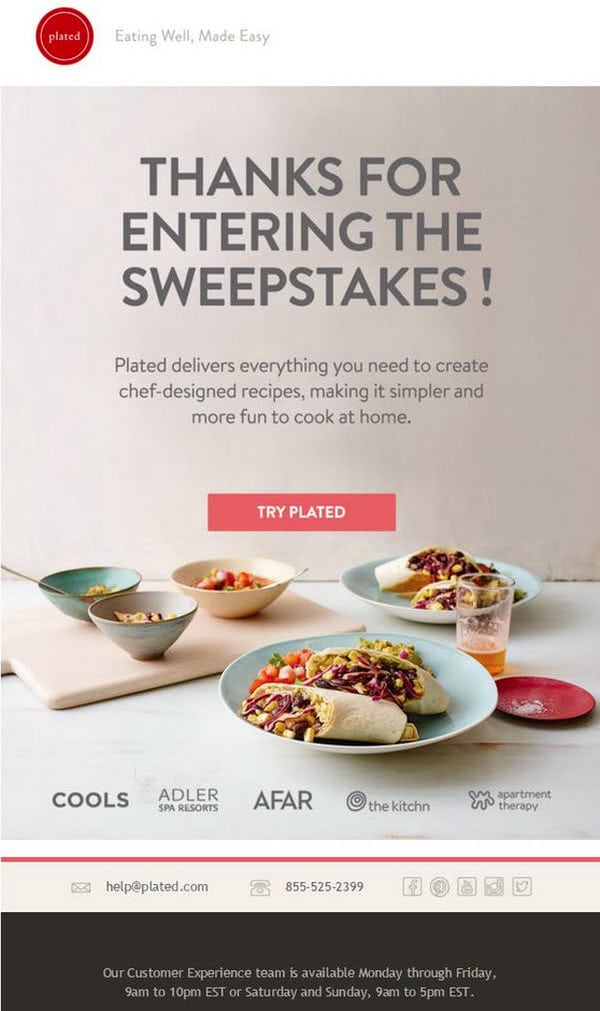 Thanks for Entering Sweepstakes
Winner Announcement
When the time comes to give away the product, you need a winner announcement email. Use it to notify the winner and all other contestants. You can go two ways to ensure that everything was fair and square.
The first one is to send a winner announcement with a link to a video. Do not try to include video inside the newsletter since most email readers do not support this multimedia type. Therefore, you risk leaving your participants disappointed. Use only the link. To make it more impressive, support it with a preview image.
The second way is to send an email with an invitation to the YouTube channel to show a draw of prizes on the air. In this case, you will still need to send a winner announcement email to those who would miss it.
A few words on the design. As the nameplate implies, this type of giveaway email should have a celebratory atmosphere. It should scream happiness and joy. It should cheer everyone up. Therefore, the design should be vibrant, charismatic, and on-brand. To nail it, use Postcards. As one of the most popular HTML email template builders, it has all the necessary tools to create a giveaway newsletter with your character and festive mood.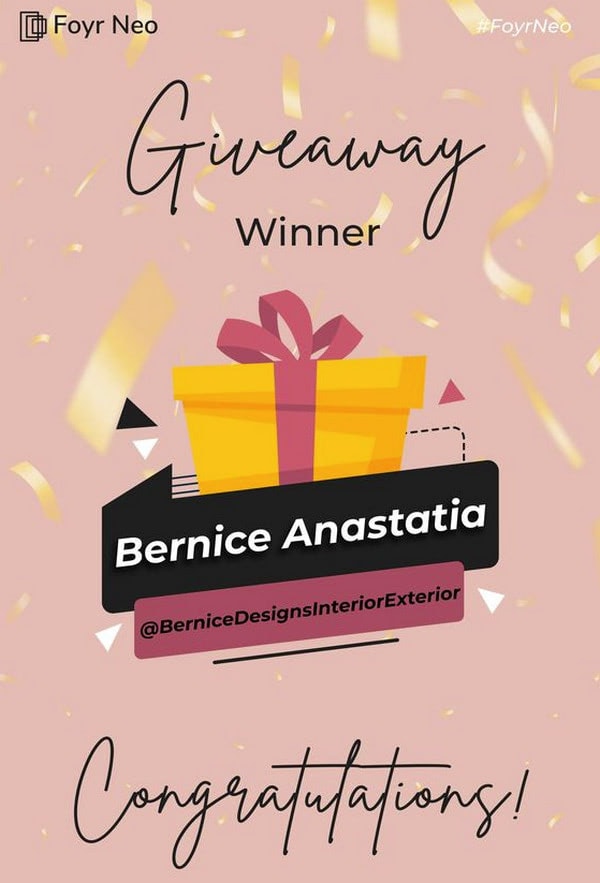 Winner Announcement from Foyr Neo
Thank You Note
If you think that the winner announcement email is the last newsletter in this sequence, you are wrong. There is always a final word in such contests that should show your appreciation to all the contestants and serve as a token of gratitude. It is here where Thank You email comes to the rescue. It does this job perfectly well. Here it can be used to:
Express gratitude
Praise the audience
Advocate brand
Enhance relationships with the customers
Leave a good impression
Get useful data or feedback from the winner
More so, a Thank You email is not just a rule of etiquette; it is a marketing instrument that ensures that there are no hard feelings since people do not like to lose. Here, entrepreneurs offer a special discount on the product that they have been given away recently or some other shopping incentives to avoid disappointment and leave things in a good place.
How to Use Giveaway Emails to Grow Subscription Lists
One of the main purposes of the giveaway newsletter is to grow the subscription list.
Extending a list of contacts is increasingly vital for every business since existing contacts can be easily nurtured and turned into paying customers. Since a giveaway contest is one of the cheapest and quickest ways to do this, it comes as no surprise that entrepreneurs use it for this goal all the time. Even though it has some pitfalls that we have discussed earlier, still when done right, it can bring more good than harm.
So, how to use a giveaway email to grow your subscription list the right way. Follow these necessary steps.
Target audience. As we have already said, segmentation is vital for various email campaigns. The giveaway campaign is no exception. Therefore, do your homework and meticulously target your audience.
Choose the best prize for your target audience. Although you can use giveaway newsletters to promote new products, nevertheless, your audience and prize should be in sync when it comes to growing your subscription list. On top of that, since you need to extend this market, you should choose the prize that appeals to newcomers. Choose a prize that creates a genuine interest in the company and compels new contacts to stick around after.
Create a set of rules that makes this contest fair. Notify about exclusions and exceptional circumstances. Cover such essential details as:
Start and end dates
Age requirements
How to enter
How to get extra bonuses
How the winner will be chosen
Use professional instruments to focus on your strategy and overall campaign instead of messing with code and design. For example, use Postcards. It is one of those life-savers that does all the heavy lifting for marketers, letting them focus on the strategy rather than email creation. It offers a vast arsenal of field-tested utilities and an intuitive playground to assemble giveaway email of any scale with no hassle.
Promote the giveaway newsletter during the entire period. This will help to generate excitement and maintain interest. Use the website and other channels like social media to increase exposure.
Choose the winner randomly. Use a special email to notify about that.
Be grateful. Always send Thank You note to all the participants at the end of the contest.
Measure your results. Analyze the results of the contest. Measure it. Did you achieve your goals? Did this strategy bring the best outcome? Get these insights to improve your next giveaway email campaign.
Follow up with participants. Make sure they are truly interested in your brand to avoid those warm leads going cold. Fuel their interest with some promotional emails. Nurture them with special discounts and offers. If you have a rewarding program, it is time to invite them in. Make them feel important and try to find a way to get them deeper into the brand.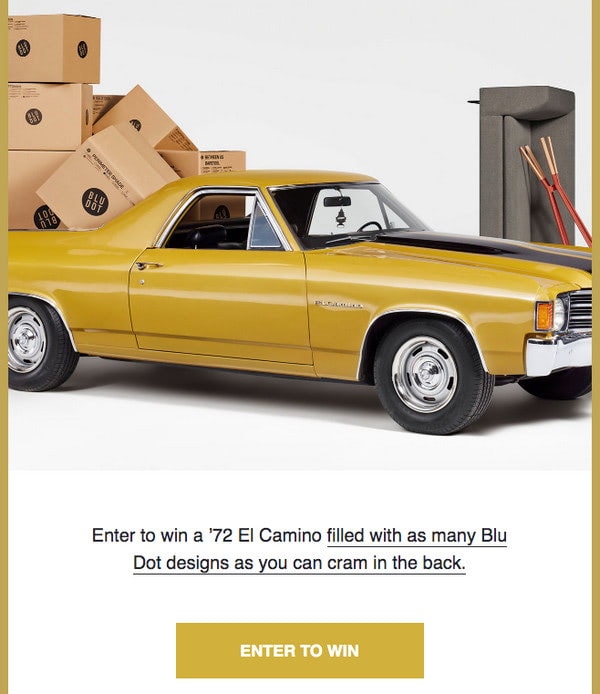 Giveaway email from Blu Dot
Collection of Inspiring Giveaway Emails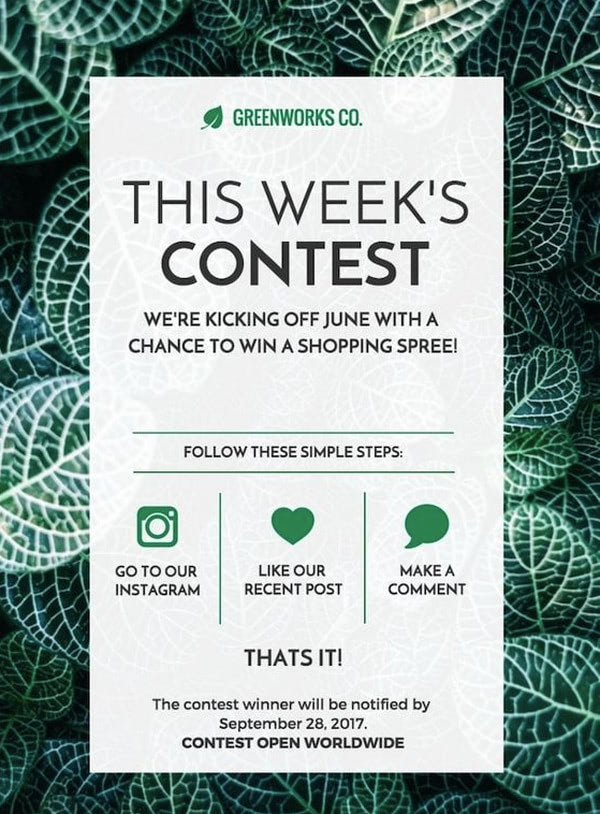 Giveaway Newsletter Example from Greenworks
This giveaway email example from Greenworks features a traditional take on this type of campaign. Although it is dated 2017, there are still four major takeaways we can all learn from it.
First, stay away from anything excessive. Get down to business. The email has one goal and focuses on just one task: to announce the contest in such a way that helps to onboard as many subscribers as possible.
Second, the announcement of the contest is skillfully highlighted. It is at the heart of the design, so it's quite difficult to miss out. It is big and bold. Everyone keeps an eye on the price here, that's for sure.
Third, the instructions are short and sweet. Using a three-column arrangement along with bold typeface and beautiful iconography, the team was managed to deliver the message to everyone within seconds. Even those who adore scanning rather than reading get information instantly.
Fourth, the rules are well-formatted. Again, everything is on the surface.
Last but not least, the email design is on-brand. The background is impressive. It is refreshing and eye-catching.
The sweepstakes email is relatively simple. It does not have big promises or lavish visuals. Nevertheless, it has everything subscribers may need to fall for this contest.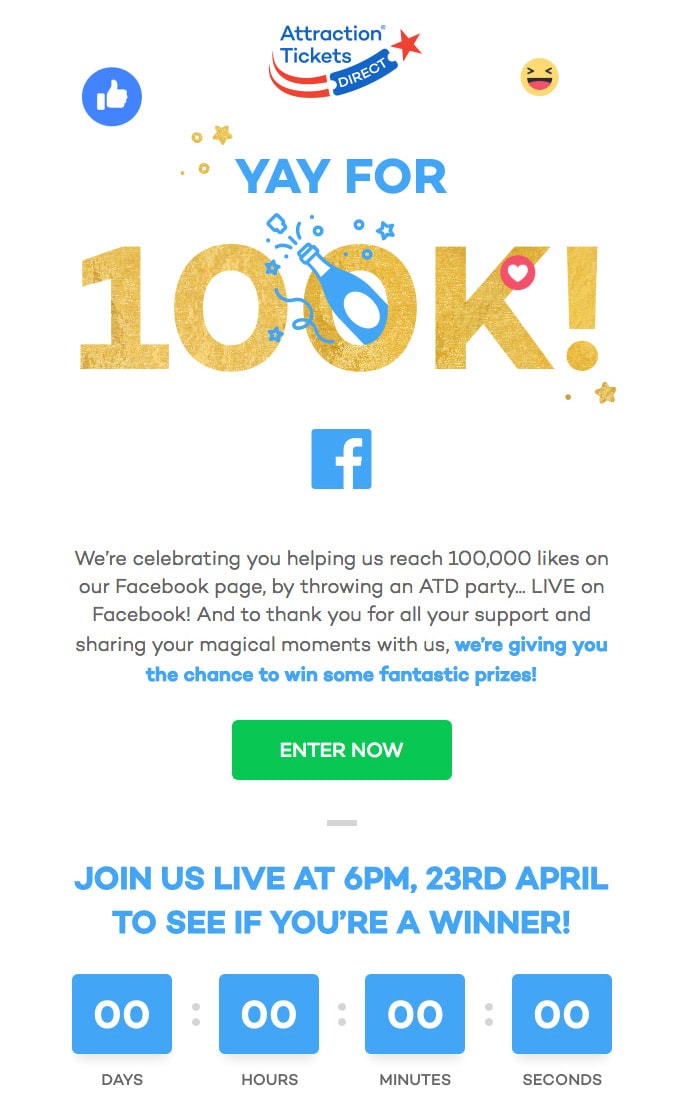 Giveaway Email Example from ATD Attraction
The giveaway newsletter from ATD Attraction easily drives traffic to the website, gets contestants excited, and turns contacts into brand evangelists. However, this doesn't just happen unless you've done a few things right. Let's consider them closely.
First, the email design greets subscribers with a beautiful festive hero image that cheers everyone up and establishes an overly positive atmosphere, and serves as social proof that quantifies the brand and strengthens user's motivation.
Second, there is a countdown that stresses out the sense of urgency and makes subscribers act promptly.
Third, there is a display of prizes to remind everyone what you can get for free.
Fourth, at the bottom of the newsletter, you can find some other bonuses like "Free Delivery," "Lowest Price Promise," "Tickets. No Vouchers." This helps advocate the company and increase trust.
Finally, the design hits all the essentials. There is a prominent green CTA button with action words, beautiful design features that makes the newsletter feel modern, and of course, legal requirements such as an unsubscribe option, contact info, and links to Terms and Conditions.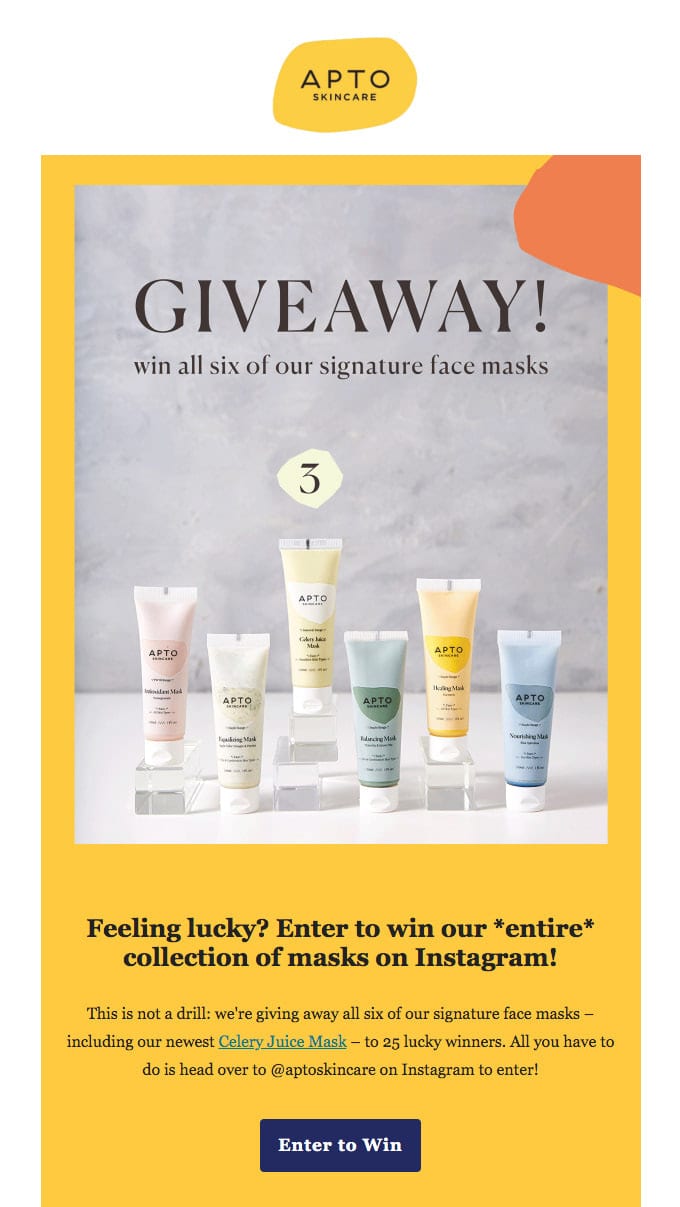 Giveaway Newsletter Example from APTO Skincare
The team behind this spectacular giveaway email example did many things right, but here are three decisions that made the most significant impact.
First, they thought-through the subject line. It is short and sweet. Mobile users can easily read it without changing the screen mode or scrolling.  It has an action word such as "win." Even though it is highly overused, it still works. Finally, it has an emoji that visualizes the prize and draws overall attention. As a result, the subject line sets the right expectations, lures users in, and ensures high open rates.
Second, it starts with the enormous image-based hero area to sport all the prizes. It produces quite an impression that certainly increases motivation.
Third, the team uses the inverted pyramid principle. Therefore, the contestants are unobtrusively led to the call-to-action. The latter, by the way, has a powerful phrase, "Enter to Win."
Apart from that, the email is transparent: all the main terms are carefully highlighted. Everything is fair and square. This helps to build much-needed trust in a contest.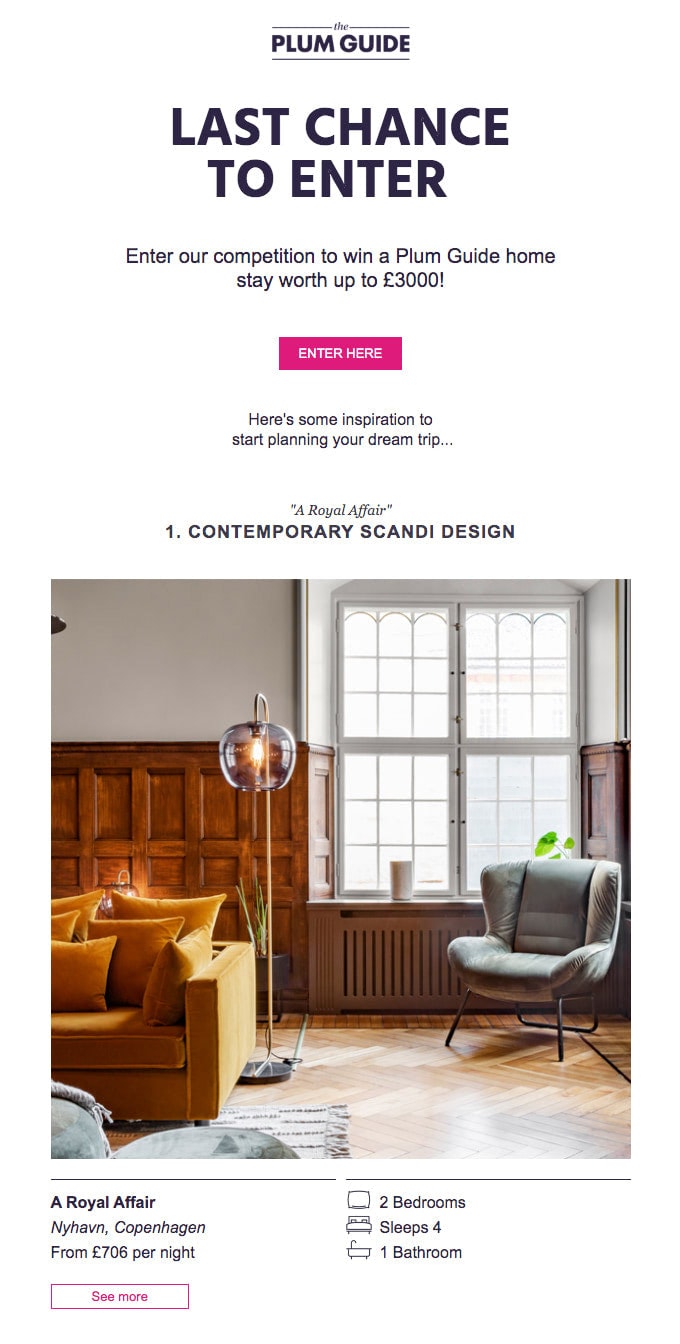 Giveaway Email Example from Plum Guide
The team behind this amazing giveaway newsletter example did the proper legwork that needed to be done to keep the audience engaged with the contest throughout the entire period. They have nurtured the audience all the time with amazing follow-up emails. This one is a case in point.
This fantastic follow-up email not only keeps a fire burning night and day, but it also compels the subscribers to act promptly. "The Last Chance" header does its job perfectly. Almost screaming at contacts, it stresses a sense of urgency and FOMO.
On top of that, there is the homestay inspiration block that is a vital closure. It finishes off the design and reminds contacts once again what they can get without spending their precious money. Smart.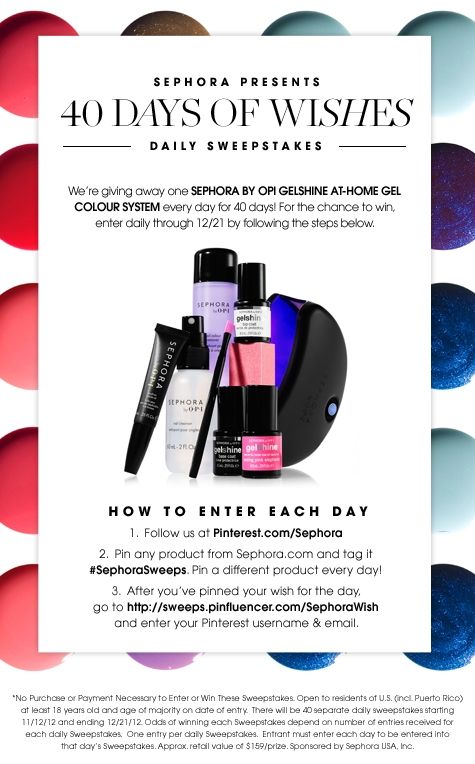 Giveaway Newsletter Example from Sephora
Among all the giveaway email examples featuring here, this one boasts of being a part of something really big.
While all the other companies run just one contest at a time, this prestige omni-retail brand has created a series of sweepstakes under the same theme to grip the attention for 40 days in a row. Each day has brought something unique into the subscriber's inboxes. Is not it impressive?
As for design, everything is in the right place. The announcement of the contest is right on the top. The visual display of prizes occupies the central part making everything about them. The rules are displayed and smartly highlighted. The background hints about the brand earning some extra bonuses for credibility. Clever.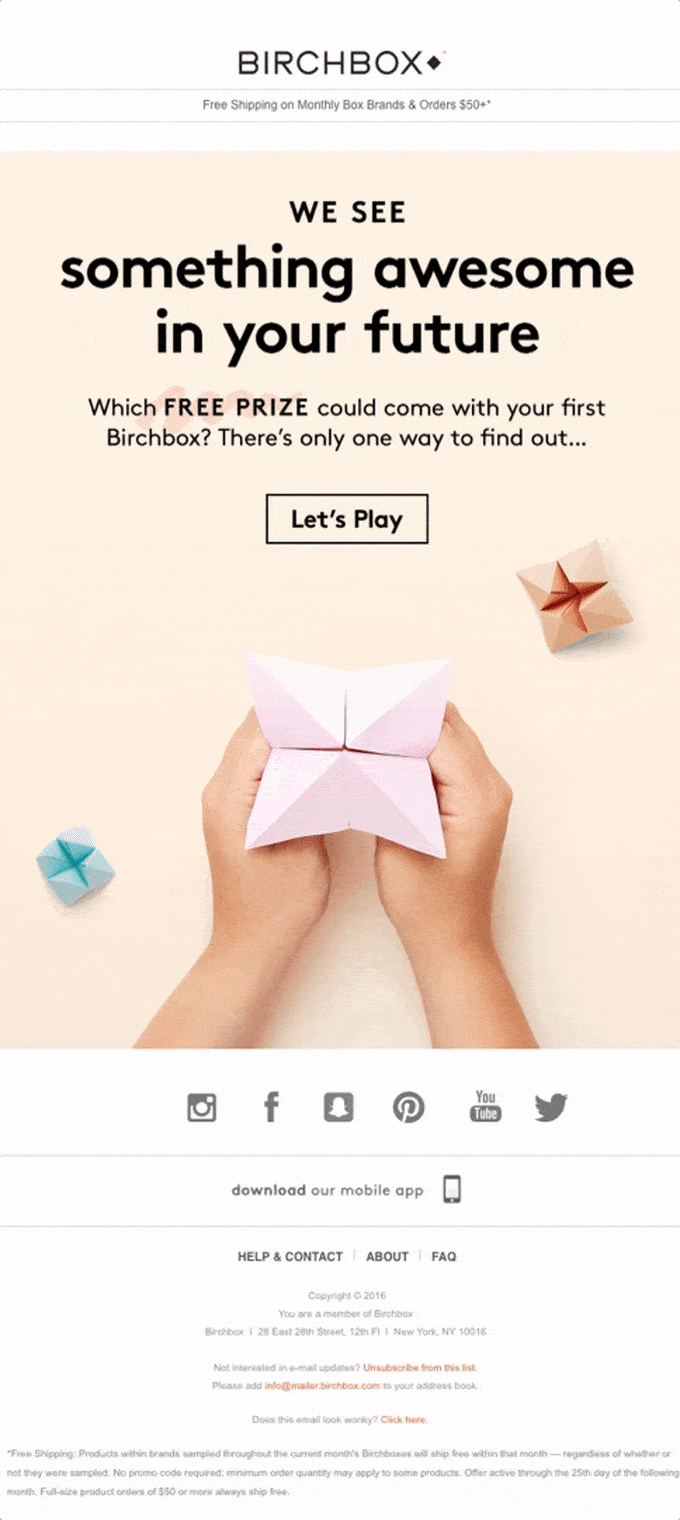 Giveaway Email Example from Birchbox
A stunning email design can do magic. This giveaway newsletter example from Birchbox is a case in point.
Using adorable images, an animated gif, beautiful typography, iconography, and gorgeous coloring, the team creates a fantastic aesthetic that instantly draws everyone in. The contest is highlighted and emphasized unobtrusively.
Note the language. It is positive, promising, and it includes action and powerful words that appeal to the audience.
The idea is simple; the realization is nothing extraordinary. However, the result and impact produced on the audience are powerful.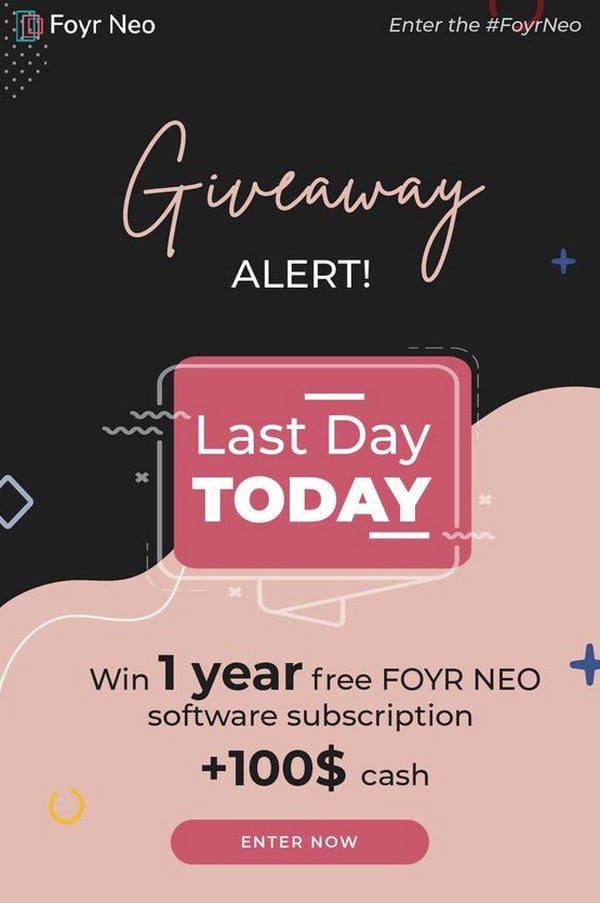 Giveaway Newsletter Example from Foyr Neo
To carry on with the theme of relying solely on visuals, we have included this spectacular giveaway email example from Foyr Neo.
When accessibility is taken into account, this approach can produce outstanding results. It commands attention, increases engagement with the brand, and onboards a load of subscribers.
This small giveaway alert has a charismatic appearance and big personality. It teaches us that not only should you be with participants every step of the way, especially in the last few days, but you should also stay optimistic about that, maintaining a cheerful atmosphere all the time.
Also, note that all the vital information is here. There is also a sense of urgency. The action words instantly catch an eye. And the prize is skillfully highlighted.
This giveaway email is not just a fancy picture; it is a brilliant illustration packed with marketing tricks.
Conclusion
Giveaway emails have massive potential in boosting business awareness and increasing product revenue. They are great tools for growing subscription lists as well. When well-done, they can do magic on all fronts.
To unlock its potential and curate a contest that appeals to the audience and reaches marketing goals, follow our guide, stick to the best practices, and get hints and inspiration from real-life examples.
Like what you're reading? Subscribe to our top stories.