Be's 250+ Pre-Built Websites Come with an Awesome New Installer
Be's New and Improved Pre-Built Installer
Remember back when it only took one click to install a pre-built website when using Be's old installer? That hasn't changed, nor would you want it to. You may also remember the hassle involved in selecting a pre-built website in the first place. You had to conduct a manual search through dozens, or even a couple of hundred pre-built websites, before finding the one you wanted.
Your search involved going between the admin panel and the presentation page, one pre-built website at a time. Once you made your choice, and performed the installation, you might discover that the plugins needed to make everything work, weren't necessarily there.
Also, you could only install the entire pre-built website; even if you didn't the content, or all the default pages.
The overall process wasn't user friendly, unlike as is the case with Be's other website-building tools.
Be Themes' developers, Muffin Group, took this old pre-built website installer –
No-Code Email Template Builder
With Postcards you can create and edit email templates online without any coding skills! Includes more than 100 components to help you create custom emails templates faster than ever before.
Try Free
Other Products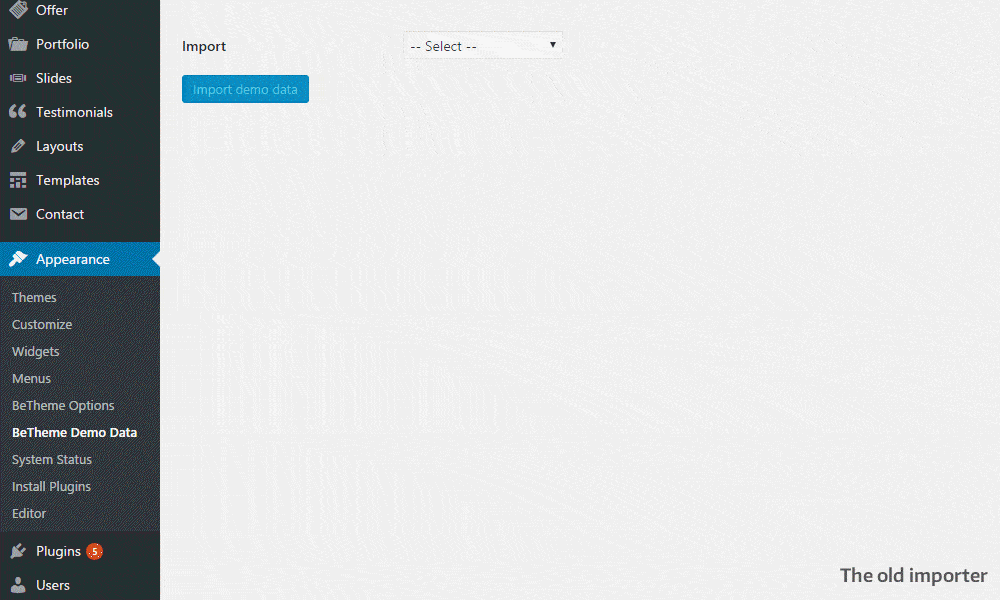 Be's old pre-built website installer.
– and made it better. Much better.
See what the new and improved user interface looks like now!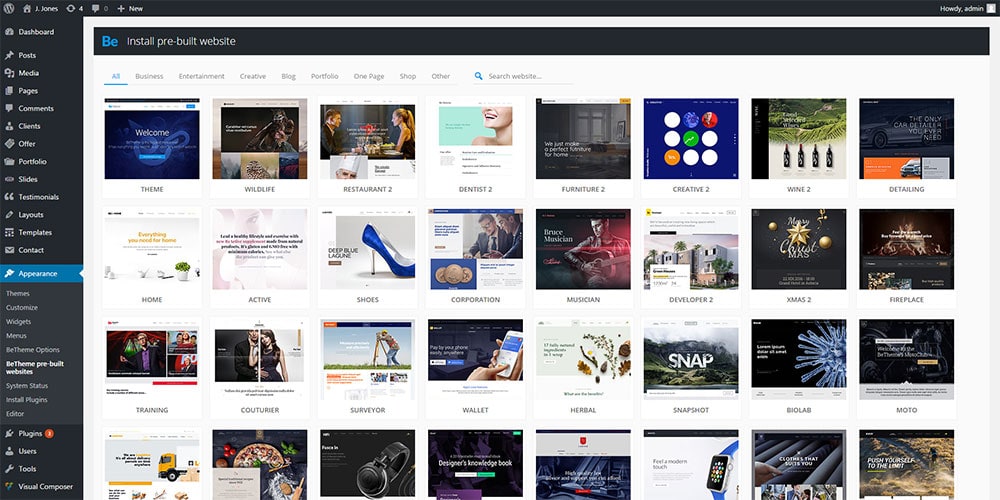 The new Be pre-built website installer.
For starters, you can now view all the pre-built websites directly inside the admin panel. There, you'll thumbnails of all 250+ of them. To preview or select one, only involves clicking on its thumbnail. It couldn't be easier.
Secondly, you can filter by category to help you zero in on what you feel you need. Select business, entertainment, creative, blog, etc., and you'll get a small selection of candidates from which to make a final selection. This feature will be more and more helpful as the number of pre-built websites continues to grow.
Thirdly, when you click on a pre-built website to install it, you'll be told which plugins are needed to make it perform as it did in the live preview.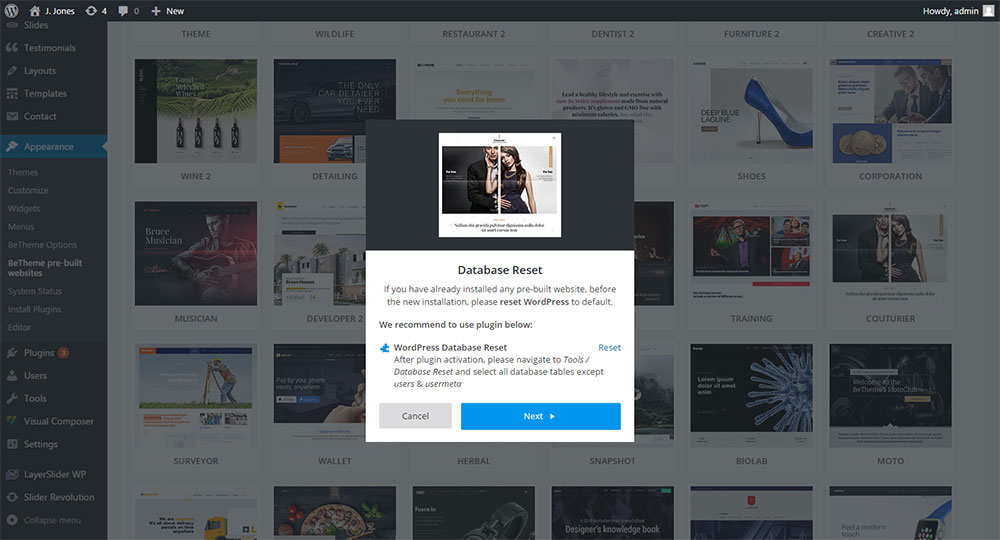 You're told which plugins a pre-built website requires to function properly.
The installer also verifies if the needed plugins have been installed, and gives you the opportunity to install any that are not.
Finally, you now have the option to import both pre-built websites pages and content, or either one of them. You might not need the default pages, or you might only need the pages. It's your choice.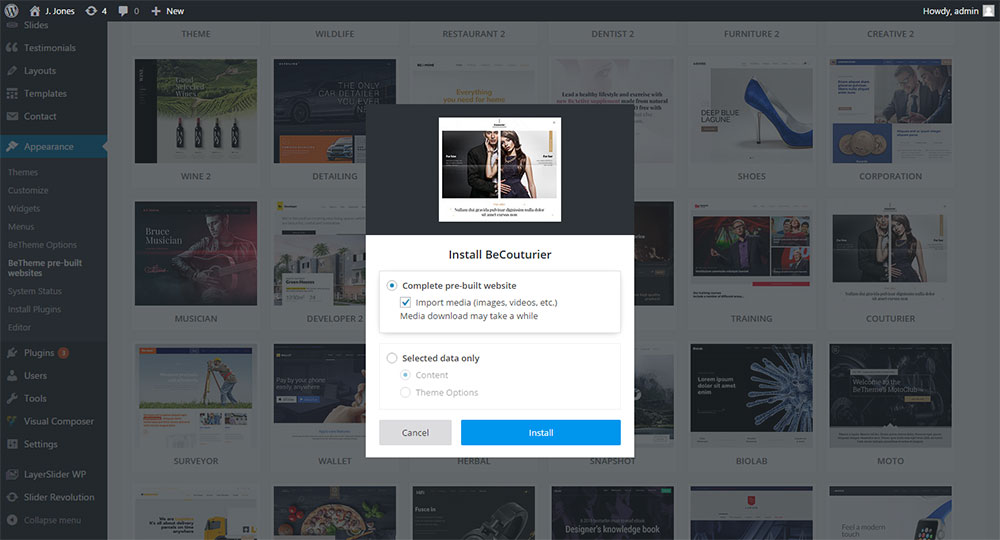 Install only what you need from a pre-built website.
This video shows the new installer in action.
The Latest Pre-Built Website Releases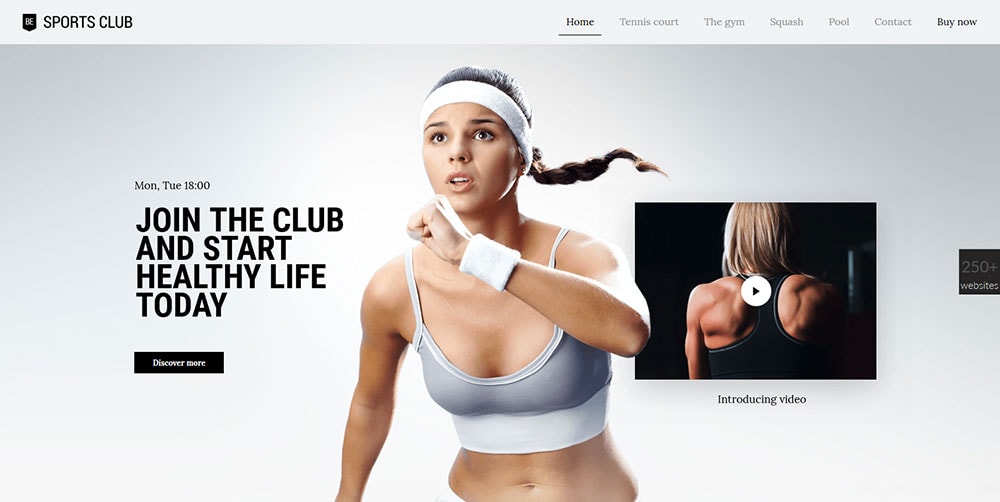 Any gym or fitness facility would want the modern design featured in Be Sports Club for their website. Features include parallax effects, which have been integrated into several pages, and cool fade-in animations as you first enter the site.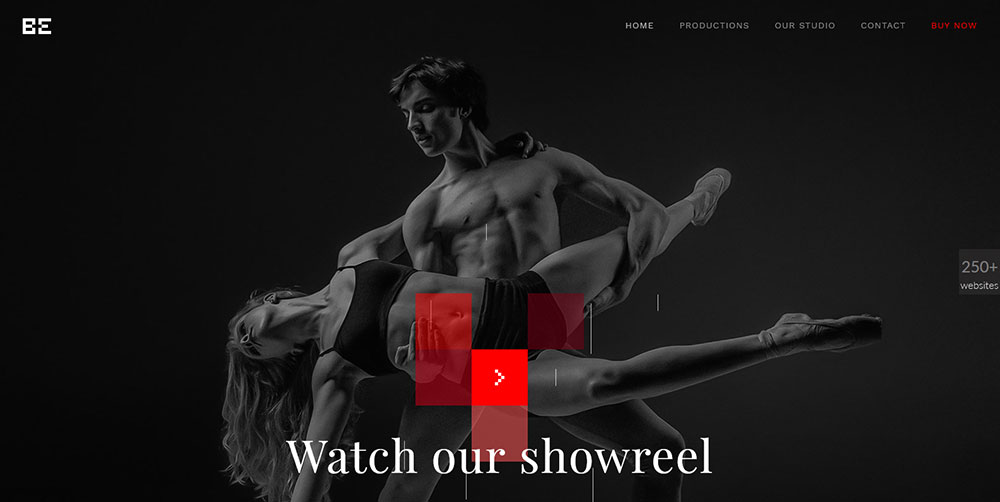 Be Productions is just the pre-built website you need to satisfy a motion graphics studio or advertising studio client. It showcases an amazing parallax scroll effect, plus the dark colors make it easy for you to highlight a brand's colors, its message, and other elements on a page.
If you intend to showcase great food, there's no better way to do so than by using large, high-quality images. Like they do for all Be pre-built websites, the Muffin Group team took special pains to use images that would help you highlight your culinary delights. Be Diet features smartly selected parallax and other special effects.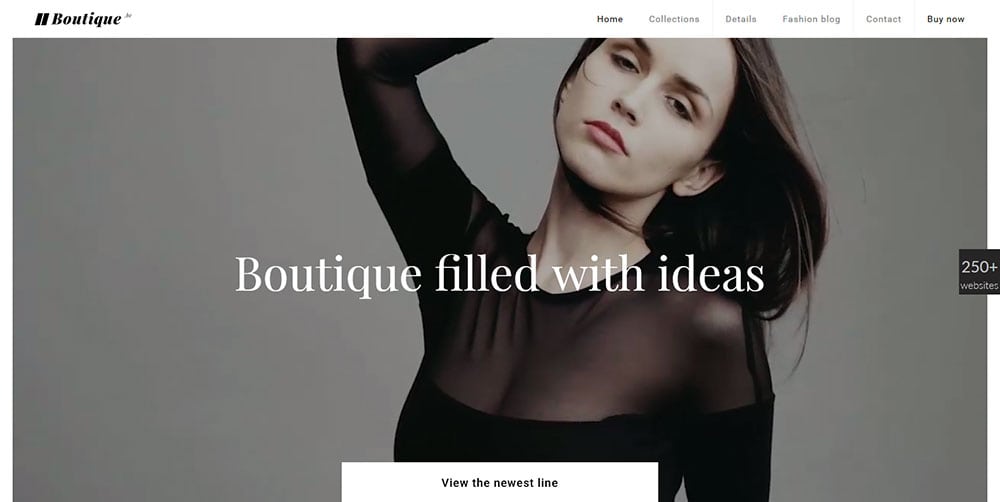 Has incorporating background video into the hero section of one of your websites never gone beyond the thinking stage? Be Boutique shows you how effective it can be, and how easy it is to do. A background video can add emphasis to your message, or spice up your portfolio, without being flashy.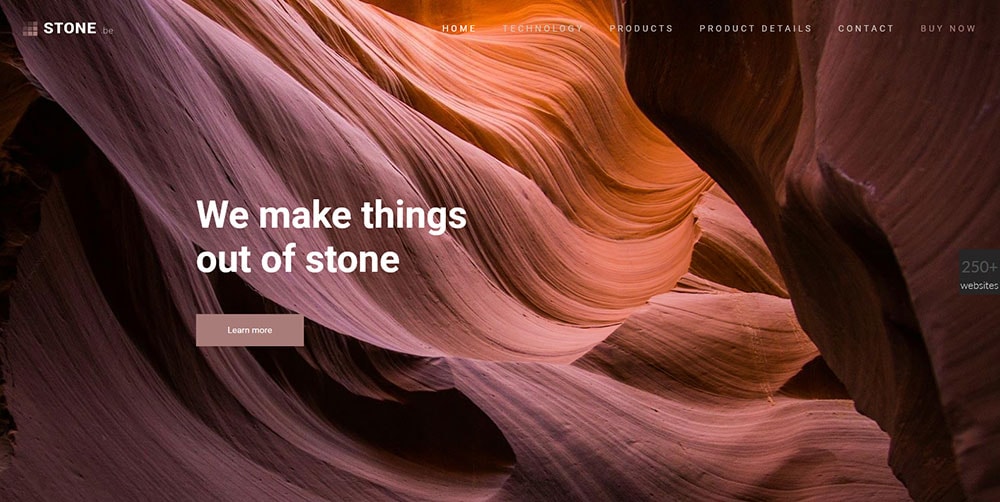 There's no excuse for building a dull or uninspiring company website. Be Stone illustrates what you can accomplish when you allow yourself to think outside the box. Its animations will give your website a modern and dynamic look and feel, and make your client one happy individual.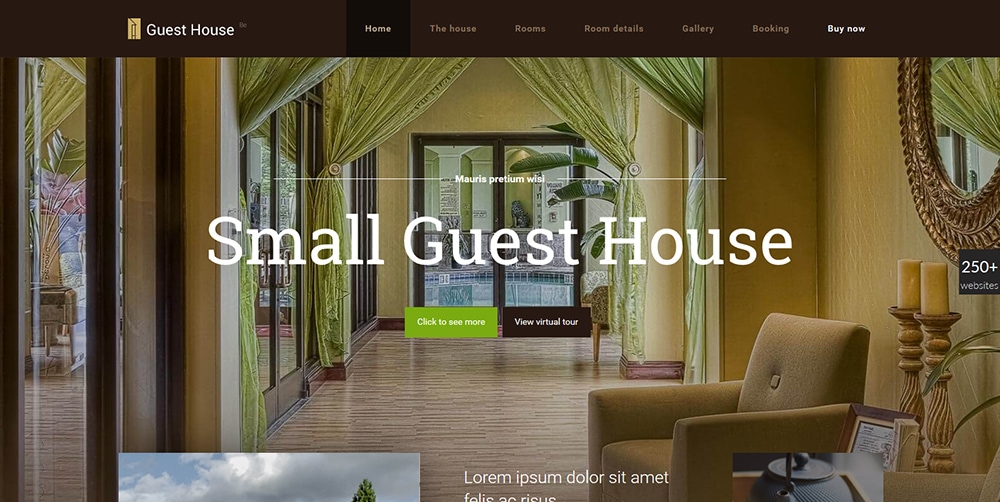 Be Guest House gives you a nice go to option if you are planning to design a website for a hotel, a cabin, or guest house rental; or for property for sale. When it comes to property sales or rentals, presentation is everything.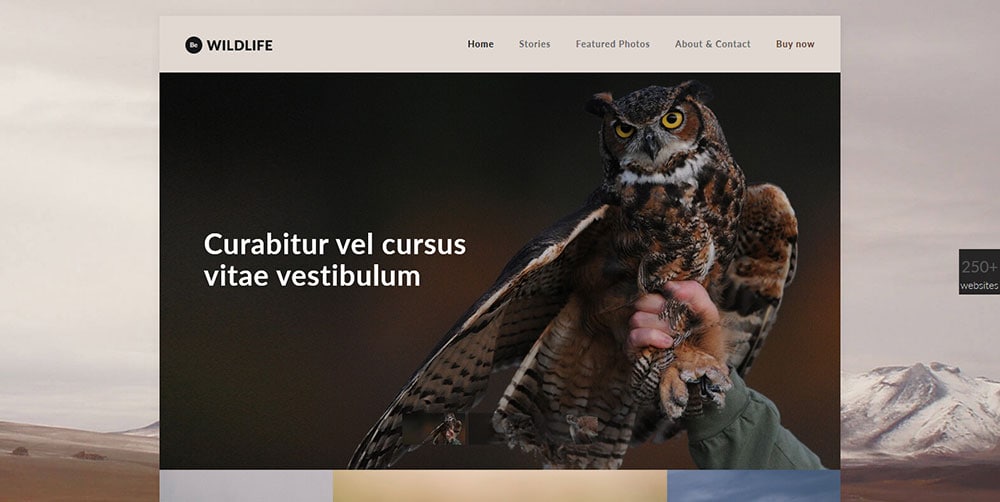 There's nothing wrong with relying on fixed layouts. When done properly, they get the job done. Be Wildlife, with its slider and scroll-down parallax effects, is a great example of this. The pre-built website is a nice option if your client is a wildlife photographer or represents a photographic agency.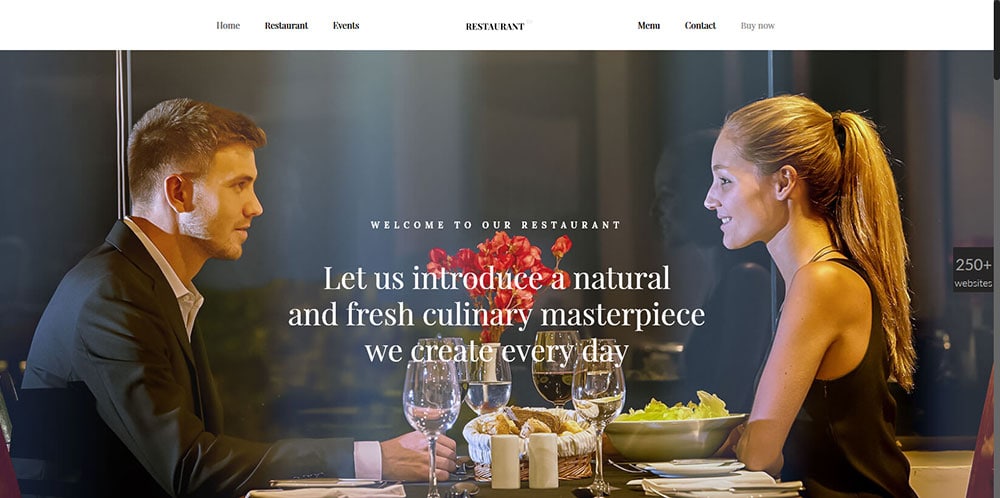 This restaurant design makes you want to grab your phone and make a reservation for two. Be Restaurant's slider effect makes it even more dynamic, and its choice of overlaid design elements enables you to produce a website design than no other restaurant can replicate.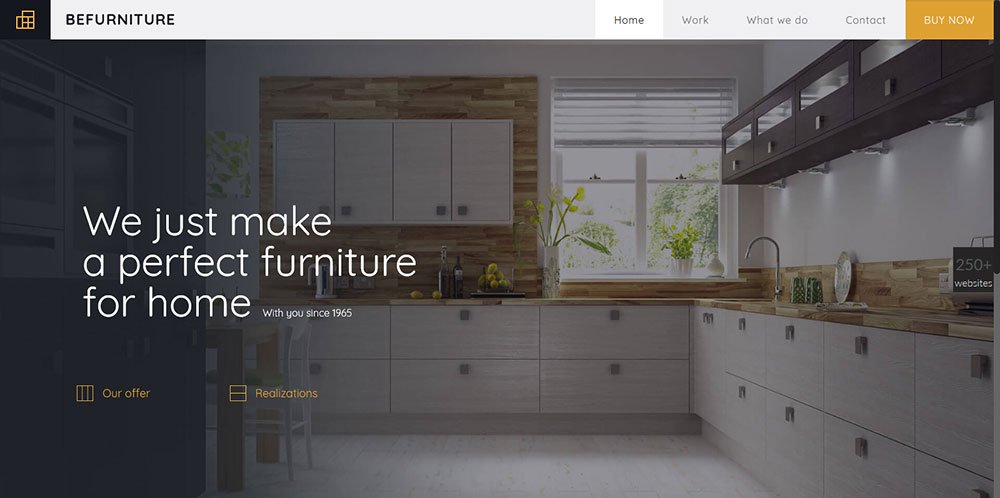 The pre-built website's great looking design is right for you if you have a client that sells furniture. Be Furniture features an attractive slider effect, and puts large images to good use to showcase whichever products your client chooses to promote.
A Quick Look at Some of Be Theme's Key Features
Let's start with Be's multi-page pre-built websites, all 250+ of them.
The Muffin Builder makes page-building easy. Combined with its Options Panel, the builder makes customizing a pre-built website theme a simple process; without any need for coding.
The Layout Configurator makes building a page from scratch straightforward, and easily accomplished. When variety within a website is important, this is the tool for you.
Be's 200+ Shortcuts let you add extra detail and functionality to your pages.
You can use any Google fonts; and Be's Advanced Typography Options lets you upload any custom fonts of your own.
Everyone loves Be's Parallax Effect and Video Background features, and there's no limit to the text, videos, and other graphical elements you can upload to create great looking pages.
Lifetime Updates come with every purchase of a Be Theme license. These updates include monthly releases of the latest pre-built websites; yours for free.
Two More Good Reasons to Choose Be Theme
With your purchase of a Be Theme license, you have ready access to Be's great support team. You'll also find the video tutorials a great help in getting started.
You'll also find yourself belonging to a community of more than 62,000 Be license holders, each one a satisfied user of this best-selling Themeforest product.
Like what you're reading? Subscribe to our top stories.