The inspiration for your next design project can be anywhere around you – in nature, conversations with friends, as the label of a new product or online.
Twitter is a great resource for designers when it comes to sharing information and connecting with other great design professionals from all over the globe.
Today, we round up a list of 25 great designers to follow and interact with on Twitter. The designers on this list vary by type of work, geographic location and even number of followers. But they are all active in design communities and Twitter.
Check them out. Follow along. Join a conversation. And be inspired.
And if you aren't following Designmodo (@Designmodo) and me on Twitter (@carriecousins), now is the time.
David Airey – @DavidAirey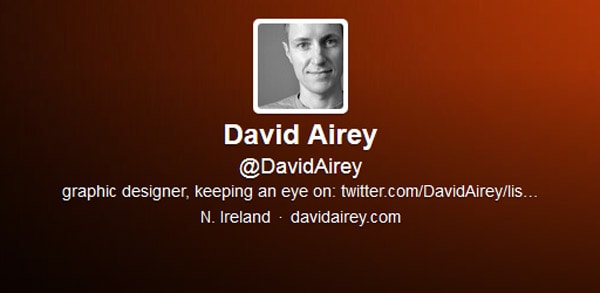 Airey is an independent graphic designer who is on top of trends in design. He's also the author of "Logo Design Love: A Guide to creating Iconic Brand Identities," an Amazon bestseller. He tweets about design, including lots of great links and discussion points and has created a few awesome design-related lists (make sure to check out Creative Folk for even more designers on Twitter). (41,000 followers)
Doug Bowman – @stop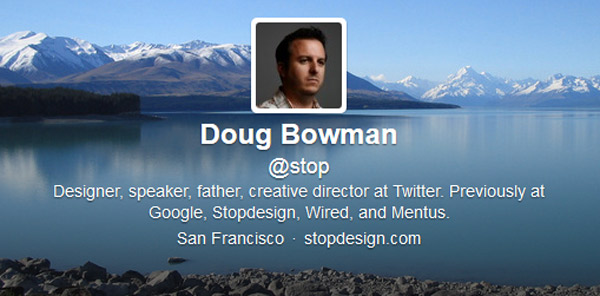 Bowman has worked with some of the industry's creative giants – Twitter, Google and Wired for starters. He's active in the design community and his Twitter feed is filled with great conversations about design and the process. (277,000 followers)
Jez Burrows – @jezburrows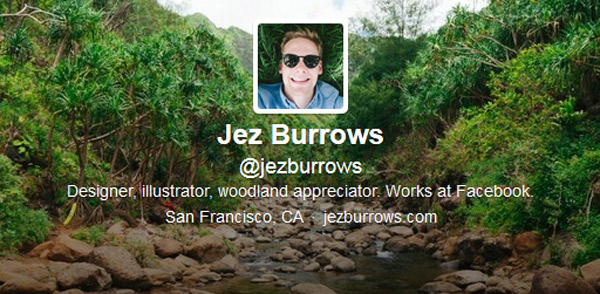 Burrows, a Facebook employee, designer and illustrator, combines a little slice of his daily life with design in his tweets. He's an active Twitter conversationalist. (5,000 followers)
Jacob Cass @justcreative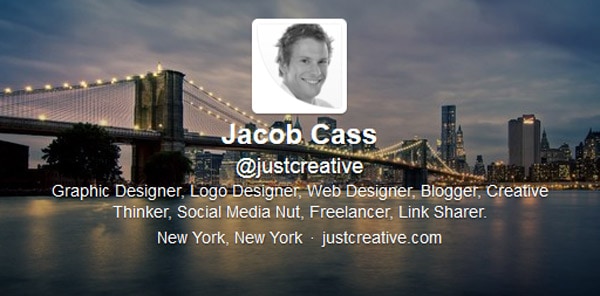 Graphic and logo designer Cass tweets great design links daily. He Tweets through the name of his business, Just Creative, and combines thinking about words and social media with design. His feed is filled with fantastic articles, tips and retweets. (63,500 followers)
Frank Chimero – @fchimero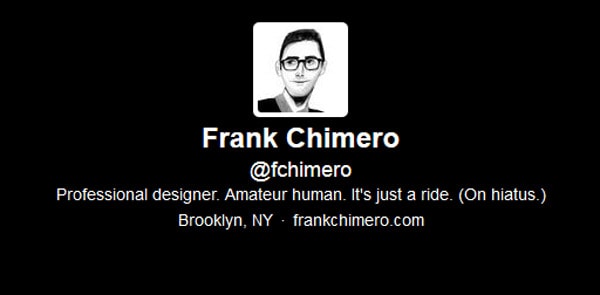 Chimero, a New York-based designer, tweets about everything and is sure to make you giggle every now and then. With a mix of snarkiness and practical design know-how, you are sure to learn something. (39,500 followers)
Chris Coyier – @chriscoyier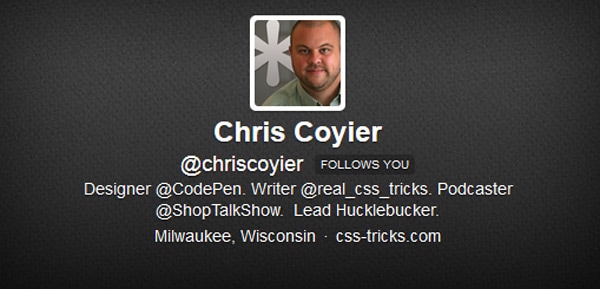 Coyier is a designer at CodePen, a site you are likely familiar with, and writer for CSS-Tricks. He's a fairly frequent tweeter and his feed is filled with awesome links and websites to check out. (83,500 followers)
Veronica Domeier – @ronicadesign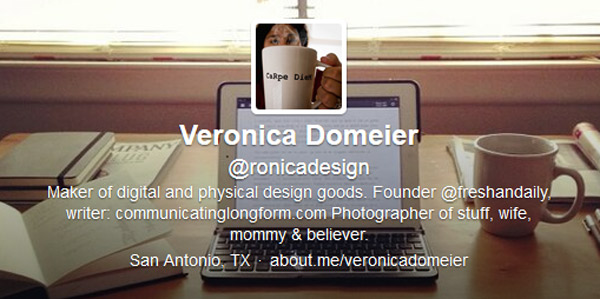 Domeier Twiiter feed is simply relevant. Her tweets focus on emerging design tools and technology (as well as her daily life). Maybe because she is a designer and writer, he tweets are fun to read and engaging. (5,500 followers)
Tim Easley ‏- @timeasley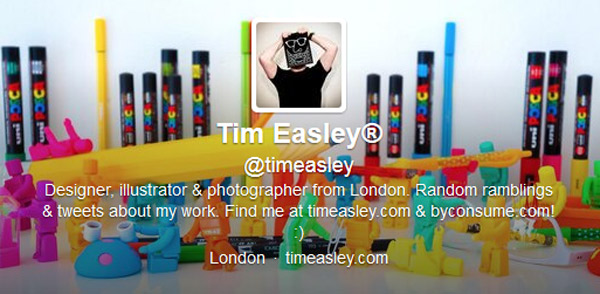 Easley knows his stuff and knows how to have a good time on Twitter. He's a designer, illustrator and photographer. (2,000 followers)
Chad Engle – @ChadEngle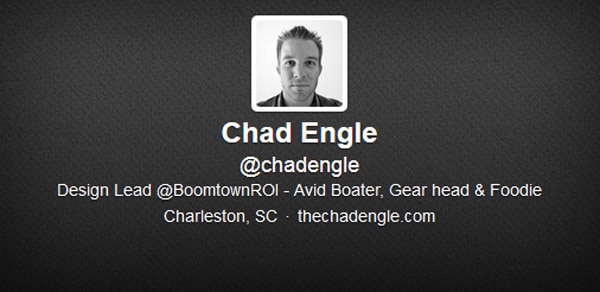 Engle's handle is one of those that you may see popping up a in a lot of the design conversations on Twitter. And that's because he's an active "talker" when it comes to the industry. He shares a lot of great links that'll you'll want to click. (9,000 followers)
Timothy Goodman – @timothyogoodman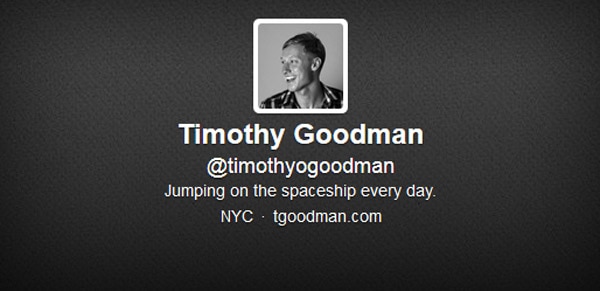 Goodman has an impressive design resume – working for companies such as The New York Times and Apple – and has some nice insight into design and design trends that are scattered throughout his feed. (12,000 followers)
Jessica Hische – @jessicahische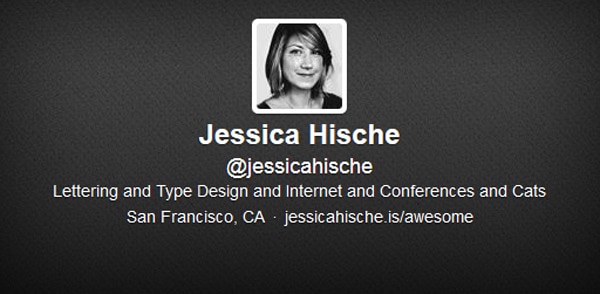 When it comes to type, Hische is your woman. She's created and designed some of the best lettering out there today (some of which you may recognize because it went viral). Her feed is a mix of her thoughts and her thoughts about design work. (68,000 followers)
Brian Hoff – @behoff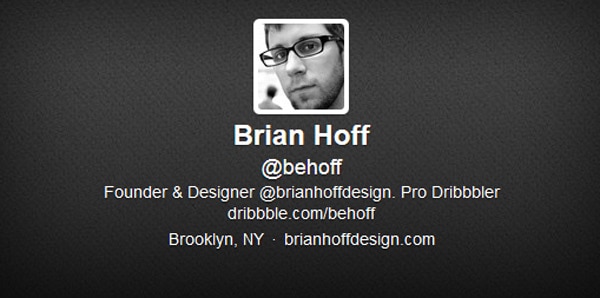 Hoff is one of those guys you are probably drawn to on Dribbble. And it's not by coincidence; he's a great designer and creative professional. His tweets are conversational and design-focused. (38,000 followers)
Mike Lane – @mlane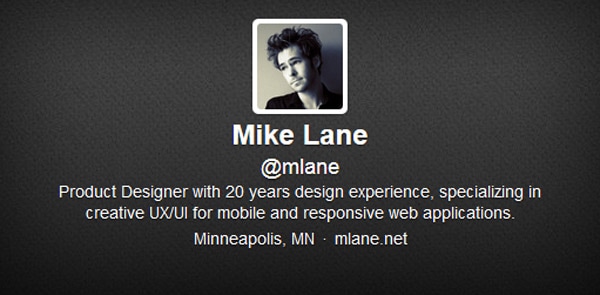 Lane is helping form the responsive and mobile web revolution. His Twitter feed is a fantastic collection of things designers and developers need to know, from tutorials to articles to great examples of design. He does not engage in a lot of conversation but has plenty of great resources. (29,000 followers)
Calvin Lee – @mayhemstudios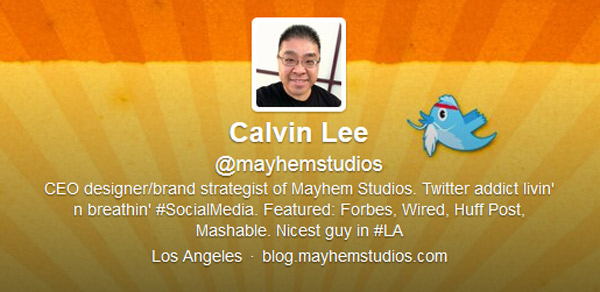 While Lee promotes himself as a social media enthusiast, he's also a great resource for everything web design. (It's all inter-related.) His tweets are a mix of articles to better your work, insights about the web and emerging technology. Plus, he seems like a really nice guy. (85,000 followers)
Amy Mahon – @amerz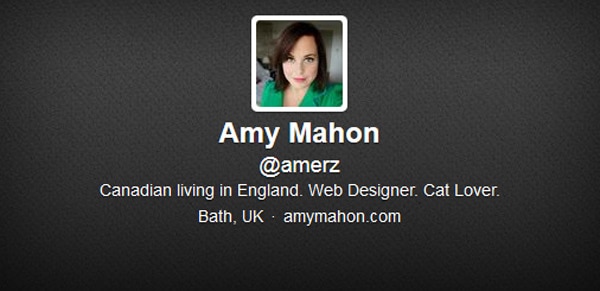 What's happening in the world of design? Just follow Mahon. She's tweeting trends, commentary and pinpointing great design online and in everyday life. (3,500 followers)
Jason Santa Maria – @jasonsantamaria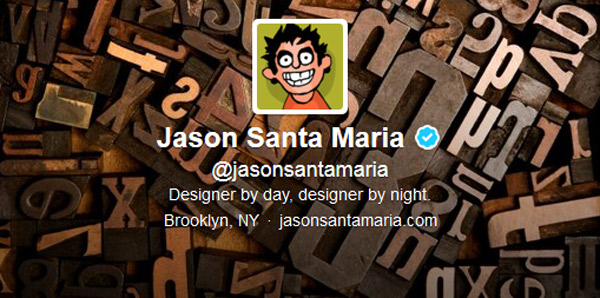 If you are one of the 300,000-plus people who already follow Santa Maria you understand why he's on this list. He knows design. His tweets are a mix of working questions and knowledge and resources. If you do design work, you can relate. (329,000 followers)
Oliver Reichenstein – @reichenstein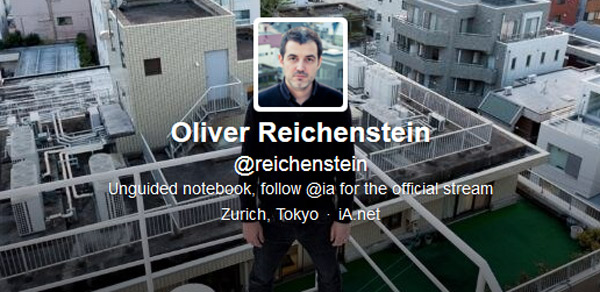 Reichenstein's photo alone shows you why this creative mind is one to follow. This account is more personal than his official stream for design agency Information Architects (@ia). (1,800 followers)
Sarah Parmenter – @sazzy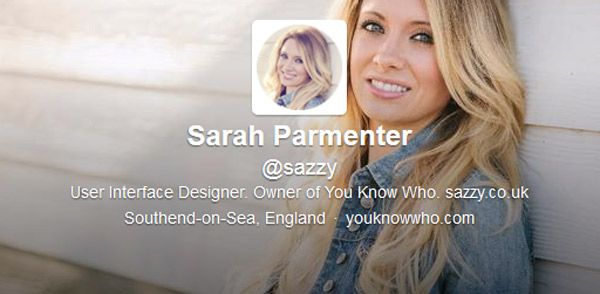 Parmenter tweets about what's going on in and around her world in terms of design as the owner of You Know Who, an interface design studio. (35,000 followers)
Veerle Pieters – @vpieters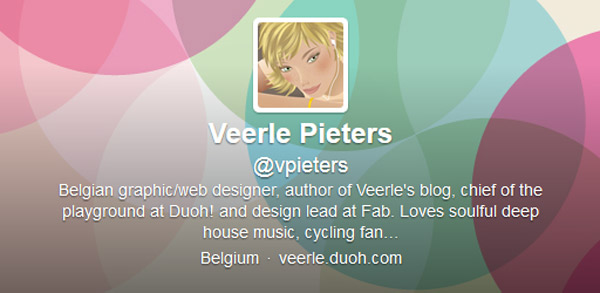 Pieters is one of the leading ladies of design and is very active in Twitter design conversations. He tweets about a lot of great emerging tools and new sites as well as sharing some stunning images via Instagram. (194,000 followers)
Adam Smith – @atsmith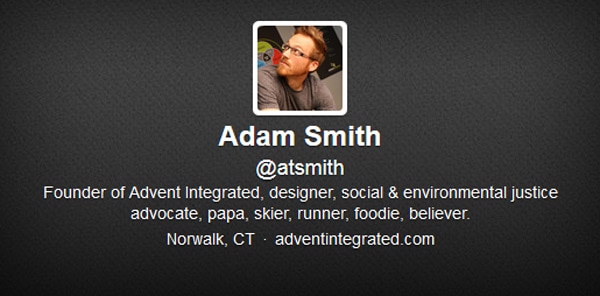 Smith must have a small treasure-trove of design-related information available, which he shares daily. The designer is the founds of Advent Integrated, a marketing and design agency. (6,000 followers)
Grace Smith – @gracesmith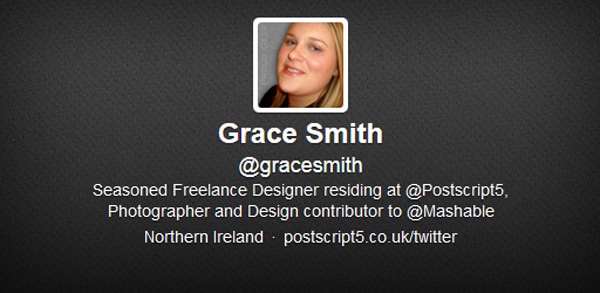 Smith shares a lot – design tools, resources and cool websites. That alone is enough to make this freelance web designer a great person to follow. Plus, she writes about design for Mashable. (19,500 followers)
Graham 'Logo' Smith – @thelogosmith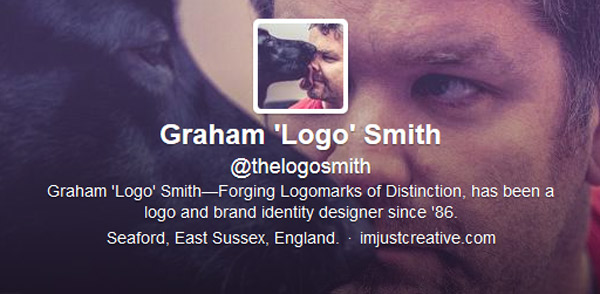 Smith knows how to have a good time on Twitter, sharing thoughts on design and life. He's an active Twitter conversationalist and experienced logo designer. You'll find some great logo inspiration in his feed. (44,000 followers)
Khoi Vinh – @khoi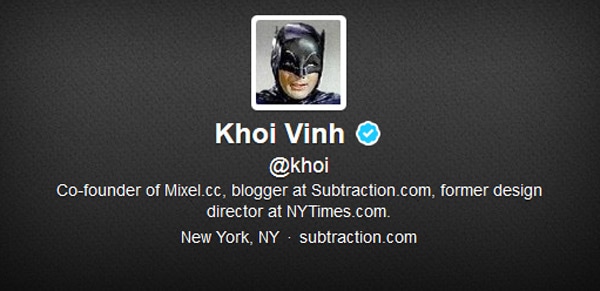 After leaving his post as a designer at The New York Times, Vinh help found a company that created the first social collage app for the iPad (Mixel). His feed is a mix of design thought and pop culture, making him a lot of fun to follow. (300,000 followers)
Anthony Woods – @anthonywoods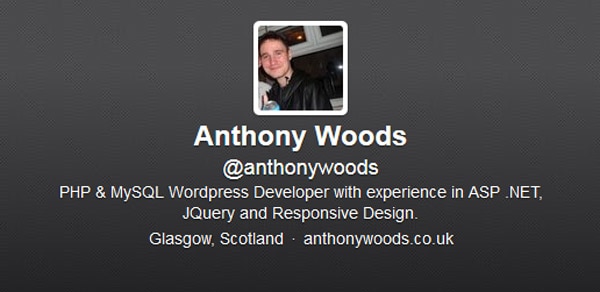 Woods is primarily a WordPress guy and shares his thoughts working through the design process. You can also find some critiques and interesting resource links. But don't expect him to fill your feed, because his tweets are somewhat sporadic. (4,500 followers)
Jeffrey Zeldman – @zeldman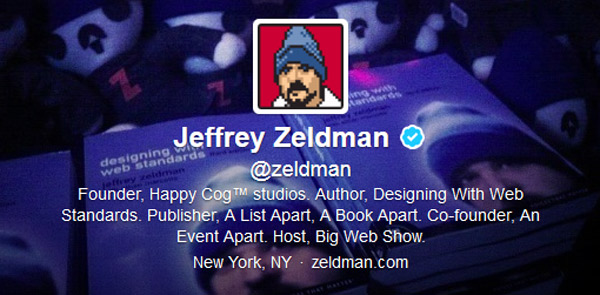 Zeldman is the founder of Happy Cog Studios (we've used their sites as examples of great things to do on Designmodo in the past) and he's behind some of the other great names in design such as A List Apart. What's great about his feed is that it is a dose of reality, ideals and thoughts on design and a little bit of fun. (300,000 followers)