LimeWire Reinvents Itself as an AI-Focused Publishing Platform
If the brand name LimeWire sounds familiar, it's because it is. You may remember the tool as a file-sharing platform. Now, LimeWire is back with an artificial intelligence focus that can help you create content and connect with the creative community. (You can even monetize content.)
Here's a look at everything LimeWire can do and how you can use it to turn your creative concepts into reality.
What Can You Do with LimeWire AI Studio?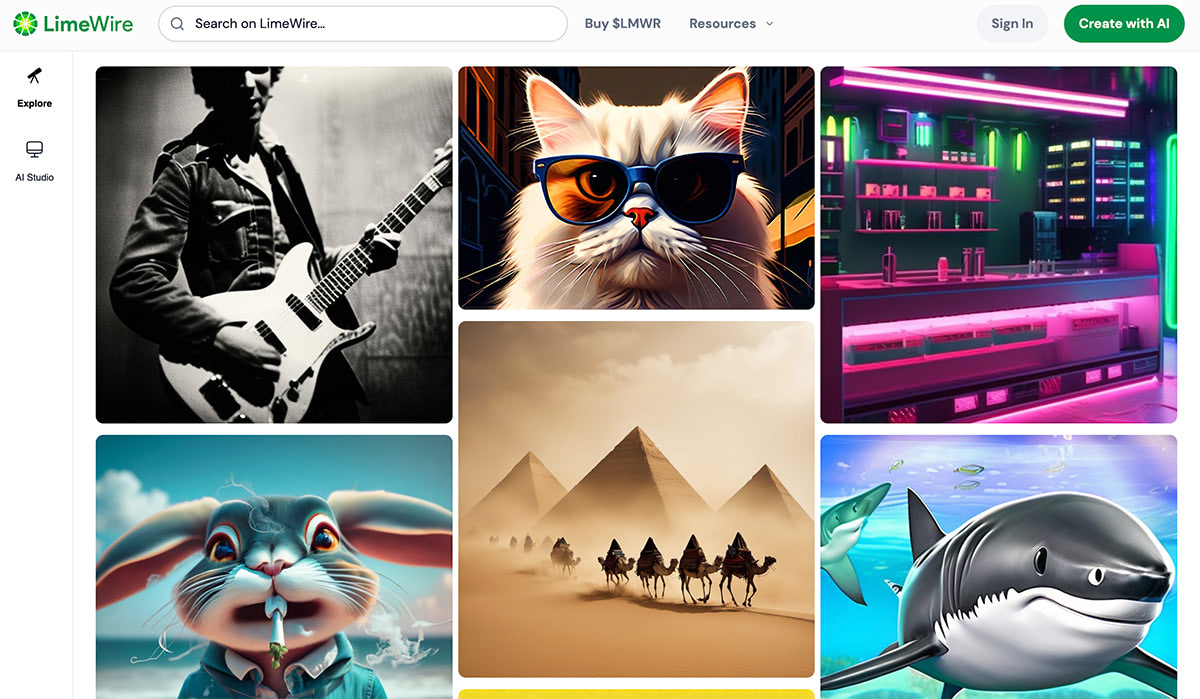 The LimeWire AI Studio recently launched with the ability to generate images using artificial intelligence, one of the hottest design trends out there right now. Soon, it will also expand to include AI-generated music and video, creating a sophisticated full-service AI studio.
Rooted in solid AI technology, you can create almost anything you can imagine with LimeWire. It supports the most popular AI learning models including SDXL, SD 2.1, DALL-E2, and even a proprietary model that will be released later this year.
Getting started is easy, just click the "Create with AI" button, create an account or log in, and fill out the prompts. You can start from text entry or upload an image and use it to start creating from edits.
There are plenty of controls to help you create exactly when you can envision in your imagination with the ability to select from different AI models, styles, positive and negative prompts, size, quality, and more. It's fun to play with each of the controls to see how the AI models render your idea in various ways.
When you are done, you can use your image in a variety of ways. Community and minting features of LimeWire AI Studio even allow you automatically mint AI-generated content as NFTs on the Polygon and Algorand blockchains.
LimeWire LMWR Token
LimeWire also has a crypto utility token called LMWR, which can be used to pay for prompts, earn ad revenue share for AI content, and more.
LMWR can be bought and traded on many large exchanges including Kraken, ByBit, UniSwap and others, and is backed by trusted resources including Kraken Ventures, Crypto.com Capital, GSR and Arrington Capital. A pre-sale of the token in 2022 closed with over $10 million in funding, so you can trust the ERC-20 utility token. The LimeWire LMWR Token is deeply embedded into the LimeWire ecosystem, and is designed to provide perks and benefits to holders as well as to enhance the user experience across the platform. If you opt to buy and sell across LimeWire, you'll use the token for payments.
For example, LimeWire has an ad-revenue sharing feature built in. Creators automatically receive up to 70% of all ad revenue generated from people viewing content. All ad revenue is paid monthly in LMWR.
LimeWire Token is available to buy now on many of the largest (centralized and decentralized) cryptocurrency exchanges.
3 Things We Love About the New LimeWire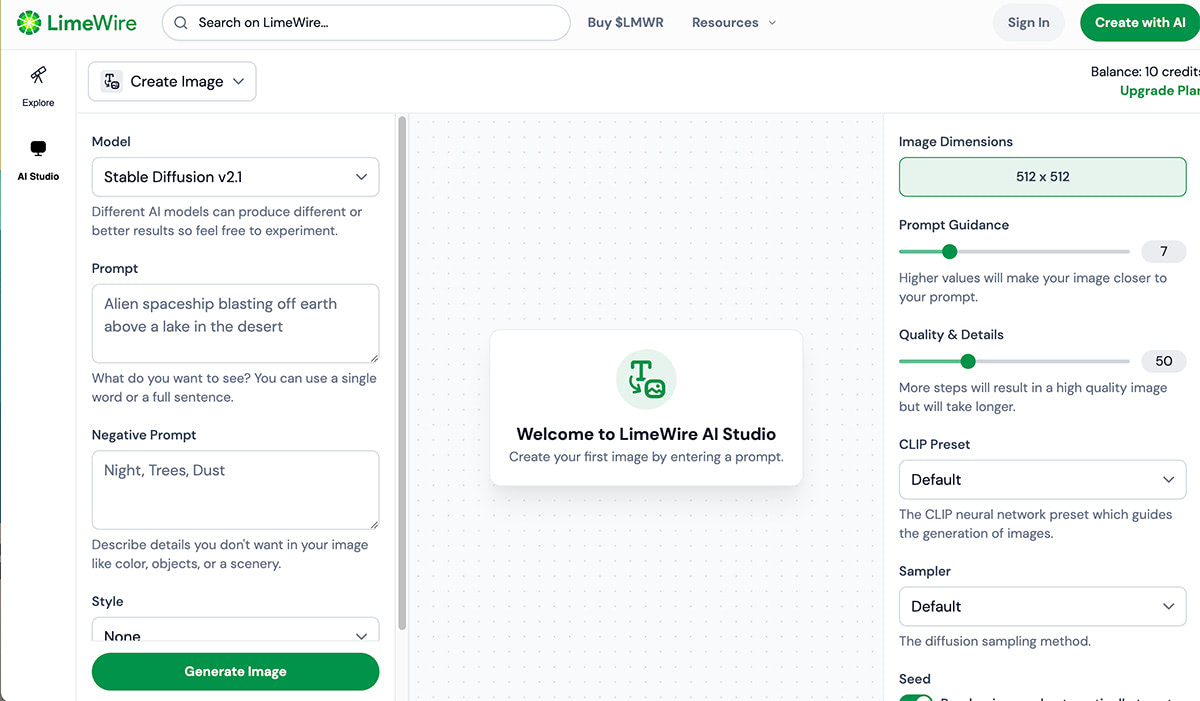 Why move to LimeWire? We love the community that the platform is fostering in the AI space. It's not just a simple AI generator; it's a real space for the creative subset. Plus, it's really easy to use.
Here are three reasons we love what we are seeing with LimeWire:
Custom creator pages allow you to have a place to share and interact with fans and your work. You can publish work and invite others to follow you.
The content you create is yours and is ownable and tradeable. If you've been considering the NFT space, this is a strong option.
You have the opportunity to earn recurring revenue and/or royalties. Publish content for free or to require a monthly membership payment from fans to access your feed. Plus, every time one of your posts is re-sold or traded on the platform, you earn a 2.5% royalty based on the sale price.
Pricing
LimeWire AI Studio has a free basic version, but there are paid options as well. (All require signup and login.)
The subscription plan, which includes additional models, prompts, and features, starts at $9.99 per month with other options that can range up to $99.99 per month, depending on your exact needs.
Conclusion
You are going to love all the features packed into LimeWire! With the new AI Studio and LMWR, this isn't what you remember from the platform in the past – it's way better. Head over to LimeWire AI Studio to learn more and get started for free.