Mediastack Review: Live News and Blog Articles API On-Demand
Content is king, and it's easy to see that when you consider that hundreds of new blog articles and other content are published every few minutes on the Internet. It's a lot to keep up with! With so much information out there competing for your attention, it isn't always possible to keep up with everything you'd like to. If you spend ages searching to make sure you don't miss a single highlight or trend, it can quickly become a full-time job.
Thankfully, Mediastack has changed the game for anyone in this position. This API features the means to let you discover trends, see live news data feeds, check out headlines, watch what brands are doing, and catch up on the news from around the world. This powerful REST API has been lauded for making life easier for many people, but if it's new for you, this review will give you all the details you need about it.
The Basics About Mediastack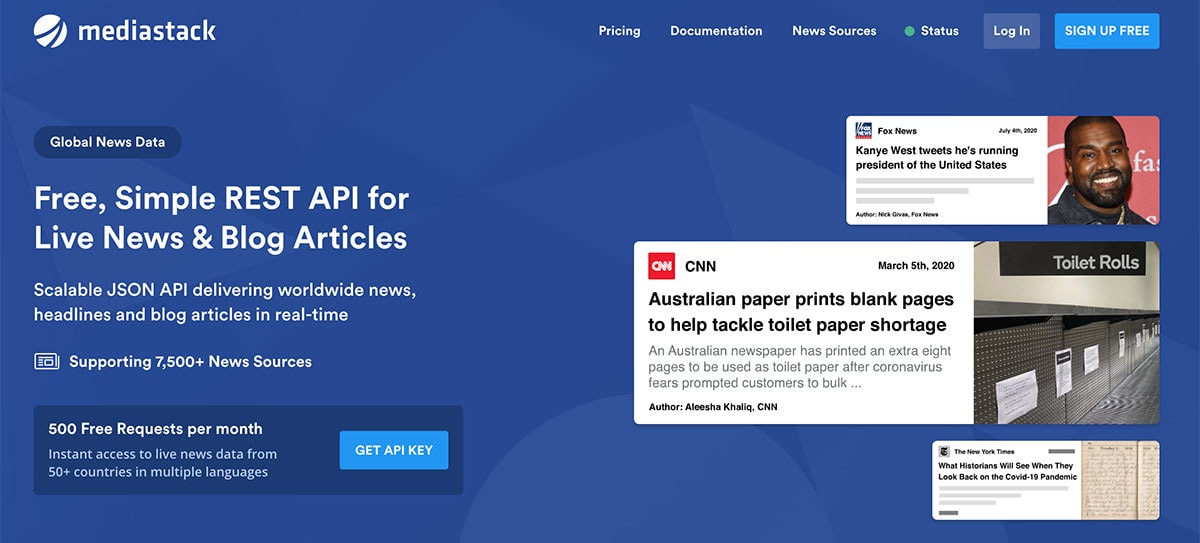 Mediastack operates an easy to use, powerful REST API interface that is tasked with collecting news and blog articles from thousands of different sources. It provides the news you want in less than a second through its lightweight JSON format. The news data is refreshed once a minute and is available with various categories such as sports, education, business, entertainment, and more.
ApiPlayer is the company behind Mediastack and is known for offering a wide selection of microservice APIs that run over 15 data APIs. Some of them include aviation data, currency conversion, stock market data, and IP address geolocation. The company is a global leader that is used by many of the most innovative companies around the world, such as LinkedIn, Airbnb, and Lyft.
Features Free and Paid Options to Meet Your Needs
One of the first things you'll notice when reaching the Mediastack website is that it has a free version. This isn't a situation where you can make two or three requests as a small demo, either. The free version of Mediastack lets you make up to 500 free requests, and that number resets every month. Whenever a user accesses or searches news data, it will take up one or more API requests, depending on the specific request.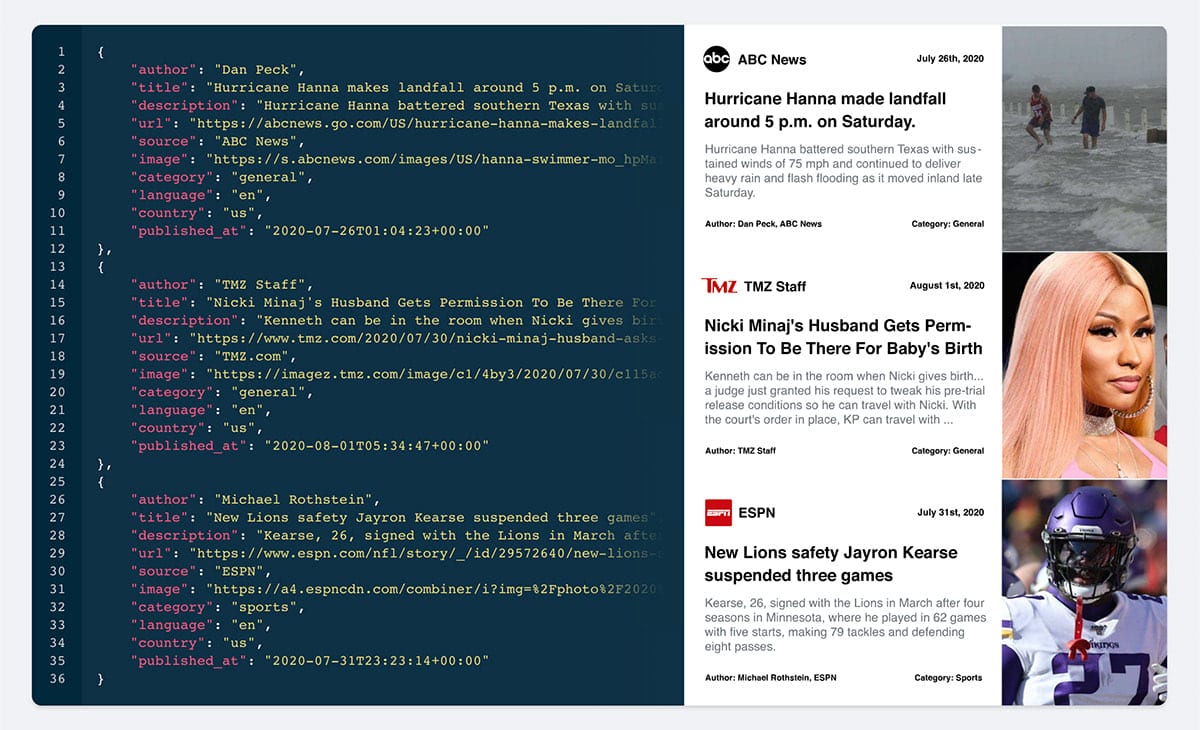 Those who find the service useful and who need more than a few hundred requests each month can tap into the subscription services offered by the website. There are several options to meet your needs and keep you on budget. The current options include:
Standard Subscription – Offers advanced news data coverage as well as real-time data and up to 10,000 API calls every month. Currently, this subscription costs $24.99 a month or $19.99 each month when billed annually.
Professional Subscription – This subscription has all the features included and supports up to 50,000 news requests each month. It costs $99.99 each month or $79.99 a month when billed yearly.
Business Subscription – Offered for those with advanced needs, this subscription has 250,000 requests per month. It costs $249.99 a month or $199.99 a month when billed by the year.
Enterprise Membership – Mediastack also offers enterprise solutions that are tailored to meet your specific needs. This option has custom pricing, so you'll need to contact the company to determine what works for you.
A subscription also offers a few features that the free version does not. The added encryption, historical data, and technical support are only available to paying customers. In addition, the free version isn't available for commercial use while all of the subscriptions are.
Mediastack supports a large number of payment options, including Visa, MasterCard, Diner's Club, American Express, Discover, and PayPal. If you are on a large contract and prefer to do annual billing, the service can also be paid for using a bank transfer. You have a variety of options if you choose to move from a free version to a paid subscription of the API.
Massive Numbers of News Sources on a Scalable API

The idea behind Mediastack is to offer global news that is easy to track and search according to your needs. The numbers back up that claim since the service provides access to over 7,500 news sources from a total of 50 countries. A few of the news data feeds that you will have access to include:
Aljazeera
BBC
CBS
CNN
ESPN
EuroNews
FOX
Guardian
HuffPost
MSNBC
NY Times
Sky News
Time
TMZ
USA Today
When using Mediastack, you can get readable, structured news data from thousands of blogs and publishers that are updated on a minute by minute basis. Not only does the company offer real-time news data, but you can also search through historical news data for older headlines and stories. The service is available in 13 languages, as well.
The scalable JSON REST API for Mediastack is built on accessible cloud infrastructure to provide new results quickly in a lightweight format. The API itself supports a selection of programming languages, including GeoJSON, JSON, XML, and several others. It's also a secure system that delivers all data using 256-bit HTTPS (SSL) encryption.
Special Features of Mediastack
If having access to breaking news is important for you or your business, Mediastack is intended for you. It offers updates more quickly than you could ever search for them on your own. One of the features that make Mediastack stand out is the ability to choose the news sources you're interested in. This prevents you from having a lot of irrelevant news intermingled with the things you actually want to see.
For those who prefer not to filter out news sources, there are other ways to decrease the chances of getting data that isn't useful to you. The Mediastack API is created so you can filter using languages, countries, categories, and keywords. This puts you in charge of what news you see and how you filter out things that aren't important to you.
Another of the perks that are offered by Mediastack is that it's very friendly for beginners. The website for the service includes a documentation page with clear instructions and helpful tips for anyone who uses the service. You'll immediately see instructions for how to get started with the service, and the process can be completed in just a few minutes. There are also several code examples to help you refine your use of Mediastack.
Quick On-Demand News Data from a Reliable Brand
Anyone who is searching for a tool that makes it easier to find and sift through news data will appreciate everything that Mediastack brings to the table. One of the best things about this API is that it has such a simple setup. Even people who have never worked with code or programming in the past will find it easy to set up a Mediastack REST API.
If you've been searching for an API that aggregates data from a massive collection of news sources to keep an eye on trends and make the best decisions, this API was made for you. It offers quick performance, reasonable pricing, and easy setup so you can get started right away. Take a look at it yourself and see everything it can offer you or your organization!
Like what you're reading? Subscribe to our top stories.