RankTrackify Review: Track Your Keyword Rankings in SERP
Businesses use a variety of tools to improve search engine rankings and dethrone competition. SEO is a pretty complex industry and there are several factors that come into play to judge the 'worth' of a website or page.
One of the most important factors in SEO is knowing how your 'tricks' have been doing. Since companies use a variety of techniques to improve SEO, it is vital that they know the most effective option with the highest ROI so they can stick to it to get their desired results.
There are several tools you can use to track performance. Today, we'll have a look at one such tool, RankTrackify, which is getting extremely popular among internet marketers.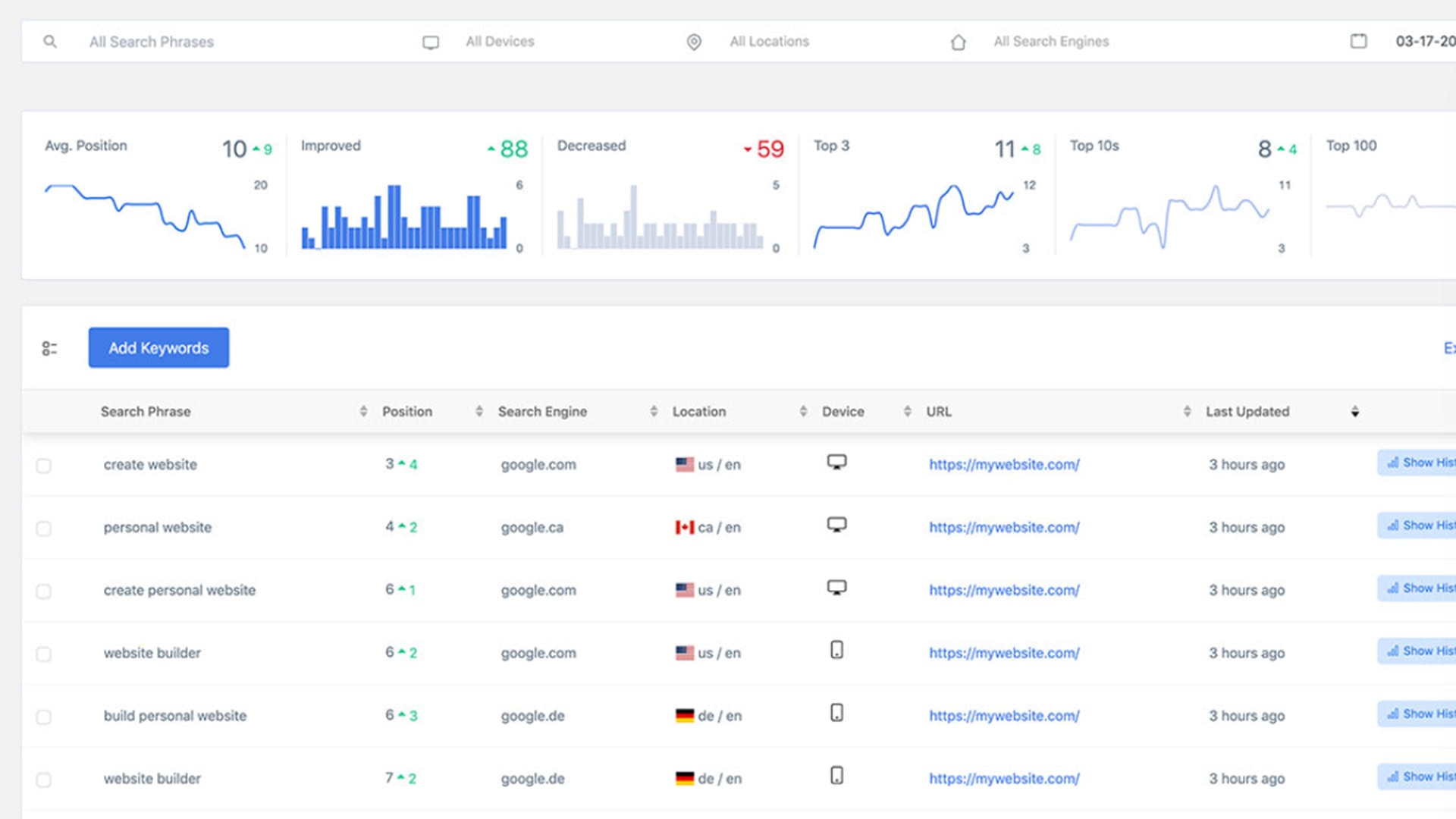 Let's know more about it in this RankTrackify review:
What is RankTrackify?
RankTrackify is a tool designed to help marketers and website owners check ranks on all major search engines. The purpose of the tool is to help you know how you're performing so you can make changes to your SEO strategy accordingly.
RankTrackify Features
Here's what all to expect from this incredible tool:
International Targeting
You will be able to target international users with this site as it covers data from all over the world. This is very important because online businesses have a global reach and they're not limited to one city or country.
Companies in the US are catering to buyers in Europe and Asia. With this tracking tool, you will know exactly how your website is performing in different parts of the world.
This feature is of huge importance because some local websites cater to foreigners. Think about medical tourism, for example. A medical tourism site in India would cater to clients in The US, Europe, and other parts of the world.
Someone who runs such a site would be interested in international numbers and RankTrackify can provide just that.
Mobile Tracking
Since more than 50% of users now use mobile devices to browse the web and perform searches, mobile tracking has become an integral part of search engine optimization. In fact, some experts believe that sites that are not responsible may not even rank well, which highlights the importance of tracking mobile data.
With this tool, you will get to know exactly how your website is performing among mobile users and if you need to make changes to your plans.
Daily Keyword Updates
Since data metrics change on a daily basis, you must keep an eye on regular updates to know what's in and what's out. This is more important for websites that do not contain evergreen content must promote keywords that rank well and top keywords change on a daily basis based on the latest happenings.
Extensive Reporting
You will get detailed reports about everything including your top ranking keywords on different search engines including local search engines, i.e: google.co.uk and google.ca.
You will be able to know what phrases your website is ranking well with serp api for and how specific phrases are doing without having to do any manual work as the reports are very neatly explained and even someone with little to no SEO knowledge would be able to comprehend most data.
Team Management
The tool is made for teamwork since most SEO companies and online businesses have several employees to take care of search engine rankings.
This feature makes sure everyone has access to the information they need to keep going. You will be able to keep your entire team under one platform without any worries.
Whitelabel Reports
This is one of the company's biggest assets. A whitelabel report is a professionally detailed report that you can rebrand and edit for other companies.
If you run an SEO business and have several clients, you can use this report to send customized data to each of your clients. This will leave a very positive impact on your clients and help boost your public image while saving you time as you will not have to create a report from scratch.
Intuitive Charts
If you're busy then there's good news for you. For this RankTrackify review, we used the platform and found that it has some brilliantly designed intuitive charts that contain a lot of data including the latest numbers.
You can use charts to easily comprehend information and even include some of these in your presentations and reports.
Smart Filters
If you are looking for specific information then there's good news for you as the platform allows smart filtering of data based on days, country, etc. If you want to know how your website performed in a specific month, you can choose data filters and it will show you the required data.
RankTrackify Pros and Cons
Pros:
Helps you save time
You can start with a free trial
Do not need a credit card for a 14-day trial
The reports are very well made
Cons:
The website presentation could've been better
RankTrackify Pricing
The company offers a flexible pricing system. You can choose from three packages.
All packages come with features such as daily keyword updates, detailed reports, and support. However, the cheapest package only offers email support and no phone chat.
We suggest that you use the free trial and sign up for long-term as yearly packages offer a discount of 20%, which means the cheapest package will cost you only $4.8 per month if you sign up for 12-months.
RankTrackify Review Conclusion
At the end of this RankTrackify review, we can conclude that the platform is quite effective. It works like a pro and does what it promises to do. Sign up for a trial to see what it's truly capable of.
You will not need a credit card to get started.