Teamstack Review: Free, Secure Cloud Identity Management
There is no dearth of cloud identity management platforms but few are as popular as Teamstack. The company came into being when the founders got together to create a solution that was easy and simple.
In this TeamStack review, we'll have a look at the platform and gauge if it's worth a try.
Let's get started:
What is Cloud Identity Management?
Cloud identity management can be defined as a web app SSO solution, however, it is more than just that.
Today's adaptation of the directory service comes optimized for use on any operating system, device, or web or IT-based app. It can even be used on the cloud or on-premises.
It provides authorization, authentication, roles, and privileges of the boundaries.
What is Teamstack?
It can be difficult for both big and small companies to manage a team when they need to share login credentials for different platforms that users need to access.

Not only is it time-consuming, but it also involves several risks. Plus, managing permissions and removing terminated users can be a pain as well. Teamstack understands this problem and gives businesses and managers a chance to do without the hassle. It's a cloud identity and access management platform that offers secure and convenient access.
The platform is quite safe, which we believe is one of its biggest assets.
Teamstack Features
Let's have a look at some of the main features of Teamstack:
Cloud Directory
The platform offers a Cloud Directory that lets you manage groups, users, permissions, and authentication methods in a secure and intuitive web interface.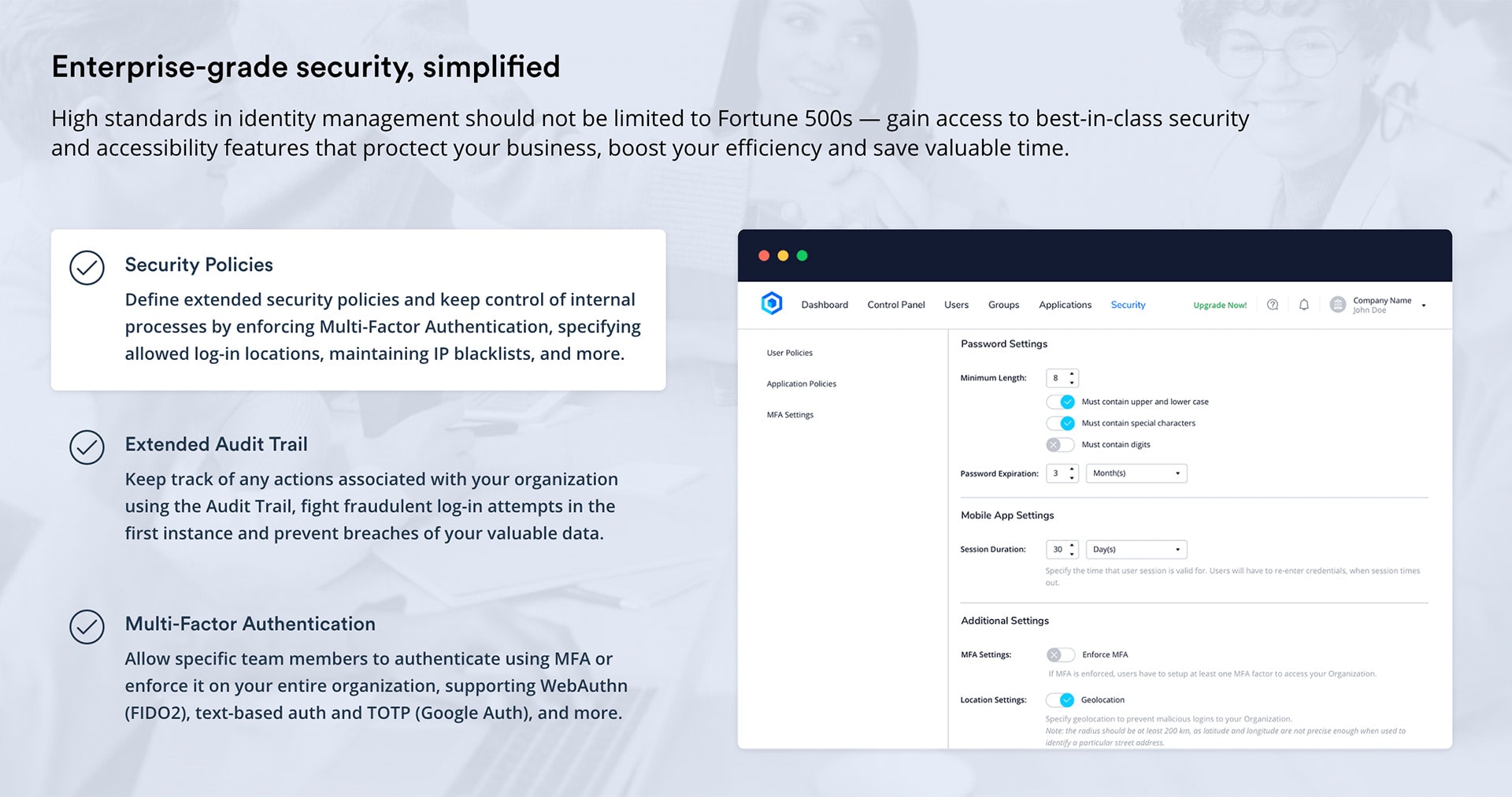 The system is pretty safe to use as it lets you store login details. Plus, there is also the option to suspend users for additional safety. You will be able to see individual user logs and put users in groups to save time. The company offers real-time synchronization, hence you will always have access to up-to-date data.
SAML Applications
If you are sick of manual and tiring work then get ready to let this feature save you time and effort. It works by transferring identity details from TeamStack to the service provider. Hence, there will be no need for you to type credentials.
Thanks to this option, you can have a passwordless system for your users. Hence, there will be no risk of weak or forgotten passwords.
Single Sign-On
Expect to waste no time getting access to the app as it comes with popular browser extensions including Google Chrome, Yandex, Brave, Edge, and Mozilla. This means you will be able to use the app the way you want to without having to switch to a browser you don't wanna use.
Form-Based Apps
These use credentials in order to authenticate to give you access. With the browser extension, you will not have to manually enter login details as the system can automatically copy and paste credentials.
Multi-Factor Authentication
If you're concerned for safety then you can count on the platform's multiple-factor authentication feature. It lets you apply different factors including SMS codes, security questions, WebAuthn, TOTP, and recovery codes.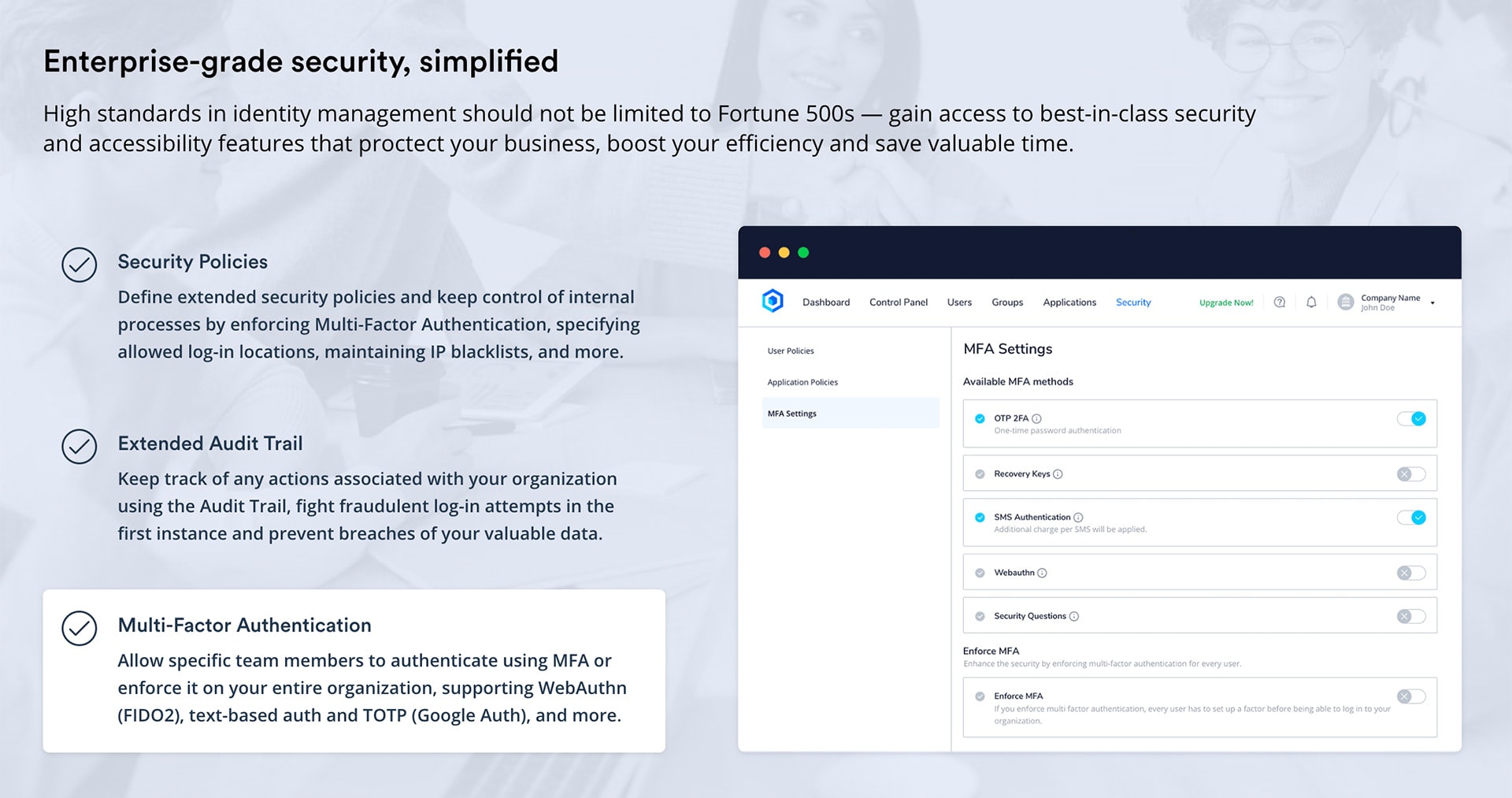 This feature adds an extra layer of security and ensures nobody can access your content even if they somehow get their hands on your password.
One-Click Provisioning
You can use this feature with your off-boarding and onboarding processes to ensure the changes you make are reflected in your business apps so that disconnected or terminated users do not get access to your content.
You will not have to perform manual provisioning, which is a great plus since it can be laborious and full of errors. With this tool, you will even be able to automatically deprovision or provision users due to terminations, changes in roles, and new hires.
Integration
The software comes integrated with dozens of apps including some very popular names. These include the likes of Google G Suite, Dropbox Business, GitHub, Amazon Web Services, Slack, SalesForce, GoDaddy, Zoom, and Alibaba.
We like how they offer a huge variety of tools including telecom apps, software development apps, mail apps, and marketing apps.
Teamstack Pros and Cons
Let's look at some of the main pros and cons of Teamstack:
Pros:
Lets you customize group and user profiles
There is only a single source of identity
Incident reporting and audit trail ensure security
You can request a demo
Cons:
May not be suitable for very small businesses
Teamstack Prices
If you want to use Teamstack without paying then there's good news for you. The company offers a free package but it comes with several limitations including 5 users, 4 FBA apps, 1 SAML app, and only limited multifactor options.
If you want to enjoy all the features then you will have to choose a paid option. Here are your choices:

In addition to this, both the paid options come with add-ons including Extended Audit Trial and custom MFA for $2 per user per month each.
The packages can be quite confusing for some users since the amount will depend on the number of users you have. This can be a benefit because the number of employees keeps on changing on a monthly basis, so you will only pay for the accounts that you need.
In case you need more, you can opt for an Enterprise option and request customized prices. The company offers pretty good customer support to Enterprise and Professional clients but basic and Free users may have to wait for days to get a response to their emails.
Conclusion
Having reviewed Teamstack, we can say that it is one of the best cloud identity management tools for businesses.
With Teamstack, you will be able to manage all your team and have full control over who can access information without having to worry about security.