Zenscrape Review: Website HTML Extraction
Over time, data has become the core of business strategies and market research. It is being termed as the 'differentiator' since, whether you want to start a new project or take your existing business up a notch, you will need to collect and analyze data.
According to reports, we create more than 2.5 quintillion bytes of data every day. This data includes important information that businesses can use to reach more customers, improve their products and services, and offer a better experience to customers. This is why it is important for businesses to gather and understand as much data as they possibly can.
There are many tools and apps that allow users the ability to 'scrape' data. It refers to automating the process of data extraction from a public website in a fast and efficient way.
Some businesses resort to the old school copy-pasting method, which is not only taxing but also consumes a lot of time. Not to mention, many websites don't have the provision to copy-paste such huge amounts date. Hence, in cases like these, web scraping is the only process that can help you.
Zenscrape promises to be a reliable name in the world of data scraping, but is it really worth a try? We'll find out in this review. Let's get started:
What is Zenscrape?

Zenscape is a scraping API that promises to solve all issues related to web scraping. This easy to deploy tool offers data in multiple formats, making it easy to read it.
ZenScrape Main Features
Here are some of the main features of ZenScrape:
Fast Operation
Since data scraping deals with GBs of data stored on websites, most APIs take a lot of time to get a response. The process involves sending spiders (certain classes that define how the scraping process will be carried out) to the website where they fetch HTML documents and extract the data and content based on the user's requirement.
As soon as a user clicks the button, the spiders decide how the crawl (following links for data extraction) will be performed and how the pages will be parsed for a particular site.
This is very important because most APIs are excruciatingly slow. However, we were quite impressed by how fast this tool works.
No QPS Limitation
QPS stands for queries per second. Most tools have limits and quotas to protect the system from receiving more data than it can handle. It also ensures an equitable distribution of resources among users.
Where this is a good thing, it can be very irritating as it can slow the process down. However, we didn't find such issues with this tool as it has no such limitations. This means, no matter how many requests you submit, you will get a response for every request.
Moreover, you will never see a lag even if the server is busy.
Ease of Use
This tool offers results in JSON format. The company has opted for JSON due to its robust and versatile nature.
The files written in JSON are not only easy to understand thanks to its easy syntax but are also lighter when compared to XML, which is also commonly used in the industry.
The is stored in JSON format topped with the HTML markup of the related website. This means, all the formatting information is also saved in the file, which makes it easy to understand and analyze the stored information.
While we found JSON to be quite useful, some users may prefer other formats. Worry not as the data can be converted into other formats. You will, however, have to find a conversion tool for this purpose.
Multiple Proxy Servers
A proxy is basically a 3rd party server that enables users to route their requests through the server. This simple feature can be very helpful when it comes to data scraping.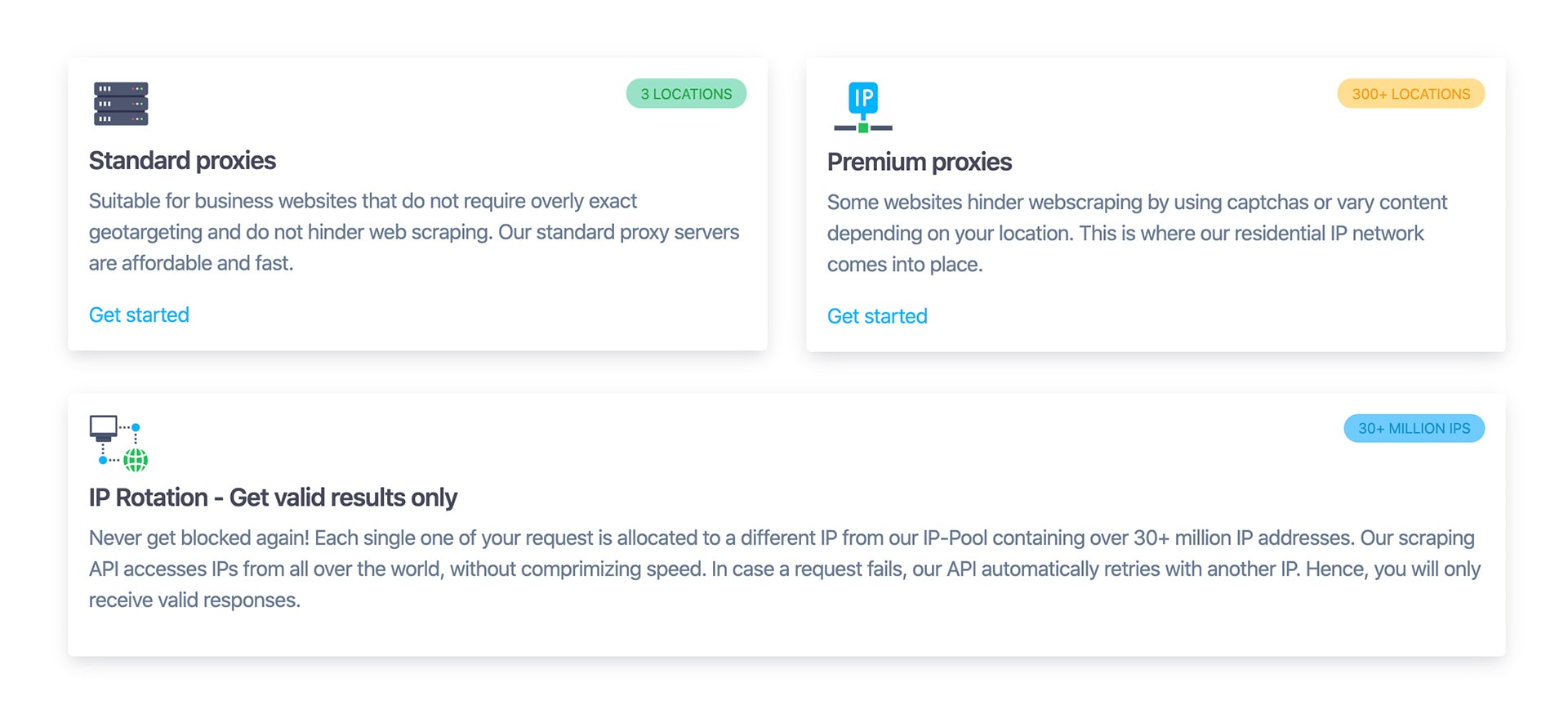 Zenscrape is one of the few platforms that offer unique proxy servers for each use case. This is very important because some websites prevent web scraping. In such cases, you can use premium proxies. The tool offer proxy servers in over 300 locations. They can be useful in sidestepping restrictions, allowing you to continue with the process.
By using proxies, you will be able to collect data anonymously without facing the risk of getting banned.
The platform offers you three choices when it comes to proxies:
Standard Proxies: These are the fastest and most affordable proxies. They are quick and do not require geo-targeting, hence they're easy to use.
Premium Proxies: This is basically a type of residential IP. It is mainly used for websites that block or hinder the web scraping process by using captchas or your location information.
Rotating IPs: This type of proxy uses the company's IP pool, which consists of over 30 million proxies. This is enough to get going for a long time as the huge number of options reduces the risk of getting banned or blocked.
JavaScript Rendering
Almost all the websites are written in JavaScript. Some APIs scrape data without JavaScript rendering which means, you will get the information but not in the same form the user sees on the real website. This means you will never be able to get the true benefits out of the data that you have.
This, however, will not be a problem with this Zenscrape tool. It uses JavaScript rendering which gives you the information in the form the real users see on the website which makes sorting and storing data easier and more convenient.
Support for Other Frameworks
It support for Vue, React, JQuery, and other front-end frameworks. This means you will be able to extract information from all kinds of websites without any worries. This is very important because some users still use other frameworks to build sites.
Plus, since the tool is able to execute all API requests in modern Chrome browsers. Hence, you will see true results.
Pricing
You can use Zenscrape for free but the free version may not be suitable for businesses as it comes with limited options.
The free option offers 1,000 monthly requests and one concurrent request. However, it comes without premium proxies. If you are serious about data scraping then consider one of the following packages:
Small: Costing $8.99 per year, this plan allows the users to make 50,000 monthly requests and unlimited concurrent requests along with JS rendering, geotargeting, standard, and premium proxies topped with concierge onboarding.
Medium: This is the most popular plan at $24.99 per year. It offers similar benefits as the small package but with 250,000 requests.
Large: In addition to all the services discussed above, this option supports 1 million monthly requests at a reasonable price of $79.99.
Very Large: Specifically designed for large enterprises, this plan has a capacity of 3 million requests per month. This $199.99 plan may be suitable for multinational corporations.
If nothing suits you, then get in touch with the company and request a personalized quote.
Pros and Cons
No Zenscrape review can be complete without pros and cons. Have a look:
Pros:
No risk of getting banned due to a huge number of IPs
The software is pretty easy to use
Expect quick results as it works very well
The free version is pretty good
Cons:
You will have to buy a software to convert data
Zenscrape Review: Conclusion
Web scraping is pretty common nowadays which is why more and more IT companies are working towards launching their own APIs. However, we think most pale in comparison when it comes to Zenscrape.
This tool is reliable and easy to use. Plus the free version makes it quite useful as it allows you to try the software before paying for the full version.